食客 also known as " The Restaurant Guest" is a Korean BBQ and Grill franchise. Ssikkek Restaurant has several outlets across Singapore in venues such as United Square, Bras Basah as well as this outlet at North Bridge Road!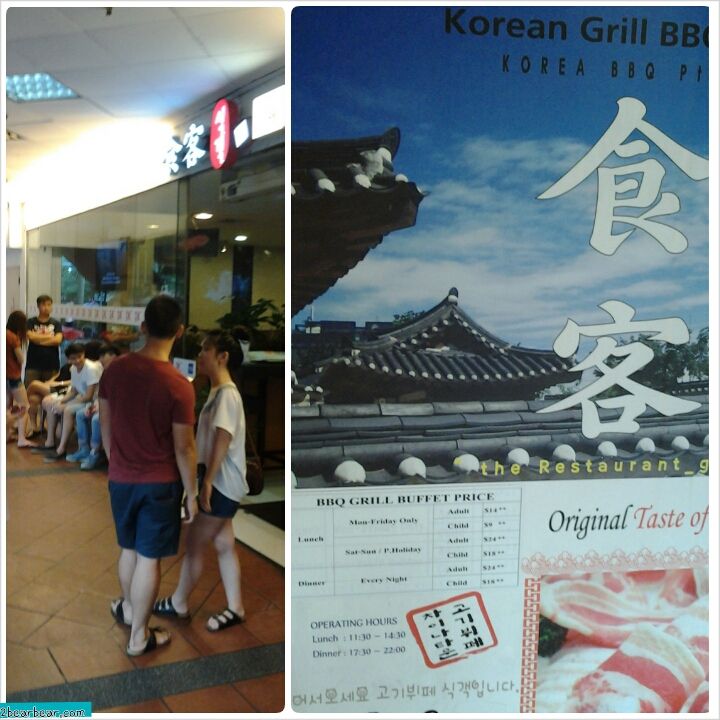 Ssikkek Restaurant aka The Restaurant Guest @ North Bridge Road
We arrived at this Ssikkek outlet near Chinatown at about 6:30pm and as you can see from the picture, there was already a crowd outside the restaurant! As recommended by many blogs (including this Singapore Travel Blog), you should always make a reservation prior to visit. We could see from the waiting list that the queue number had already reach about 40 people. Thankfully, we made the reservations and we were seated promptly in less than 5 minutes!
What to eat at Ssikkek Korean BBQ and Grill Restaurant
Actually, we did not know what to eat at Ssikkek. We just saw the queue and made it a point to visit. But as they say, if you see a queue, join it! (eventhough sometimes as Singaporeans, you may not know exactly what you're queuing for, case in point…)
And we were pleasantly surprised…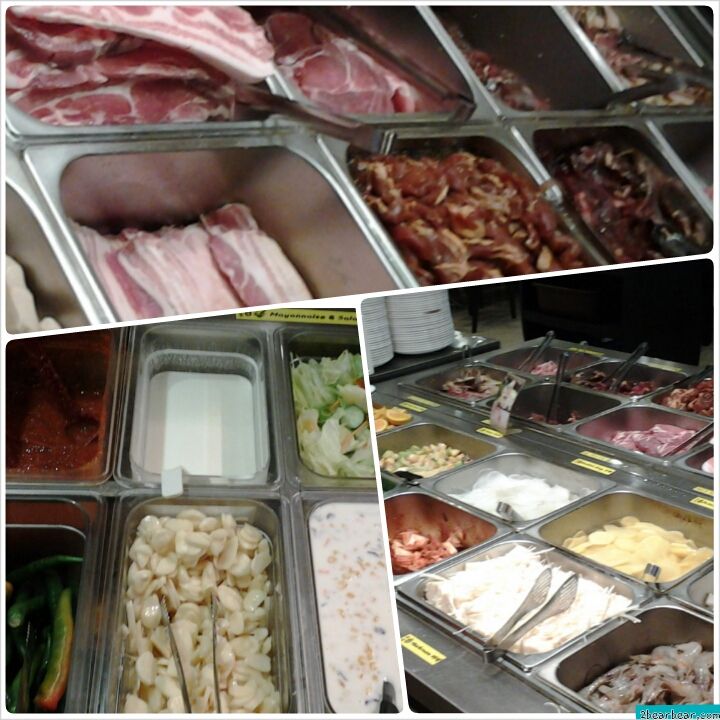 Variety of Meats including pork collar, pork belly, bacon and beef steaks
The first thing we noticed at the Restaurant Guest is that there is a good variety of meats. Pork collar, pork belly, bacon, beef steaks, marinated chicken and beef were all available. Other than the meats, there is also a small selection of vegetables, squid, prawns and korean dishes such as kim chi, glass noodles and pancakes…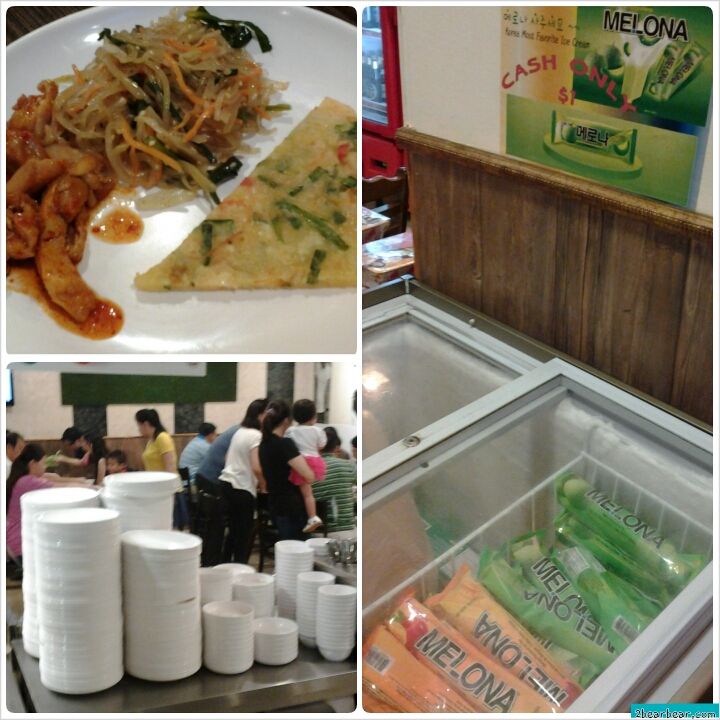 A few choices of Korean cooked food available
Soft drinks, korean tea as well as orange juice are available as well. Kate made a concoction of sprite with orange which tasted like fizzy orange – not bad at all! The star of the show is of course the meats…
Best meats at Ssikkek Korean Restaurant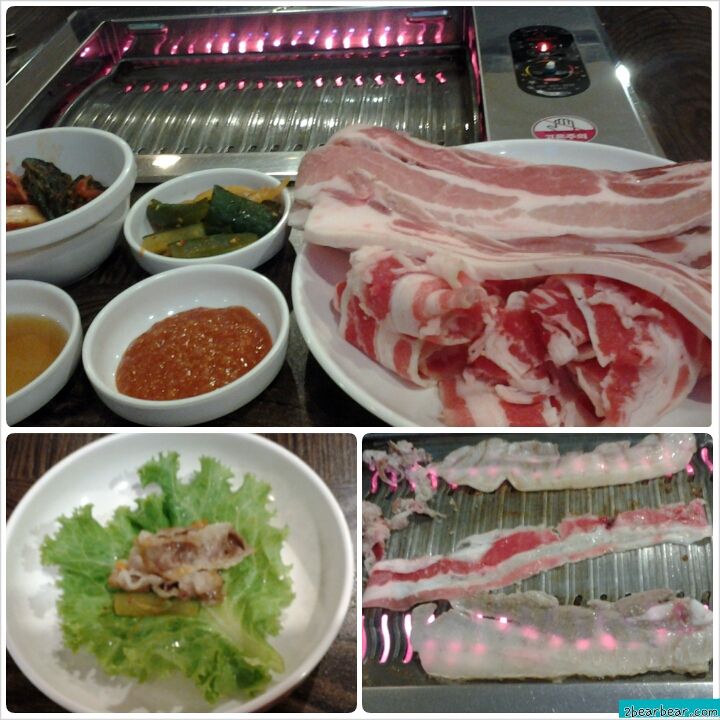 Close up of the meats available at Ssikkek Korean BBQ
We've tried almost all the meats at Ssikkek Korean Restaurant and we must say that although the variety is not that many, the quality more than made up for it. If you prefer to have some fatty bits in your lettuce wrap (which we ate 3 platefuls of to "act healthy" – who are we kidding right?), go for the pork belly. Otherwise, we recommend the pork collar.
It is quite unusual for pork meats to have white bits in the grains of the meat much akin to Kobe beef. But the pork collar at Ssikkek is one of the best korean grills we've had. The meat was tender, juicy (even after the BBQ which usually removes moisture) and had a fresh bite to it. Dipped in some reddish korean BBQ sauce, some kim chi, wrapped in green lettuce and stuffed meticulously into your mouth in 1 big mouthful? Just awesome!
Pros and Cons of eating at Ssikkek Korean Restaurant
Let's start of the pros shall we? The taste was great. Fresh ingredients, no holds barred on the generosity and quality of the meats. Our BBQ plate was also great. The technology allowed smoke to be directed away from you while the oil seeps away through the seams of the plate, leaving you with awesome, well-cooked meat!
Well, there are 2 main cons. Kate pointed out that there weren't small dishes as a Korean restaurant should have. You know the small dishes like that of Big Mama Korean Restaurant? Yup, those…
Secondly, we realised that although the restaurant has the technology of the BBQ plate which absorbs the smoke from the BBQ, it is not used throughout the restaurant. As a result of these few plates without the suction, the entire restaurant has a "smoke-filled" environment!
How to get to Ssikkek Korean Restaurant BBQ and Grill at North Bridge Road


Map of Ssikkek Korean Restaurant at North Bridge Road (Oriental Plaza)
If you enjoyed our content, "Like" us on Facebook Today!

Whether to eat at Ssikkek Korean Restaurant?
The price of eating at Ssikkek is $24++ every night and only $14++ from Mondays to Fridays for lunch. Sundays and PH costs the same at $24++ throughout the day. Ssikkek opens from 12pm to 2:30pm for lunch and 5:30pm to 10pm for dinner.
We say that given the quality and generous servings of meats at Ssikkek, it was really well-worth it. If you do not mind leaving the restaurant smelling of BBQ, great quality korean BBQ awaits you at the Restaurant Guest – Ssikkek Korean and BBQ Grill!
Related posts: