There are actually many things to do in Hong Kong. Attractions in Hong Kong abound as well! But to sum up our recent trip, here are 21 Amazing Travel Experiences in Hong Kong you ought to check out!
Things to do, Attractions and Travel Experiences in Hong Kong
1. Breathtaking views overlooking Victoria Harbour

View overlooking Sky 100 from Ibis Hotel Hong Kong Central Sheung Wan
For a room with the best views over Victoria Harbour, look no further than Ibis Hotel Central Sheung Wan. The rooms are decent and the price is reasonable. A night here will make your stay in Hong Kong a very much memorable one.
Read more about our stay at Ibis Hotel Central Sheung Wan.
2. How about views over Tsuen Wan Harbour?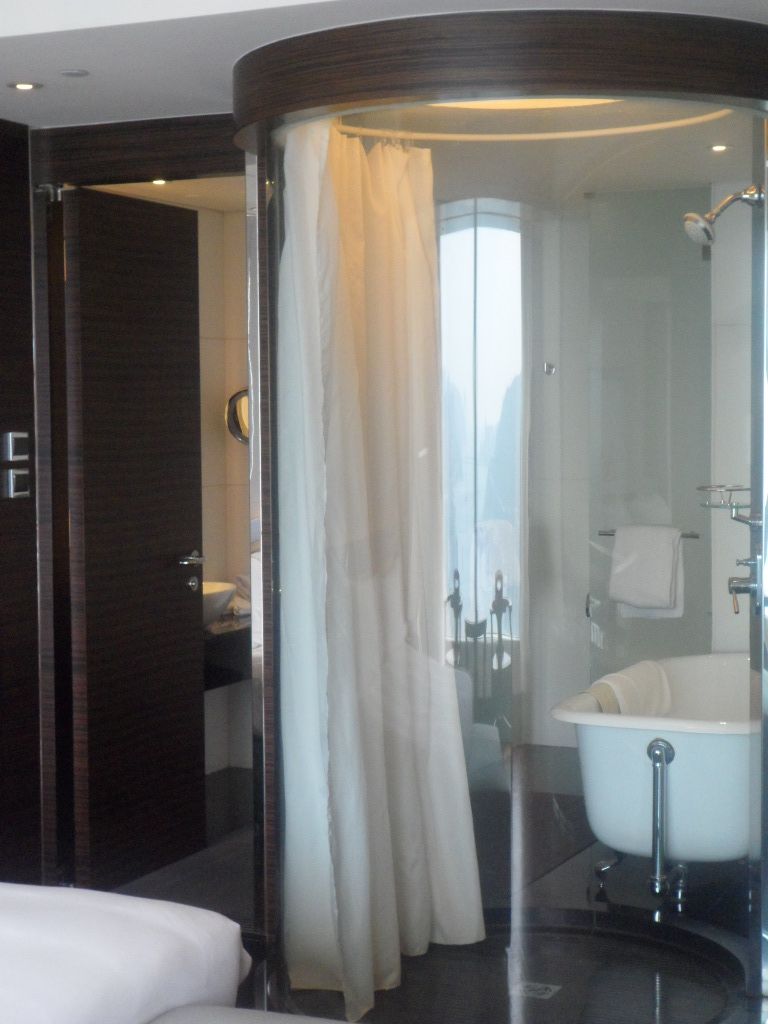 Bathtub and shower capsule with view of Tsuen Wan Harbour
While we're on the topic of views over harbours. Why not check out the L Hotel Nina Convention Centre with splendid views over Tsuen Wan Harbour? It also offers a great base to shopping and food in the vicinity. Check out this post on our stay at L Hotel Nina Convention Centre.
3. Avenue of the Stars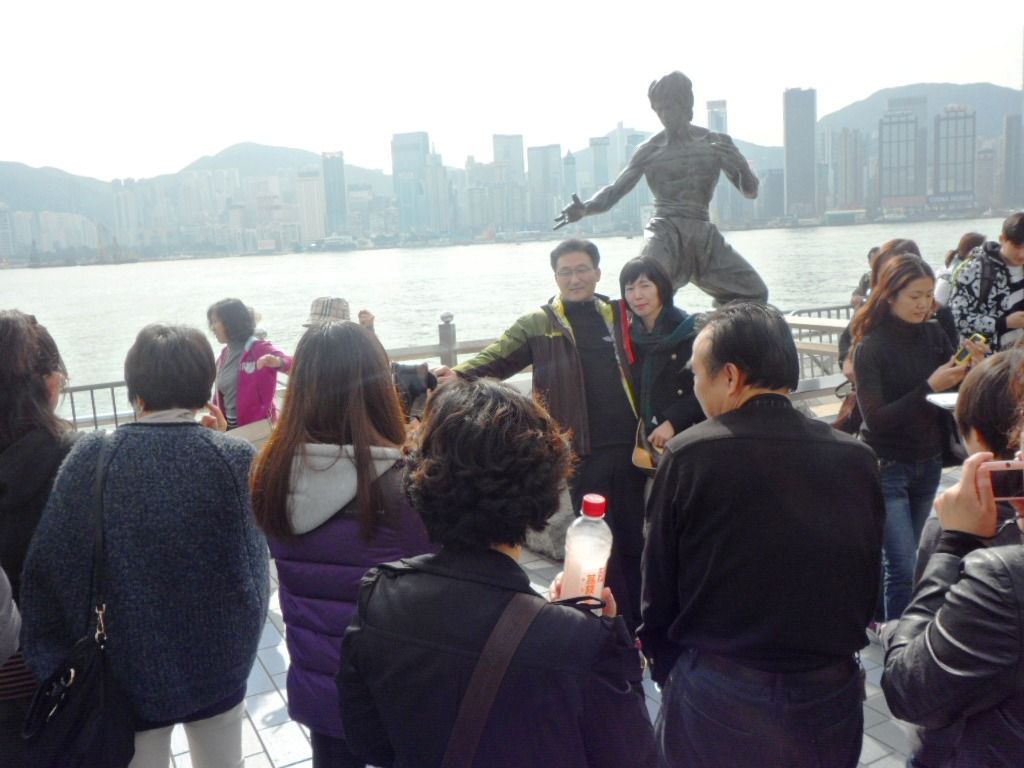 Bruce Lee's statue added in 2005 to the Avenue of Stars
Many would say a visit to Hong Kong would not be complete without a visit to the Avenue of the Stars. With stars such as the "Four Heavenly Kings" (who can both sing and act by the way) among the many Hong Kong celebrities, who can dispute that Hong Kong is indeed the Hollywood of the East?
4. Ocean Park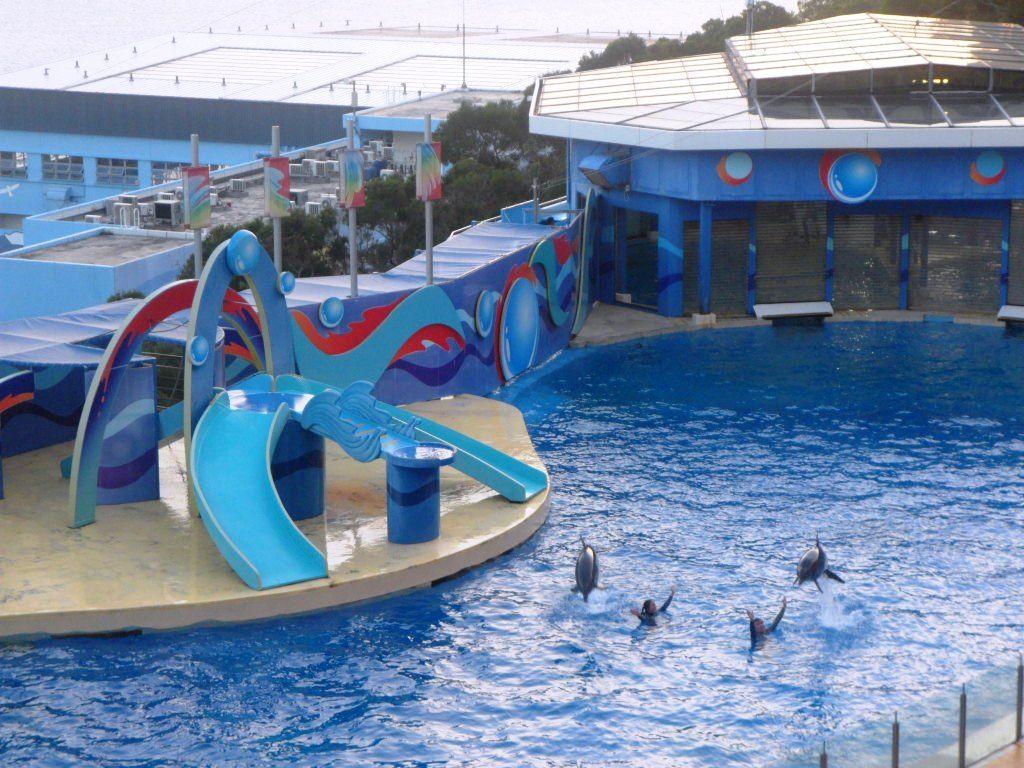 Dolphins leaping beside its trainers at Ocean Park
Having been around for 40 years, is Ocean Park still worth a visit? Our answer is a resounding YES! With shows, rides, attractions and play area for the kids, Ocean Park is really an attraction in Hong Kong for the entire family!
5. Countdown at Victoria Harbour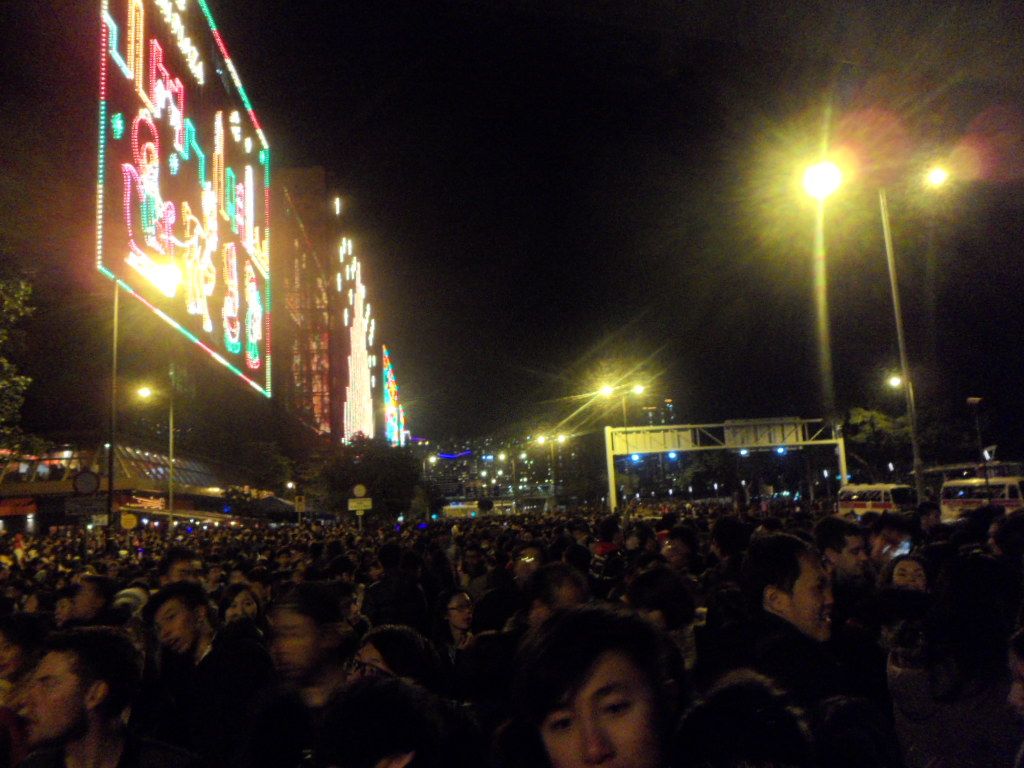 Crowd waiting for fireworks and countdown at Victoria Harbour
New Year's Eve Countdown at Victoria Harbour makes an unforgettable experience! Just remember that the last 10 counts will most probably be in Cantonese!
6. Central's Mid Level Escalators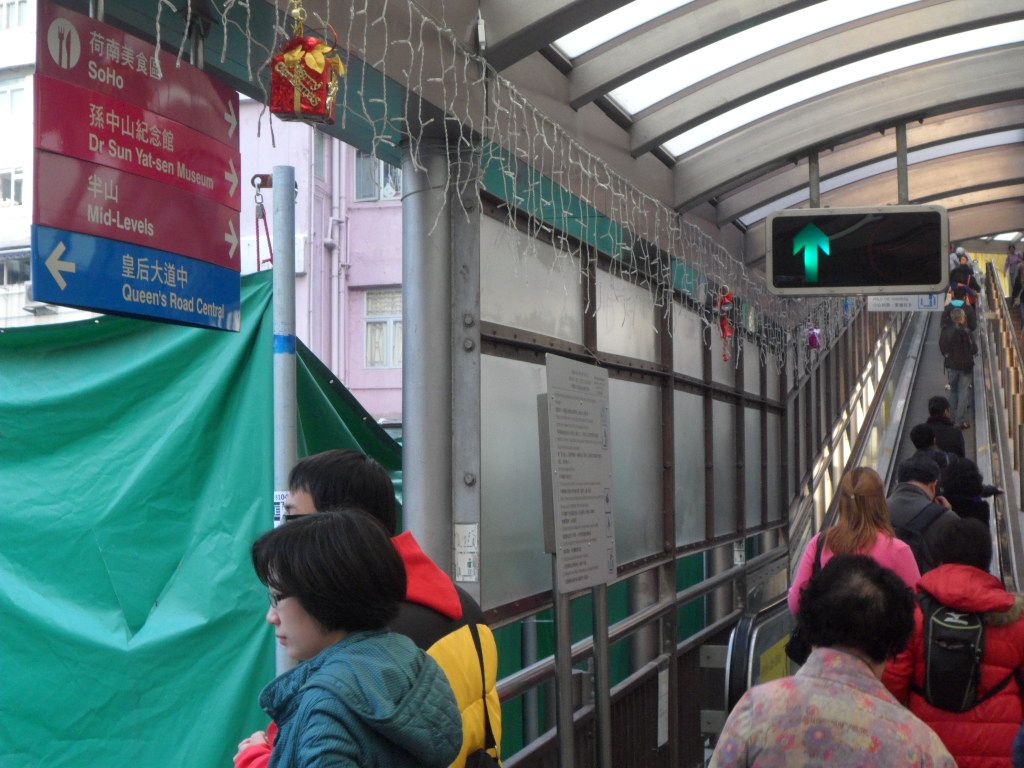 Stairs up to Mid Level – Takes about 20 minutes if you just stand there to take in the sights
Originally built to reduce travelling time between Queens Road and Conduit Road, this 800 metre stretch of escalator and walkway system in the longest in the world. Through this walkway, the Mid Level Escalators also cover an ascent of 135 metres. Today, it is very much a tourist attraction as it is a form of commute for Hong Kongers.
Where to shop in Hong Kong
People always say Hong Kong is about 买东西,吃东西 (buy stuff, eat stuff). It's true! And here's a low down of where you can shop till your heart's content in Hong Kong…
7. Temple Street Market

Night Market at Temple Street
There are several night markets in Hong Kong and Temple Street is one of the more prominent ones. Here you can pick up clothings, bags, souvenirs and gifts. Just remember to haggle a bit and compare prices before making the deal!
8. Ladies Street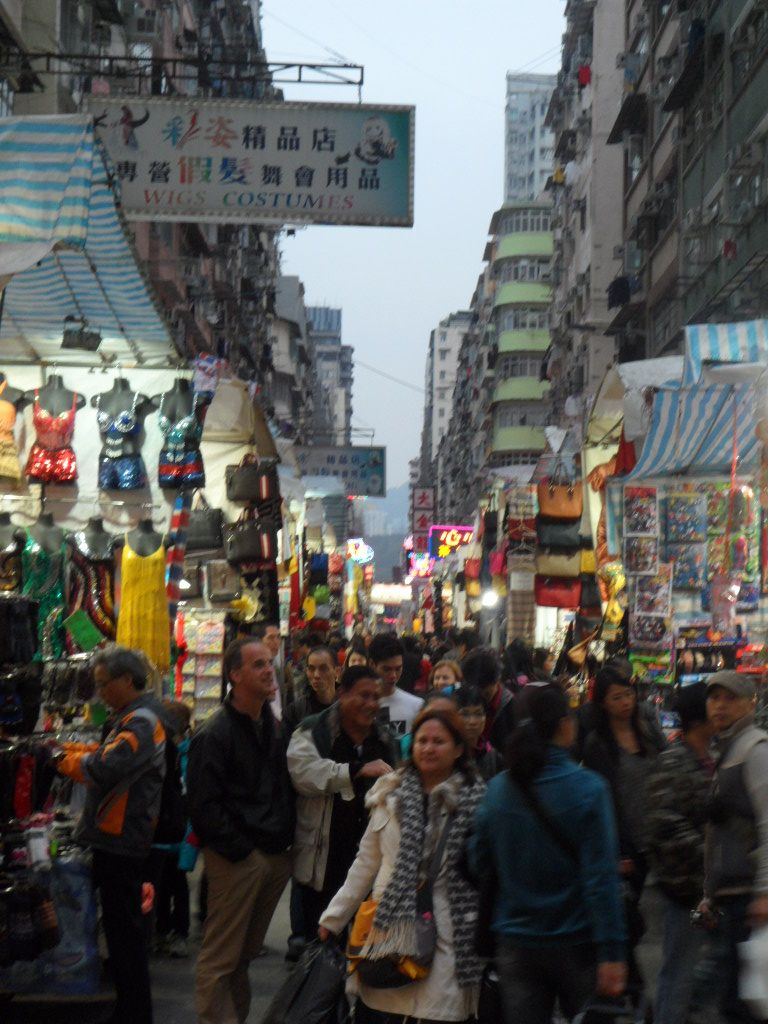 Ladies Street Mong Kok
Another prominent market is Ladies Street at Mong Kok. Do not be fooled by the name as the stalls here do not only offer products for ladies. Like Temple Street, Ladies Street offer a 1 kilometre stretch of shopping options that caters to your bargaining desires!
9. Elements Shopping Mall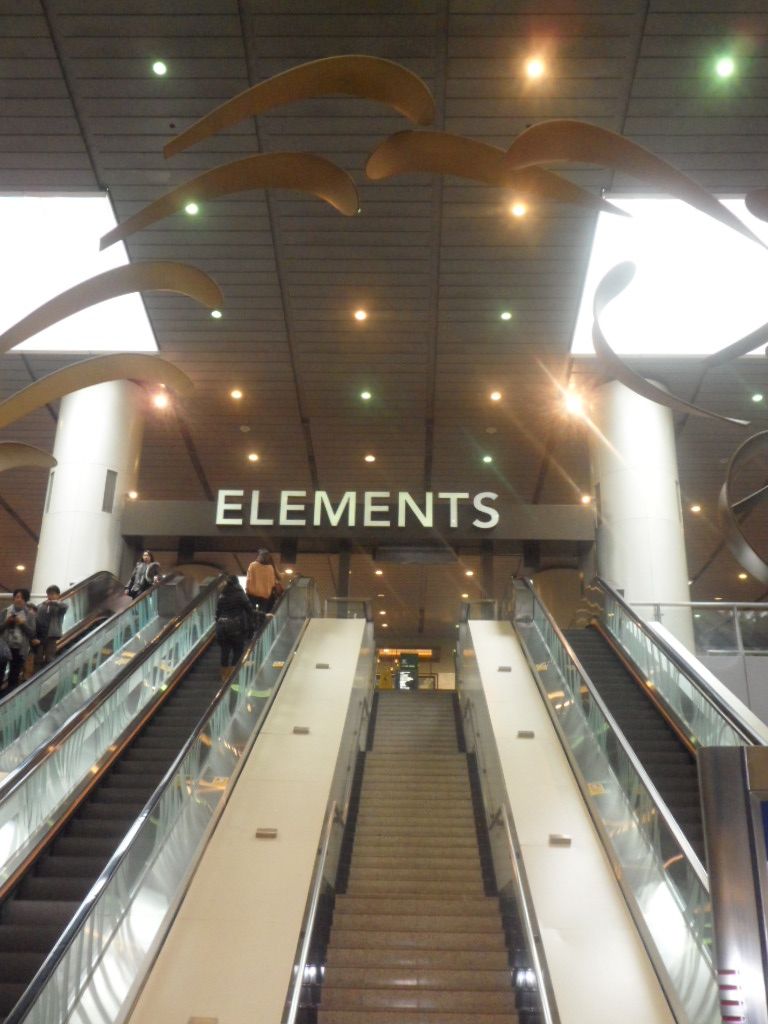 Entrance to Elements Shopping Mall from Kowloon MTR
For more conventional shopping options, visit Elements Shopping Mall at Kowloon. With its 5 different zones (Metal, Wood, Earth, Fire, Water) and a myriad of shopping options, you'll be spoilt for choice when you visit Elements.
10. Citygate Outlet Mall Tung Chung

Shopping galore at Citygate Outlets Hong Kong!
For luxury shopping at affordable prices, head on down to Citygate Outlet Mall at Tung Chung. Having been to Woodbury Common Shopping Outlet in the USA, we did not think that we would be doing much shopping here. We were wrong. Prices were quite attractive but do note that they could be off-season items. Nonetheless, a good shopping destination in Hong Kong.
Where to eat in Hong Kong
11. Tim Ho Wan Dim Sum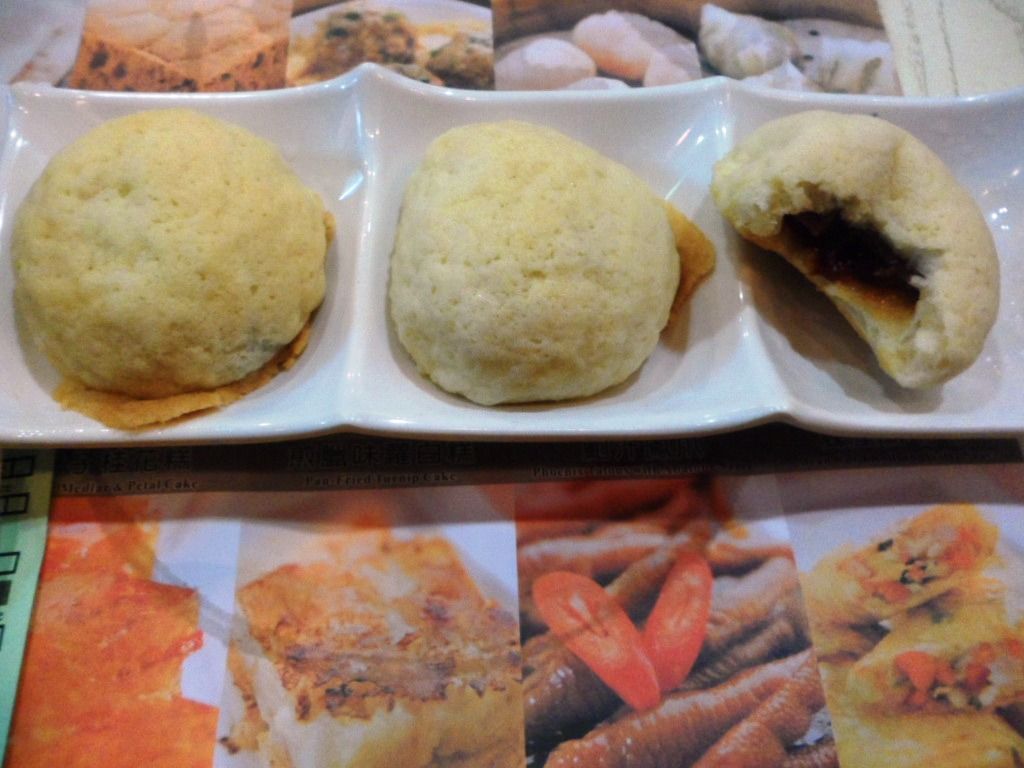 Tim Ho Wan's Famous Baked Bun with BBQ Pork – 3 for only 17HKD!
Touted as the cheapest Michelin-starred restaurant, Tim Ho Wan serves up dim sum the way it is supposed to be. Do not miss the "Four Heavenly Kings" that include the famous baked bun with BBQ Pork (above). Definitely better than the one that has opened in Singapore. Do check out our Minimalist Guide to Eating at Tim Ho Wan.
12. Lei Garden (Atas Chinese Food)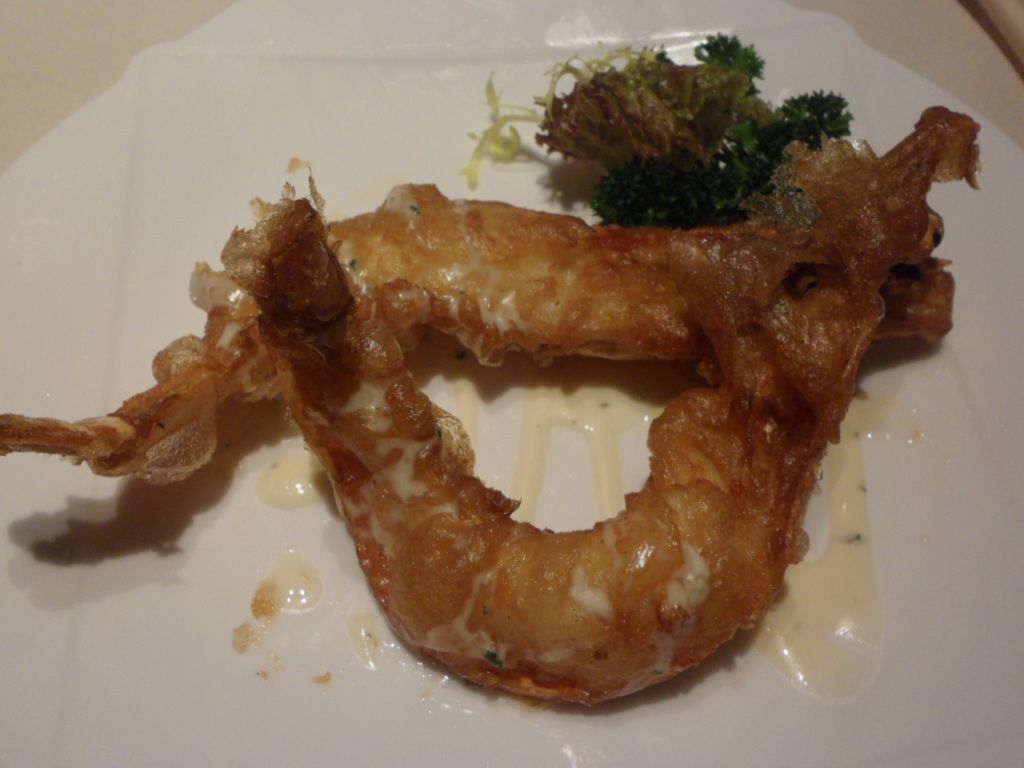 Baked King Prawn with Italian Sauce
You may expect to pay a little bit more at Lei Garden, but you will not regret the experience. We were pleasantly surprised and were eagerly anticipating how the next dish would turn out as we tucked into a sumptious meal here. Great service and ambience too!
13. Lan Fong Yuen Milk Tea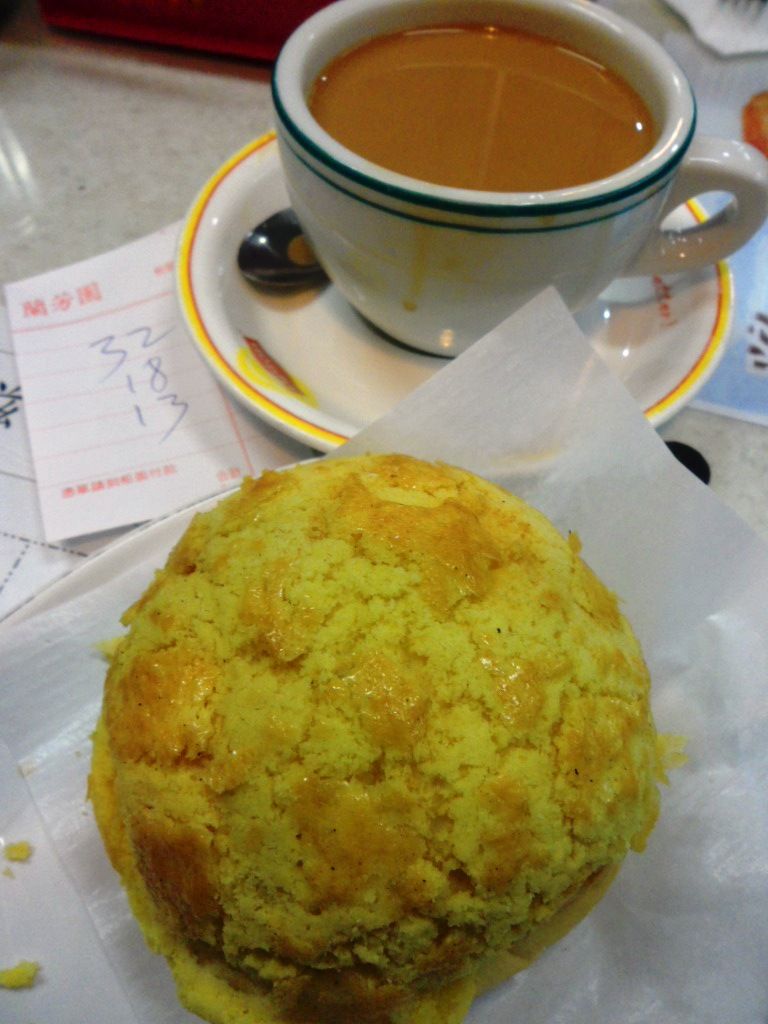 Butter Po Luo You and Milk Tea at 13hkd and 16 hkd respectively at Lan Fong Yuen
Serving up cups of milk tea since 1952, Lan Fong Yuen is the place to go to enjoy a taste of traditional milk tea at a traditional setting (old kopitiam style). While at it, do try out their bo luo you (but maybe not the pork bun…)
14. Mak Mun Kee Noodles Shop (麦文记面家)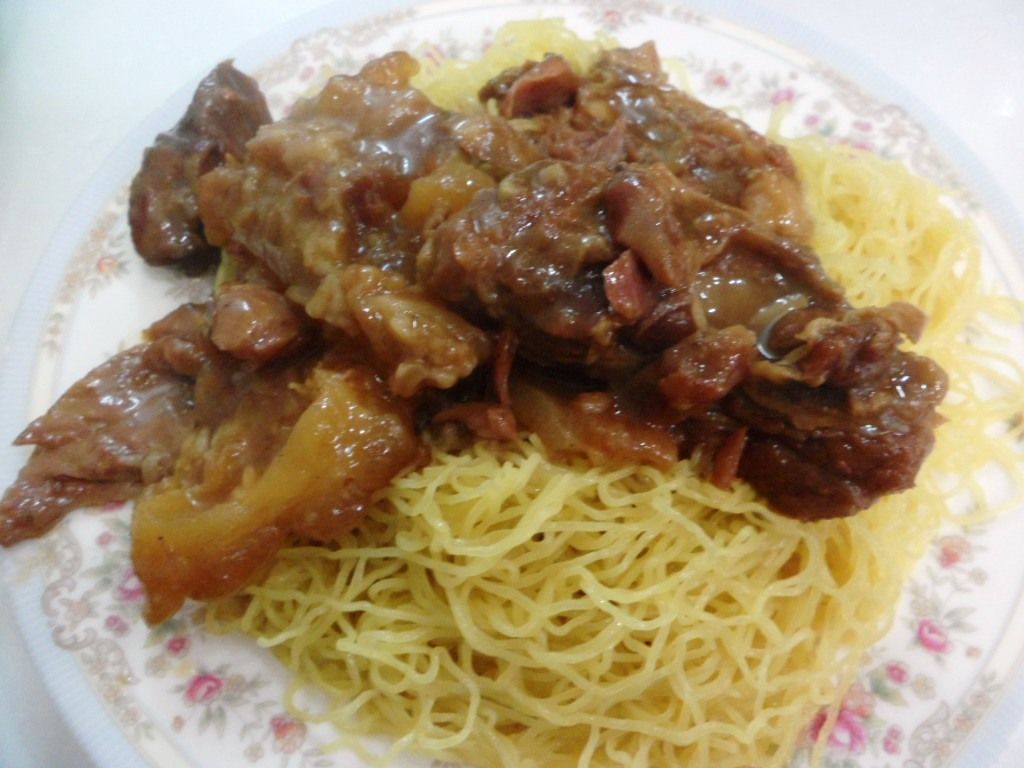 Beef brisket Noodles at Mak Mun Kee Noodles Shop HKD38
For some of the best noodles that Hong Kong has to offer, head right on to Mak Mun Kee Noodles Shop. I tell you, the noodles are Q (springy), ingredients are fresh and generous. One word to sum it up. SHIOK!
15. Desserts at Austraian Dairy Company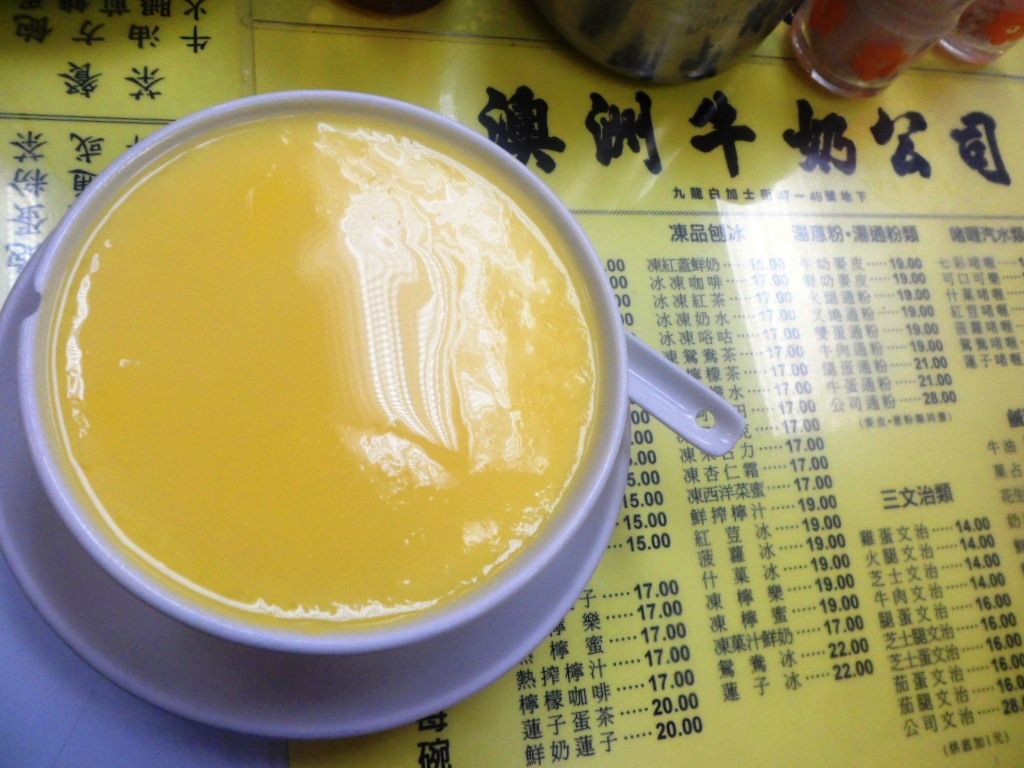 Steamed Almond Egg Pudding (杏汁炖蛋) at Australian Dairy Company Hong Kong
Still have no idea why its called Australian Dairy Company (when it's in Hong Kong!!). But you've got to try their steamed egg puddings. Both white and yellow versions are unique experiences that we've tried for the first time here. Creation of a genius.
16. Dim Sum at Lian Xiang Ju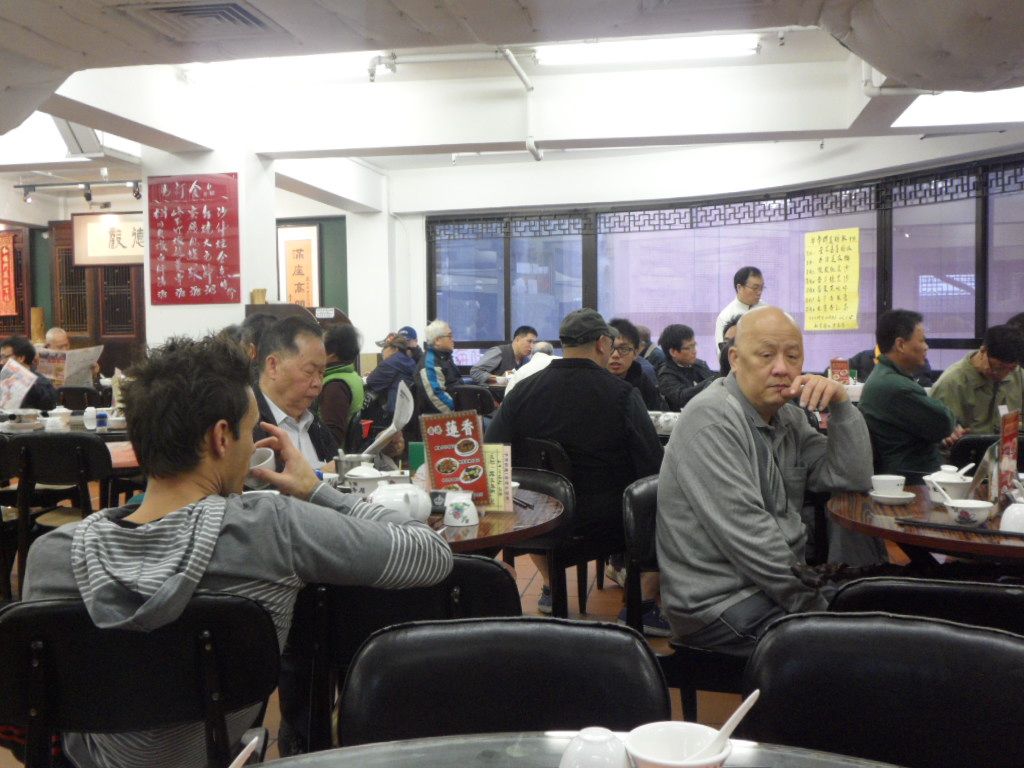 Traditional setting at Lian Xiang Ju – Can you spot the Ang Mo in this photo?
For a more traditional setting for dim sum, Lian Xiang Ju is a great place that we accidentally stumbled upon (by stalking an old aunty no less). No regrets here. Great food, old world charm in its setting at a great price. Even ang mos visit! Maybe we should continue stalking old aunties and uncles? :p Read more about our visit to Lian Xiang Ju here.
17. Boatsman Congee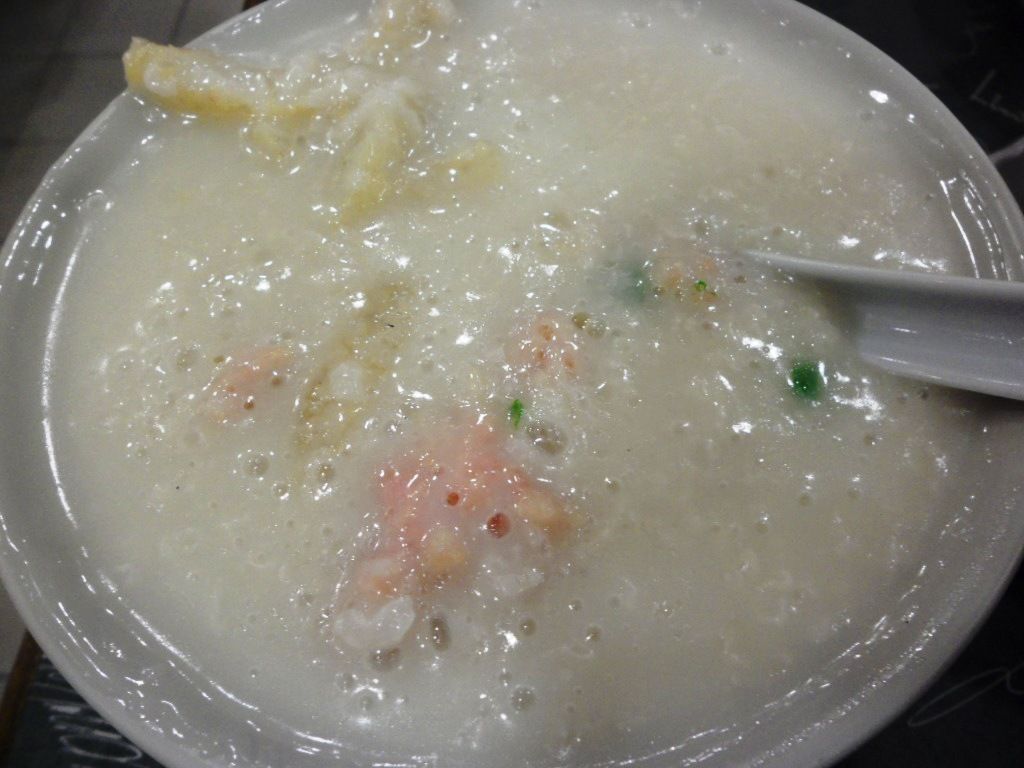 Boatsman Congee at Hai Xing Congee Shop
This is a special mention for the best congee we've ever eaten. It is from Hai Xing Congee shop. No, we do not know where it is (ah!!) because we just headed into a place for breakfast and that was it. But the taste was just ma ma mia! Rich, flavourful and milky (yes we do not know how they do it but it is really milky in a savoury, nice kind of way). Definitely an unforgettable experience.
PLEASE tell us its location in the comments section below if you know where it is!!
18. How about some street food?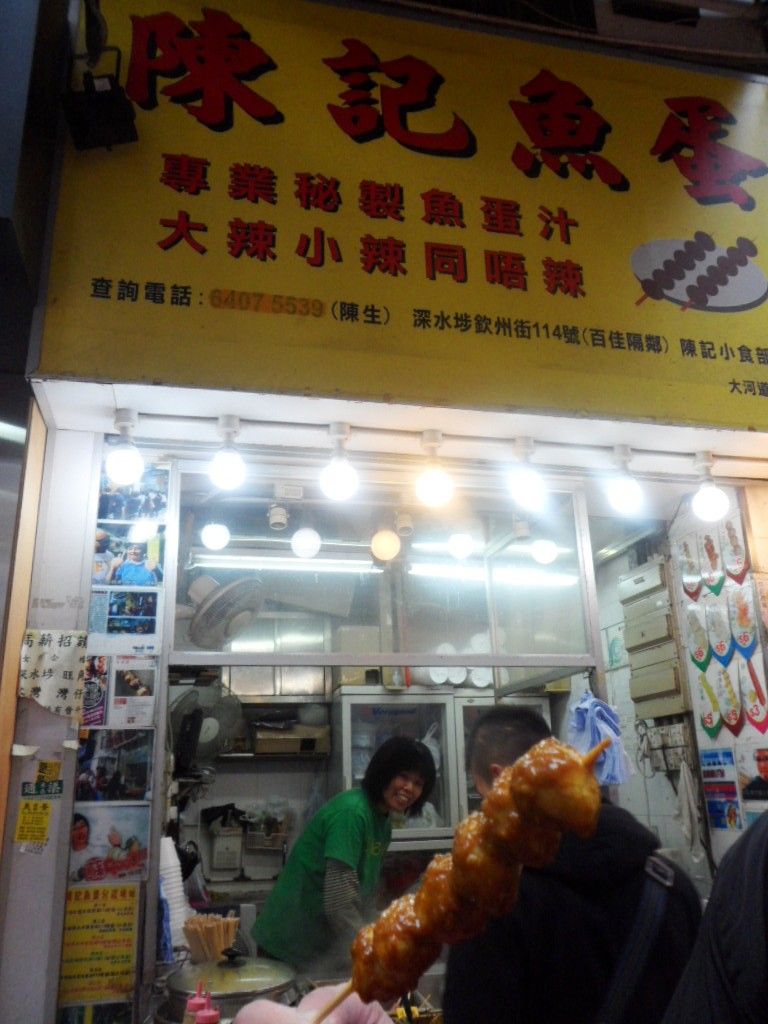 Fishballs in curry – 6 for 5HKD

Round Egg Waffles at 7 HKD – Crispy on the outside while fluffy on the inside
Tuck into street foods such as curry fishballs, lok lok, instant noodles and those small round egg waffles known as 鸡蛋仔. You'll know it when you see it, just follow your senses (yes, sense of smell).
19. How a typical Hong Kong Cafe is like

A typical Hong Kong Cafe
You have not been to Hong Kong unless you've visited a Hong Kong Cafe. Feel the vibe, order the toast, milk tea and instant noodles. Feel how the waiters hover over your tables, like bald eagles, waiting to swoop in when your plates and cups are empty. That is the way of life dude.
Side trips from Hong Kong
20. Shen Zhen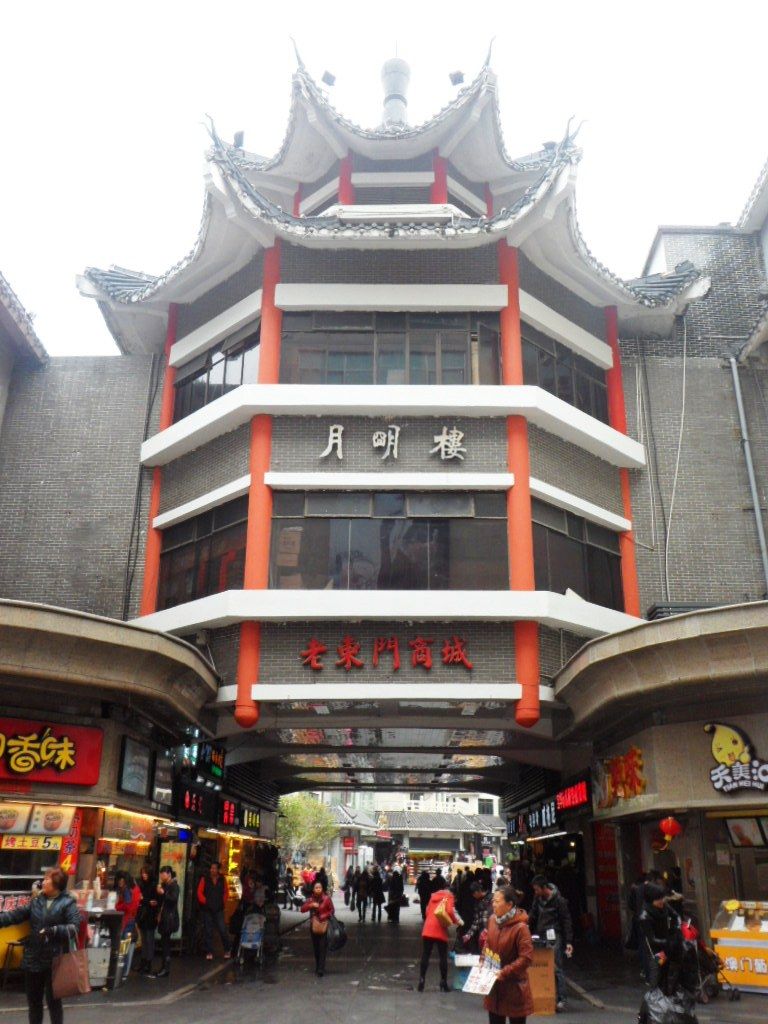 Entrance to Old Dong Men Shopping District (老东门商城)
You may want to make only 1 trip to Shen Zhen while you're in Hong Kong. Just to shop and eat at a much cheaper price across the border. Nonetheless, being restricted in use of credit cards was a first for us (VISA and MASTERCARDS are not accepted in Shen Zhen or at least not commonly). Makes you re-think how much you rely on your cards these days.
21. Macao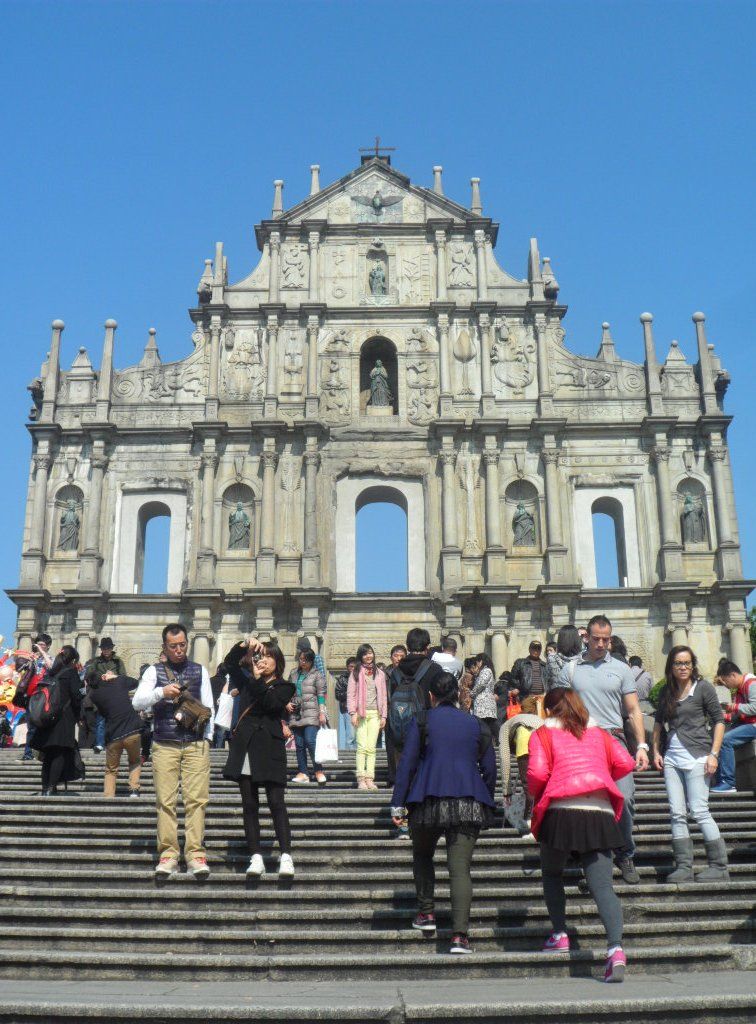 Ruins of St. Paul's with long flight of stairs in Macao
There are so many things to do and attractions in Macau! Visit the historic centre of Macao, tuck into the famous portuguese egg tart or simply take in the sights and sounds. Macau is definitely an excellent side trip from Hong Kong.
If you enjoyed our content, "Like" us on Facebook Today!

For your convenience, we have arranged for the best hotel deals in Hong Kong right here!
We hope you have enjoyed our coverage of the 21 Amazing Travel Experiences in Hong Kong, share with us your thoughts in the comments section below!
Related posts: