In addition to St. Paul's Church, Stadhuys and Jonker Street, another famous attraction in Malacca is A Famosa Fort also known as Porta De Santiago.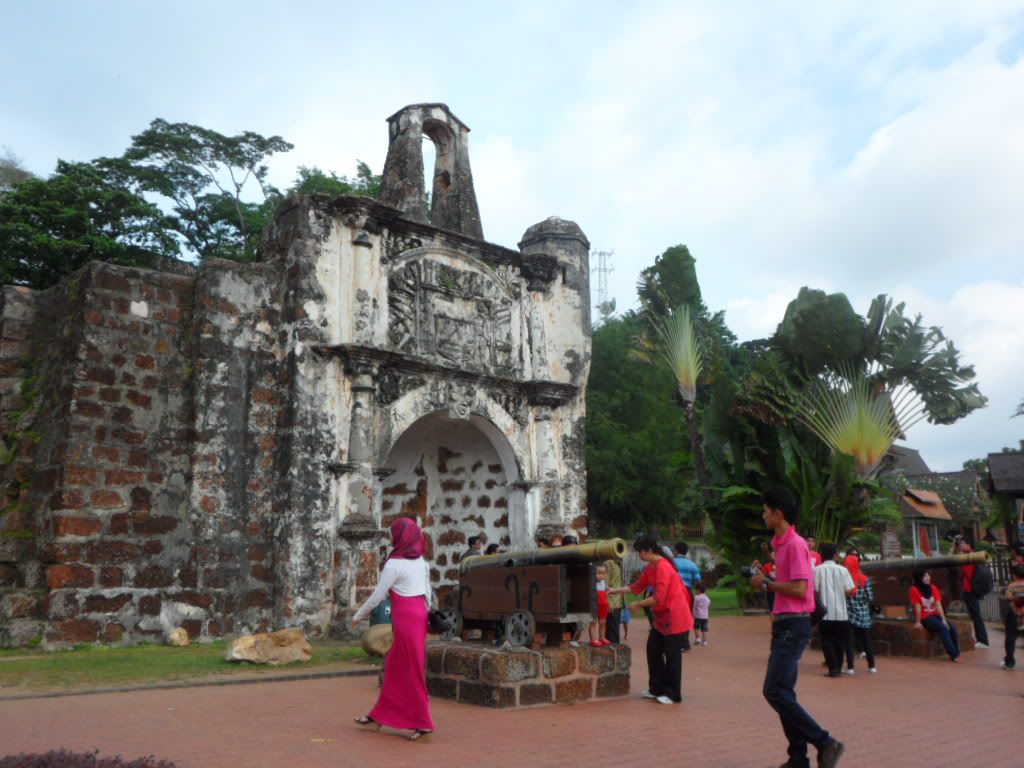 A Famosa aka Porta De Santiago
According to another one of our extensive research (2mins on Wikipedia), it is one of the oldest surviving European structure in Asia. Once a fortress built by the Portuguese, the gate is the only remaining structure now.

Around the A Famosa aka Porta De Santiago
This video shows the A Famosa up close and if you listen closely, you can also hear a tune resembling "My Heart Will Go On".
No…you are not hearing things. It's simply because there's a violin player playing within the gates.
At the end of this video, you can also see a flight of red stairs that leads up the hill. This will bring you to St. Paul's Church.
You can read more of our whining when you read that post…
For your convenience, you can now check out the best hotel deals in Malacca right here!
Related posts
This post is part of our 3D2N travels in Malacca. Below, you can find other relevant posts covered during this trip!
Top 3 Things to do at Jonker Street aka Jonker Walk
Jonker 88 @ Jonker Street
Stadhuys Melaka aka Red Square or Dutch square
Best 5 stars hotel in Melaka : Hotel Equatorial Melaka
Battle of the Malacca (Melaka) Jonker Street Chicken Rice Balls : Which is better? Chung Wah Chicken Rice or Hoe Kee Chicken Rice?
Weekend Getaway and Staycation @ Philea Resort Melaka (Malacca)
Top Attractions and Things to do in Melaka : World Heritage City
A Leisure Stroll along the Melaka River
Trishaw Rides in Melaka : A Must-Do Activity!
Traffic Jams in Melaka : How bad is it really?
Restoran Ole Sayang – One of the most reputable Peranakan Restaurant in Malacca
Melaka Sultanate Palace Museum – Built without nails!
Melaka Maritime Museum – Museum within a Ship
A Famosa aka Porta De Santiago
St. Paul's Church
If you enjoyed our content, "Like" us on Facebook Today!

Related posts: