Edge Restaurant at Pan Pacific Singapore has launched the "Long Long Lunch", which features Singapore hawker favourites from 12pm to 4pm on Saturdays. Also known as "Tunch" (a cool name for Traditional Lunch), this buffet spread also includes local delights such as Homemade Laksa, Bak Kut Teh, Carrot Cake, Satay and lots more!
Thanks to the great folks at Pan Pacific Singapore (big shout out to Wen Xian and Cheryl!), we were hosted to a fantastic Long Long Lunch at Edge Restaurant.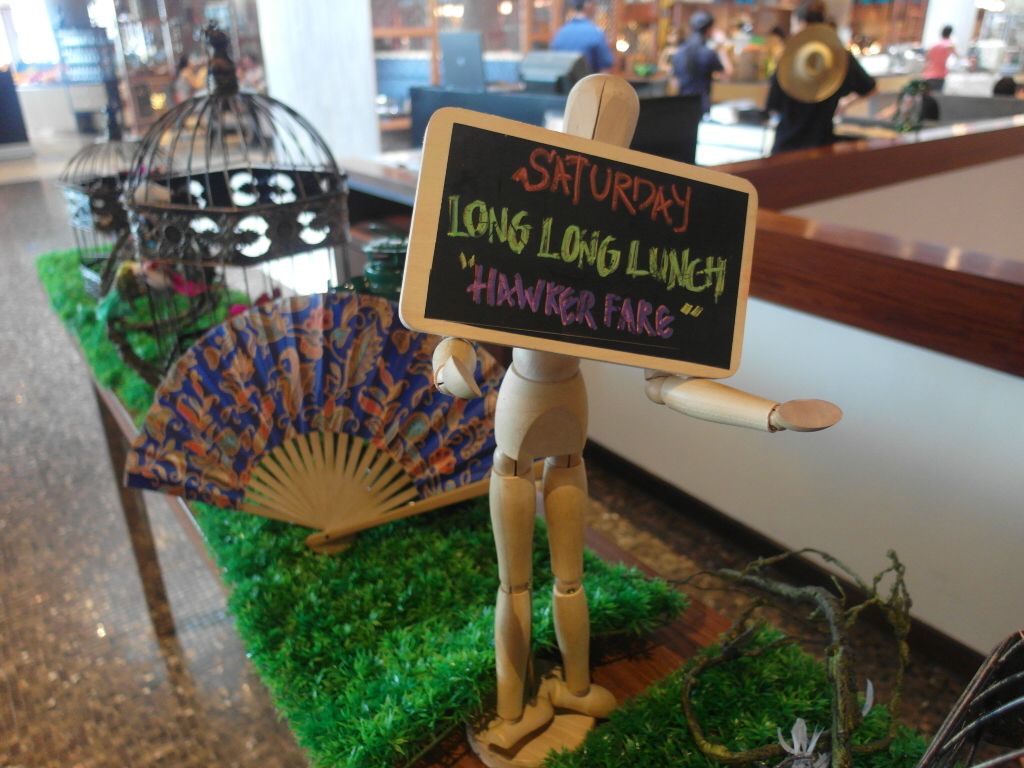 Long Long Lunch at the Edge Pan Pacific Singapore Hotel
Can you see the waiters dressed in traditional hawker outfit in the background? Topped with the rickshaw hat no less!
Edge Pan Pacific Singapore Long Long Lunch (Tunch)
Our expectations of local fare is especially high and usually for buffets, because of the quantity of which it is produced, the standards drop. But we're pleased to let you know that the standard of local hawker food at this Long Long Lunch is actually pretty good! Let's take you through the offerings of Tunch at Edge Restaurant…

Sticks with our table number
Once we were shown to our seats, the waitress informed us of the numbered sticks at our table. It is actually used for foods that require some preparation time (such as char kway teow and popiah).
Hand the sticks over, food prepared, food served to your table! Simple as that!
And here's a quick tour of the available stalls at this excellent traditional lunch buffet…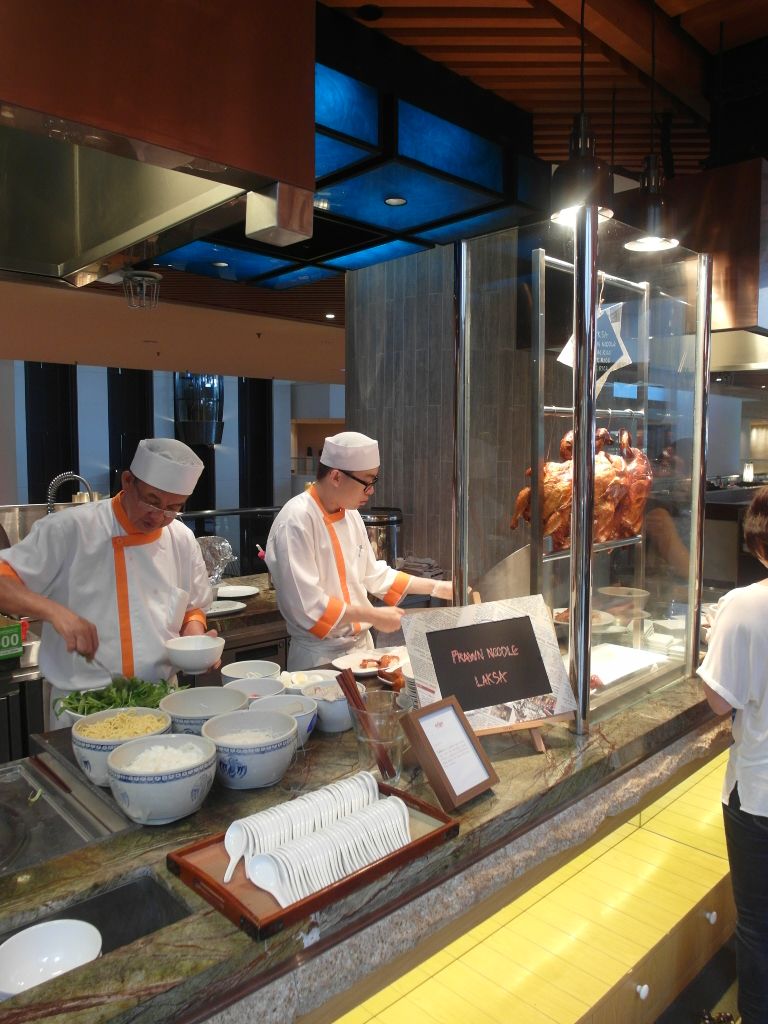 Prawn Noodle, Laksa, Wanton Mee, Chicken Rice and Duck Rice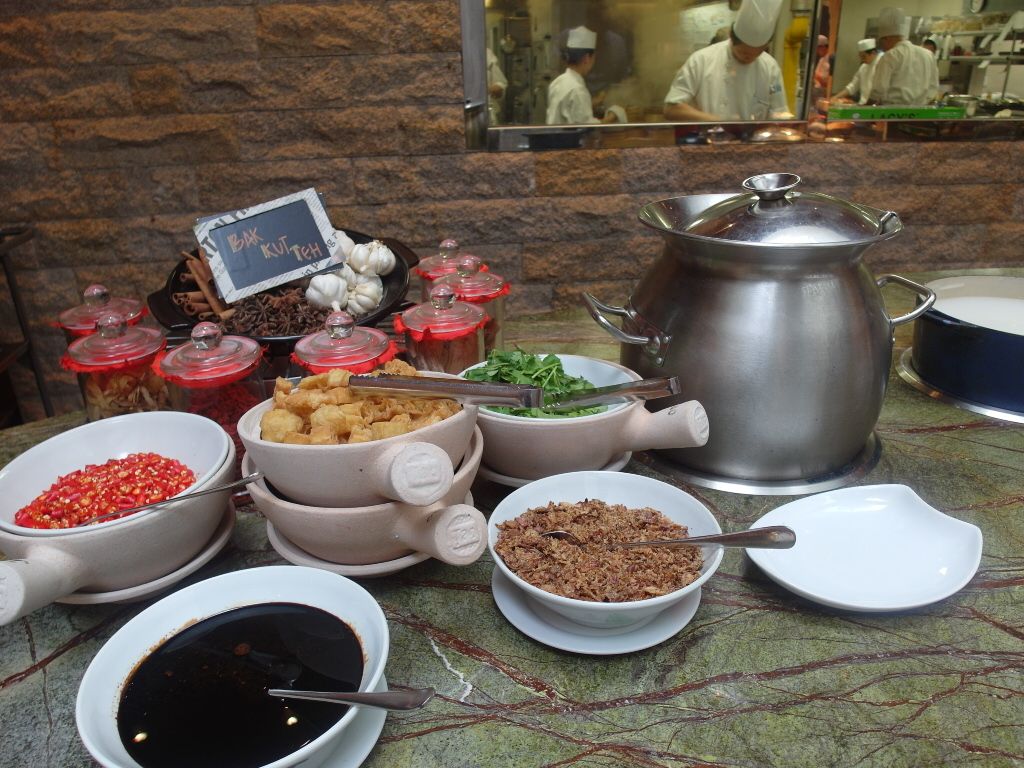 Bak Kut Teh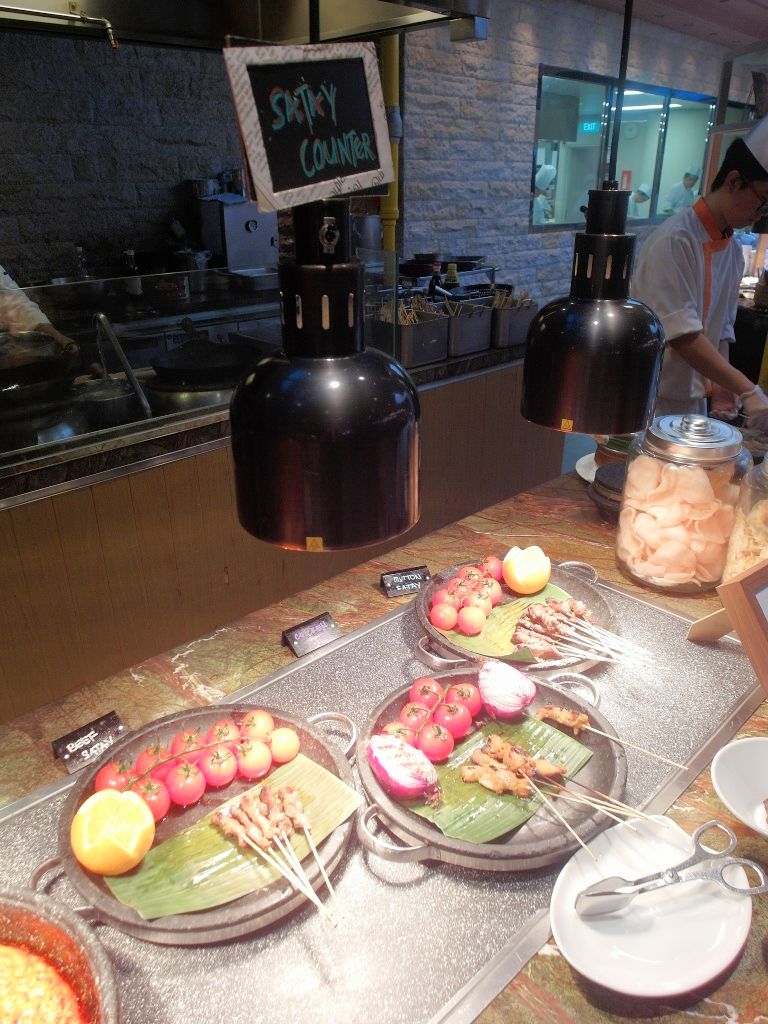 Satay Counter for beef, chicken or mutton satay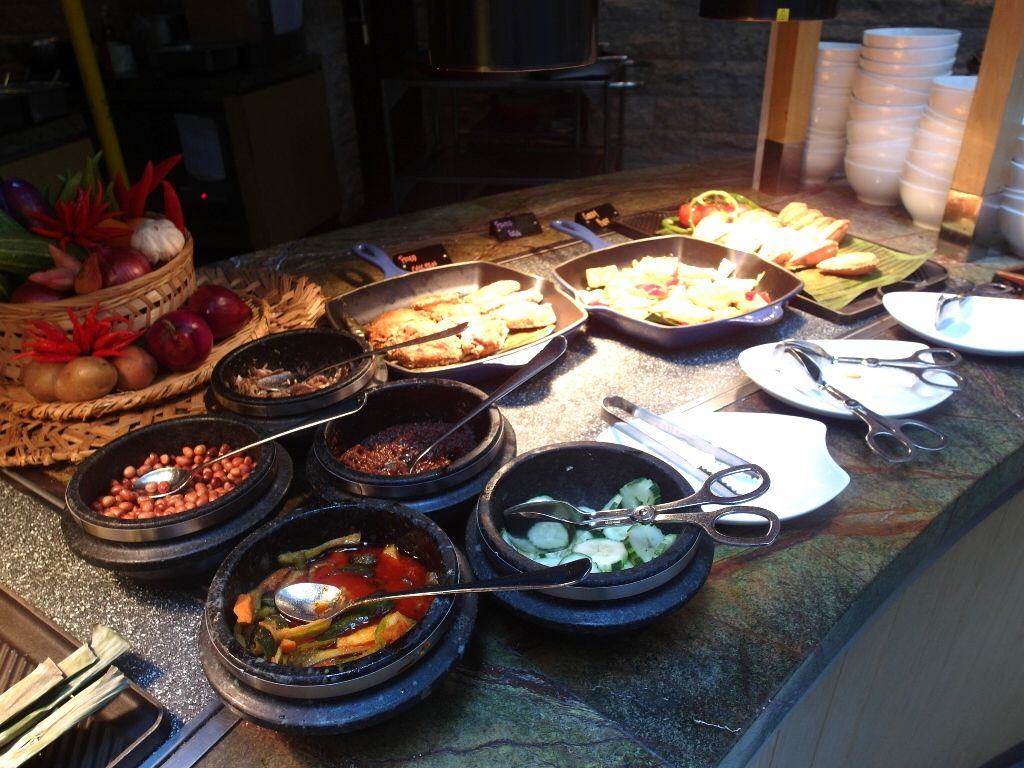 Nasi Lemak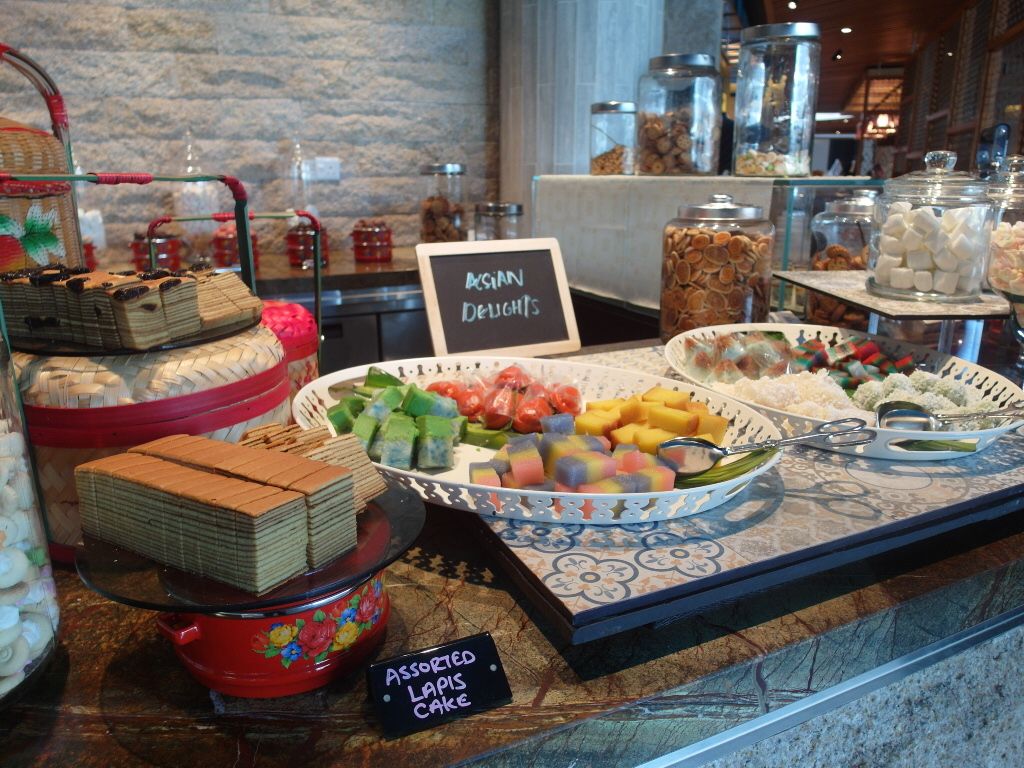 Asian Delights (Kuehs and asian cakes)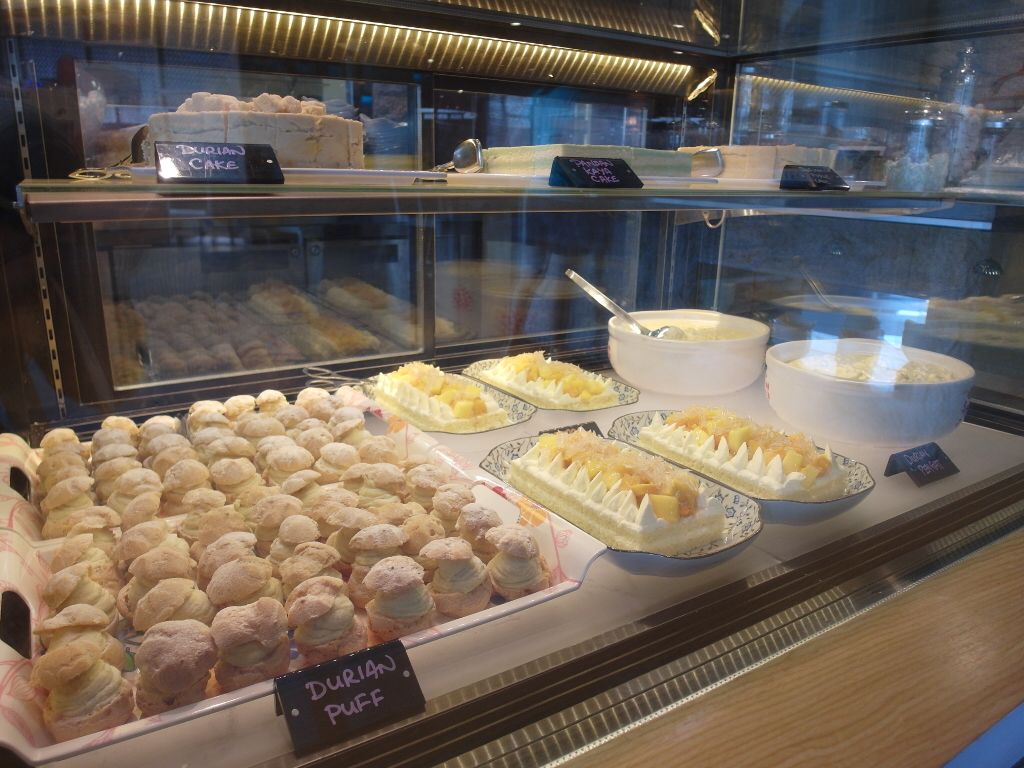 Durian cakes, puffs and pengat!!
In addition to the local delights, there is also a selection of international cuisine for you to choose from, including…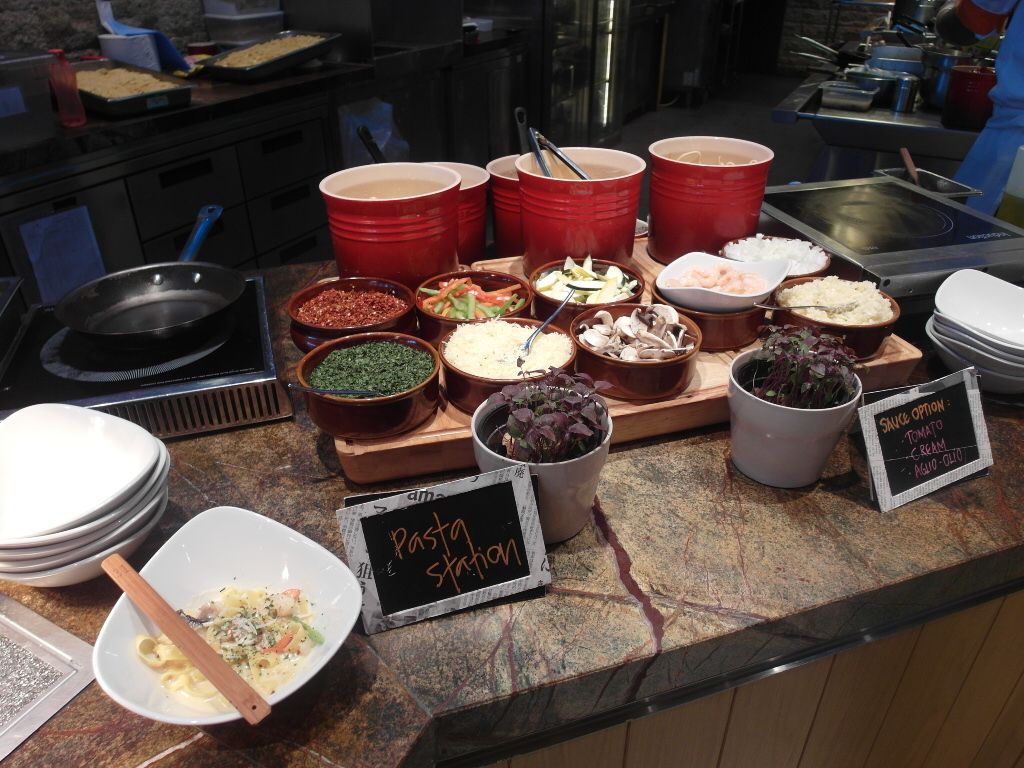 Freshly prepared pastas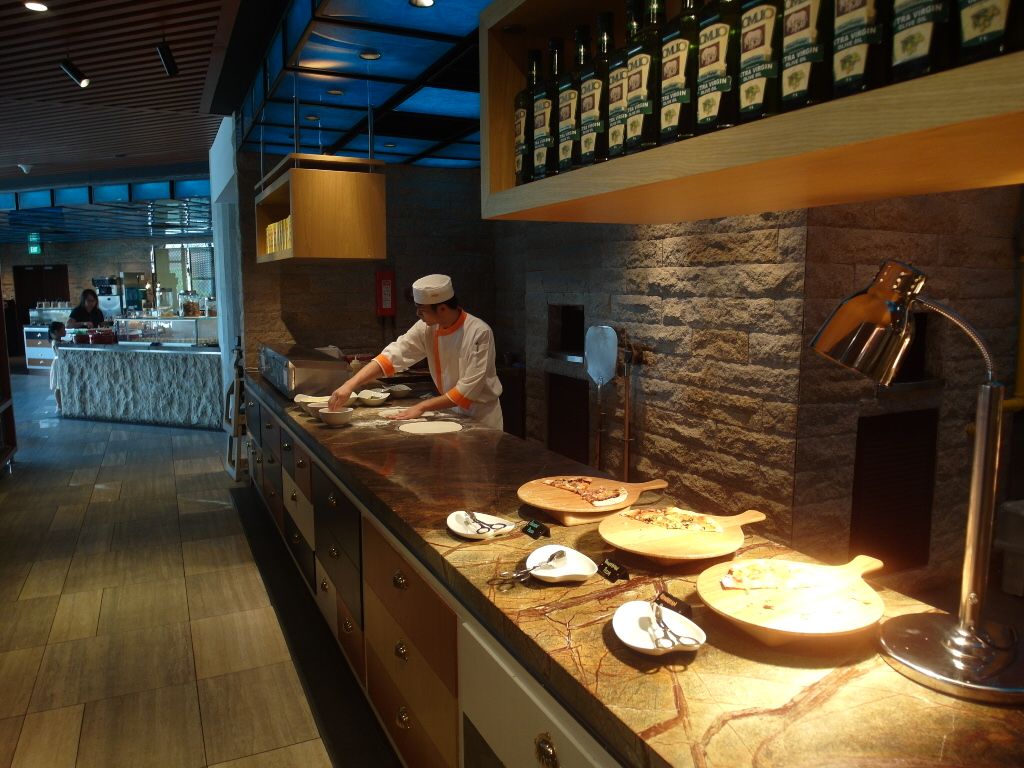 Pizzas made from scratch

Carvings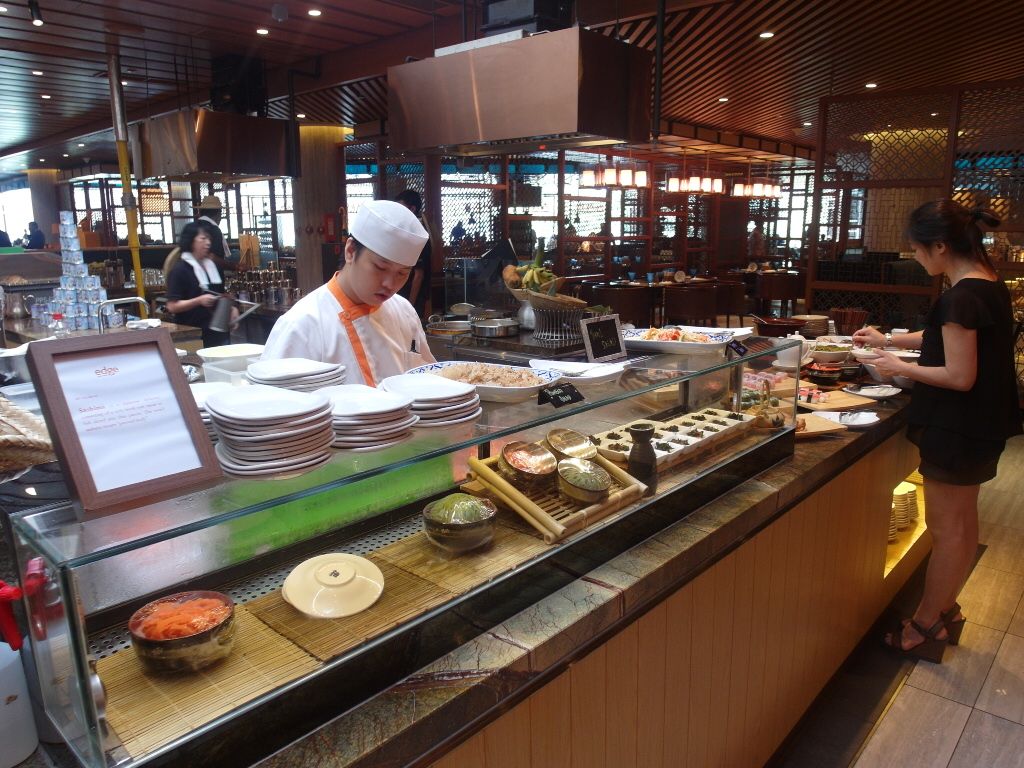 Japanese food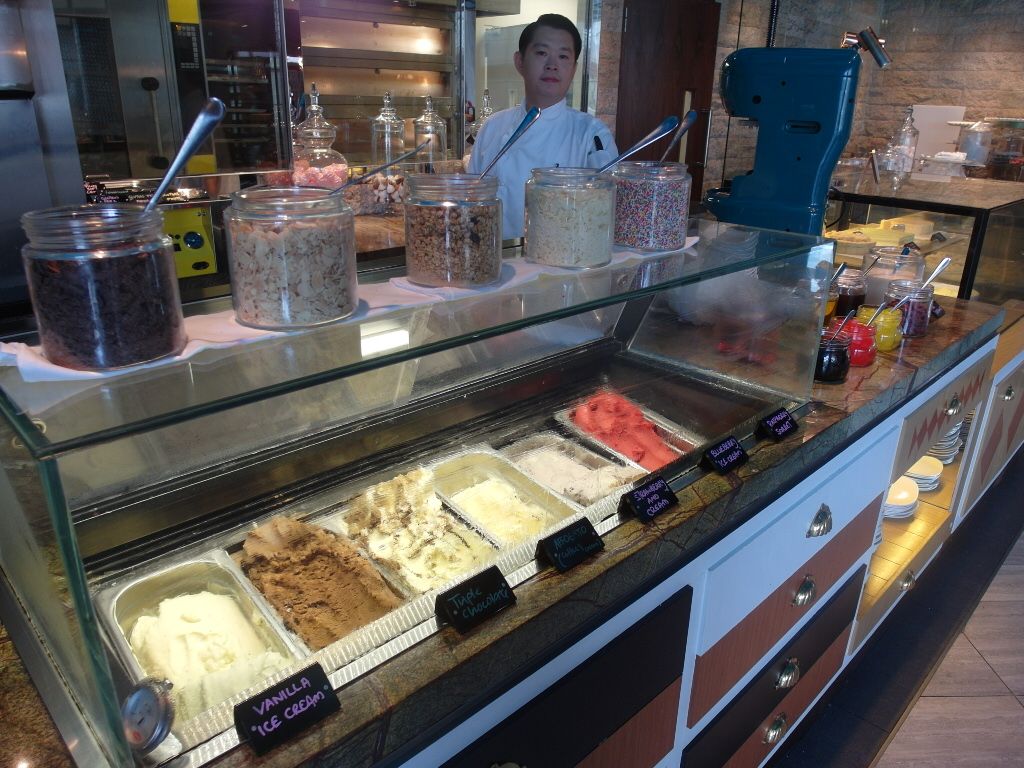 Quality Ice Cream
You may realise by now that the Edge restaurant at Pan Pacific Singapore Hotel, is actually quite huge! What we enjoyed about the lay out is that there's a new discovery at every turn inside the restaurant as the food is dispersed all around. In fact, we only found the traditional kaya toast (which was AWESOME – "everything is awesome…") towards the end of our meal!
What we ate at Edge Pan Pacific Singapore's Long Long Lunch
Here's a low down of what we ate at the Long Long Lunch and our comments on each of these dish that we've tried…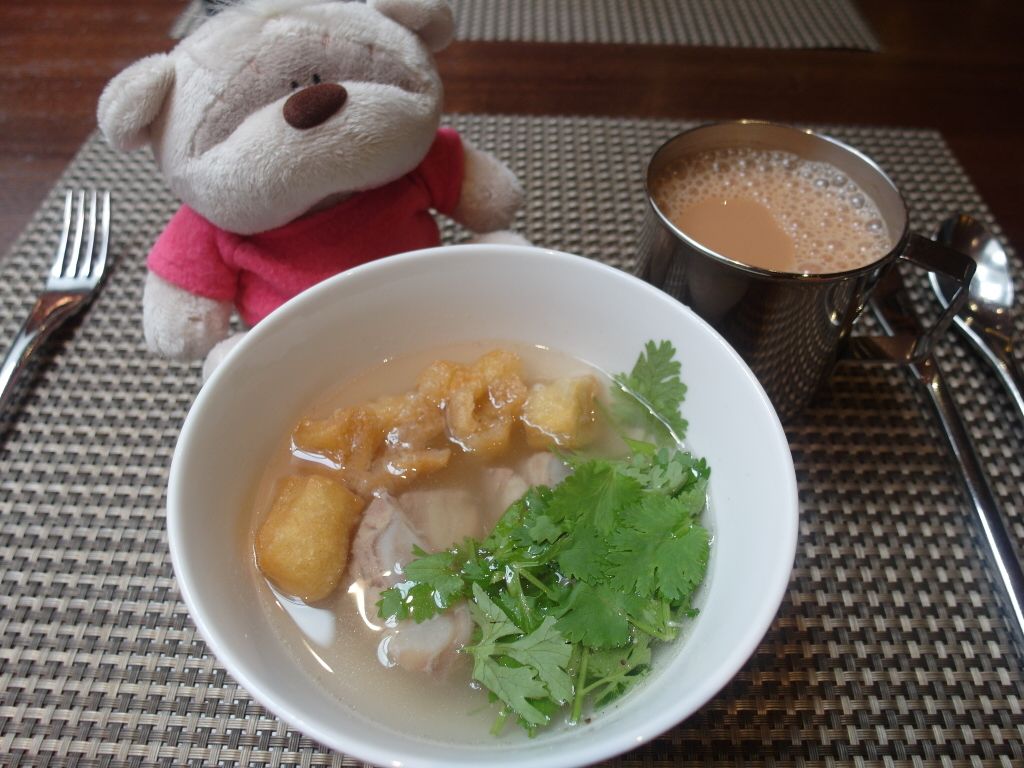 Bak Kut Teh and Teh Tarik (the 2 "Tehs")
You might be surprised but the bak kut teh taken out of the seemingly nondescript pot above, WAS ACTUALLY GOOD! The soup had the light spicy, peppery and not too salty taste of bak kut teh and to top things off, the rib was SO SO TENDER! The teh tarik on the other hand was milky and flavourful but was a tad too sweet. Remember to ask for siew tai/condensed milk!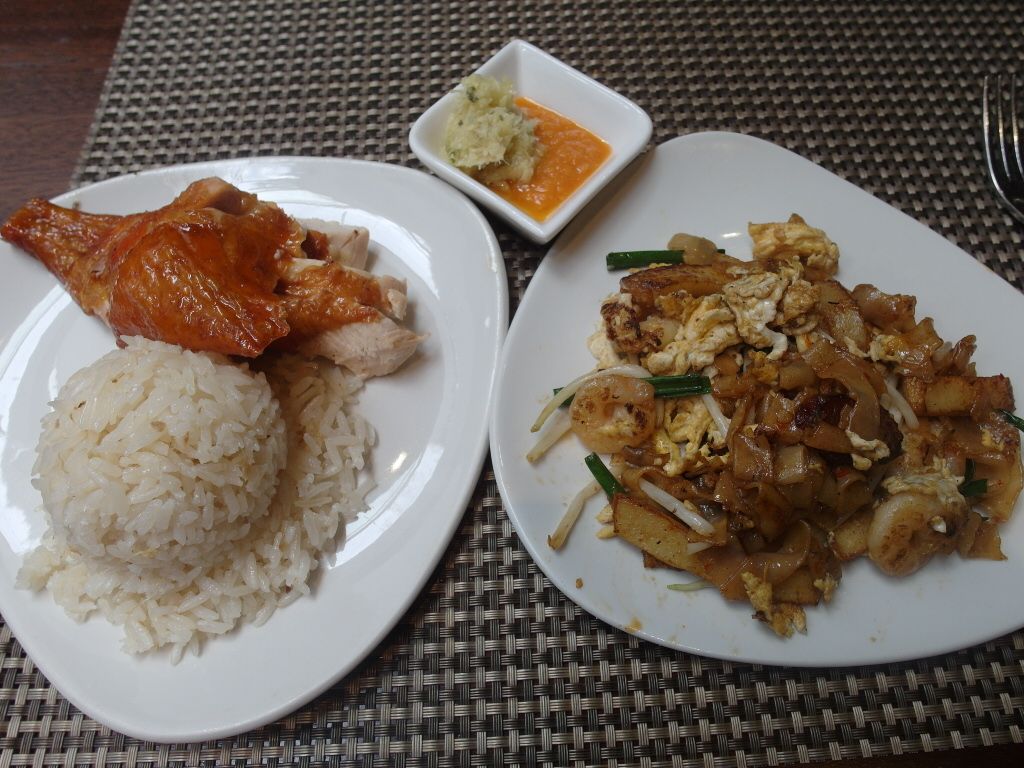 Chicken Rice and Char Kway Teow
You would think that for a huge buffet such as this, tastes for local delights such as chicken rice and char kway teow would be greatly compromised? WRONG! In fact, the rice was so fragrant that we REALLY wanted to go for seconds! Which we struggled very hard to decline 🙁 This is to salvage whatever space in our tummies to review the foods here just for you (yes you!) our beloved readers! And we digress…
The roasted chicken was tender, juicy and had a mildly familiar roasted fatty taste to it. To put it simply, you must eat the chicken skin with the tender juicy chicken meat! As you chew, the roasted aroma, coupled with the fragrant rice, swirls magically within…definitely one of the best chicken rice we've had in recent times! Oh oh, don't forget the chili!
The char kway teow was generous in its ingredients of prawns, fish cake and bean sprouts. There was "wok hei" with freshness of the ingredients fried into the kway teow, which was not too oily. Portion was just nice as well – not too jelat!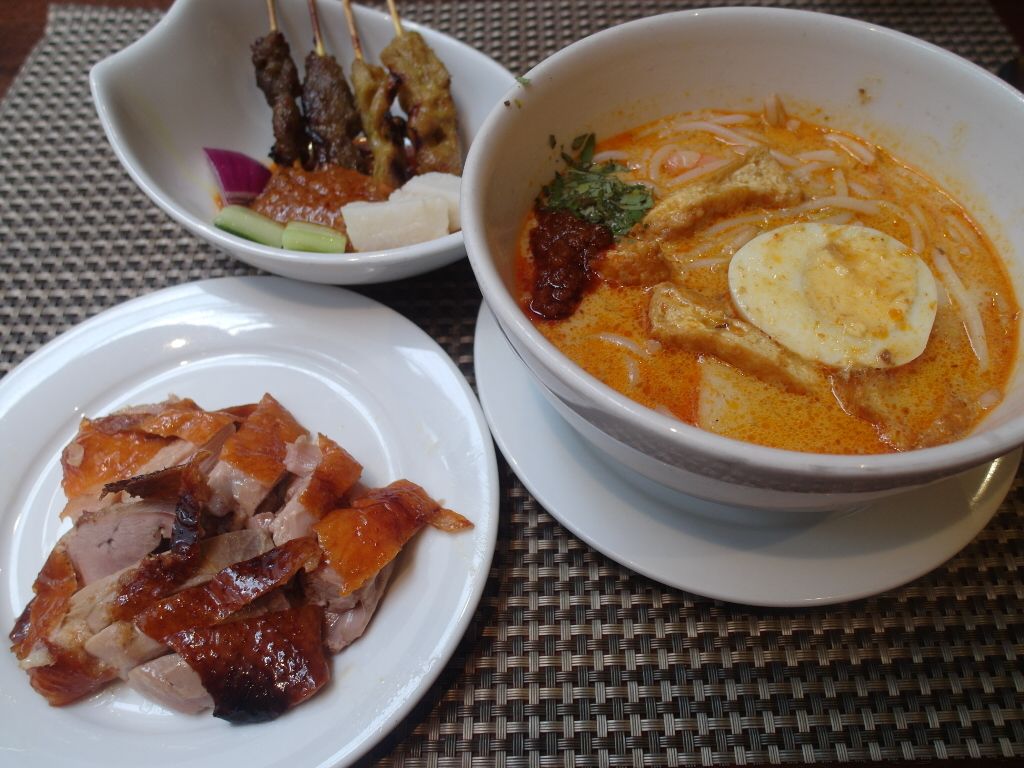 Satay, roasted duck and homemade laksa
All 3 dishes above were good. The satay sauce had the right proportion of peanut to sweetness ratio while the satay had a slight charred taste to it. These satays were BBQed "live" and you may have to wait for the next batch if your movements are a little slow. The roasted duck had a crisp and fatty layer on the outside while the meat had that firmness and sweetness as you chew into it – simply how a good roasted duck ought to be. Lastly, the laksa gravy and chili (most important parts of the laksa) were pretty decent. The only let down was the thick vermicelli which could be a little more "silky". To solve this, politely ask the chef to cook your vermicelli a little longer.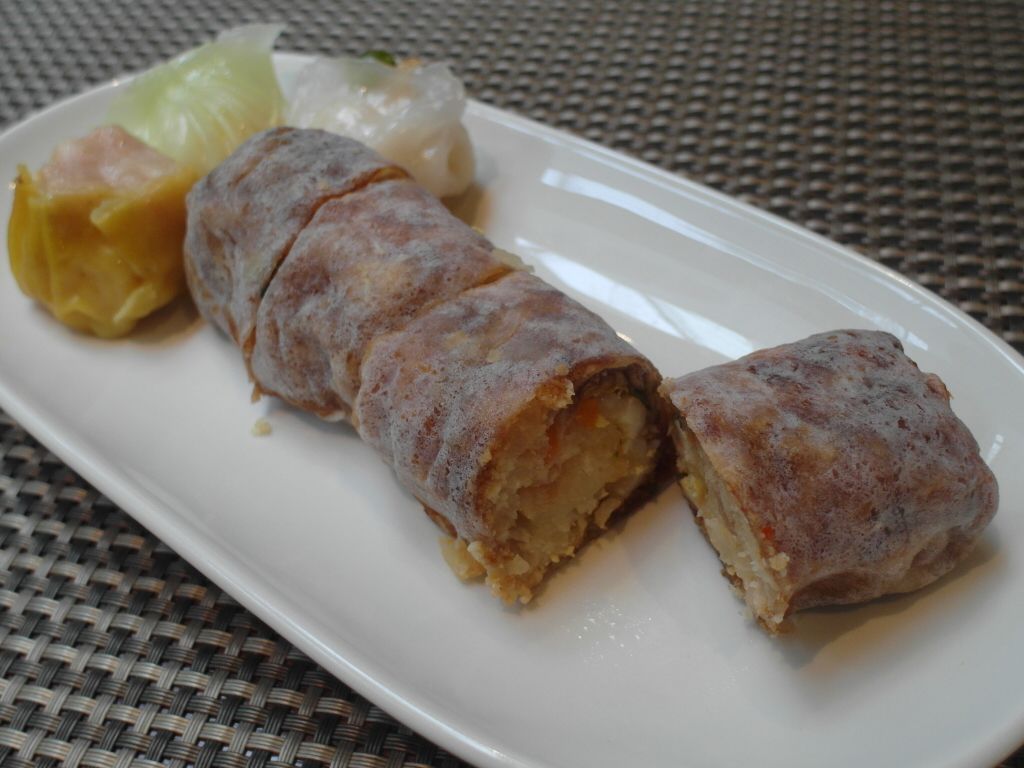 Dim Sum and Popiah
As for the dim sum, you won't go wrong with har gau and siew mai. Both had mouthfuls of fillings with every bite. The lobster dumpling though was a miss. The skin was a little thick and perhaps the dumpling simply did not meet the expectations of the name "lobster dumpling". You would expect some kind of a "wow factor" with that kind of name right? The popiah on the other hand had chock-full of fillings and was a great dish to complement the meal.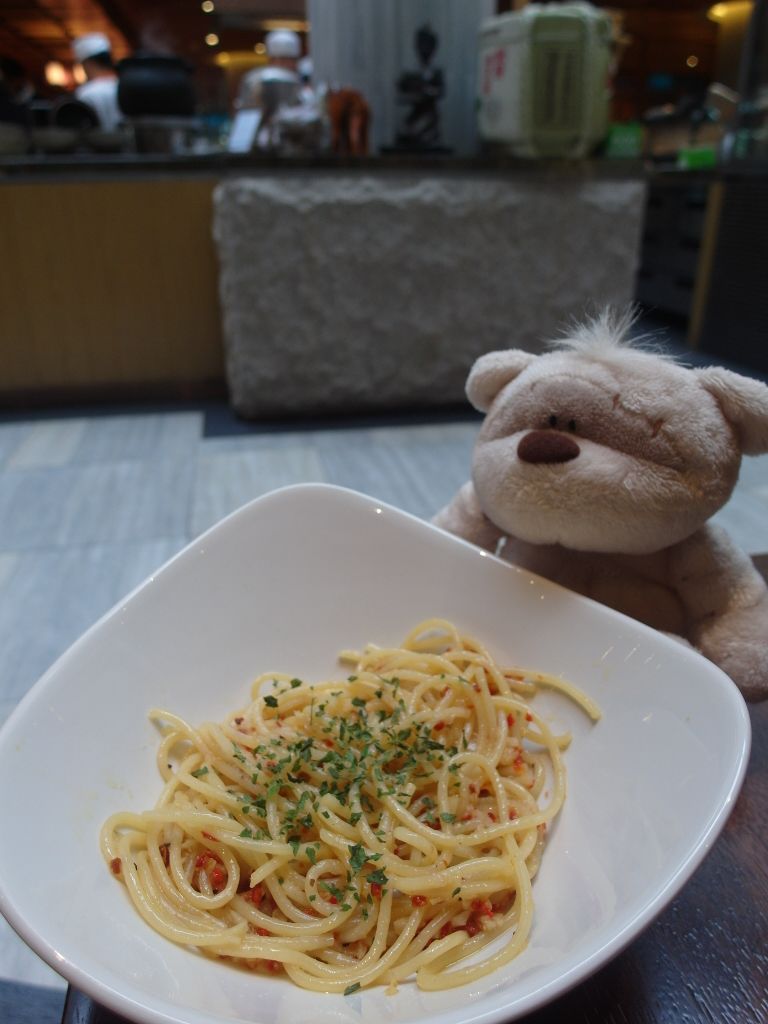 Freshly prepared Aglio Olio
Just to test the skills of the chefs, we ordered the Aglio Olio at the pasta counter and we were glad that we ordered it. The texture of the pasta was just perfect, a firm bite on each mouth (soggy pastas spoil the taste). The full flavoured garlic and chili bits rounded up this simple but elegant pasta.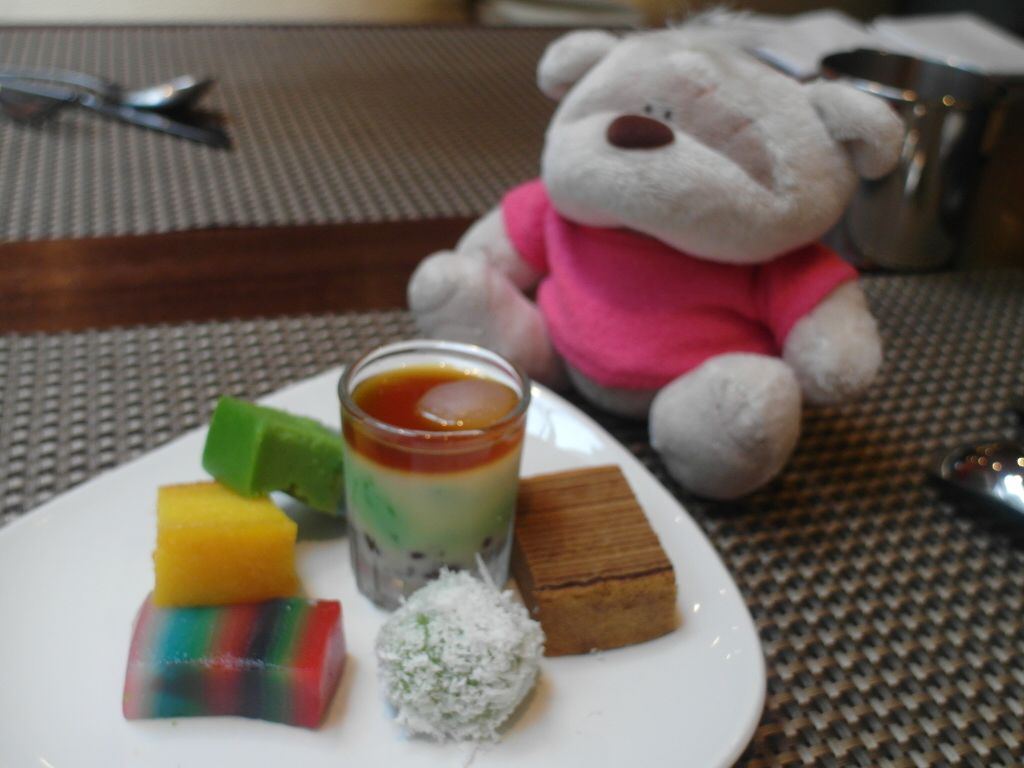 Asian delights

Durian selection!
To round up the meal, we headed to the desserts section! Kate enjoyed the asian delights of kueh kuehs and kueh lapis while I headed for the durian selection! You MUST TRY the durian cake and pengat at the Long Long Lunch. As with good durian cakes and durian pengats, the texture of the durian could be felt with each bite. Though the silkier texture of the pengat could be deceiving on the first impression, the power-packed taste from the King of Fruits could be savoured with each mouth – all bitter sweet tastes of it! That was why we went for seconds and helped build up our "reserves in the mid section"…
About Edge Pan Pacific Singapore's Long Long Lunch
The highlights from the Long Long Lunch of Edge Pan Pacific Singapore Hotel includes :
Singapore Heritage
Homemade Laksa (Chef's Signature)
Penang Prawn Noodle Soup (Chef's Signature)
Bak Kut Teh (Chef's Signature)
Satay
Nasi Lemak with Otah
Roti Prata
Homemade Dim Sum
Crispy Char Siew Soo
Fried Carrot Cake
Popiah and Rojak
Singapore Toast (Egg, Kaya, Peanut Butter, Butter and Sugar)
Japanese and Thai
Traditional Thai Tom Yum Soup
Thai Papaya and Mango Salad
Selection of Sushi and Sashimi
Thai-style Deep Fried Banana
Desserts
Durian Puff, Durian Mousse Cake and Durian Pengat (Chef's Signature)
Ice Kachang (Chef's Signature)
Soy Bean Milk Pudding (Chef's Signature)
Portuguese Egg Tart
Mango Pomelo Short Cake
Bread and Butter Pudding with Vanilla Sauce
Pandan Kaya Cake
Chendol Agar Agar
Orange Chiffon Cake
Nonya Kueh and Chinese Cookies
Date: Every Saturday
Time: 12:00 noon to 4:00pm
Prices:
$50nett per adult inclusive of unlimited local beverages, coffee and tea
$25nett per child (below 12 years of age) inclusive of unlimited local beverages
Venue: Edge (Level 3), 7 Raffles Boulevard, Singapore 039595
If you enjoyed our content, "Like" us on Facebook Today!

Conclusion
If you're thinking of taking your loved ones out for a relaxing long long lunch but not sure where to get good quality hawker fare at one great location, the Long Long Lunch at Edge Pan Pacific Singapore can be an excellent option.
We used to think that great hawker foods, especially for buffet is simply not possible. Usually such buffets has more "misses" than "hits". In addition, to keep up with food quality and great local flavours for a large quantity, is extremely difficult to say the least.
Edge's Long Long Lunch has changed that impression. Kudos to the chefs at Edge Pan Pacific Singapore!
**Special thanks Cheryl, Wen Xian and the team from Edge for hosting us to a lovely Long Long Lunch!
Related posts: