There are many hotels in Bohol that claimed to be beachfront and it is really quite hard to tell how the actual conditions of hotels/resorts are. Pictures can sometimes be REALLY deceiving… We finally chose Amorita Resort in Bohol because of its location and facilities (and also because Kate loves the fuschia pink logo! Hee.) We booked thru Agoda and the rate per night was about $224 (including tax).
Amorita Resort is about 30mins away from Peacock Garden Bohol. The entrance is a huge heavy gate at the end of the road that is guarded by a security guard. He dutifully checked our room reservation against a list that he had for the day before he let us in. We were impressed by the level of security at Amorita Resort.
Facilities of Amorita Resort Bohol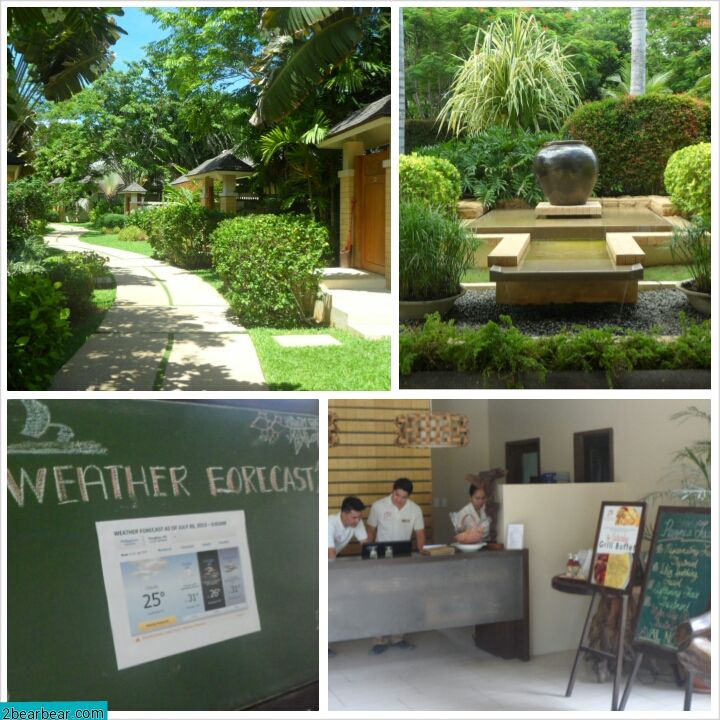 Lobby and surroundings of Amorita Resort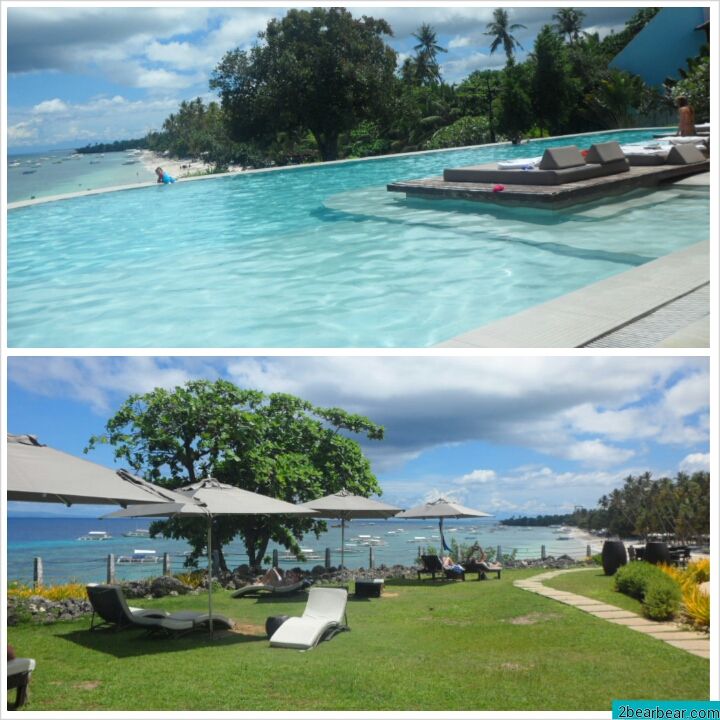 Swimming pool of Amorita Resort

Swimming pool and view of Alona Beach from Amorita Resort Bohol

See how clear the waters and how blue the skies are at Alona Beach Bohol
Amorita Resort Bohol – Deluxe Room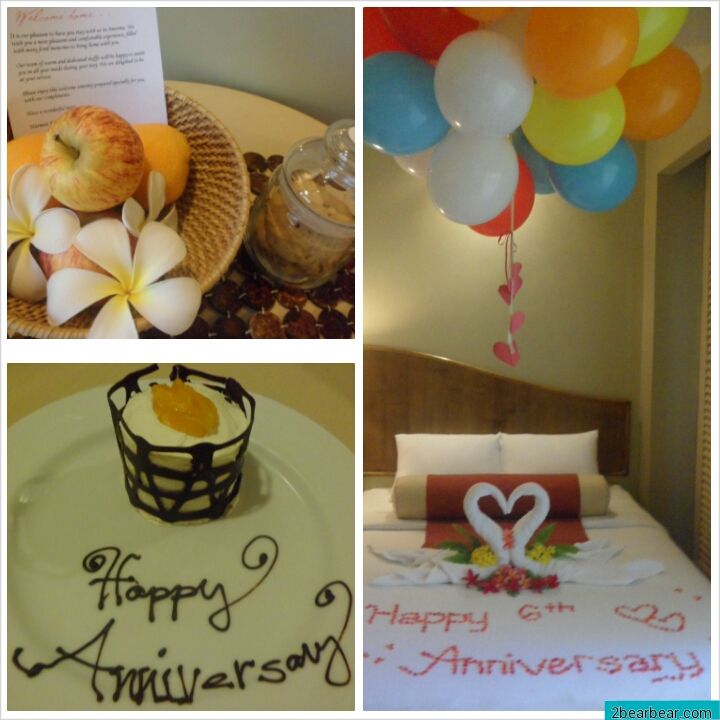 Welcome cookies and customised anniversary balloon decorations at Amorita Resort Bohol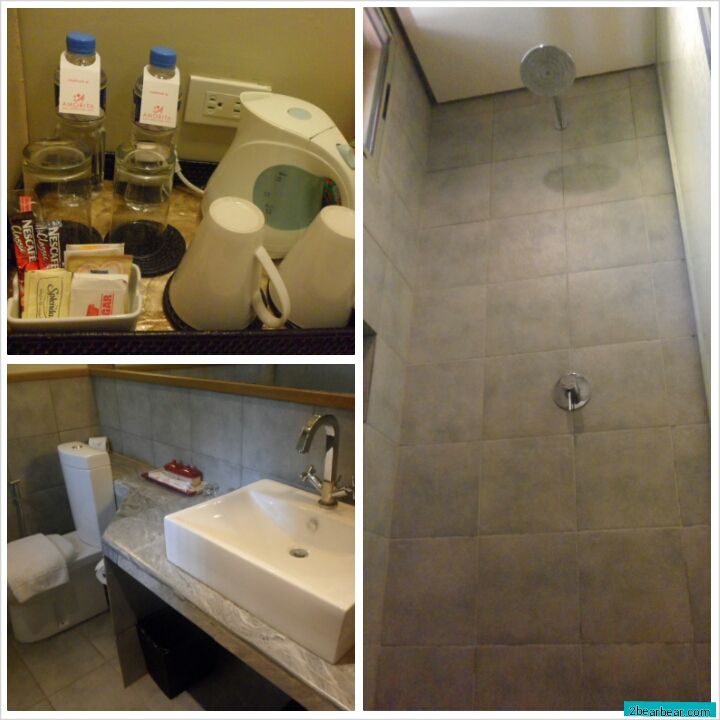 Bathroom of Deluxe Room

Video of Deluxe Room Amorita Resort
Kate arranged for a surprise for Tom at Amorita Resort. As we entered, we were greeted by a HUGE balloon decoration as well as petal arrangements on the bed for our anniversary! There were also welcome cookies (which we devoured promptly) along with some fruits as well.
After checking out the room, we left our luggage in the room and went for a stroll along the beach with the balloons! On the 2nd day, Tom went to the beach again with the balloons and started to give them out 1 by 1. People were quite reluctant at first but as others watched many before them taking balloons from Tom, many started to approach to get for their kids. Some even asked us what the occasion was and congratulated us 🙂

Video taken on Alona Beach
The great thing about Alona Beach is that the sand is so fine that when mixed with the sea water, it becomes like a clay/mud. Tom started applying on his body and many others followed suit. It could be psychological, but the skin somehow felt smoother! The best part was, once you immerse yourself in water, the sand comes right off! As we were strolling on,there were many boat operators asking if we wanted to book a trip to the islands or hire a boat to catch the sunset. We also noticed several "divers" looking for something beneath the water. While Kate was doing her massage, Tom went and searched for…sea urchin! There were many old ladies with their baskets scouring for sea urchins. Tom managed to find one with the help of a local and savoured a freshly opened sea urchin – this is as fresh as it gets, eating in the ocean!
However, do be aware of the correct species of sea urchins (as well as the edible bits) before going to catch one on your own. Otherwise, approach one of the friendly locals and they will kindly help you out as well 🙂

Alona Beach and Kate enjoying a massage by the beach
Grill Buffet Dinner at Saffron Amorita Resort Bohol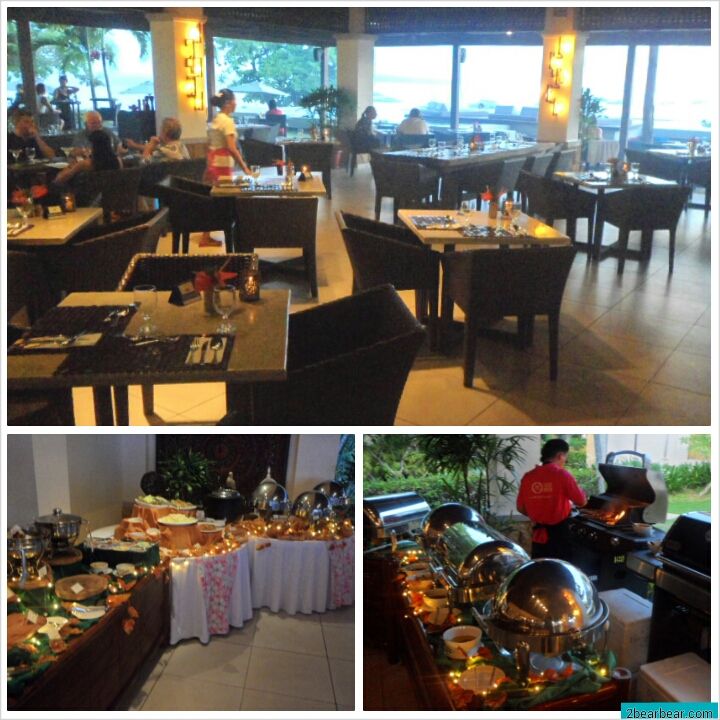 Grill Buffet Dinner at Amorita Resort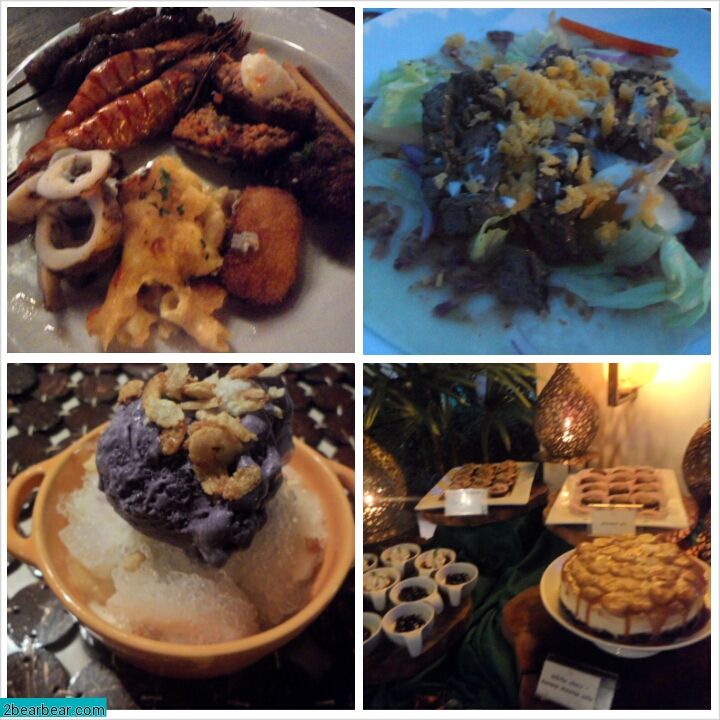 Yummy grills and desserts – especially the sweet icy cold mangoes!
For Saturday nights, the hotel has grill buffet dinner (at 750pesos++ which is about $25SGD for seafood buffet!) and it was well-received by the hotel guests. The restaurant was full of guests by 6.30pm and the smell of grilled meats waft through the restaurant.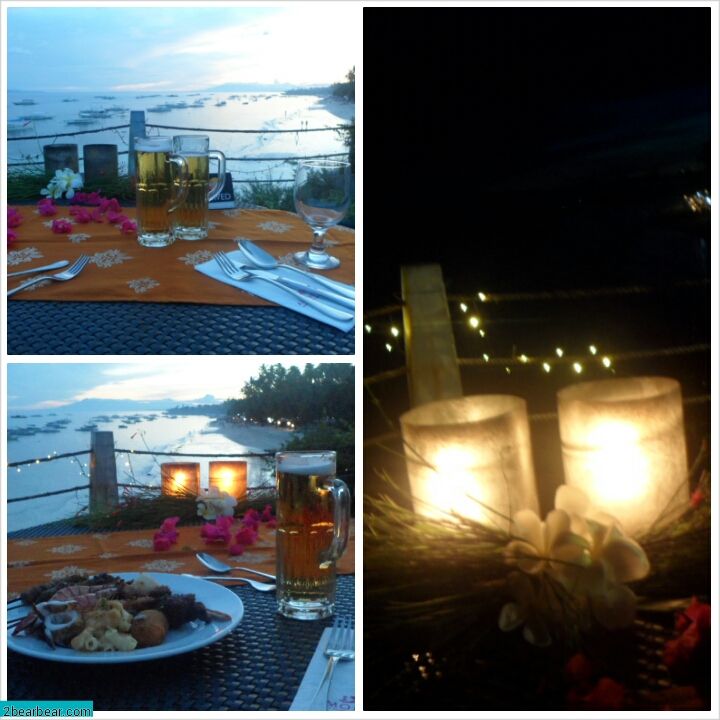 Romantic Dinner for 2 at the Deck overlooking Alona Beach
We had a table reserved at The Deck, overlooking Alona Beach…a romantic setting at sunset and as the candles kicked in after dark, it marked out a special place for 2. The seafood was really fresh. You definitely wont go wrong with additional servings of the prawns! After we finished our mains, we headed back to the restaurant for desserts!
Breakfast at Amorita Resort Bohol

Omelette Station and Buffet spread at Amorita Resort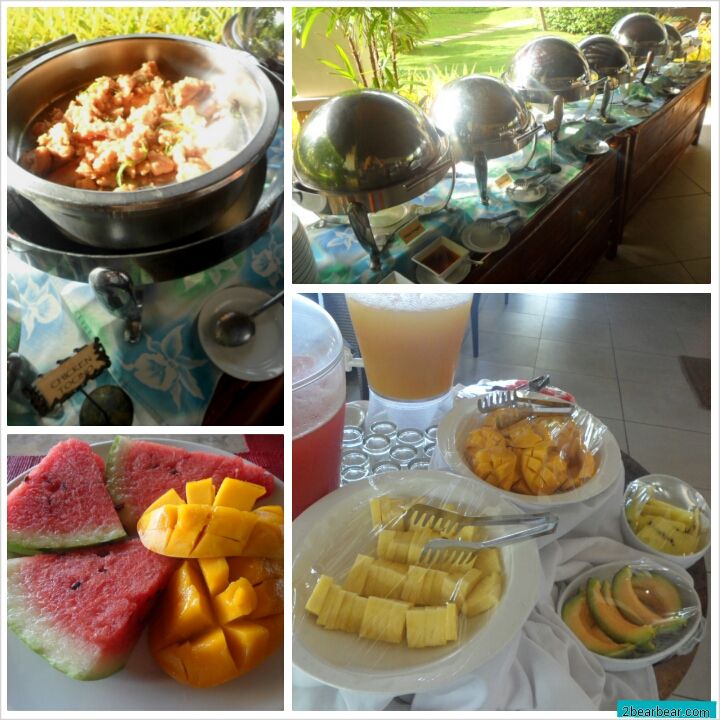 Mains and Fruits – LOOOOOOOVE the mangoes!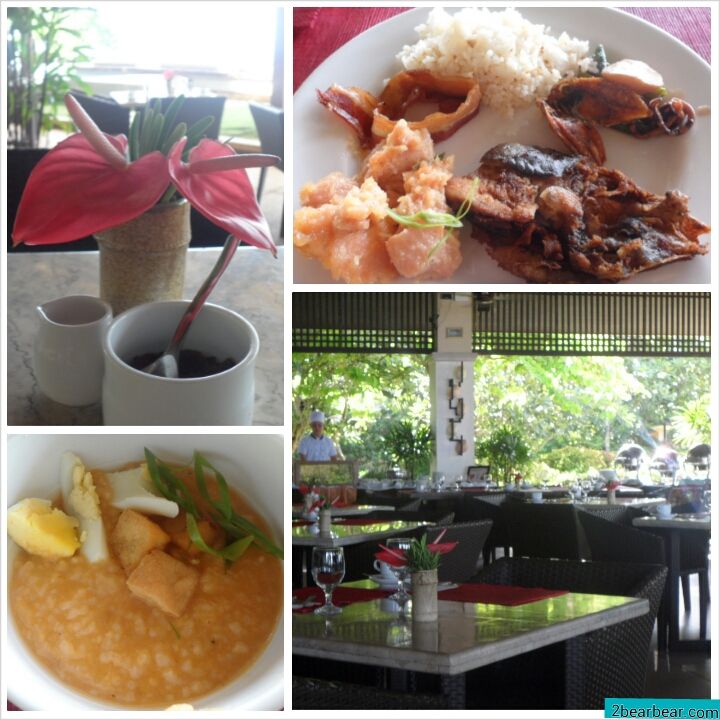 Arroz porridge and mains
Breakfast at Amorita was pretty decent. You can choose from the various egg choices at the omelette station and have the usual western fare of milk, toast and bacon. Or you can have some rice with fish (side note : the fish looks terrible but tastes AWESOMELY FRESH!) or some local porridge. After which you can top it off with some of the sweetest and juiciest mangoes around! Not too bad for an idyllic breakfast overlooking the sun-blessed ocean!
If you enjoyed our content, "Like" us on Facebook Today!

For your convenience, we have arranged for the best hotel deals in Bohol right here!
There are so many things we loved about staying at Amorita Resort Bohol. The close access to the beach, great base for island hopping, great views, fantastic food, excellent service and just that idyllic holiday resort feel in Bohol…give Amorita Resort Bohol a try the next time you're there, you'll enjoy it as much as we did!
Related Posts
Cebu
8 Things to do and Attractions in Cebu Philippines!
How to get from Singapore to Cebu?
Oceanjet ferry from Cebu to Bohol: Fast and comfortable
CnT Lechon: The Best Lechon in Cebu?
Golden Cowrie Restaurant Cebu: For Authentic Filipino Food!
Eat, shop, eat, shop, till we drop in Cebu!
Filipino Breakfast at Alberto's Pizza Cebu!
Ayala Mall Cebu : Do What The Locals Do!
City Suites Ramos Tower: Good location with Great view!
Castle Peak Hotel, Cebu, Philippines: Good location, Low price!
Breakfast at Bo's Coffee: One of Philippines' top specialty homegrown coffee shop
Bohol
4 Top Attractions and Things to do in Bohol Philippines!
Peacock Garden Bohol : Awesome Premier Infinity Pool and Seaview Room!
Bohol Countryside Tour: Chocolate Hills, Tarsiers and More!
Amorita Resort Bohol: My little love…
Dolphin and Island Hopping Tour (Pamilacan, Balicasag, Virgin sandbar): A day of chasing dolphins and turtles
Related posts: