There are so many things to do in Prague! In day 4 of our Europe Trip, we'll describe all the attractions and things to do right here in Prague!
Day 4
We arrived in Prague at about 8pm via a flight from Amsterdam. It is wise to arrange for transport in advance because our driver was already awaiting for us at the airport when we arrived. The other good thing about this airport transfer was that it includes a guided tour of Prague as well! And so we checked into our Hotel – Hotel Roma that evening.
Hotel Roma is an italian themed hotel. We got it for a steal through a combined flight and hotel purchase – $70Euros/night!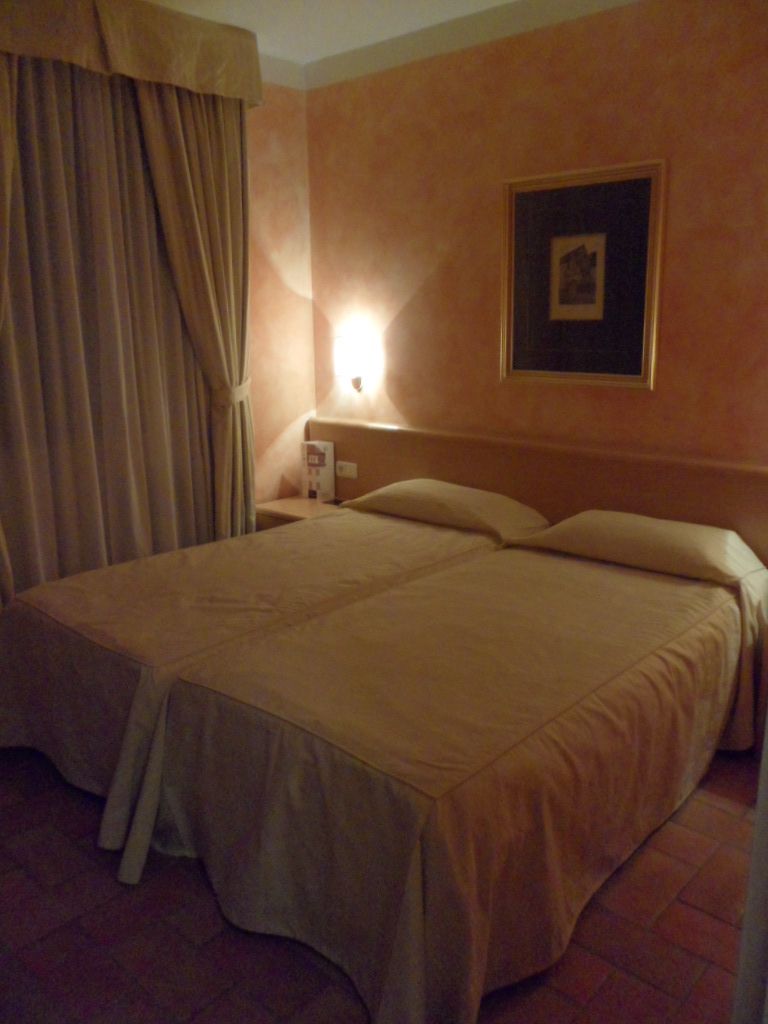 Double Bed in Hotel Roma

Breakfast area @ Hotel Roma
The breakfast in European countries are pretty much the same – cheese, ham, bread, eggs, sausage, fruits and cereals. Well, for the price, it's really a steal as it comes with breakfast for 2, proximity to the Funicular and walking distance to all major attractions!
As we were still early for the complimentary tour, we took a short walk about town and took some photos of the Charles Bridge as well as the Vltava River.

Charles Bridge and Vltava River

Snow capped hills near Hotel Roma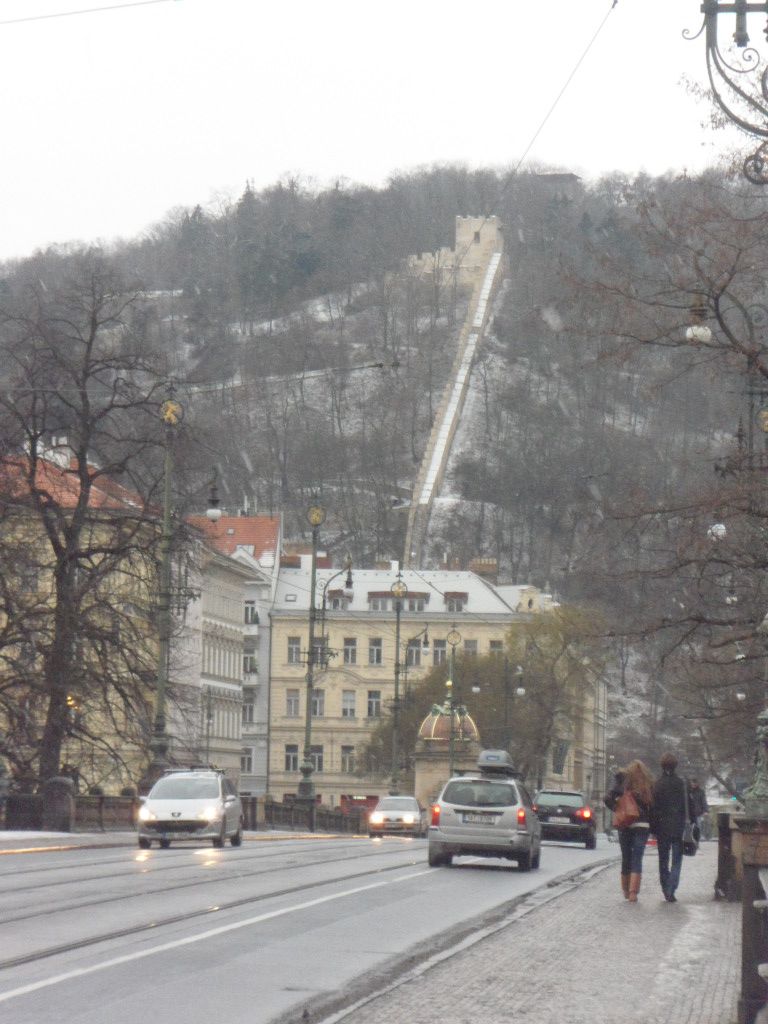 Shot of the Hunger Wall
When we shot this photo, we were still unaware that it was the hunger wall. We thought that it was just another fortification of the city. Turns out that King Charles the 4th wanted to feed his people due to a great famine during that period, so he hired them to construct the wall, at the same time feeding them. Great King eh?
The tour starts daily at 11am. As we were still early, we went shopping! Kate bought a pair of boots at the shopping malls along Wenceslas Square. Fashionable yet keeps one warm in the cold months.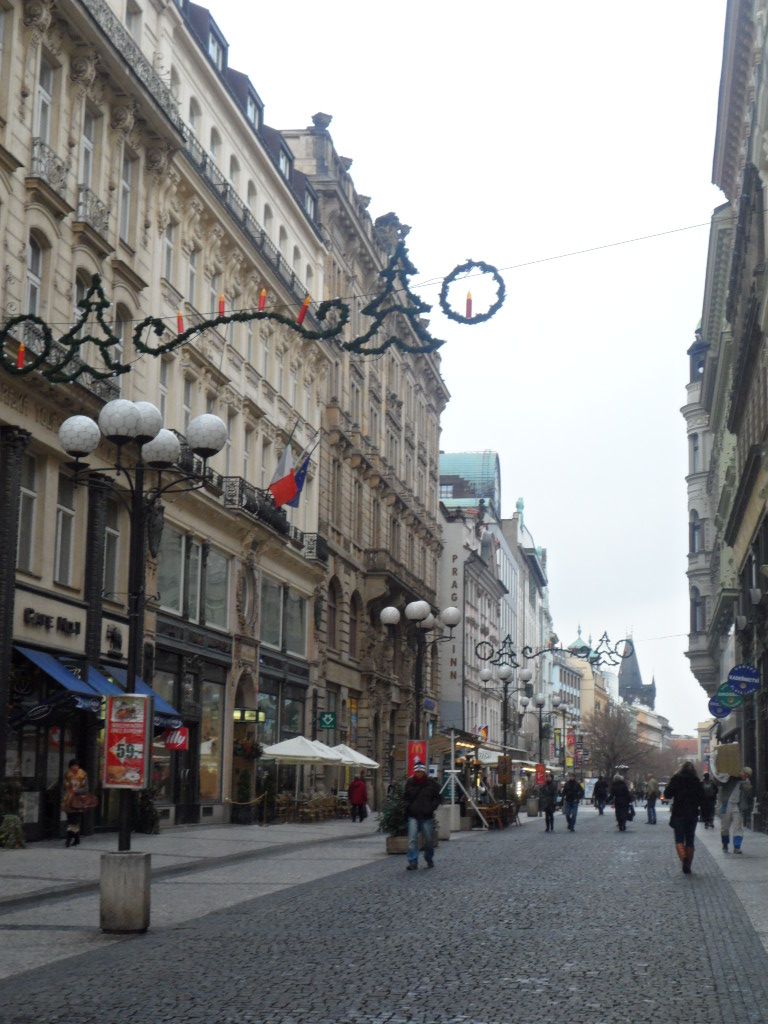 Wenceslas Square Prague
We were there close to 11am and met our tour guide for the day – Monika. She's a local, born and bred in Prague and she is VERY experienced. Plus she speaks good English as well. We were told to hang around and watch the Astronomical Clock at 11am sharp. She told us that the tour would start after the "performance". This was what we saw…

12 Apostles of Astronomical Clock
After the cock crowed, a trumpeter appeared at the top of the Astronomical Clock to announce the hour on all 4 sides of the tower…

Trumpeter of the Astronomical Clock
After the "performance", Monika started the tour proper. Since we were in the heart of Old Town Prague, she told us a few stories here…

360 View of Old Town Prague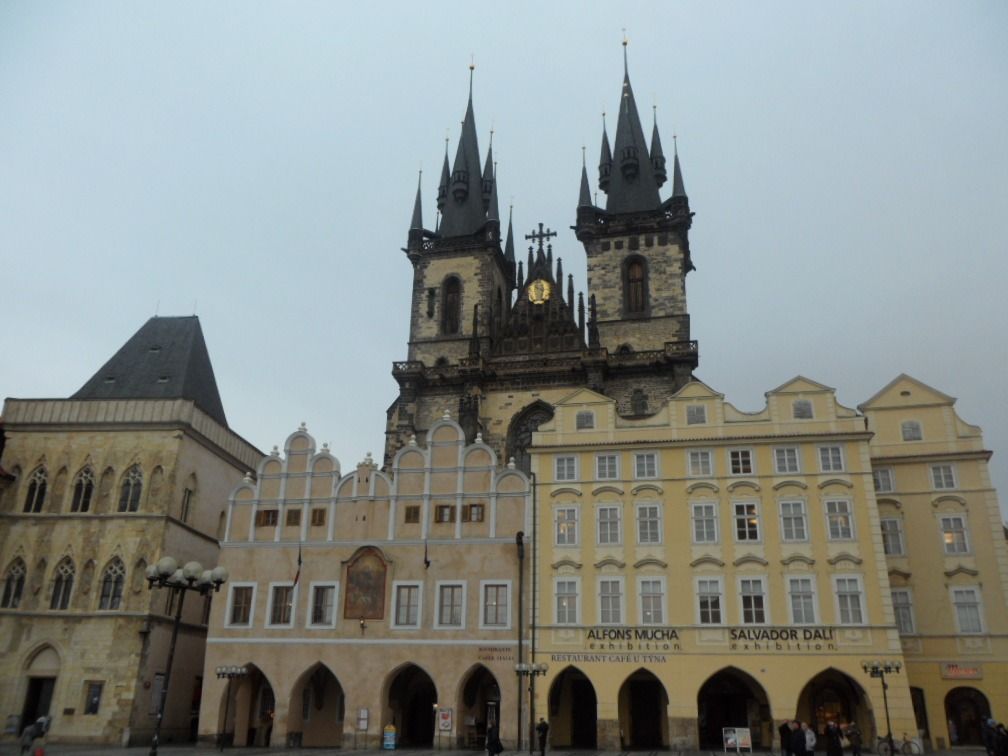 Church of our Lady before Tyn – Fat and Thin Towers
You may notice that the towers of the Church of our Lady before Tyn are different – one thin and one fat. Monika joked that the architect was actually drinking and got a little bit tipsy that evening, which is why the measurements got out. But the truth is, the fatter tower actually represents Eve and the thinner one Adam.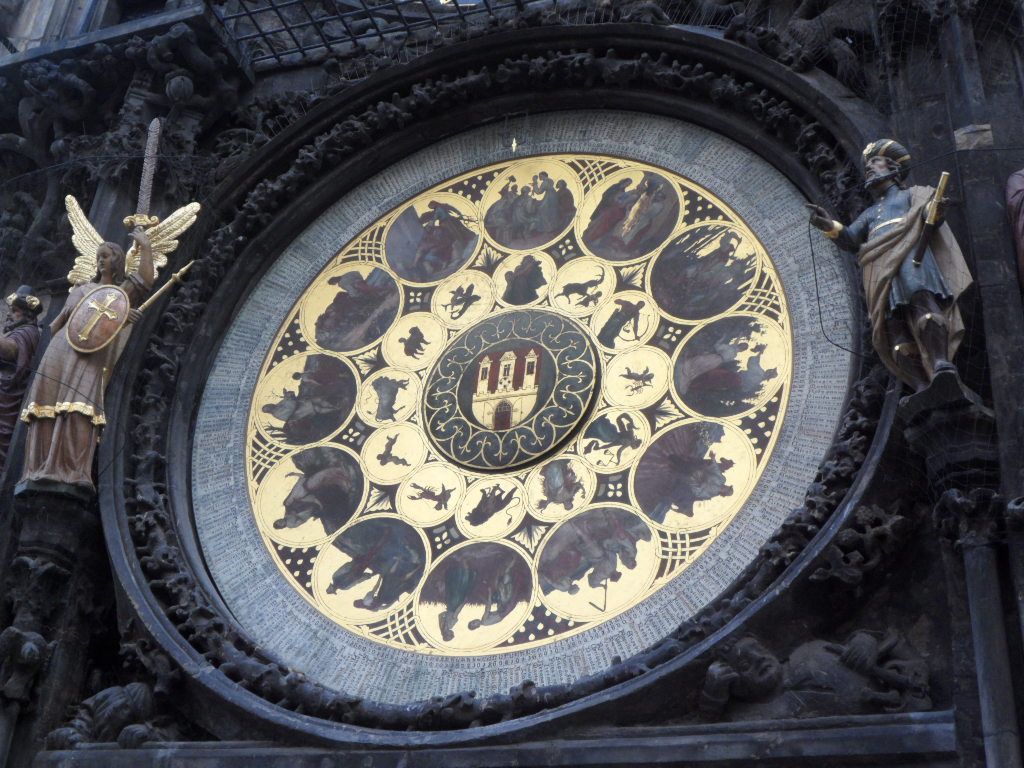 Calendar of the Astronomical Clock
If you notice closely, the Astronomical Clock actually has very very small divisions on the outside discs. They represent each day of the calendar year! 😮 This means that as the clock moves (telling time), the discs move and tells the day of the year! The Astronomical Clock is indeed the work of a genius.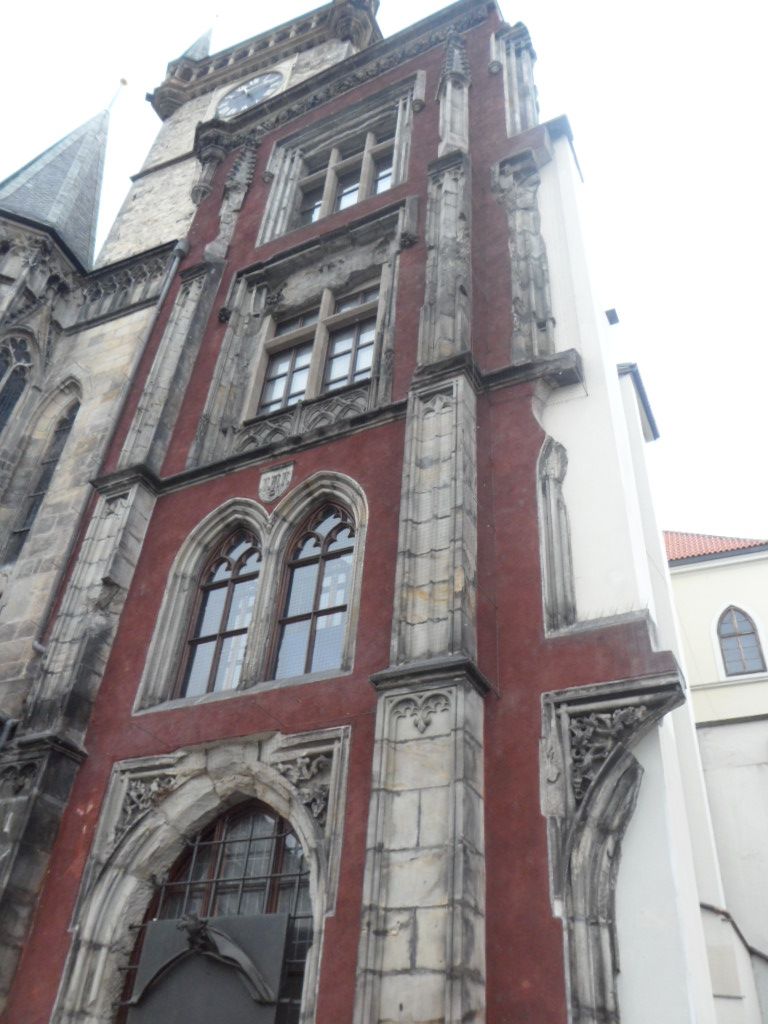 Wall that extends to St. Nicholas Church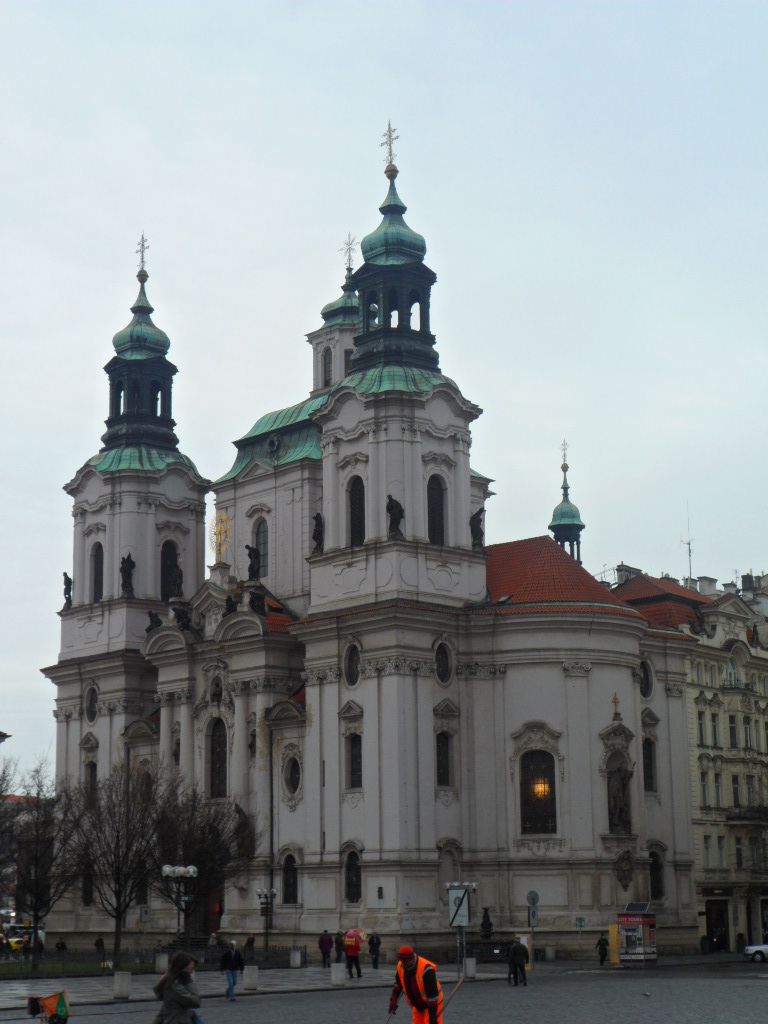 St. Nicholas Church
You may also notice a piece of wall near the Astronomical Clock that is abruptly sheared off. The original wall actually extended all the way to St. Nicholas Church which is a distance away. It was destroyed during WW2.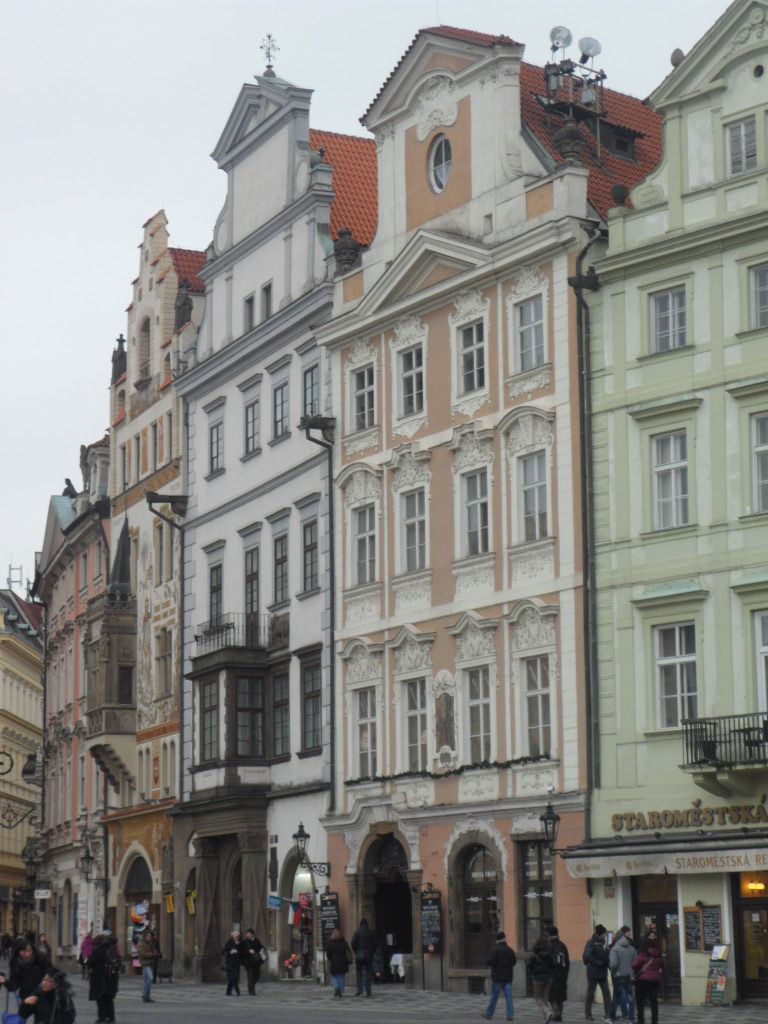 Chill out place of Albert Einstein
The blue and grey building, also located in the old town square was actually a place where Albert Einstein used to chill out and show off his violin skills!
We then moved away from the Old Town Square. These are some of the interesting things that Monika pointed out to us along the way…

Statue outside Concert Hall
Outside the Concert Hall (where plays are only in German), there is a statue (see bottom right of picture above). This was done by the lover of Wolfgang Amadeus Mozart wherever he performed.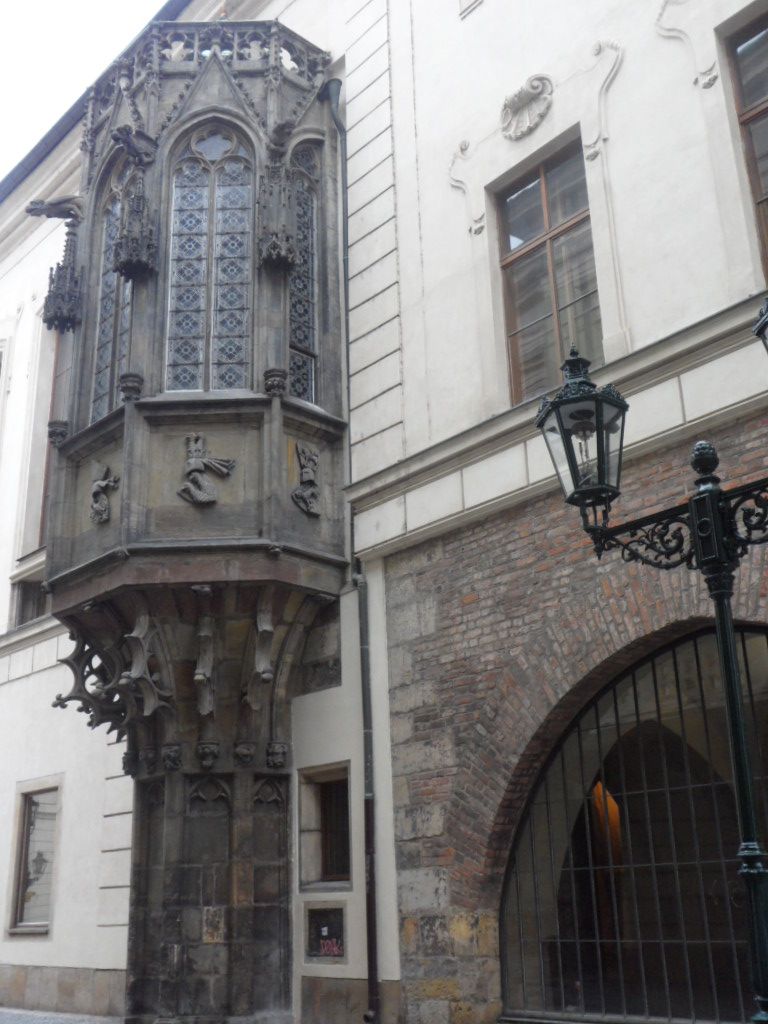 Oldest part of the University built by Charles the 4th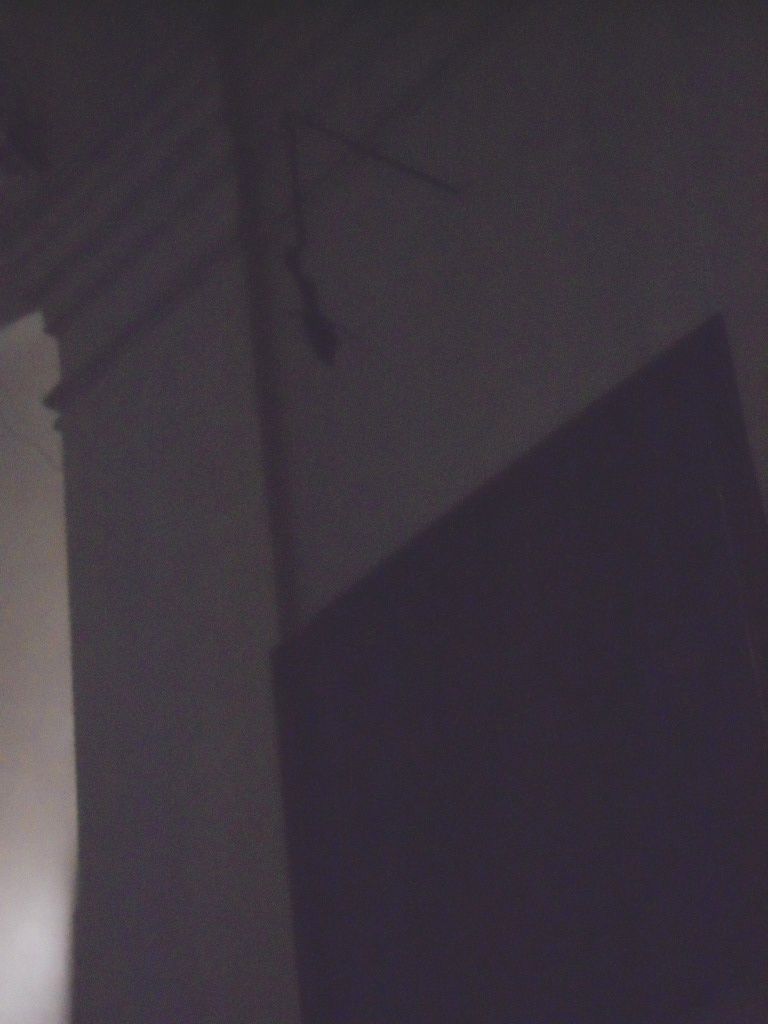 Hand of the Thief – St. James Church
Legend has it that a thief came to steal from the Church of St. James. When he was about to leave, the Madonna grabbed his hand and did not let go till the next morning. The people came and saw the thief but had no way to release him except for cutting off his hand. The Madonna then released the hand. Subsequently, the hand has been hung as a warning to other thiefs.

House Signs in Prague
House signs such as this used to tell others the job of the one who stays inside. Here, the golden rings usually symbolises gold smiths. We then headed to the Jewish Quarter…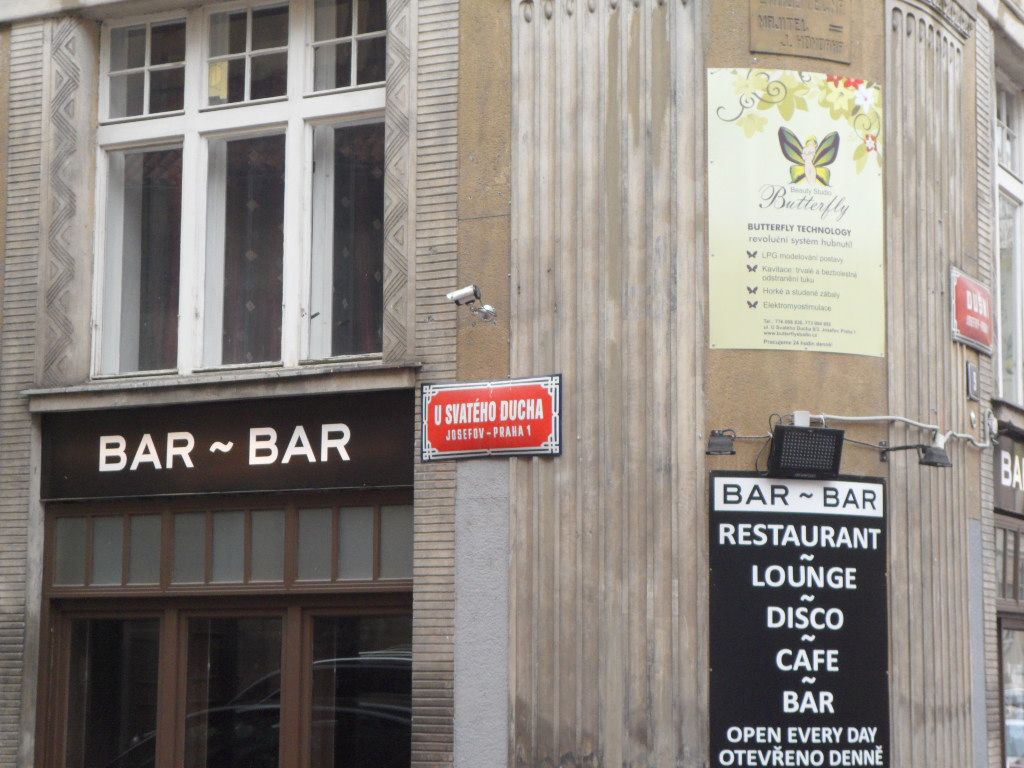 Sign pointing to Jewish Quarter Prague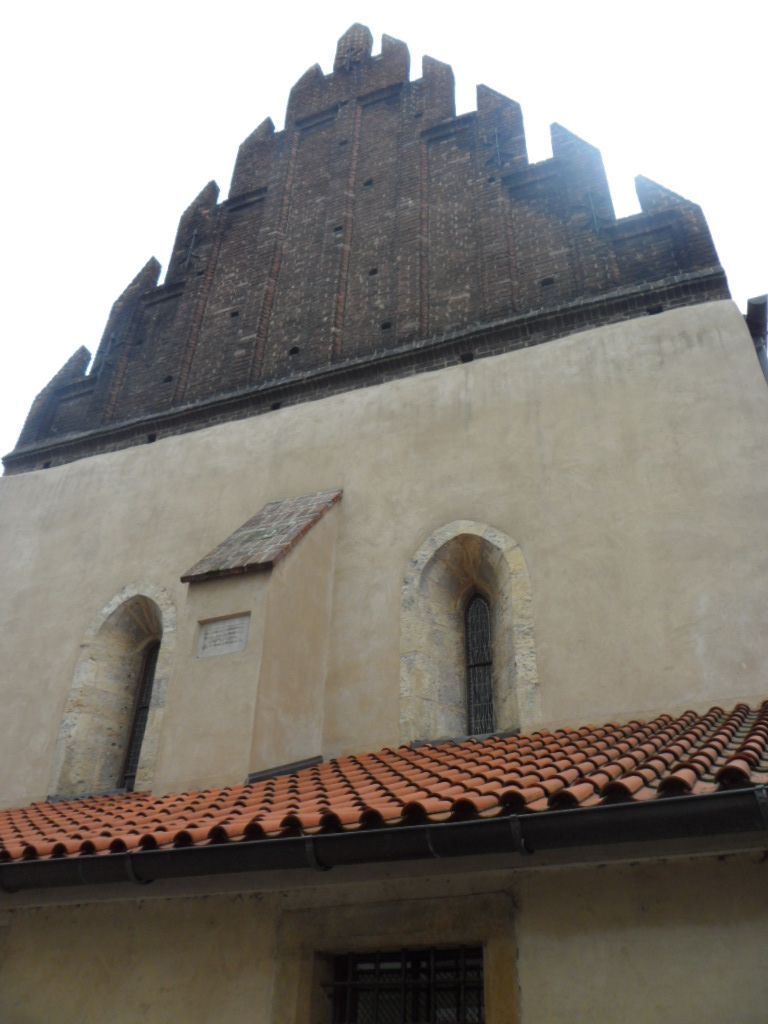 Old New Synagogue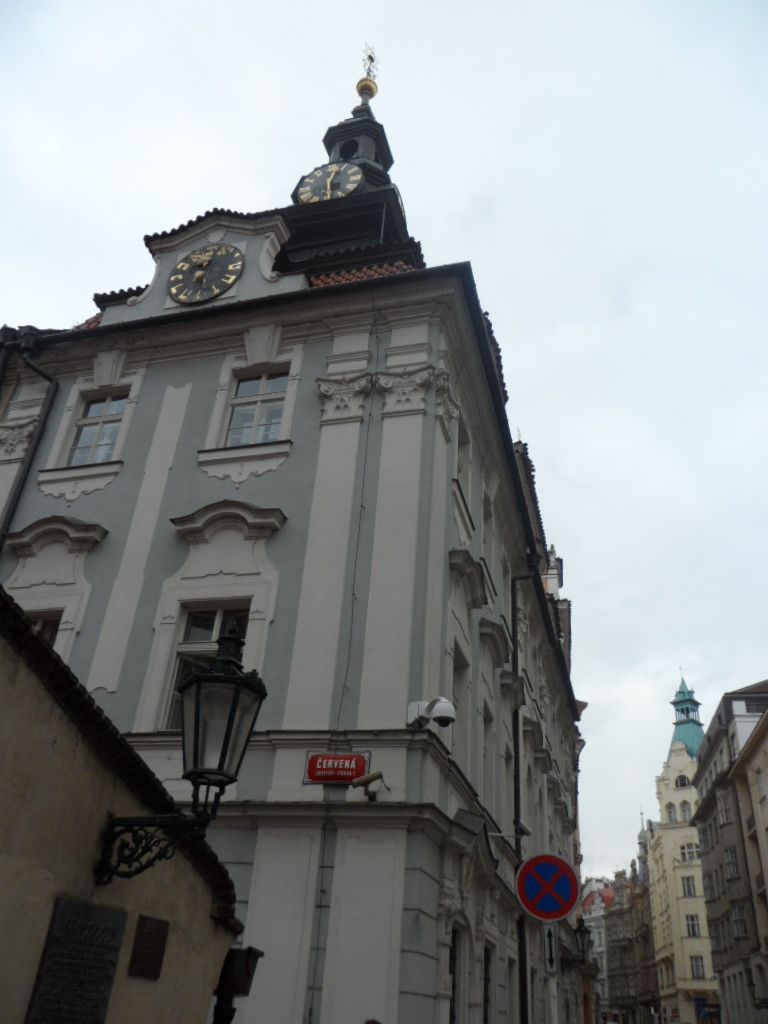 Jewish Clock – Read Counter Clockwise for the time
Soon, it was lunch time and we had our lunch at Yes Burger.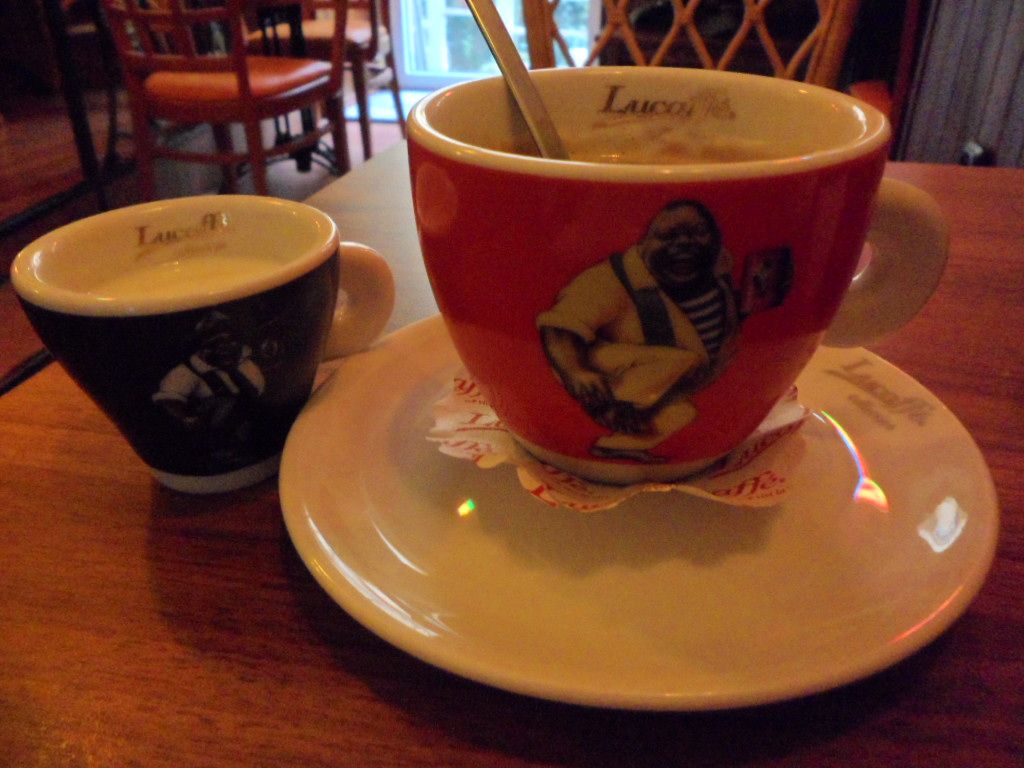 Coffee break at Yes Burger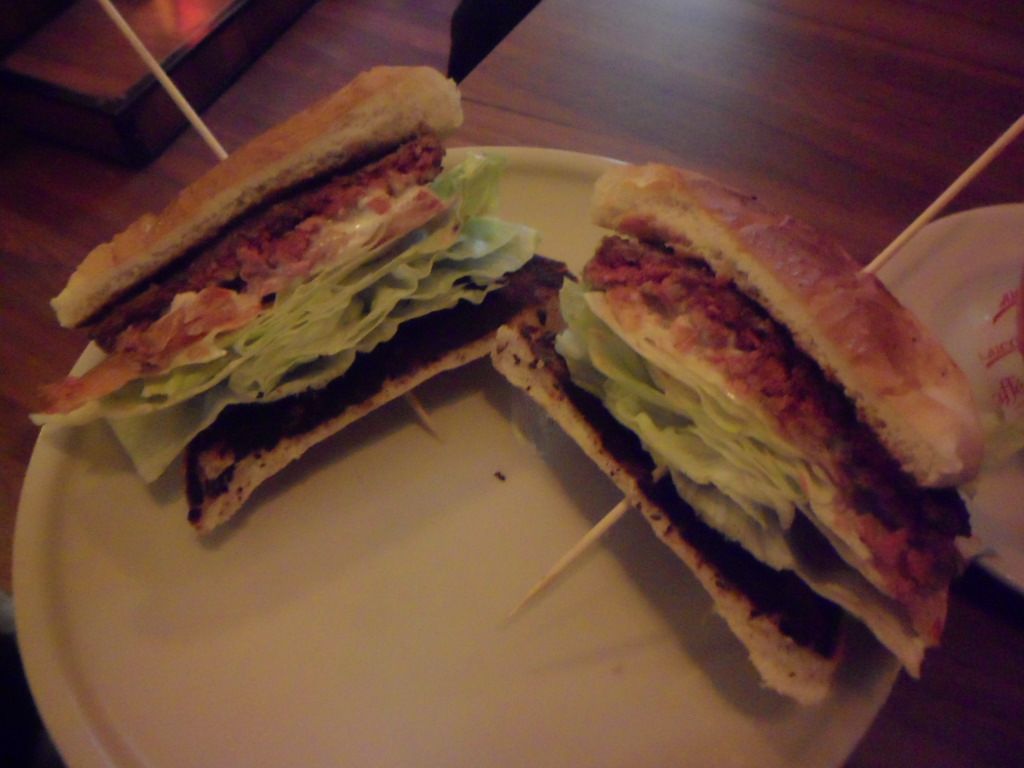 Crispy Yes Burger with sour cream
After the delightful meal (tender burger patty made on the spot), we met up at the book tunnel inside the city library…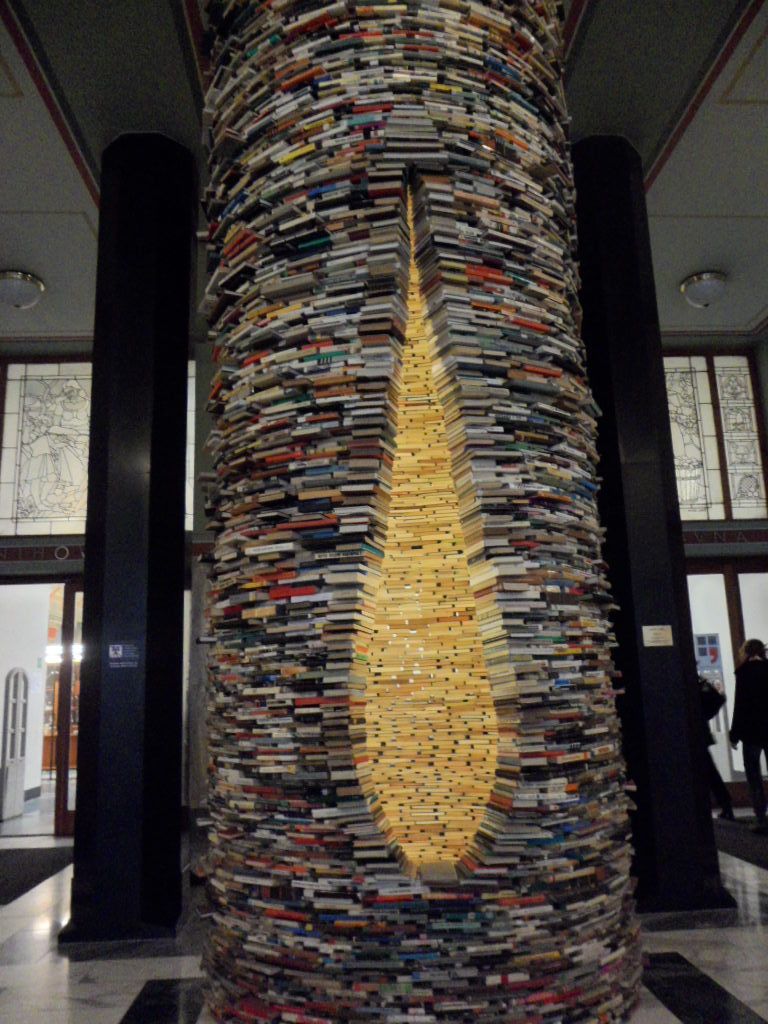 Book tunnel @ City Library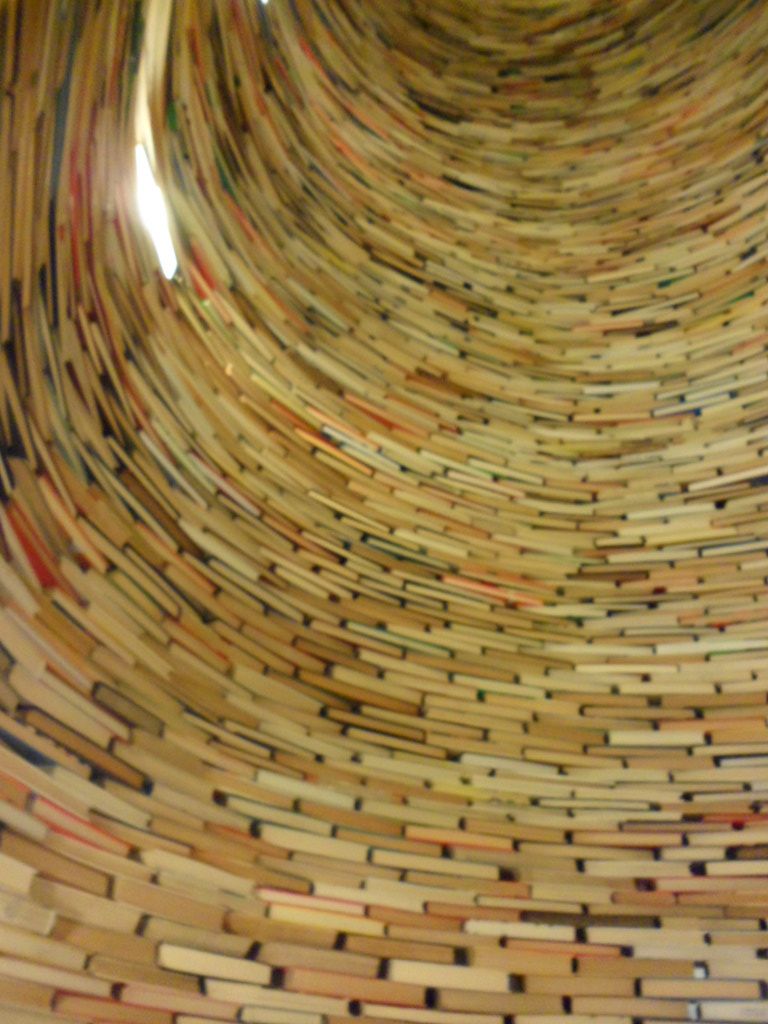 Never Ending Tunnel
The book tunnel also has another name – Never Ending Tunnel because of the 2 reflecting mirrors on both ends of the tunnel, creating an illusion of a tunnel with no end in sight. As we passed the library, we saw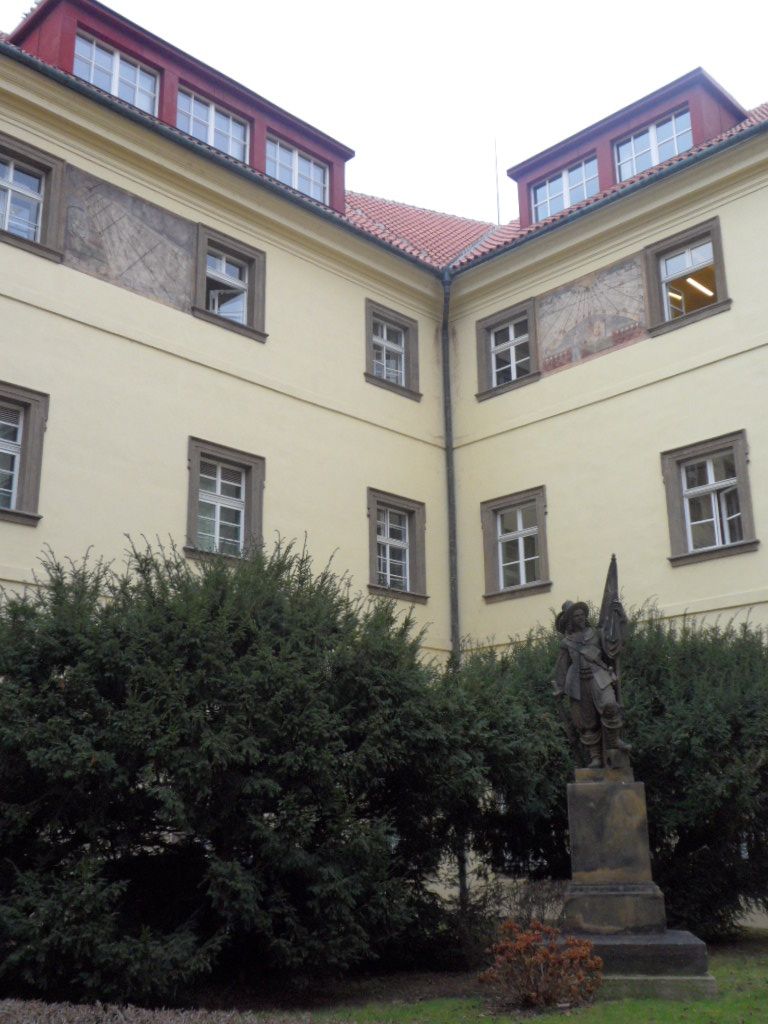 Statue of Jesuit Student protecting the Library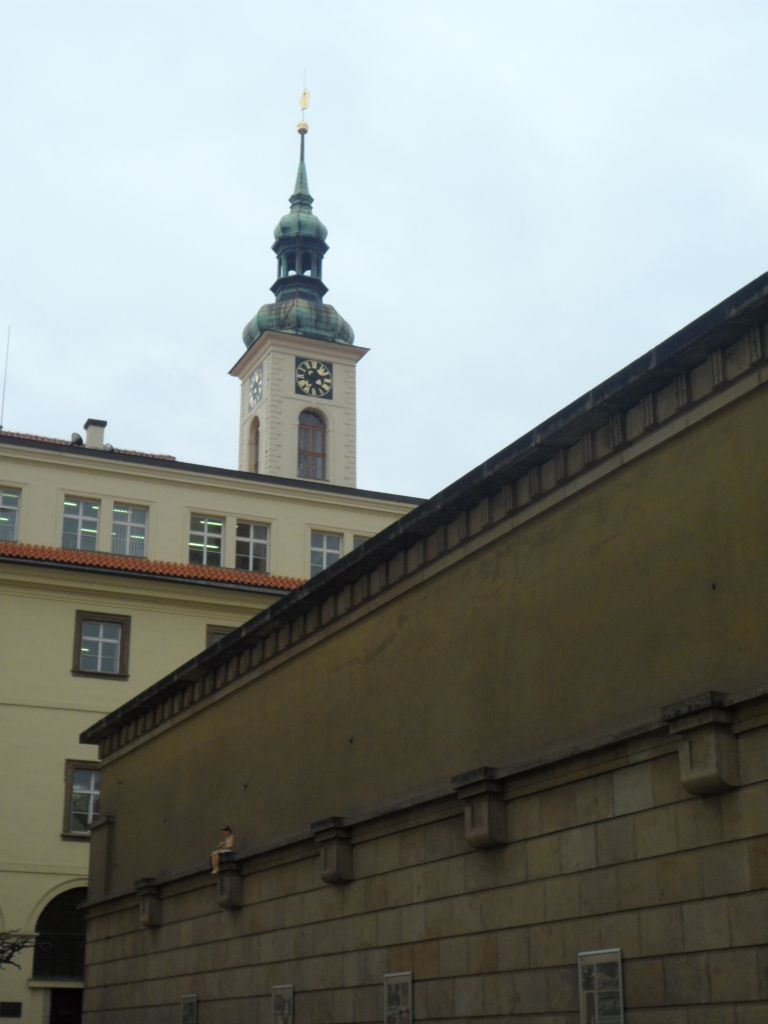 Girl playing with paper aeroplane
We then came to the entrance of the Charles Bridge

Moon level sun level star level gate of Charles Bridge
Apparently, the gate has some astronomical meaning behind it. It was deduced by astrologers that the bridge should be built according to the odd number pyramid 135797531 for good luck. The moon, sun and star level also has some meaning to it.

Statue of Charles the 4th
From the Charles Bridge, you can enjoy magnificent views of the city as well.

View from Charles Bridge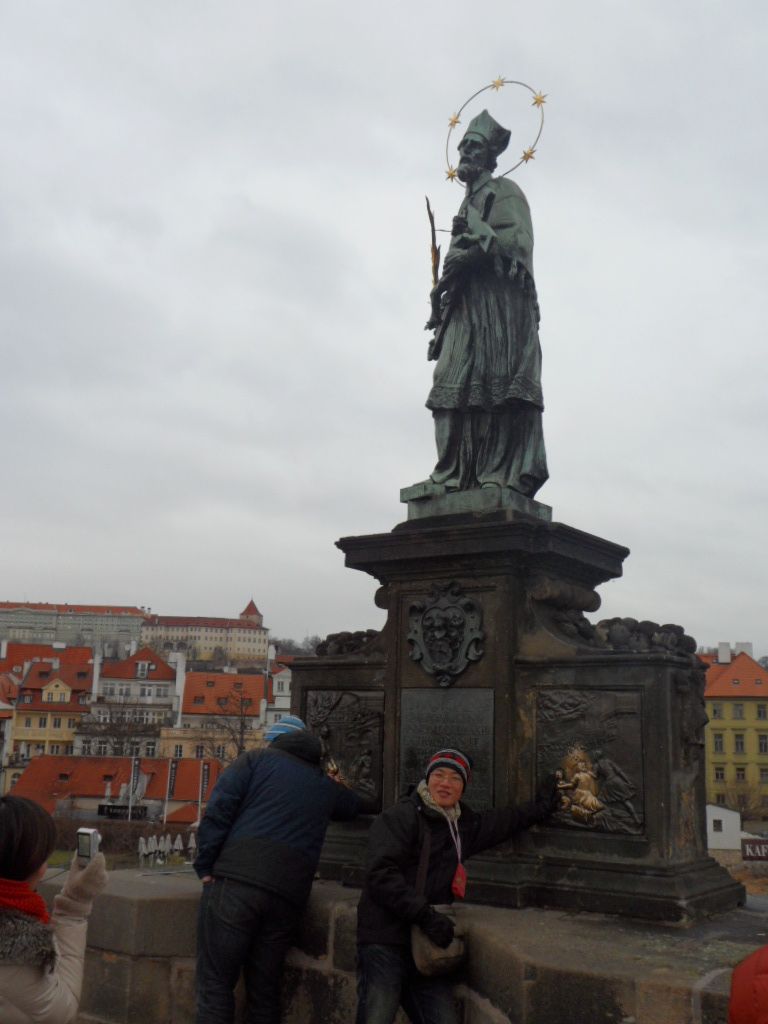 Touching Statues on Charles Bridge to be a millionaire!
There are also several statues on Charles Bridge that is rumoured to bring good luck and children! Further down, we arrived at Kampa Island (where Tom Cruise jumped out of restaurant in Mission Impossible 1) as well as home of Monster Vonnique!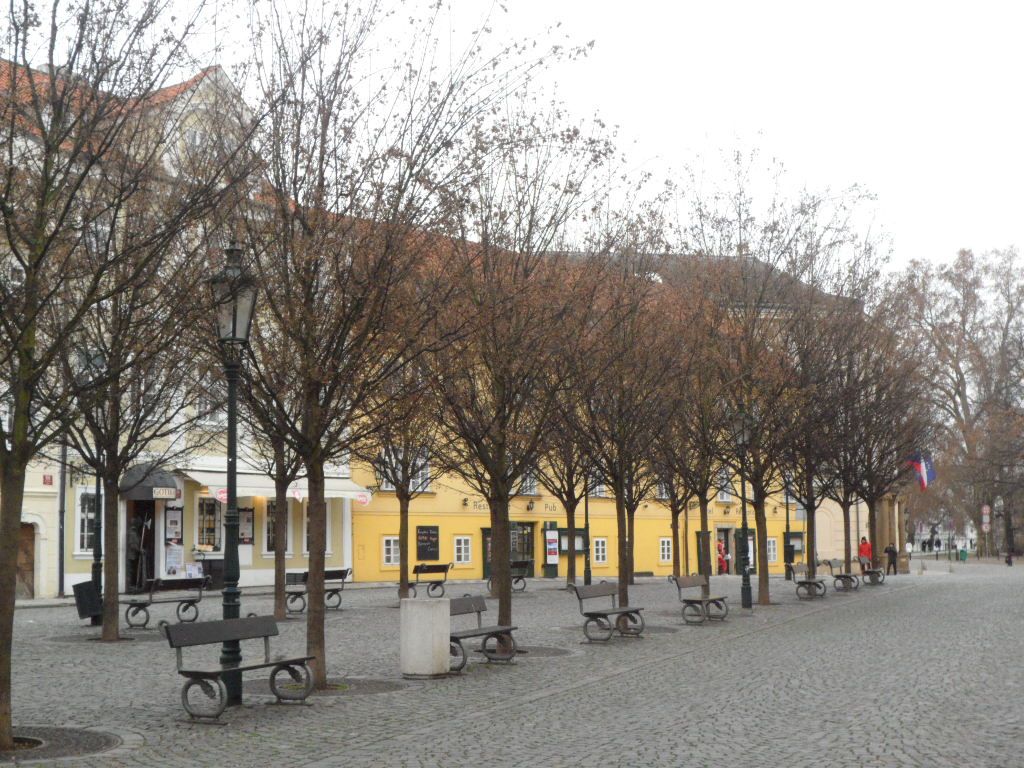 Location of Kampa Island – Shooting grounds of Mission Impossible 1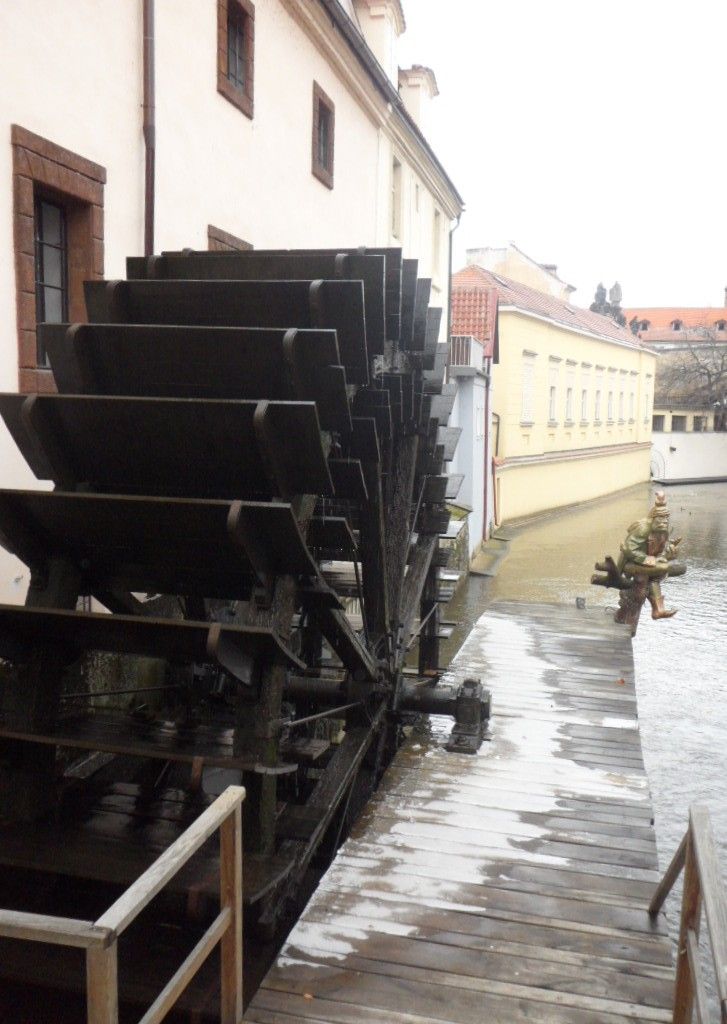 Monster Vonnique
Monster Vonnique is a story that parents tell their children when they're naughty. Monster Vonnique would catch its naughty victims, drown them and keep their spirits.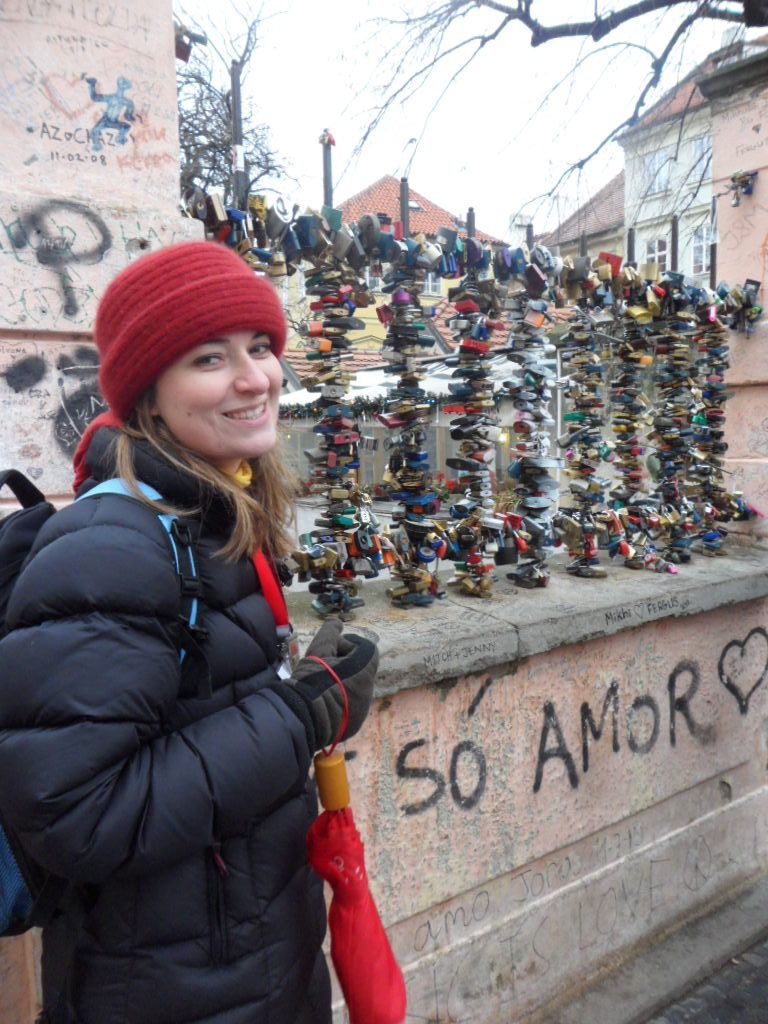 Monika and Lockamania in Prague
The lockamania that spread to many cities including Prague whereby lovers would place locks together as a symbol of belonging and "binded" to each other.

John Lennon Wall
The John Lennon Wall of Prague has a really interesting yet sorrowful story to it. As a symbol of peace and love, someone started to draw John Lennon on this piece of wall. However, the government was oppose to such freedom, started to repaint the wall. People then came to draw again and again, so much so that the government at its peak, had to station guards to arrest/beat anyone who drew on the wall. Today, this wall (and its pictures) changes all the time but usually there's still a picture of John Lennon on it.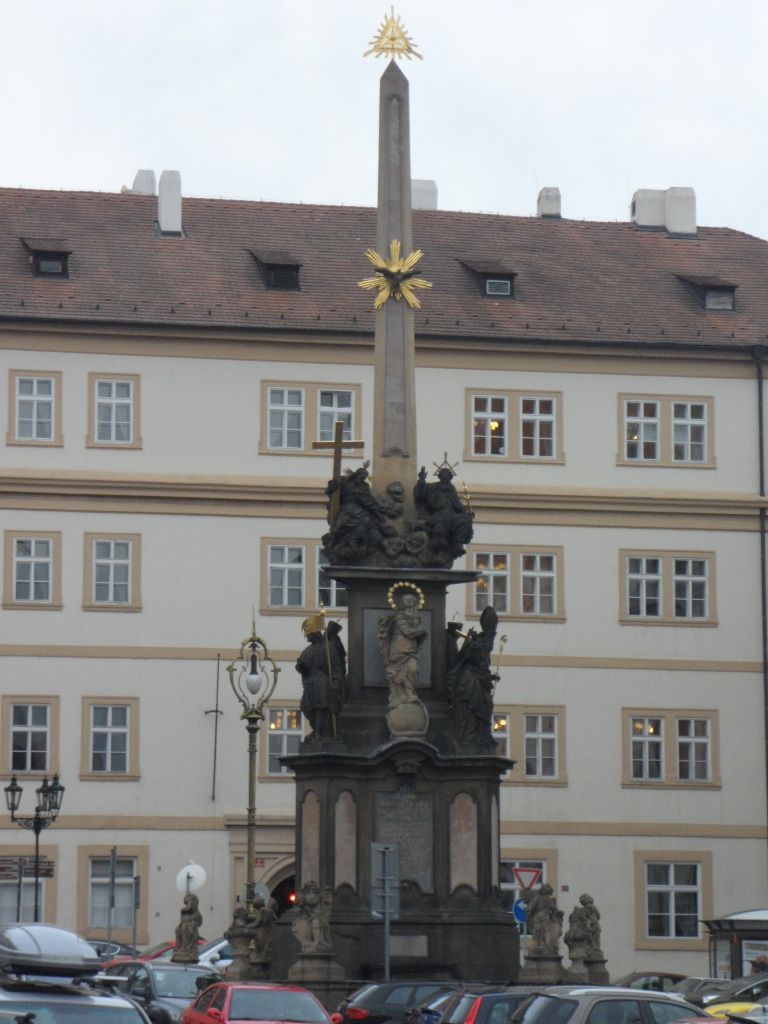 All seeing Eye of the Knight of Templar
After that, we headed to the highlight of the entire tour – Prague Castle! To go there, we travelled by Nerudova. The slope is quite steep so please wear proper shoes ya? There were also more house signs on this street…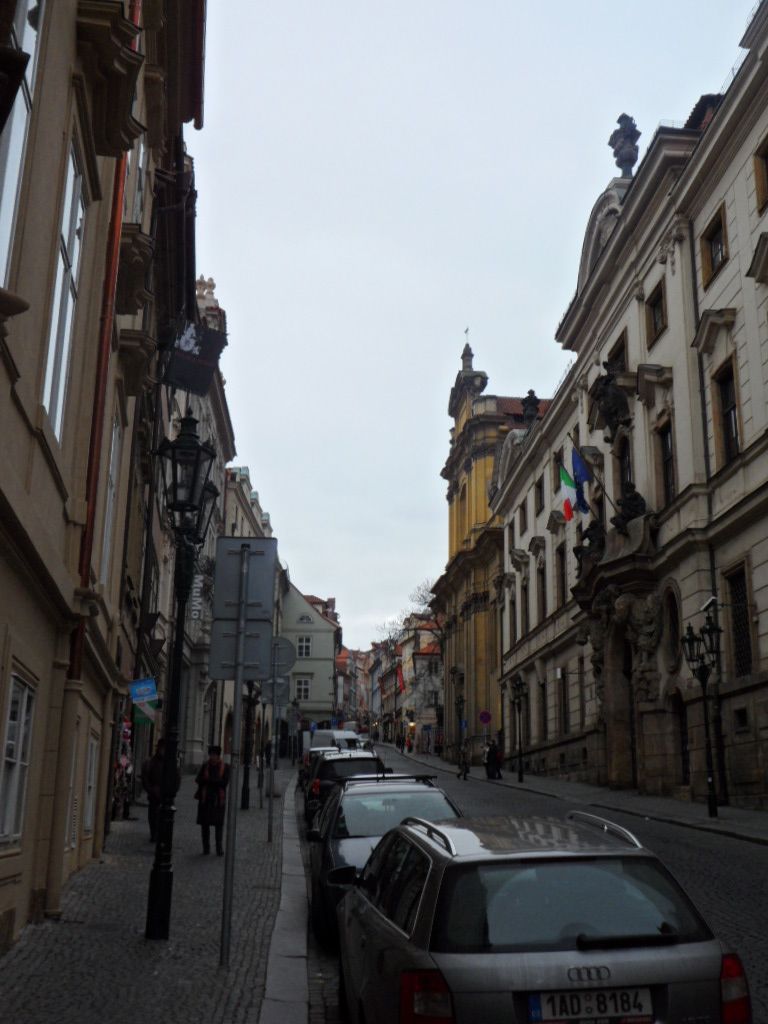 Steep hill of Nerudova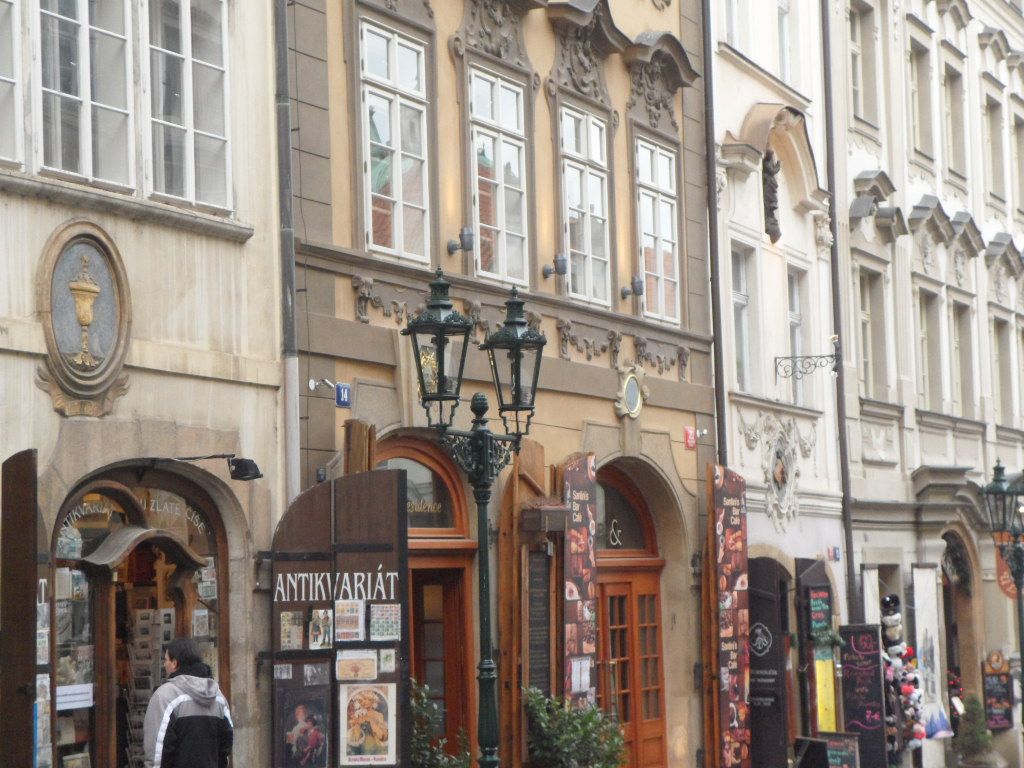 More house signs on Nerudova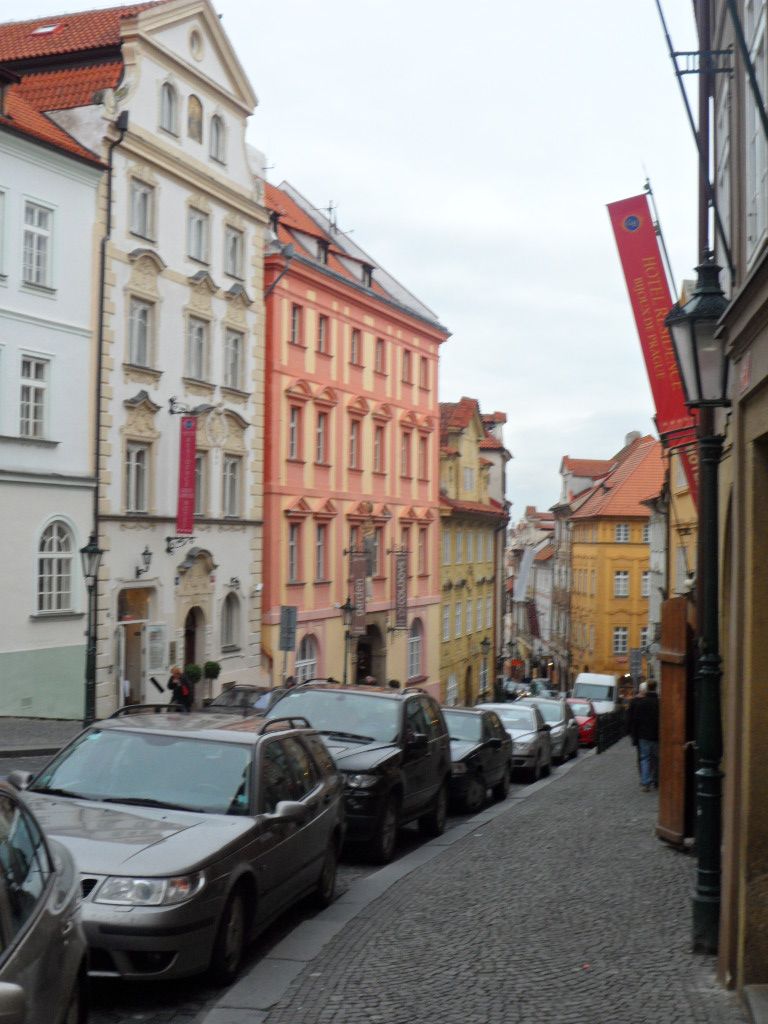 Looking back down Nerudova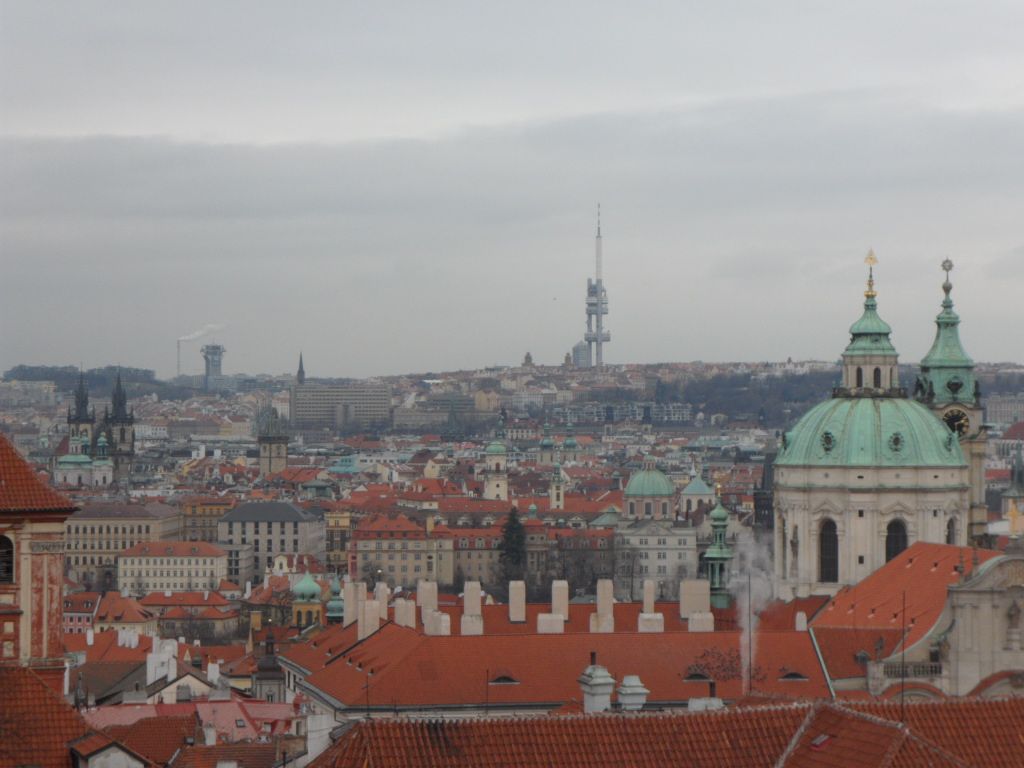 Marvellous View from Prague Castle

Amazing View from Prague Castle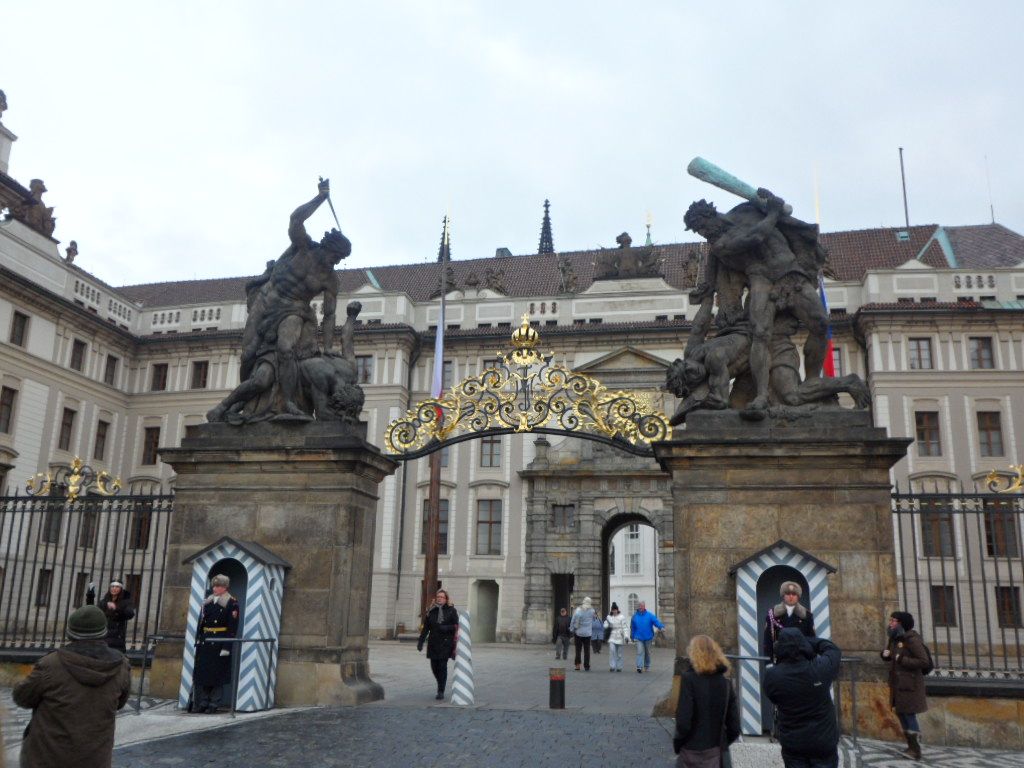 Entrance to Prague Castle
You may also catch the change of guards at Prague Castle as well!

Change of Guards at Prague Castle
There are also other interesting things to note in Prague Castle…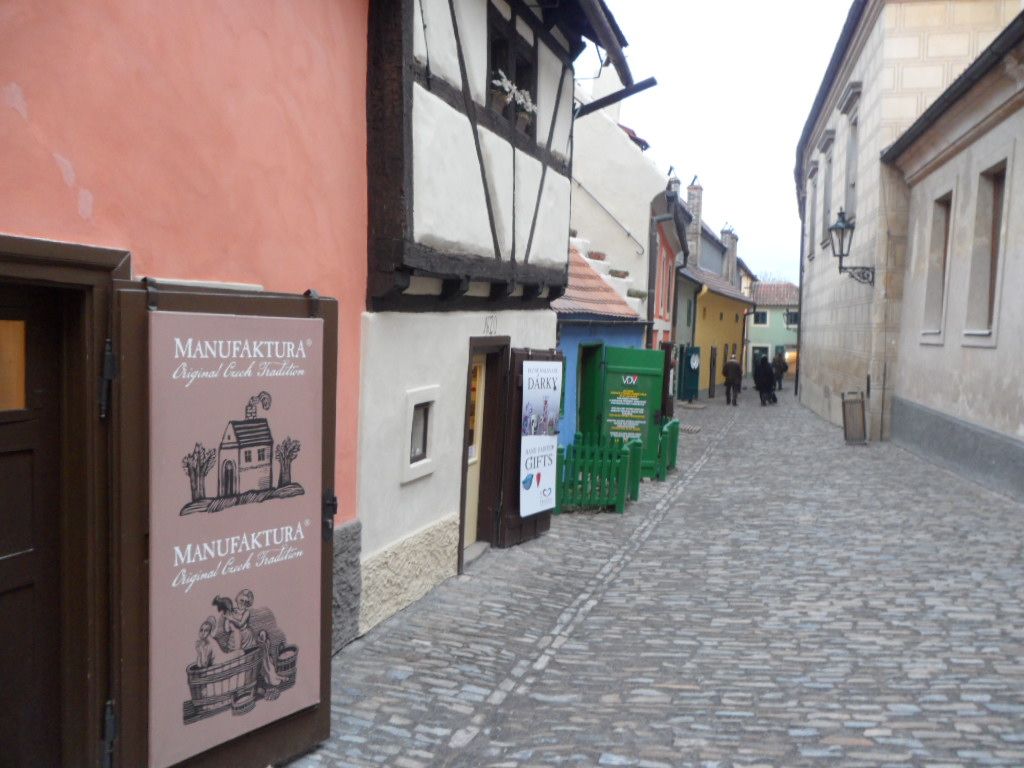 Golden Lane – Village of small houses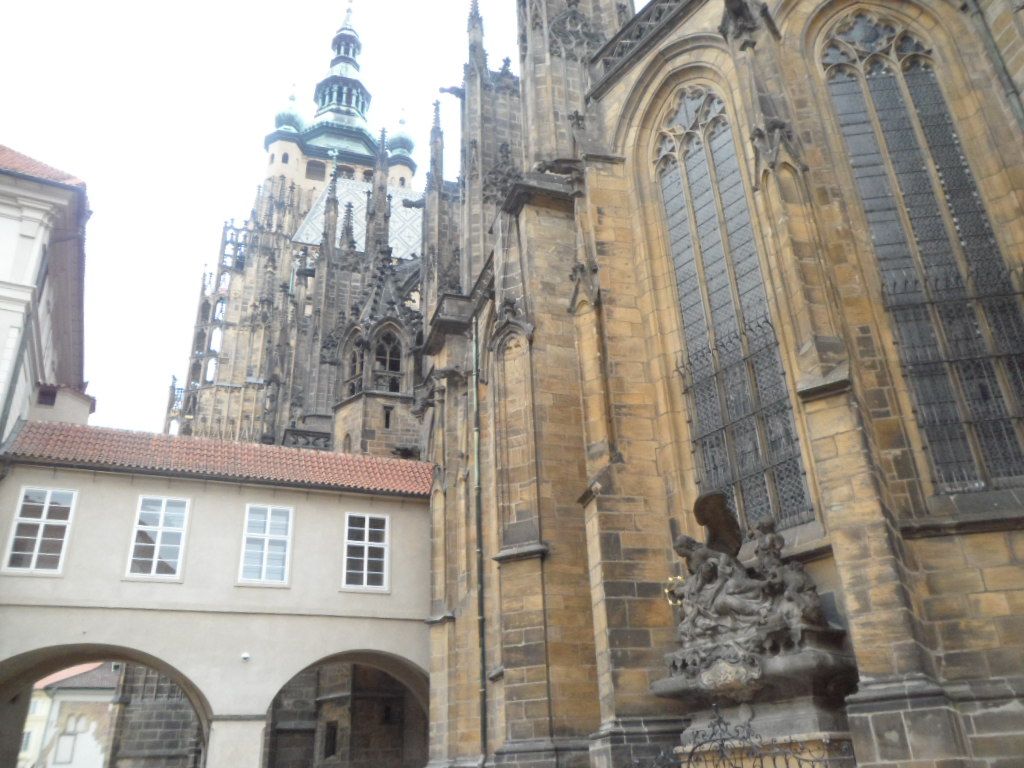 Private linkway to the St. Vitus Cathedral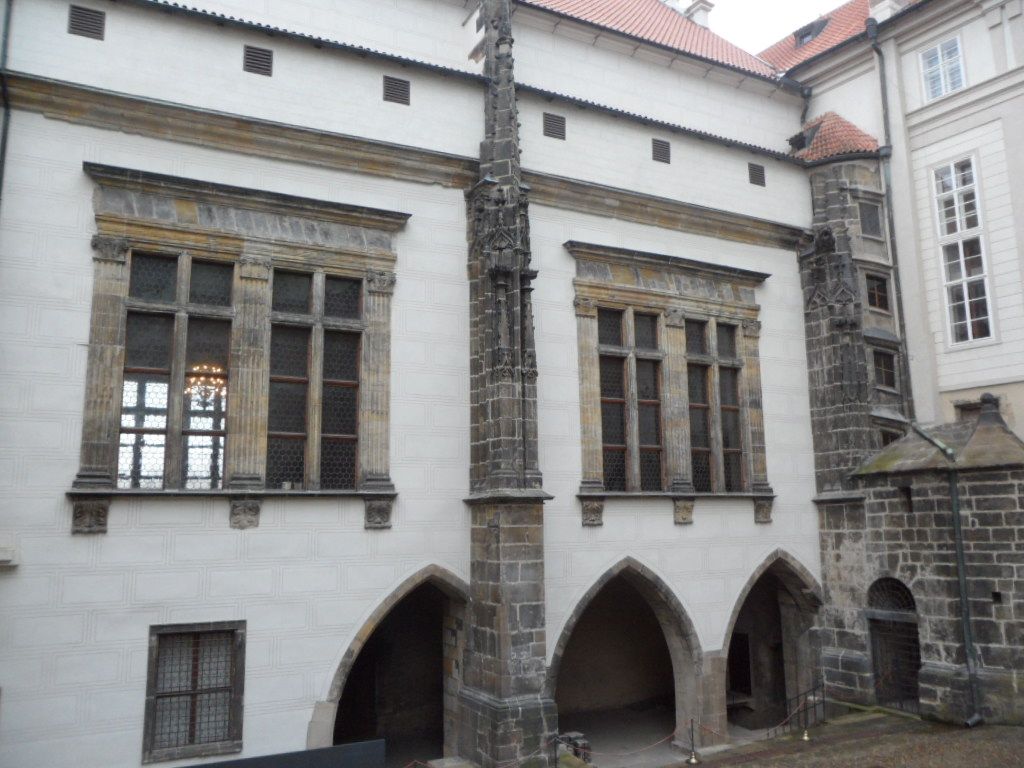 A Jousting Venue?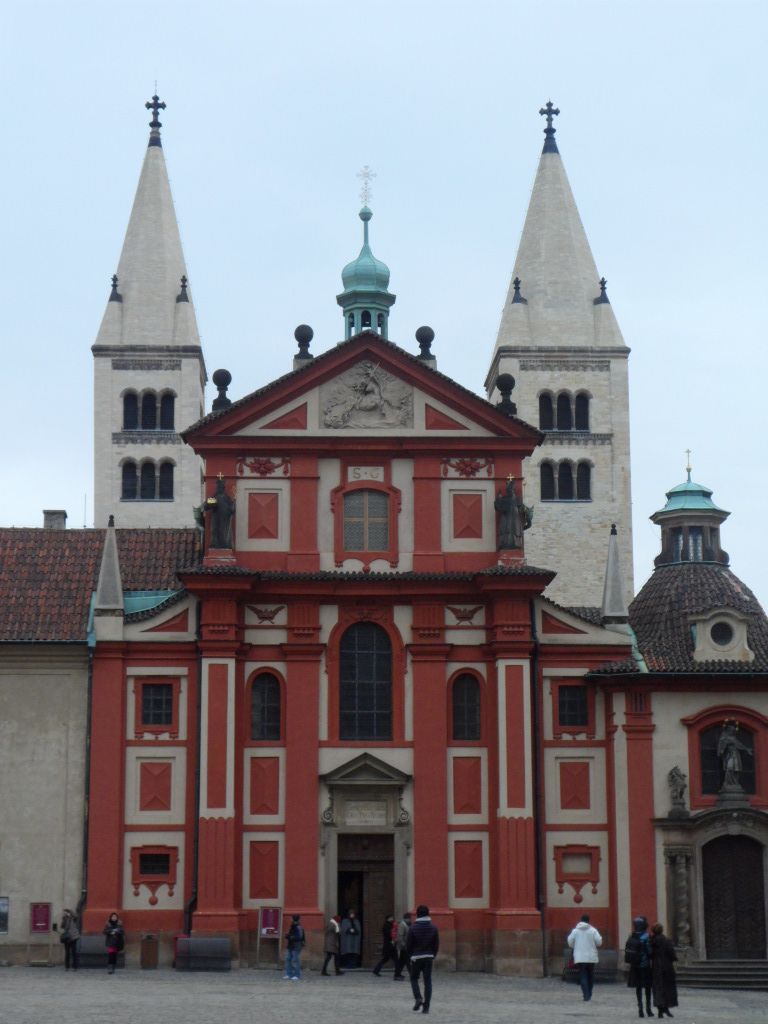 St. George Basilica
Here's an important tip : When you leave Prague Castle, you will be made to choose at this point…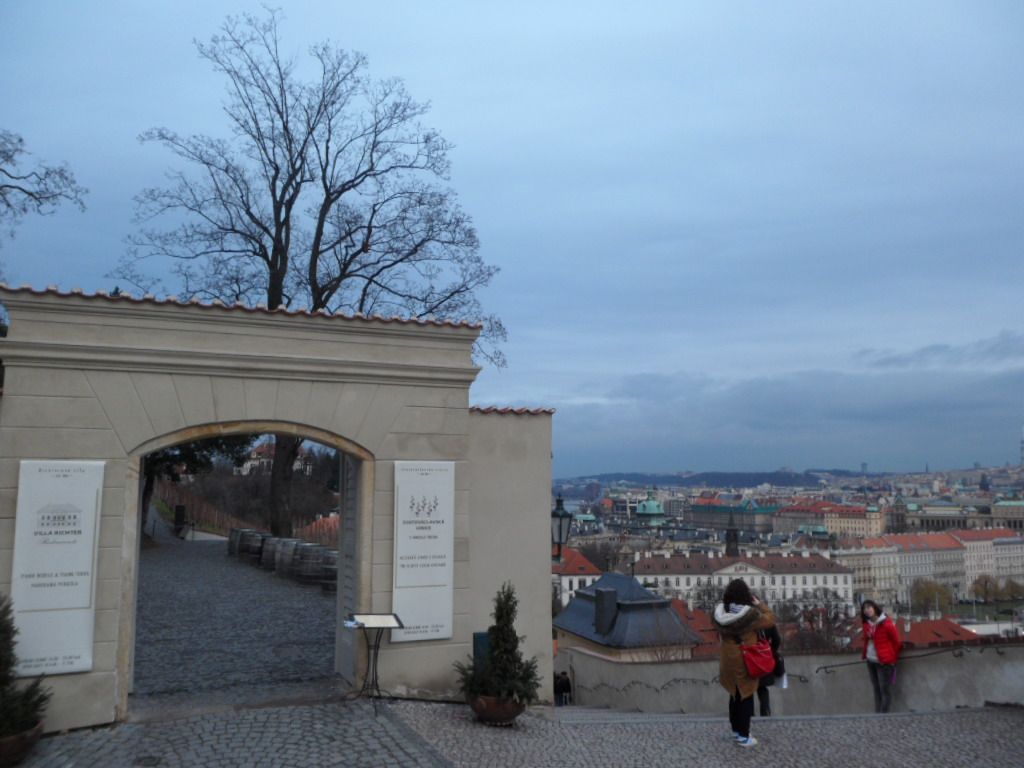 Choose LEFT!!
By choosing to go left (via the vineyard), you will continue to enjoy the fantastic view of Prague as you descend down and leave the castle. If you were to go right, the walls would be too high and you'll just miss the views as you go back down to the city.
We were recommended by our receptionist that evening to have dinner at Olympia.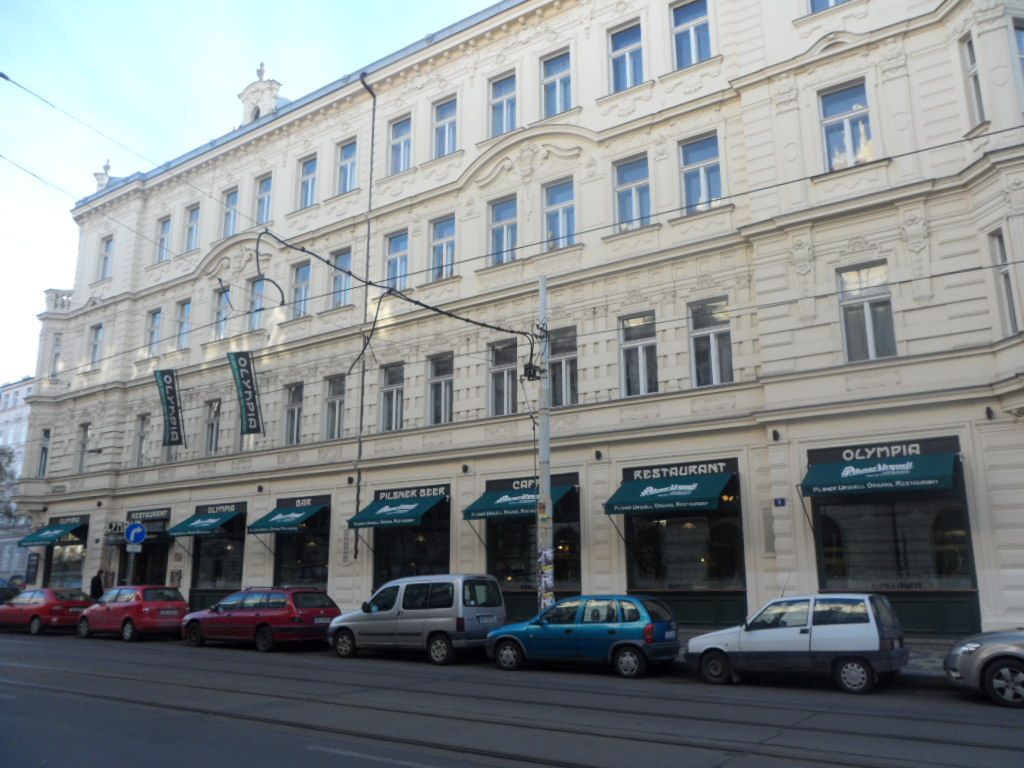 Exterior of Restaurant Olympia

Menu of Restaurant Olympia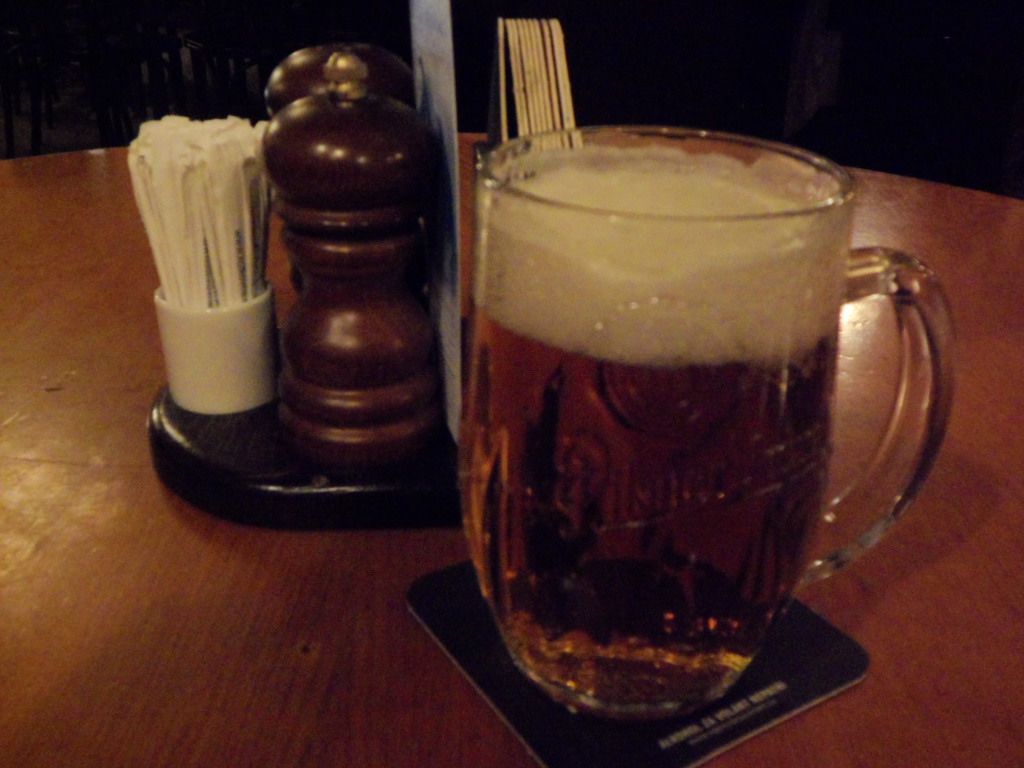 Bitter Urquel Pilsner
We had the roast pork as well as the Beef Goulash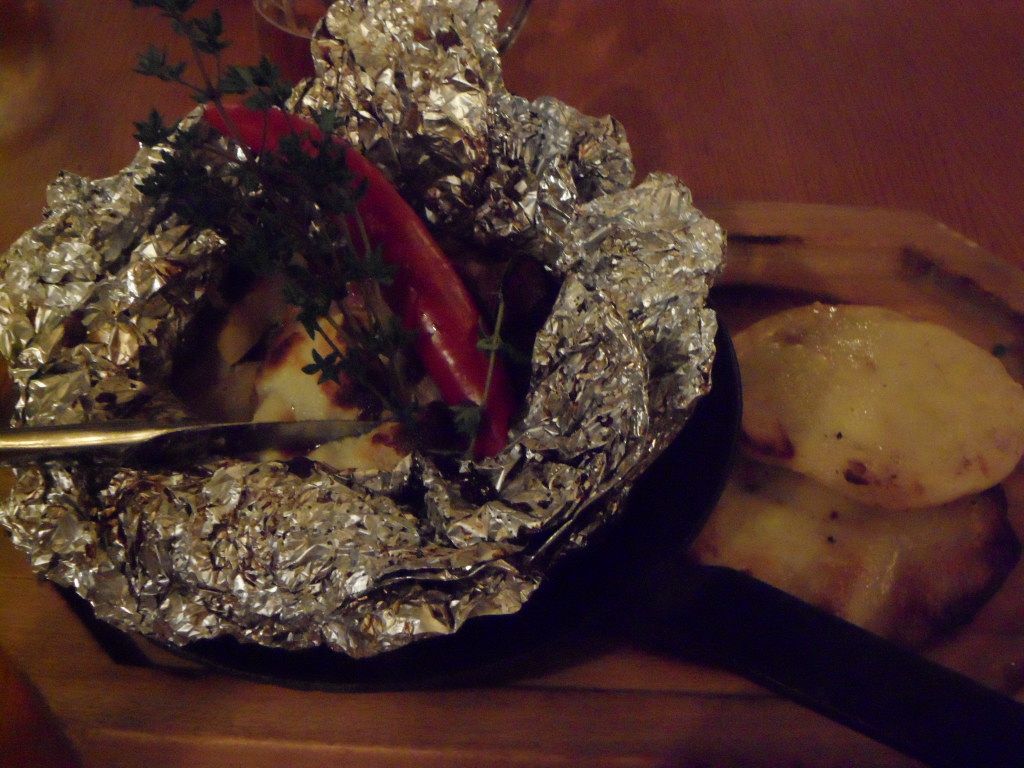 Yummy roast pork which was very tender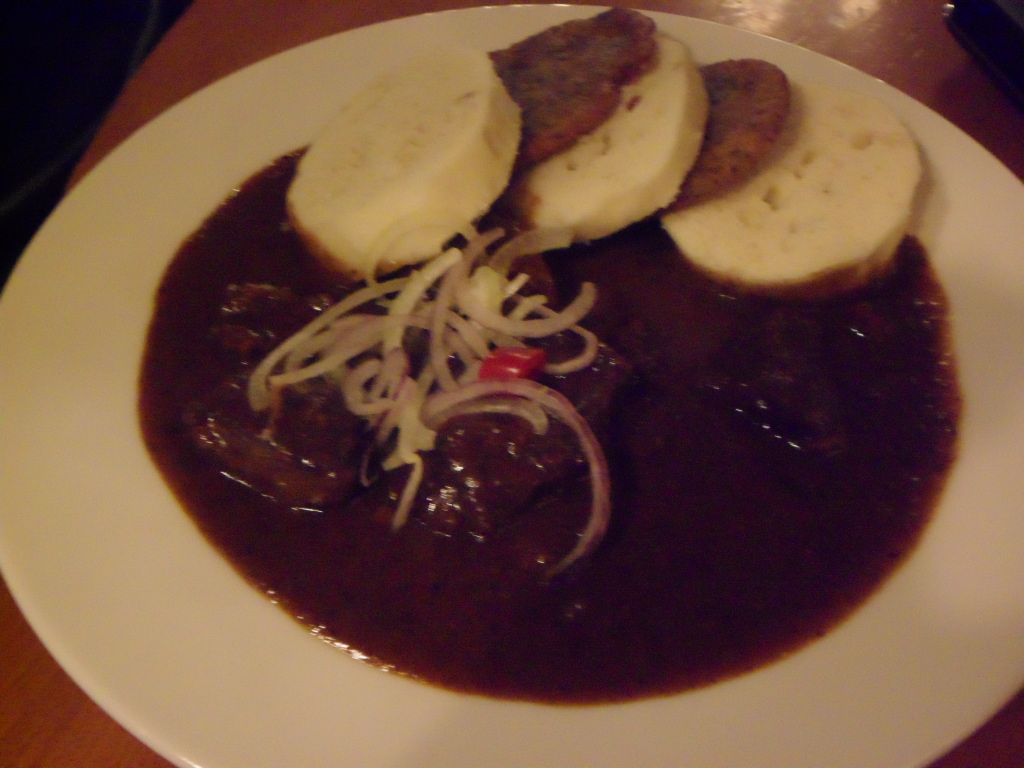 Beef Goulash – A little salty but the bread and potato patty were chewy and tasty
All in all, the dinner was about $20euros but the food was simply amazing. Dont miss the roast pork!
Day 5
The next day, we headed up to Petrin Hill via the Funicular.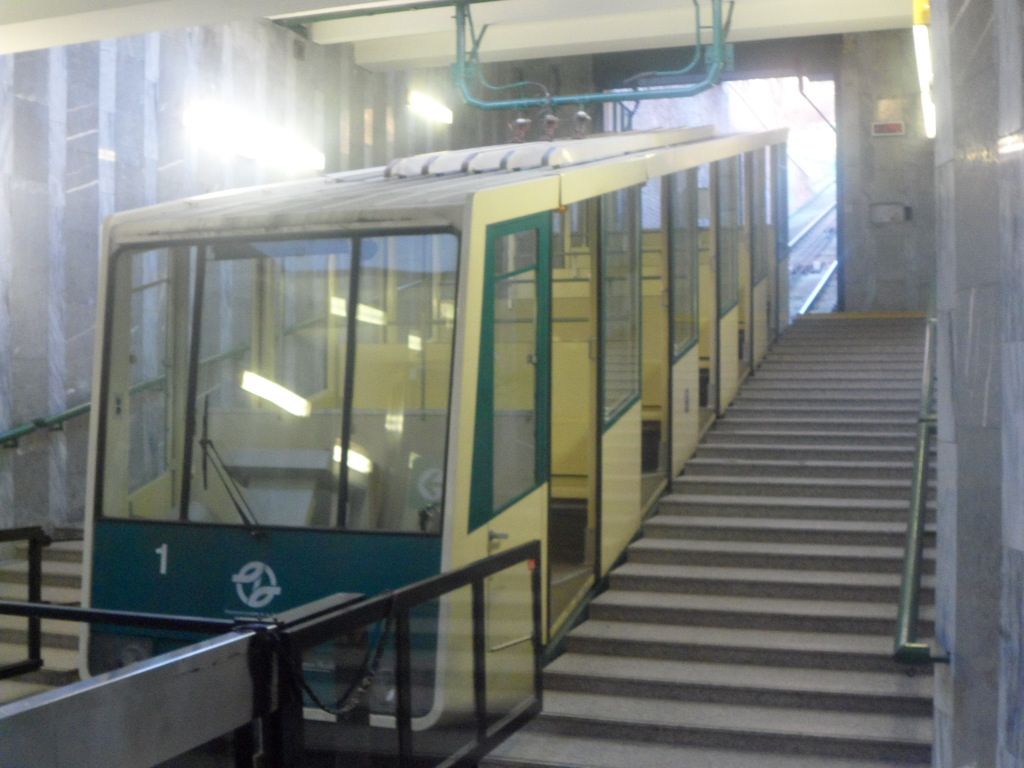 Funicular @ Ujezd up to Petrin
It was pretty cold that morning but the sun was up, brightening up the day.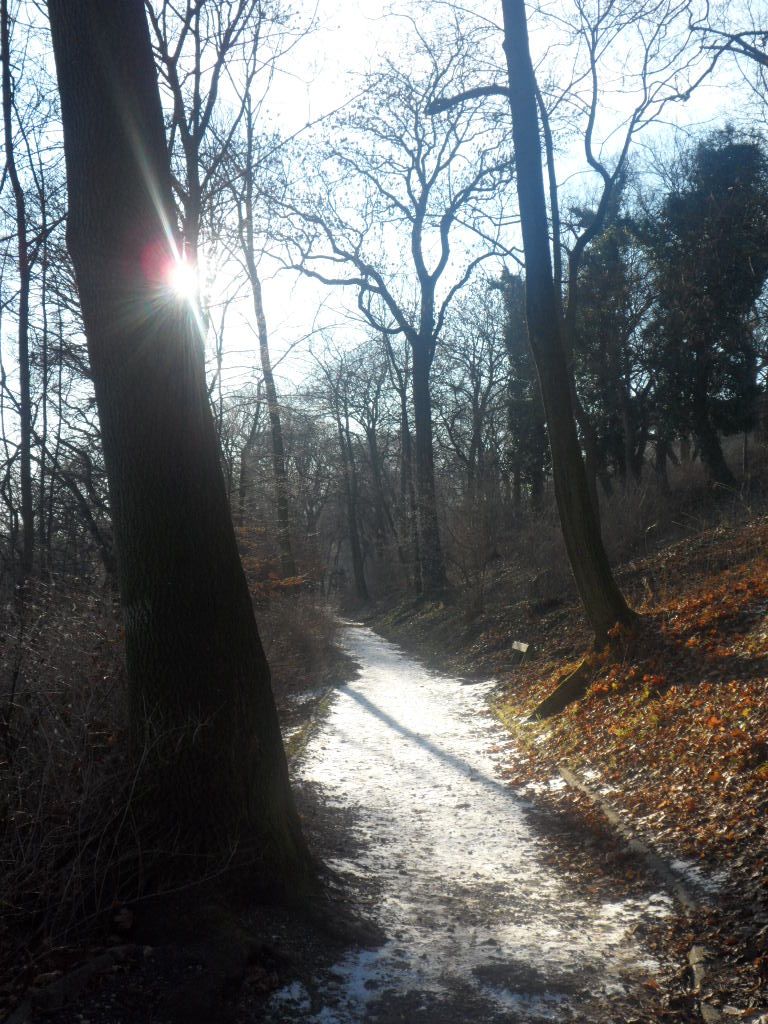 Cold morning at Petrin Hill
We headed to Petrin Tower but the lift was down, so we did not go up the tower. We stayed in the souvenir section and browsed a little…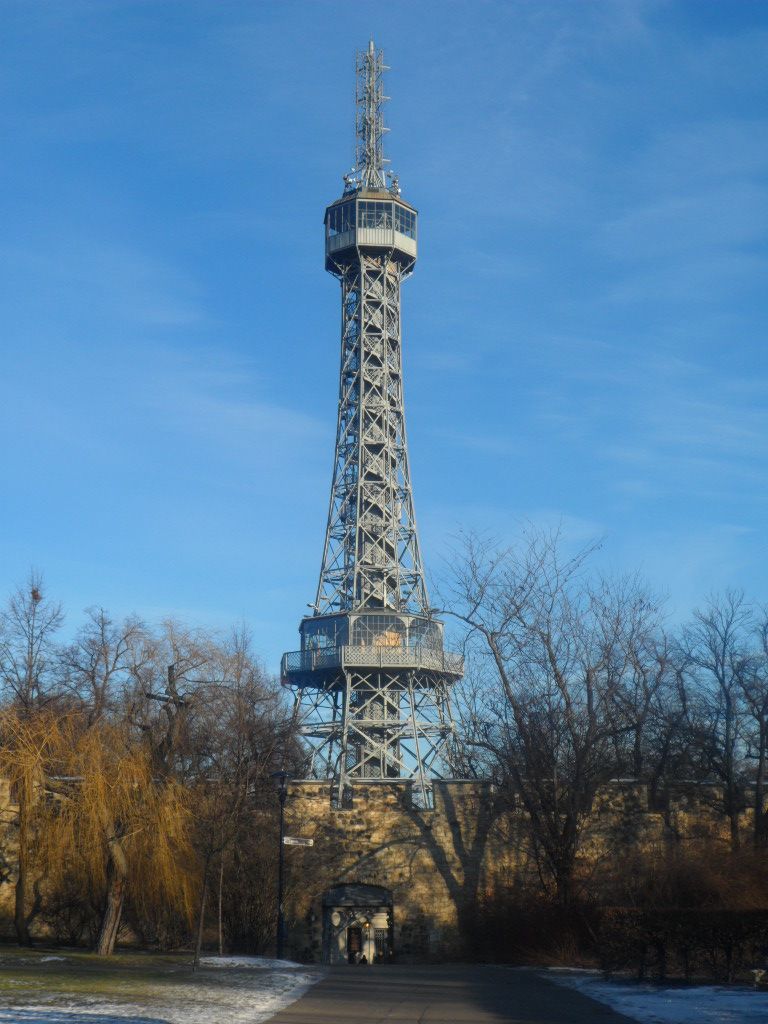 Petrin Tower and Hunger Wall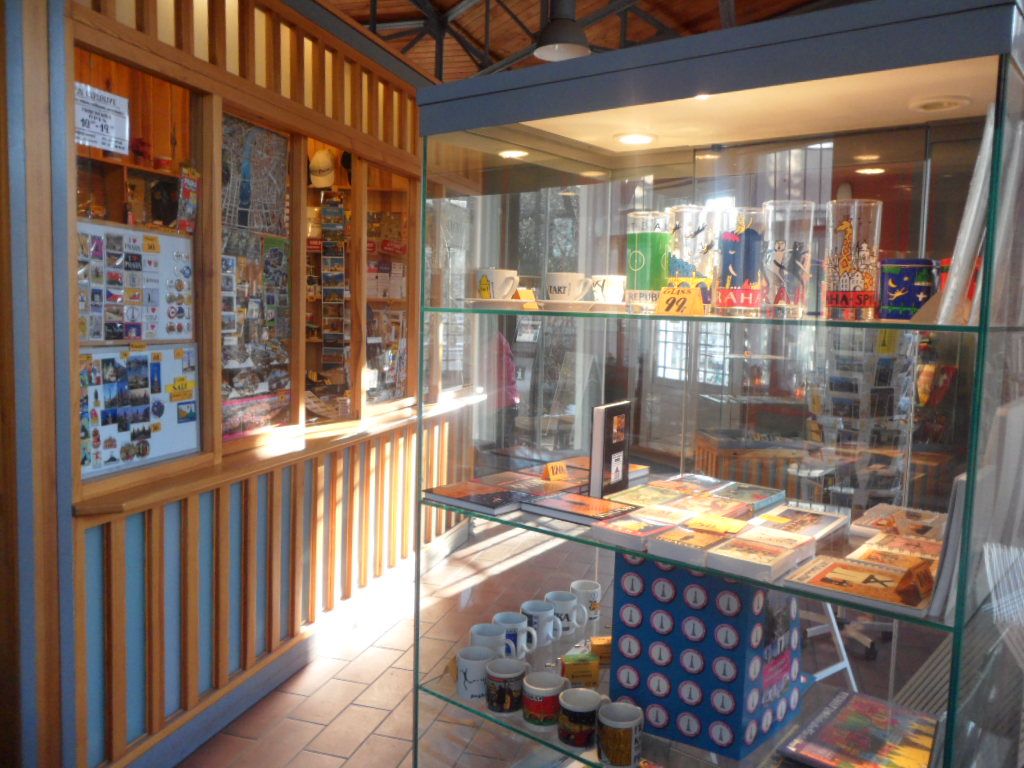 Souvenir section of Petrin Tower
We also visited the Mirror Labyrinth (aka Hall of Mirrors)

Mirror Labyrinth aka Hall of Mirrors Petrin Hill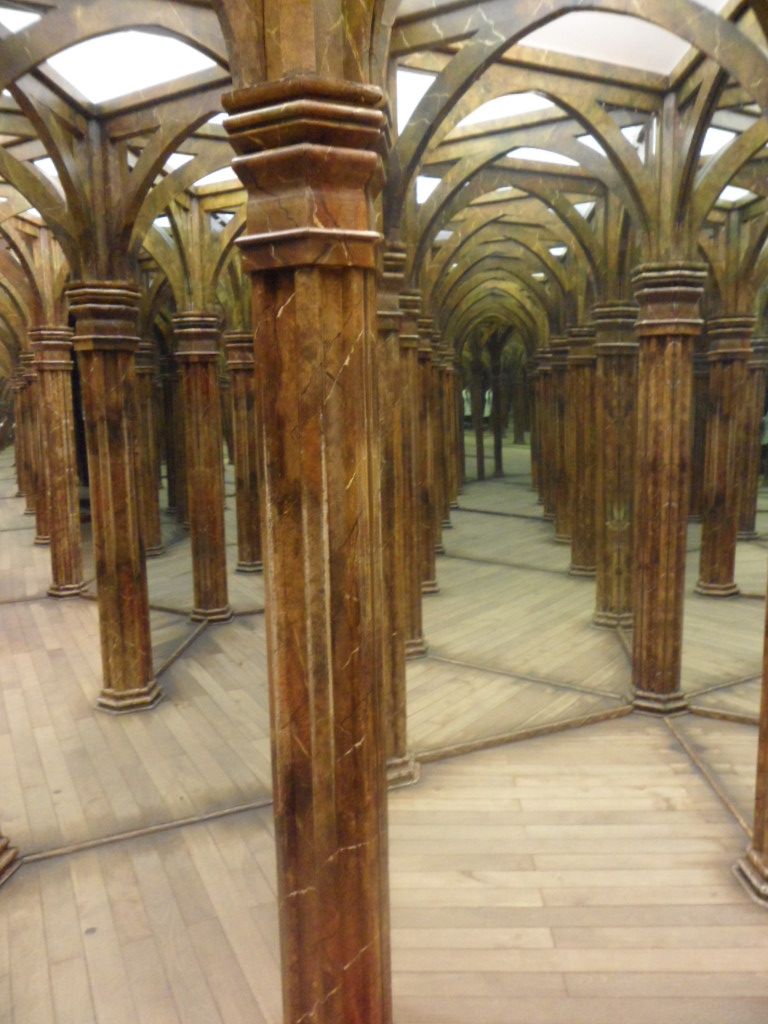 Mirror Maze inside
There was a mirror maze as well as a laughter hall where convex and concave mirrors create funny reflections of you. On the way down to the Monastery to have our lunch as some freshly brewed beer, we saw a picture perfect moment…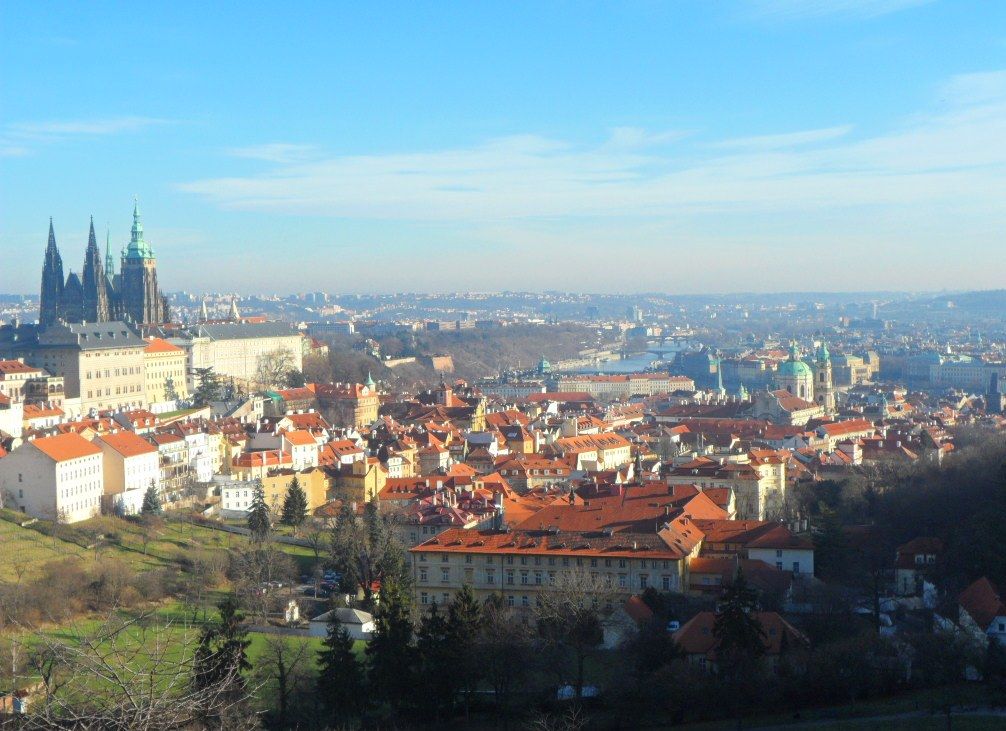 Awesome View from viewing point outside monastery
Lunch at the brewery was fantastic as well! We had the chicken as well as the crepe with ice cream! mamamia!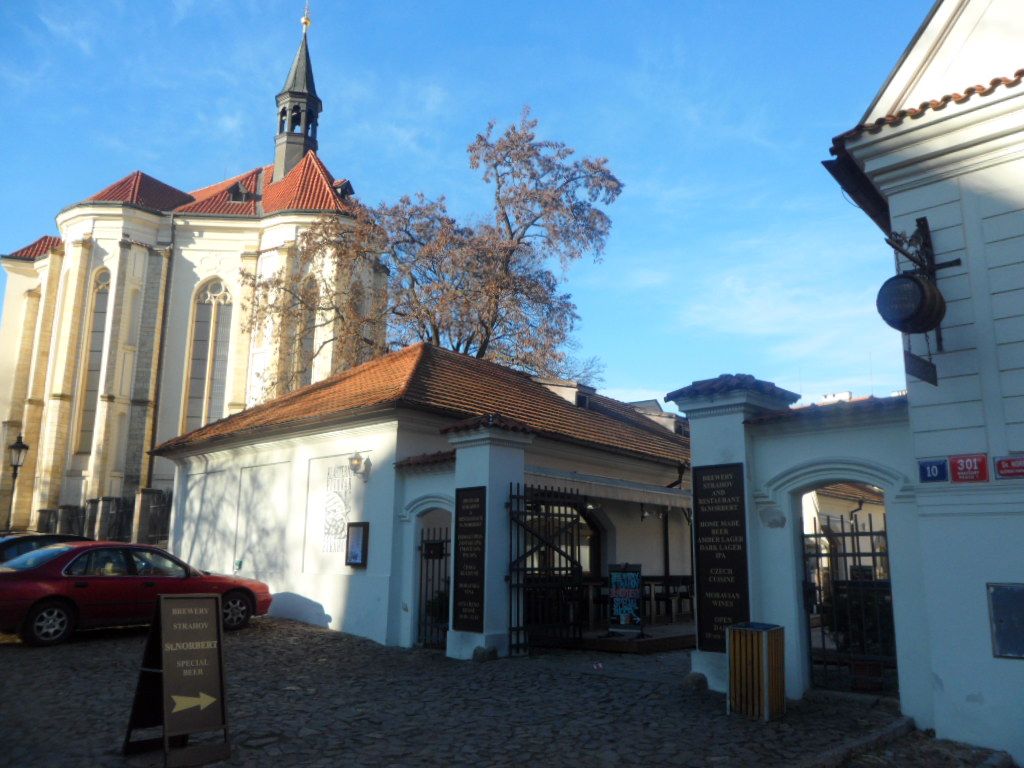 Restaurant and Brewery Petrin Hill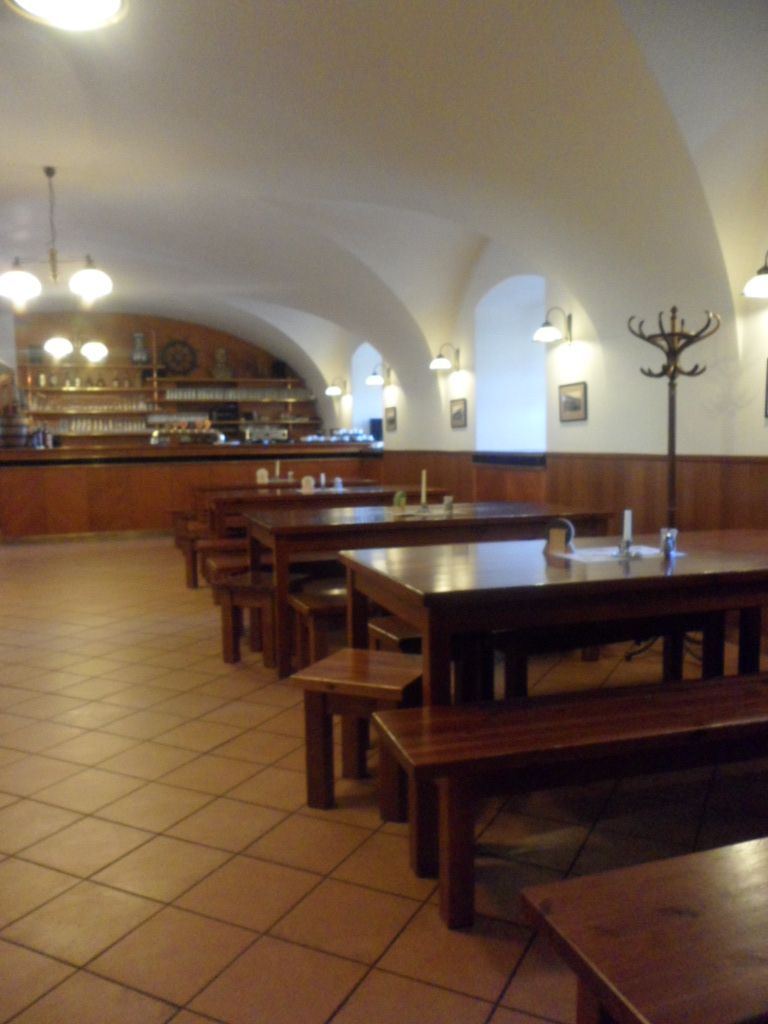 Interior of Klasterni Pivovar Strahov Restaurant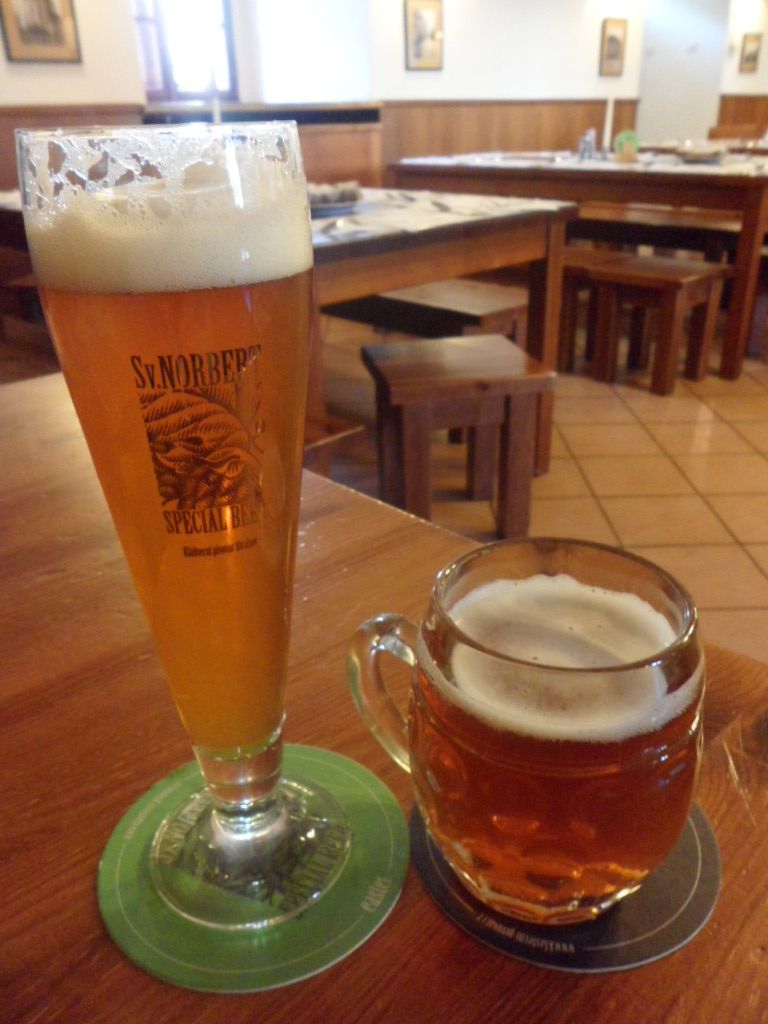 St Nobert Amber and IPA (45-47 Czk)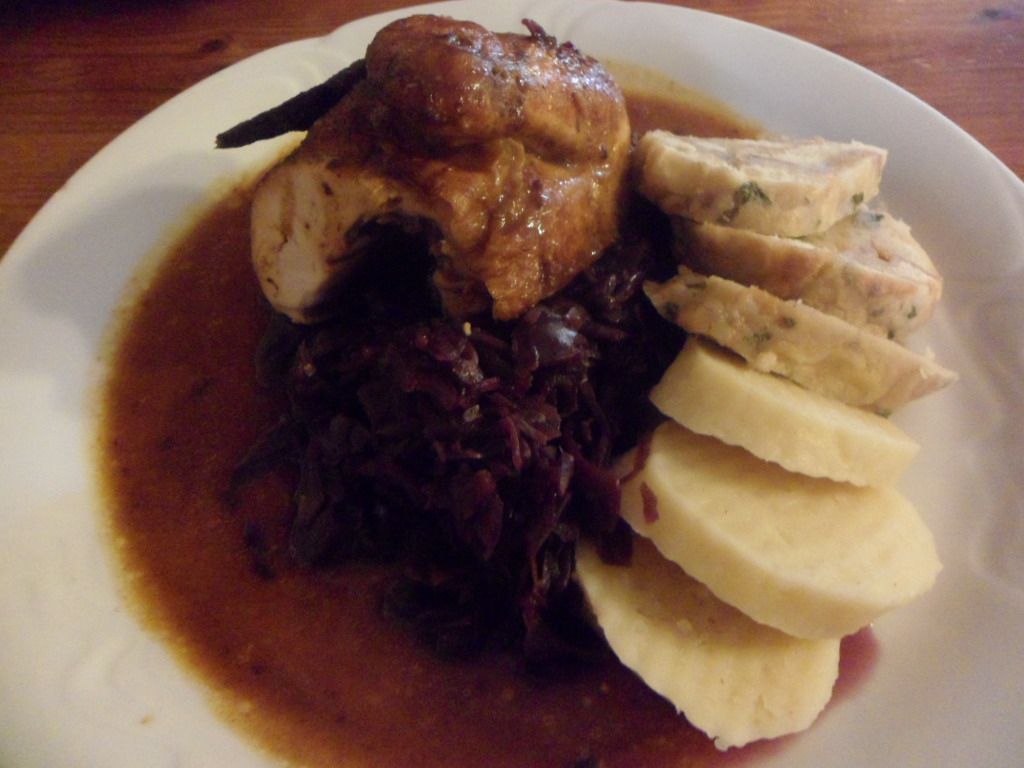 Chicken St. Nobert 140 Czk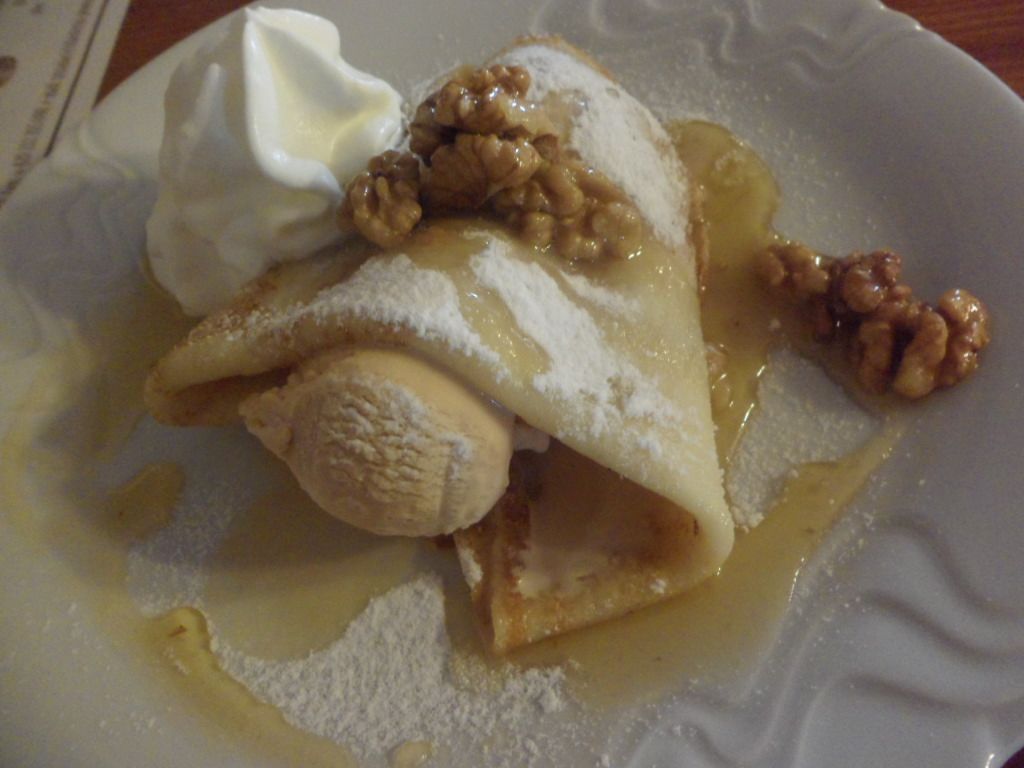 Pancake with caramel beer ice cream 99czk
Please dont miss out on the pancake with caramel beer ice cream! It is probably the best dessert we've had ever!
Taking the advice of Monika, we decided to visit a restaurant she recommended for svickova, beef in whipped cream, creamy brown sauce and cranberry…

Entrance of ULabuti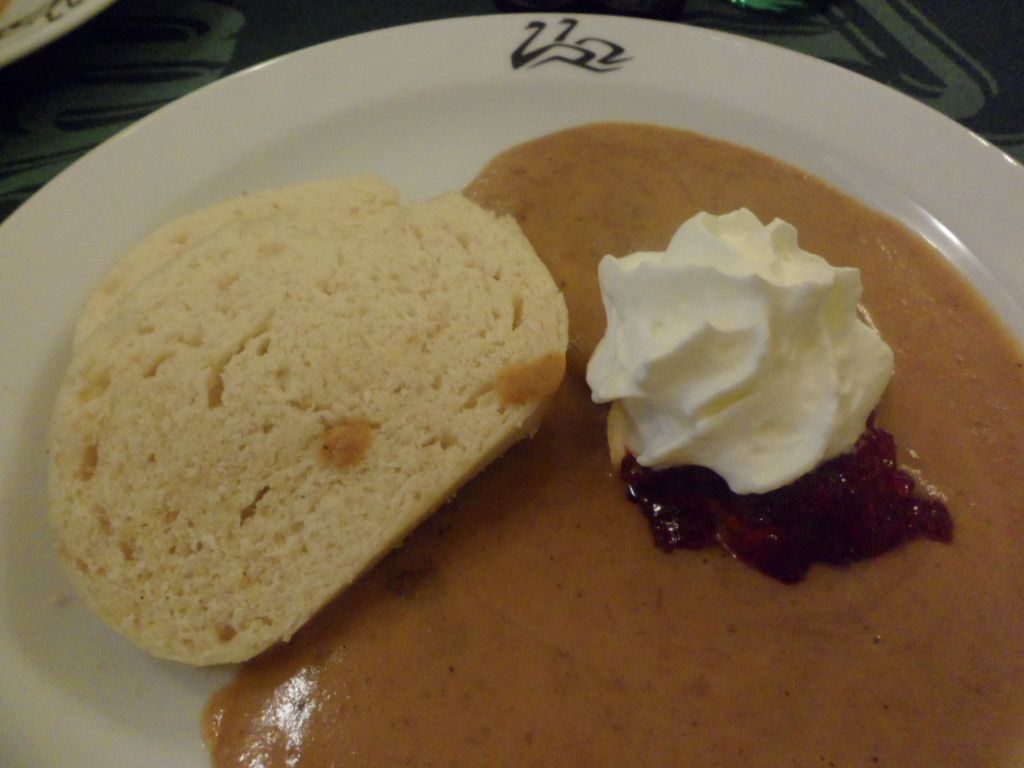 Svickova @ ULabuti
The beef was tender, flavourful and the mix of cranberry,whipped cream and sauce is something new but interestingly nice for us!
We headed back to Charles Bridge and did some shopping at Pariska Street before heading to Municipal House for tea…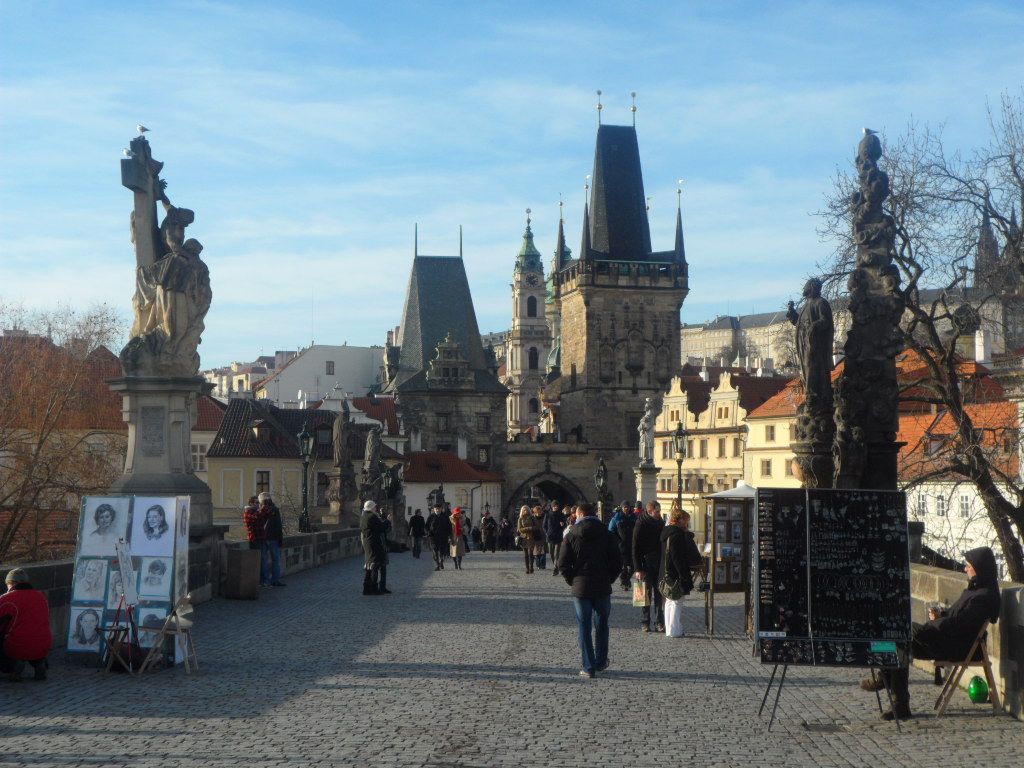 Charles Bridge in the day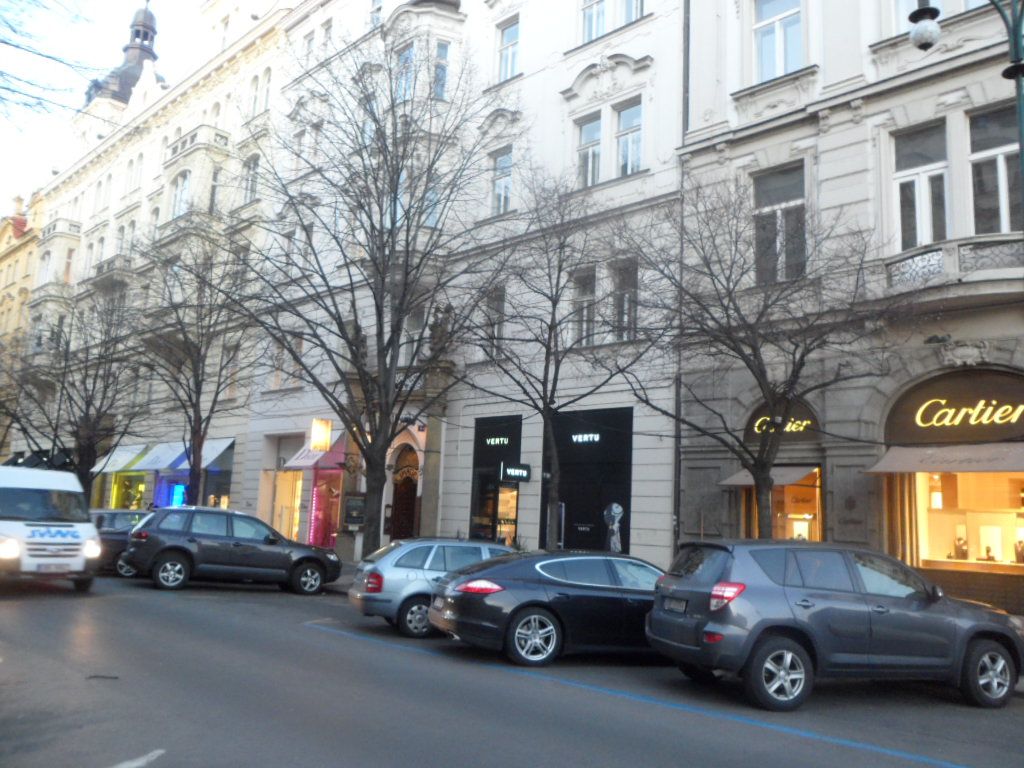 Pariska Street – Luxury Shopping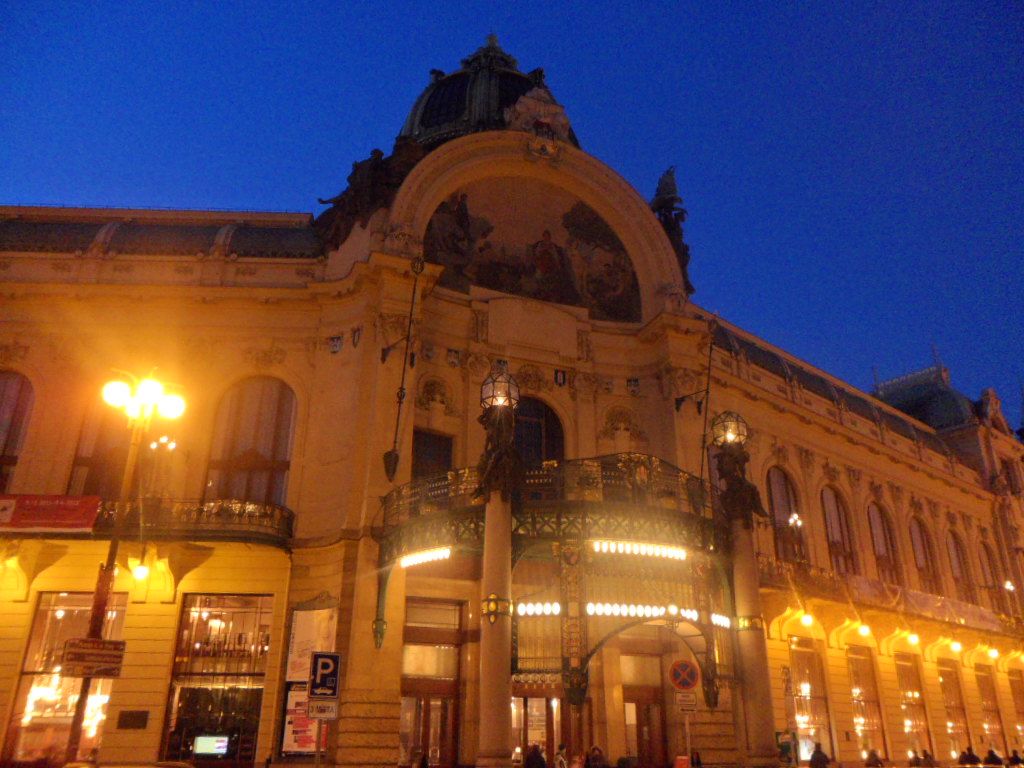 Municipal House
It is also recommended to have tea at the Kavárna obecní Dům aka Municipal House Cafe. It was a new experience for us as we dont usually do tea time plus the atmosphere was classy. Check it out…

Classy feel in Kavárna obecní Dům – Live piano in the background
For more of what we ate, check out the post of Municipal House.
In the evening, we headed back to Wenceslas Square to try out the roasted pork knuckle!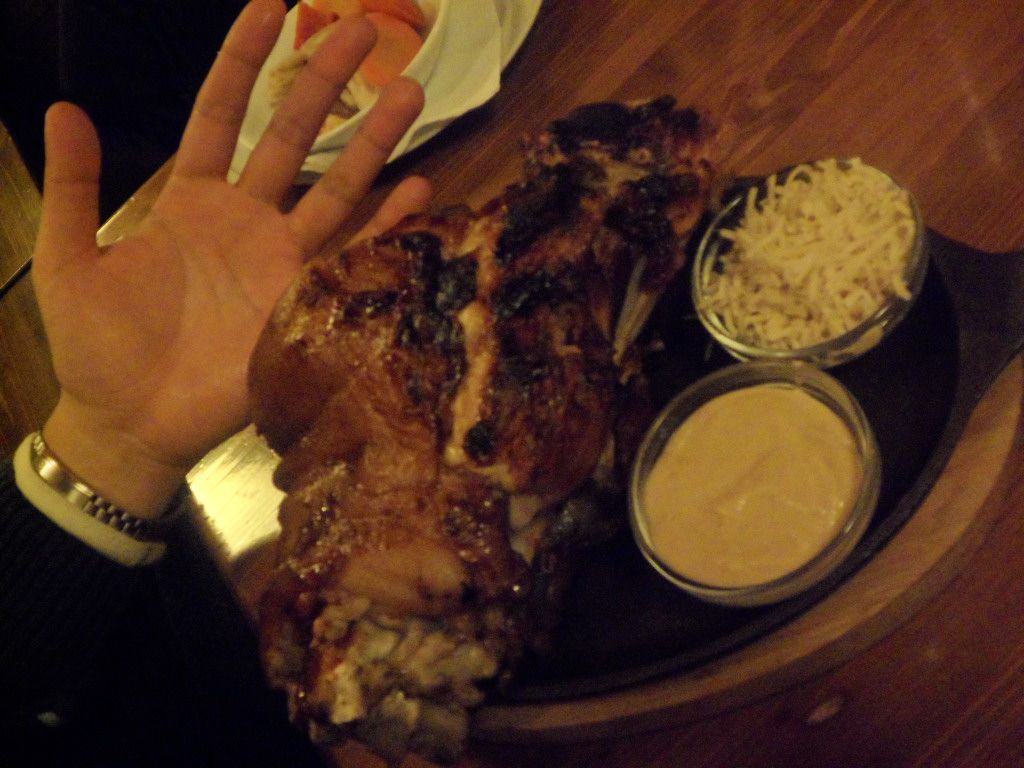 Huge Pork Knuckle – 416Czk
The pork knuckle was HUGE! It is also good for 2. Goes well with some beer from the menu.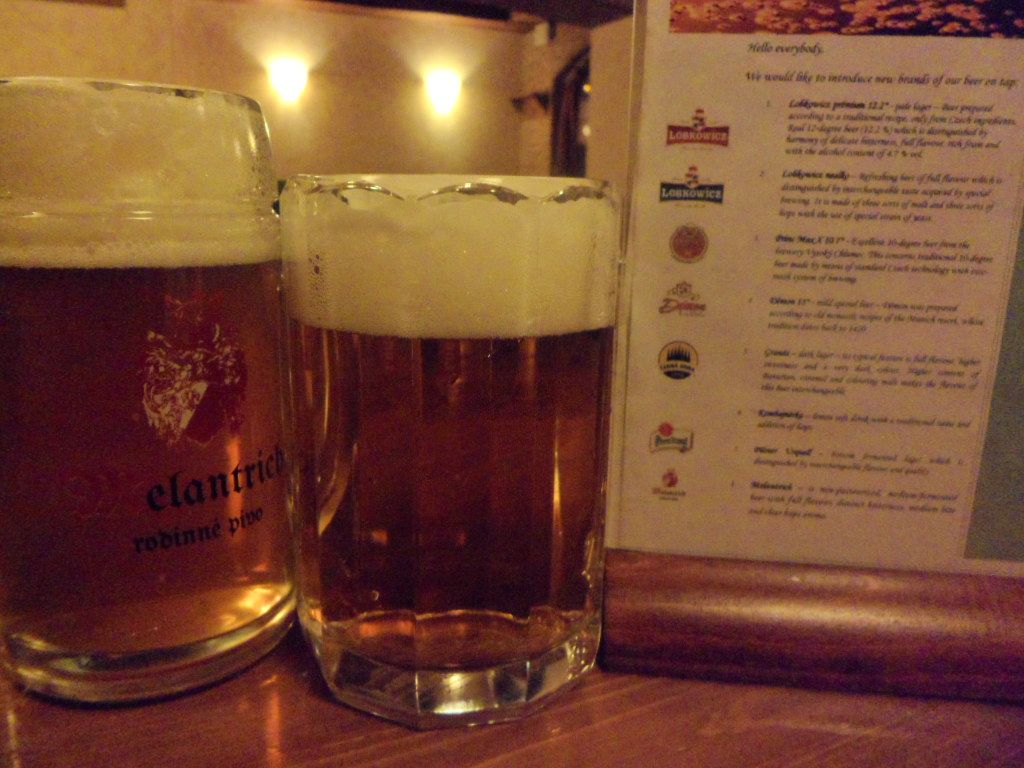 Melantrich and Lobkowixz beer at 80czk each
We rounded off the evening with a stroll past Charles Bridge in the dark. Romantic.

Romantic Walk at night along Charles Bridge
Day 6
We slept in today and decided to go to the pub near the hotel to try out the smoke duck. Turns out that it was delicious as well!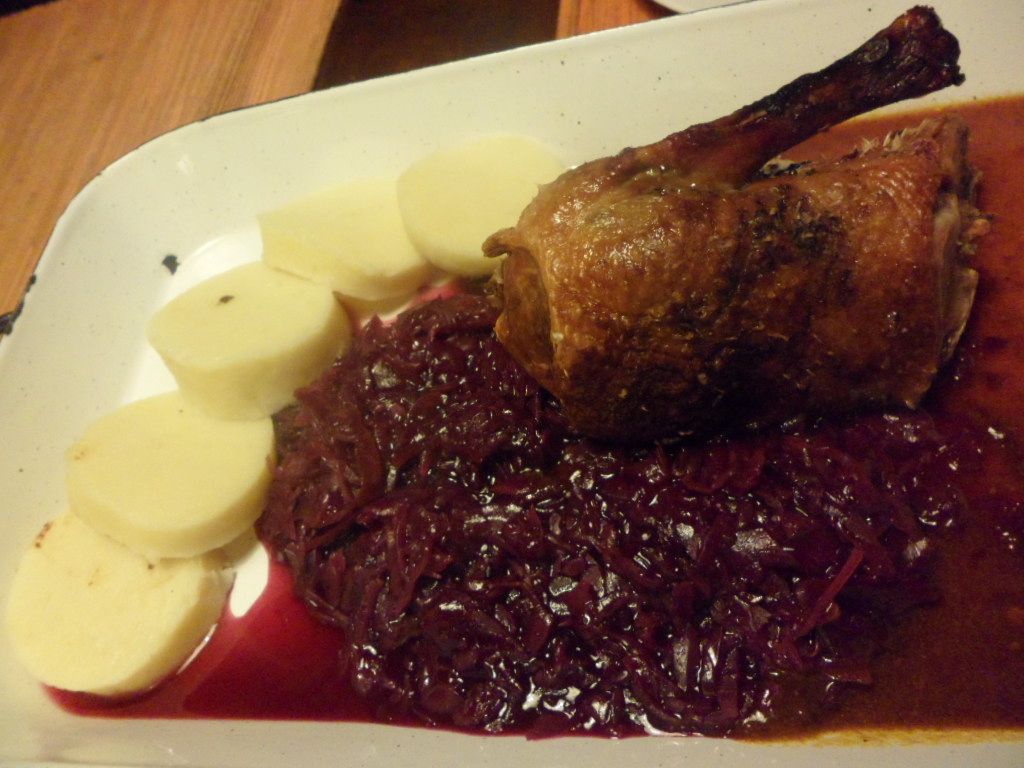 Yummy smoked duck with tender meat and crispy skin served with potato dumpling and radish for 215czk

Interior of the restaurant
The interior of the restaurant is somewhat like a tavern. You literally descend a flight of stairs into a basement. Cool.
Posts related to Prague Czech Republic
Top 6 Things to do in Prague and Attractions in Prague Czech Republic
Attractions and Things to do in Prague : Day 4-6 of Europe Trip
Attractions in Prague
Prague Castle – The most iconic architecture in Prague
Petrin Hill via the Funicular – Amazing View of Prague and Hall of Mirrors Awaits
Municipal House Prague – Enjoy a cuppa at Kavárna obecní Dům while reveling in the arts
Wenceslas Square Prague – Shopping , Dining , Cinemas and more
Charles Bridge Prague – Beautiful Architecture with Stories and Legends to Tell
Old Town Square Prague – History, Astrological Clock and more
Astronomical Clock Prague – Work of A Genius
Hotel that we stayed in Prague
Hotel Roma Prague Czech Republic – Great room at an excellent price
Last Words
There are so many things to do in Prague. Many attractions in Prague as well! Prague is definitely one of our top European cities. The city is rich in history, have links to modern culture, exceptionally good food and unforgettable scenic spots.
Take a short trip to Prague, the next time you are in Europe. You'll definitely enjoy it!
Hotel Deals
For your convenience, we have arranged for the best hotel deals in Prague right here!
If you enjoyed our content, "Like" us on Facebook Today!

Remember to leave your comments for 2bearbear Singapore Travel Blog in our comments section below!
Related posts: