There are 2 things that you must see when you go to Mittenwald and Oberammergau in Germany. Wait…at this point you must be thinking, "Where the @$#%#@$$ is Mittenwald and Oberammergau?!"
For those of you who are travel show enthusiasts (or simply Lord of the Remote Controls), you may have seen Oberammergau featured several times on several travel shows. In this post, we will tell you the 2 main reasons :
1. The Bavarian Alps
2. Mural Art
(Yes, I understand. Mural art is defined as a large painting usually done on walls)
Our journey to Mittenwald and Oberammergau in Germany!
After completing our trip from Berlin to Munich via a stopover at Dresden, we decided to do a day trip to visit attractions around Munich. Originally, we wanted to visit the Neuschwanstein Castle. However, we googled and found out that it was the renovation period and visitors were informed that parts of the castle would be obscured due to the restoration work.
Hence, the next option was to embark on the Mittenwald, Oberammergau journey!
The catch is that this day trip would really take the entire day. This is because the journey from Munich to Mittenwald would take about 2 hours and Mittenwald to Oberammergau via Murnau would take another 2 hours. So 2 hours here and 2 hours there PLUS the return trip. That doesn't leave much time for a day trip.
Hence, we would really advice for you to stay a night in Oberammergau (there are excellent views of the Alps from some of the lodges – imagine waking up to the Alps…) and try to avoid this itinerary. That is unless you think "been there done that"…
The trip started with a train ride first to Mittenwald. To get our properly geared up, we had croissant with a cookie crumble top, apple strudel with real slices of apple and our morning coffee.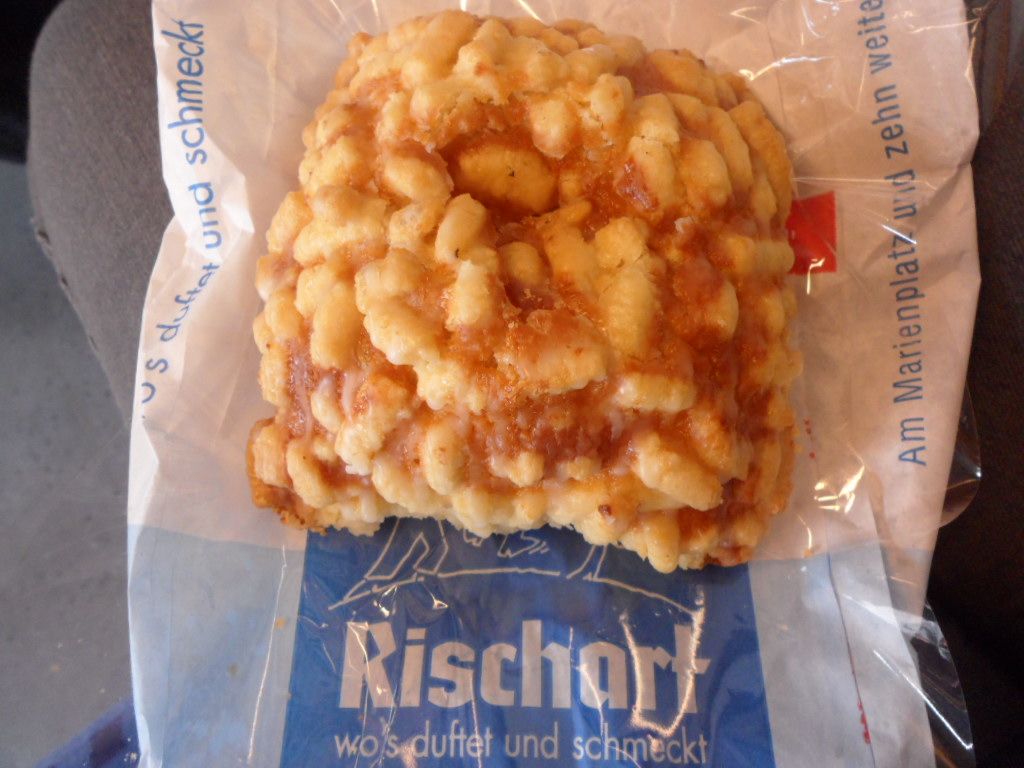 Croissant with cookie crumble at the top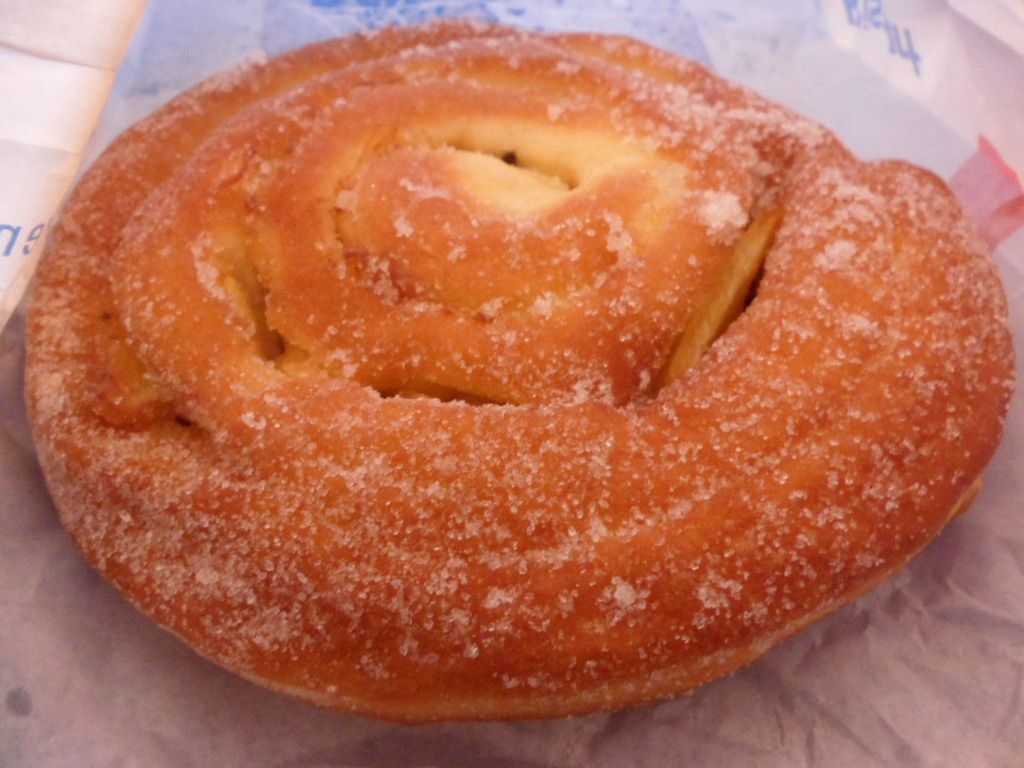 Apple Strudel with real apple slices!
We had some trouble at first trying to confirm that we were on the right train. Eventhough we were informed by the receptionist at the counter that we were on the right train, the sign board did not mention Mittenwald. So we asked some passengers on the train just to confirm. In addition, many seniors with hiking sticks confirmed that we should be headed in the right direction (hiking in the Alps right?)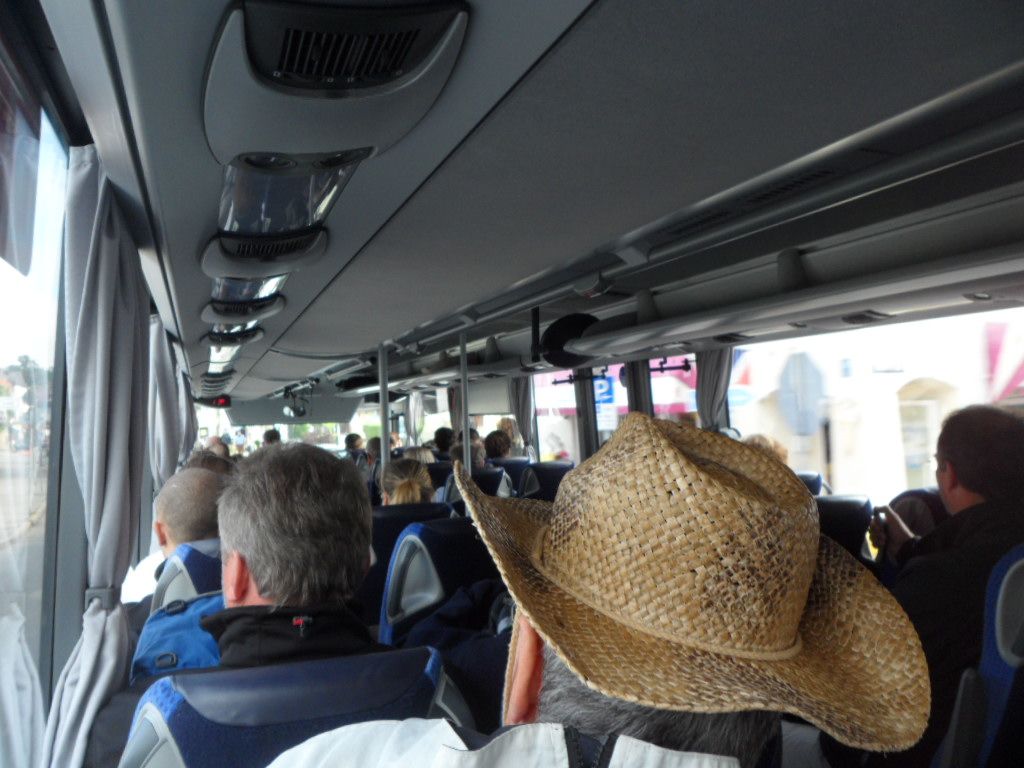 Bus from Tutzing to Welheim
Unfortunately, due to construction on the tracks, we had to alight at Tutzing for a bus transfer to Welheim. The good thing about travelling in Germany is that if such diversions occur, there would be many people directing you and many buses awaiting to bring to the next available station for you to continue your journey.
The following video shows our departure from one of the smaller stations, shows our readers a glimpse of the countryside in Europe…

Departing a station in the countryside of Europe
Before long, the first view of the Bavarian Alps was in sight and we arrived at Mittenwald after several scenic stops…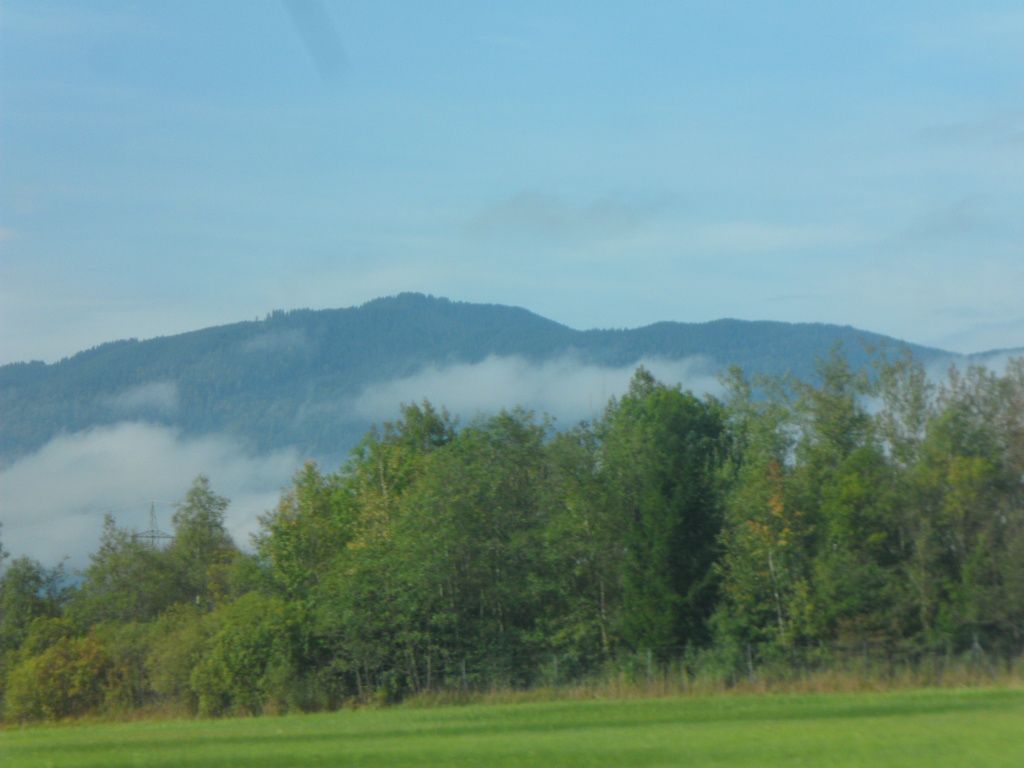 First view of the Bavarian Alps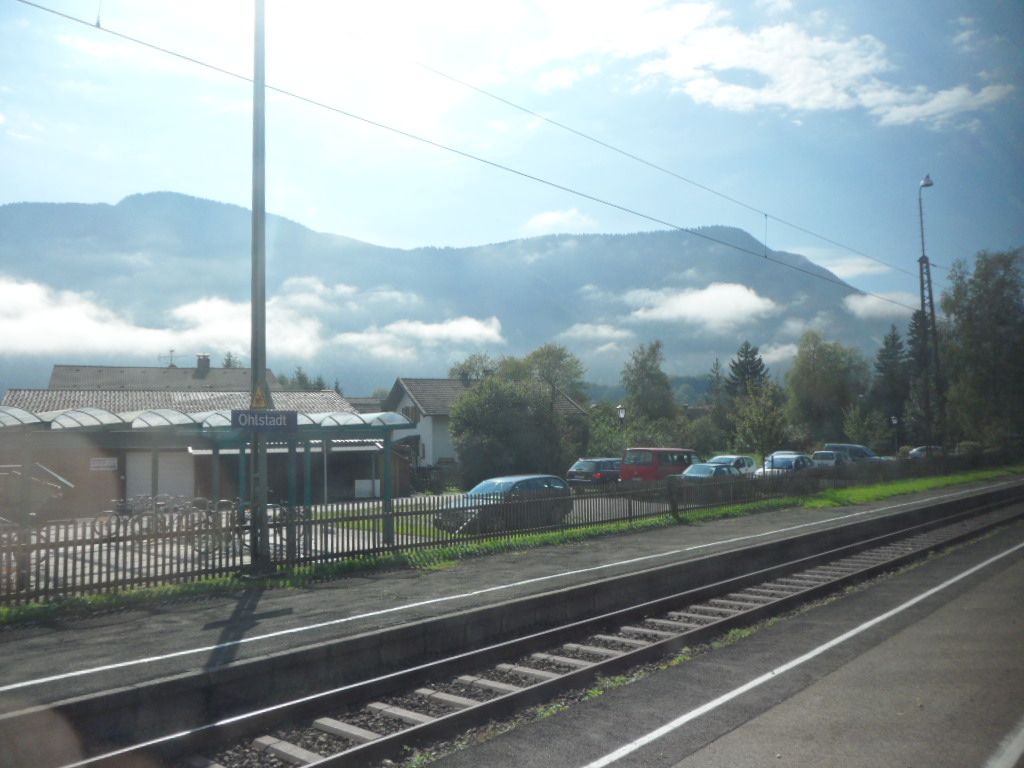 Another view of the Alps from Ohlstadt Station

Mittenwald Train Station
Due to our low quality camera (any sponsors out there?), slow reaction and fast moving pace of the train, we were not able to capture some spectacular views of the views overlooking the fields and villages. However, we did capture a close up view of the Alps at Mittenwald station…

Close up view of the Bavarian Alps from Mittenwald
Fantastic Views at Mittenwald Germany
Here are some of the fantastic views of Mittenwald. To think that we actually contemplated to skip it to go to Oberammergau only!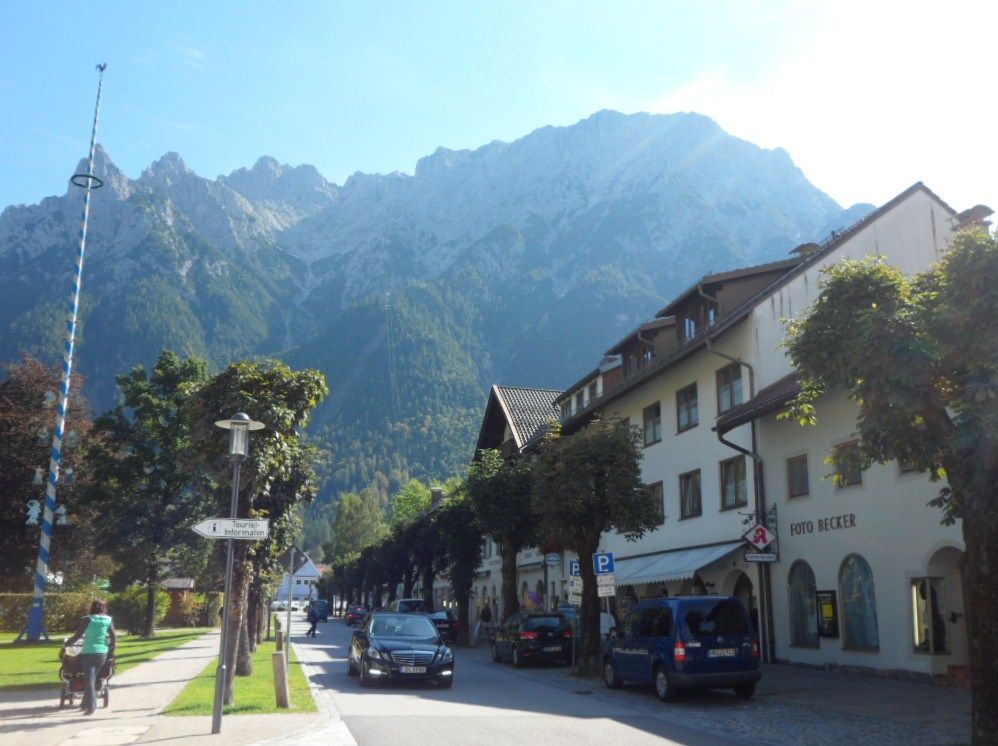 Main street of Mittenwald – Cool thing about Mittenwald is that it winds between the alps and it built close to it, REALLY CLOSE!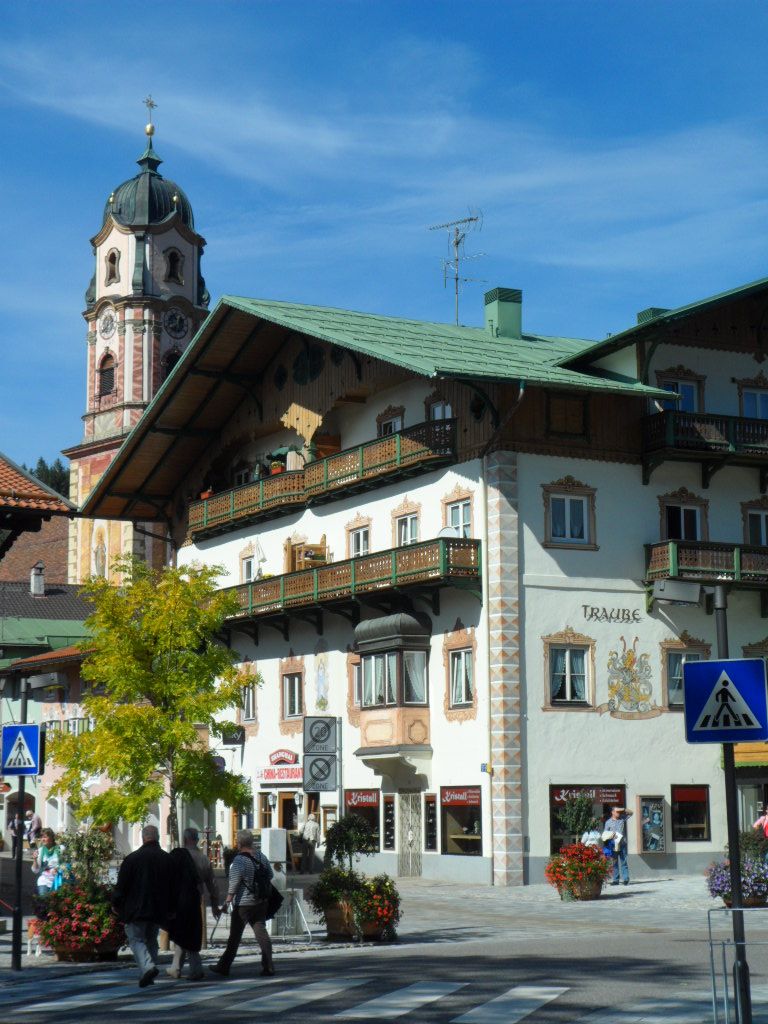 Church in the background and Mural building in the foreground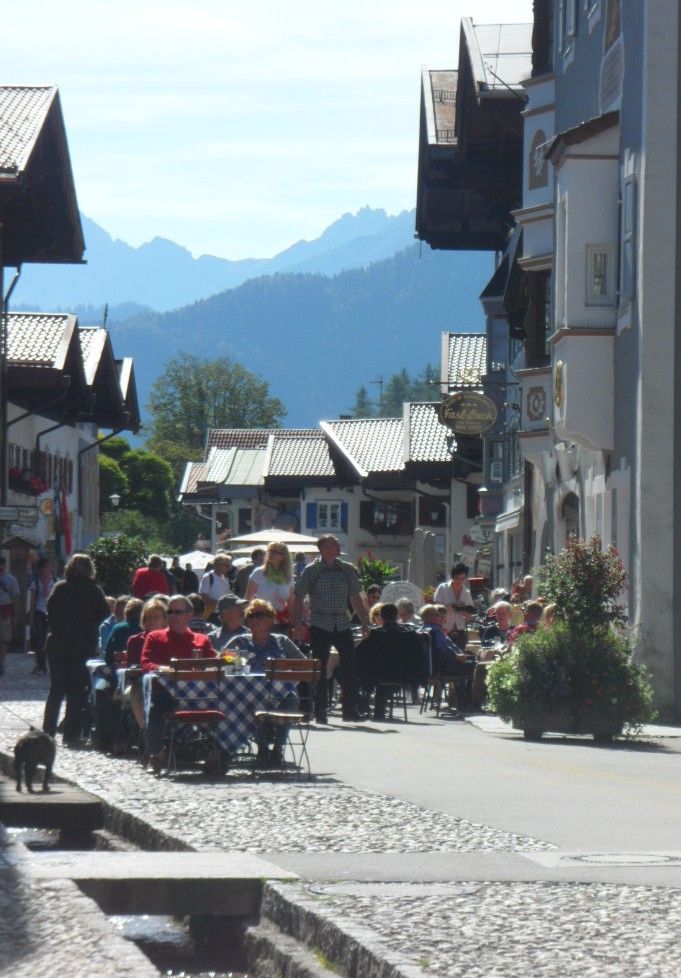 Restaurant Street at Mittenwald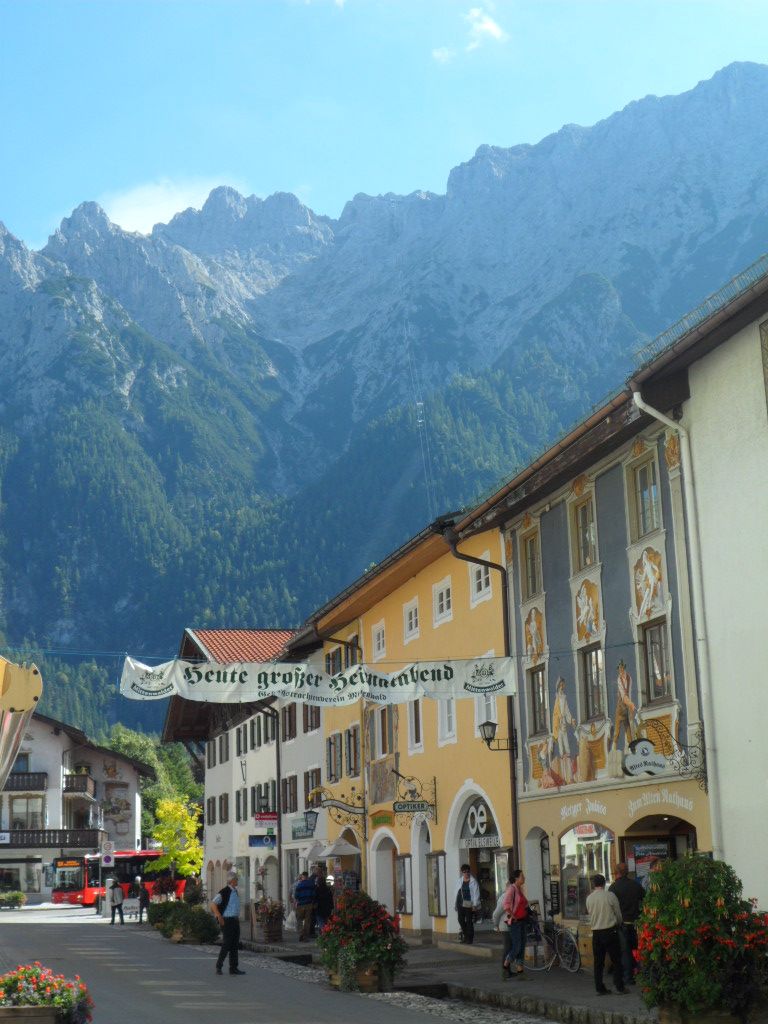 Street with Alps in the background – Artistically taken by Kate!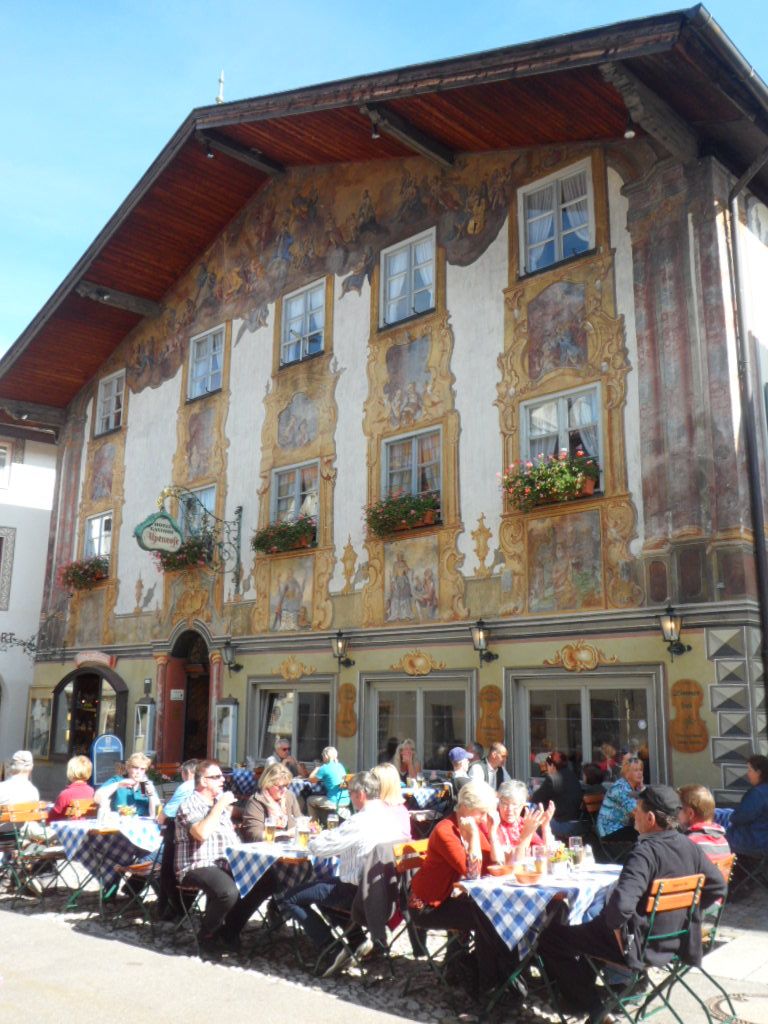 Restaurant with Mural art – Check out the crowd dining here!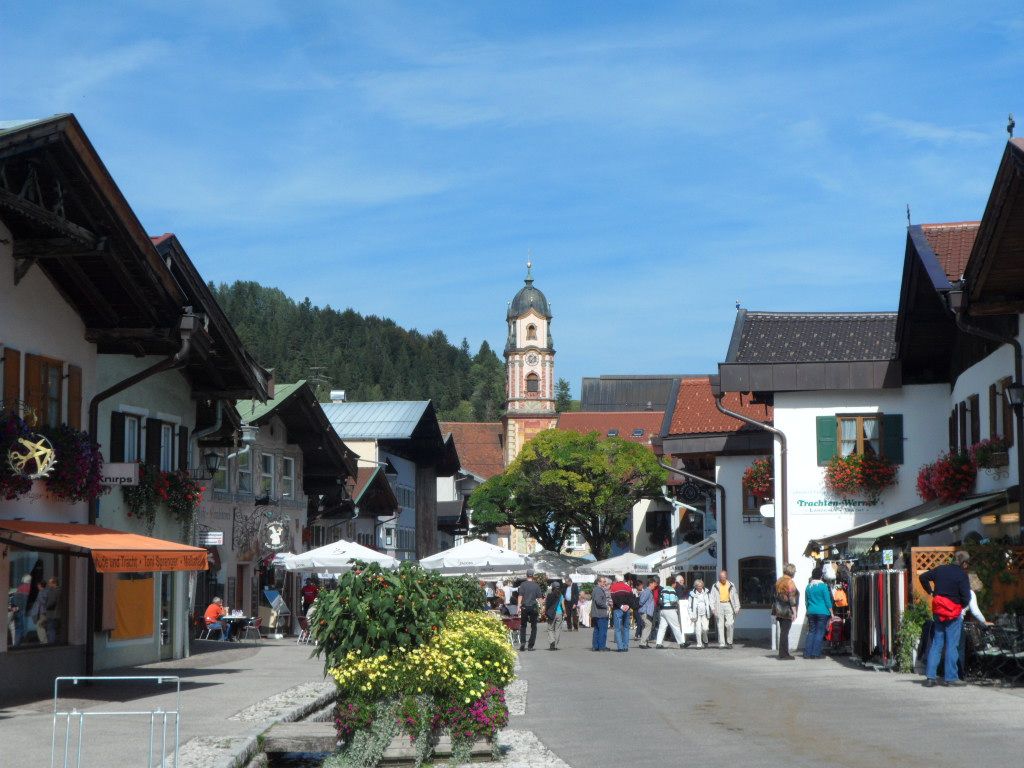 Street with view of the Church in the middle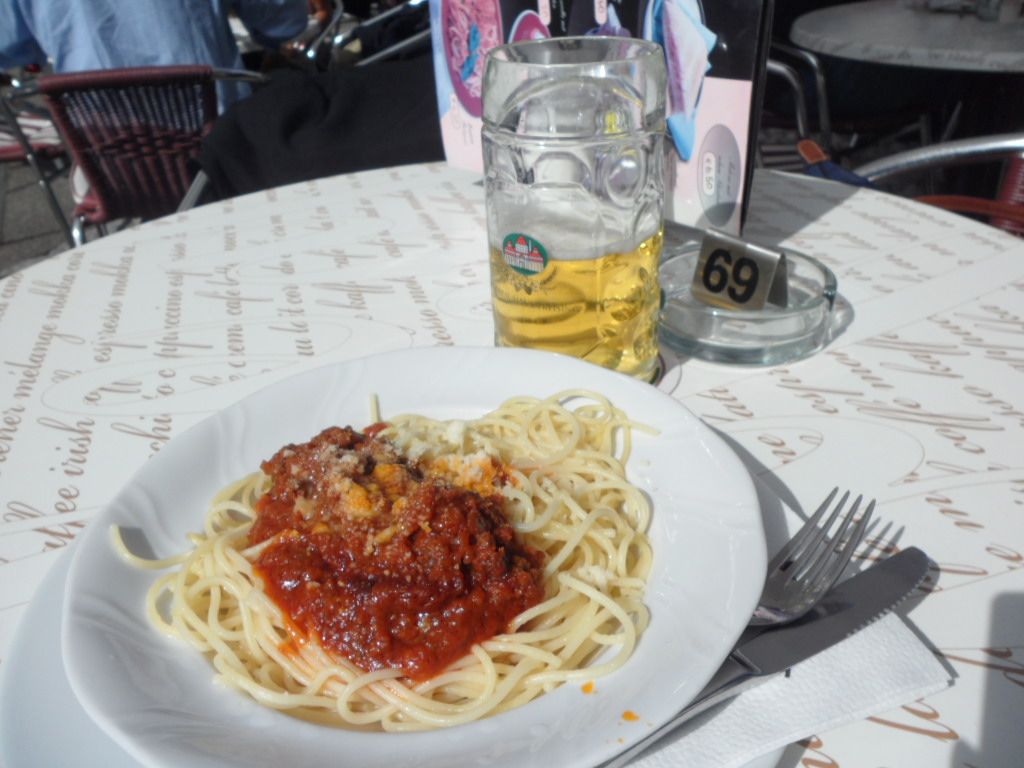 Story of the Spaghetti (ice cream) at Mittenwald…
A small little incident occurred when we ordered our spaghetti at this particular restaurant. After ordering our spaghetti and having waited for about 5 minutes for it, we were served with…wait for it…ICE CREAM!! IN THE FORM OF SPAGHETTI!!!
Of course it was not what we ordered. But we later realised that the waitress must have said "Spaghetti Eis (pronounced as ice)" which meant spaghetti ice cream! And we must have nodded! The waitress' face went black for a moment but she was kind enough to finally deliver us our spaghetti. Judging from the half-filled beer, you can guess that we waited for quite a bit. Even had to rush the spaghetti down so that we would not miss our next train to Oberammergau…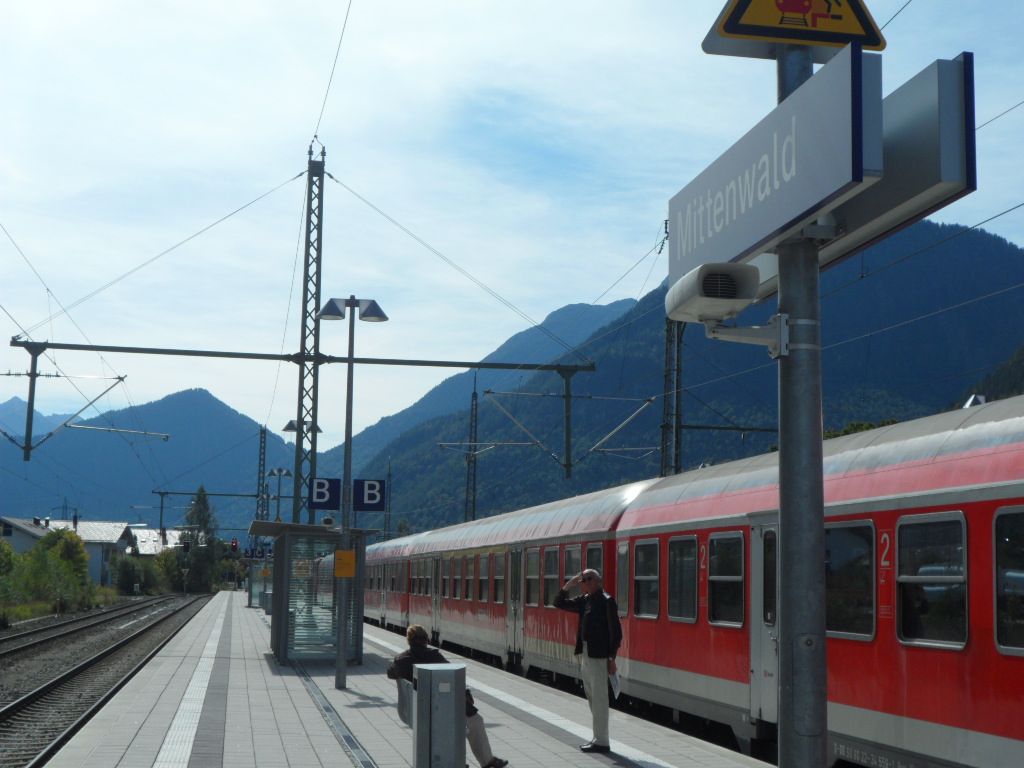 Train leaving Mittenwald to Murnau, change of trains to Oberammergau
Arriving at Oberammergau
After another 2 hours ride (maybe slightly less), we finally arrived at Oberammergau!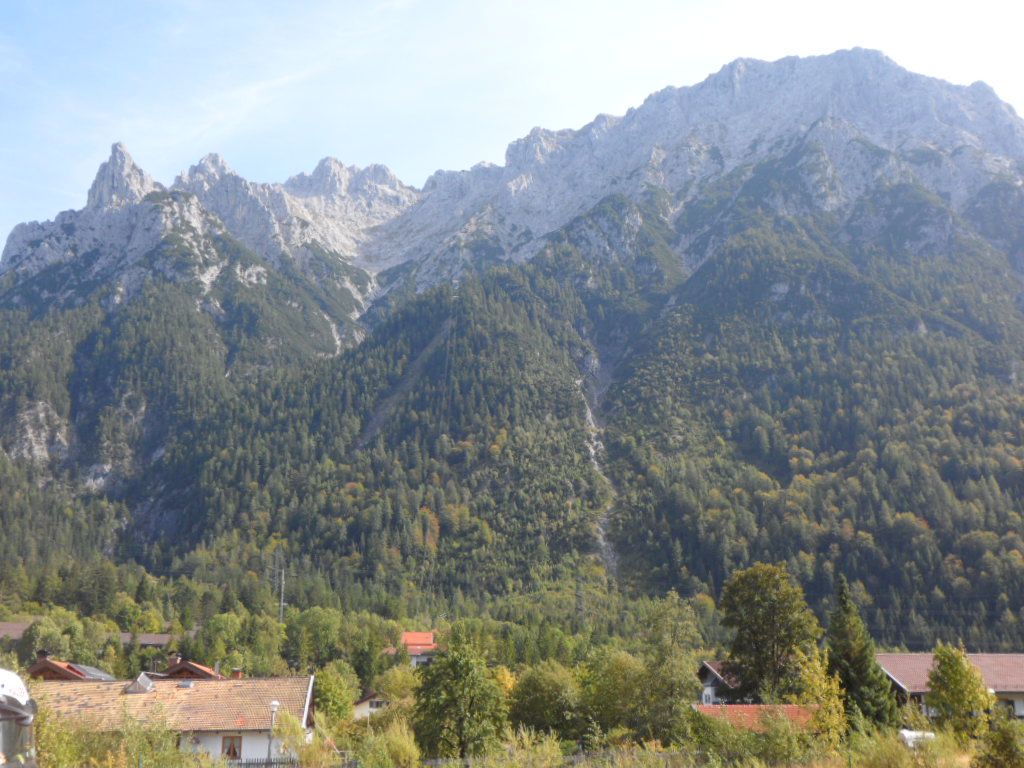 View of the alps while leaving Mittenwald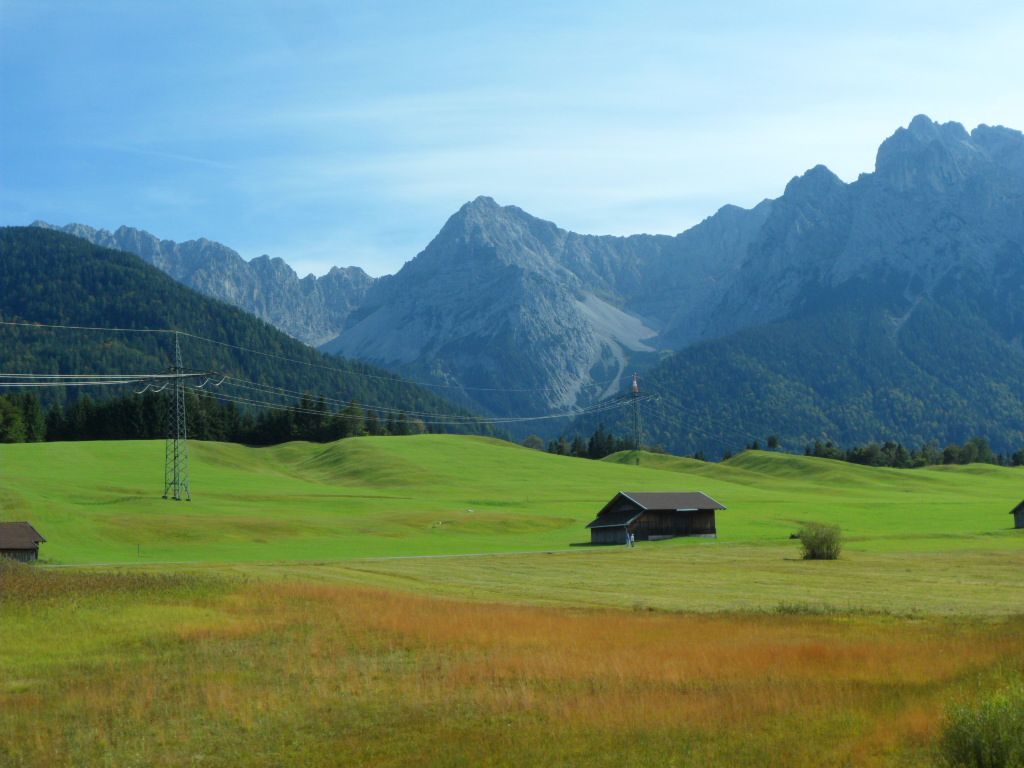 Alps and fields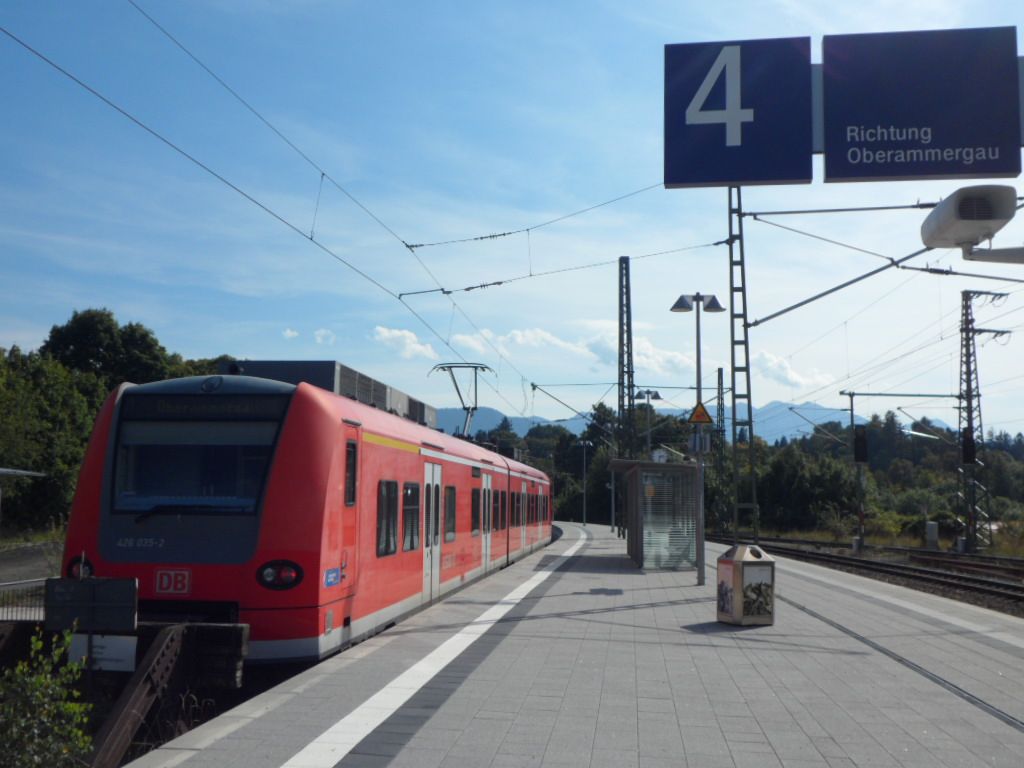 Mini train taking us from Murnau to Oberammergau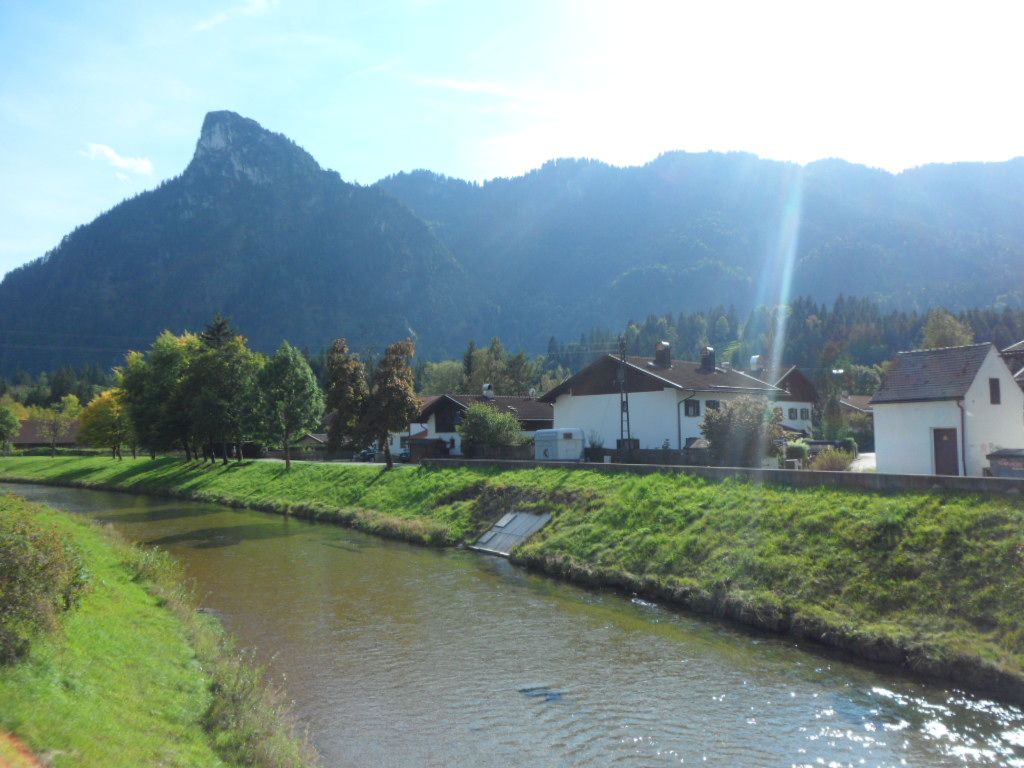 Bavarian Alps and crystal clear waters of the rivers at Oberammergau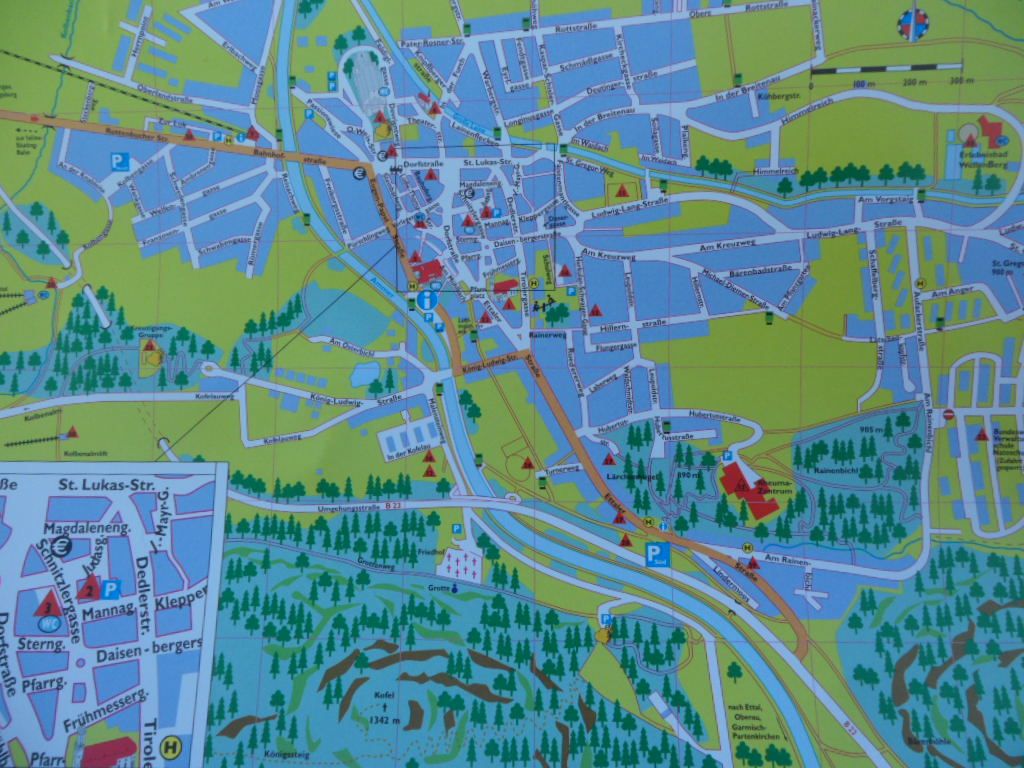 City Map of Oberammergau
After stepping out of the station, there was a huge crowd of people that turned right (facing the main street). However, Kate and I analysed the map and decided to turn left instead. And it was the right direction! Turning left took us to the heart of the city!
So remember to turn left when you leave the train station, facing the main street!!
Here are some of our memorable moments at Oberammergau!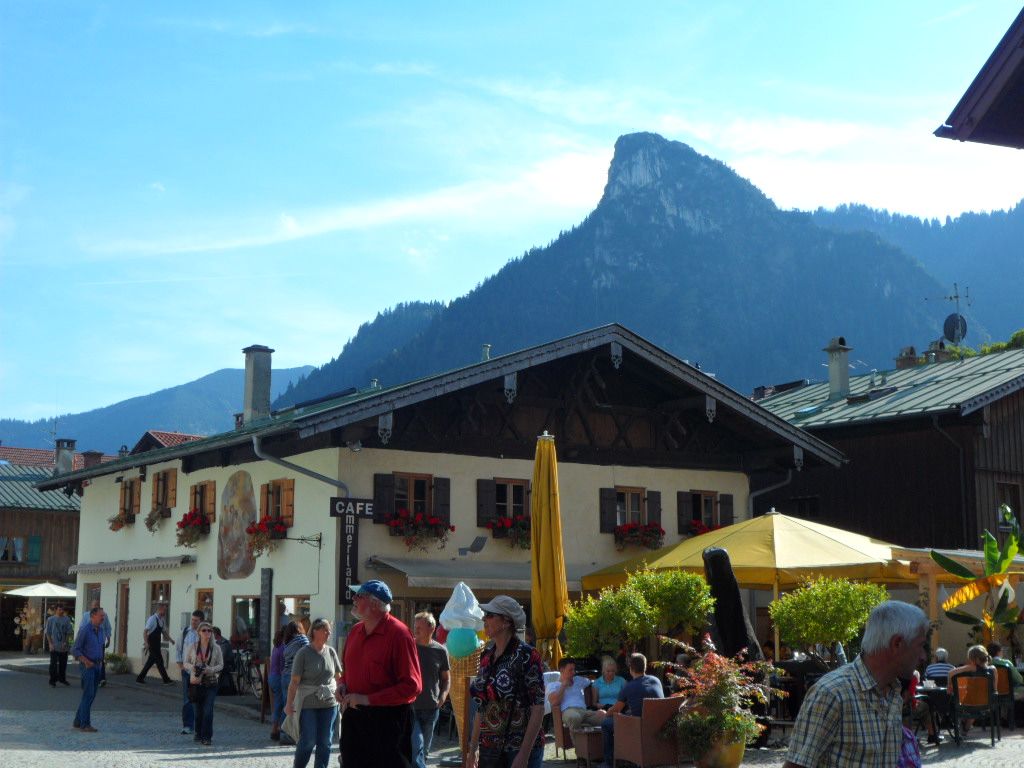 Alps and the ice cream shop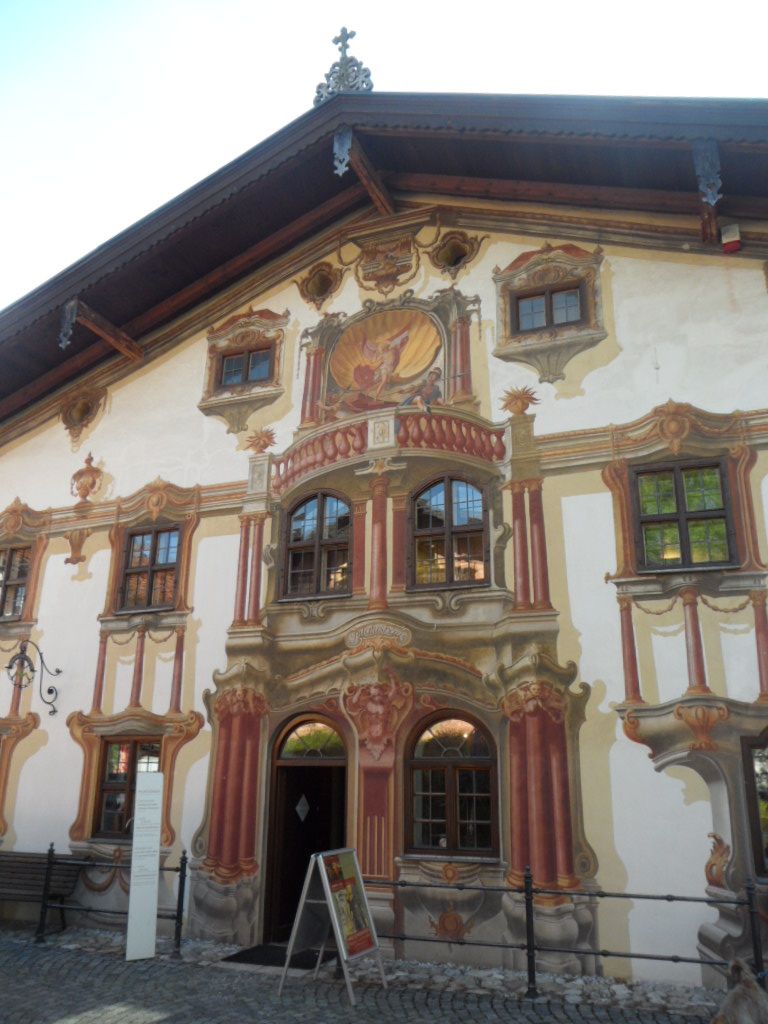 Realistic Mural Art – 3D effect!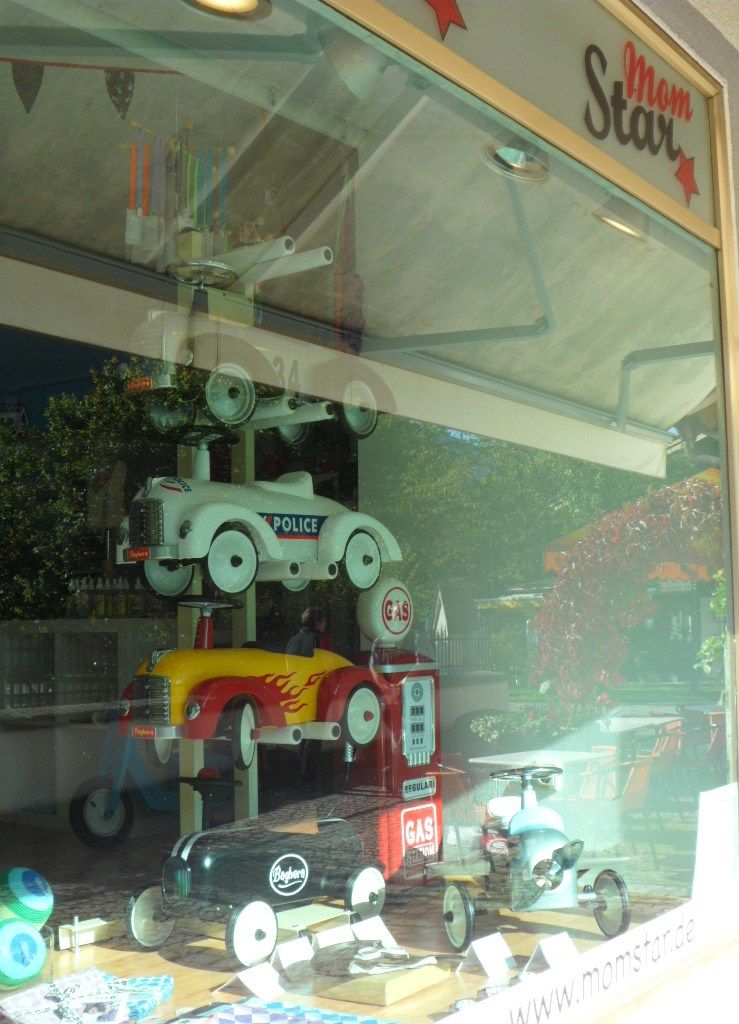 Motorcycle or planes for kids to ride on!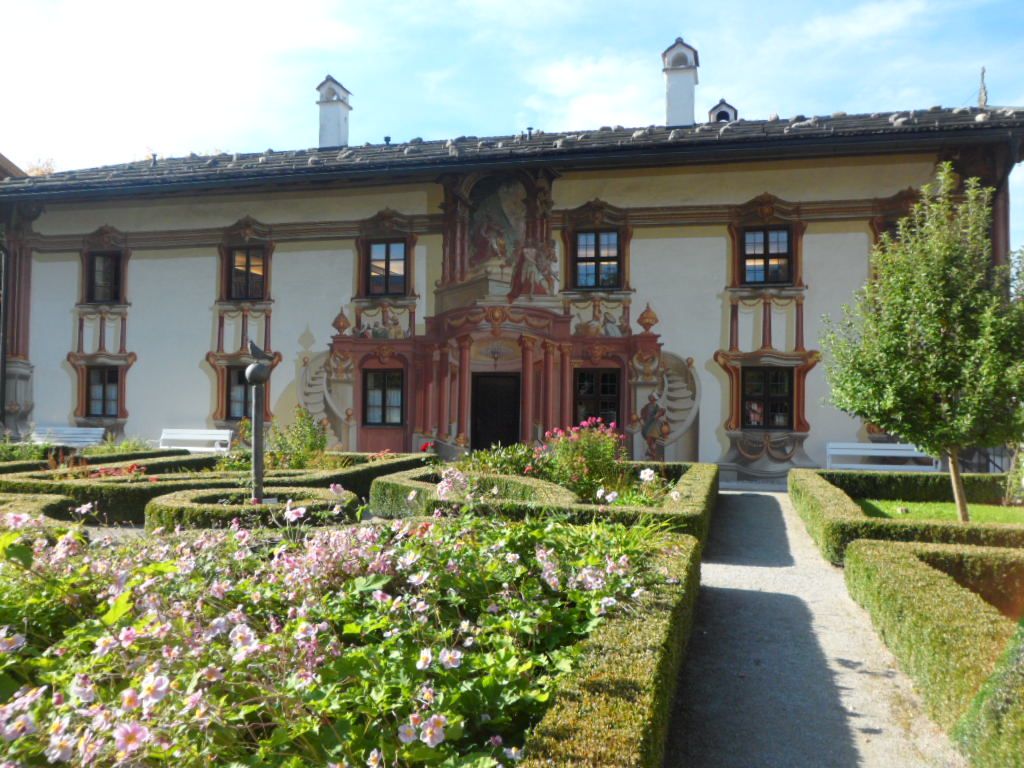 House with mural art and a nice garden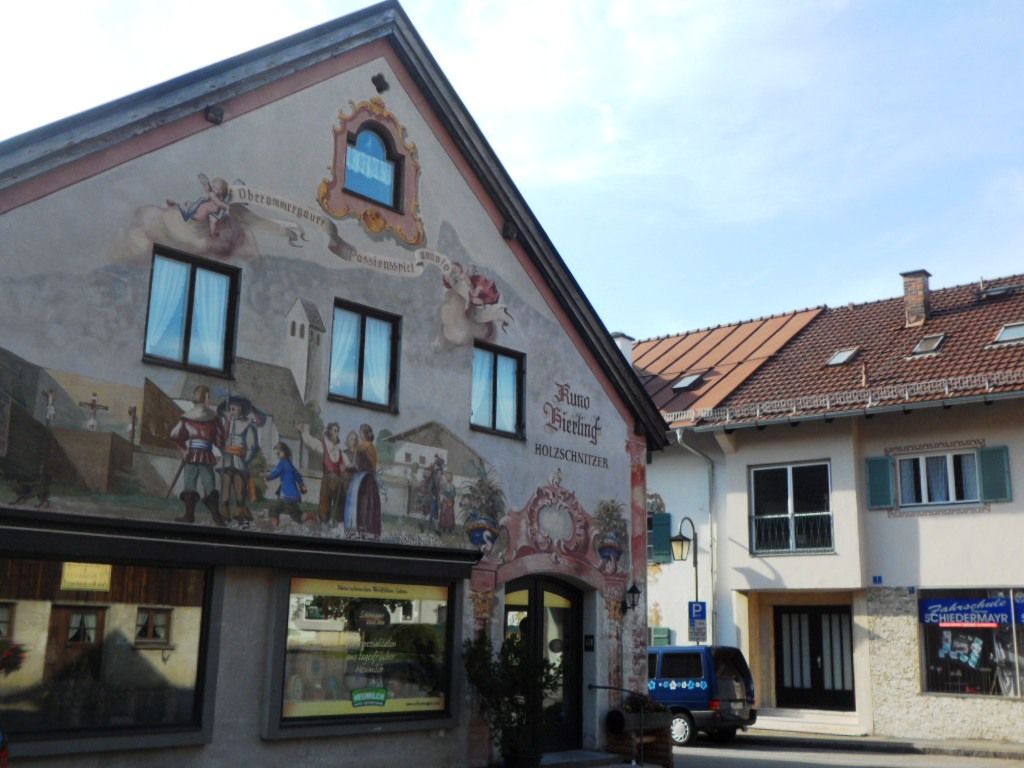 More Mural Buildings!

Oberammergau City Centre – Murals Galore!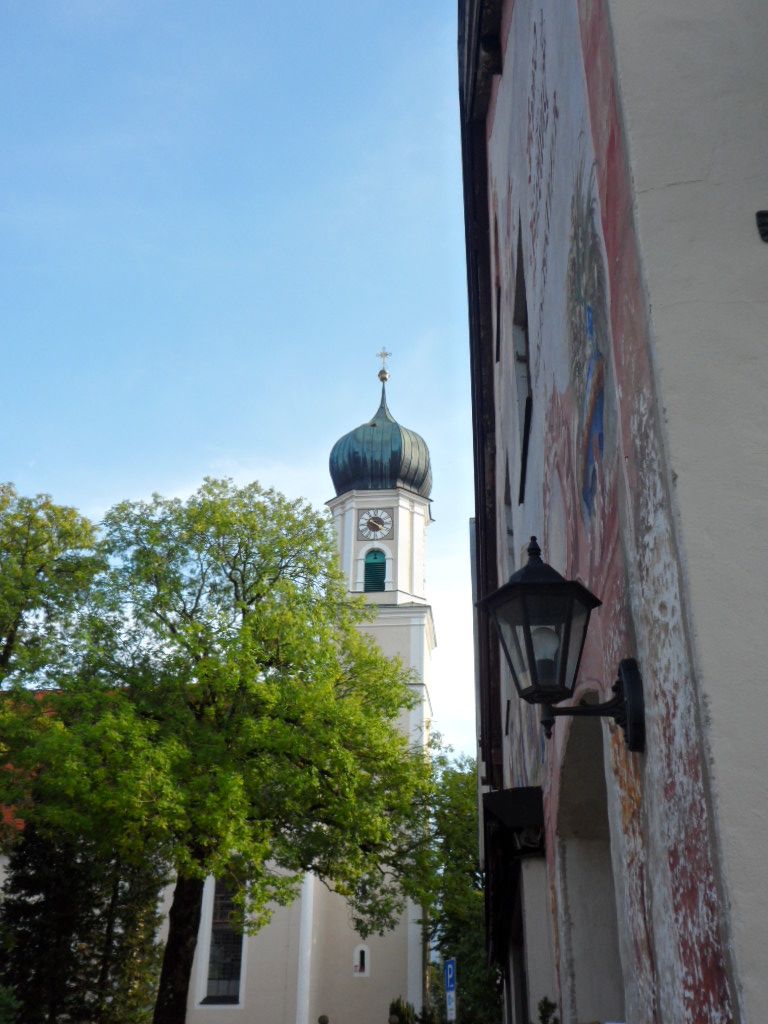 A Catholic Church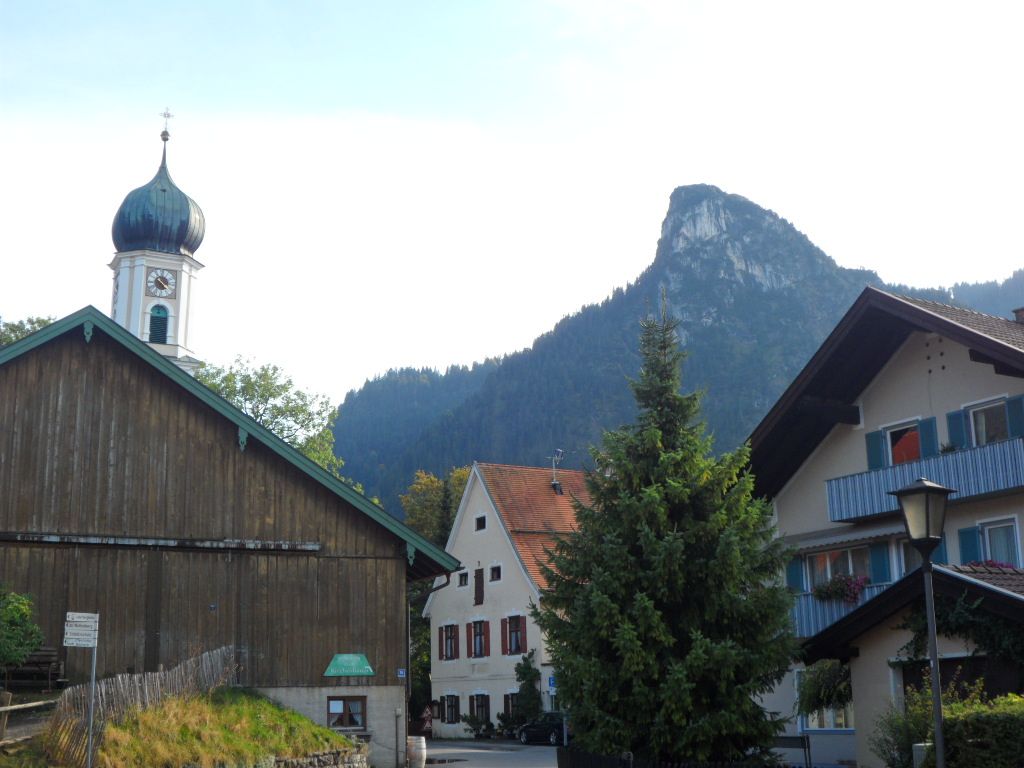 Church and the iconic alps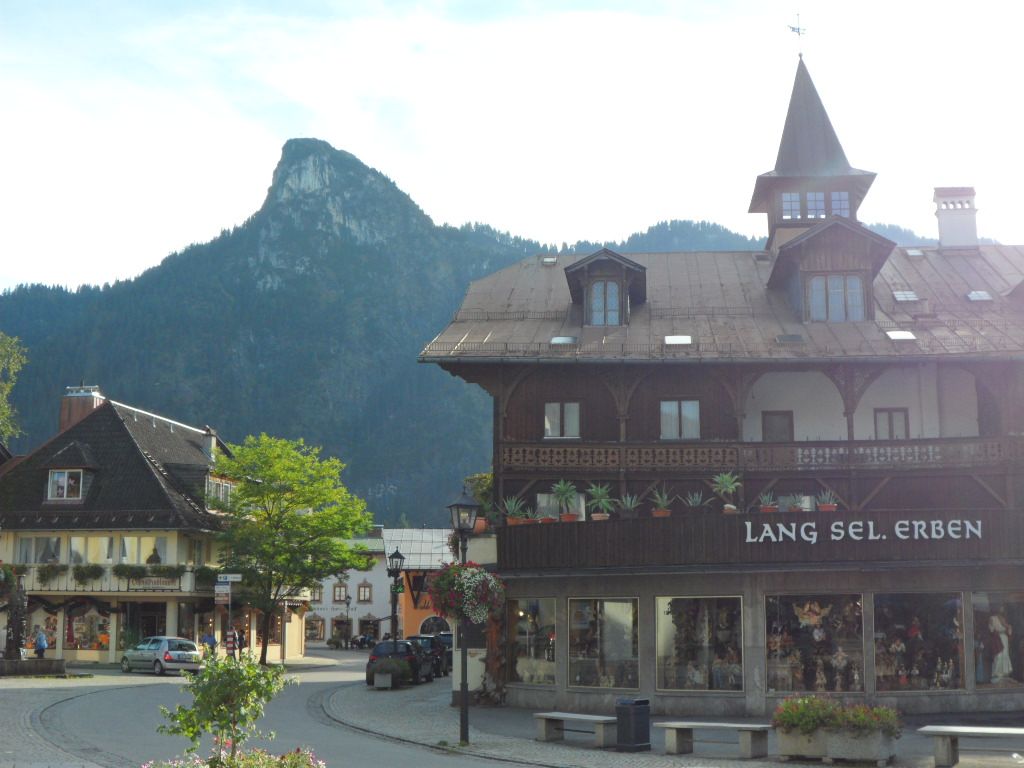 Another shot of the Bavarian Alps from Oberammergau

Oberammergau Restaurants and Mural Art!
We had dinner at one of the restaurants in the city centre and it was actually quite tasty. The dinner costs 25Euros inclusive of taxes and tips. The pork sausage with onion rings and pickles was a good starter that worked up our appetite. The roasted pork with dumpling was quite good. The taste was flavourful. Eventhough it was a little bit salty, taken together with the dumpling, the taste was perfect.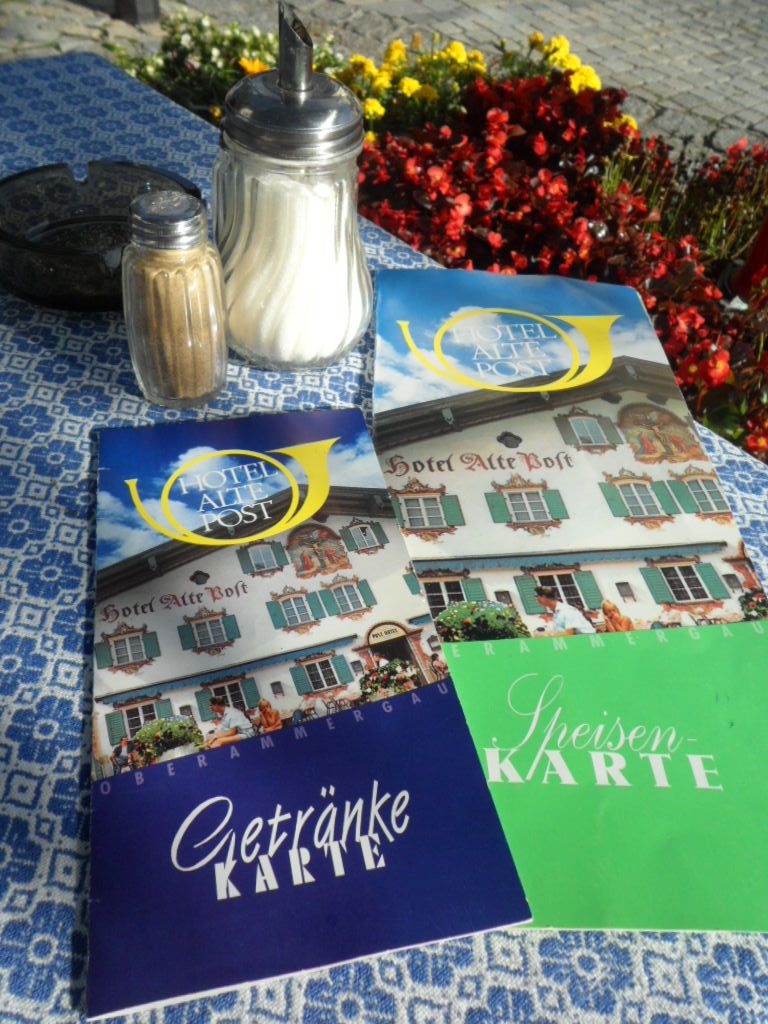 Drink and food menu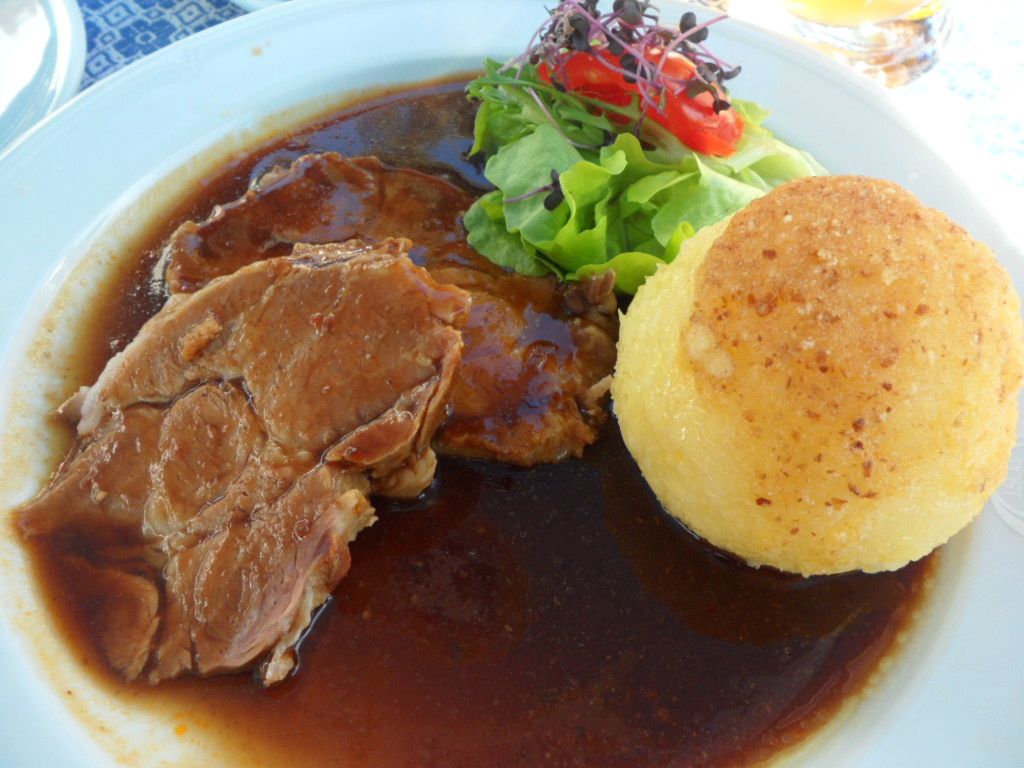 Roasted pork with drumpling and kraut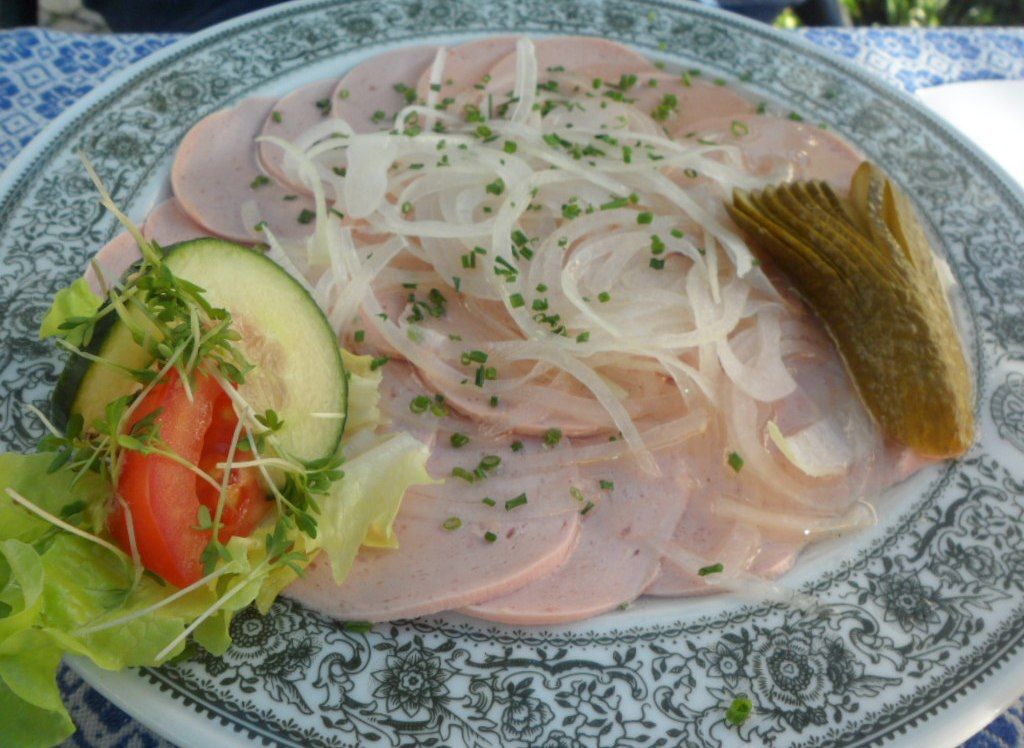 Pork sausage with onion rings and pickles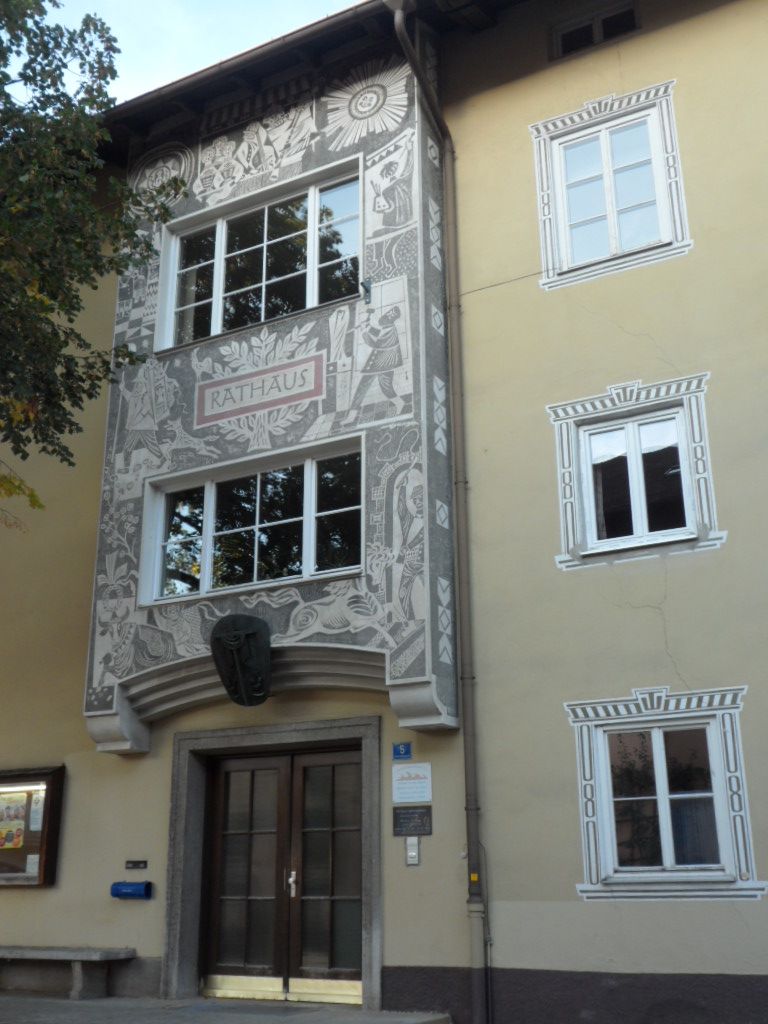 Rathaus or City Hall of Oberammergau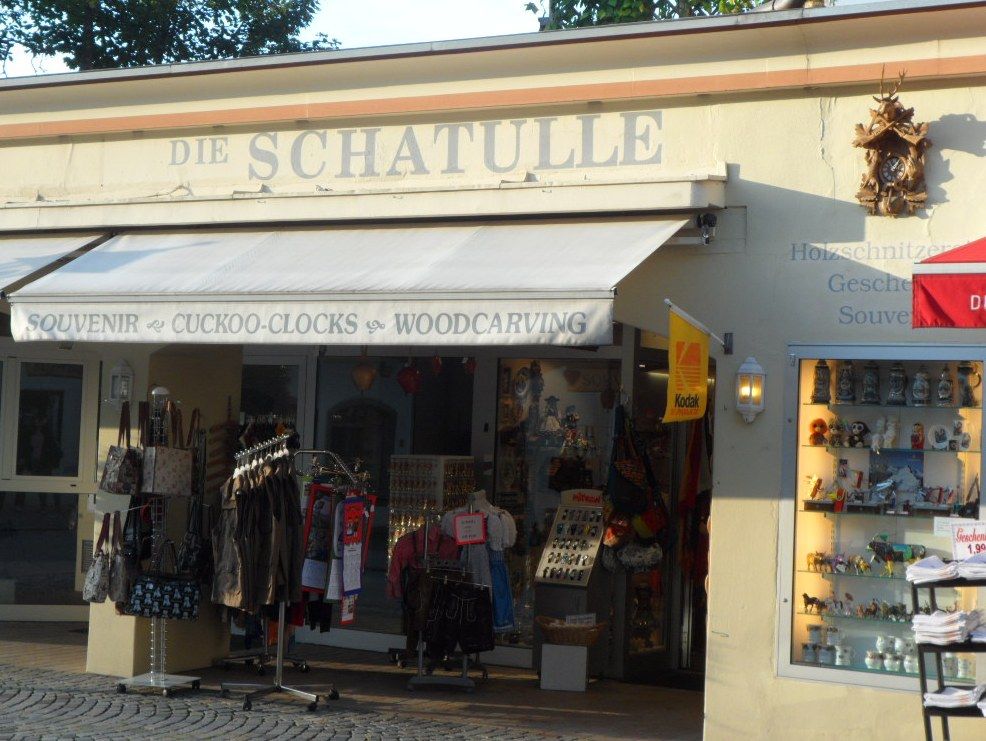 Cuckoo Clock Shop
Although we couldnt afford the cuckoo clocks, we did learn a thing or two from the shop assistant. Turns out that the price of the cuckoo clocks depends on
1. Whether it is an actual one (that has mechanisms built in) or an imitation
2. Size (Hence, the longer it can go without winding)
3. Music / Intricacy
So these factors come together to determine prices of the cuckoo clocks that can go as high as 2000 euros! 😮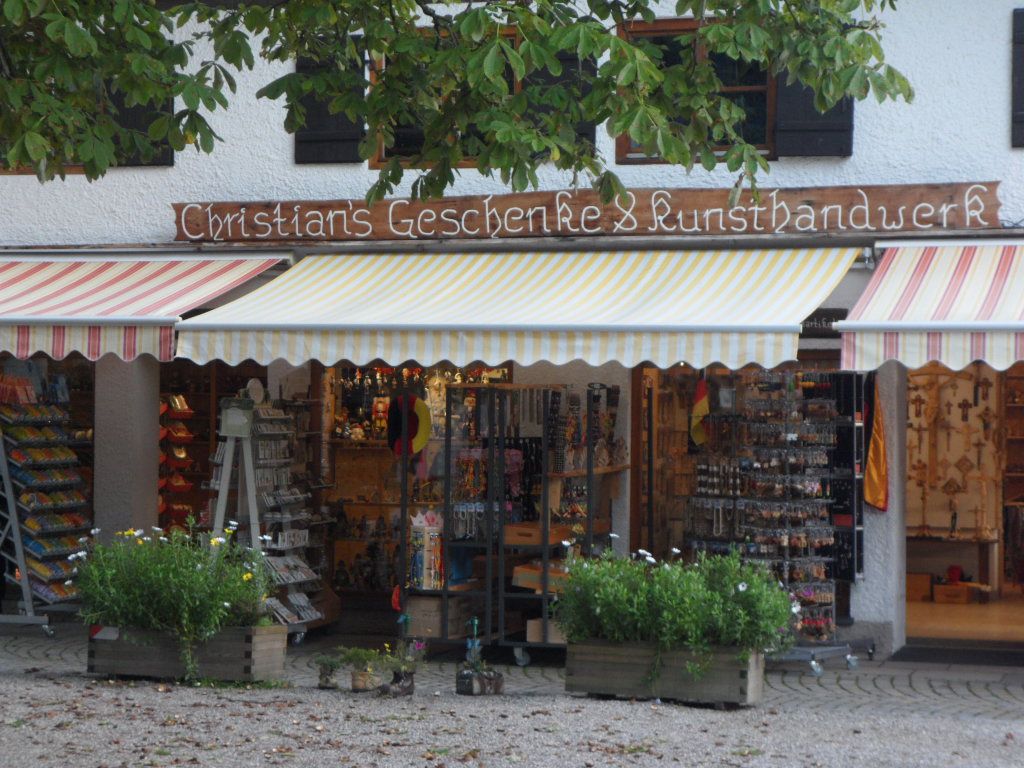 Souvenir shop in Oberammergau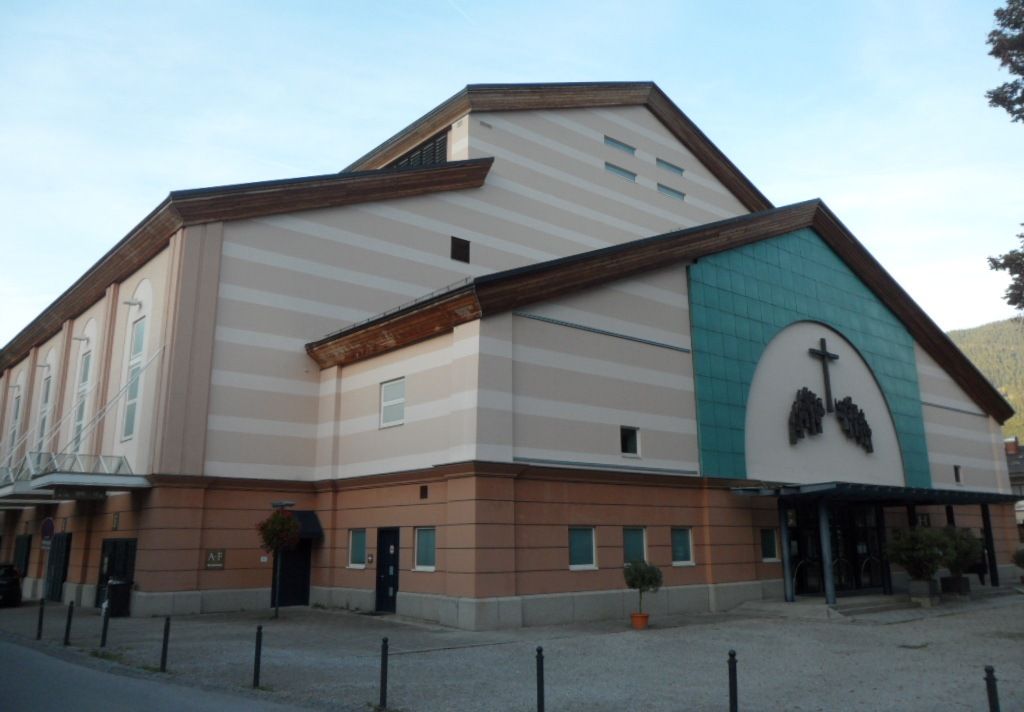 Passion Playhouse Oberammergau
We hope that you have enjoyed this post (one of our longest EVER!) about our day trip from Munich to Mittenwald and Oberammergau! Do leave us your comments below!
We'll now leave you with a video of the sunset at Oberammergau!
If you enjoyed our content, "Like" us on Facebook Today!

For your convenience, we have arranged for the best hotel deals in Munich, Mittenwald and Berlin right here!
So will you visit Mittenwald and Oberammergau on your next visit to Munich / Germany?
Related posts: