Keisuke Tonkotsu King is certainly one of the best ramen joints in Singapore! We were introduced to this ramen outlet at the Orchid Hotel by Ninja Girls. Actually, we didnt quite remember the name of the outlet but vividly recall them saying "just look out for the queue!".
Glad that we heard that last bit because there were several Japanese restaurants at Orchid Hotel BUT only 1 had a queue! What's more, there was a queue even BEFORE the place opened for dinner at 6pm!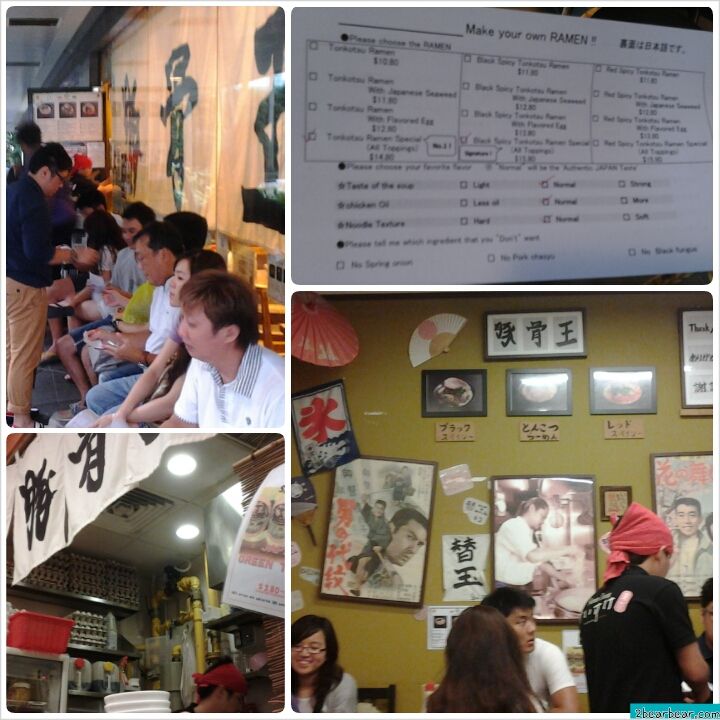 Keisuke Tonkotsu King at Orchid Hotel Singapore
Just before opening hours, we were handed the ordering chit. At this Tonkotsu joint, you can order 3 versions of the ramen – the original , black spicy or red spicy. We ordered the Tonkotsu and Black Spicy Tonkotsu with all the toppings at $14.80++ and $15.80++ respectively. The Keisuke outlet at Orchid Hotel can only take about 24 guests. Hence, when we were sitted, our order chit were quickly taken and our ramen was served in UNDER 5 minutes FLAT!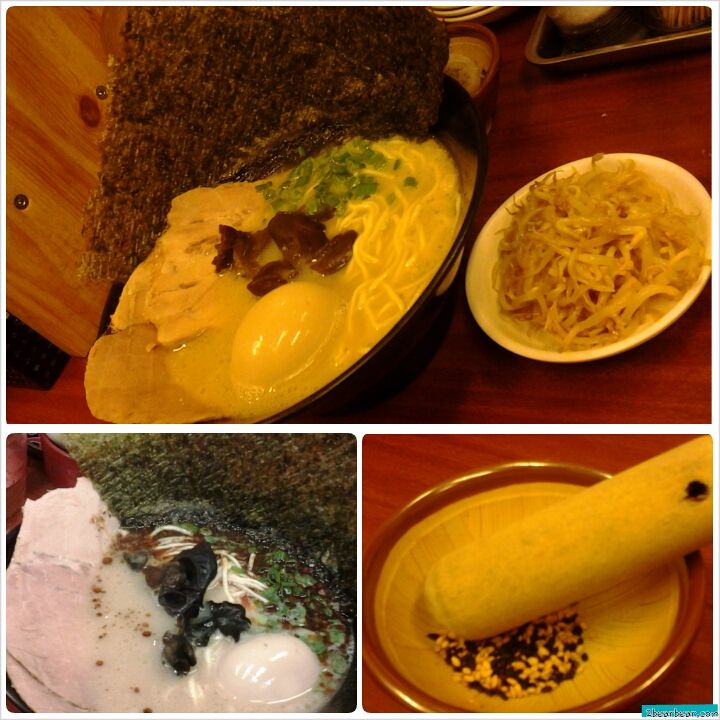 Tonkotsu and Black Spicy Tonkotsu Ramen at Keisuke Tonkotsu King Orchid Hotel
The interior of the restaurant was decorated much like that of a local ramen joint in Japan. With the chefs shouting out in Japanese, for a moment, it kinda felt like we're in Japan! Kate also introduced the grinding of sesame seeds to me. It is said that the sesame seeds bring out the taste of the Tonkotsu soup!
While grinding, our Tonkotsu ramen was served…
As one can imagine, the soup was just so rich and flavourful! No wonder they dare to call themselves "Tonkotsu King"! The thick pork broth was simmered till perfection and served with huge pork slices, black fungus, braised egg, a huge piece of seaweed and the irresistable ramen.
Here comes our tip.
You can actually just order the normal versions of the Tonkotsu ramen for only $10.80++ because…
THERE IS FREE FLOW OF EGGS AND SEASONED BEANSPROUTS!!
As kiasu Singaporeans, we couldnt resist the free flow bit and "went in for the kill" devouring half the container of beansprouts and 3 eggs each! That's 2 normal eggs and 1 braised egg. Yah, a bit too much. My jeans were BURSTING at the seams as we left the place completely satisfied!
The only catch is that you will have to shell your own eggs – which in some instances (Tom's instance) may be…well…messy. Oh, we were thinking that the other reason for serving the boiled eggs was for you to see the difference between braised and normal boiled eggs. IT WAS A WORLD OF DIFFERENCE!
The whites were flavourful but the yolk was still slightly runny. The entire texture was also softer compared to normal boiled eggs. Makes me want to order the braised eggs on my next visit. Owners are smart! :p
How to get to Keisuke Tonkotsu King – the Best Ramen in Singapore!
Keisuke Tonkotsu King is located at Orchid Hotel Singapore, a mere 2 minutes walk from Tanjong Pagar MRT. If you're coming from Tanjong Pagar MRT, take exit A!
If you enjoyed our content, "Like" us on Facebook Today!

Well, the next time you're thinking where to enjoy a great bowl of ramen, take it from us (and Ninja Girls) to try out the Keisuke Tonkotsu Ramen at Orchid Hotel Singapore!
Related posts: