It's more fun in the Philippines!! The tarsier's eyes do freak me out when I see the advert on the tourism board webpage. But since we have never been there before, SGD is strong, the people speak english; and we want to go somewhere that is not crowded, nice scenery, laze on a beach, we decided to visit Cebu/Bohol. Many people ask why are we not going to Boracay instead…well, it's more convenient to do Cebu/Bohol and everyone else has probably already visited Boracay. Cebu/Bohol has a good mix of everything – history, countryside, beach; and we definitely enjoyed every moment of our 8 days there!
We took Silkair ($774 including travel insurance) because of the flight timings.
It was easy to get around with the abundant metered white taxis (How to get from Cebu to Singapore). Our driver Long (yes, that's his name!) was friendly and seemed honest. He asked us if we want to book his taxi for a day tour; we negotiated the itinerary and price and arranged to meet at 10.30am the next day at the Castle Peak Hotel lobby.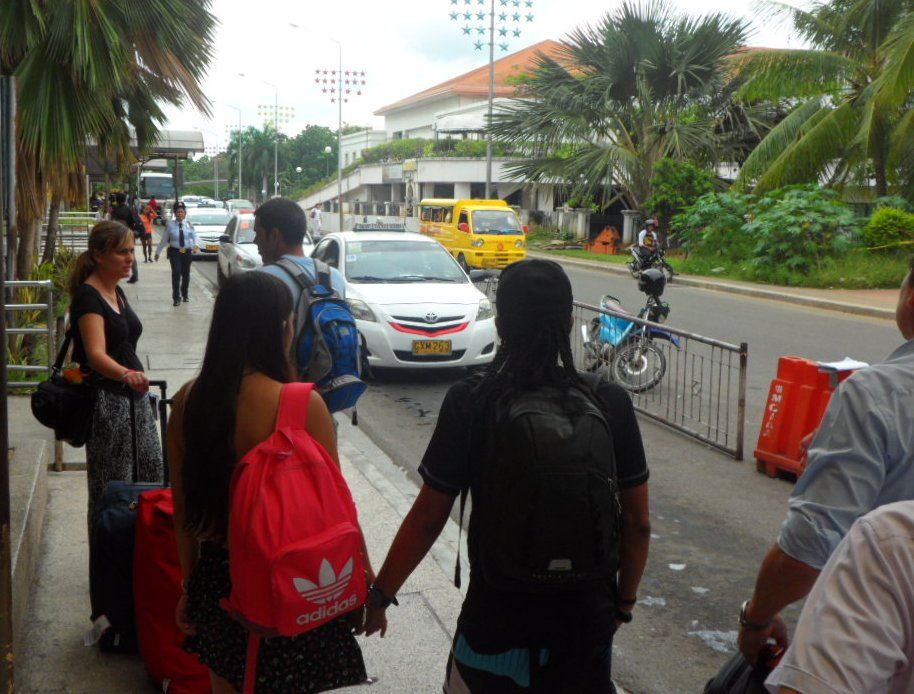 Where to get "white taxis" at Cebu Airport
The room in Castle Peak Hotel was not ready yet when we arrived at 1.30pm but we were pleasantly surprised by the newly renovated Twin Peak Spa. Kate went for a one-hour massage while waiting for the room to be ready. After the massage, we were ready to check out what Cebu had to offer!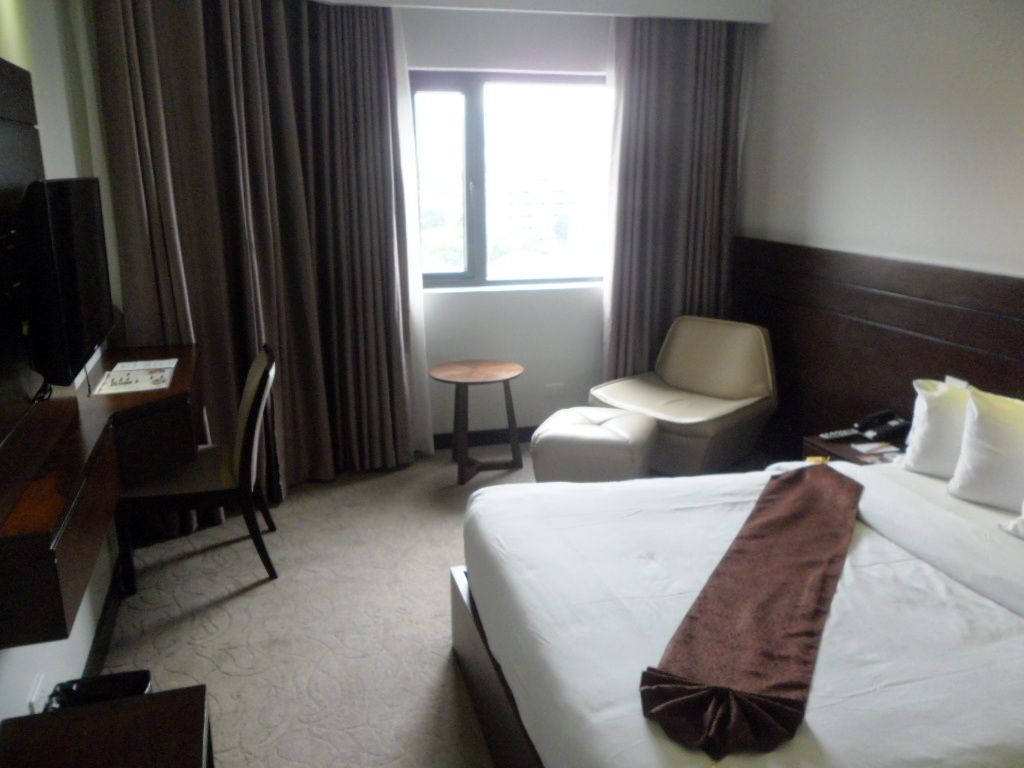 Huge bed in Deluxe room of Castle Peak Hotel
We chose to walk to Ayala Mall (even though our taxi driver mentioned that it may not be that safe) because it was still bright daylight and the mall could be seen from our hotel room so we reckon it is not that far. The walk took us 15 mins and there were proper traffic lights to allow us to cross the roads safely. The only gripe we had was that the pavements were narrow and uneven; and at times we had to walk on the road.
As it was a weekday afternoon, Ayala Mall was fairly quiet. We window-shopped and decided to catch a movie! While waiting for the show, we challenged each other at shooting hoops in the arcade. And of course I thrashed Kate …I am the best! *evil laugh*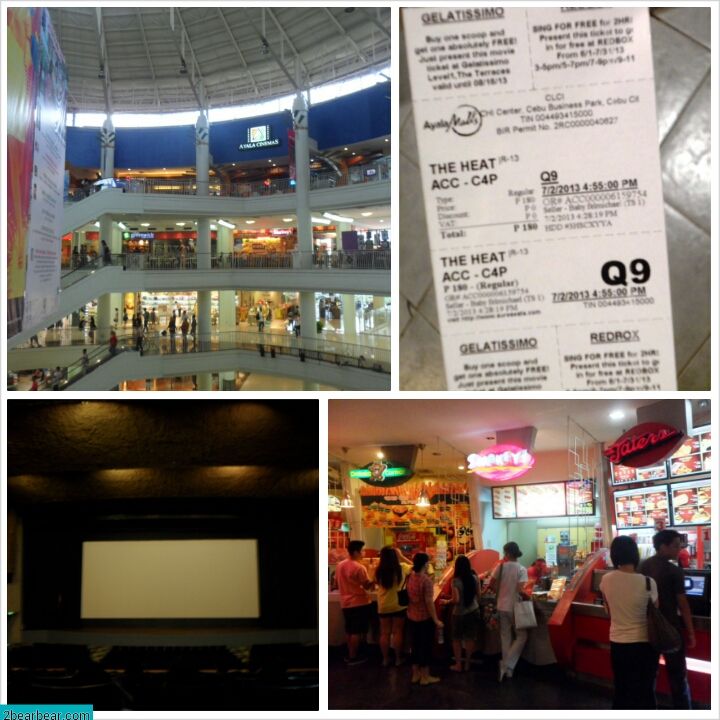 Movie and snacks at Ayala Mall
Even though we were kinda full from the hotdog and popcorn, we can't wait to try the local dishes! We quickly flag down a taxi and soon we arrived at Golden Cowrie Native Restaurant. The food was delicious and the price was reasonable. Washing the food down with cold San Miguel beer made it even better! With our tummy filled, we took a cab back to Castle Peak Hotel and rest for the night; in preparation for the city day tour the next day.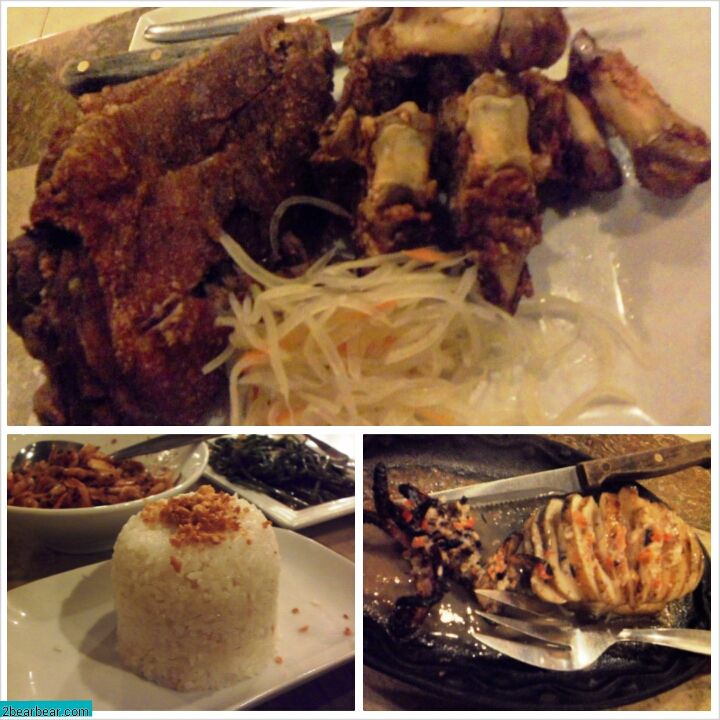 Crispy pata and Squid in coco sauce – Must try from Golden Cowrie Restaurant!
If you enjoyed our content, "Like" us on Facebook Today!

For your convenience, we have arranged for the best hotel deals in Cebu right here!
Times fly when you're having fun and this quickly rounded up our first day in the Philippines. Stay tuned tomorrow for the 2nd day of our Cebu/Bohol Trip!
Happy travels and a blessed 2014 ahead everyone!
Tom & Kate,
2bearbear.com
Related Posts
Cebu
8 Things to do and Attractions in Cebu Philippines!
How to get from Singapore to Cebu?
Oceanjet ferry from Cebu to Bohol: Fast and comfortable
CnT Lechon: The Best Lechon in Cebu?
Golden Cowrie Restaurant Cebu: For Authentic Filipino Food!
Eat, shop, eat, shop, till we drop in Cebu!
Filipino Breakfast at Alberto's Pizza Cebu!
Ayala Mall Cebu : Do What The Locals Do!
City Suites Ramos Tower: Good location with Great view!
Castle Peak Hotel, Cebu, Philippines: Good location, Low price!
Breakfast at Bo's Coffee: One of Philippines' top specialty homegrown coffee shop
Bohol
4 Top Attractions and Things to do in Bohol Philippines!
Peacock Garden Bohol : Awesome Premier Infinity Pool and Seaview Room!
Bohol Countryside Tour: Chocolate Hills, Tarsiers and More!
Amorita Resort Bohol: My little love…
Dolphin and Island Hopping Tour (Pamilacan, Balicasag, Virgin sandbar): A day of chasing dolphins and turtles
Related posts: