There are several nice beaches in Cebu but most of them require at least a 4 hour car or bus ride to get to the north of Cebu. We reckon that Bohol is a decent distance away and it has a good mix of countryside and beach activities so we booked our Oceanjet ferry from Cebu to Bohol on the 3rd day of our trip.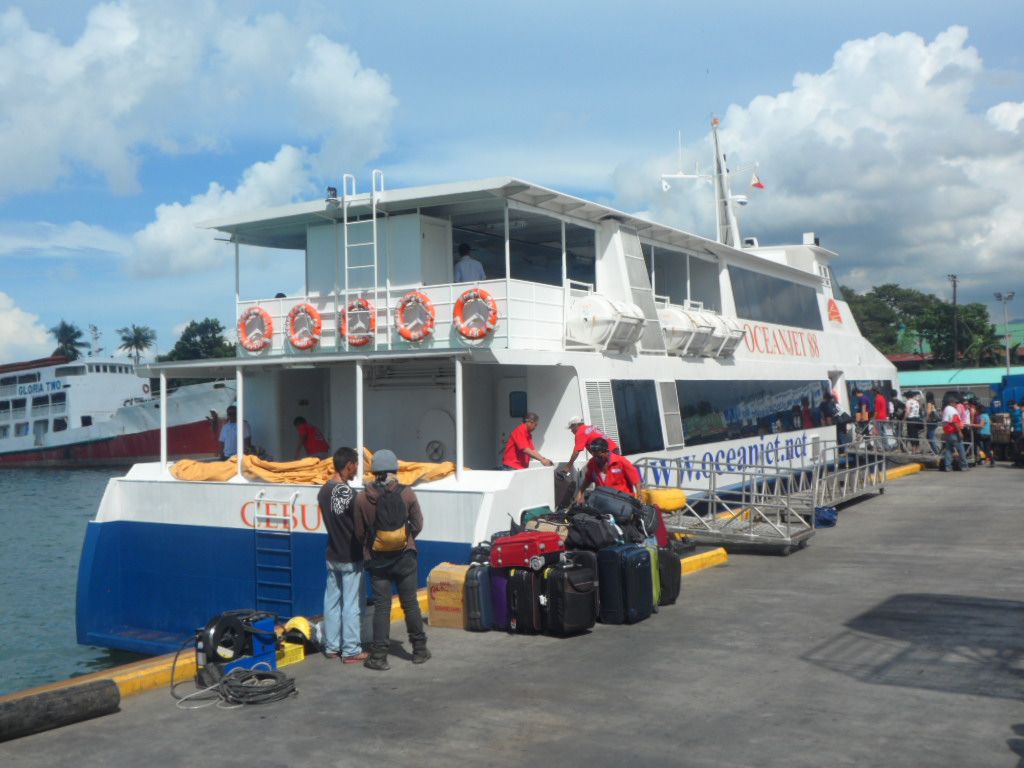 Oceanjet Ferry from Cebu to Bohol
Our driver from Peacock Garden greeted us at the arrival gate of Taglibaran City seaport with a nice wooden signage with our names on it. It really stood out as the other hotels used paper or whiteboard (starting to raise our expectation of this luxury hotel). The journey to Peacock Garden was about 20mins and we really liked the peaceful surroundings of the hotel. We spent the first hour walking around the compound and taking photos of the facade, fountains, garden and of course the view at the swimming pool.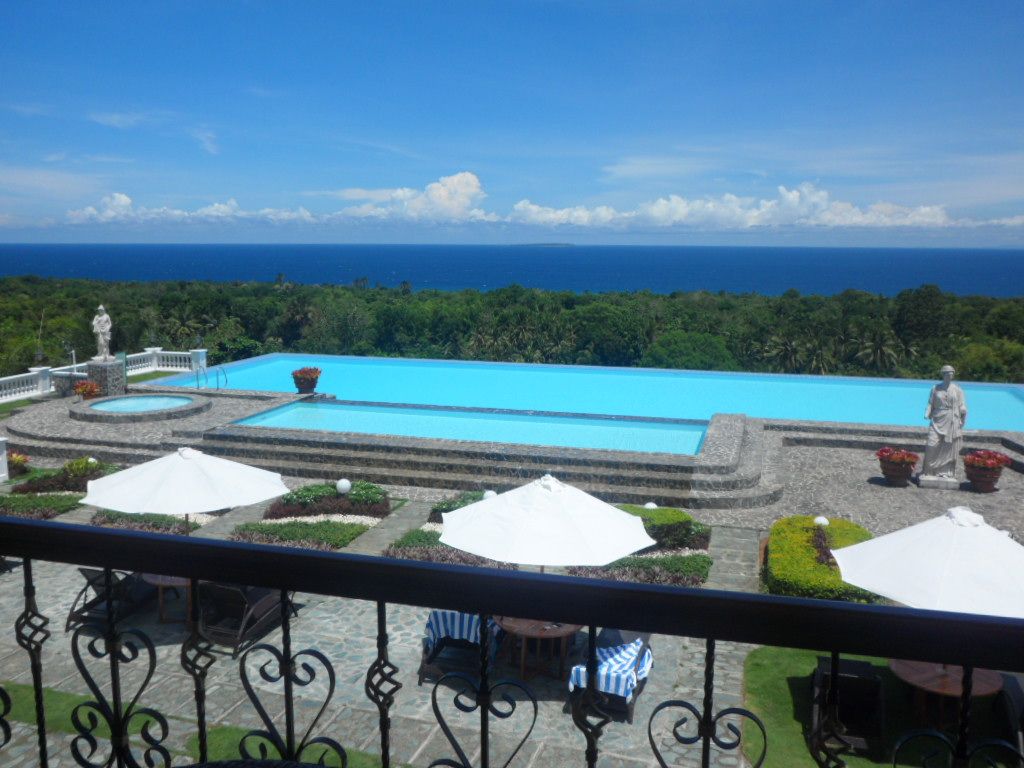 Magnificent view over the infinity pool and ocean!
Kate then decided to splurge at Fontana Aurelia Spa and chose the Signature Indulgence: Gift of Gaea (3950 peso) because it has 2 of her favourite food: coffee and chocolate! While she was being pampered for 3 hours, I stayed in the infinity pool and was mesmerised by the different shades of blue: the sky, the sea, the pool (which inspired our "Guess and Win – Paradise" contest).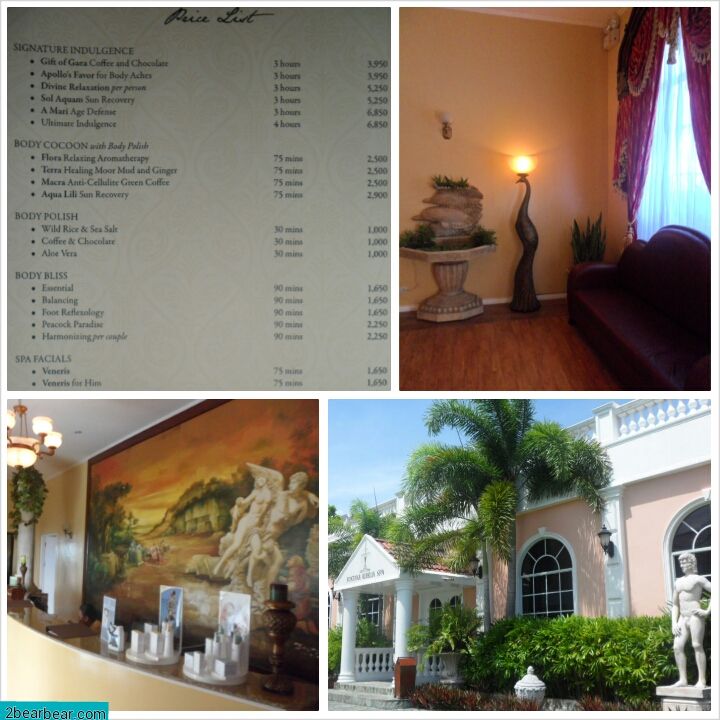 Fontana Aurelia Spa at Peacock Garden Bohol
Dinner at the Old Heidelberg was exquisite. Classy and tasty (usually you get either or but at Old Heidelberg, you get both!) The hotel staff also prepared for us a heart-shaped chocolate cake for our wedding anniversary when we were done with our main course.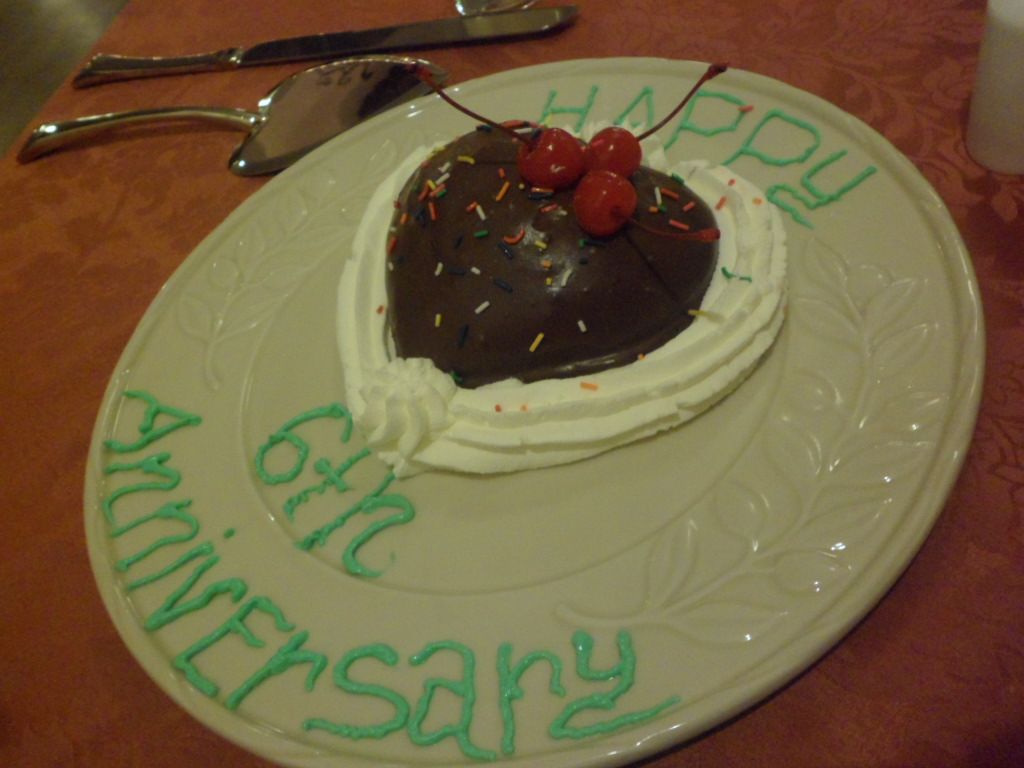 Complimentary heart-shaped anniversary cake courtesy of Peacock Garden Hotel
After dinner, we strolled past the swimming pool and took a couple of night shots. Back in the room, we were pleasantly surprised by the turndown service and we love Peanut Kisses!!! Yummy!
If you enjoyed our content, "Like" us on Facebook Today!

For your convenience, we have arranged for the best hotel deals in Bohol right here!
What a relaxing time on the 3rd day of our Cebu/Bohol trip! We're almost at the halfway mark of our Cebu/Bohol trip. But more awaits on day 4 of our trip! Stay tuned tomorrow to find out more!
Related Posts
Cebu
8 Things to do and Attractions in Cebu Philippines!
How to get from Singapore to Cebu?
Oceanjet ferry from Cebu to Bohol: Fast and comfortable
CnT Lechon: The Best Lechon in Cebu?
Golden Cowrie Restaurant Cebu: For Authentic Filipino Food!
Eat, shop, eat, shop, till we drop in Cebu!
Filipino Breakfast at Alberto's Pizza Cebu!
Ayala Mall Cebu : Do What The Locals Do!
City Suites Ramos Tower: Good location with Great view!
Castle Peak Hotel, Cebu, Philippines: Good location, Low price!
Breakfast at Bo's Coffee: One of Philippines' top specialty homegrown coffee shop
Bohol
4 Top Attractions and Things to do in Bohol Philippines!
Peacock Garden Bohol : Awesome Premier Infinity Pool and Seaview Room!
Bohol Countryside Tour: Chocolate Hills, Tarsiers and More!
Amorita Resort Bohol: My little love…
Dolphin and Island Hopping Tour (Pamilacan, Balicasag, Virgin sandbar): A day of chasing dolphins and turtles
Related posts: