Today we are leaving Bohol!!! Boohoo 🙁 But before we left, we enjoyed our breakfast in Saffron (we did not get to eat in Saffron the day before because of the dolphin and island hopping tour). The spread was decent but we still prefer the breakfast in Peacock Garden 🙂 But we need to comment on the added special touch at Amorita Resort – the waitress will put a fresh frangipani flower by the ear of female guests during breakfast and this makes the ladies feel pretty and extra special 🙂

Omelette Station and Buffet spread at Amorita Resort
Our checkout was again fast and smooth. There was no hiccups with the bill and there was even a small box of cookies as a parting gift! I love the confectionery at Amorita resort! Keep it up! 🙂
Soon we were on the ferry heading back to Cebu. Boohoo again. After we alighted, we queued for close to 30 minutes before we managed to get a taxi to City Suites Ramos Tower. The fare was only 90 peso. We quickly checked in, left our luggage in our room, and walked out to the city. We shopped and ate around the Fuente Osmena Circle for a couple of hours before we filled our spare travel bag with local goodies and souvenirs for friends and family back home.

Shopping at Fuente Osmena Circle Cebu
To end the day, we indulged in a "All Meat Pizza" and San Miguel beer while watching the sunset from the balcony of our 20th floor unit.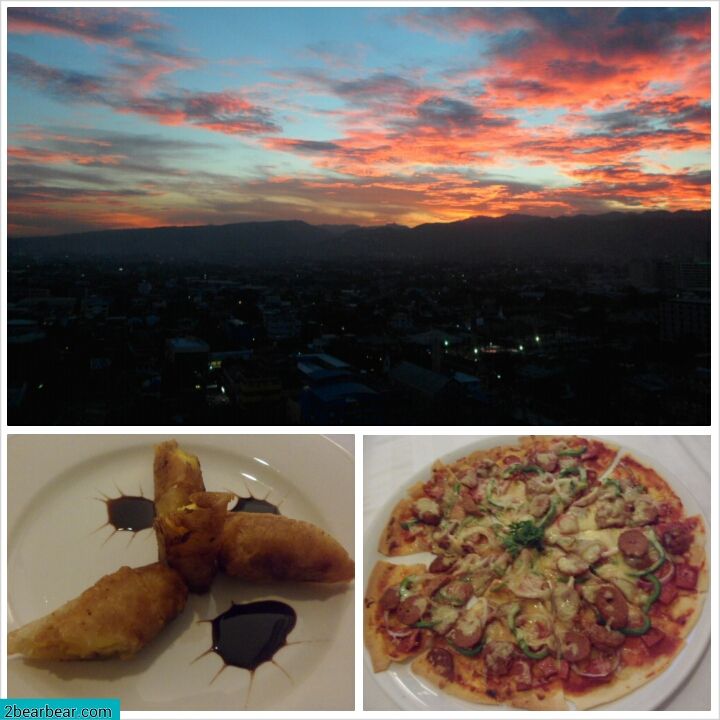 All meat pizza and Turrones de Cebu for dinner while enjoying the sunset view at the balcony
Kate dozed off while I watch the Matrix Trilogy!
If you enjoyed our content, "Like" us on Facebook Today!

For your convenience, we have arranged for the best hotel deals in Cebu right here!
Day 7 just whizzed past like that and soon we were at our last day of our Cebu/Bohol trip. Boohoo…
Related Posts
Cebu
8 Things to do and Attractions in Cebu Philippines!
How to get from Singapore to Cebu?
Oceanjet ferry from Cebu to Bohol: Fast and comfortable
CnT Lechon: The Best Lechon in Cebu?
Golden Cowrie Restaurant Cebu: For Authentic Filipino Food!
Eat, shop, eat, shop, till we drop in Cebu!
Filipino Breakfast at Alberto's Pizza Cebu!
Ayala Mall Cebu : Do What The Locals Do!
City Suites Ramos Tower: Good location with Great view!
Castle Peak Hotel, Cebu, Philippines: Good location, Low price!
Breakfast at Bo's Coffee: One of Philippines' top specialty homegrown coffee shop
Bohol
4 Top Attractions and Things to do in Bohol Philippines!
Peacock Garden Bohol : Awesome Premier Infinity Pool and Seaview Room!
Bohol Countryside Tour: Chocolate Hills, Tarsiers and More!
Amorita Resort Bohol: My little love…
Dolphin and Island Hopping Tour (Pamilacan, Balicasag, Virgin sandbar): A day of chasing dolphins and turtles
Related posts: