This is our last day in Cebu and we were determined to make the most out of the last 5 hours here! We went to Bo's Coffee for breakfast and time passed surprisingly slowly as we had time to people-watch and use the free wifi to keep in touch with family back home.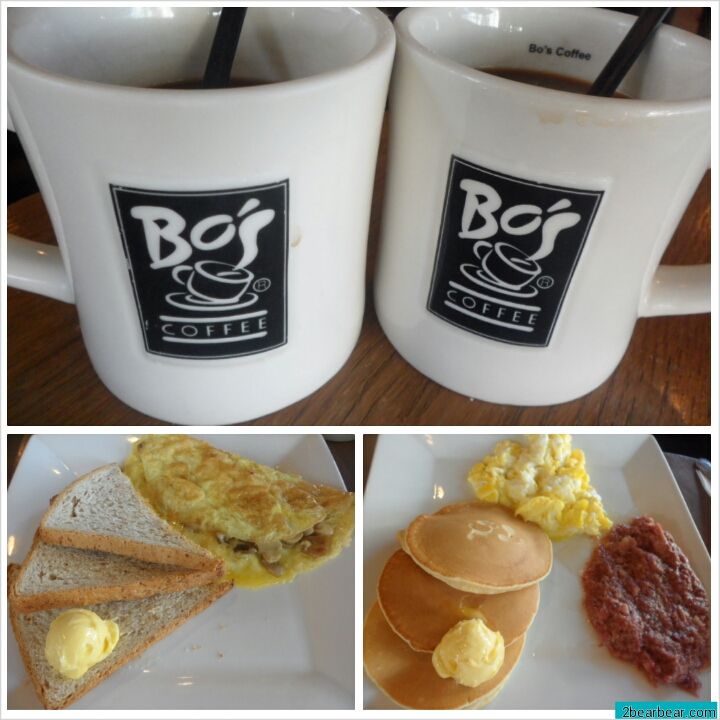 Drip Coffee (10 pesos with any order of mains), Mushroom and Cheese Omelette with Toast (150 pesos) & Corned beef with scrambled eggs and pancake (175 pesos)
We then head back to the hair salon of the first floor of the Ramos Tower to get our hair done! I had a haircut and wash for only 100 peso, and Kate had a "hair spa" for 250 peso. We will really miss the massages, facial and hair treatments in Cebu when we are back in Singapore.
Though we were not hungry yet, we NEEDED to try the spanish food at Ipar's Authentic Spanish Restaurant! Or rather, Tom needed. Haha. We had a satisfying lunch at Ipar's and we had to drag ourselves back across the road to get our luggage and check out.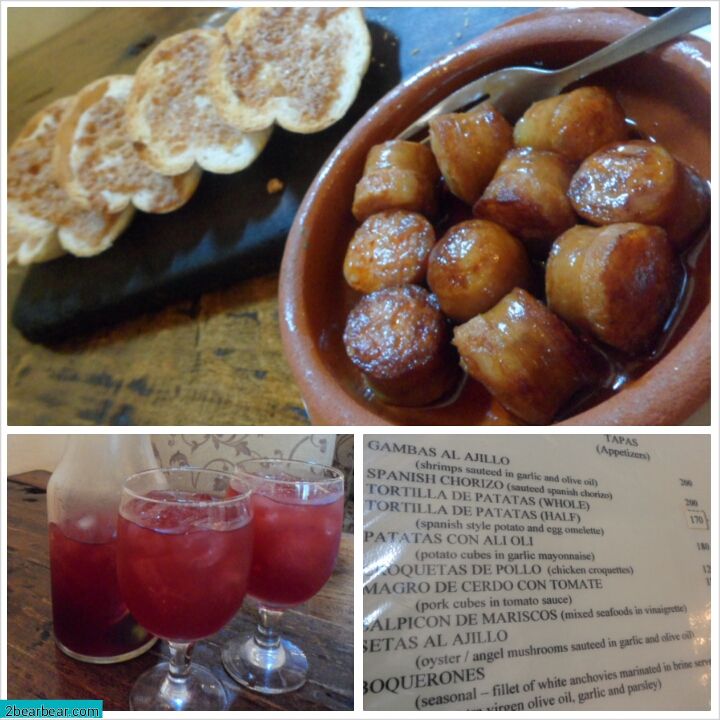 Starters of Churizo, Garlic Bread and a Big Carafe of Sangria
We arrived slightly early for our flight and the flight was delayed! 🙁 An advice for our readers: You do not need to arrive at the airport 2 hours early like how you would normally do for international flights because the airport in Cebu is really really small. And once you go into the waiting area, you have to sit on the cold metal seats to wait for your flight. But of course having said that, please do not be late either!! Please be considerate to your fellow passengers and not be the one who delays the flight 🙂
We hope you have enjoyed reading our posts as much as we have enjoyed our time in Cebu/Bohol and blogging about the trip!
Related Posts
Cebu
8 Things to do and Attractions in Cebu Philippines!
How to get from Singapore to Cebu?
Oceanjet ferry from Cebu to Bohol: Fast and comfortable
CnT Lechon: The Best Lechon in Cebu?
Golden Cowrie Restaurant Cebu: For Authentic Filipino Food!
Eat, shop, eat, shop, till we drop in Cebu!
Filipino Breakfast at Alberto's Pizza Cebu!
Ayala Mall Cebu : Do What The Locals Do!
City Suites Ramos Tower: Good location with Great view!
Castle Peak Hotel, Cebu, Philippines: Good location, Low price!
Breakfast at Bo's Coffee: One of Philippines' top specialty homegrown coffee shop
Bohol
4 Top Attractions and Things to do in Bohol Philippines!
Peacock Garden Bohol : Awesome Premier Infinity Pool and Seaview Room!
Bohol Countryside Tour: Chocolate Hills, Tarsiers and More!
Amorita Resort Bohol: My little love…
Dolphin and Island Hopping Tour (Pamilacan, Balicasag, Virgin sandbar): A day of chasing dolphins and turtles
Related posts: