Changhua is synonymous with meatballs. Whenever one talks about Changhua, the term meatballs will somehow enter into the conversation. Hence, the term 彰化肉圓 (aka Changhua meatballs).
But the big question is this. Which is the best Changhua meatball?
As with the battle of the Malacca Chicken Rice Balls, we made it one of our missions during this trip to find out which stall has the best meatballs in Changhua!
The Candidates for the Best Changhua Meatballs
(彰化肉圓)
Candidate 1 : 正彰化肉圓
(No. 203, Chenleng Rd, Changhua County, Taiwan 500)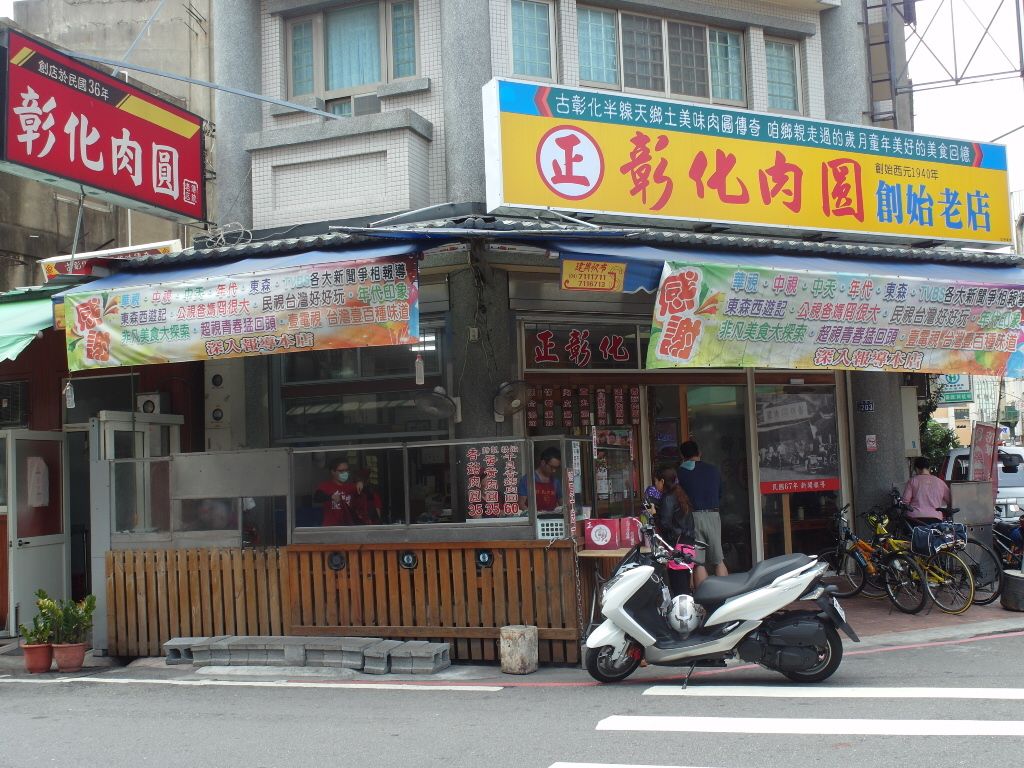 正彰化肉圓 (Zheng Changhua Meatballs)

Inside Zheng Changhua Meatballs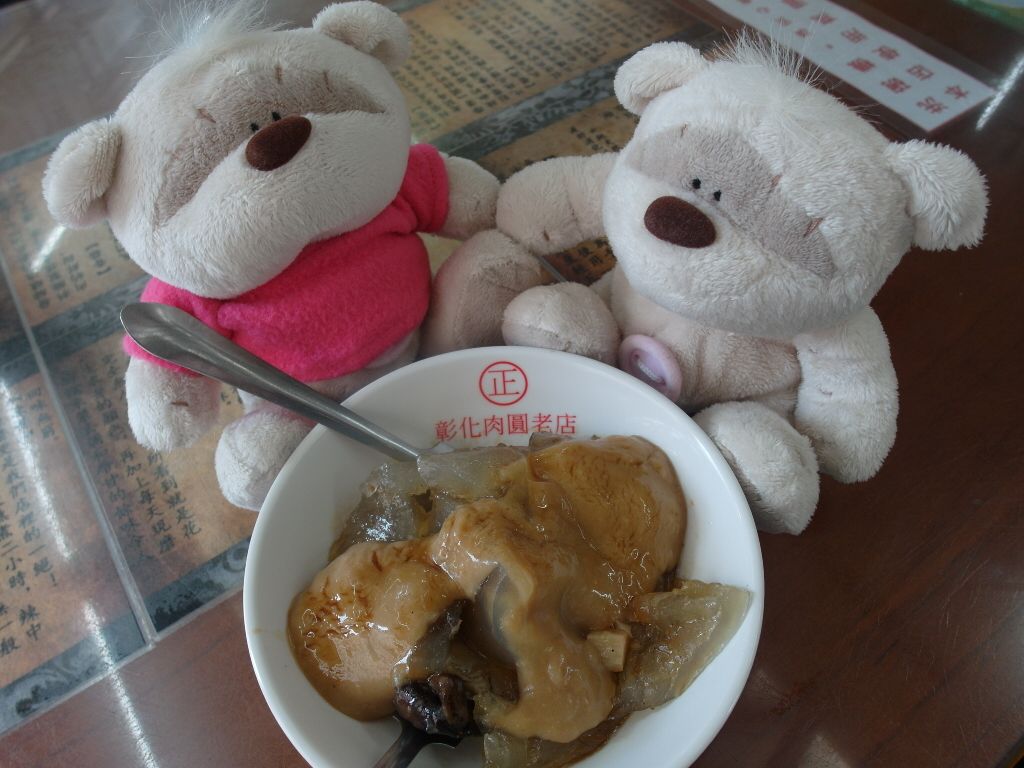 Our first Changhua Bawan @ 正彰化肉圓
Kate did the research for all the meatballs stalls in Changhua and we arrived at Chenleng Rd, there were 2 meatball stalls right across from each other. The idea of creating a "meatball node" at Chenleng Rd is a clever one. Most people, whenever they crave for a taste of Changhua meatball, they'll head over here to have their meatball fix.
This version at 正彰化肉圓 costs NT35 and had a generous serving of peanut sauce over it. We also enjoyed the generous portion of meat filling within. The minuses? Waitress took SOOOOOOO long before she brought over the chili sauce! We were almost at our last mouth when the chili arrived. Sigh. But the other big minus for us was the taste of 竹笋 (bamboo shoot) which was relatively strong. Lovers of 竹笋 would definitely love this rendition at Zheng Changhua Meatballs.
Candidate 2 : 老担阿璋肉圓
(No. 144, Cháng'ān St, Changhua City, Changhua County, Taiwan 500)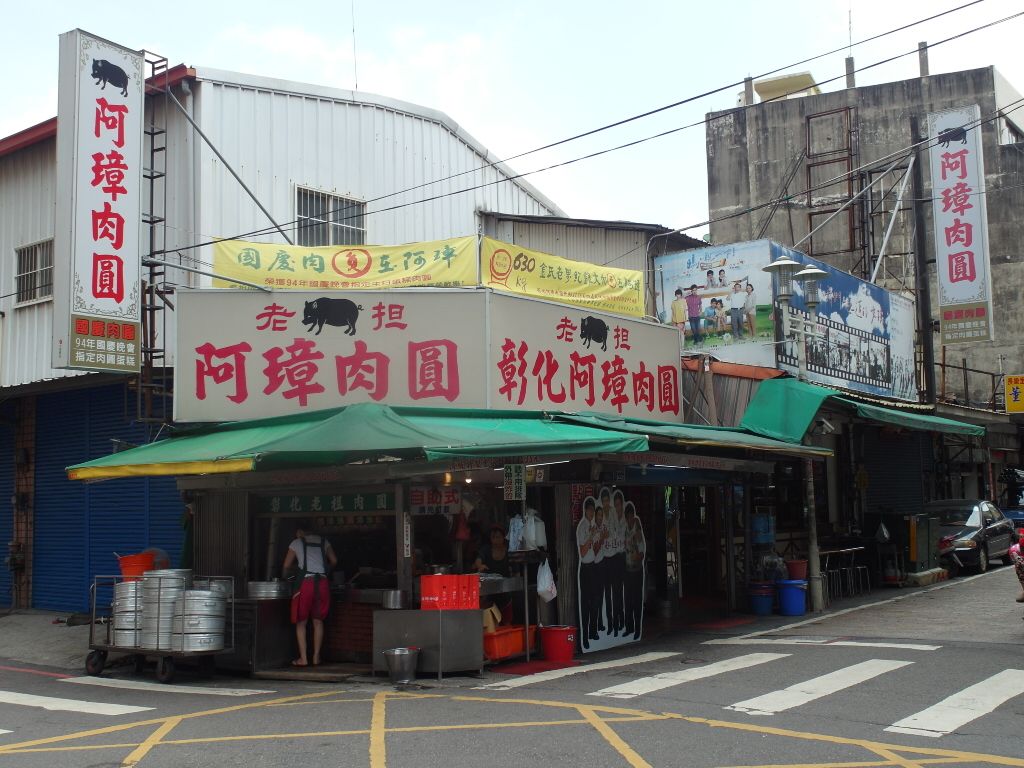 Lao Dan Ah Zhang Changhua Meatball 老担阿璋肉圓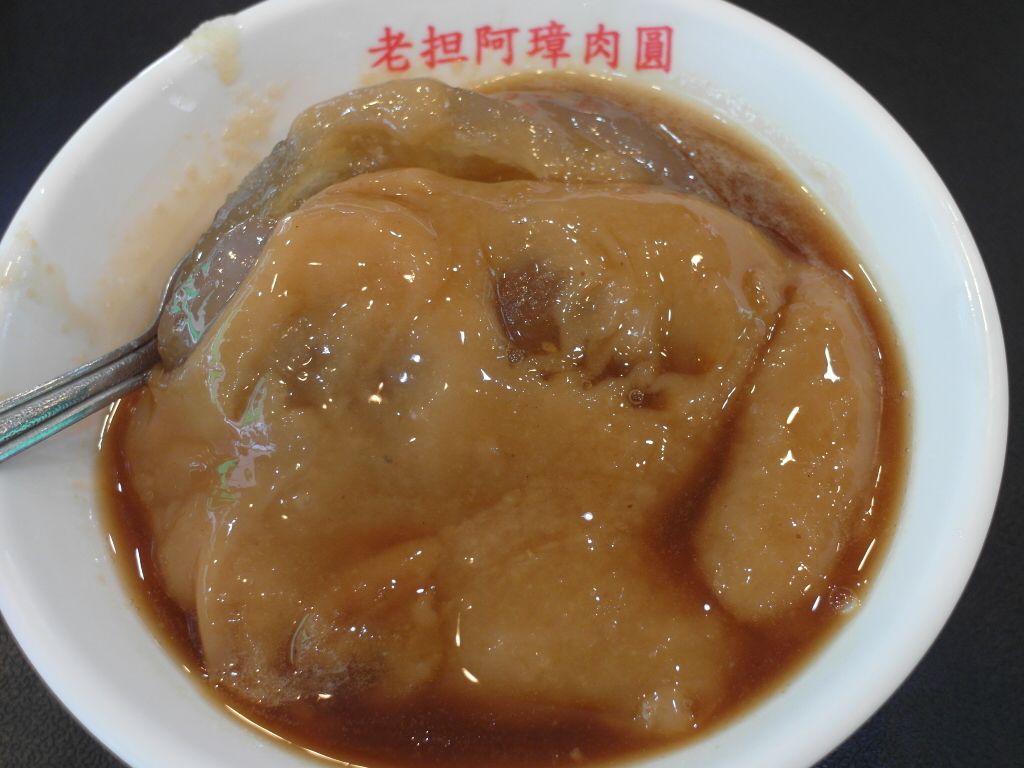 Lao Dan Ah Zhang Changhua Meatball 老担阿璋肉圓 for NT35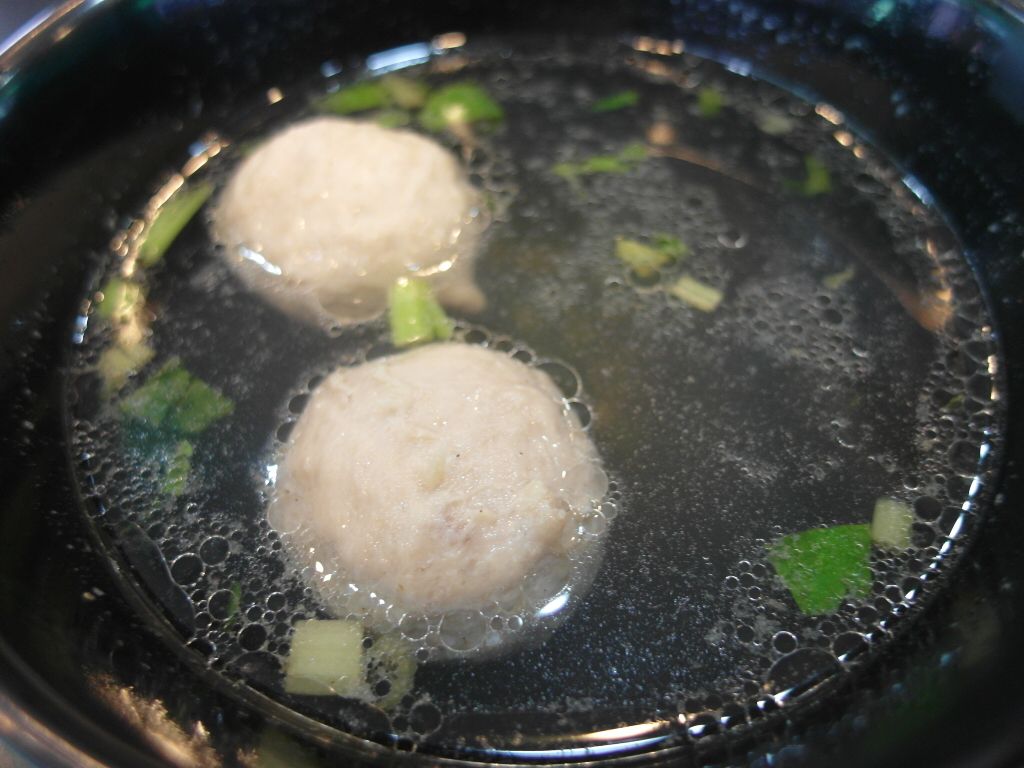 Pork Ball at 老担阿璋肉圓 for NT15
After finishing our rounds at 正彰化肉圓, we crossed the road to visit 老担阿璋肉圓. This version of meatball at Lao Dan Ah Zhang Meatball (老担阿璋肉圓) had a slight edge over 正彰化肉圓 in that the chili for the meatball was readily available on the table! Haha…
But jokes aside, what we enjoyed about this version was that the fragrance of the garlic permeated with each mouthful of the meatball. The skin was also chewy and TAONG which brought a different texture as you bite on the skin and its fillings. The downside? A tad lesser in terms of meat fillings within.
The funny thing was, so far, we've seen both versions of the meatballs being deep fried but they've both been "drowned" with their sauces such that they don't taste fried at all. Was it supposed to be like that? We soon found out with the third candidate…
Candidate 3 : 北門口肉圓
(No. 494號, Section 1, Zhongzheng Rd, Changhua County, Taiwan 500)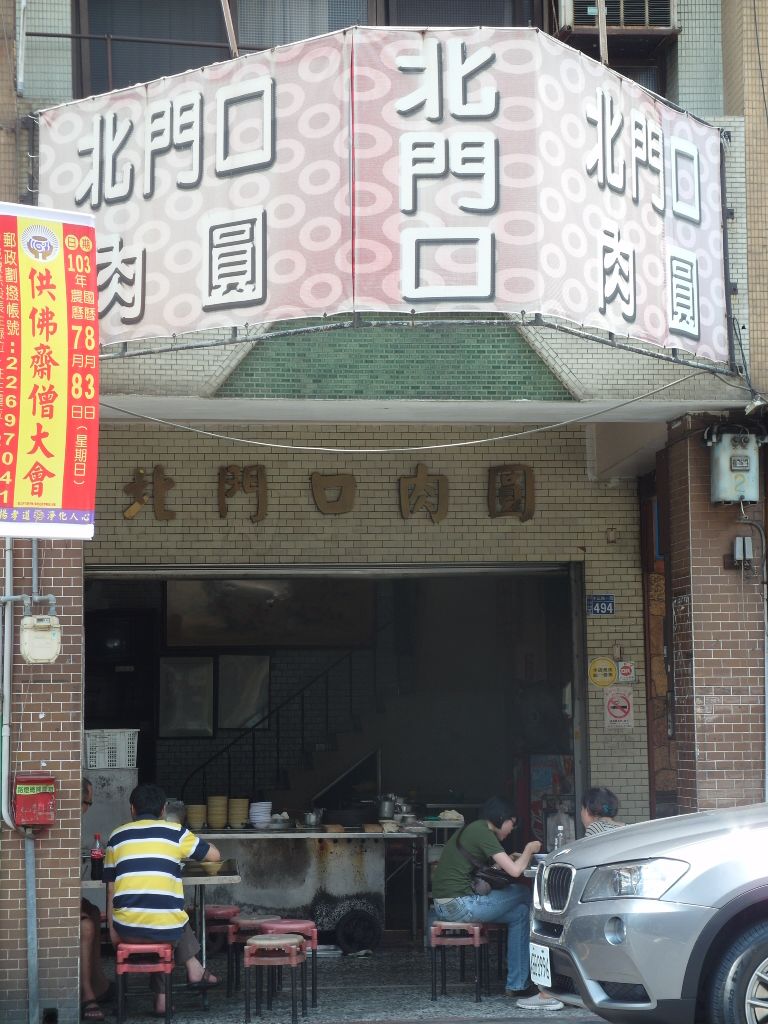 北門口肉圓 Bei Men Kou Meatball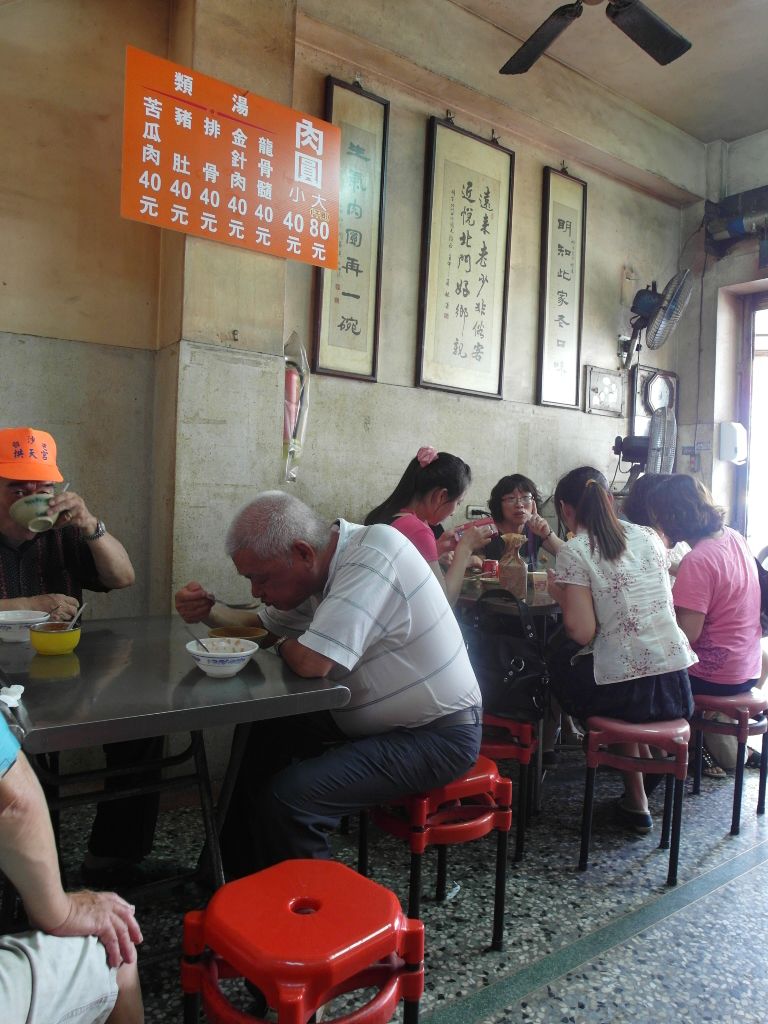 Inside 北門口肉圓 Changhua Meatball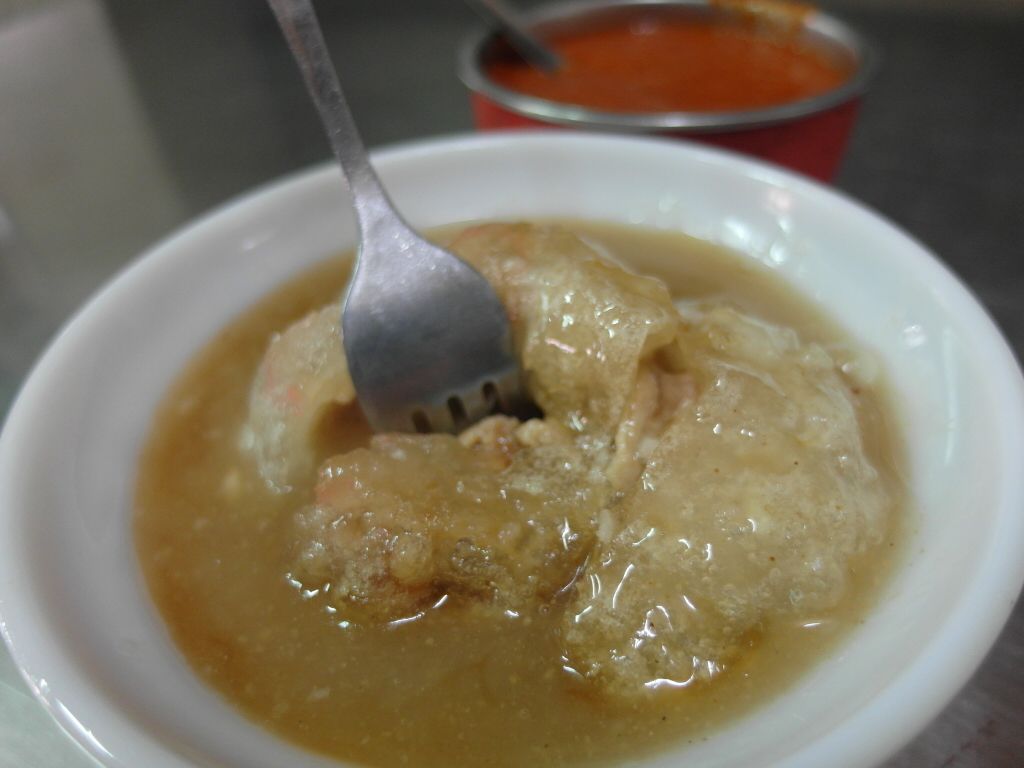 北門口肉圓 Changhua Meatball with dried scallop for NT80
北門口肉圓 is just a short walk away from the other 2 meatball joints and it was pretty crowded when we reached there. The boss did not even have time to take our orders, just busily frying the meatballs away. Some "cut" the queue by shouting their orders. Hence, don't be shy (or courteous), just order away!
There were several things we loved about this version. At NT80, we ordered the bigger version with dried scallops. The taste was certainly better and there was more meat fillings within. Chili also accompanied the meatballs well. But what we really enjoyed about 北門口肉圓's meatball was the crispy outer layer! After trying 3 meatballs stalls, we finally found one that maintained the crispiness of the skin after frying and addition of the sauces! The down side of this version was that the sauce was a tad too sweet.
The Best Changhua Meatballs (彰化肉圓) goes to…
北門口肉圓
Bei Men Kou Changhua Meatball!
Well, we're coming from a Singaporean point of view. 正彰化肉圓's meatballs was knocked out after having a relatively strong taste of the bamboo shoots (need to wash them clean you know?). It was really a close fight between 老担阿璋肉圓 and 北門口肉圓. But the crispy outer layer at 北門口肉圓 definitely made the difference.
If you enjoyed our content, "Like" us on Facebook Today!

Remember to leave your comments for 2bearbear Singapore Travel Blog in our comments section below!
If ever possible, we think that the best version of Changhua Meatballs (彰化肉圓) would be the meatballs (with crispy outer skin) from 北門口肉圓, laced with the garlicky,peanuty sauce of 老担阿璋肉圓 and 正彰化肉圓!
Hope you've enjoyed our coverage of Changhua Meatballs (彰化肉圓), do let us know your thoughts in the comments section below!
You have just finished a post on our Taiwan Trip in 2014 which started here. Here is the full list of posts written about Taiwan Trip 2014…
Singapore to Tainan : Taiwan Trip Day 1
Things to do in Tainan Taiwan Trip Day 2
鹿早茶屋 Opposite 1967 Hotel Tainan
Things to do in Chiayi Taiwan Trip Day 3
Chiayi Attractions Taiwan Trip Day 4
Changhua Meatballs (彰化肉圓) : Which is the Best?
What to eat at Feng Jia Night Market (逢甲夜市)?
Changhua Taichung Taiwan Trip Day 5
Things to do in Taichung Taiwan Trip Day 6
Things to do in Miaoli Taiwan Trip Day 7
Kuo Tai Glass Park Zhunan Day Trip
Things to do in Taoyuan Taiwan Trip Day 8
Taoyuan Attractions Taiwan Trip Day 9
Things to do in Taipei Taiwan Trip Day 10
Related posts: