Lechon (pronounced as lay-xi-on) is simply roasted pork and the most famous of them all? CnT Lechon!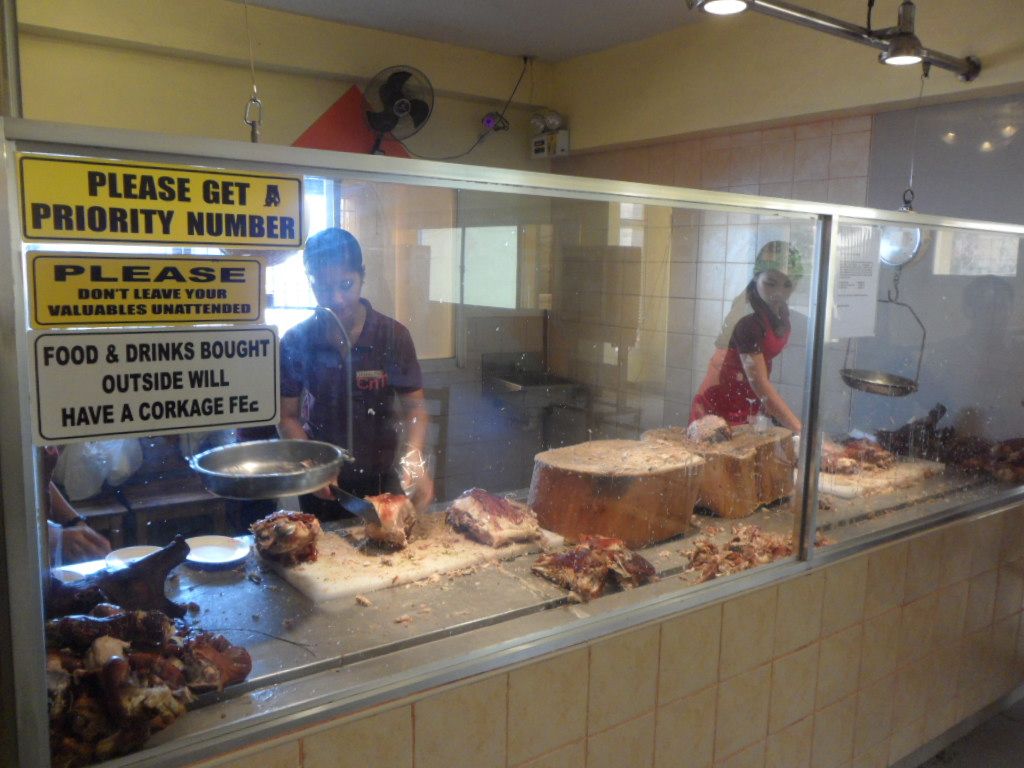 Ladies chopping up whole pigs at CnT Lechon
CnT Lechon – Best Lechon in Cebu
According to locals (including our driver Long), CnT Lechon is arguably one of the best Lechon in the whole of Cebu. When you even mention Lechon, everyone will point you here…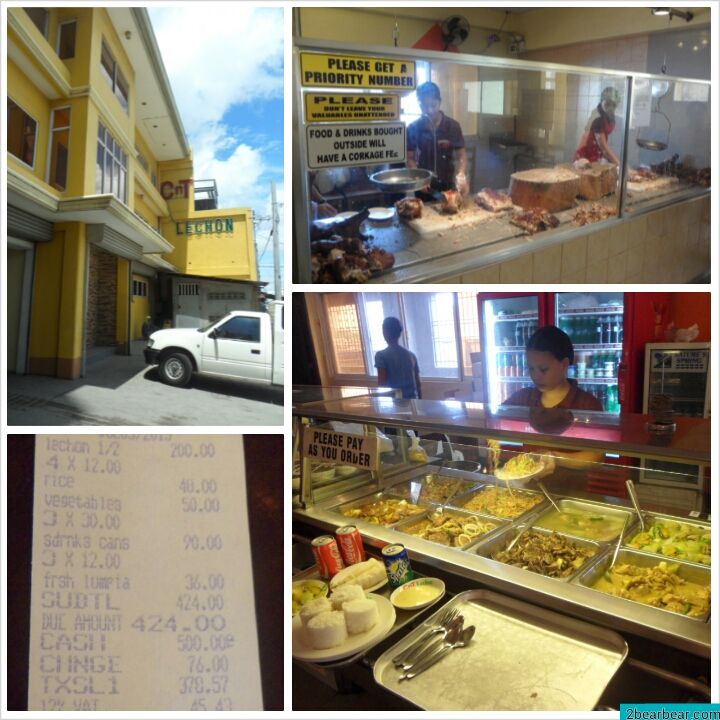 CnT Lechon – Best Lechon in Cebu
For us, it was actually quite surprising to see only ladies at this joint. Have you seen how big the pigs are? They actually start with whole pigs and chopping them up according to the weight that customers want…check out this video of the strong women chopping up the lechon! In the video you may also notice this rather impatient guy standing in front of us whose head kept popping up because he wants to know if his food is ready! 🙂
We decided to go for the half kg (for only 200 pesos – $6 SGD!) for the 3 of us to share (including our driver Long). Not too much else we would have to run many hours on the treadmill to burn off the fats! Worst of all, we may have to rename our site to 2fatbears.com! Haha!
And here's our half kg of lechon!

Half kg of delectable crispy skin and juicy meat at CnT Lechon!
As the caption says, the skin was so crispy! It's actually Tom's favourite part. Crispy and slightly saltish, goes really well with plain rice and a dash of the sauce provided. The meat was also tender and juicy. It was good. However, not the best for us. The best pig? If you're referring to pork knuckle, it has got to be the pork knuckle from Hofbrauhaus Munich. As for roasted suckling pig, the one at Serenity tops our list.
Nonetheless, for the value and quality, it is still a must try when you're in Cebu!
What else to eat at CnT Lechon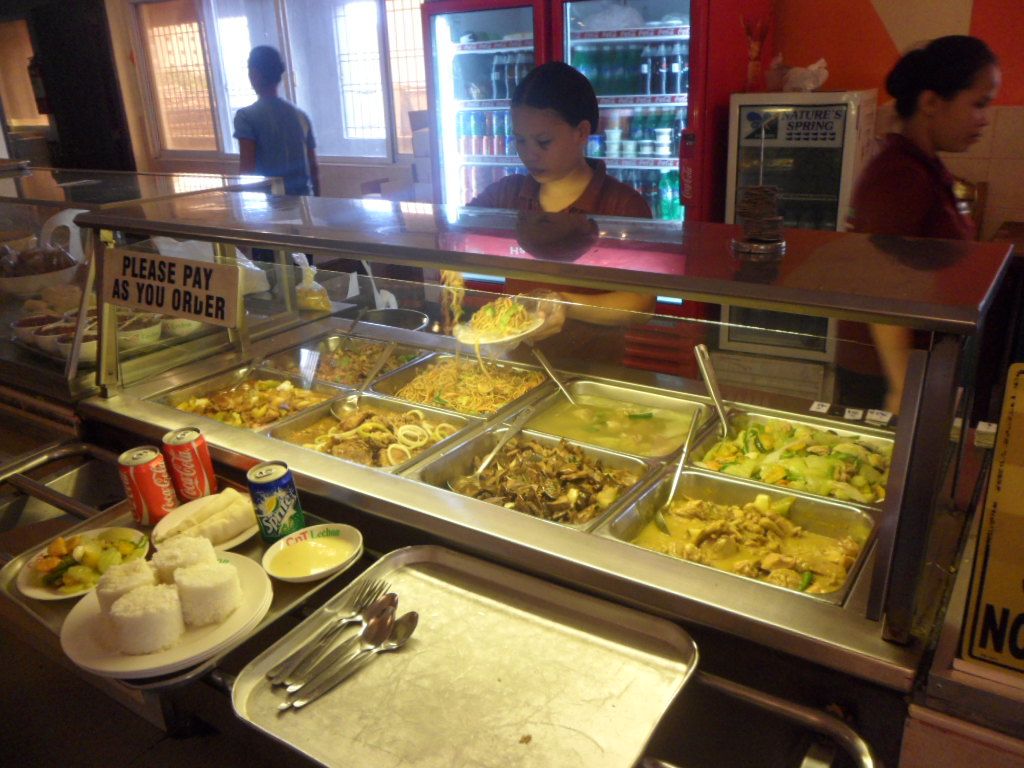 Other side dishes at CnT Lechon
In addition to the lechon, we also had mixed vegetables (30 pesos per portion) and fresh lumpia (12 pesos each)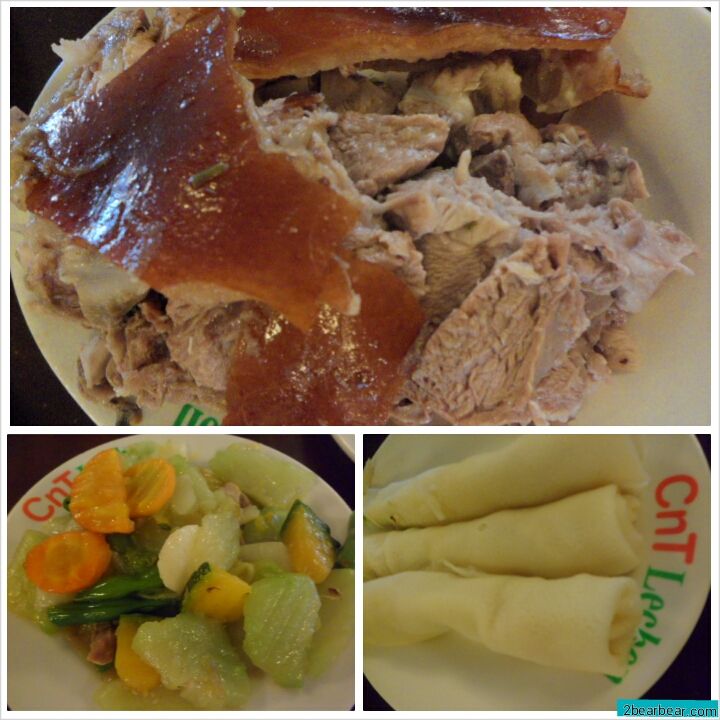 Lechon, mixed vegetables and lumpia from CnT Lechon Cebu
The lumpia is a little like our popiah in Singapore. Vegetables wrapped in a fresh flour based sheet. Not too bad.
Location and Opening Hours of CnT Lechon
CnT Lechon is located at V. Rama Ave, Cebu City and its opening hours are from 8am to 6pm. Be there early as the lechon often gets sold out by mid-afternoon!
If you enjoyed our content, "Like" us on Facebook Today!

For your convenience, we have arranged for the best hotel deals in Cebu right here!
Many locals have said that CnT Lechon is easily the best authentic lechon in Cebu. Have you tried it? Tell us more in the comments section below!
Related Posts
Cebu
8 Things to do and Attractions in Cebu Philippines!
How to get from Singapore to Cebu?
Oceanjet ferry from Cebu to Bohol: Fast and comfortable
CnT Lechon: The Best Lechon in Cebu?
Golden Cowrie Restaurant Cebu: For Authentic Filipino Food!
Eat, shop, eat, shop, till we drop in Cebu!
Filipino Breakfast at Alberto's Pizza Cebu!
Ayala Mall Cebu : Do What The Locals Do!
City Suites Ramos Tower: Good location with Great view!
Castle Peak Hotel, Cebu, Philippines: Good location, Low price!
Breakfast at Bo's Coffee: One of Philippines' top specialty homegrown coffee shop
Bohol
4 Top Attractions and Things to do in Bohol Philippines!
Peacock Garden Bohol : Awesome Premier Infinity Pool and Seaview Room!
Bohol Countryside Tour: Chocolate Hills, Tarsiers and More!
Amorita Resort Bohol: My little love…
Dolphin and Island Hopping Tour (Pamilacan, Balicasag, Virgin sandbar): A day of chasing dolphins and turtles
Related posts: