Crab Buffet at Ellenborough Market Cafe, Swissotel Merchant Court (almost mispelt Crab buffet as Carb buffet…) is now ongoing from 2 to 18 November 2012! Which means that tomorrow will be the last day! 😮
So is it worth a visit to have unlimited crabs at this buffet? Let's find out!
About Crab Buffet Ellenborough Market – Absolutely InCRABulous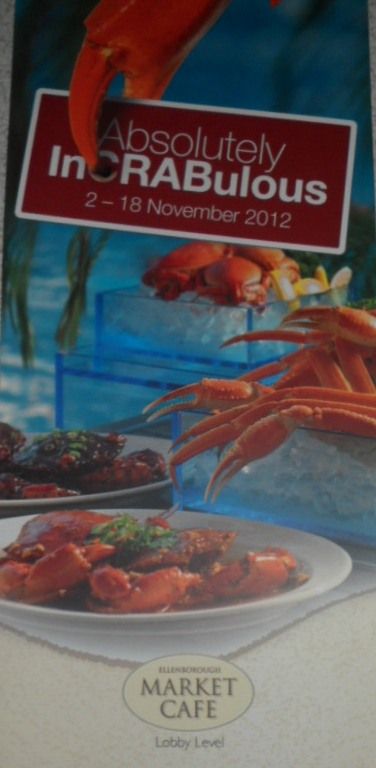 Absolutely InCRABulous @ Swissotel Merchant Court's Ellenborough Market Cafe
Absolutely InCRABulous is Ellenborough Market Cafe's annual crab buffet. This year, the crab buffet boasts of Spanner Crabs, Snow Crab Claw on ice, Chilli Crabs with Golden Mantou, Pepper Crabs as well as Nonya Curry Crabs.
In addition, Ellenborough Market Cafe's signature Durian Pengat is also available during the buffet. It is also mentioned on the information flyer that Crab Cakes with Hot Mango Salsa and Bread and Butter Pudding would also be available. Unfortunately, these were not available when we asked the chefs…Sigh.
Prices of the Crab Buffet @ Ellenborough Market Cafe Swissotel Merchant Court
This buffet is only available daily for dinner and for lunch on Saturdays and Sundays. The prices are as follows
Lunch Buffet (Saturday and Sunday) – $52++ for Adults / $26++ for Children (Aged 4-12)
Dinner Buffet (Daily) – $58++ for Adults / $29++ for Children (Aged 4-12)
There's also an exclusive discount for OCBC Card members where One dines free with every three paying buffet adult diners.
Setting & Ambience @ Ellenborough Market Cafe
The buffet starts from 6:30pm to 10pm for dinners and when we arrived, there was already a queue outside! Good thing was that we made reservations but we could only get seats in the alfresco area which meant that all the seats inside were fully taken up that evening!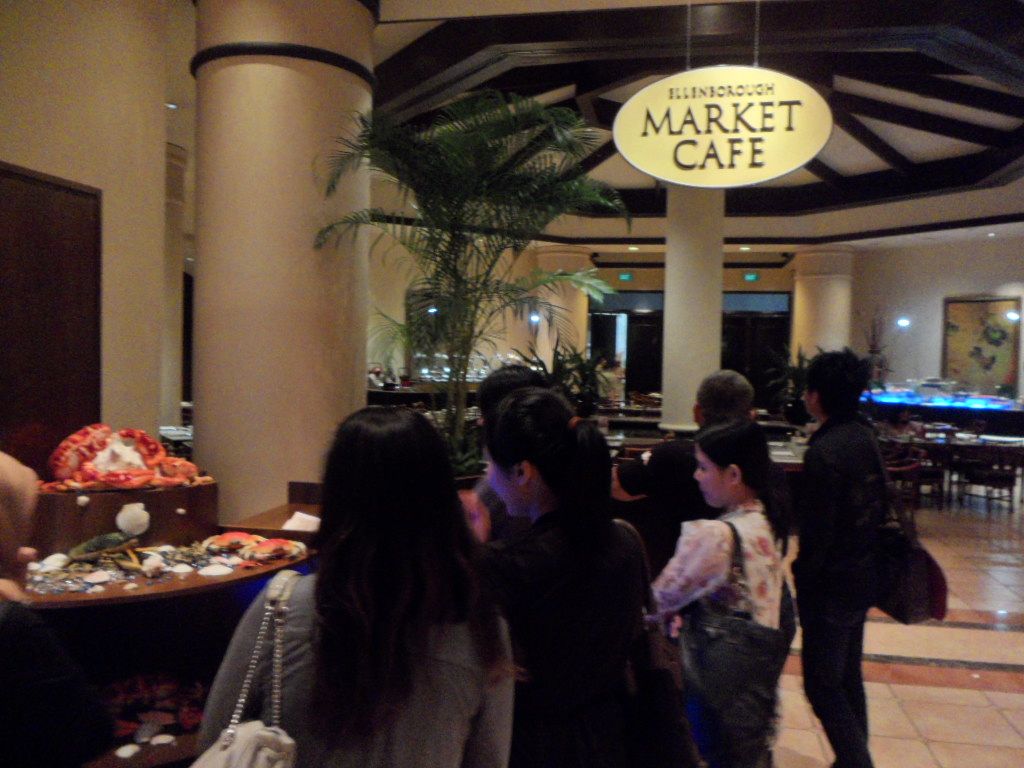 Entrance to Ellenborough Market Cafe , Swissotel Merchant Court
However, the first thing we noticed as we entered the restaurant was that the seats were actually very well spaced out and that the whole restaurant was huge and spacious! This meant that eventhough it was fully booked that evening, the crowd was not so huge (and noisy) as to affect the dining experience. This also translated to a more pleasant queue at the buffet lines.
The next thing we noticed was that the restaurant had a Peranakan theme to it. The centre pieces, displays and even the tables and chairs had a Peranakan feel to it.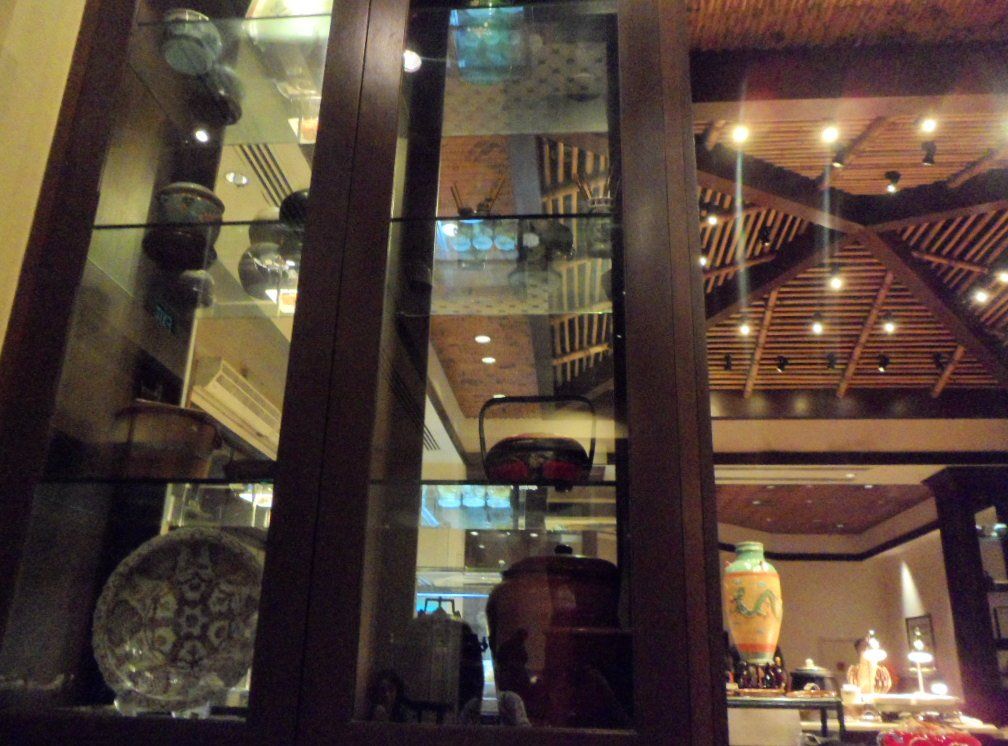 Peranakan Displays in Ellenborough Market Cafe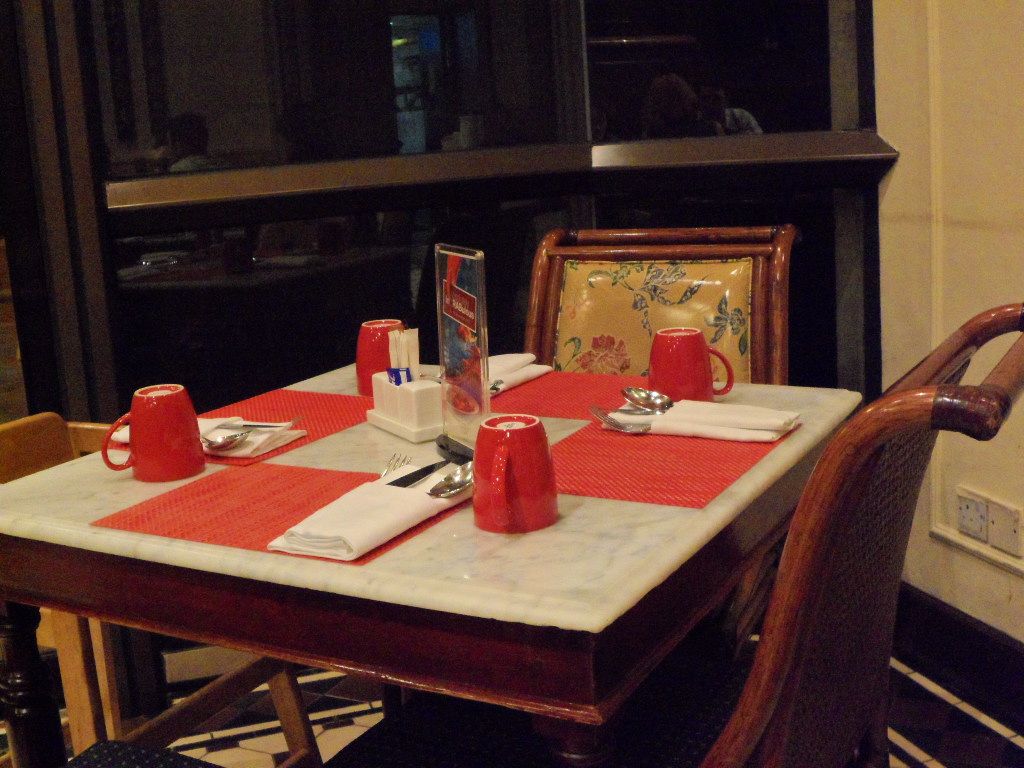 Peranakan Tables and Chairs
Highlight of the Buffet – Crabs Galore!!
The buffet lived up to its name in that there was an assortment of crabs available to choose from! From the cold platters, there was Spanner Crabs, Snow Crab Claw and even Alaskan Crab Claws!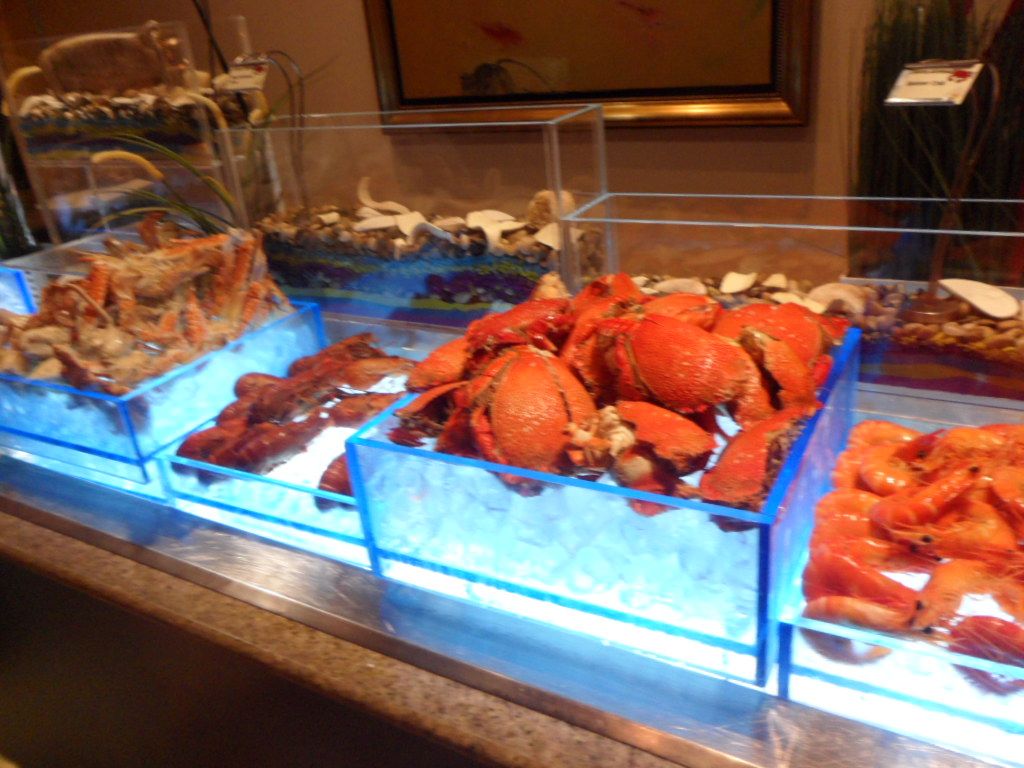 Crabs from the Cold Platters
But of course, the highlight was the famous Chilli Crab with Golden Mantou as well as the Black Pepper Crabs. The Slipper Lobster in Black Pepper Sauce was also a favourite of ours. Salt baked crabs and nonya crabs were also available at the buffet.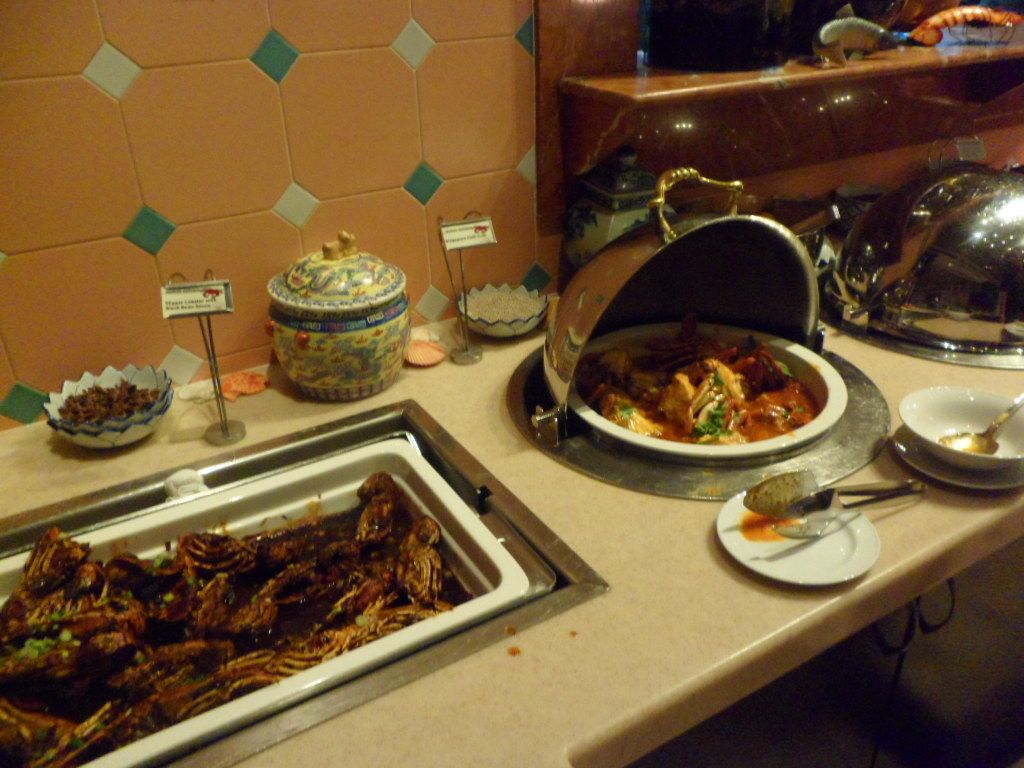 Chilli Crab & Slipper Lobster @ Ellenborough Market Cafe Swissotel Merchant Court
The buffet was generous in its servings and there was no lack of pincers for buffet lovers to go for. We had so many pincers that we lost count! Here's a tip for you crab buffet lovers – We noticed that the Chilli Crabs had pincers that were particular huge (somewhat like Sri Lankan Crabs!) as compared to the black pepper crabs and salt baked crabs.

Close up of Chilli Crab, Mantou & Slipper Lobster
We strongly recommend the Chilli Crab as well as the Slipper Lobster. The Chili crab was not as spicy as the other versions and the sauce was enticing yet flavourful. The gravy really went well with the Mantou – but then again, any fried flour tastes good right? But we must say that the Golden Mantou was for real, crispy on the outside and chewy on the inside. The slipper lobster on the other hand was fresh. The meat came off its shell rather easily and you can easily enjoy one big chunk of the lobster – Yummy!
The only bad thing about the crabs was that not all of it were fresh. There were actually some that were turning bad – soft and mushy. Therefore, choose the huge pincers (Sri Lankan Crab lookalikes) from the Chili Crabs! You wont go wrong with that!
Peranakan / Nonya Food
There must be a reason why the restaurant is decorated with a nonya theme. The nonya food it serves! There was actually a selection of peranakan food available at the crab buffet as well. Ayam Buah Keluak, Kueh Pie Tee, Nonya Curry Chicken and Crabs – Traditional Nonya fare were served up in that selection. We went for the braised pork with vinegar and was thoroughly satisfied.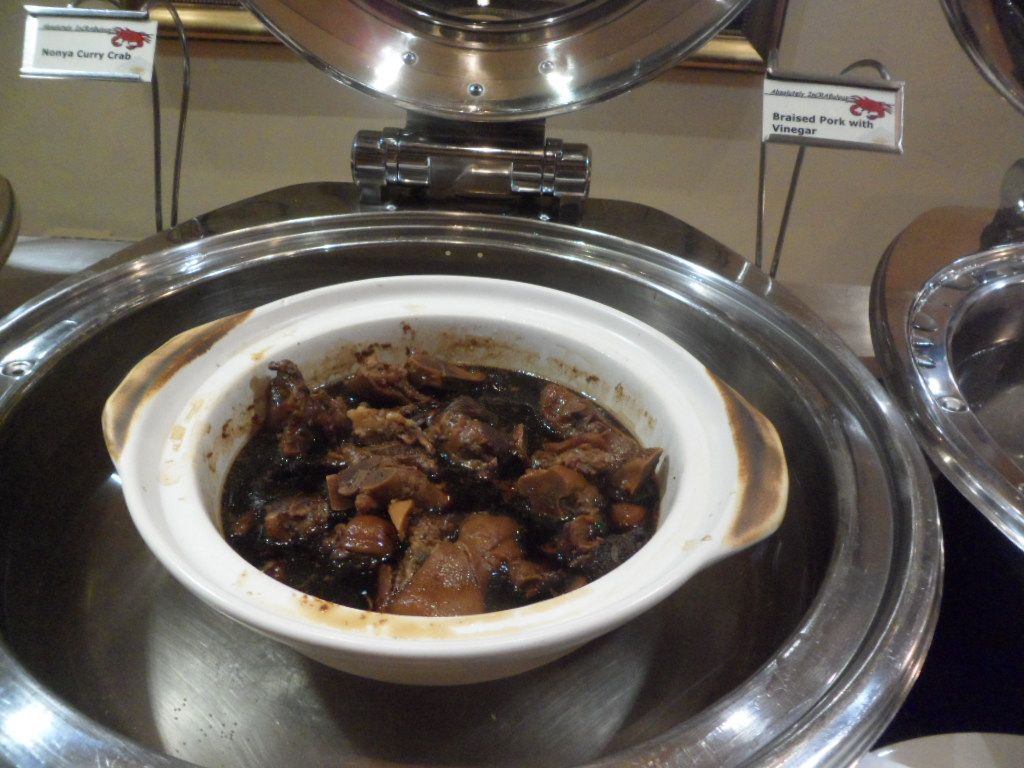 Braised Pork with Vinegar @ Ellenborough Market Cafe Swissotel Merchant Court
The meat (and of course the skin) was fully infused with the soya sauce and mild vinegar which gave it that fragrant smell. The meat literally melted in your mouth. Dont be too overly concerned about its name with the word "vinegar" as it's more like a condiment in this traditional dish.
Other selections at the Buffet
Besides the crabs and nonya food, there was also a small selection of sushi, sashimi as well as gourmet fish such as fried tilapia,sting rays and steamed garoupa to choose from. There was also an array of appetisers as well as mains such as lor mee, stir fried udon and fried rice available.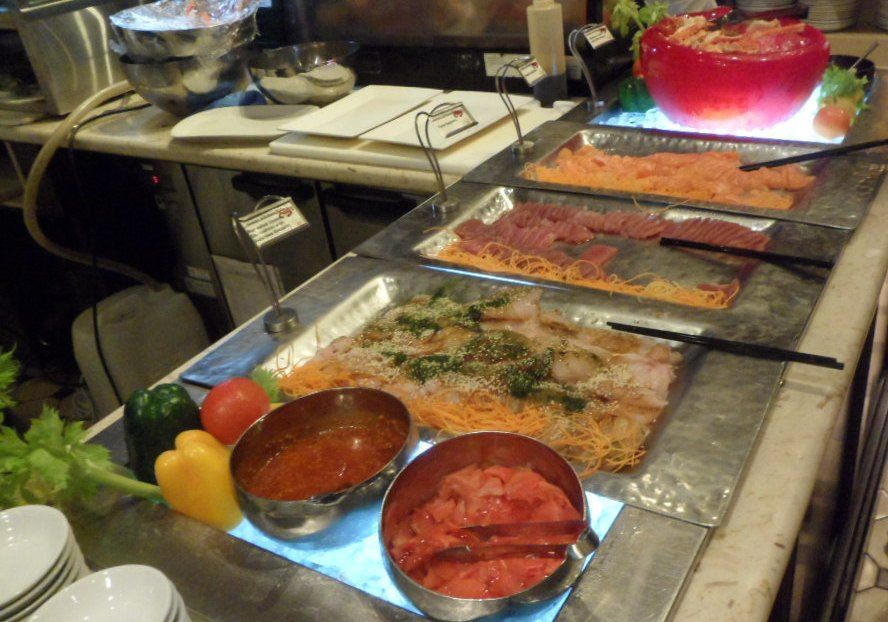 Sashimi Selection @ the crab buffet
Highlight for the ladies – DESSERTS!
Then came Kate's favourite segment of any buffet – DESSERTS! And the desserts @ Ellenborough Market Cafe did not disappoint. There was a good mix of western desserts such as cakes and sweets as well as traditional desserts such as cheng tng, nonya kuehs and of course the signature dessert of Ellenborough Market – Durian Pengat!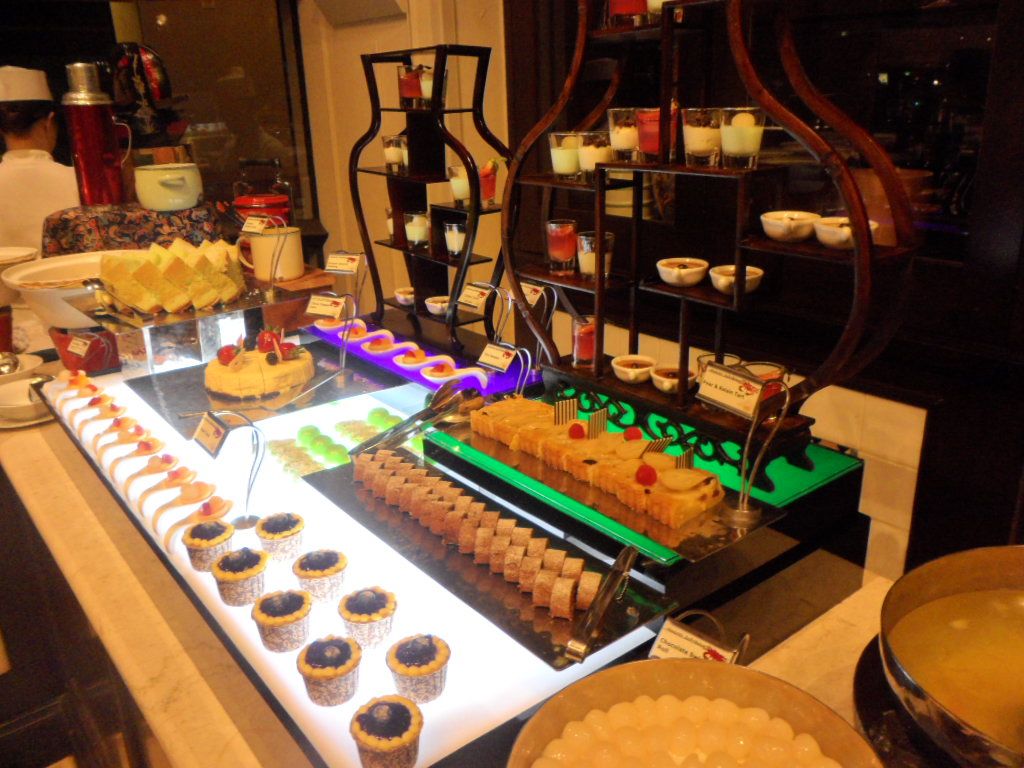 Selection of Western Desserts at the buffet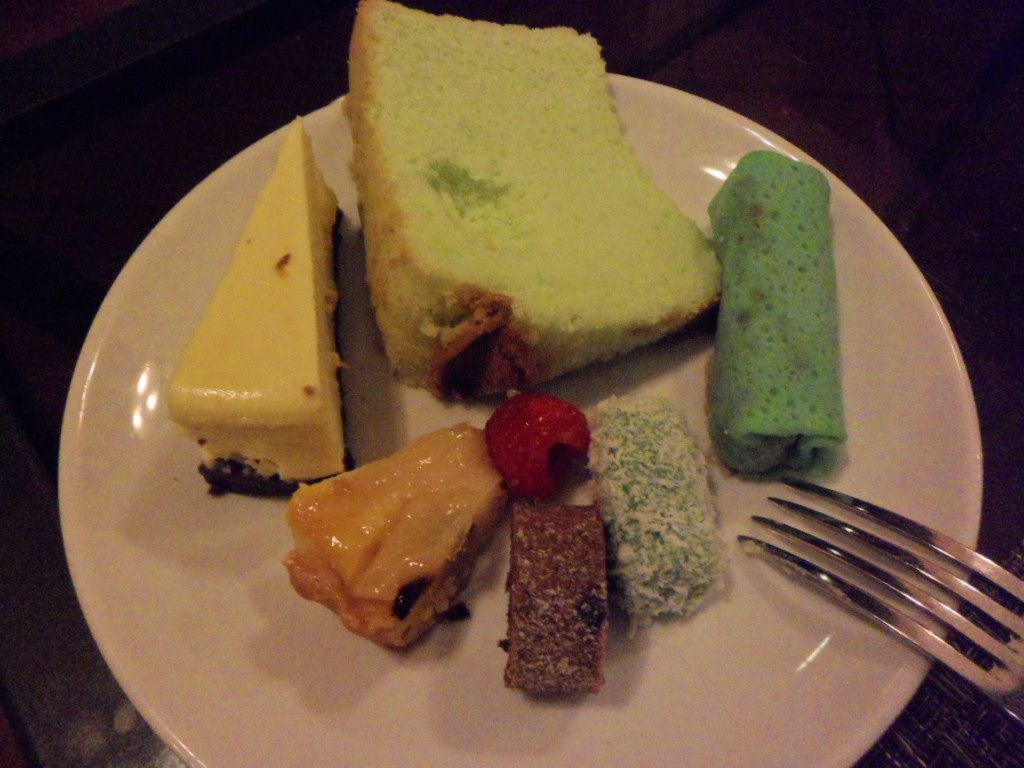 Close up of the desserts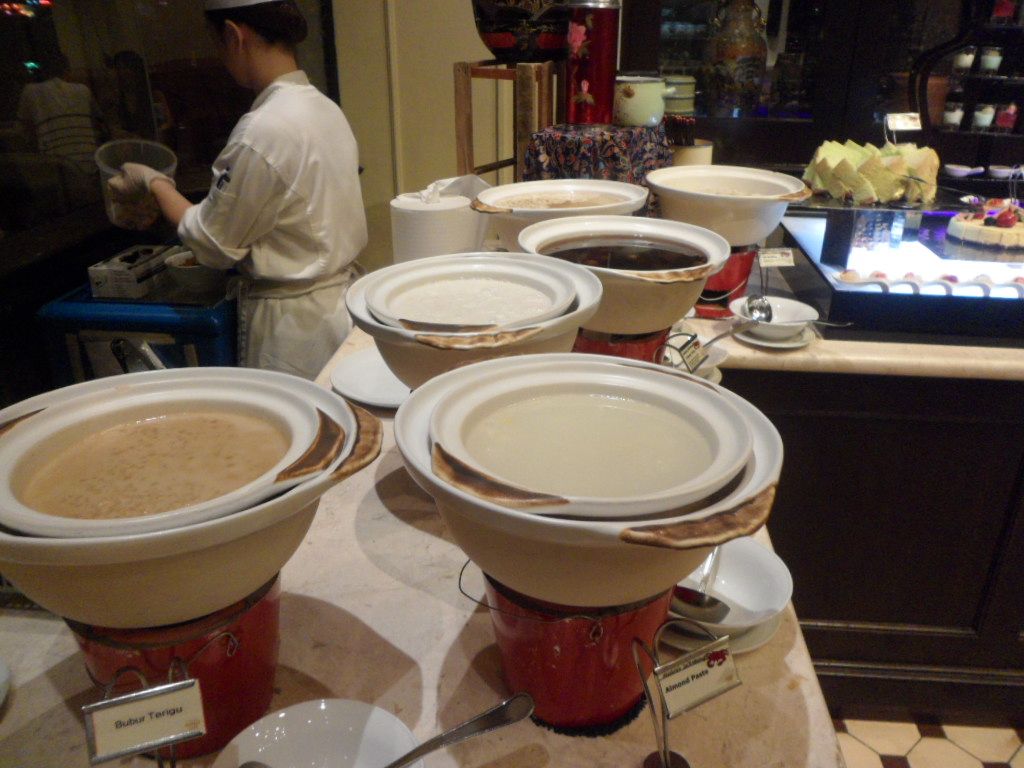 Traditional Desserts @ Ellenborough Market Cafe
We tried all the traditional desserts and rounded them up in a nice flower shape…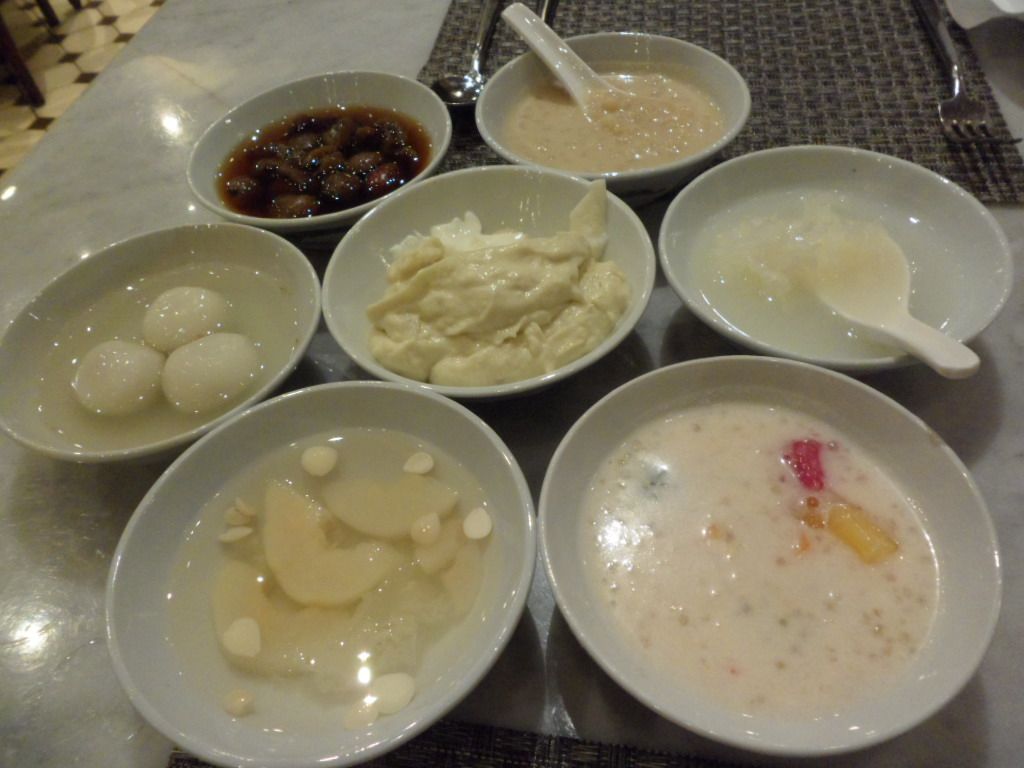 Traditional Desserts in a flower shaped arrangement
Starting from the top (the dark one) in clockwise order was cheng tng, bubur terigu, almond paste, bobo chacha, white fungus with pear (good for the throat especially after all the durian pengat), ah balling glutinous rice balls with peanut fillings and last but not least – Durian Pengat right in the centre!
Basically, everything was good but you can give the almond paste a miss. Of course, the best was still the Durian Pengat!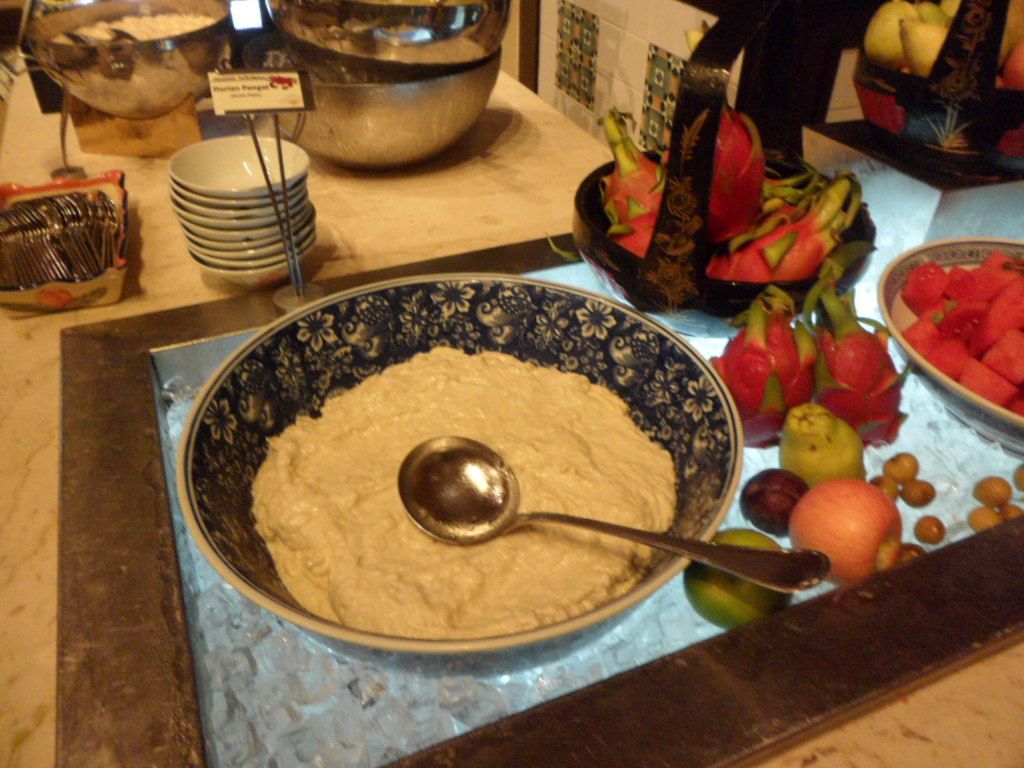 Durian Pengat – The signature dessert @ Ellenborough Market Cafe
Tasting the durian pengat was literally eating durians itself! It was rich, flavourful and even had the fibres of that of the durian mixed into it! Heavenly! The durian pengat went well with the pandan chiffon cake and of course the golden mantou! (What?!) Yes! Enjoy it with the mantou for your own version of durian puff!
To round things up, we had a healthy dose of fruits (durian pengat also counted as fruit right?)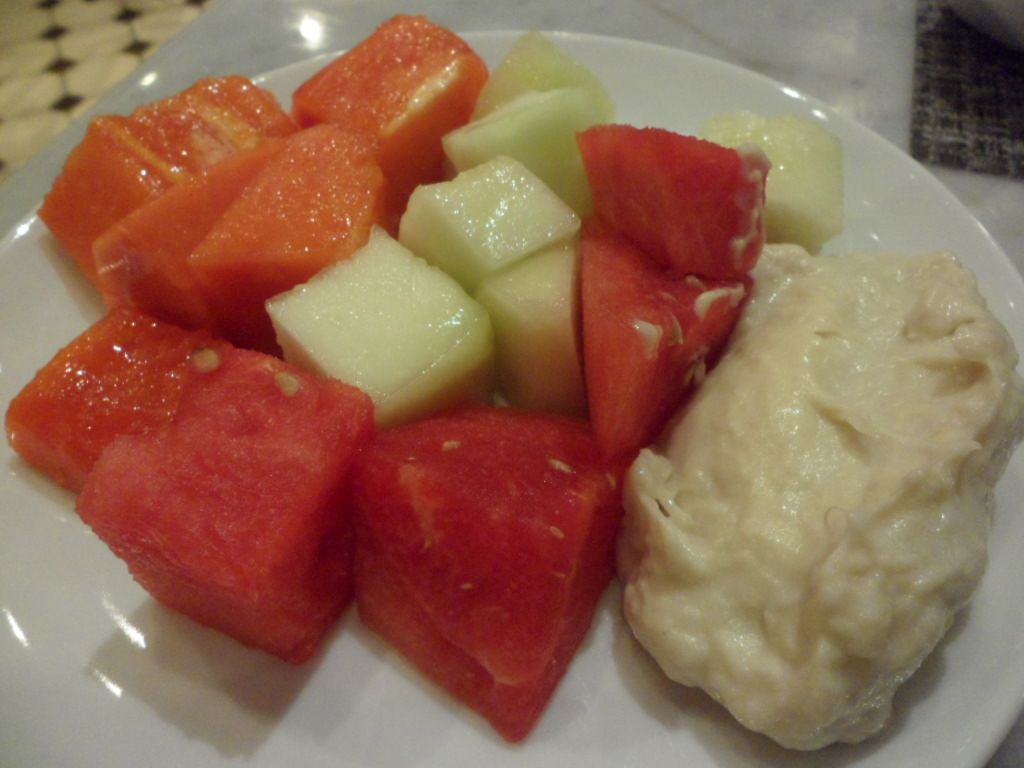 Fruit Platter
as well as the complimentary coffee and tea.
Excellent Service
There's something that we want to mention about the service. It was excellent! Contrary to what is written on some food review blogs (and note that this is NOT a paid article), the service was really really good! Here are examples of why we say so
1. We told the manager that we wanted to have seats in the air conditioned area once it was available. She remembered and came back to us when it was available later on. She even got the staff to bring our food over for us.
2. The lady and gentlemen serving us at the alfresco area was prompt with their service. Once we were sat down, the lady asked us for our beverage options and came back with our ice water in a jiffy. The gentlemen also cleared our tables as soon as we were done with our food.
3. But the most amazing part was this. Seeing that we were struggling to use the tool to crack the pincers, the lady offered to bring our pincers to be cracked open and brought them back to us. Not once but twice! She was also the one who linked up with the manager to bring us to the seats inside. Kudos to the service team!
Verdict
The excellent service really made our experience at Ellenborough Market Cafe an unforgettable one. It seemed as though they were exclusively serving us but in actual fact the restaurant was at full capacity.
The large variety of food was also a plus. Not only in terms of mains but in terms of desserts as well. Most buffets would only have a measly dessert section. Ellenborough Market Cafe certainly blew their competitors away in terms of variety and value.
The taste of the crabs and quantity of pincers that you could have was great as well.
The only draw back is that some of the crabs were not fresh. They went mushy instead of turgid and succulent as it ought to be. So please stick to the Chili Crab (large) pincers as recommended above and you'd be fine.
Overall, the crab buffet at Ellenborough Market Cafe / Swissotel Merchant Court scores
3.75 out of 5 stars for us! But excluding the service standards, it would be more of a 3.
How to get to Ellenborough Market Cafe @ Swissotel Merchant Court
Swissotel Merchant Court is located at Clarke Quay right beside Central Shopping Mall. Take the Northeast Line (NEL) to Clarke Quay station and take a short walk along the river and you will see the Ellenborough Market Cafe just before the Read Bridge.
Hotel Deals
For your convenience, we have arranged for the best hotel deals at Swissotel Merchant Court right here!
If you enjoyed our content, "Like" us on Facebook Today!

Related posts: