On our last day of Hong Kong, we wanted to try out food at one of the food courts which we saw during the last couple of days while venturing the streets of Hong Kong. However, to our horror, the food court was closed!
Sadly, we back tracked to our hotel – Ibis Hotel Central Sheung Wan.
Then it happened…
Tom saw an old lady heading into a building, seemingly looking for breakfast. So we followed. The next thing we knew, we were in a lift! While in the lift, we were still wondering where we were going…but since we were surrounding by friendly grandpas and grandmas, what could go wrong right? The worst case would be to take the lift down again. Well, we were pleasantly surprised as we stumbled upon a traditional dim sum restaurant!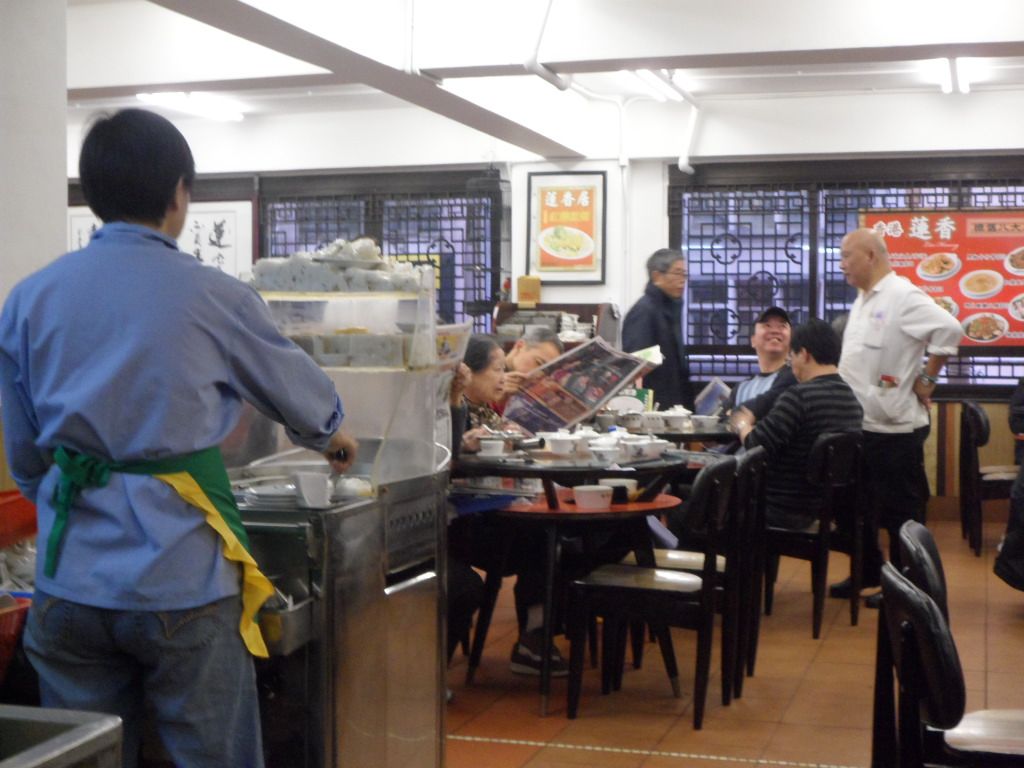 Aunty frying turnip cakes and other cakes in this make shift fryer in Lian Xiang Ju
As we sat down and looked at the menu, we finally realised that we were in Lian Xiang Ju…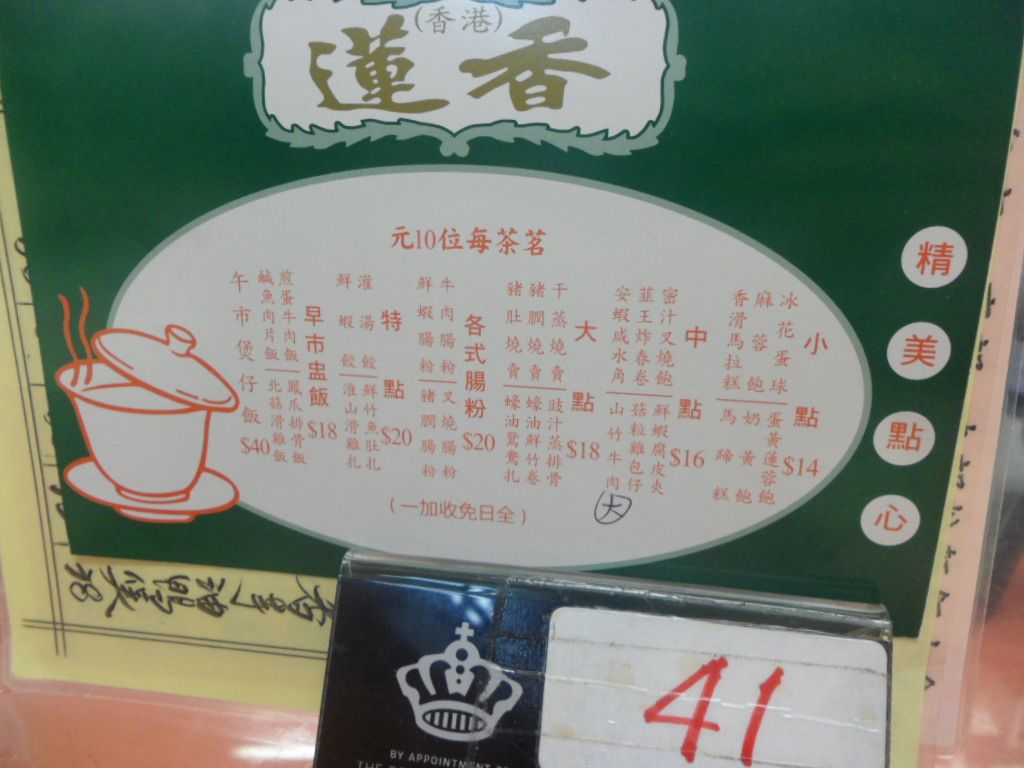 Dim Sum Menu at Lian Xiang Ju – Actually recommended in Michelin Guide!
A quick search online will allow you to find out that Lian Xiang Ju is very much a traditional dim sum restaurant where servers still push trays of dim sum around to the customers for them to choose (similar to Red Star Restaurant in Singapore). The decor is very 70s and strangers just get seated with each other.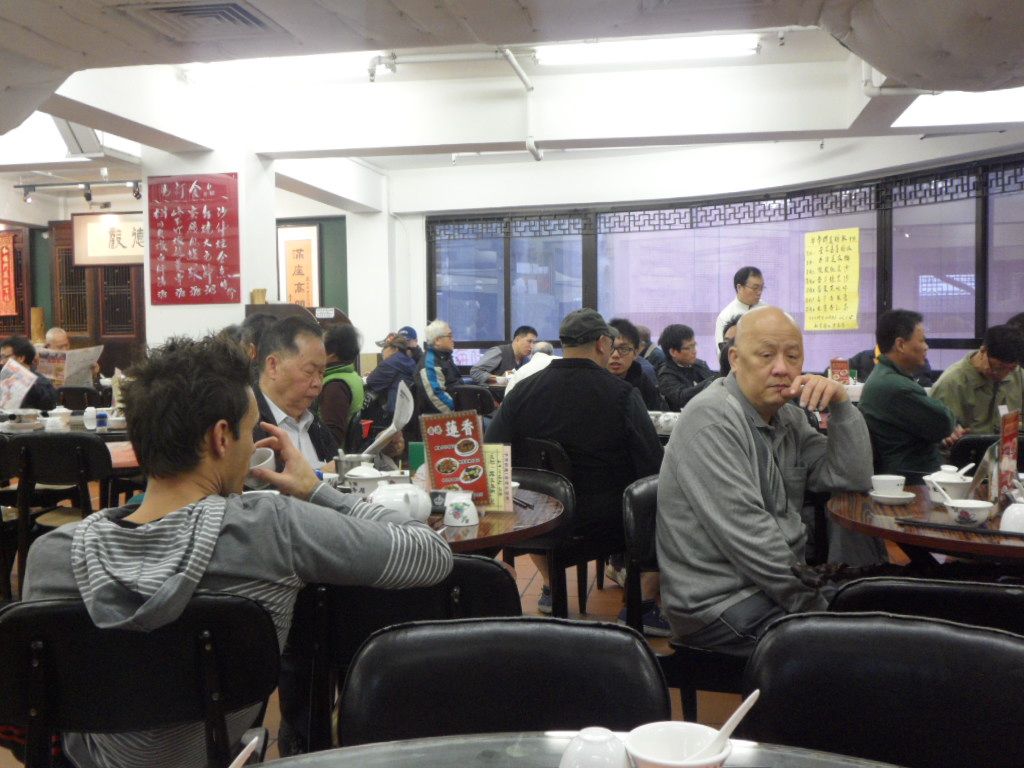 Traditional setting at Lian Xiang Ju – Can you spot the Ang Mo in this photo?
We were soon served our tea in teapots and we observed how the uncles and aunty pour their tea. There's actually a few steps.
1. Washing of EVERYTHING. And you thought you will only need to wash the cups right? Wrong! You'll first need to use the hot water to sort of "disinfect" everything on the table including the cups, plates and chopsticks by pouring hot water (from the teapot) over them and into a basin provided.
2. Allow tea to sit. Tea has to sit in the water and allow the aroma to be infused into the tea for a couple of minutes before it is eventually served.
3. Enjoy. After a few minutes of "Ooo Ooo Ah Ah", "Ouch Ouch", "Hot Hot"…
Then we went straight into business and ordered our breakfast!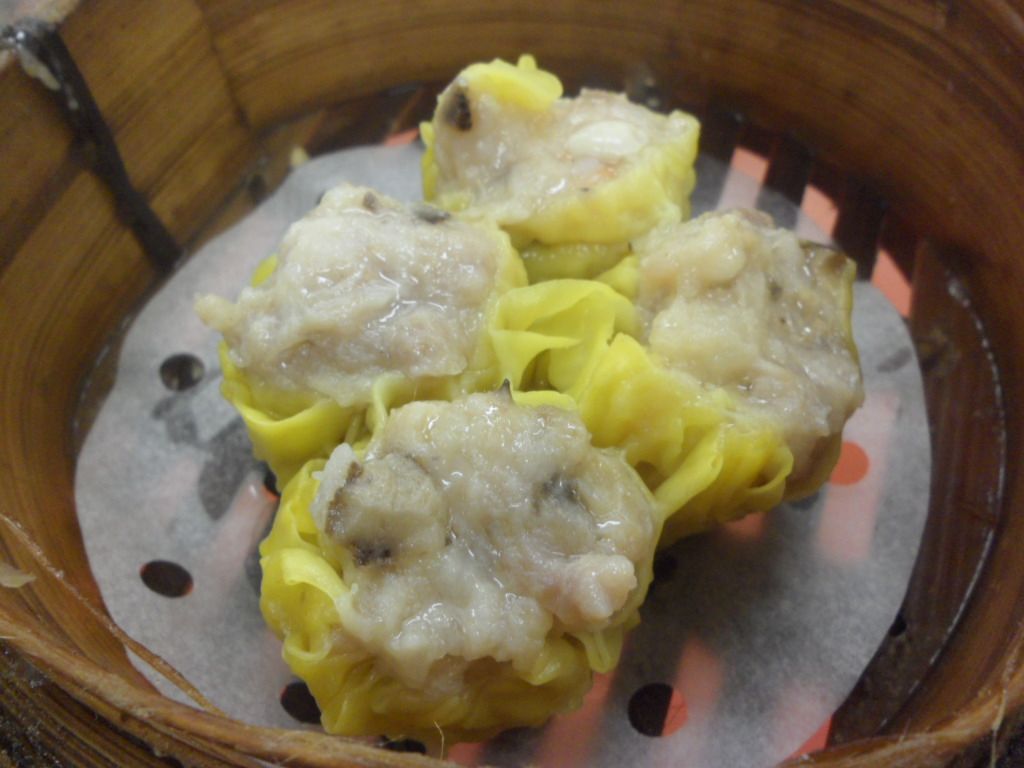 Siew Mai (16HKD) from Lian Xiang Ju – Fresh prawns within!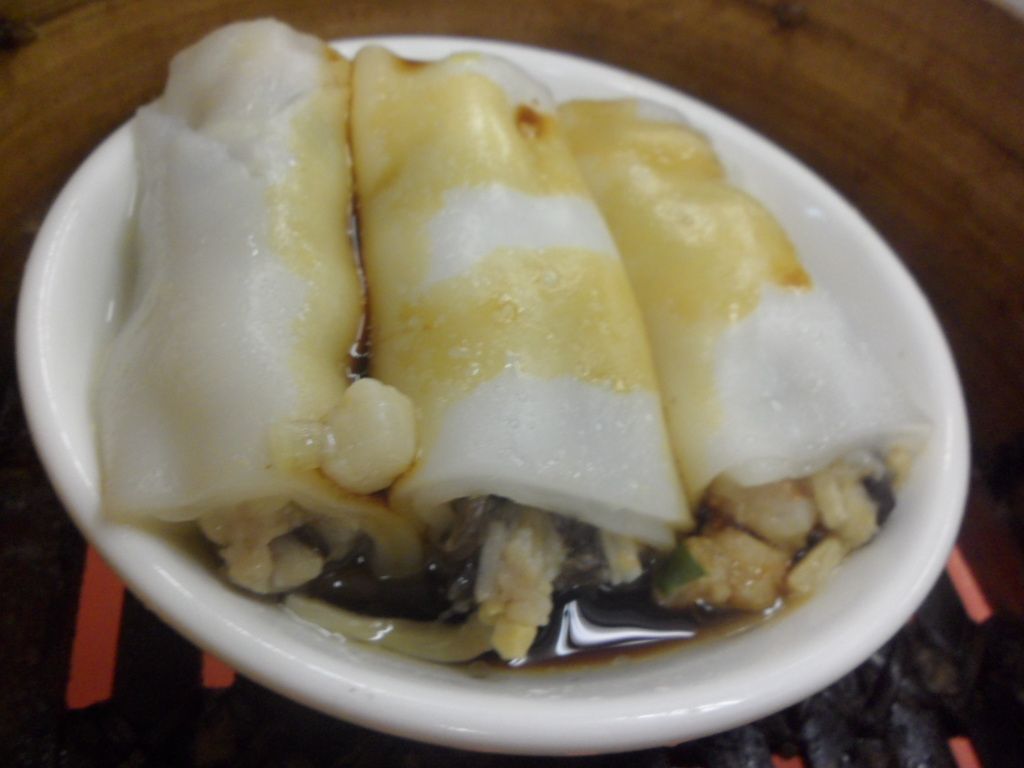 Chee Cheong Fun (18HKD vermicelli roll) with minced chicken fillings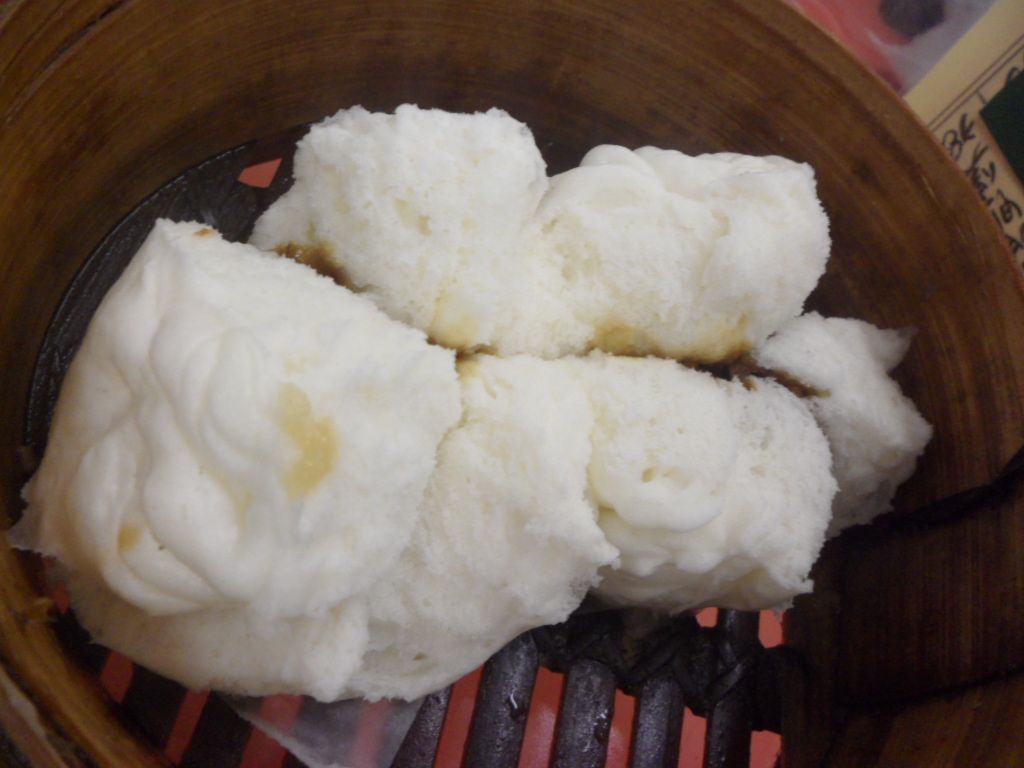 Char Siew Bao (18HKD) Lian Xiang Ju Restaurant – Yummy sweet filling with onions and fluffy outer layer

Fried Wanton (16HKD) – VERY crispy outer layer with big fresh prawns, went well with sweet sauce provided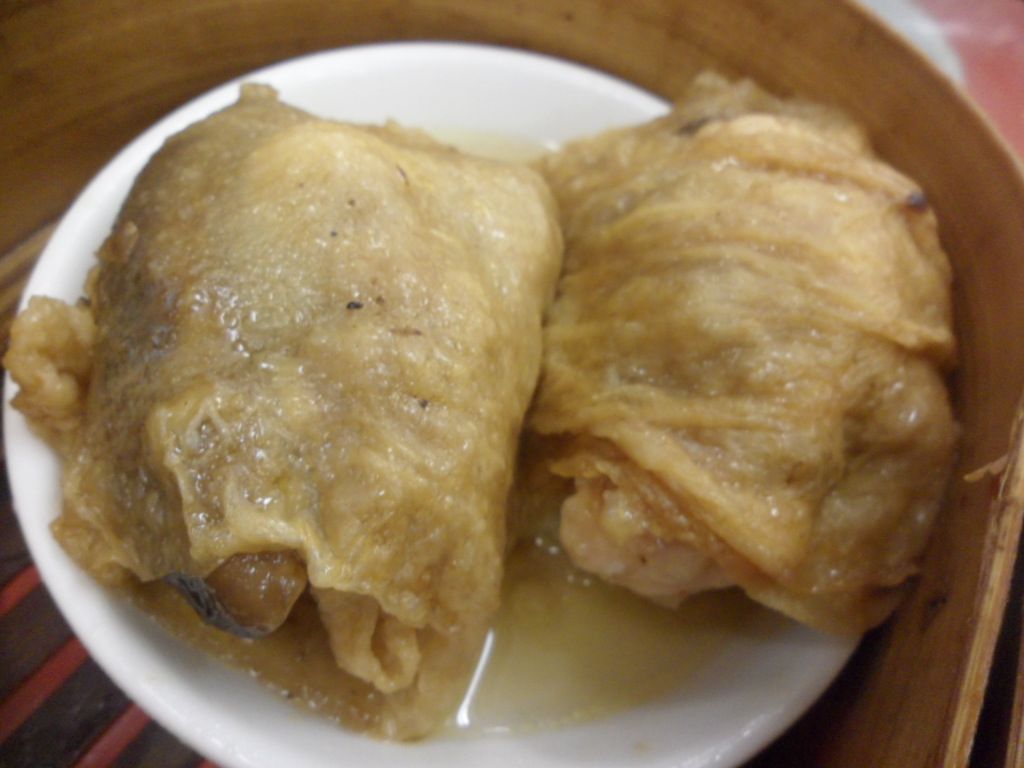 Beancurd Skin Wrap (20HKD) – Skin absorbed the tastes of the huge mushroom, chicken and fish maw within, Shiok!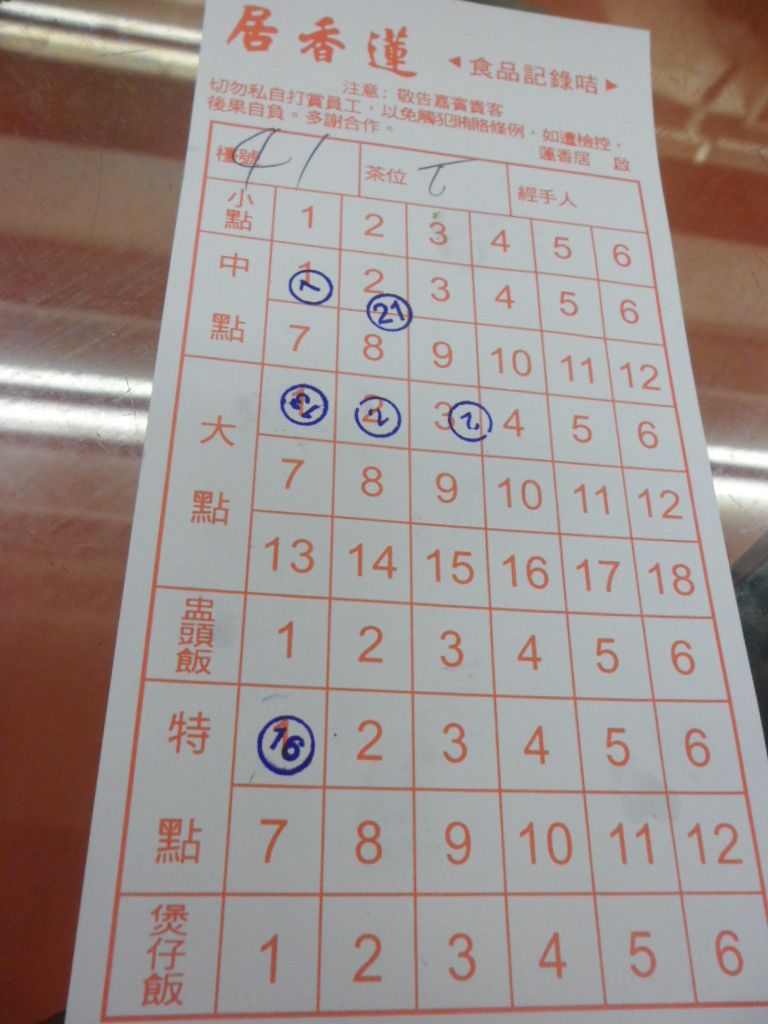 Traditional way of recording your expenditure – through stamping!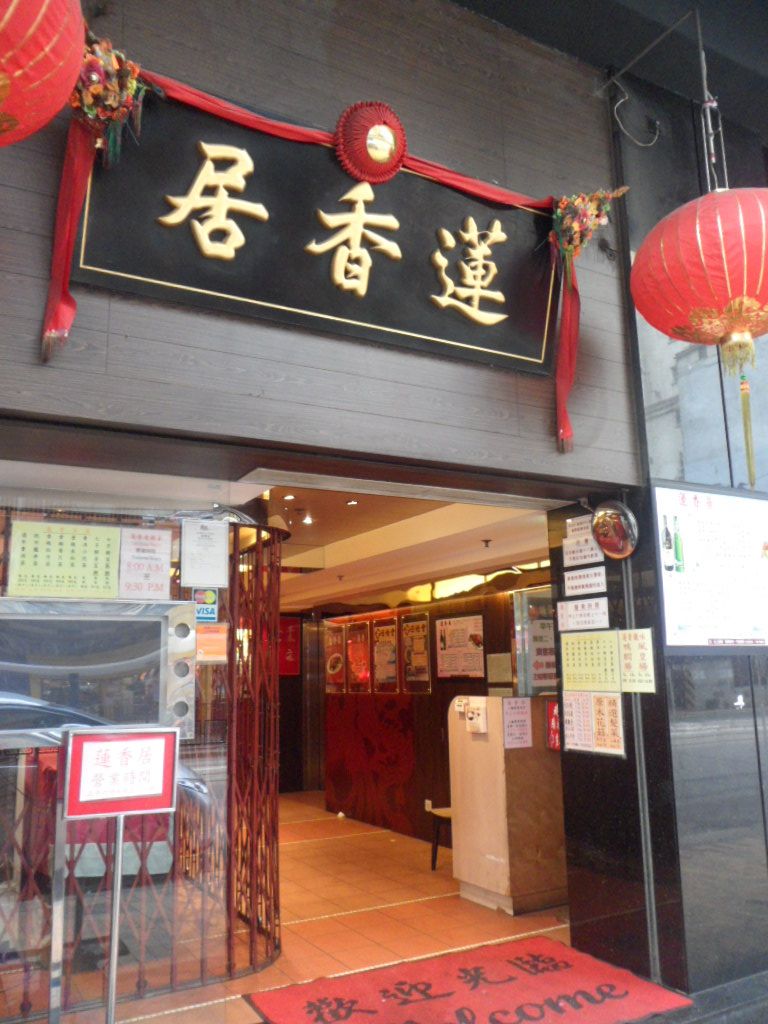 Took a photo of Lian Xiang Ju when we left
If you enjoyed our content, "Like" us on Facebook Today!

Remember to leave your comments for 2bearbear Singapore Travel Blog in our comments section below!
For your convenience, we have arranged for the best hotel deals in Hong Kong right here!
Lian Xiang Ju is definitely a recommended dim sum venue for cheap traditional food in a old Hong Kong setting! Just before we ended our meal, we ordered the char siew bo luo bao for take-away. We did not know there were so many in 1 order, so we gave 2 to the aunty and uncle who sat with us. We could see their faces lit up and we were glad that we shared 🙂
After the hearty meal, we took our luggage from Ibis Hotel and headed to Bi Sheung Wan where we took the city flyer A11 direct to the airport for only 40HKD. There's even free wifi onboard the bus! Yes, the bus!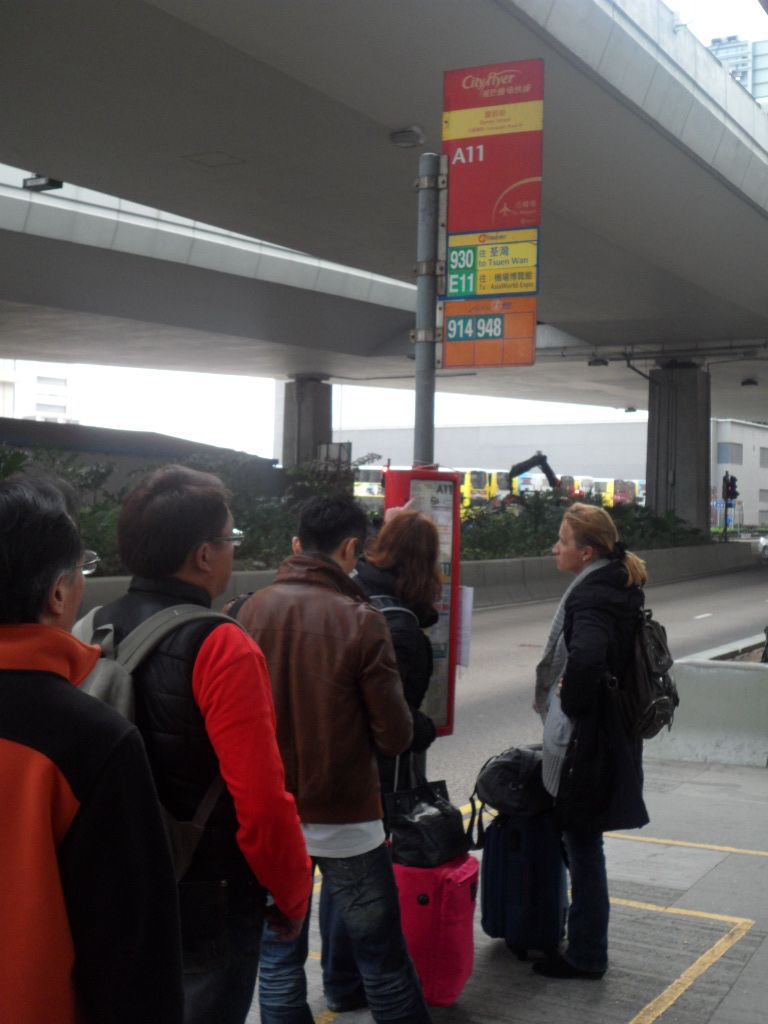 Bus stop to take bus A11 to airport
The last thing you will need to do is to remember to refund deposit for your octopus card. You can do so at the transport counter at the airport. The same counter where we bought the card on our 1st day…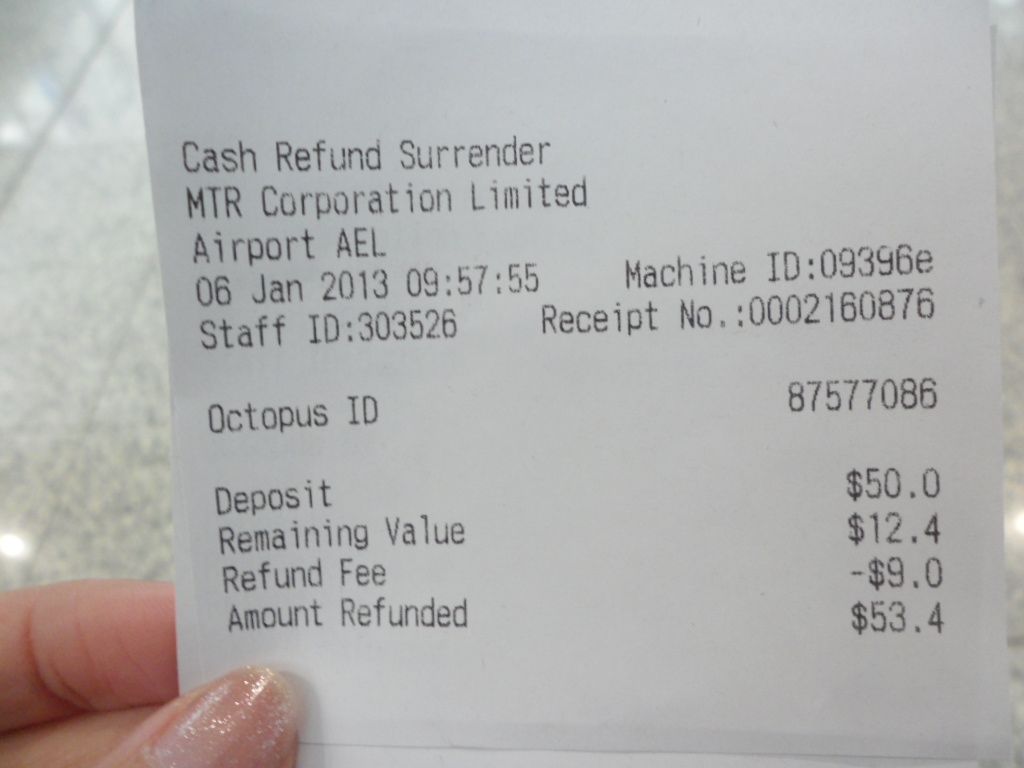 Refund of deposit in Octopus Travel Card
We hope you have enjoyed our coverage of our Hong Kong trip, every single day for the last month! Do let us hear about your thoughts in the comments section below!
Happy Travels Everyone!
Tom & Kate,
2bearbear.com
Related Posts
You have just finished a post on our 9 day trip to Hong Kong, Macau and Shen Zhen. Read on to find out more about our adventures during this trip!
Hong Kong Trip : Day 1
Hong Kong Trip Day 2 : The Attractions of Tsuen Wan
Hong Kong Trip Day 3 : Ocean Park and New Year's Eve Countdown
Hong Kong Trip Day 4 – Side Trip to Macau
Hong Kong Trip Day 5 – Continuing Our Travels in Macao
Hong Kong Trip Day 6 – Rounding up Macao and Returning to HK
Day 7 Hong Kong Trip : Side Trip to Shen Zhen & Debunking Recommendations
Day 8 Hong Kong Trip : What we did in Central 中環 Hong Kong
Day 9 Hong Kong Trip : A Surprise Find at Lian Xiang Ju Dim Sum Restaurant
Hotels and Hostels We Stayed in Hong Kong
New Year's Eve Countdown at Victoria Harbour Hong Kong
Ibis Hotel Hong Kong Central & Sheung Wan : For the Best Views of Victoria Harbour
L Hotel Nina Convention Centre Hong Kong : Great views over Tsuen Wan
Jordan Comfort Inn Review @ New Lucky House Hong Kong
New China Yan Yan Guest House at Chung King Mansion
Food and Dining in Hong Kong
3 Reasons Why You MUST Try Dim Sum in Hong Kong and Macao
The Minimalist Guide to Eating at Tim Ho Wan Hong Kong
A Classy Treat at Lei Garden International Finance Center Hong Kong
Mak Mun Kee 麦文记 Noodles Shop : Best Wanton and Beef Noodles in Hong Kong
Great Desserts at Australian Dairy Company Hong Kong! ( 澳洲牛奶公司)
Lan Fong Yuen Hong Kong : For a taste of traditional milk tea since 1952
Secret to Enjoying Hong Kong Cafes…
What a typical Hong Kong Cafe is like
Debunking Recommendations of DiscoverHongKong.com : What NOT to eat in Hong Kong
Attractions in Hong Kong
Hong Kong Central Mid Level Escalator : Longest Escalator Walkway System in the World
Avenue of Stars 星光大道 : Hong Kong's Hollywood Walk of Fame
Ocean Park Hong Kong : Still worth a visit?
Temple Street 庙街 Hong Kong : First glimpse at Hong Kong's Night Market
Where to shop in Hong Kong? Citygate Outlets Tung Chung!
Elements Shopping Mall at Kowloon Hong Kong
Only make a side trip from Hong Kong to Shen Zhen if…
21 Amazing Travel Experiences in Hong Kong
Hotels We Stayed in Macau
Hotel Royal Macau : Luxury at a Central Location
Regency Hotel Macau : A 5 Stars Hotel?
Attractions in Macau
Guia Fortress and Lighthouse Macao : An Elusive Fortress Found
Macao Maritime Museum : Great Price Good Exhibits
Historic Centre of Macao : Ruins of Saint Paul's, Mount Fortress & More
Cotai Strip Macau : Games, Shows, Food and Entertainment
Taipa Village Macau : Houses Museum, Pork Buns, Portuguese Egg Tarts
Top 5 MUST DO Things in Macao : You have not been to Macao unless you have…
Related posts: