De Sarann Villa in Siem Reap was our choice of stay when we visited Cambodia for the first time. Thanks to Sokmeng and François, we were hosted to a luxurious, tranquil and exclusive stay at the De Sarann Villa, here in Siem Reap, Cambodia. Let's find out what this latest villa in Siem Reap has to offer…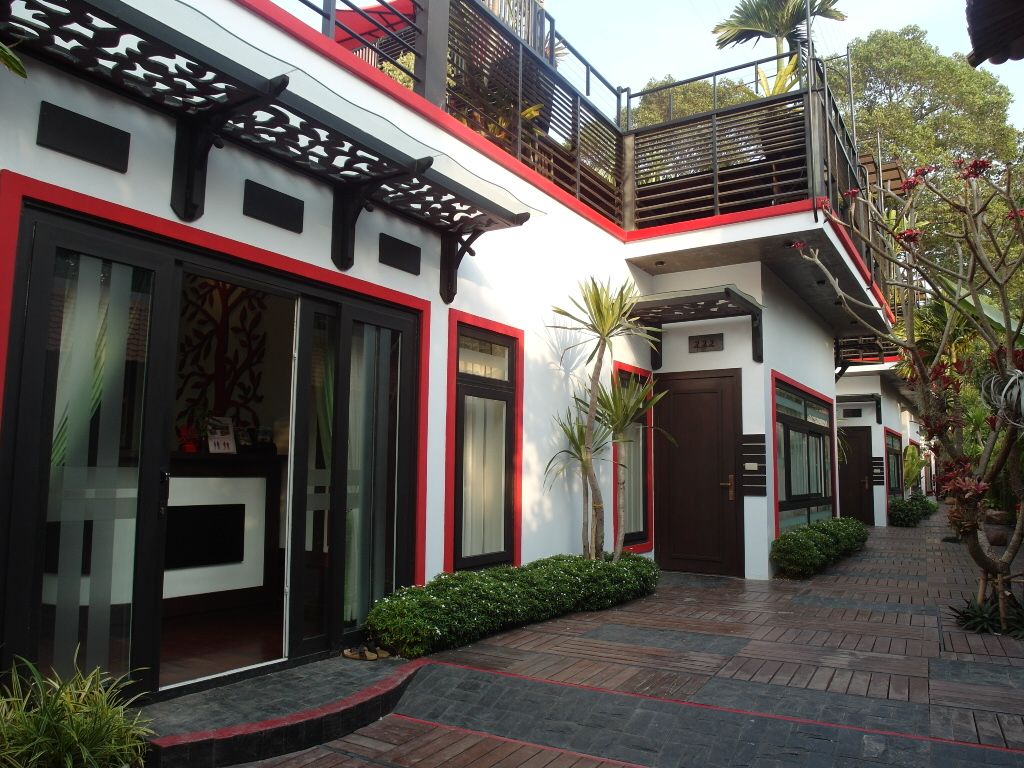 De Sarann Villa Siem Reap Cambodia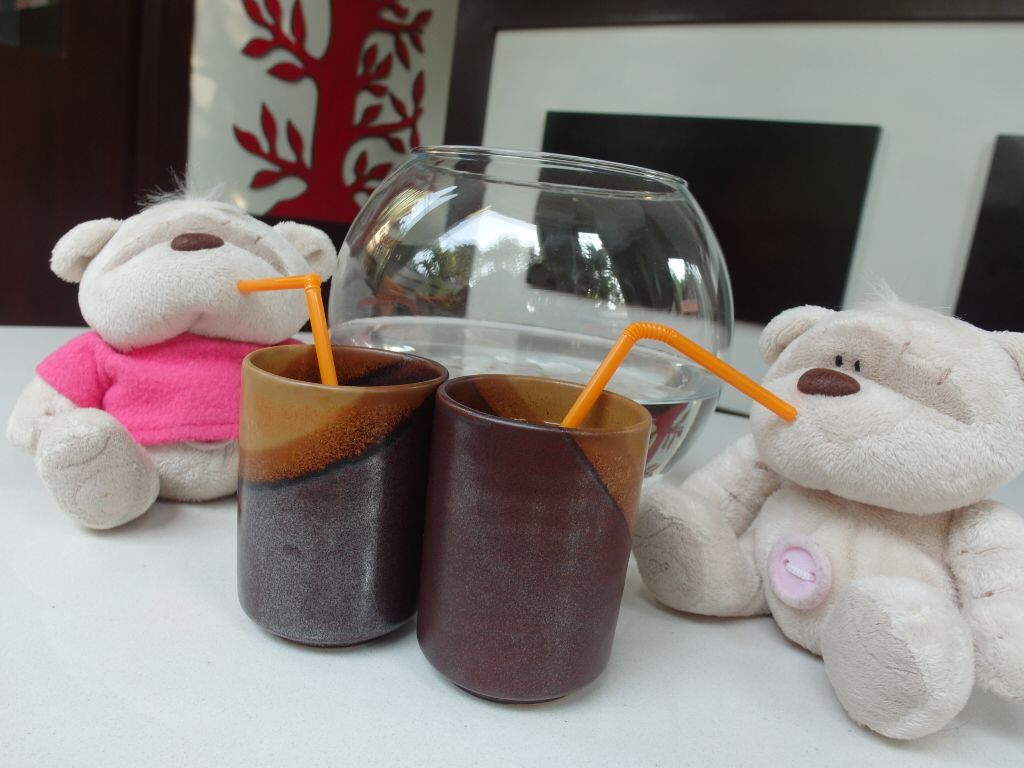 Welcome drinks upon arrival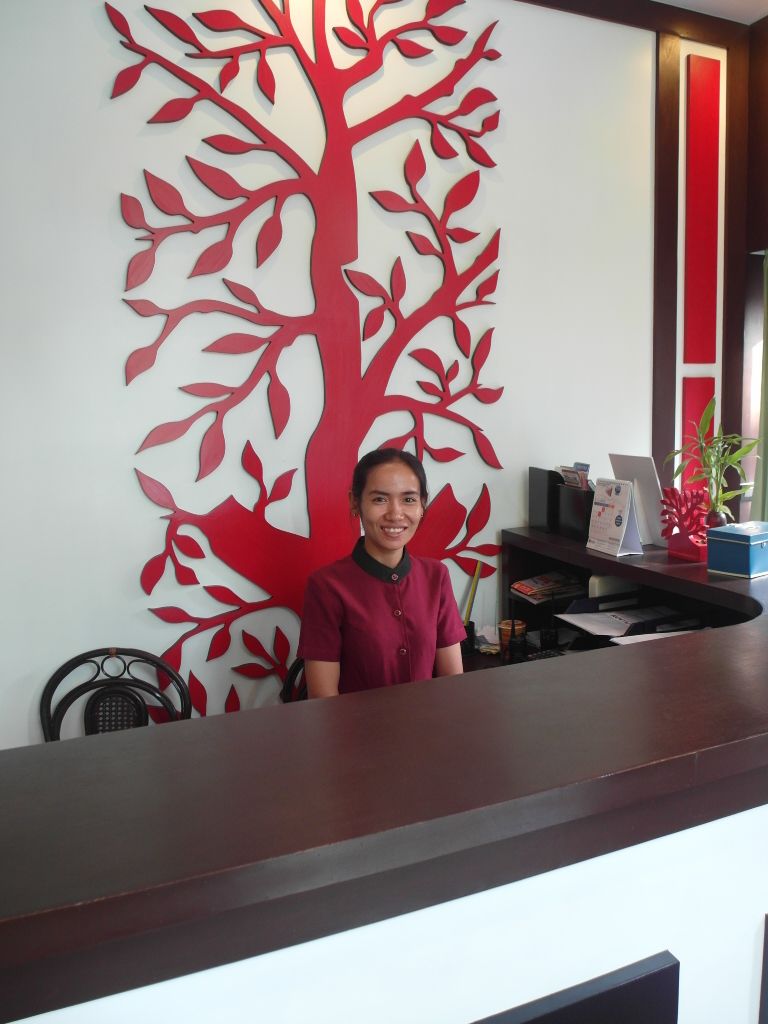 Personalised service from Sona during our stay
About De Sarann Villa Siem Reap Cambodia
Tucked away at #37 Trang Village (one of the oldest village precinct in Siem Reap), De Sarann Villa is a hidden gem that offers luxury travellers all that you need during your stay in Siem Reap, Cambodia. It is conveniently located just 7km from the Angkor Temples / Siem Reap International Airport (less than 10 minutes ride) and a mere 5 minutes drive to the city. Although conveniently located, it is also out of hustle and bustle of the main street, thus offering you an oasis of tranquility – a really smart idea!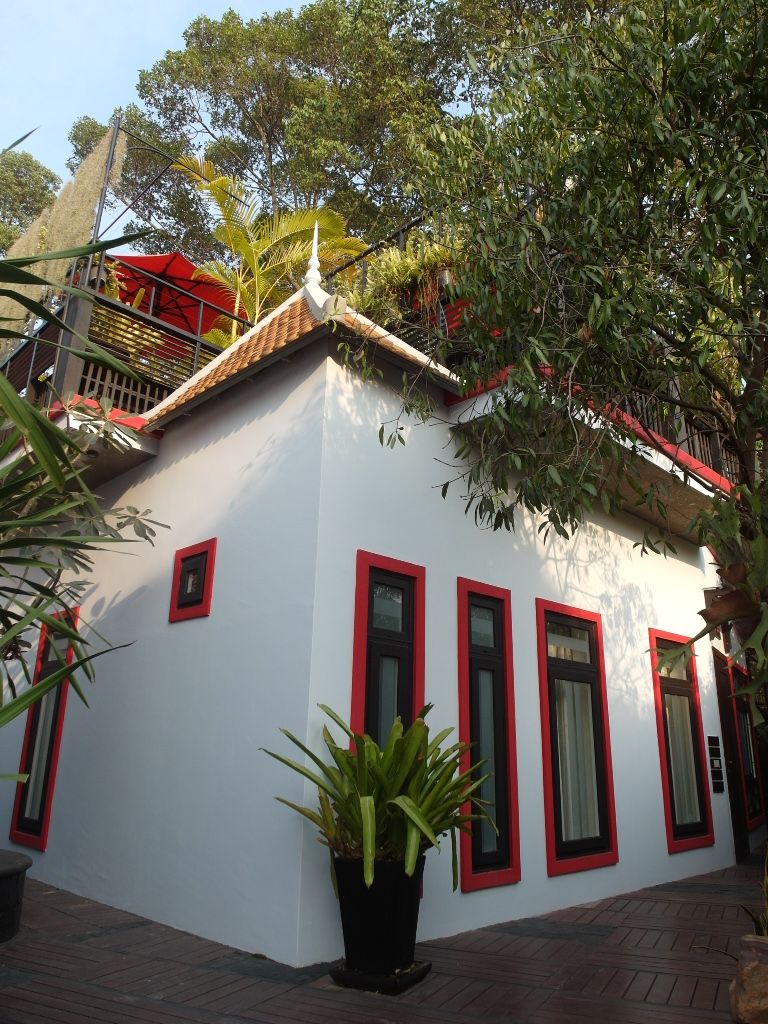 Our stay at Royal Family Suite Villa – with Private Pool, De Saranna Villa Siem Reap
There are only 4 villas (yes, you did not misread that) in De Sarann and because of that, it offers luxury travellers that exclusivity and an undisturbed tranquility. Should you need any assistance, personalised service will be at your doorstep within seconds (literally!). Talk about exclusivity…
To top it all off, each villa comes with a swimming pool (complete with jacuzzi functions), rooftop dining options, deck chairs to chillax and complimentary beverages throughout your stay.
Inside Royal Family Suite Villa – with Private Pool, De Saranna Villa Siem Reap
When Sona told us that our room was 120 metres square, we were really surprised. That equates to almost 3 times the size of a typical hotel room! Of course, the size includes the private roof top pool and dining area. Nonetheless, as we strolled through our room, we got to understand the brevity of the size of the Royal Family Suite Villa in De Sarann Villa…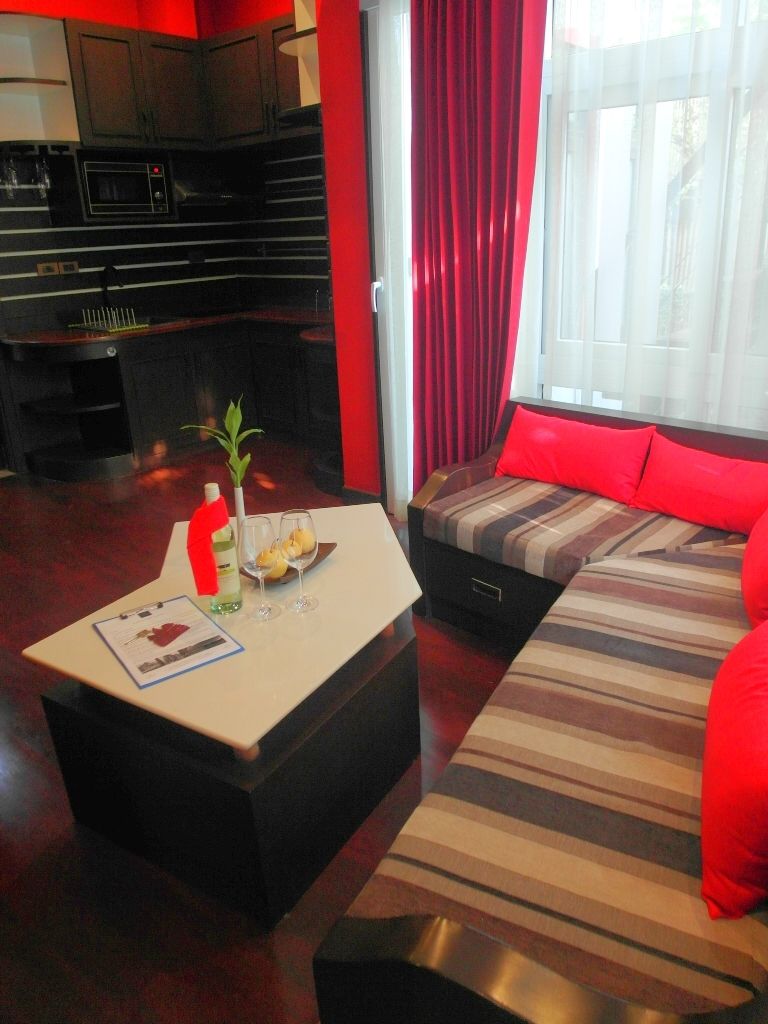 Living area with cooking facilities and huge TV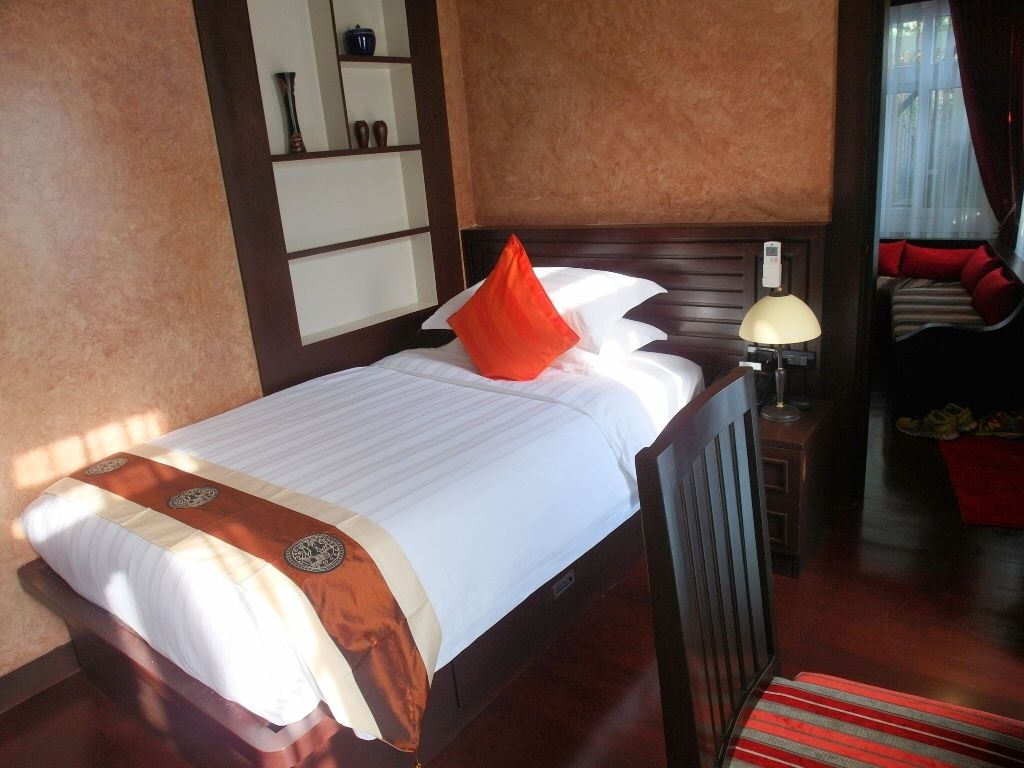 Smaller room with attached bathroom and in-room TV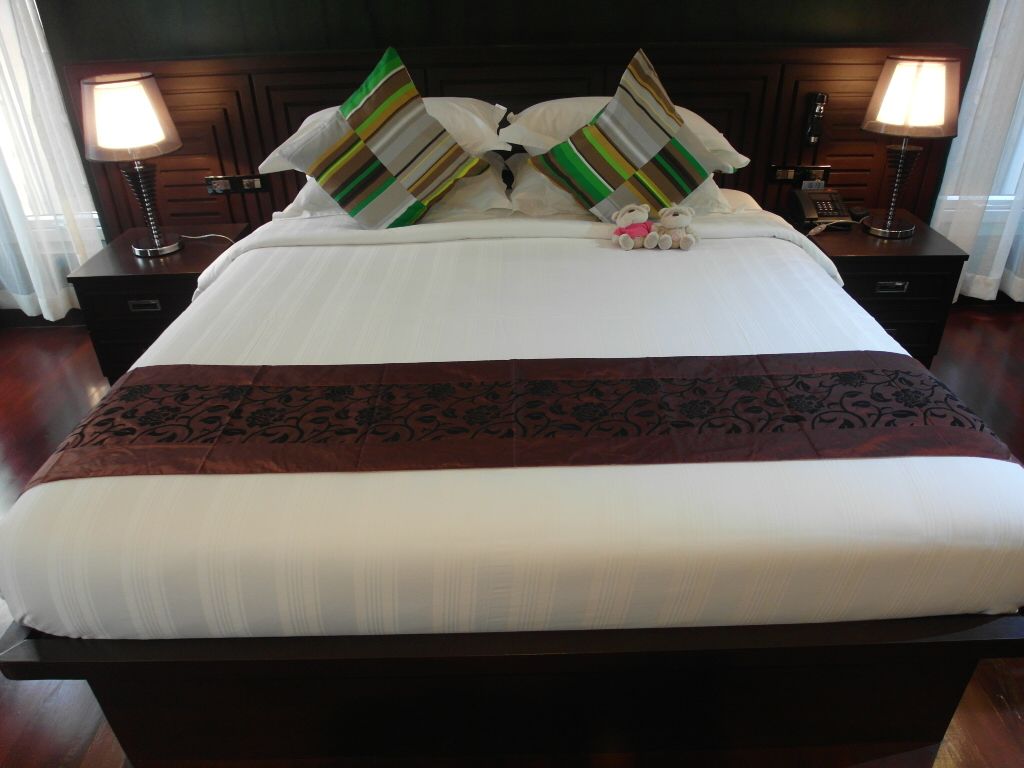 King-sized bed in Master Bedroom of Royal Family Suite De Sarann Villa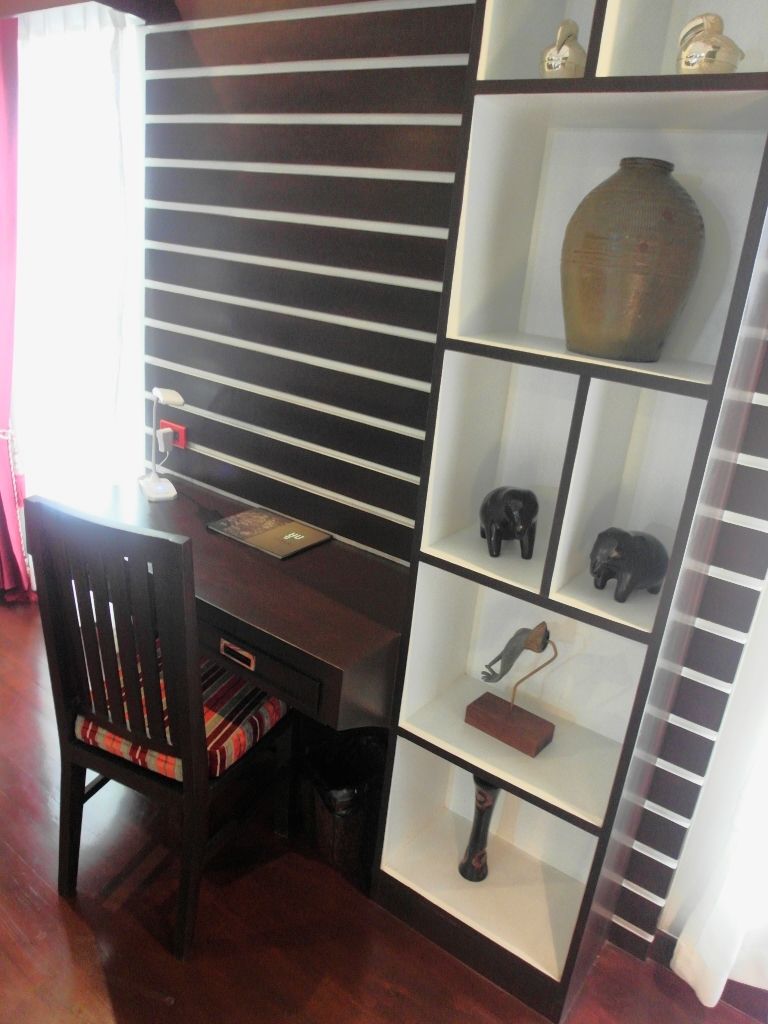 Executive table with touch-sensitive lamp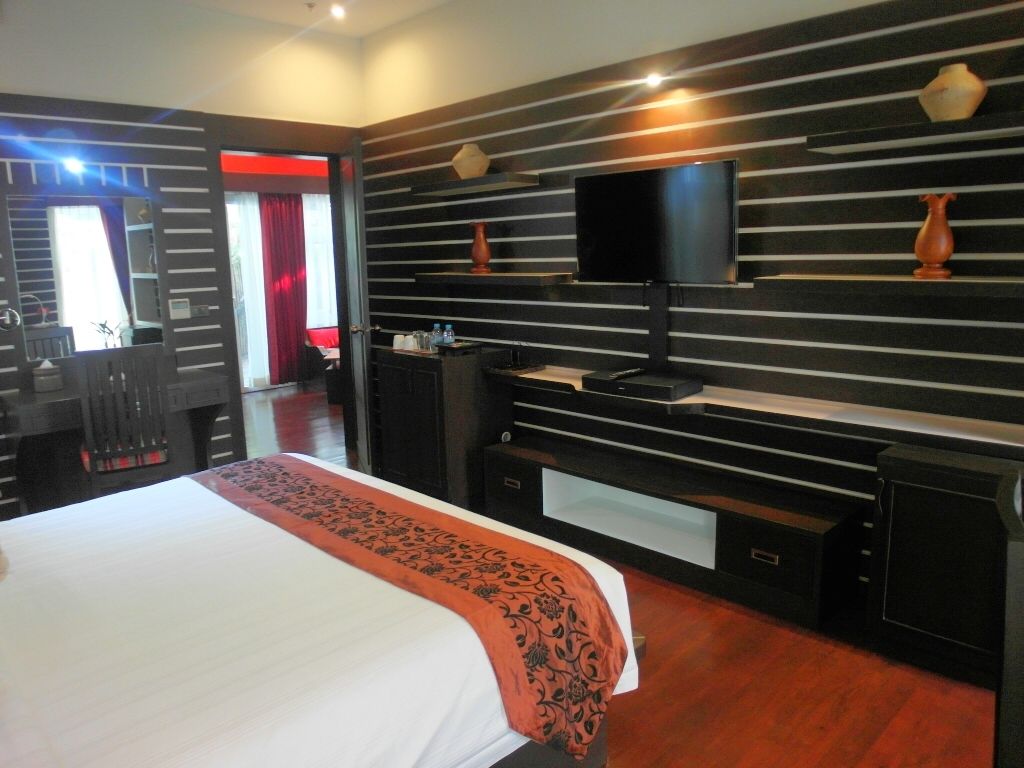 In-room TV with international cable channels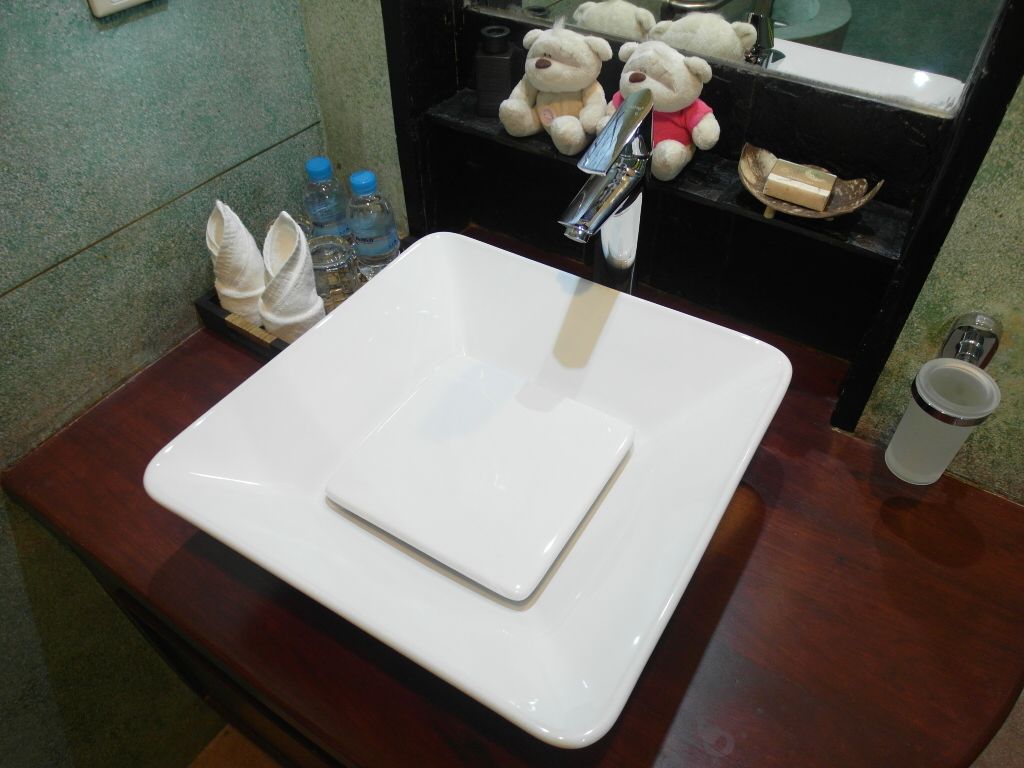 Designer sink of the walk-in bathroom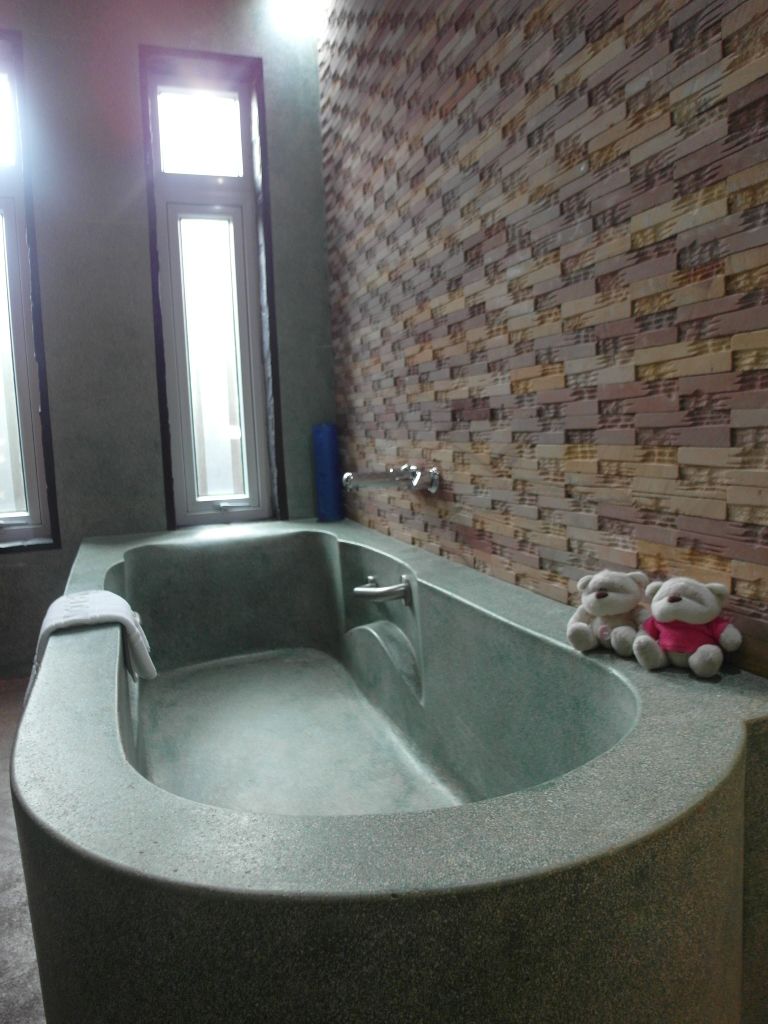 A REALLY HUGE bath tub (we'll talk more about it later)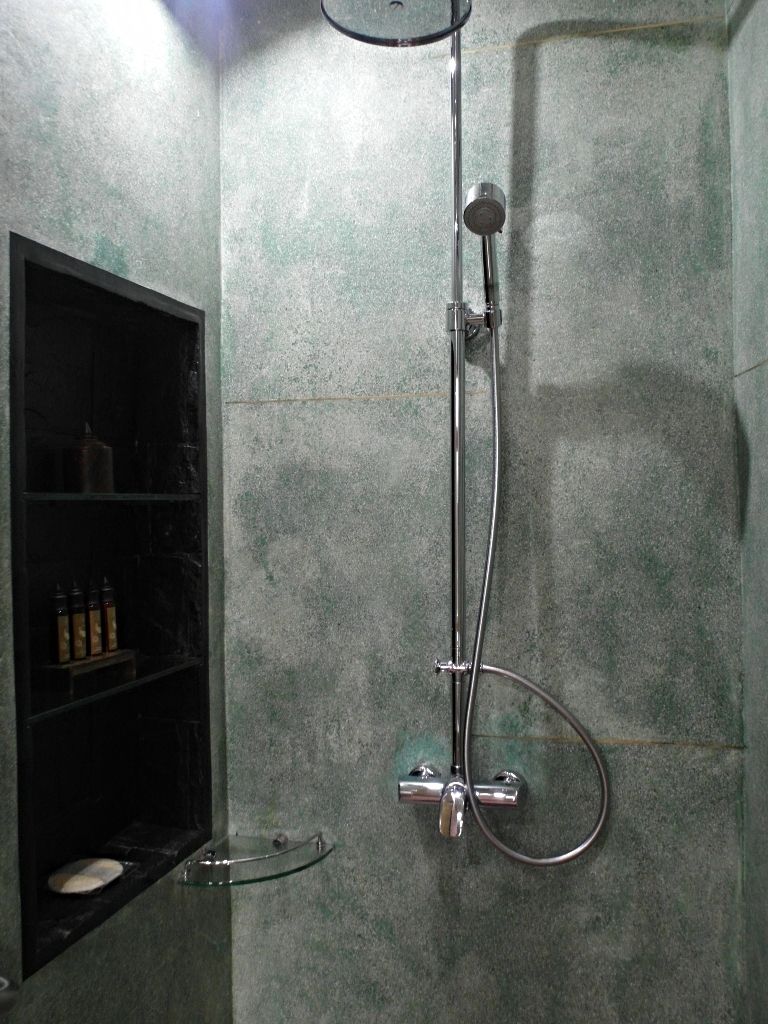 Rain shower with complete bathroom amenities (and bath salts!)
After exploring the first level of our villa at De Sarann Villa, we were pretty much captivated. The management spared no effort in the details of furnishing the rooms. Sculptures adorn the shelves of the rooms and living spaces, a fully stocked mini bar (3 types of beers, 4 types of soft drinks and plenty of water), 3 TVs and a complete set of bathroom amenities. As for the bath tub, it must have been the biggest we've ever seen (or been in) and that's after visiting the in-room jacuzzi bath tub of Heathman Lodge in Vancouver USA. We're both close to 6 foot in height and it can fit both of us in comfortably with room to waddle! :O
Here's a video tour of the Royal Family Suite at De Sarann Villa…
And you thought our tour of the villa is over? Here's the best part, the roof top swimming pool and dining deck!

Roof top private pool of De Sarann Villa Siem Reap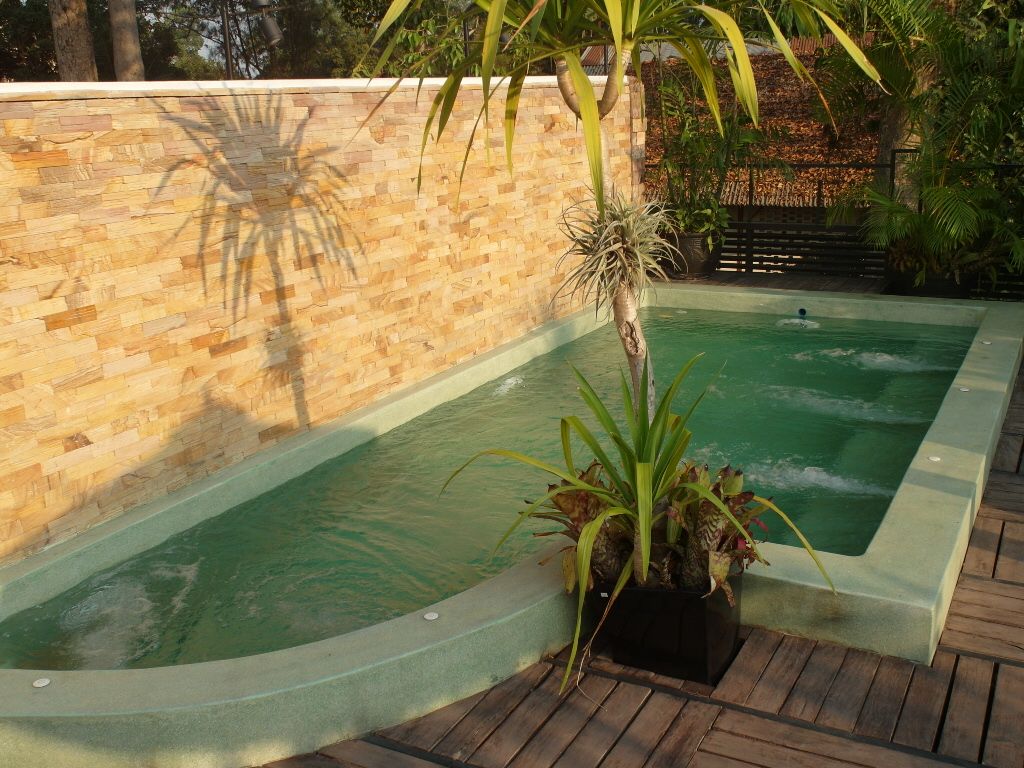 Private pool with jacuzzi – Royal Family Suite De Sarann Villa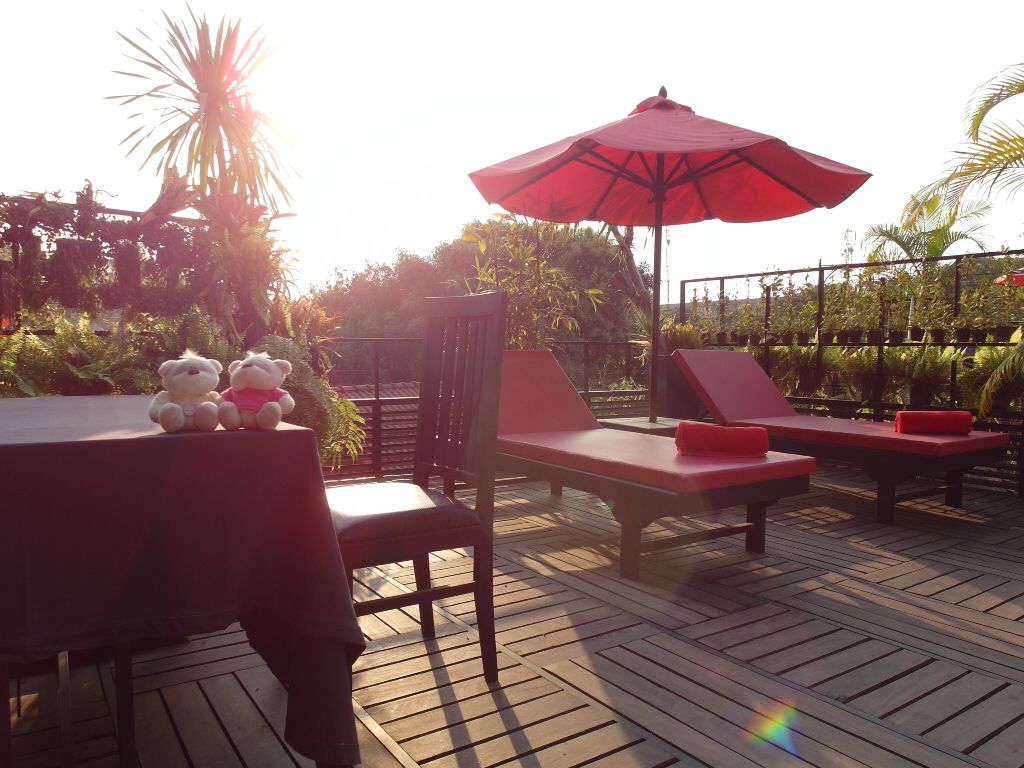 Daily sunsets as seen from the private roof top pool of De Sarann Villa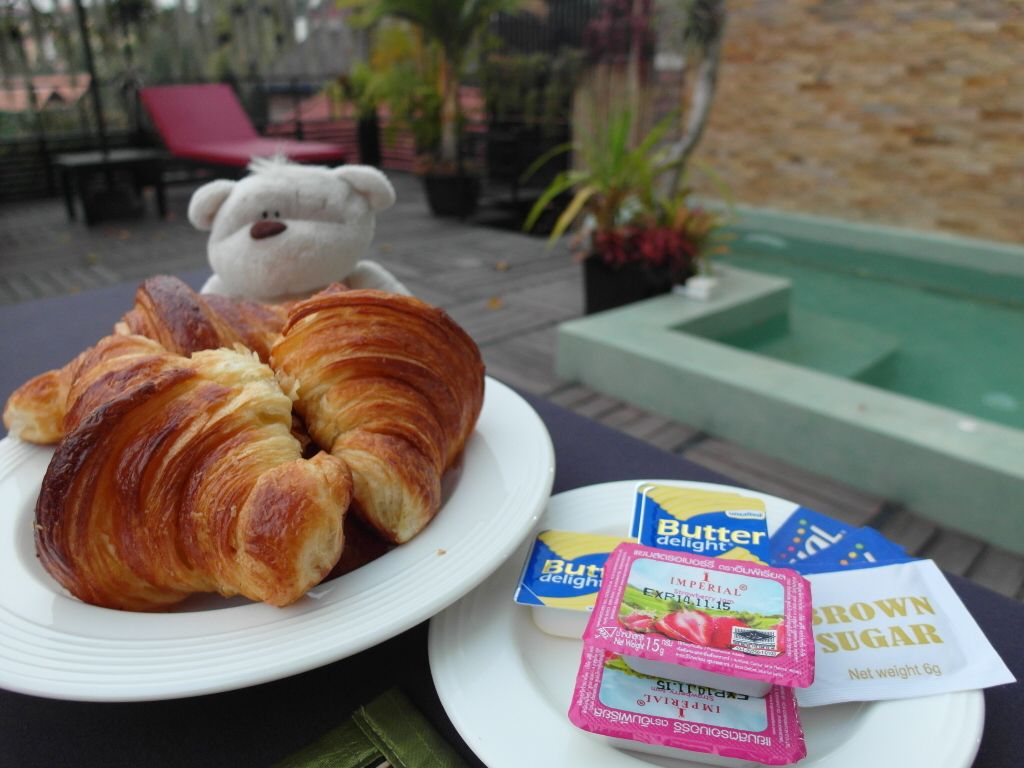 Breakfast at roof top by the pool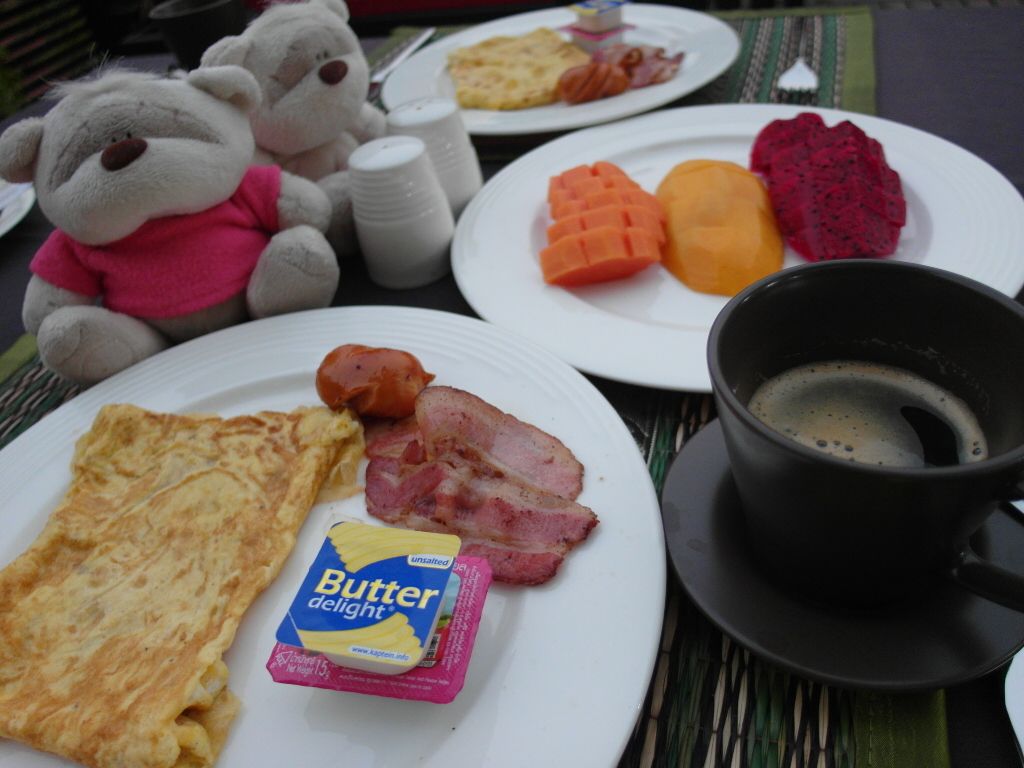 2bearbear : What a sumptuous breakfast spread!
The highlight of villas at De Sarann Villa has got to be the private pool and roof top deck. Here, you'll be able to enjoy a jacuzzi in the privacy of your own villa. There are even deck chairs for you to enjoy the sun throughout the day. As De Sarann Villa is the tallest building in the vicinity, you'll literally get a full day of sunshine and even get to watch sunset while chilling out at the private pool.
The deck chairs were also surprisingly comfortable and because of the peaceful surroundings, we soon found ourselves falling asleep unknowingly – to the tranquil tune of nature.
Breakfast can also be served at the roof top. As sun rise is pretty early (about 5:30am), we started to have breakfast at 6am and really enjoyed it as the colours of the sky dawned into the soothing morning colours. Ahh…
Services offered at De Sarann Villa Siem Reap Cambodia
Although De Sarann Villa is a relatively new establishment, it has all its bases covered…
1. Dining. De Sarann Villa collaborates with the famous Mahob Khmer Restaurant to bring you authentic Cambodian cuisine in the comfort of your own villa. On our first night, we ordered the beef tenderloin on hot stone ($6.80USD) and the hot stone itself was literally delivered to our villa!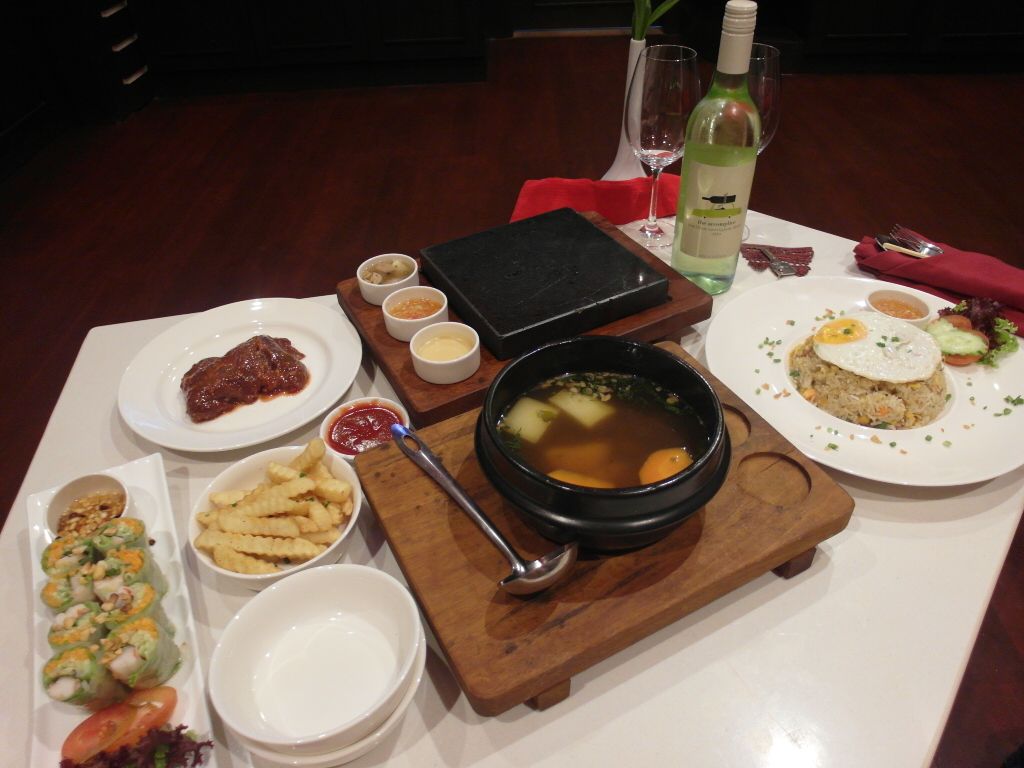 Dinner spread from Mahob Khmer Restaurant at our own villa in De Sarann Villa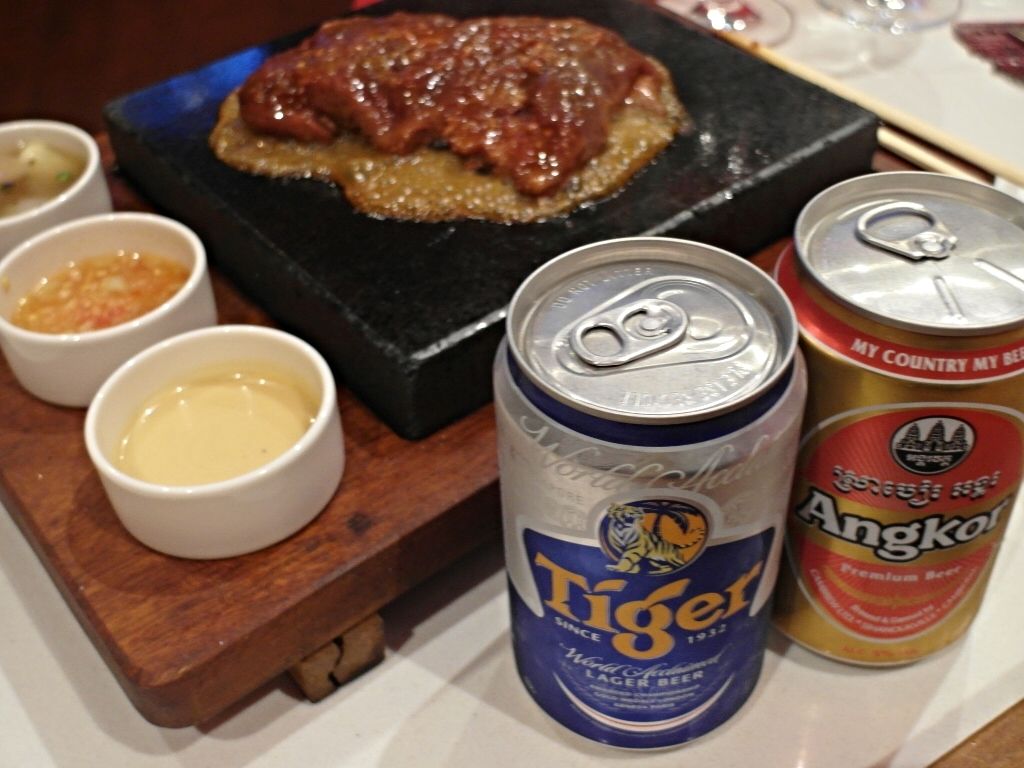 Close up of beef tenderloin as it sizzled on the hot stone (complimentary in-room beers)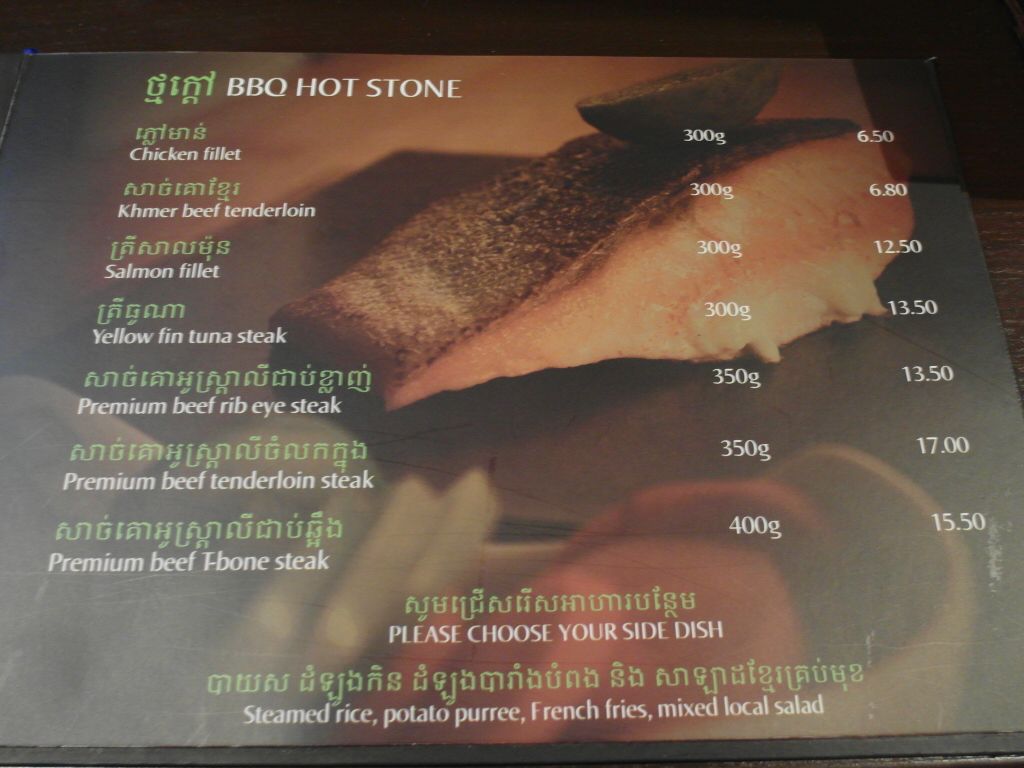 Reasonable prices from Mahob Khmer Restaurant
Tip : We've been to several restaurants about town but when it comes to taste and price, the collaboration with Mahob Khmer Restaurant really takes the icing. Prices are decent and food is excellent. You MAY (a huge MAY here) even get a 10% discount if you mention about your stay at De Sarann Villa. (Nope, you did not hear this offer from us :P)
2. In-room massage. De Sarann Villa also collaborates with Molis Ruot Spa & Massage to offer guests high standards of massage services in the comfort of your own villa. A 4 hands body massage is a steal at $30 for 60 minutes!

Massage prices of De Sarann Villa
3. Transportation and Private Tours. Transportation can be easily arranged at the hotel's reception. The drivers work closely with De Sarann Villa to offer prompt service and of course safety to the guests at the hotel. A complimentary handphone was also provided for us to contact our driver (Lin) who was on hand to pick us up every time. Strangely, whenever we were to be picked up, he would always be the first to spot us and because of that, we knew we were in good hands. A full day of tuk tuk transportation costs $18USD. This includes a day trip to the Angkor temples and also bringing us around the city for dinner before delivering us safely back to the hotel. Did we also mention that airport transfers are complimentary?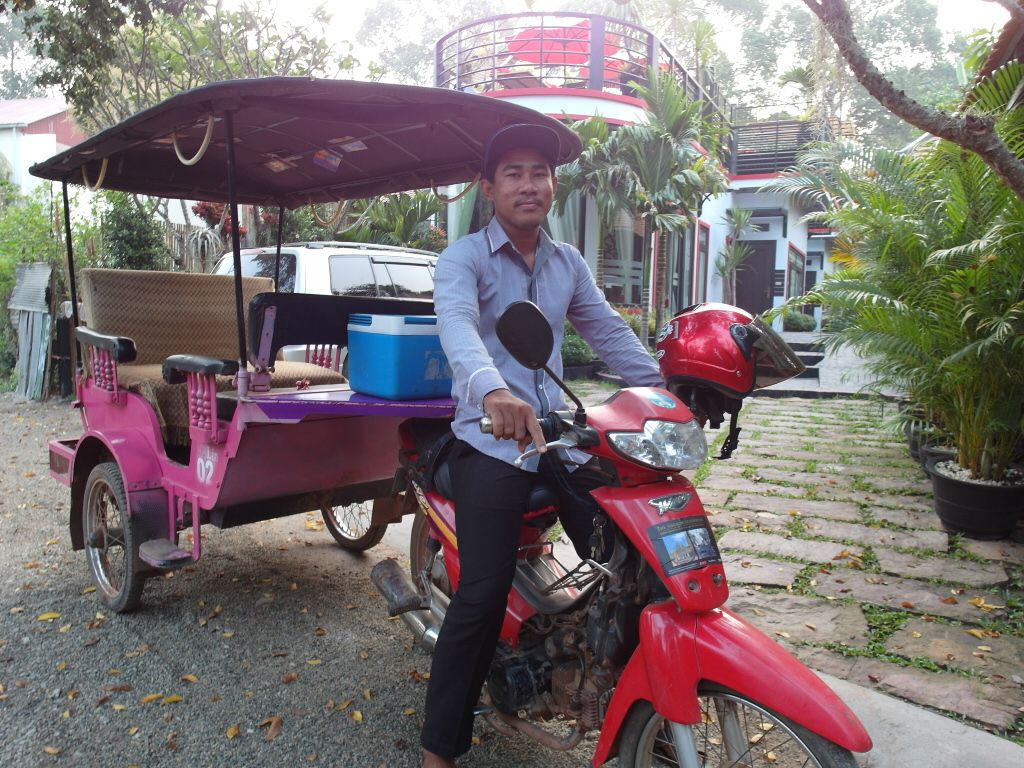 Our trusty tuk tuk driver – Lin!
Sokmeng (owner of De Sarann Villa) actually started off in the travel industry early in her career. She only started De Sarann Villa after she successfully opened her own travel company. This also means that, the hotel is able to customise private tours for you during your stay in Siem Reap. She also shared with us a secret place to catch splendid sunsets in the evenings (involving a lovely boat ride and chilled beers or wine)…No more need to contend with the noisy crowds at sunset!
Meaning, you'll only enjoy these amazing moments with your loved ones…Nope, we're not going to divulge the secret here. Check in with De Sarann Villa to find out more!
Attractions in and around De Sarann Villa
Because of its convenient location, De Sarann Villa is a mere 7km from the Angkor temples and less than a 5 minutes ride to the city. You'll be able to enjoy these attractions, a stone's throw away…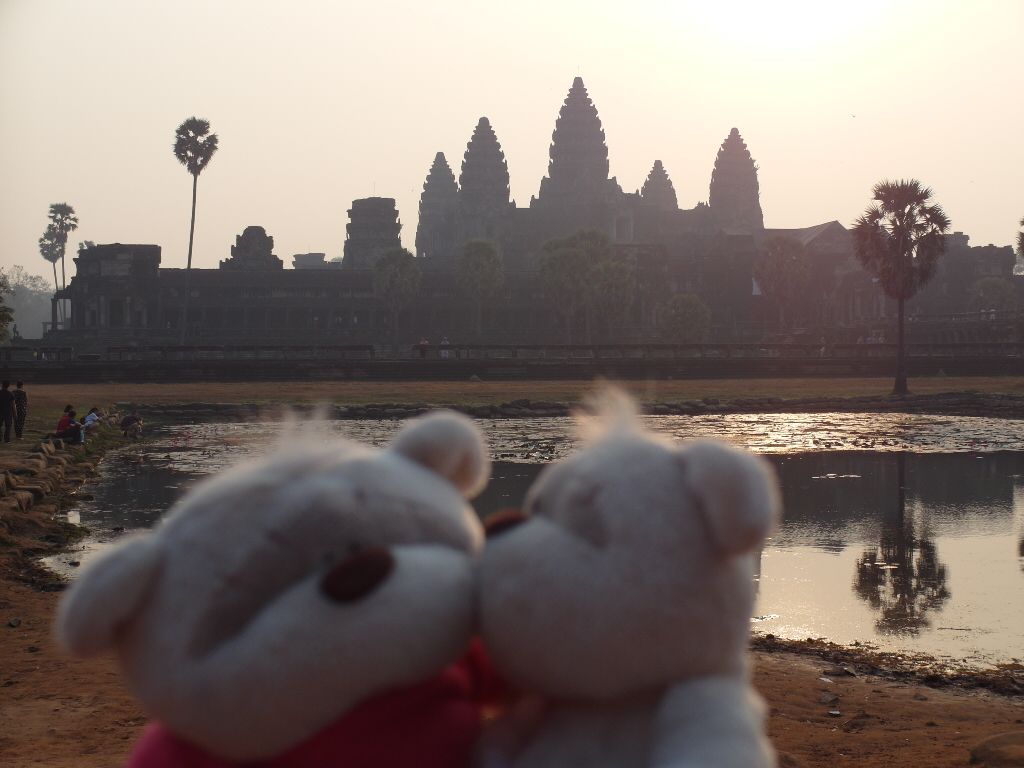 Tom stealing a kiss at Angkor Wat during sunrise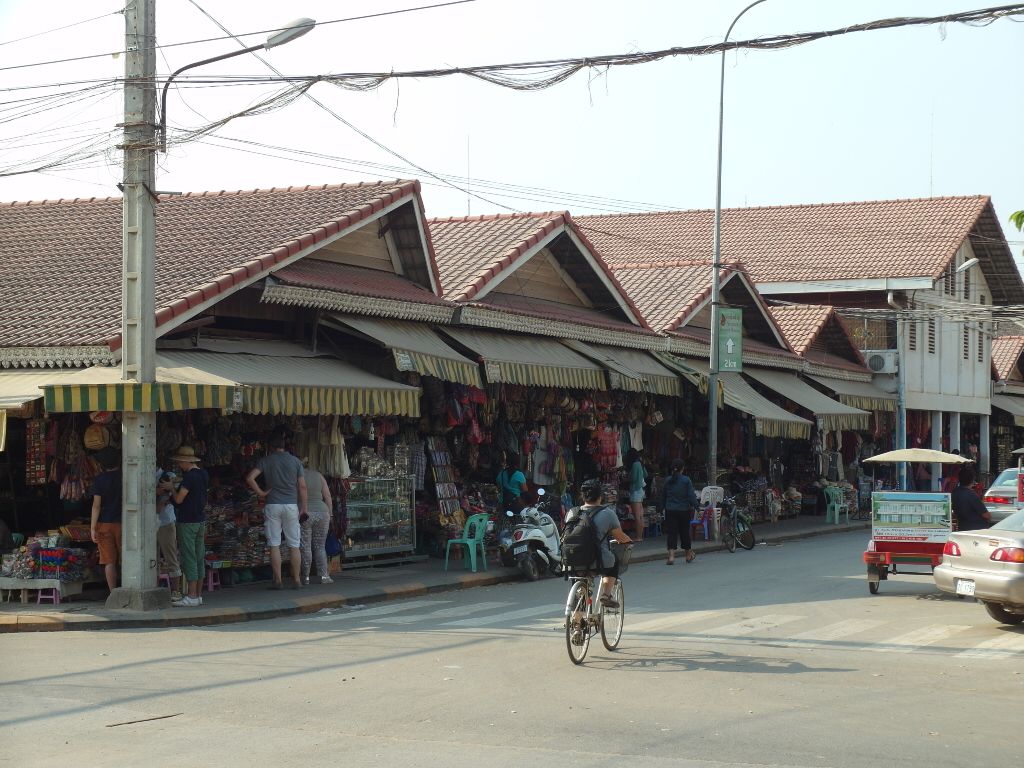 Siem Reap Old Market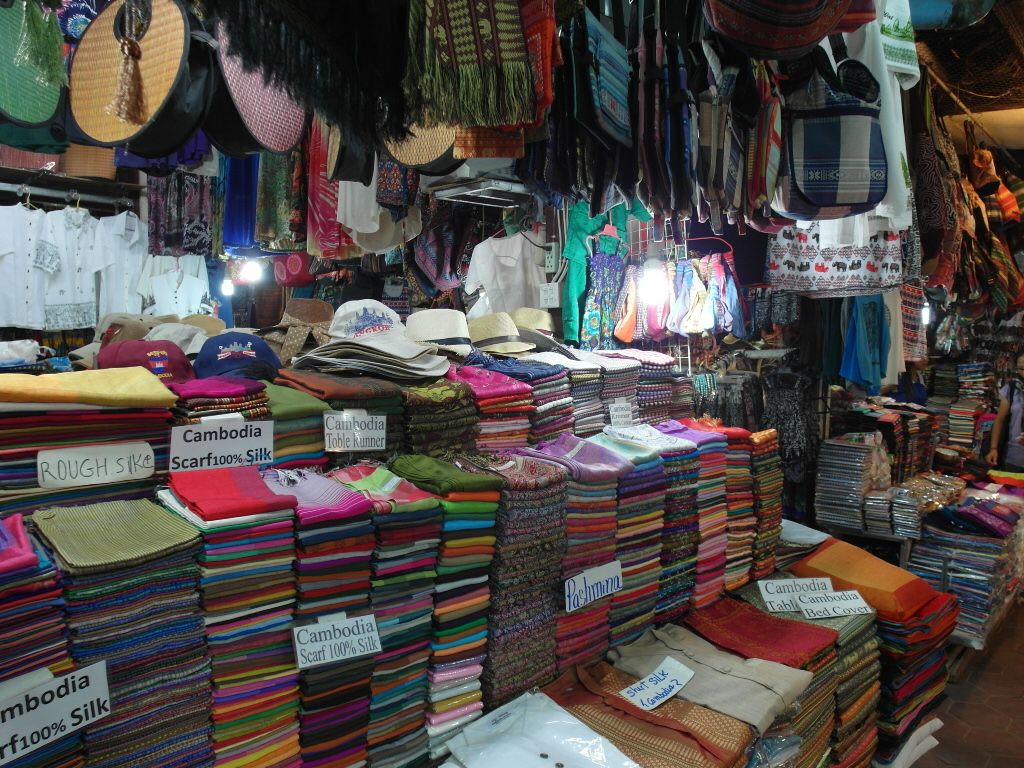 Inside Siem Reap Old Market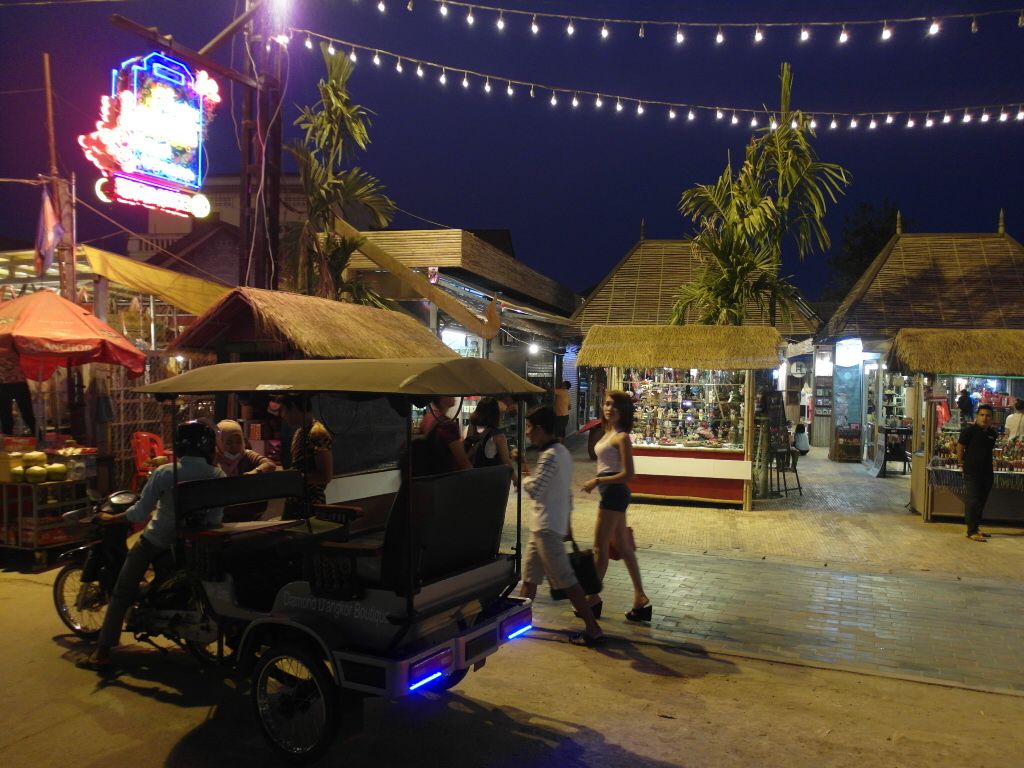 Angkor Night Market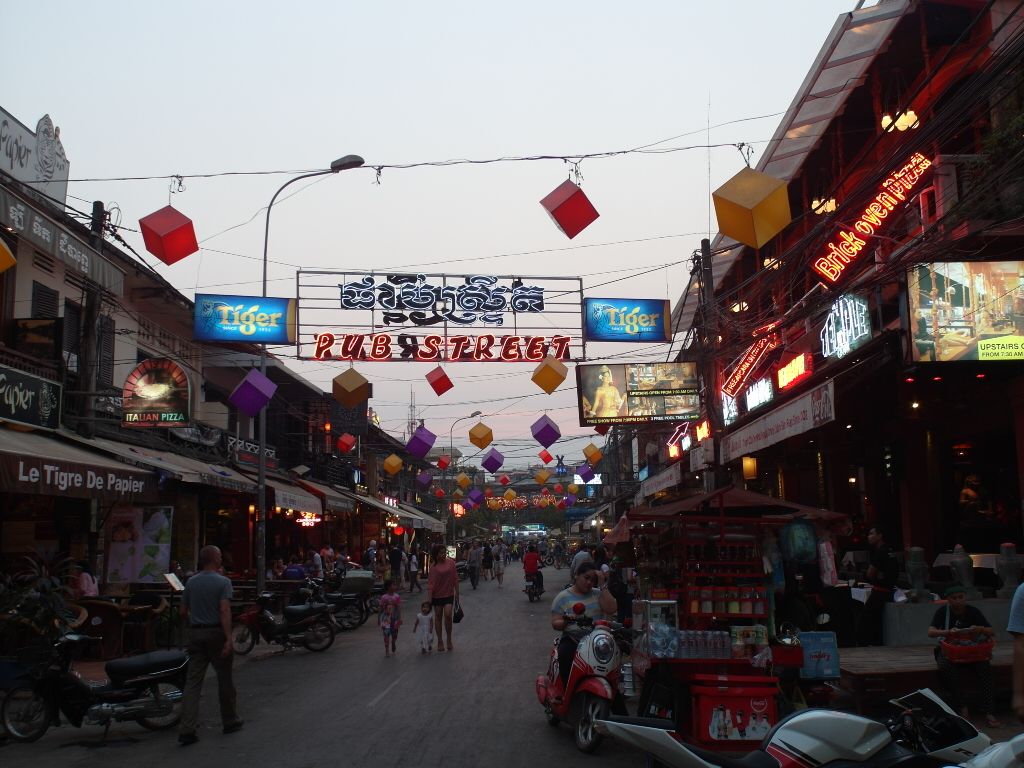 Pub Street Siem Reap
Location of De Sarann Villa
De Sarann Villa is located at #37 Trang Village, Sangkat Slorkram, Siem Reap Cambodia. You can also reach them at +855 63 900 050.
If you enjoyed our content, "Like" us on Facebook Today!

We hope you have enjoyed our coverage of De Sarann Villa in Siem Reap Cambodia. After visiting the establishment for ourselves, we're converts. It's true that De Sarann Villa brings luxury, exclusive living and tranquility to the luxury travellers of today!
Related posts: