Der Reichstag, also known as the German Parliament Building was one of the attractions we visited on our recent trip to Berlin. Today, Bundestag or the German Parliament convenes in Der Reichstag.
This REALLY SHORT POST is written to highlight not the building but the glass dome at the top of it…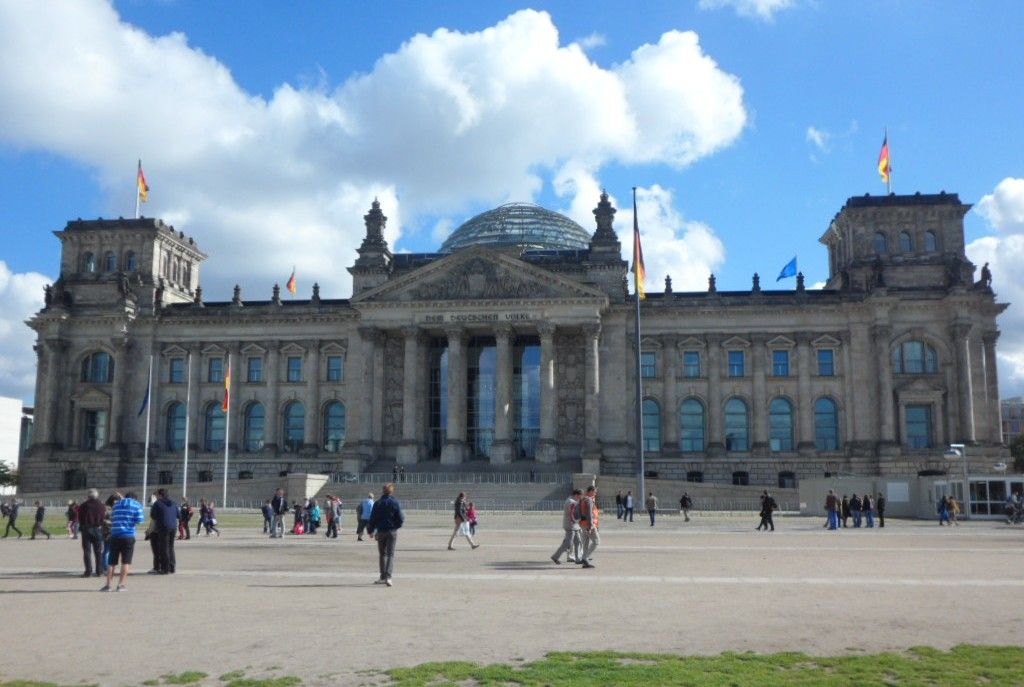 Der Reichstag – German Parliament Bundestag convenes here
The glass dome offers visitors a paranomic view of Berlin but more importantly, visitors can oversee the parliament seatings through the glass dome to the parliament below.
*Do note that Reichstag tours are now only for prior appointments.*
According to our tour guide, there's apparently a significance to the glass dome (besides raking in the tourist dollars that is). The glass dome ABOVE the parliament is a reminder to all statesmen that whatever they do, it is for the people. We were like "WOW"!
People of the nation above the parliament. Cool.
If you enjoyed our content, "Like" us on Facebook Today!

Ticket Prices & Opening Hours of Der Reichstag in Germany
Admission to the Reichstag is FREE! However, registration is required. If you have not registered, you can still try out at the visitors services centre. If they have slots remaining (usually no), they would let you have it.
Der Reichstag is open daily from 8am to 12am. Last admission is at 11pm.
How to get to Der Reichstag Building in Berlin
It is relatively easy to get to Der Reichstag. Located at Platz der Republik, 11011 Berlin, you can reach there easily via the U bahn stopping at "Bundestag". It is also a short walk away from Brandenburg Gate!
Related Posts
You have just finished a post from our Berlin Travels. Below, you can find other relevant posts covered during this trip!
Top 8 Things to do and Attractions in Berlin Germany
Berliner Hof Hotel – A great base to explore Berlin
Berlin Hauptbahnhof : Futuristic Berlin Central Station
Alexanderplatz Berlin : A relaxed evening and a sumptuous steak dinner at Block House
Hotel Amelie Berlin : No frills budget stay
Berliner Currywurst : Is it really all that its hyped up to be?
Berlin Wall East Side Gallery : Iconic Artwork Awaits
Checkpoint Charlie Berlin : At Berlin Wall between East and West Berlin
Holocaust Memorial Berlin : Memorial to the Murdered Jews in Europe
Brandenburg Gate Berlin Germany aka Brandenburger Tor : A Must Visit Attraction
Berlin Zoo aka Hauptstadt Zoologischer Garten : Back to Nature…
Berlin Wall Documentation Centre : History Before Your Very Eyes
Der Reichstag Berlin : Home of the German Parliament (Bundestag)
For your convenience, we have arranged for the best hotel deals in Berlin right here!
Enjoy your visit to one of the most visited attraction in all of Germany, Der Reichstag Berlin!
Related posts: