Although we have already seen dolphins during our trip in Perth/Bunbury, we were excited to go for this dolphin and island hopping tour as we will be able to see the dolphins swim care-freely in the sea. We paid 2,900 pesos ($85 SGD) per pax for this 9hr tour (i know….many of you would comment that it is pricey. And I have read blogs written by the locals that they only pay probably the same amount for a 3D2N itinerary but we liked the fact that there's only 2 of us in the boat, and the timing is very flexible. We can stay however long we want at each stop.) And anyways, we would like to think that we have boosted the tourism economy of Philippines 🙂
The day started early at 5.30am. The hotel staff at Amorita Resort greeted us at the beach gate with our packed breakfast for the journey which included a gourmet sandwich and a bottle of chilled water. The staff also carried our snorkeling equipment and life vests to the boat. We were then introduced to our boatman and his helper (who is his younger cousin). Not long after, we were ready to go look for our dolphins!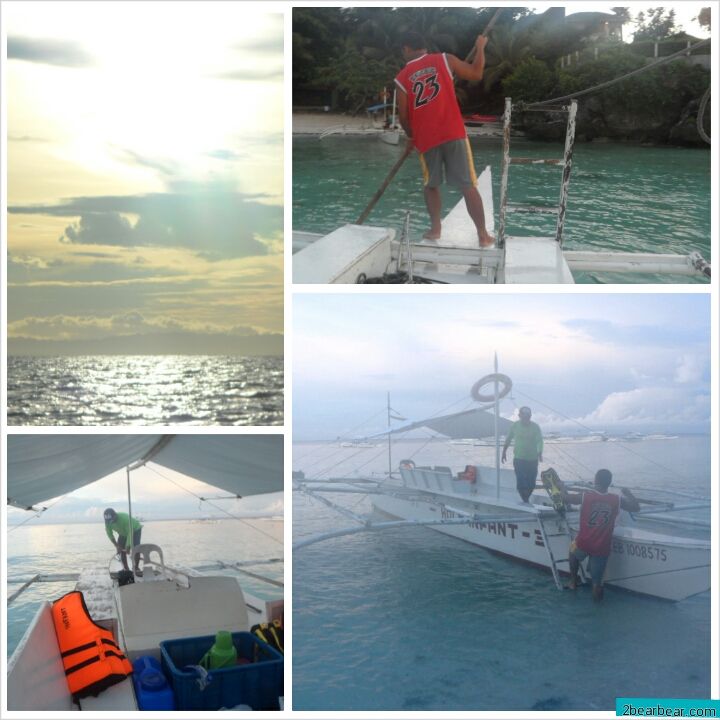 Leaving at 530 for dolphin watching!

Video taken from boat enroute to "Dolphin Hunting"!
We were one of the earliest boats to arrive at the location where the dolphins are frequently sighted. However, we were not so lucky this morning. After an hour of waiting, more boats joined us and we were all eager to see who could spot the dolphins first. Suddenly, like an action-packed movie (along with amazing race theme song), the boatman skillfully made a sharp right turn, gained speed, and told us where the dolphins were! It was initially hard to differentiate the reflection of the morning sun on the waters and the movement of the dolphins. But soon we were experts 🙂 We managed to spot more dolphins, including the spinner dolphins as we were making our way to Balicasag Island.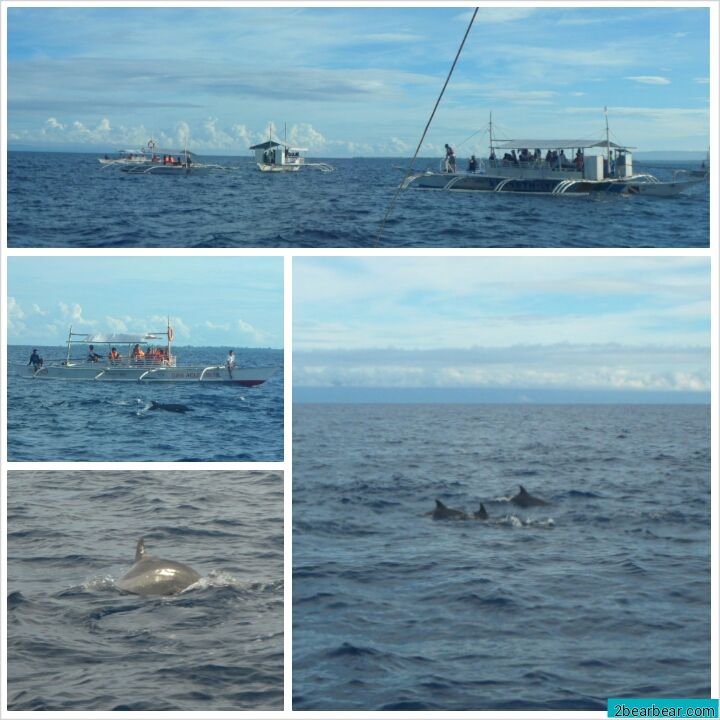 Dolphins sighted!

First glimpse of the dolphins at Bohol! Notice how our boatsman uses whistle to attract their attention

Clapping works too…
Snorkeling in the waters around Balicasag Island was next on the itinerary. The guide recommended that we rent the waterproof cover for our camera for 300 pesos ($9 – Quite ex for a cover no?). Initially we were reluctant but well, we had already come all the way here, why scrimp on this and miss the chance to take photos underwater? Our guide was very hardworking and was on a lookout for turtles for us. Twice he shouted "Turtle! Turtle!" and we could see the turtle but was not fast enough to take a photo of it.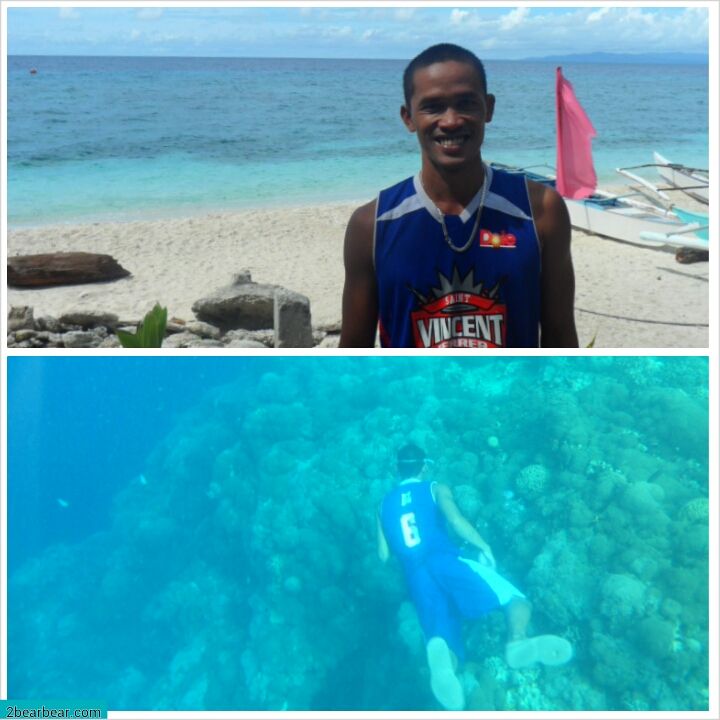 Our guide who fixed the waterproof casing for us and points out all interesting sights to us!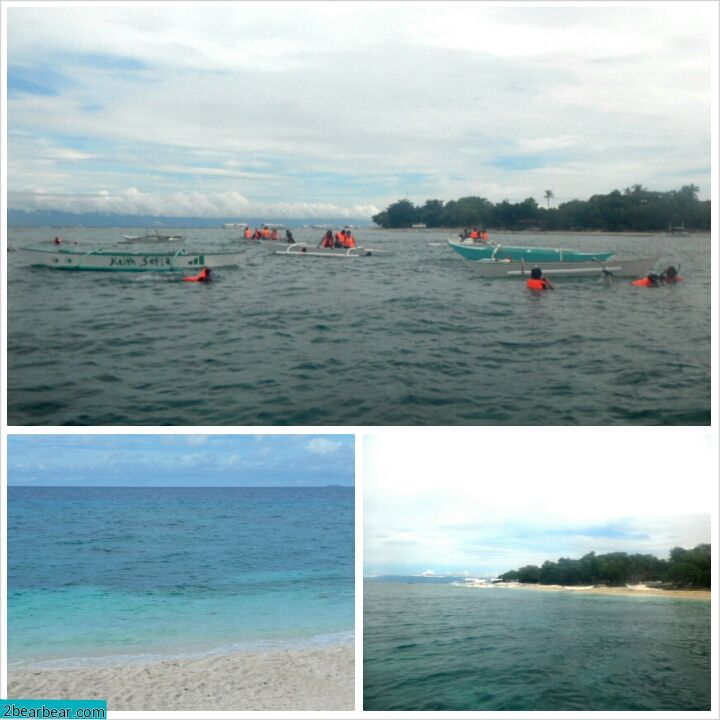 Balicasag Island where we got to snorkel and see fish and turtles!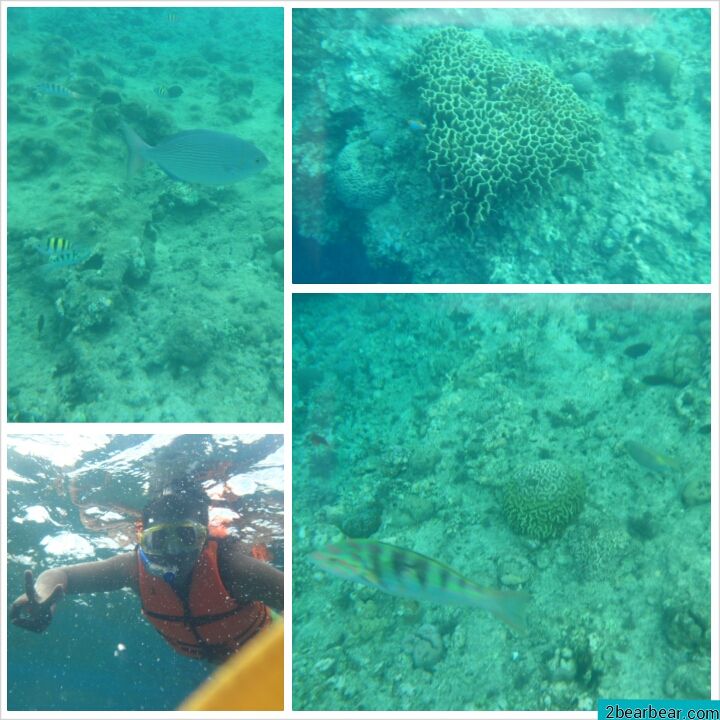 Tom with corals and fish!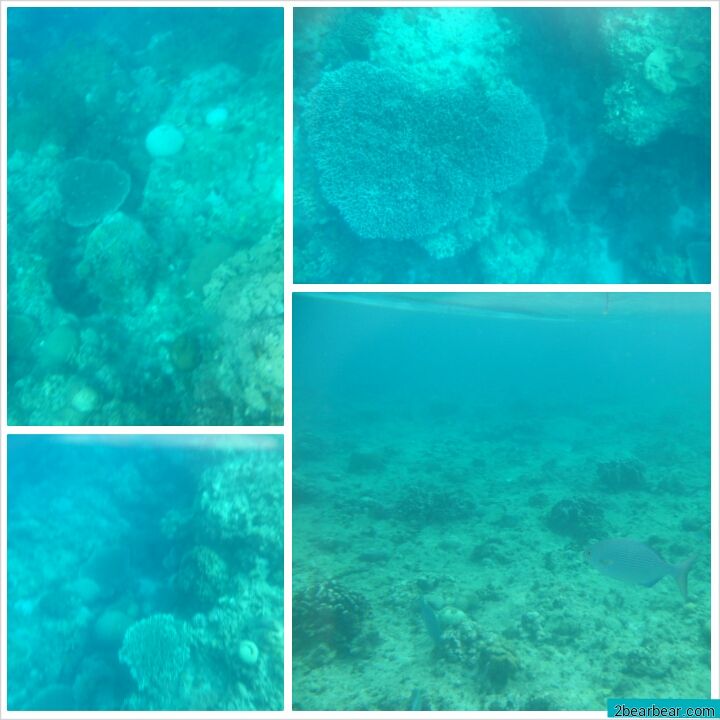 More corals and fish at Balicasag Island!
We were soon hungry and was informed that there is no food on Virgin Island (our next stop), so we settled for a cold bottle of Coke and a plate of fried bihoon (but it is actually our "dang hoon" – green bean vermicelli) at Balicasag.

Shops selling trinkets and beach wear / HUGE plate of Bihoon
Virgin Island has very fine soft white sand and clear waters. One can just sit/lie on the sandbar and not worry about a thing in the world. Once again, we were one of the first few to arrive at the sandbar. This was good because we left before the place got really crowded with tourists.

Virgin Island Sandbar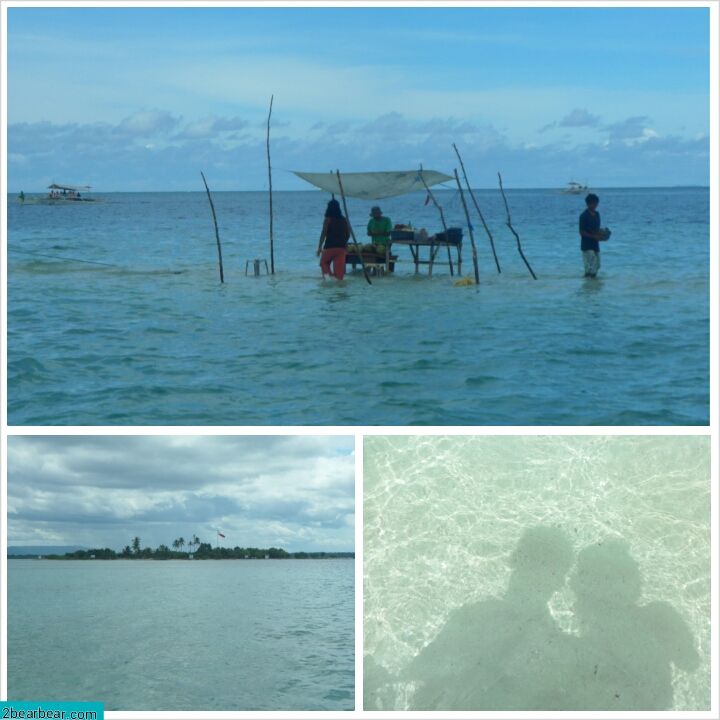 Virgin Island Sandbar with locals selling coconuts and sea urchins
If you enjoyed our content, "Like" us on Facebook Today!

For your convenience, we have arranged for the best hotel deals in Bohol right here!
The day trip was about $200SGD in total. But was it too expensive? For us, it was a tad on the high side. But the exclusivity, privacy and convenience we got was certainly quite worth it. Our guide took us wherever we wanted to go and allowed us to stay however long (or short) we would like at all the spots. This allowed us to stay longer for the dolphins and sandbar while shorter for the snorkeling (cause Kate did not like snorkeling – leaving earlier meants she "tanned" for a shorter time). If you ask us if we would do it again? We certainly would!
Related Posts
Cebu
8 Things to do and Attractions in Cebu Philippines!
How to get from Singapore to Cebu?
Oceanjet ferry from Cebu to Bohol: Fast and comfortable
CnT Lechon: The Best Lechon in Cebu?
Golden Cowrie Restaurant Cebu: For Authentic Filipino Food!
Eat, shop, eat, shop, till we drop in Cebu!
Filipino Breakfast at Alberto's Pizza Cebu!
Ayala Mall Cebu : Do What The Locals Do!
City Suites Ramos Tower: Good location with Great view!
Castle Peak Hotel, Cebu, Philippines: Good location, Low price!
Breakfast at Bo's Coffee: One of Philippines' top specialty homegrown coffee shop
Bohol
4 Top Attractions and Things to do in Bohol Philippines!
Peacock Garden Bohol : Awesome Premier Infinity Pool and Seaview Room!
Bohol Countryside Tour: Chocolate Hills, Tarsiers and More!
Amorita Resort Bohol: My little love…
Dolphin and Island Hopping Tour (Pamilacan, Balicasag, Virgin sandbar): A day of chasing dolphins and turtles
Related posts: