Englischer Garten or the English Gardens in Munich is a large public garden, larger than that of Central Park in New York! Here, you can enjoy a relaxing stroll through the gardens, have a tea at the Japanese Tea House or just chill with your buddies at the Chinese Tower (aka Chinesischer Turm).
What to do at the Englischer Garten Munich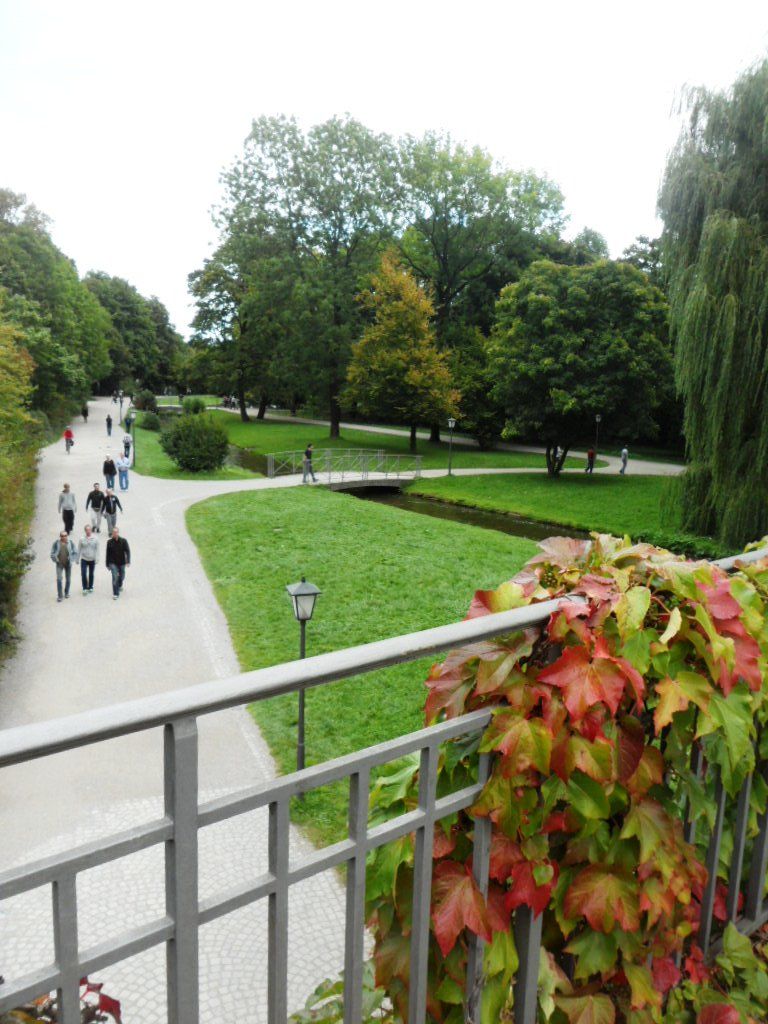 Entrance to the Englischer Garten Munich
Japanisches Teehaus or the Japanese Tea House is a place in the gardens where regular tea ceremonies take place. Not a very good shot though.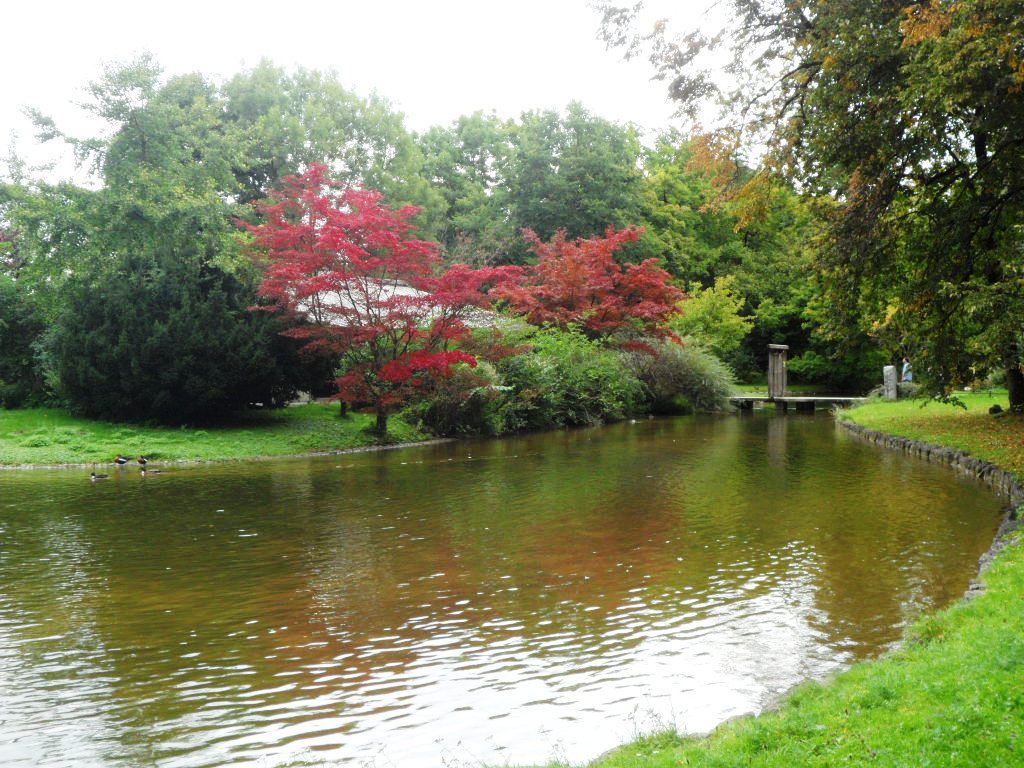 Japanisches Teehaus with red autumn leaves
One of the most amazing sights we saw at the English Gardens was this…

Surfers surfing at the Englischer Garten Munich!
These surfers are actually surfing in the river! Turns out that this is an artificial stream with waves produced by pumps. ONLY experienced and skilled surfers are allowed on this river. See how skillful these surfers are!
Kate and I stood there for quite a while and it started to drizzle…so we continued on to enjoy the rest of the gardens, heading in the general direction of the Chinesischer Turm…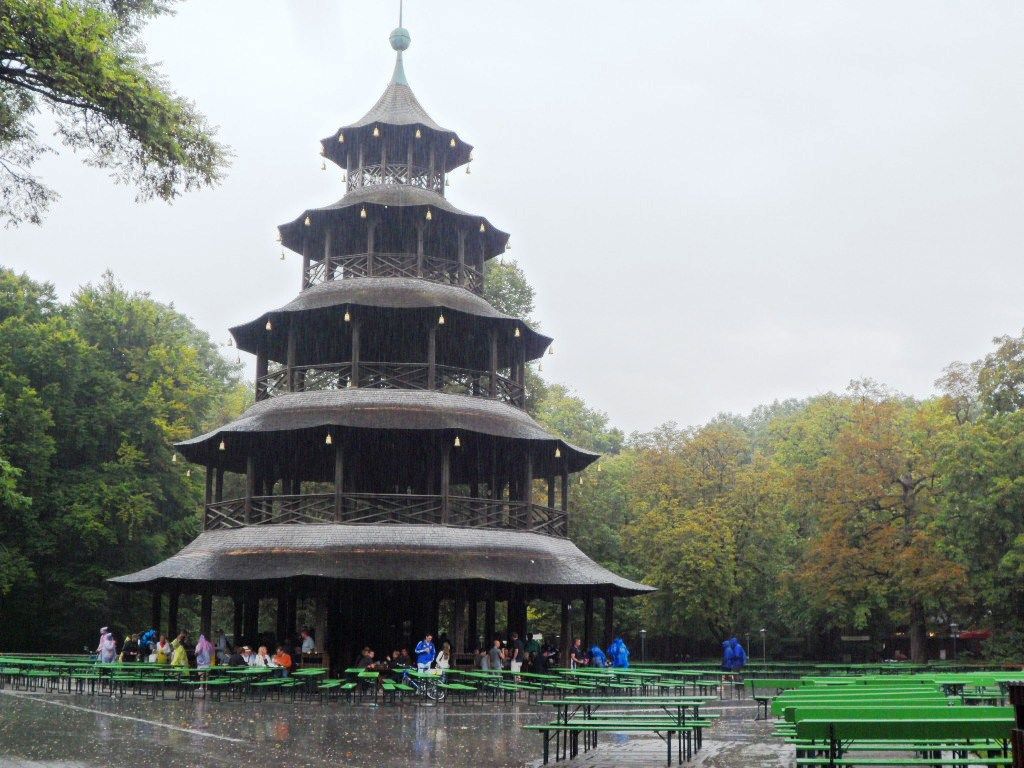 Chinesischer Turm at the Englischer Garten Munich
The Chinesischer Turm or Chinese Tower is one of the main attractions at the English Gardens. The Tower itself was meant to replicate a Chinese Pagoda and it is also home to the beer garden, which holds 7000 seats – the 2nd largest in the whole of Munich!
Unfortunately, the rain started to pour and Kate and I did not have the opportunity to enjoy the atmosphere here. If you had enjoy a couple of drinks here, share your experience with us in the comments section below!
How to get to Englischer Garten Munich


Map to the Englischer Garten Munich
As the garden is really huge, the Universitat, Giselastrasse & Münchner Freiheit U-bahn stations are close to the gardens. For the Chinese Tower, alight at Giselastrasse for a closer access!
Related Posts
You have just finished a post in this series of our travels in Munich. Find out more about Munich in these related posts!
Top 7 Things to do and Attractions in Munich Germany
Englischer Garten Munich : A surfer's paradise?
Viktualienmarkt Munich : A Market in Munich City Centre
Marienplatz Munich : Old Town Square of Munich
Glockenspiel Munich : Top 10 Clock Towers in the World
Hofbrauhaus Brewery Munich : Fresh Beers and the Best Pork Knuckle Ever!
Oktoberfest Germany Munich : The Biggest Beer Festival in the World!
Oktoberfest Munich, Germany: Things to do and Attractions (Besides Beer that is…)
If you enjoyed our content, "Like" us on Facebook Today!

For your convenience, we have arranged for the best hotel deals in Munich right here!
We hope your visit to the Englischer Garten and the Chinesischer Turm would be a wonderful, sunny and enjoyable one!
Related posts: