The Erasmus Bridge (aka Erasmusbrug) is the most iconic bridge in Rotterdam. In fact, we think that many bridges have been modelled after it. For Singaporeans, you may notice that the Keppel Bay Bridge is somewhat similar…
VS
So this day, after visiting the world famous Euromast (we shall talk about it in our subsequent posts), we took a walk from the Euromast to the Erasmus Bridge. It took us approximately half hour to reach there. If you take the scenic route along the River Maas, the walk was pretty much enjoyable.
En route, we saw the Rotterdam…

The Rotterdam
as well as the New York Hotel and Montevideo Residence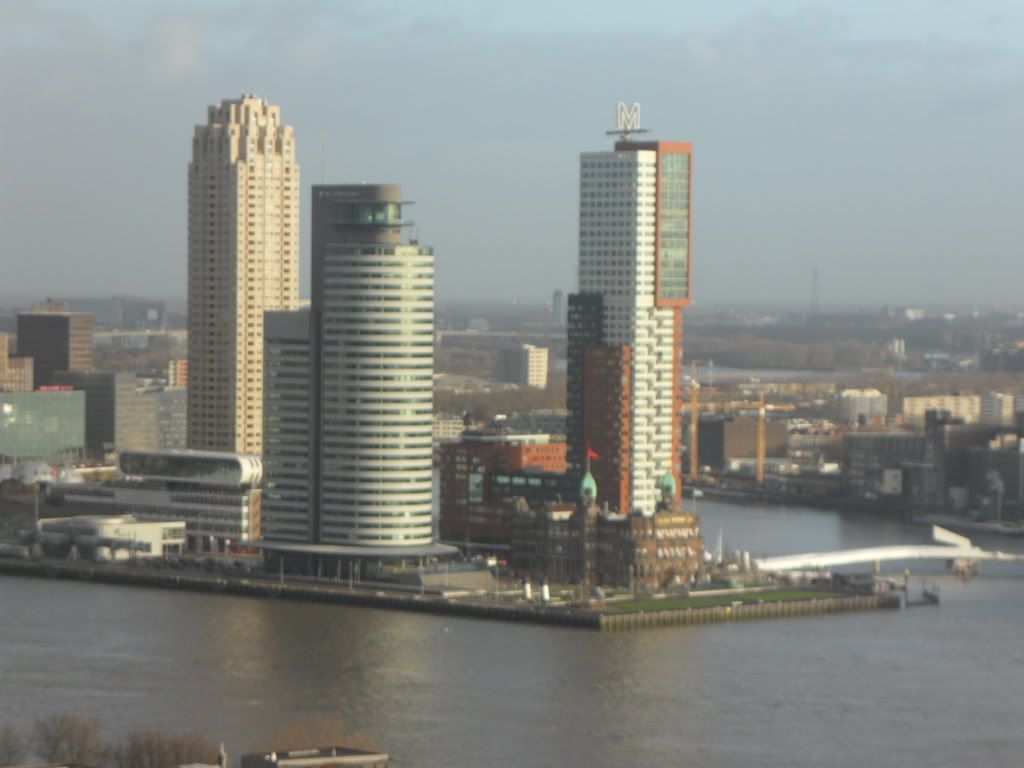 Hotel New York, Montevideo Residence Rotterdam
The Rotterdam was a cruise ship in yester-years and today, she is permanently moored at this location as a hotel as well as a museum. Hotel New York (vintage building with the red flag) was a place steep in the history of Rotterdam while the Montevideo Residence (the one with the big "M" on it) towers beside it.
Along the way, we passed by this place (called Veerhaven Rotterdam according to Google Map) where ships (that looked like vintage ones from the olden days) were docked. At this location, there was a nice board walk and from there we could have a good view of the Erasmus Bridge as well as structures and ships along the River Maas.

Approaching the Veerhaven Rotterdam

Ships at Veerhaven Rotterdam

Close up view of the Erasmus Bridge from Veerhaven Rotterdam

Video showing the Erasmus Bridge from Veerhaven Rotterdam
Finally, after "trekking" for more than half an hour, we arrived at the Erasmus Bridge. We passed through it en route to De Kuip aka Stadion Feyenoord. Here's a view of the bridge while pass through…

Crossing the Erasmus Bridge

Beneath the Iconic Erasmus Bridge
Remember that a few posts ago, we touched on the Willemsbrug? We managed to catch an excellent shot of the Erasmus Bridge with the sunset as well!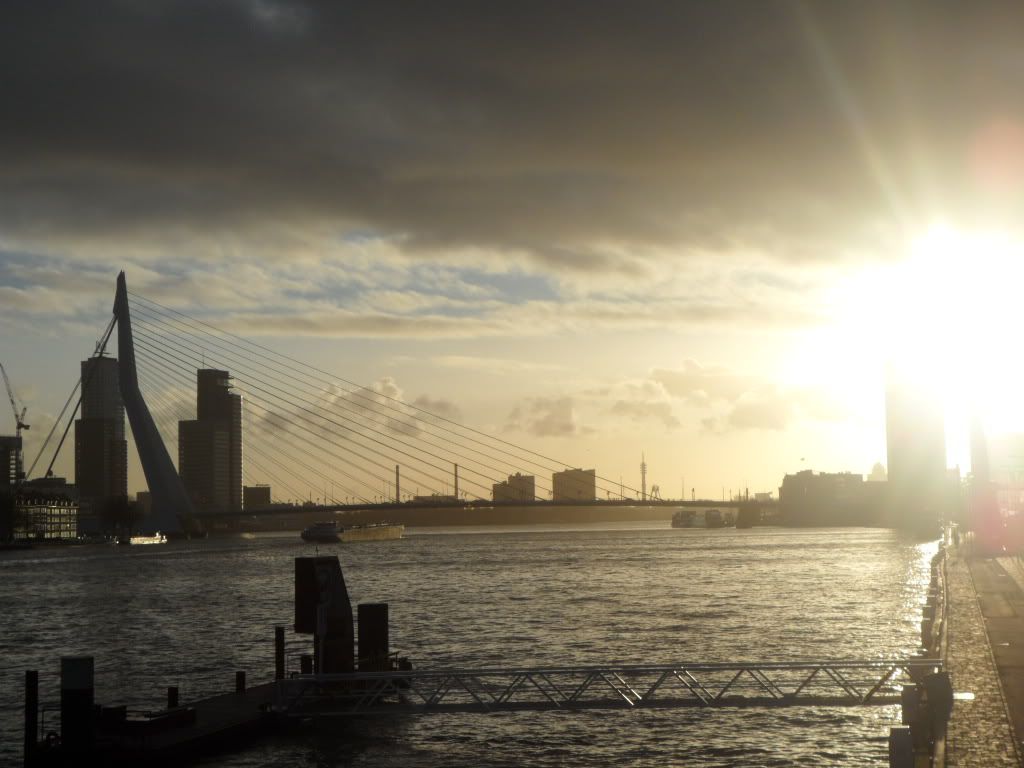 Erasmus Bridge at Sunset
The Euromast gave us an excellent shot of the Erasmus Bridge too!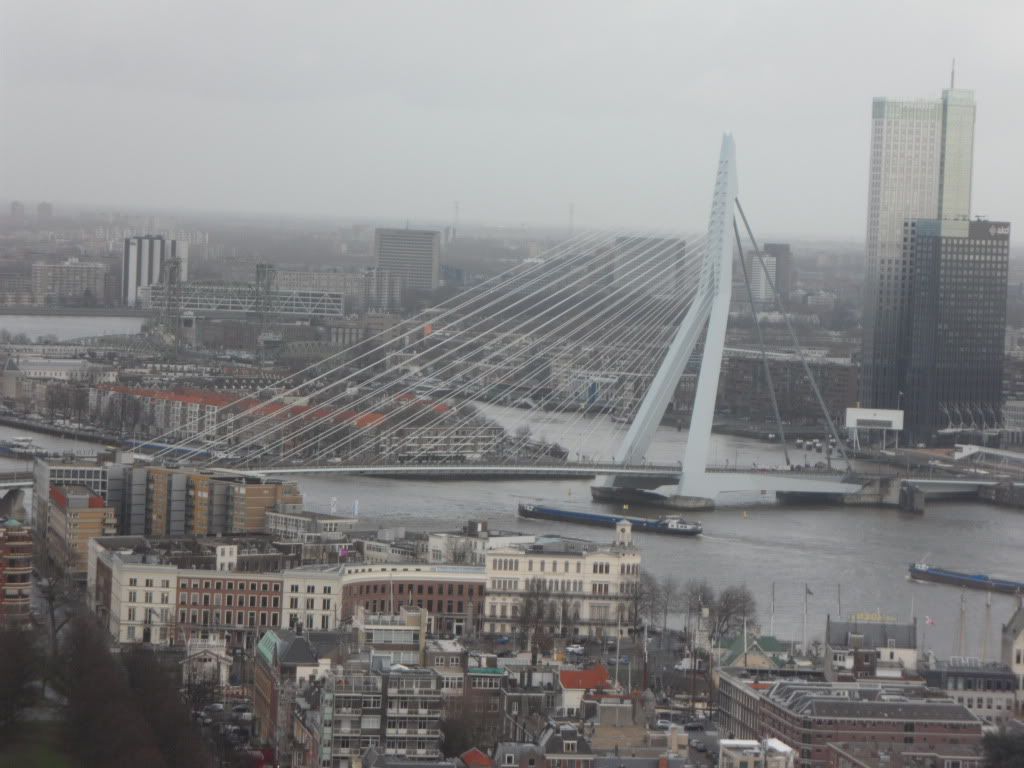 Erasmus Bridge as seen from the Euromast
Like the Willemsbrug, Erasmus Bridge serves to connect the northern and southern parts of Rotterdam. It was actually designed by Ben van Berkel and was completed in 1996. Looking at its design, it is no wonder that the bridge also earned a nickname – The Swan.
So don't forget to check out this iconic bridge on your next visit to Rotterdam. You'll never know when you might see a familiar bridge fashioned after it when you go back to your home country!
For your convenience, we have arranged for the best hotel deals in Rotterdam right here!
If you enjoyed our content, "Like" us on Facebook Today!

Related posts: