This year's Sentosa Halloween party is held at Fort Siloso entitled "Sentosa Spooktacular"!
It will be held on 19,20,26,27 and 28 Oct 2012 @ Fort Siloso and
Prices for Sentosa Spooktacular are as follows
Ticket Prices for Sentosa Spooktacular 2012
Early Bird Special $36
Standard Rate $48
Student Rate $28
Fast Pass $25 (in addition to tickets)
Sentosa Islanders get 15% off standard tickets while SAFRA (and some unions/associations – do check when you purchase your tickets) get 10% off. There is also a Kia Gui Pass (which literally translates to "scared of ghosts" pass) that allows admission into Fort Siloso only and not the haunted trails. Kia Gui Pass costs $10 bucks.
Introduction to Sentosa Spooktacular @ Fort Siloso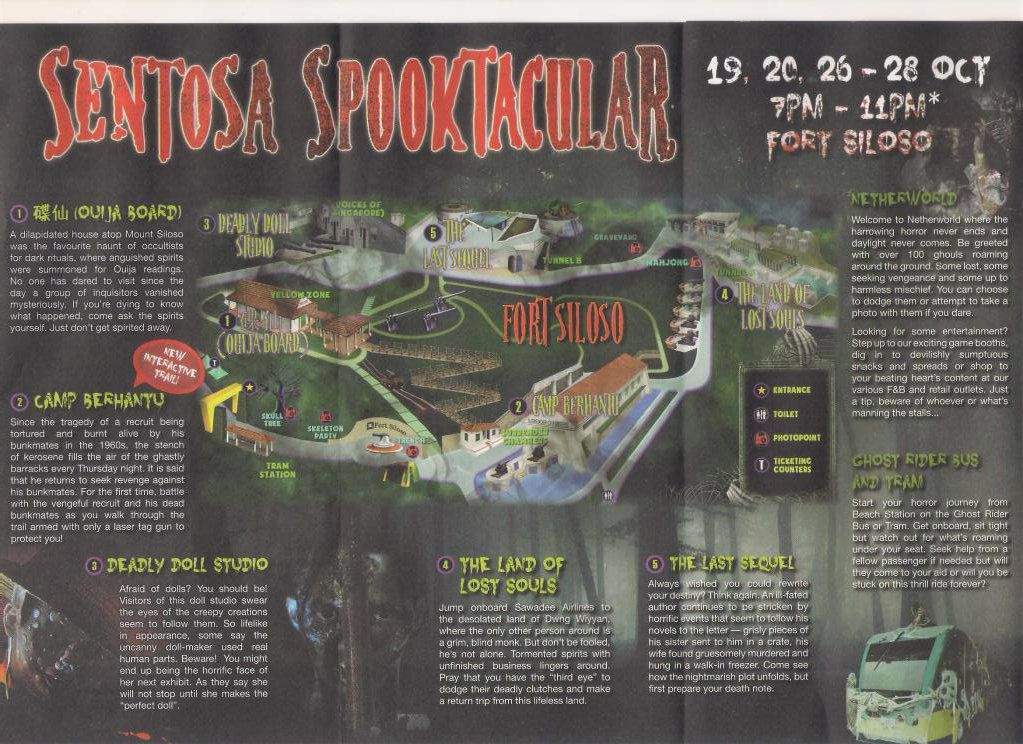 Map of Sentosa Spooktacular 2012 at Fort Siloso
There are 5 haunted trails at this year's Spooktacular as compared to only 2 at Halloween Horror Nights last year. To rev up the scare factor, instead of holding the annual Halloween event at Universal Studios Singapore, this year Fort Siloso will host the event. As many Singaporeans know, Fort Siloso was where guns were mounted for defence of Singapore during World War 2 so there's actually a history of "possible lingering ghosts" there.
The backdrop of Fort Siloso adds to the spook factor and this year, the 5 trails have different themes and they are
1. 碟仙 aka Ouija Board.
Ouija Board was used to summon spirits to enquire about matters. One day, a group of inquisitors vanished mysteriously. Ask the spirits here to find out what happened that fateful day…
2. Camp Berhantu
The story is about a recruit who was tortured and burnt alive by his bunkmates in the 1960s. This trails is actually a laser gun game where you'll protect yourself from the oncoming recruit and his bunkmates with the help of your laser tag gun!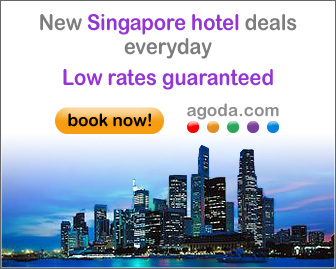 3. Deadly Doll Studio
You know the kind where people are mummified as dolls with creepy eyes peering at you? Try not to become one here…
4. The Land of Lost Souls
You are onboard Sawadee Airlines and there's only 1 other person onboard. Or so it seems… with the "third eye" you'll be able to dodge from oncoming attacks of tormented spirits and hopefully return home safely.
5. The Last Sequel
The novel of a horror-genre writer comes to life. See how this nightmarish plot unfolds as you wander through this haunted trail…
Conclusion
We think that Spooktacular this year may not be as entertaining as Halloween Horror Nights at Universal Studios Singapore last year. There were many rides (including Battlestar Galactica) that were available in addition to the haunted trails and scareactors.
The 2 things that differentiates itself is that the location of Fort Siloso, does add to the "creepy" factor. The laser gun zone may also turn out to be a winner.
We do think that it's wise of Sentosa to rotate the venues so that each attraction in Sentosa will have some degree of exposure as well – instead of just promoting Universal Studios Singapore. Wonder where next year's venue will be? Along Siloso Beach?
After much consideration, we'll be sitting out this year. For those who are going, tell us about this year's Sentosa Spooktacular in our comments below!
For your convenience, we have arranged for the best hotel deals in and around Sentosa right here!
If you enjoyed our content, "Like" us on Facebook Today!

Remember to leave your comments for 2bearbear Singapore Travel Blog in our comments section below!
Related posts: