Having enjoyed an awesome staycation at Grand Mercure Roxy back in 2013, we're ecstatic to be back to check out the Studio Suite at the Grand Mercure Roxy Singapore!
Grand Mercure Roxy Hotel Studio Suite Singapore Staycation!
The lobby of the Grand Mercure Roxy can be a really busy place. With clienteles from tour groups, "free & easy" tourists and even Singapore Staycationers, we were informed that GMR can run to full occupancy during the peak season. Nonetheless, with the help of Jocelyn (our friendly receptionist at Grand Mercure Roxy Singapore), we were promptly whisked away to start yet another relaxing staycation at Grand Mercure Roxy's Studio Suite!
As we entered the suite, we were pleasantly surprised by the spacious and inviting concept of the room. We took a look at the fire exit plan (important to know that you have your bases covered ;)) and discovered that it was the biggest room on the level. At 52sqm, guests will find ample space to chill and enjoy the luxuries of this Studio Suite…

Video Tour of Grand Mercure Roxy's Studio Suite
The Studio Suite at Grand Mercure Roxy includes a small living area that overlooks the pool. It was also there where we were pleasantly surprised by the welcome snacks upon return from our swim in the afternoon. The chinese tea pot does bring about the Peranakan feel doesn't it?
The bathroom comes with a en suite rain shower facility and of course a bath tub! Always a must for staycationers in Singapore these days! But what we enjoyed about the Studio Suite is not only its size but also enjoying the services at the Executive Lounge at level 17 which comes with each booking of the Studio Suite! But before we headed to the Executive Lounge, we checked out some facilities that Grand Mercure Roxy Hotel Singapore has to offer…
Facilities at Grand Mercure Roxy Singapore
Facilities at Grand Mercure Roxy includes a 24 hours fitness centre (Weekend Warriors Go!), the Executive Lounge (which we will expound on later), a Launderette (at $7 per wash / $7 per dry) and the well-designed swimming pool!
Why do we say that the swimming pool is well-designed? To our amazement, even when the weather was cloudy (plus the fact that water features usually cools a pool), we realised that the water was still warm! That led us to believe that the temperature of the water must be regulated by some mechanism. After intensive and extensive conversations (10 minutes with Genevieve, Sheng and Farhan), we realised that there was no temperature regulator! So we had no choice but to enjoy the pool once again just before we checked out – in the name of finding out the truth! This time, we found out why. The stone material used to line the perimeters of the pool actually absorbs heat. In addition, the pool is oriented such that it receives ample sunlight over the pool.
What all this means for us guests? Warm waters in the swimming pool. Say goodbye to cold and chilly pools!
After a relaxing swim, we headed to the Executive Lounge for all day refreshments and cocktail hours…
Grand Mercure Roxy Singapore Executive Lounge at Level 17
Executive Lounges are fast becoming one of the essential must-haves of staycationers in Singapore. The Executive Lounge at Grand Mercure Roxy offers complimentary breakfast, all day refreshments (keyword "ALL DAY") and complimentary evening drinks with hors d'oeuvres (term with french origin that means "outside the works" or in this case small savoury dishes "other than" the main course aka finger food). But there's something at the Executive Lounge of GMR that's hard to beat – sea view over the East of Singapore Strait!
The full panel glass windows gives extensive views over the Marine Parade area as well as sea views over the Singapore Strait. From here, we were able to keenly observe HDB developments and have an idea of how town planning was like in the mid 70s. We also caught a beautiful rainbow during evening cocktails. Always great to be reminded about God's promise to Noah 🙂
Cocktails at the Executive Lounge of Grand Mercure Roxy starts from 6pm and ends at 8pm daily. Unlike some lounge concepts, your drinks (every drink) will be served to you. So you'll just have to grab some light snacks and wait for the drinks to be served. Service is also prompt in that whenever our drinks were finished, we were asked if we would like another glass. Which we usually did 😛
Dining Options at Grand Mercure Roxy Singapore
Guests at Grand Mercure Roxy will be in for a treat with ample dining options within its premise. You will be able to enjoy gourmet coffee with cakes at the Wave Cafe or savour delectable Cantonese cuisine such as dim sum, double boiled soup or even the specialty Peking Duck at Jia Wei (家味)Chinese Restaurant.
Thanks to the great folks at Grand Mercure Roxy, we were hosted to a dinner at the Breez Bistro.Bar…
There are 2 really cool things about dining at the Breez Bistro.Bar. Firstly, it has a Halal certified kitchen – talk about Halal fine dining! Secondly, lunch and dinner set meals start from only $28. This time we were happy to have tried the executive set dinner…
For starters, we were served the Pita Bread with olive oil and cajun spices. Surprisingly, the Pita Bread was delish with a slight crisp on the outside while remaining moist and fluffy inside. On the other hand, the sun-dried tomatoes also added a nice twist to the normally mundane Caesar Salad. Most definitely a great start to the meal!
Thanks to Farhan, we were given an opportunity to try the rumless Mojito. A cool, refreshing drink that nicely complemented the dinner. The mushroom soup on the other hand was full and rich in flavours. Only makes one wonder how great the main course would be…
The char-grilled rib eye was flavourful with the right combination of fat to meat ratio. The juiciness of the steak also demonstrated the skill of the chef in locking the flavours and juices within. No sauces required. Just plain old tasty goodness.
The big surprise was really the salmon. Can you see the really THICK and HUGE portion of salmon? Not only that, it was prepared to perfection! The salmon was fresh and sweet on every bite. It was also tender with the meat easily falling off, not flaky like most ill-prepared salmon. One word – Yummilicious!
We didn't think much when the desserts came. However, when we sank our teeth into the Orange Bitter, it was a moment of bliss! Rich chocolatey flavours with hints of orange. Nuts within also added a different texture on every bite. An awesome creation! The freshly brewed coffee rounded up the evening nicely…ah…
Breakfast at Feast@East Grand Mercure Roxy Singapore Hotel
The Peranakan feel extends to Feast@East where we had our breakfast. The tingkat (steel stackable containers), nonya baskets and old ice-shaving machine added to the ambience as you dine at the International breakfast selection.
Getting in and around Grand Mercure Roxy Hotel Singapore
Grand Mercure Roxy is located at 50 East Coast Road, Roxy Square, Singapore 428769. If you're driving like us (parking is complimentary), you can enter into the carpark of GMR via Marine Parade Road.
If you go by public transport, the buses 15,31,36,43,48,76,135,196,196e,197,853C and 966 stops opposite Parkway Parade Shopping Centre. Buses 10,10e,12,14,14e,32 and 40 stops at Roxy Square. Both bus stops are within sight of Grand Mercure Roxy.
There's a slew of complimentary shuttle buses available at Grand Mercure Roxy to destinations such as Singapore Changi Airport, Marina Bay, Esplanade, ION Orchard and Paya Lebar MRT Station. Find out more details about shuttle services available at Grand Mercure Roxy here.
If you enjoyed our content, "Like" us on Facebook Today!

For your convenience, we have arranged for the best hotel deal at Grand Mercure Roxy Hotel right here!
3 reasons why Grand Mercure Roxy makes a perfect Singapore Staycation
1. Joo Chiat / Katong Enclave. If you have read our post on the Things to do in Katong Singapore, you'll realise that there are many activities in the Katong area. You'll be able to check out the heritage areas of Katong, immerse in the Peranakan culture, shop at Parkway Parade/I12 Katong Shopping Centre or even enjoy activities at East Coast Park.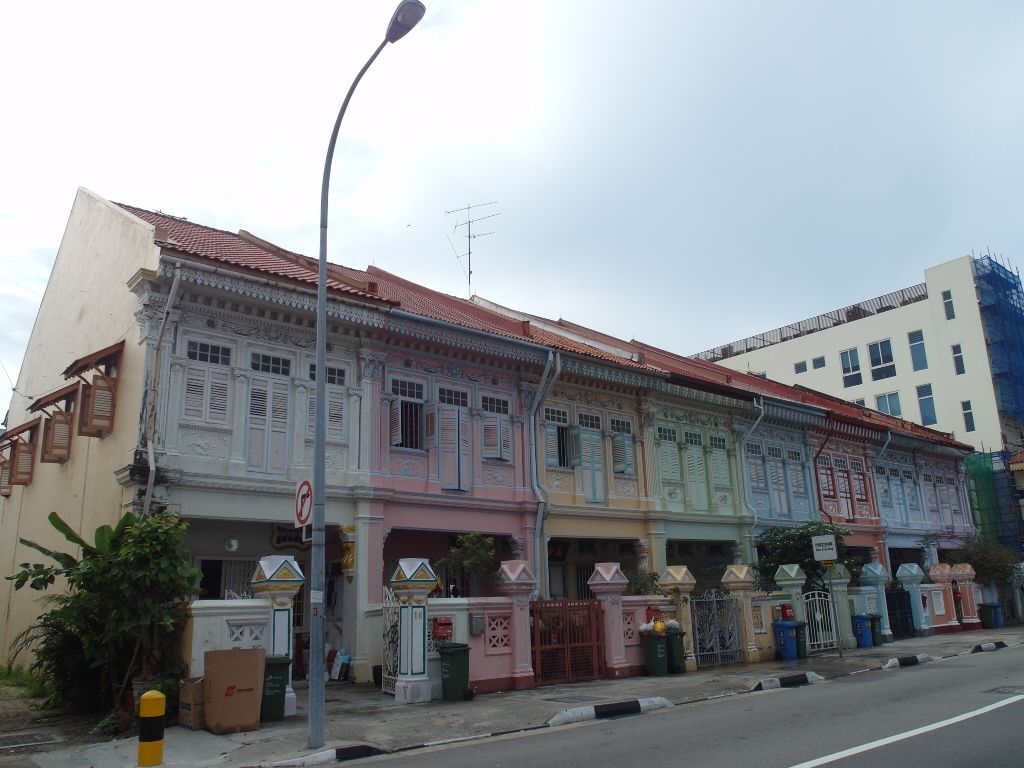 Stretch of Peranakan-styled houses at Koon Seng road
2. Enjoy top notch hawker food at Marine Parade Food Centre. Enjoy cheap and good local fares such as popiah, dim sum, fried kway teow, beef noodles and more! Check out our post on What to eat at Marine Parade Food Centre.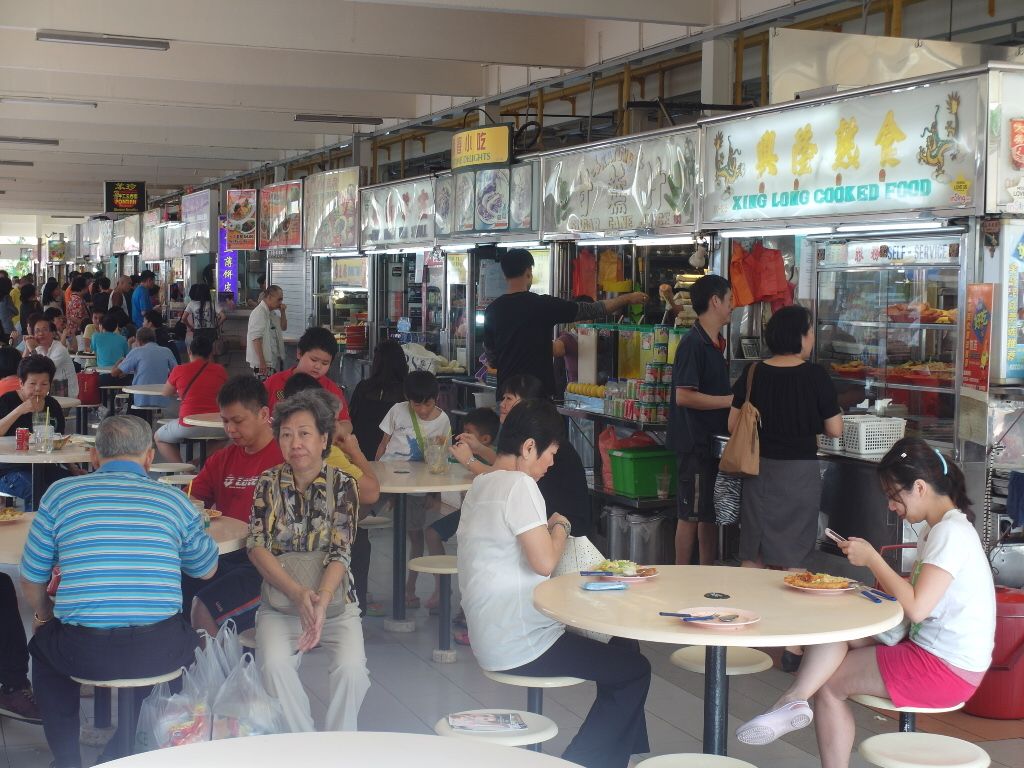 What to eat at Marine Parade Food Centre?
3. Great hotel facilities at Grand Mercure Roxy. Great food? Checked. Great service? Checked. Executive Lounge with breath-taking views and cocktail hours? Checked, checked and checked!
If you enjoyed our content, "Like" us on Facebook Today!

Remember to leave your comments for 2bearbear Singapore Travel Blog in our comments section below!
*Special thanks once again to Grand Mercure Roxy for inviting us for this staycation and kudos to the staff of GMR for excellent service rendered to us during our stay!
P.S. Special thanks to Farhan once again for the awesome service rendered during our dinner at Breez Bistro.Bar, paying special attention to our requests throughout the evening. To Genevieve and Sheng, thank you for hosting us to such a wonderful and memorable staycation; even taking time off your busy schedule to catch up with us!
Click on the following posts to see all our Singapore Staycation Reviews!
Top 10 Singapore Staycation Ideas!
Grand Mercure Roxy Singapore Staycation : The Studio Suite!
Uniquely Singapore Staycation at Village Hotel Katong!
Ritz Carlton Singapore Staycation: Simply Shiok!
5 Reasons Why You Should Do a Staycation at Hotel Jen Tanglin Singapore's Newly Refurbished Club Room!
Pan Pacific Singapore Hotel Harbour Studio Staycation!
Rendezvous Hotel Singapore : Staycation in the Heart of the Art District!
Quincy Hotel Qool Weekend Staycation : Singapore's ALL-IN Staycation!
National Day Staycation at the Regent Singapore – A Four Seasons Hotel!
Village Hotel Changi Staycation : Rediscover the gems of Singapore!
Awesome Staycation at the Grand Mercure Roxy Singapore!
Raffles Hotel Staycation Singapore : Relax & Rejuvenate!
Amara Sanctuary Resort Staycation Singapore Sentosa 2 Bedroom (BR) Villa with plunge (private) pool
D'Resort @ Downtown East : A Perfect Staycation for the Entire Family!
Swissotel Merchant Court Executive Room Staycation : Right in the heart of Clarke Quay!

A Letter to Jen (Hotel Jen Orchardgateway Staycation)…
Oasia Hotel Staycation Review!
AMOY Hotel Singapore : Why you should stay here during your next visit
The Ultimate Family Staycation at Shangri-La's Rasa Sentosa Resort & Spa!
3 Singapore Staycation Ideas for 2017!
Related posts: