Hilton Vancouver Washington was one of the hotels that we were invited to during our visit to USA. It is important to note that this Vancouver is the one in the state of Washington, in the United States of America and not the one in Vancouver Canada. But here's a little known fact, Vancouver Washington was in fact the "FIRST Vancouver" to be founded in the West of the continent of America. Which is why the tourism slogan for the city is
"Discover the Original"!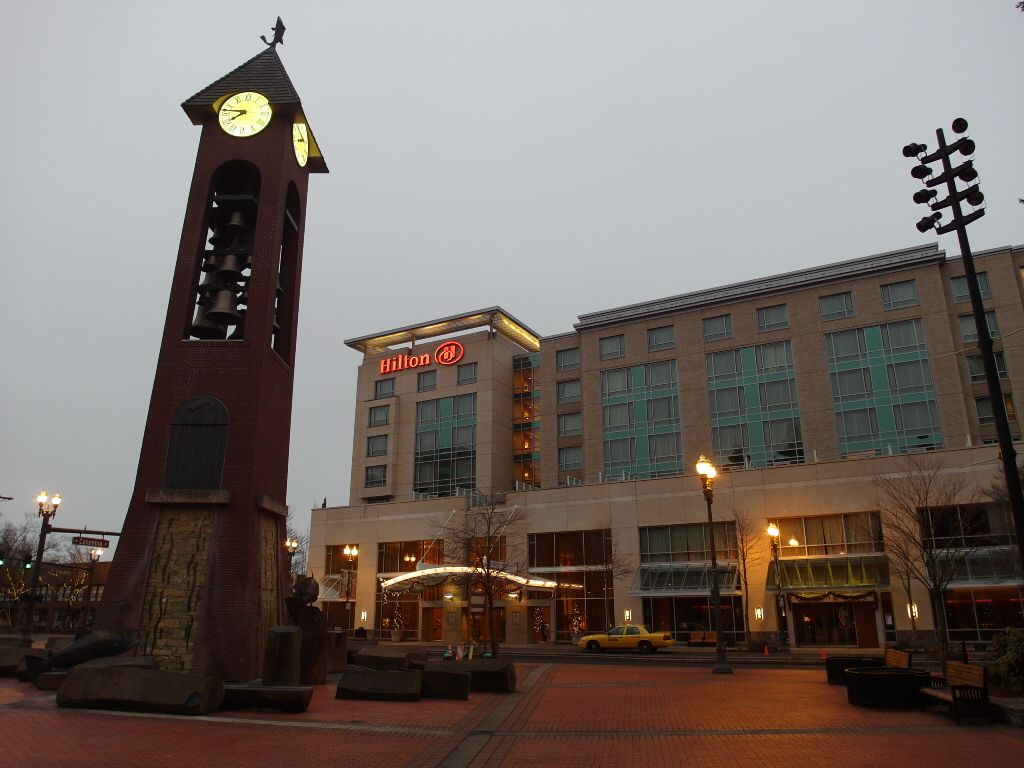 Hilton Vancouver Washington with Bell Tower at Esther Short Park
We arrived at Hilton Vancouver Washington on a cold Christmas' Eve. However, as we entered the lobby, the ambience perked us up almost immediately and soon we forgot about the bitter cold right outside the doors of Hilton…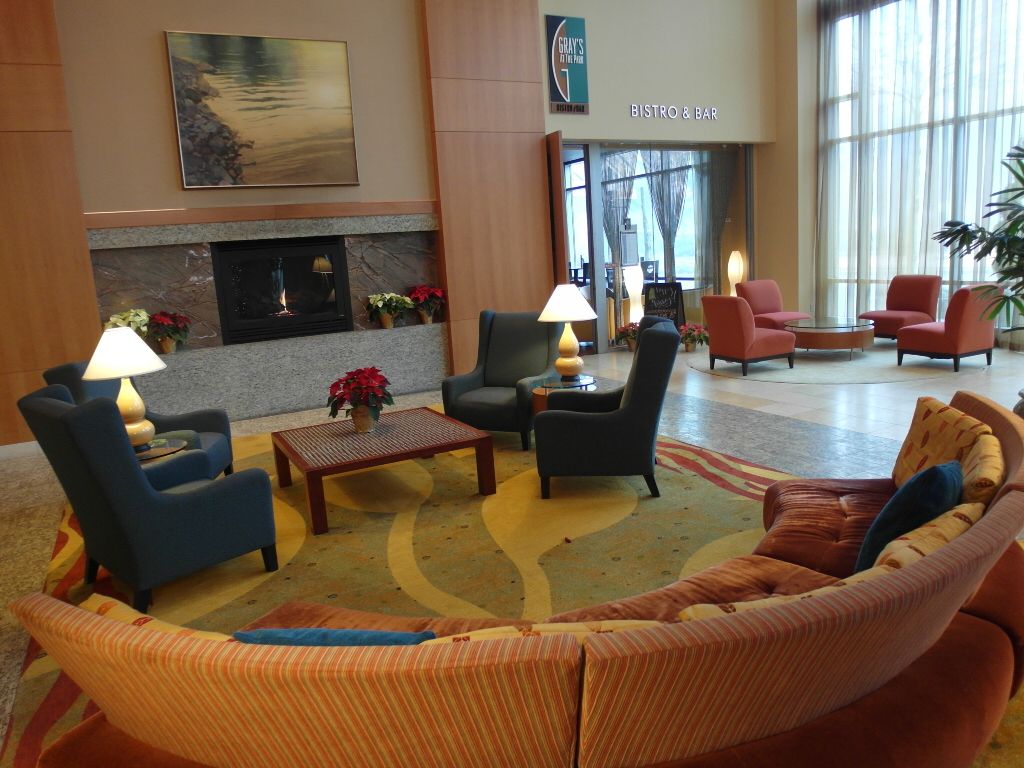 Lobby of Hilton Vancouver Washington
Our receptionist Leesa made our first impression of the hotel even better with her warm smile and kind gestures (she introduced us to this really great restaurant called Beaches, which we will talk a little bit more about later). Before long, we received our key and made our way to our room at level 6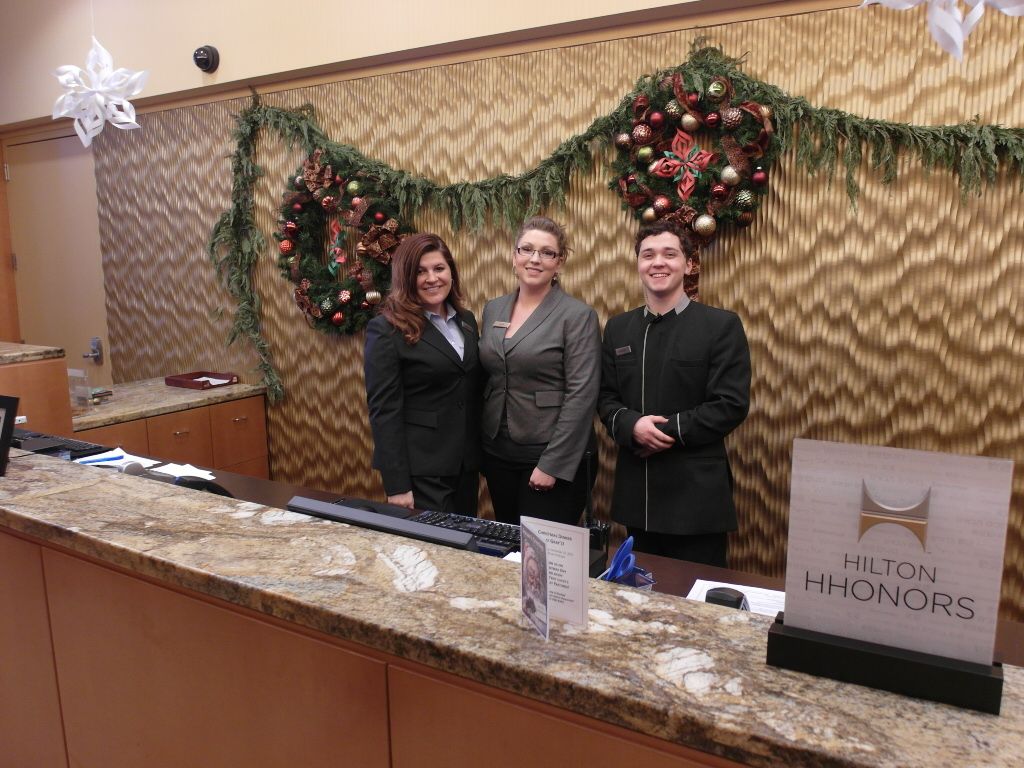 Friendly Staff of Hilton Vancouver Washington – Leesa in the middle provided us with helpful info about Vancouver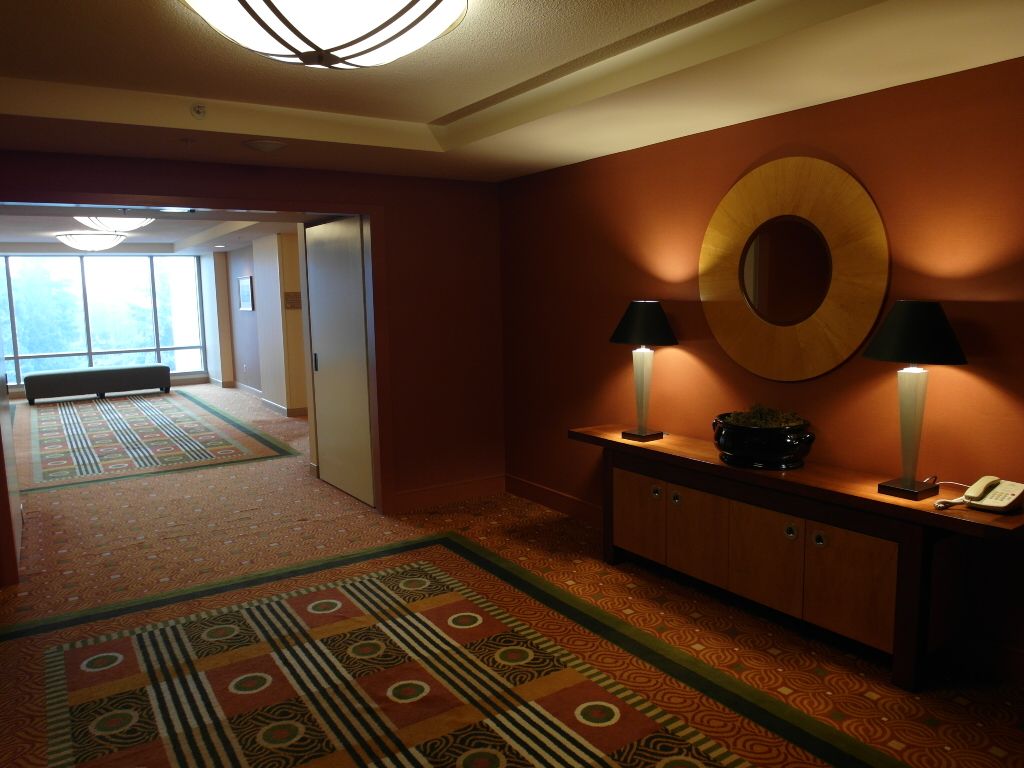 Lift Lobby of Level 6 in Hilton Vancouver Washington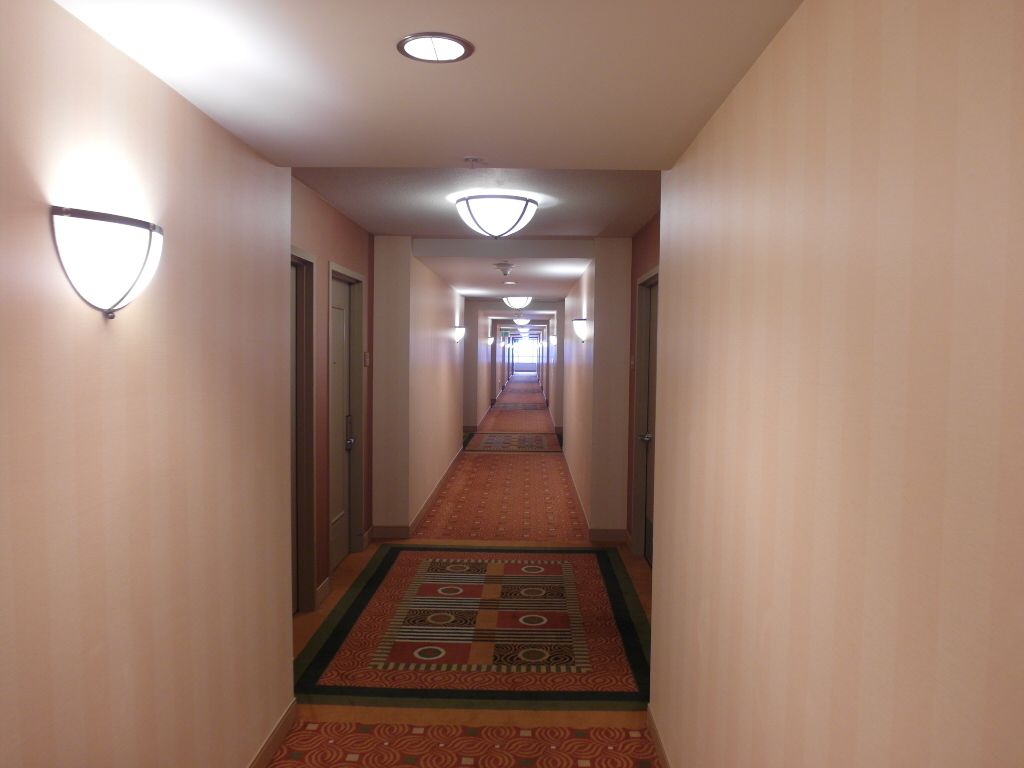 Hallway down to our room at Hilton Vancouver Washington
Hilton Vancouver Washington's Deluxe King Bedroom
Hilton Vancouver Washington is actually the only 4 star hotel in downtown Vancouver. Hence, it was no surprise to us that the room had all the amenities that we usually see in a 4/5 star hotel room.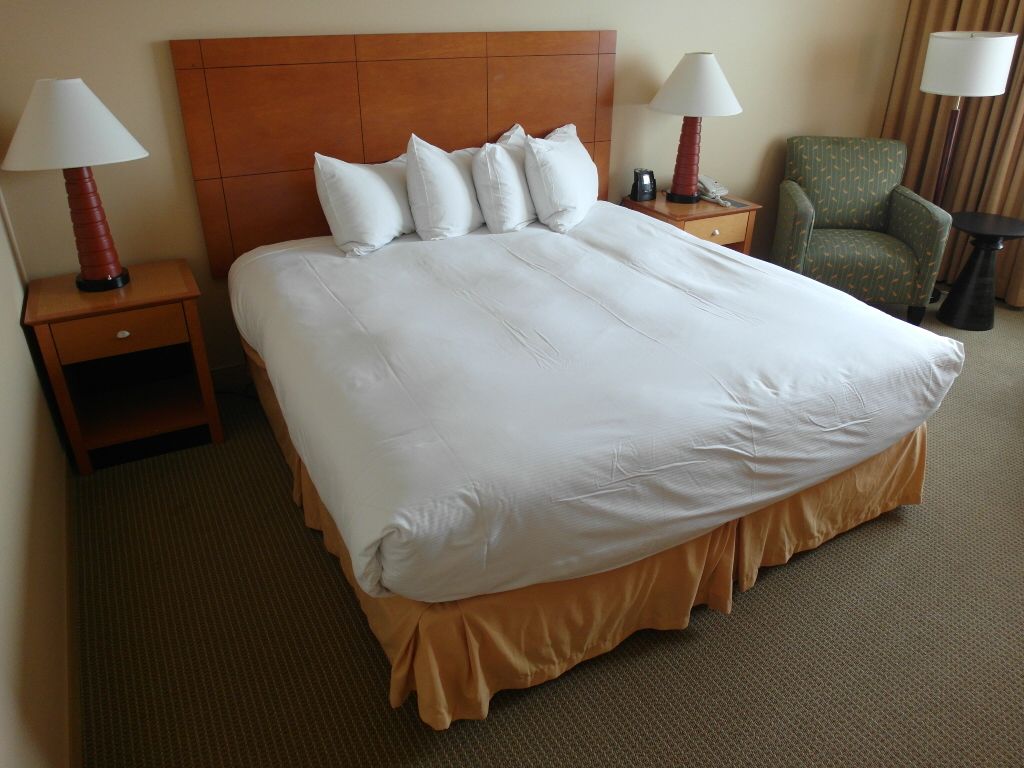 Large inviting King-Sized Bed in Hilton Vancouver Washington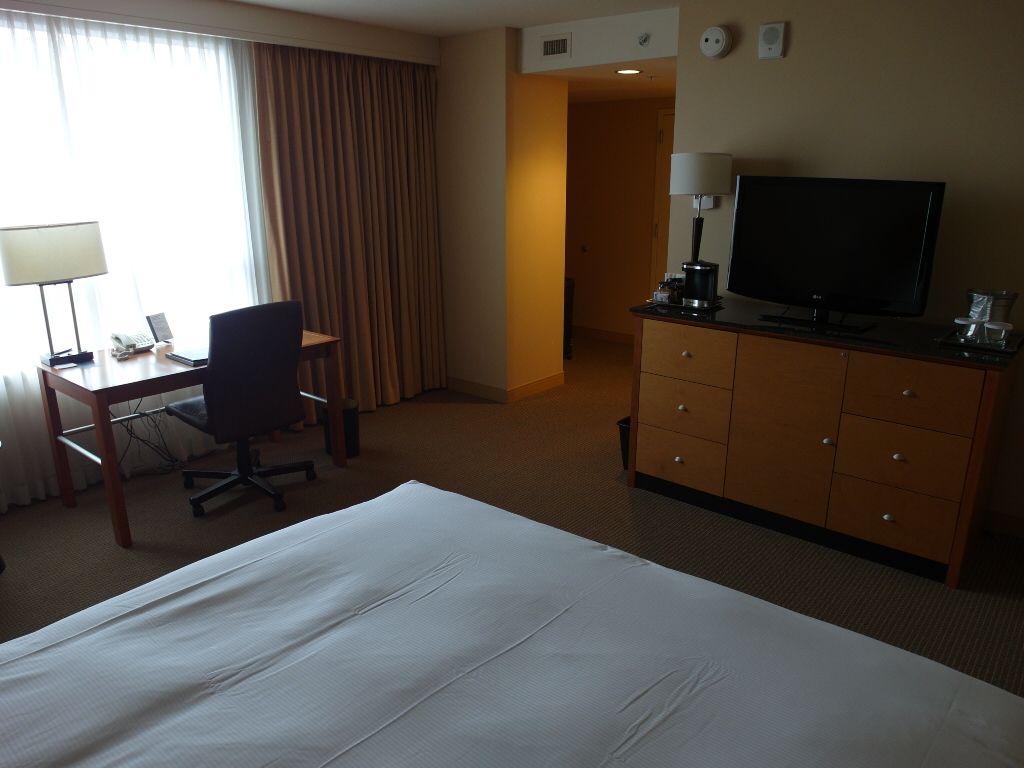 Spacious Interior with Cable TV an executive desk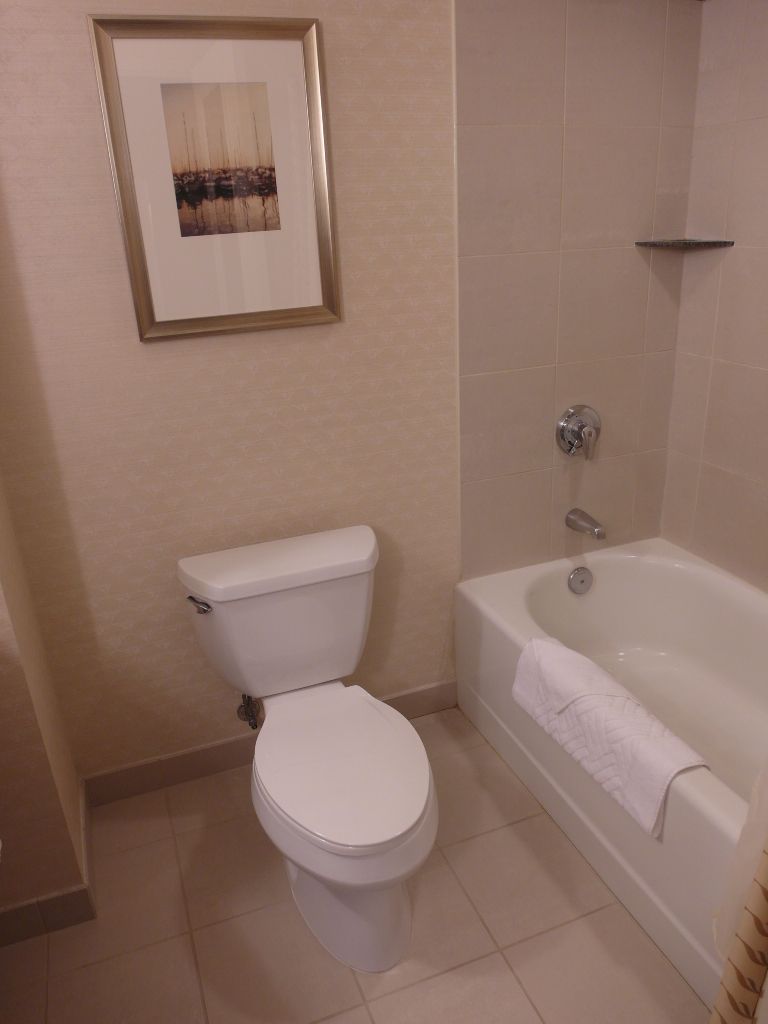 Toilet with Bath Tub – Hilton Vancouver Washington Deluxe King Bedroom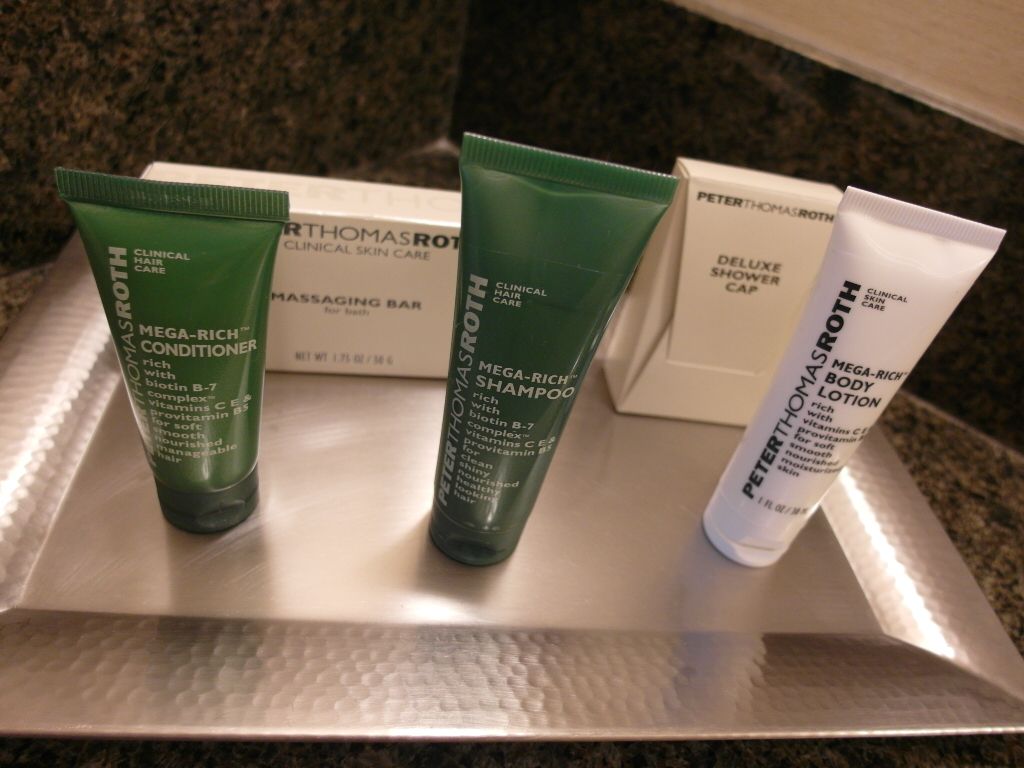 Neat Toiletries of Hilton Vancouver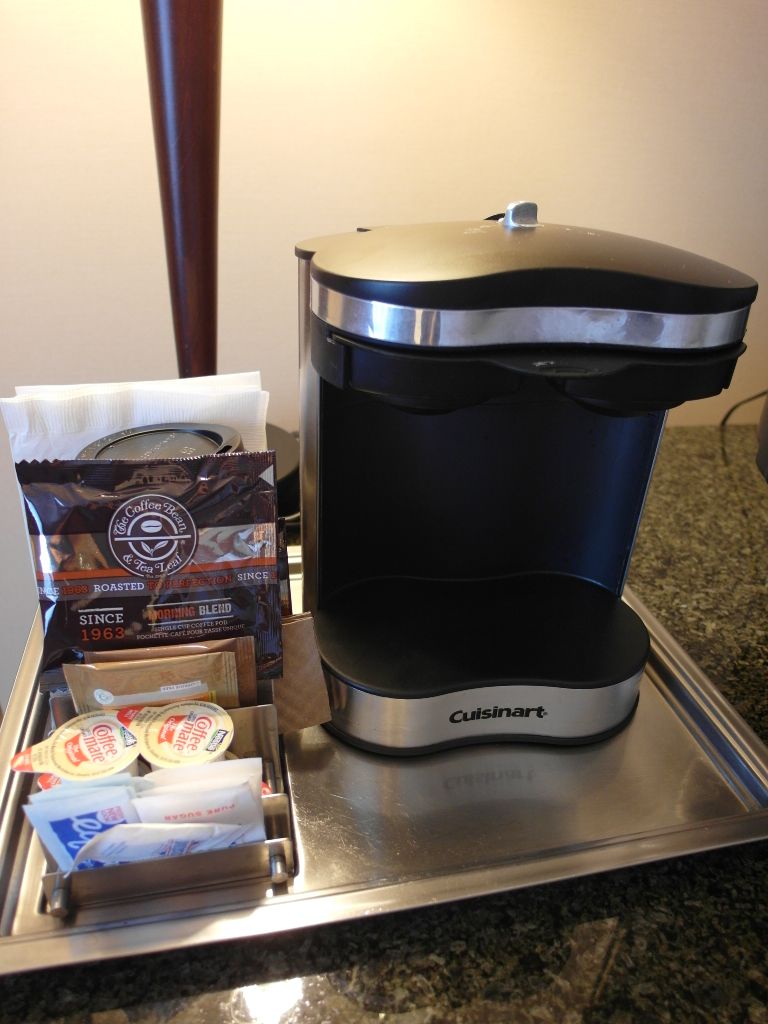 Coffee machine with coffee bean powder

Video tour of Deluxe King Bedroom of Hilton Vancouver Washington
There were 3 really cool things that we liked about the room.
1. The Coffee Machine. Kate and I are coffee people and coffee, especially in the mornings, help to "kick start" our day. The coffee machine (with coffee bean powder no less) gave us fresh coffee each morning that brightened our day (and also kept us warm on a cold winter's day)
2. The Executive Desk. For most people, the executive desk seemed redundant. Afterall, you're on a vacation right? But for travel bloggers like ourselves, it gives us a proper place to go through the photos of the day and jot down comments on our computer so that we can blog about them when we return. Otherwise, we would have to sit on the floor and type which may result in backaches, especially for oldies like us ;p
3. Room with a View! When we first drew our curtains, we were greeted with this view…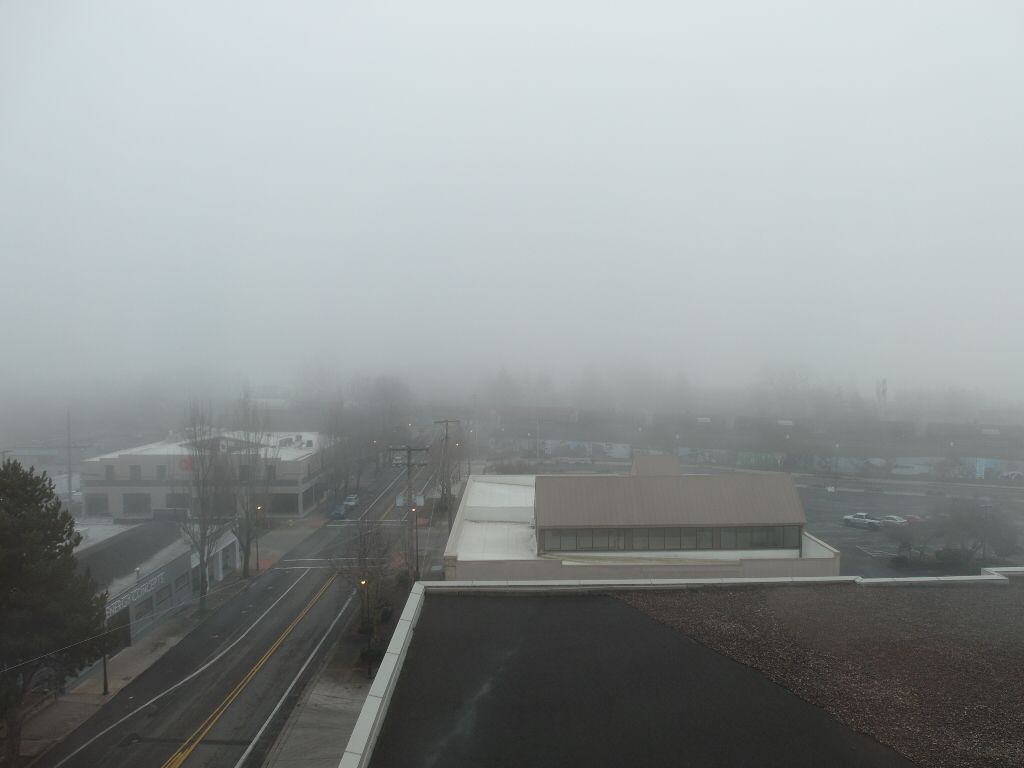 First look outside our room
We were like "Whaat?!"
From this view, what do you see? Nothing except buildings and perhaps even a factory right? At that point in time, coupled with the mist, we were pretty sure we were surrounded by factories!
But as the skies cleared up the next morning, we soon realised why we were given this corner room…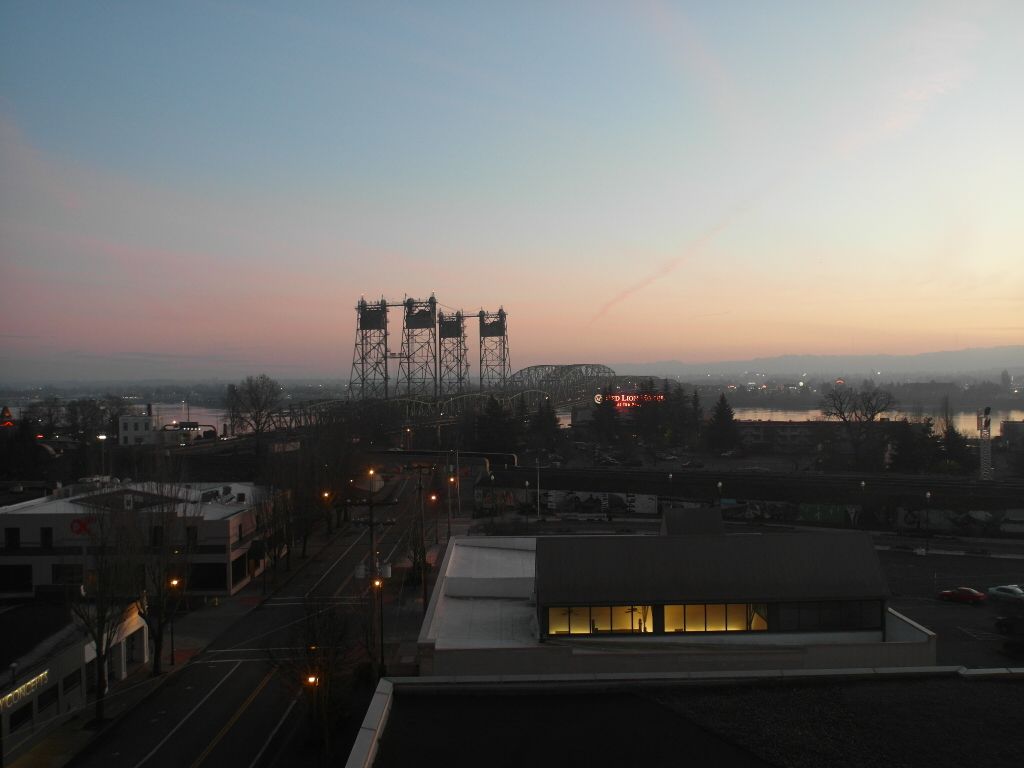 View of the Columbia River from our room at Hilton Vancouver Washington
We had marvelous views of the Columbia River and the bridge that leads to Portland!!
Facilities at Hilton Vancouver Washington
In addition to the in-house restaurant, Gray's at the Park and Esther's Coffee Bar, Hilton Vancouver Washington offers the usual facilities such as the gym, swimming pool and jacuzzi…

Fitness Centre opens 24hrs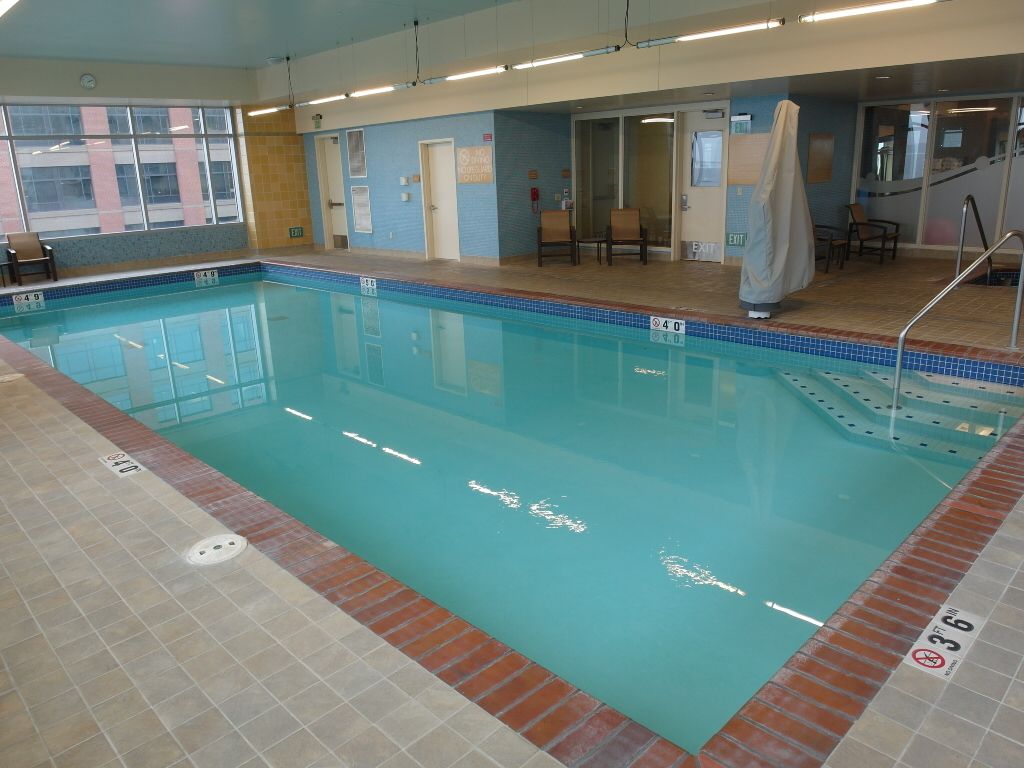 Swimming pool Hilton Vancouver Washington opens from 6am to 10pm daily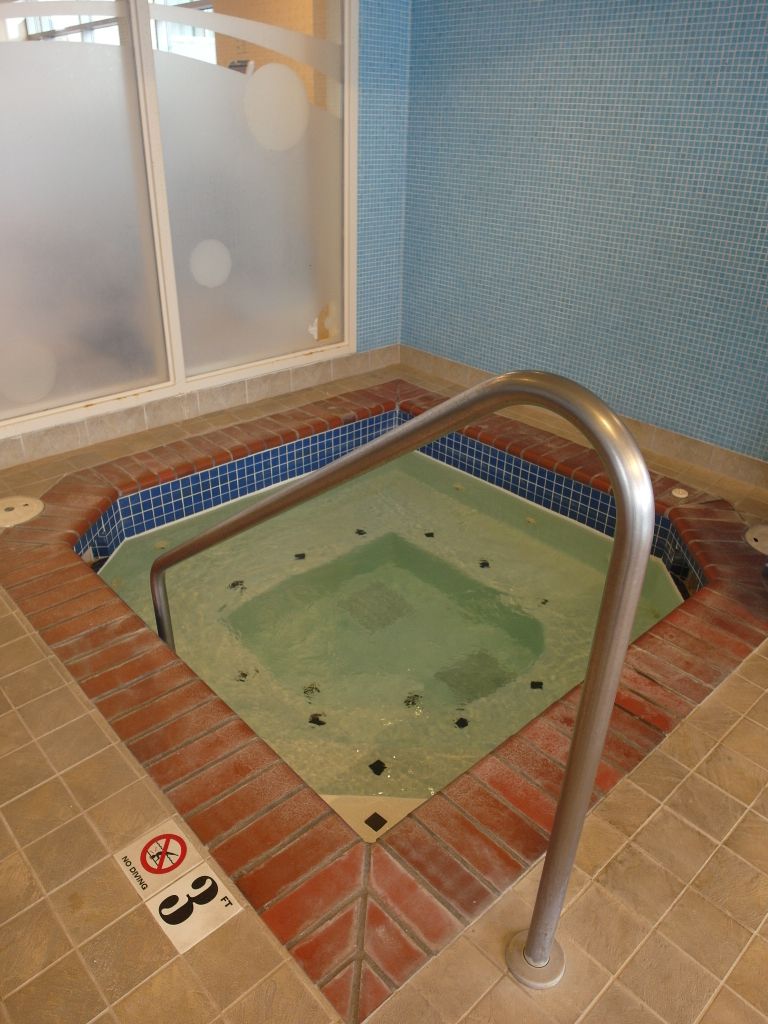 There's even a Jacuzzi by the Swimming Pool
What we really liked about Hilton Vancouver Washington
Besides it being a 4 star hotel, there are 2 things that we really liked about the location of Hilton Vancouver Washington
1. Proximity to the Waterfront Park. Hilton Vancouver Washington is just a short walk away from the Waterfront Park. From there, you can have easy access to the relaxing board walk by the river as well as the excellent restaurants such as Beaches, Mcmenamins and Joe's Crab Shack
2. Proximity to Historic Venues of Vancouver. If you're into the history of USA, Hilton Vancouver Washington offers a great base from which you can visit historic locations such as the Officer's Row, Fort Vancouver Historic Site, Pearson Air Museum as well as the many historic Monuments of the City (such as Slocum House built in 1867)
All in all, we thoroughly enjoyed our stay at Hilton Vancouver Washington and here's a sneak peak of the marvelous views we enjoyed along the Columbia River…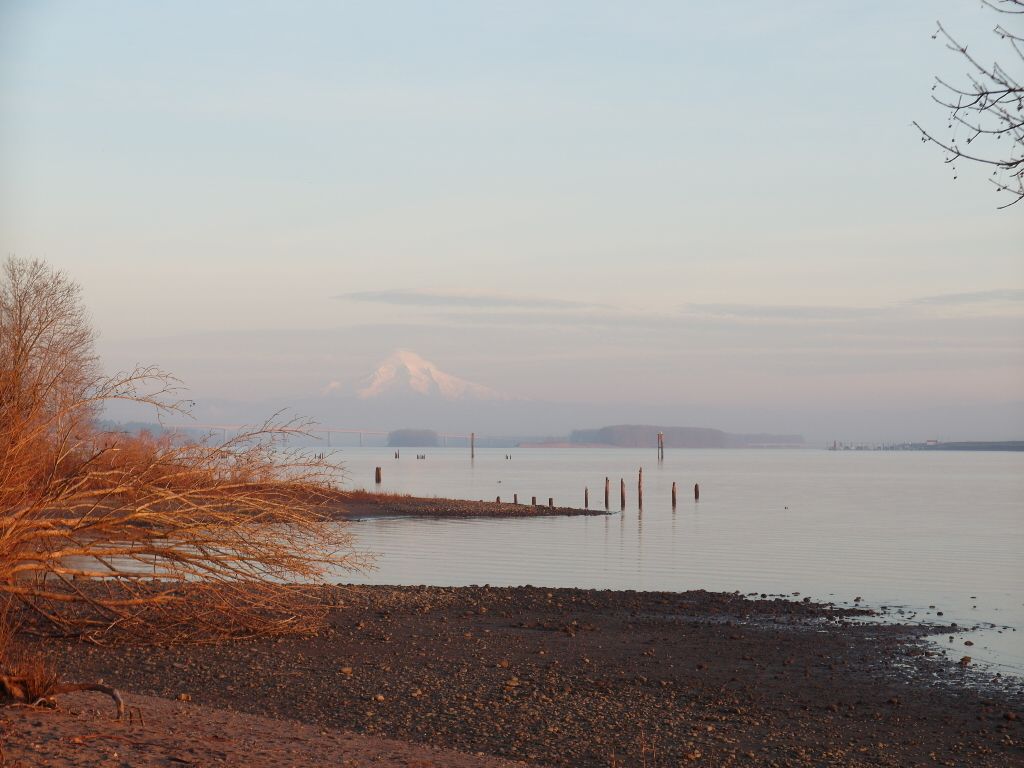 Can you see the snow-capped Mount Hood in the distance?
If you enjoyed our content, "Like" us on Facebook Today!

Related Posts
This is part of our coverage of San Francisco, Seattle and Vancouver USA. Check out these posts if you're visiting the West Coast of USA!
Top 5 Things to do and Attractions in Vancouver Washington USA!
Top 11 Things to do and Attractions in San Francisco USA
Top 8 Things to do and Attractions in Seattle USA!
Things to do and Attractions in Eureka California!
Metropolitan Grill Seattle : Are the steaks worth it?
Seattle Underground Tour by Bill Speidel : A tour not to be missed!
Seattle Space Needle , Chihuly Garden and Glass and the Monorail to Westlake Center
World's first Starbucks in Seattle – Do not be confused!
The Crab Pot Sea Feast : A Seattle MUST TRY!
Pike Place Market : (Possibly) Seattle's Top Tourist Attraction!
What's YOU MUST DO at San Francisco's Fisherman's Wharf!
Pizza and beers at Umbria San Francisco!
Great Eastern Restaurant Chinatown San Francisco : Even Obama visits it!
The steep slopes of San Francisco : A Pictorial Post
San Francisco's "Crookedest Street" at Lombard Street!
Scenic Oregon Drive from Vancouver to San Francisco!
Travel Through Time with Historic Monuments at Vancouver Washington!
Vancouver Washington's Natural Wonders!
Catching Portland Winterhawks in action after Burgerville Meal!
Why You should eat at Beaches Restaurant than McMenamins in Vancouver Washington
Red Lobster….FINALLY!
Inn at the Market Seattle : All about Location Location Location!
San Remo San Francisco : Hotel with a PRIME location!
Palace Hotel San Francisco : A great mix of History, Class and Luxury!
Heathman Lodge Vancouver Washington : One of our best hotel stays EVER!
Hilton Vancouver Washington : Classy Stay & Room with a View!
* Thanks to Visitvancouverusa.com for making the trip possible. Special thanks to Natalie and Jacob who assisted us endlessly through the planning phase of our trip!
** Special thanks also to Leesa of Hilton Vancouver Washington, who told us up front to visit Beaches Restaurant where we enjoyed great service and food that was MAMAMIA!
Related posts: