On the 4th day of our Hong Kong trip, Kate planned for us to take a side trip to Macau! In the morning of our 4th day, we decided to drop by the Kowloon Park…
Kowloon Park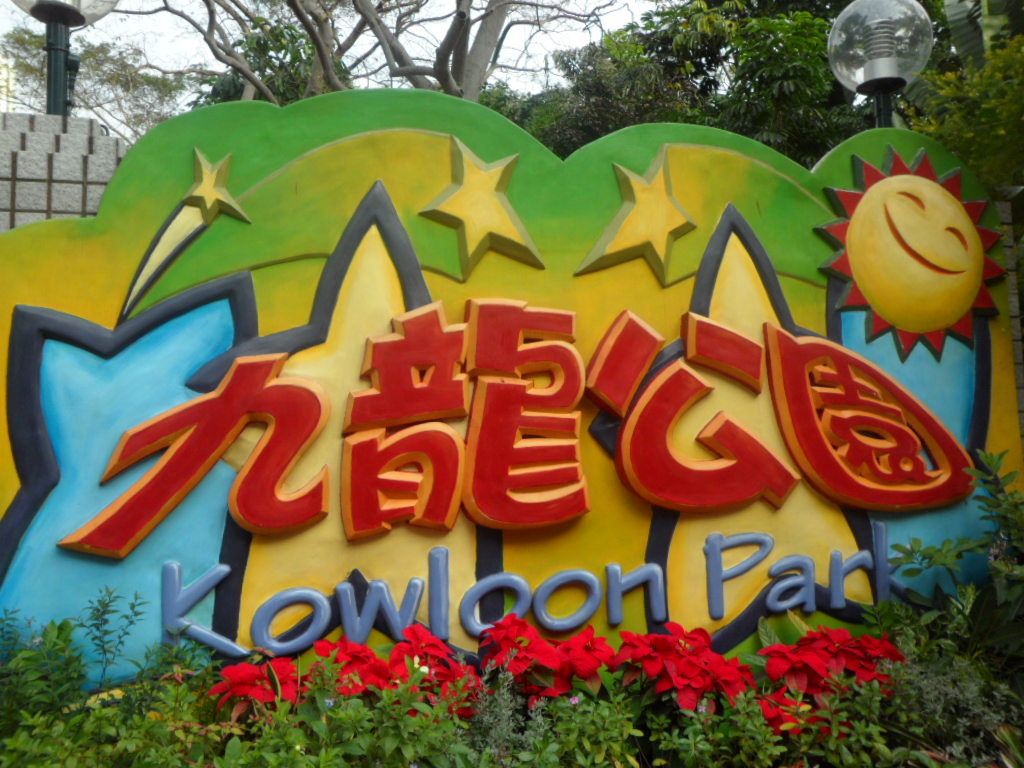 Entrance to Kowloon Park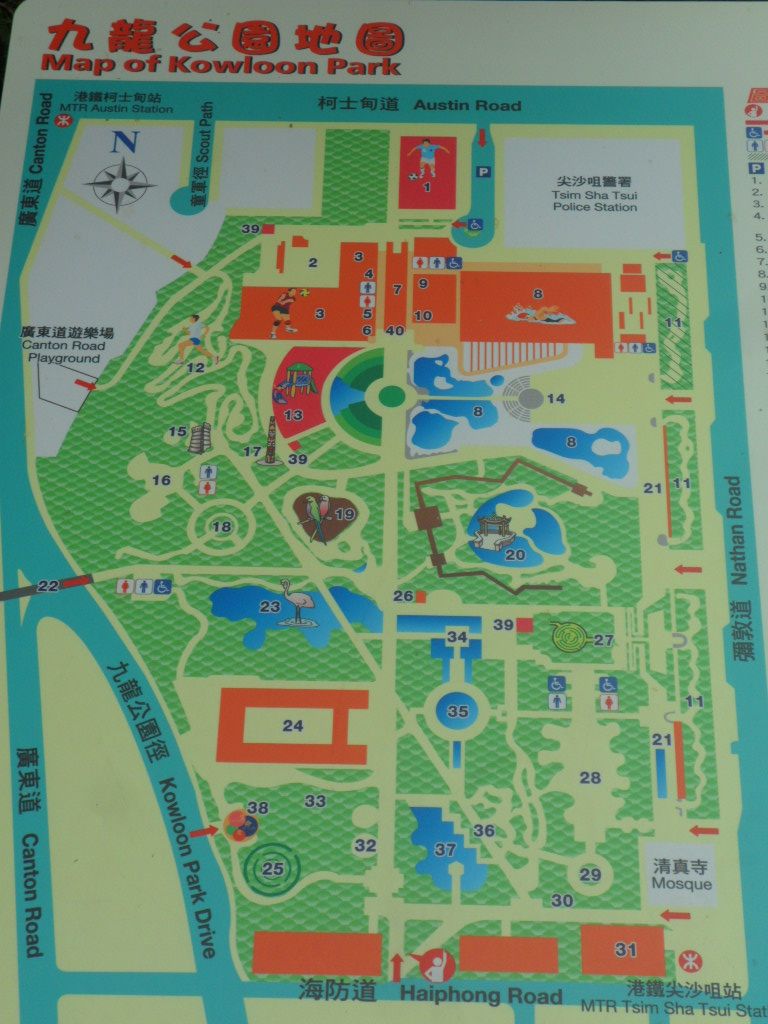 Map of Kowloon Park
The Kowloon Park is actually a great place for morning exercises and strolls. There's also lakes such as this one where flamingos abound!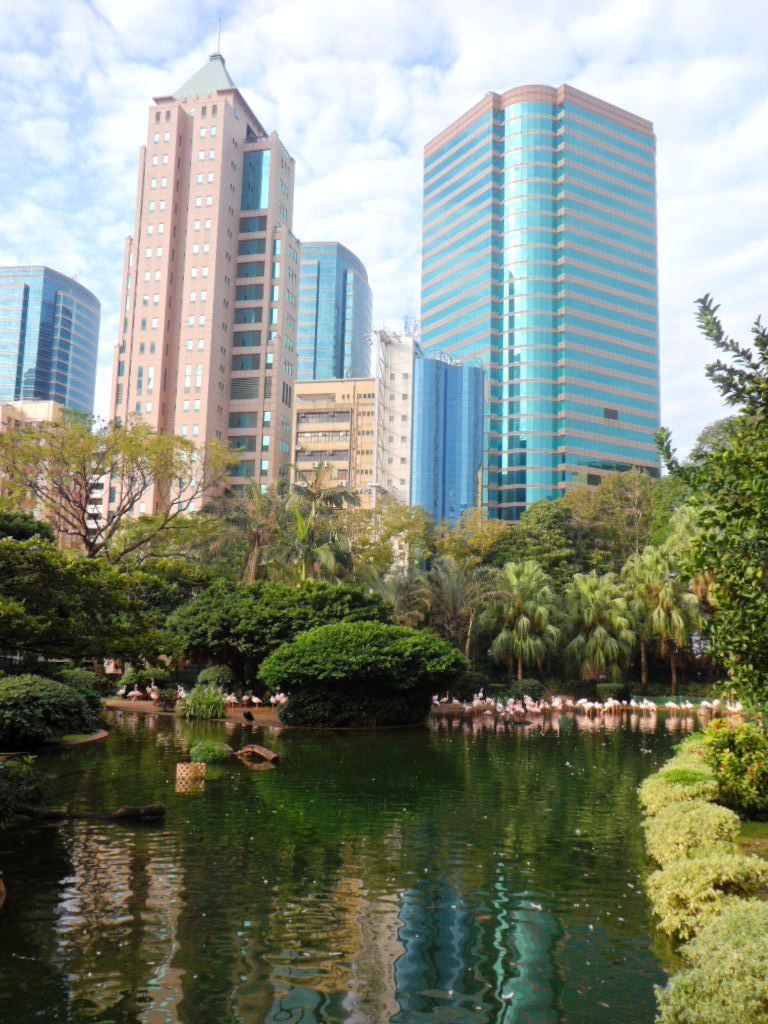 Flamingos at a lake of Kowloon Park
After a stroll, we decided to take a break at Macs for our 2nd breakfast (yes, eventhough we already had breakfast). The tonkotsu pasta with grilled chicken (something that you dont see in Singapore's breakfast menu) was just too enticing! Not too bad actually, though you could taste that it came out of a pack of seasoning – still…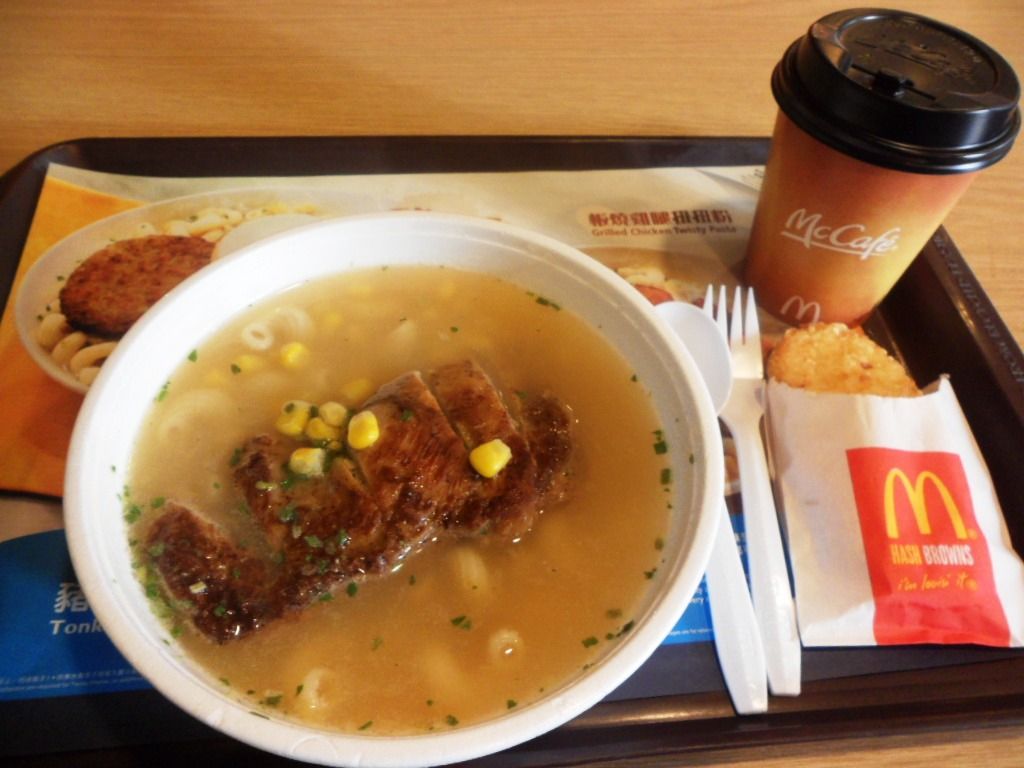 Breakfast at Macs – Tonkatsu based twisted pasta with grilled chicken
Then we moved on to the swimming complex and imagined how it would be like during summer months…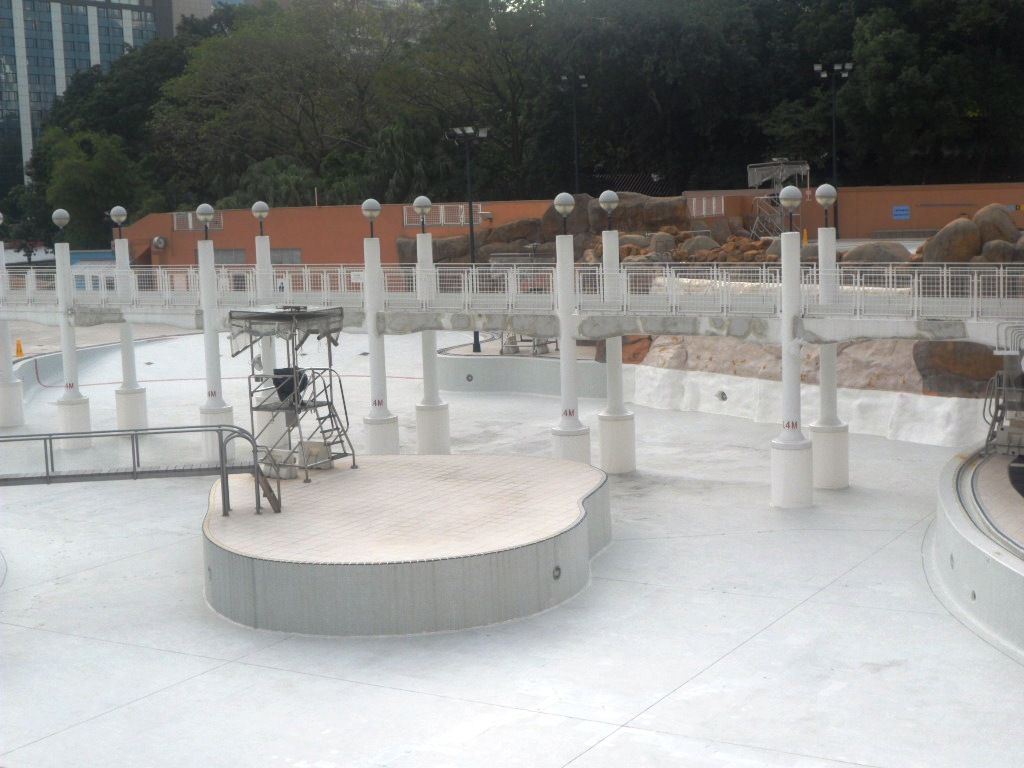 Public pool at 9HKD with indoor heated pool as well
Since it was a clear morning, we decided to head towards the Avenue of Stars to take some pictures of the day time. Along the way we passed by the atas Peninsula Arcade…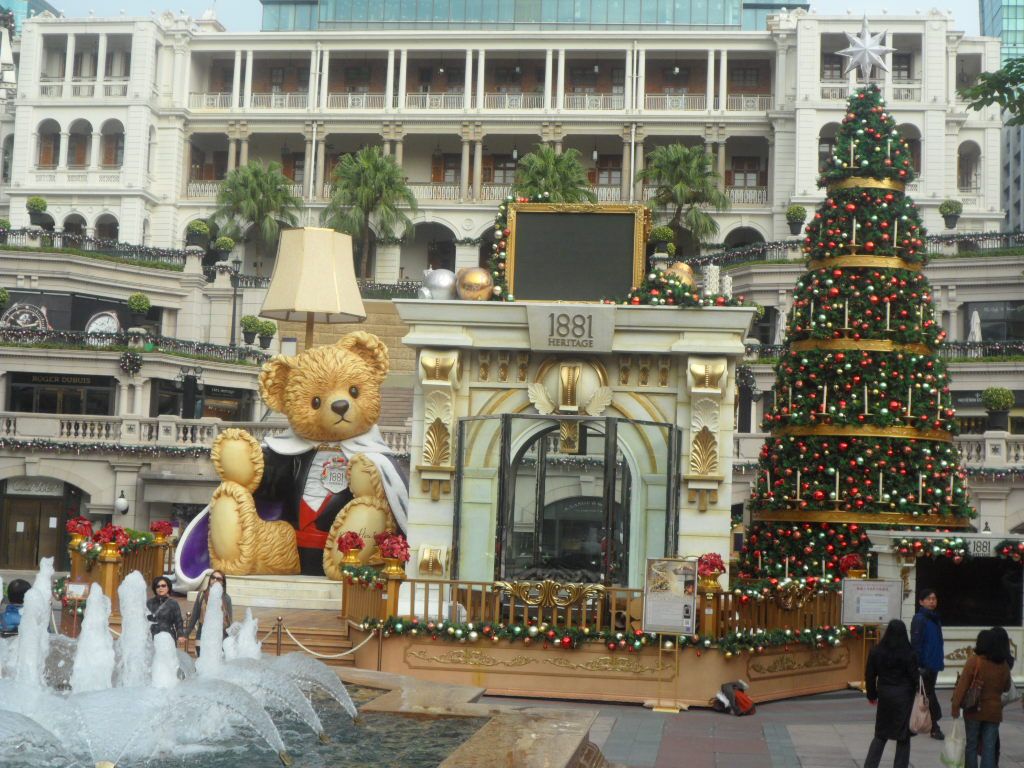 Peninsular Arcade – Cute Bear + Luxury Goods
And finally we chanced upon the clock tower as well!
Avenue of the Stars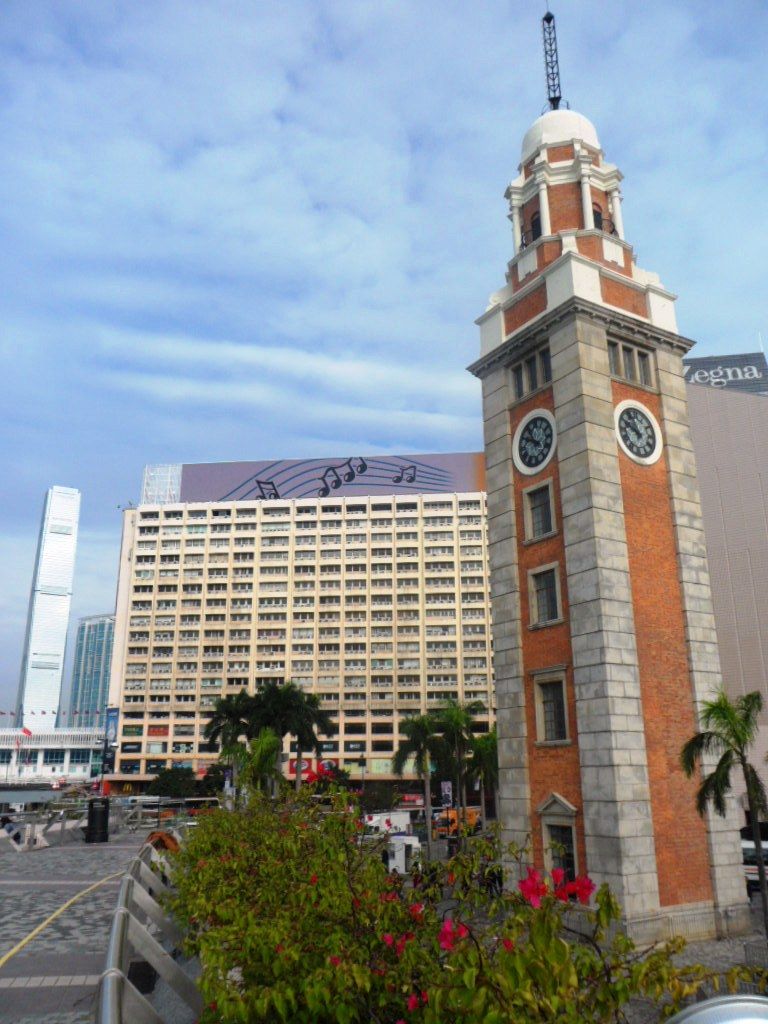 Clock Tower Hong Kong close to the Avenue of the Stars
It was great to finally be able to take some pictures of the Avenue of the Stars in the day time. We also managed to identify some of our favourite stars…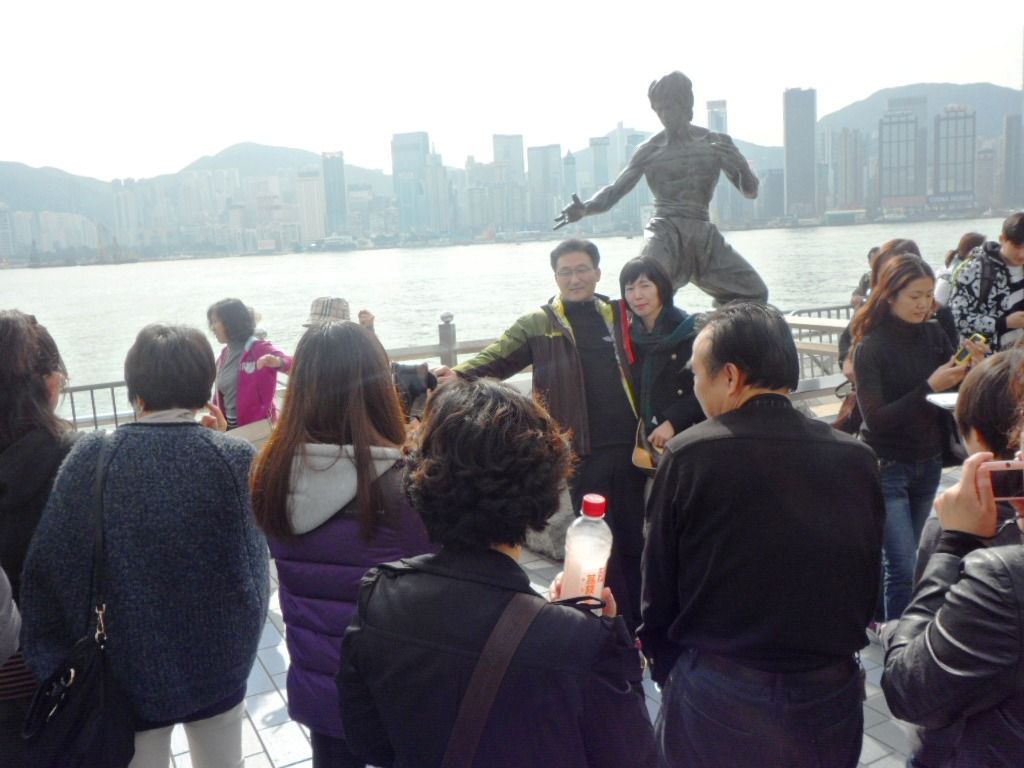 Bruce Lee's statue added in 2005 to the Avenue of Stars
Lan Fong Yuen
After searching online, we found great comments for the milk tea and buns at Lan Fong Yuen, so we decided to check it out…

Inside Lan Fong Yuen
This morning we tried the bo luo you, milk tea, coffee as well as the pork bun…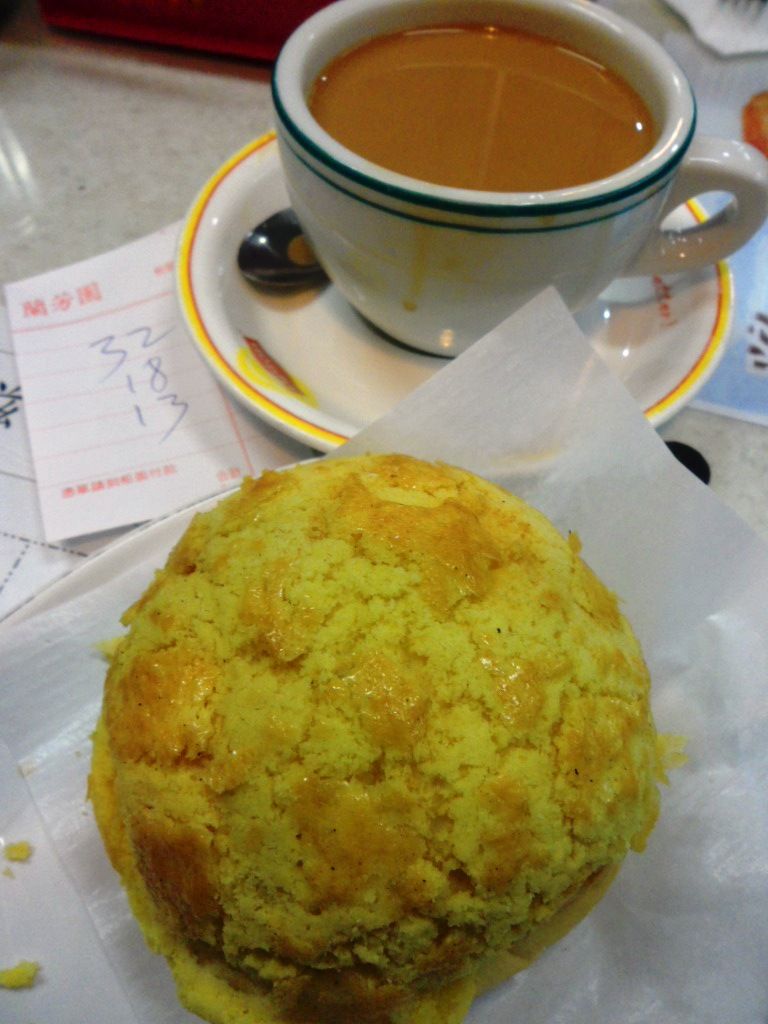 Butter Po Luo You and Milk Tea at 13hkd and 16 hkd respectively
After a hearty meal, we checked out and headed over to the ferry terminal to catch our ride to Macau. Along the way, we caught a looooooooooooooooong procession of lion dance…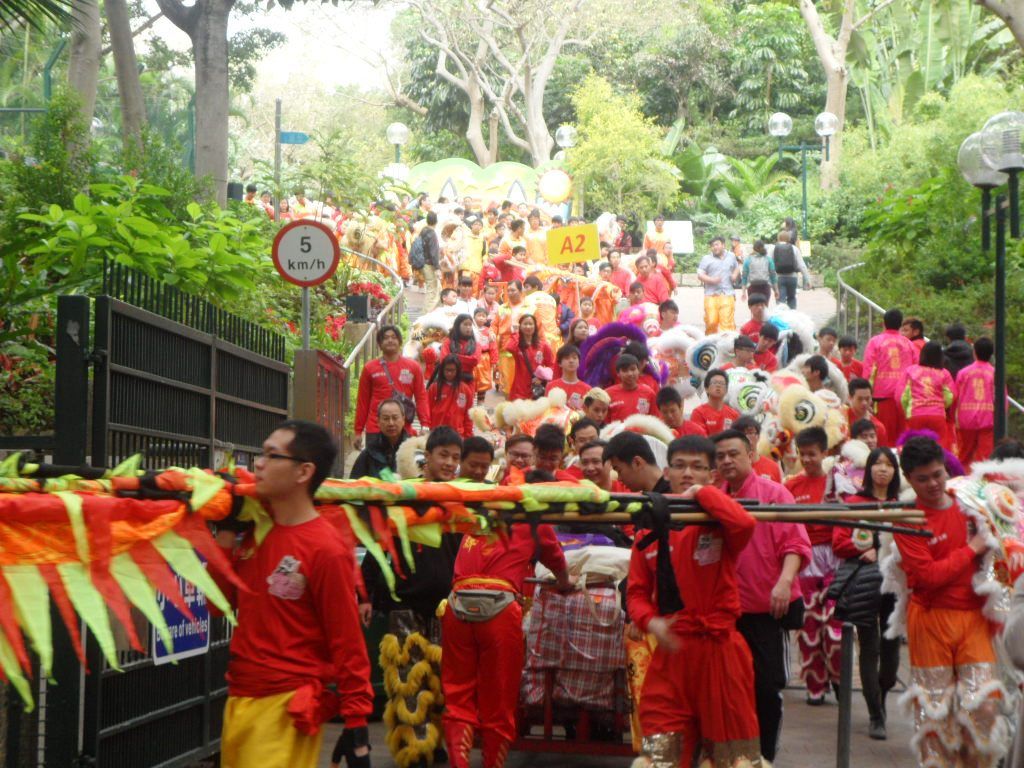 Lion Dance Troupe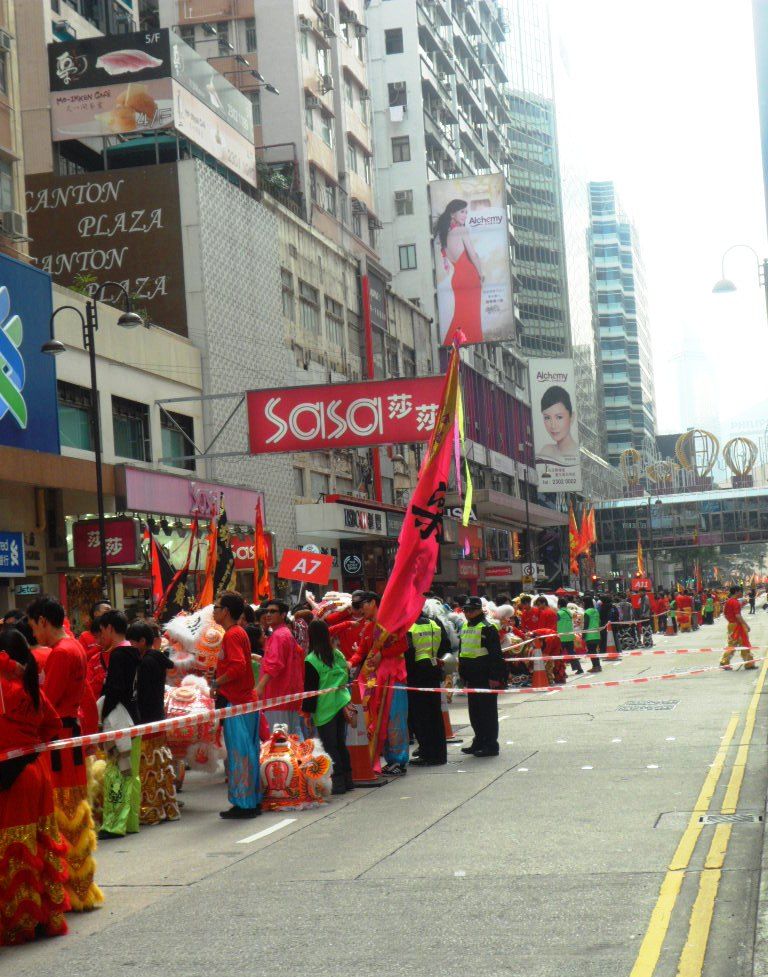 Long procession of Lion Dance performers
Macau
We took the Cotai Water Jet to Macau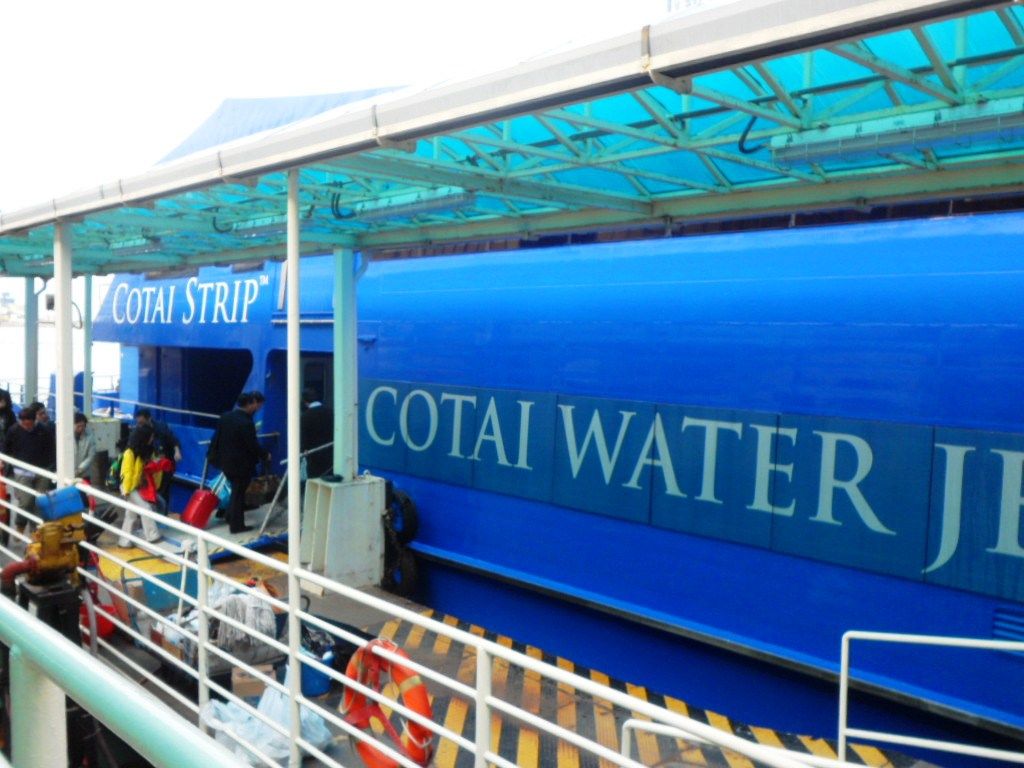 Ferry to Macau – 160HKD per person for 1 way ticket
To travel to Macau, you will have to purchase the ticket at the ferry terminal for 160hkd per person for a 1 way ticket. Since the frequency is quite high, you will just purchase the ticket and immediately head towards the berth for the next trip out. Ferry ride from Hong Kong to Macau takes about 1 hour and you can take the ferry from Central and Tsim Sha Tsui.
Regency Hotel Macau
After reaching Macau, we took one of the local buses which took us close to the Regency Hotel. The bus ride was relatively cheap and the Uncle was also quite friendly in guiding us to the correct bus stop. Remember to keep some change so that you can take the bus ride!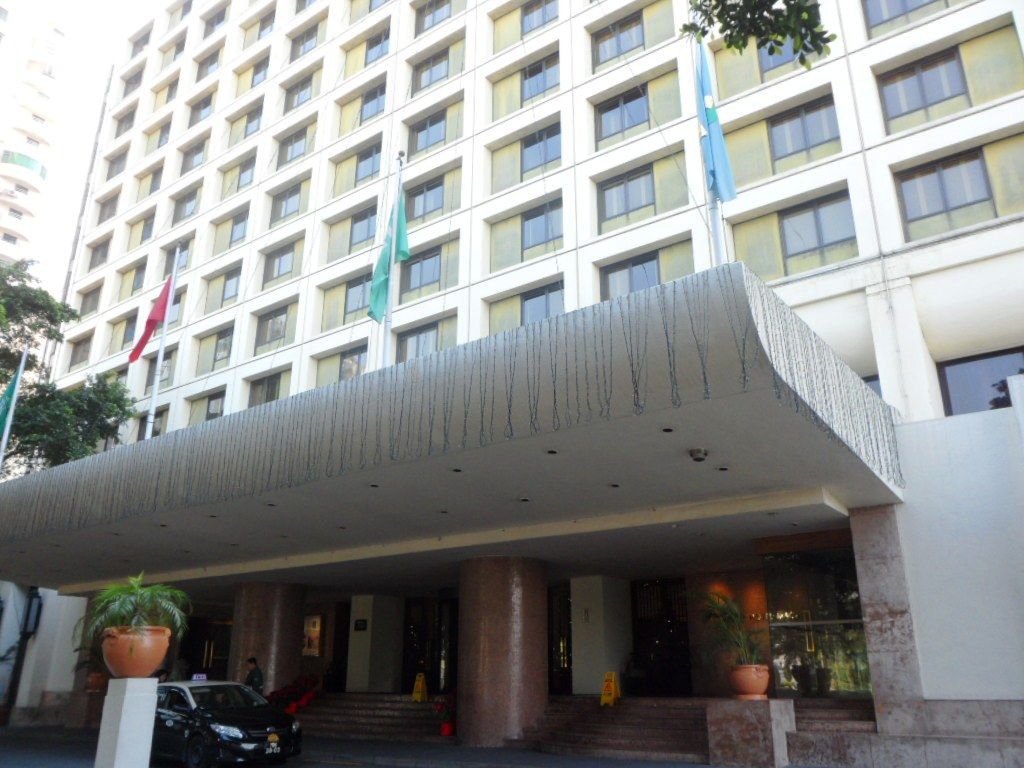 Regent Hotel Macau

King Sized Bed @ Regent Hotel Macau
After checking in, we decided to waste no time and headed to the Taipa Village. Enroute, we took a break at a cafe/restaurant and had some vermicelli and pork bun…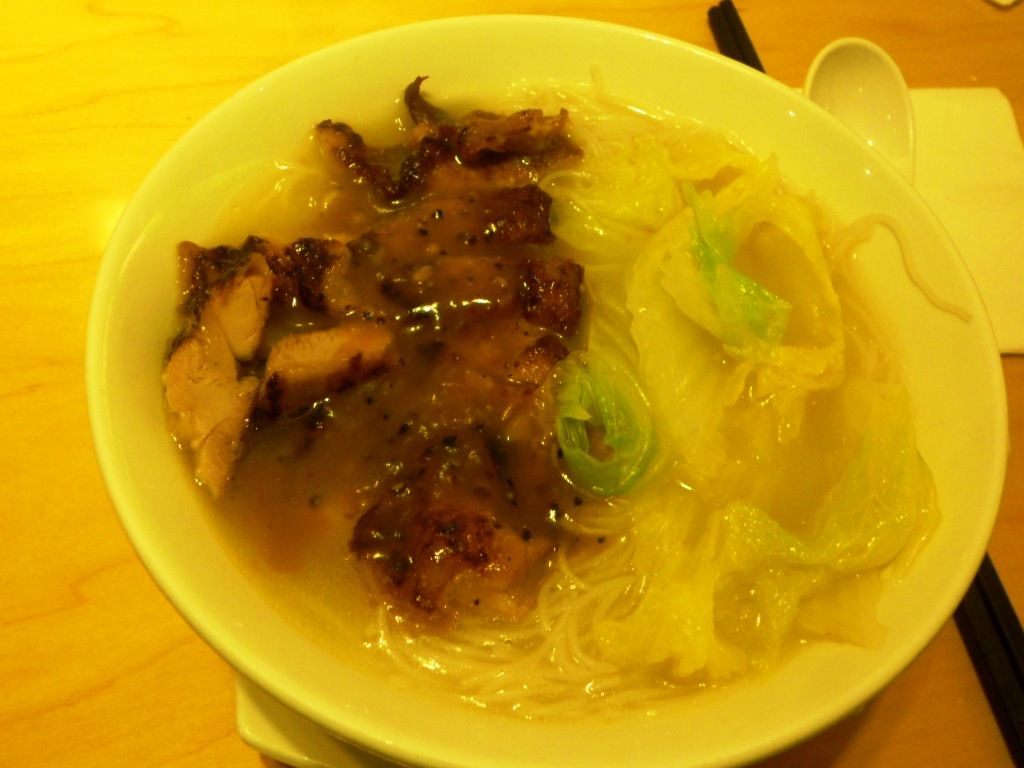 Chicken Chop with Bee Hoon & Yuan Yang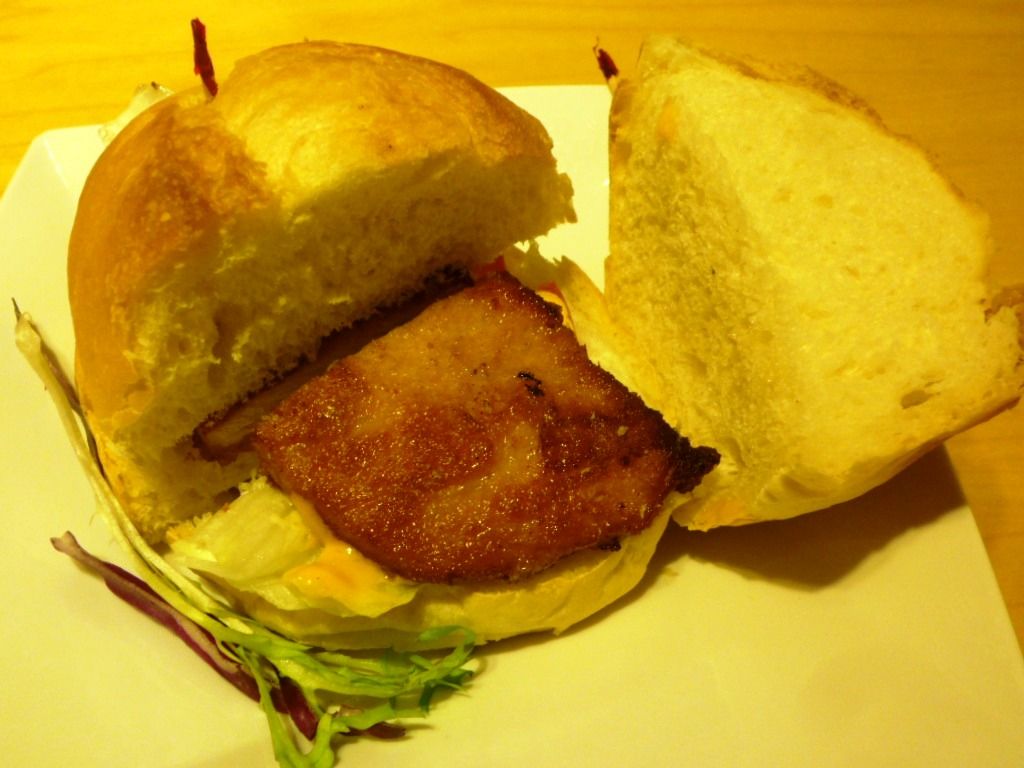 Pork Chop Bun and Milk Tea
We tried the Chicken Chop with Bee Hoon as well as the Pork Chop Bun. Both sets came with drinks which was great. Costs about 30MOP.
Taipa Village Macau
After a 15 minutes walk, we finally reached Taipa Village. Here, we tried some of the local specialities, including the famous portuguese egg tarts.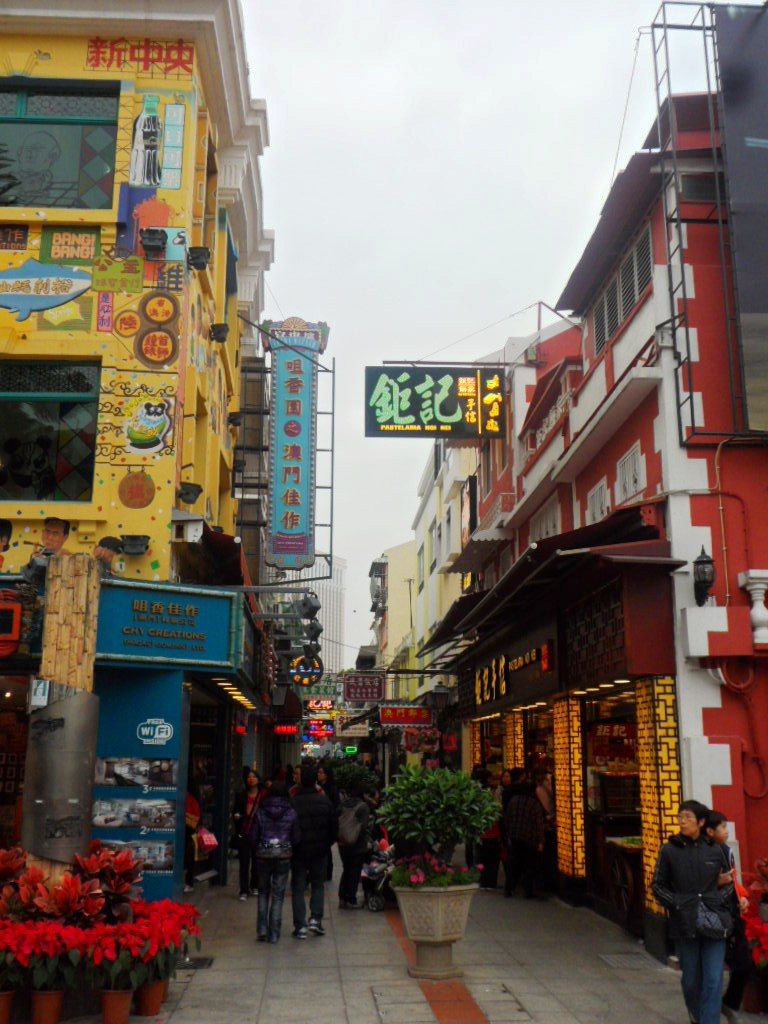 Main Street at Taipa Village
One of the main attractions here is also the Houses Museum which depicts life during the colonial period.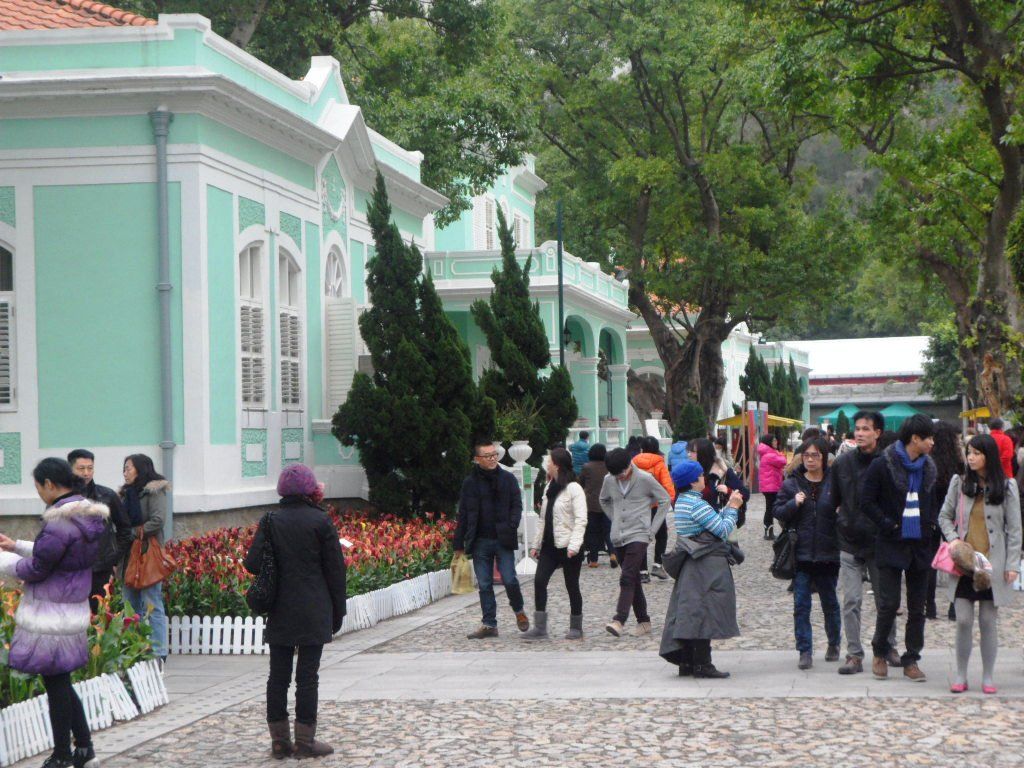 Houses Museum Taipa Macau
Cotai Strip Macau
Another short walk away was Cotai Strip where we enjoyed the views of the hotels along the strip. In addition, we managed to check out the Venetian, one of the main attractions here along the Cotai Strip. As it was the Christmas period, there was also the light display shown on the walls of the Venetian…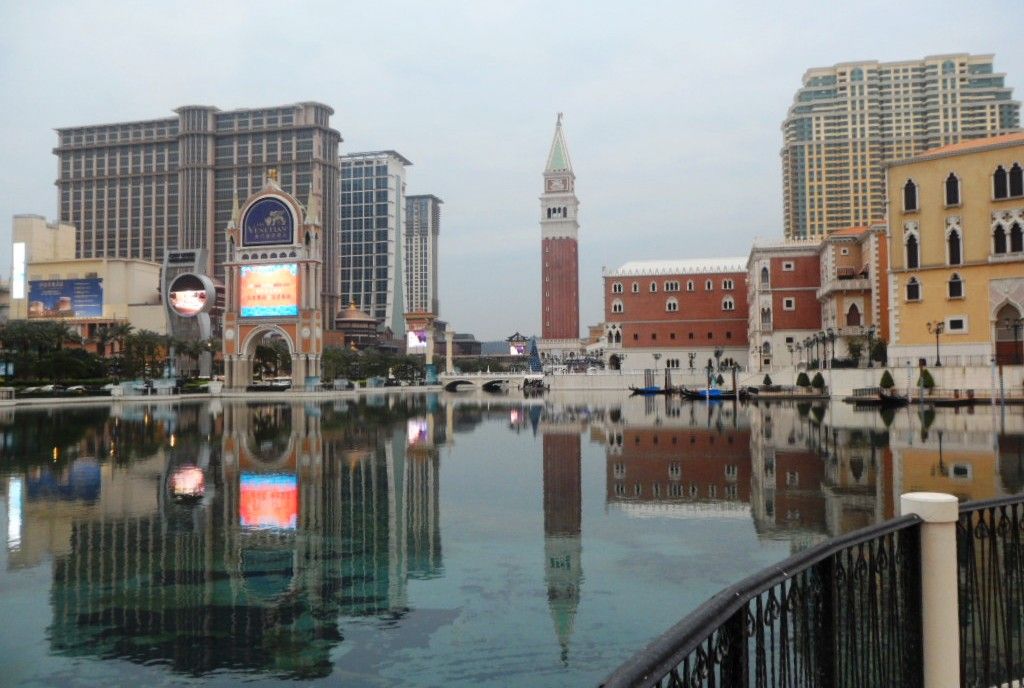 The Venetian Macau Cotai Strip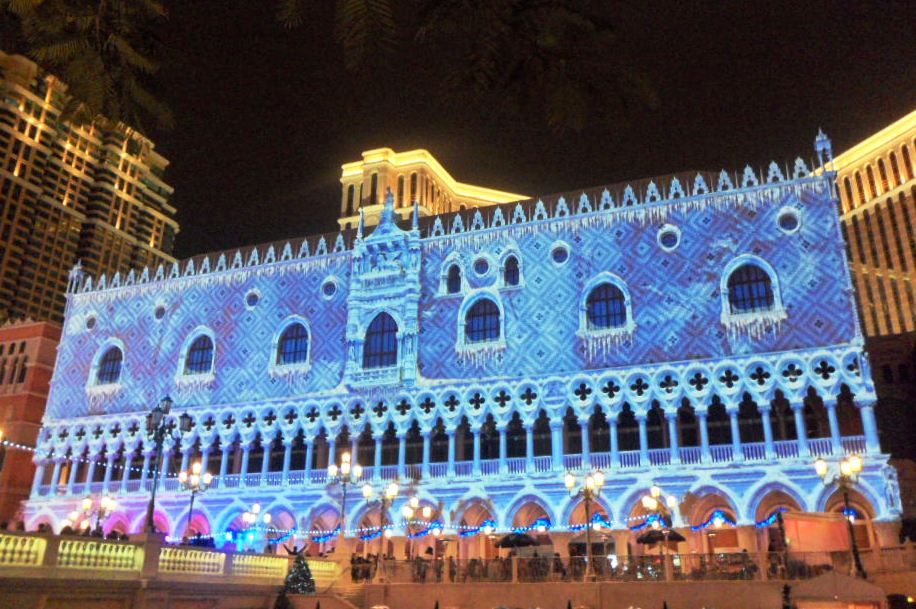 Light display on the Venetian Macau – Winter Time
If you enjoyed our content, "Like" us on Facebook Today!

For your convenience, we have arranged for the best hotel deals in Macau right here!
Phew…what an eventful 4th day at HK, Macau! Stay tuned for more of our Hong Kong, Macau trip!
Related Posts
You have just finished a post on our 9 day trip to Hong Kong, Macau and Shen Zhen. Read on to find out more about our adventures during this trip!
Hong Kong Trip : Day 1
Hong Kong Trip Day 2 : The Attractions of Tsuen Wan
Hong Kong Trip Day 3 : Ocean Park and New Year's Eve Countdown
Hong Kong Trip Day 4 – Side Trip to Macau
Hong Kong Trip Day 5 – Continuing Our Travels in Macao
Hong Kong Trip Day 6 – Rounding up Macao and Returning to HK
Day 7 Hong Kong Trip : Side Trip to Shen Zhen & Debunking Recommendations
Day 8 Hong Kong Trip : What we did in Central 中環 Hong Kong
Day 9 Hong Kong Trip : A Surprise Find at Lian Xiang Ju Dim Sum Restaurant
Hotels and Hostels We Stayed in Hong Kong
New Year's Eve Countdown at Victoria Harbour Hong Kong
Ibis Hotel Hong Kong Central & Sheung Wan : For the Best Views of Victoria Harbour
L Hotel Nina Convention Centre Hong Kong : Great views over Tsuen Wan
Jordan Comfort Inn Review @ New Lucky House Hong Kong
New China Yan Yan Guest House at Chung King Mansion
Food and Dining in Hong Kong
3 Reasons Why You MUST Try Dim Sum in Hong Kong and Macao
The Minimalist Guide to Eating at Tim Ho Wan Hong Kong
A Classy Treat at Lei Garden International Finance Center Hong Kong
Mak Mun Kee 麦文记 Noodles Shop : Best Wanton and Beef Noodles in Hong Kong
Great Desserts at Australian Dairy Company Hong Kong! ( 澳洲牛奶公司)
Lan Fong Yuen Hong Kong : For a taste of traditional milk tea since 1952
Secret to Enjoying Hong Kong Cafes…
What a typical Hong Kong Cafe is like
Debunking Recommendations of DiscoverHongKong.com : What NOT to eat in Hong Kong
Attractions in Hong Kong
Hong Kong Central Mid Level Escalator : Longest Escalator Walkway System in the World
Avenue of Stars 星光大道 : Hong Kong's Hollywood Walk of Fame
Ocean Park Hong Kong : Still worth a visit?
Temple Street 庙街 Hong Kong : First glimpse at Hong Kong's Night Market
Where to shop in Hong Kong? Citygate Outlets Tung Chung!
Elements Shopping Mall at Kowloon Hong Kong
Only make a side trip from Hong Kong to Shen Zhen if…
21 Amazing Travel Experiences in Hong Kong
Hotels We Stayed in Macau
Hotel Royal Macau : Luxury at a Central Location
Regency Hotel Macau : A 5 Stars Hotel?
Attractions in Macau
Guia Fortress and Lighthouse Macao : An Elusive Fortress Found
Macao Maritime Museum : Great Price Good Exhibits
Historic Centre of Macao : Ruins of Saint Paul's, Mount Fortress & More
Cotai Strip Macau : Games, Shows, Food and Entertainment
Taipa Village Macau : Houses Museum, Pork Buns, Portuguese Egg Tarts
Top 5 MUST DO Things in Macao : You have not been to Macao unless you have…
Related posts: