Horton Plains, Nuwara Eliya, Sri Lanka: A Great Workout!
Digress again: If you have been reading our posts on Sri Lanka (and the rest of our blog), you will realise that we like to blog about our hotel accommodation. We pride in finding the best deal; value for money; good location; clean room and comfort; helpful staff and feeling welcomed; wonderful facilities (swimming pool is our weakness. Heh). But I am not going to blog about our hotel in Nuwara Eliya. It was supposed to be one of the highlights of our trip – I was looking forward to posting wonderful pictures and raving about it (since we decided to splurge on this expensive hotel as a mid-trip treat). But all I can say is that either the staff were rigid in their thinking;, or not thinking at all, or just out to cheat customers of their money. So, no free advertising for this hotel even if it is mentioning its name in a bad review.
Back to Horton Plains…
The entrance fee for foreign tourists is about S$23 (inclusive of tax and service charge) and S$0.60 for locals. (You can start to see the pattern now). It is a short walk from the main entrance to the ticketing counter but it can also take quite some time as the tickets are handwritten. There is a toilet at the main entrance that looked recently renovated, so it is fairly clean with the modern seats.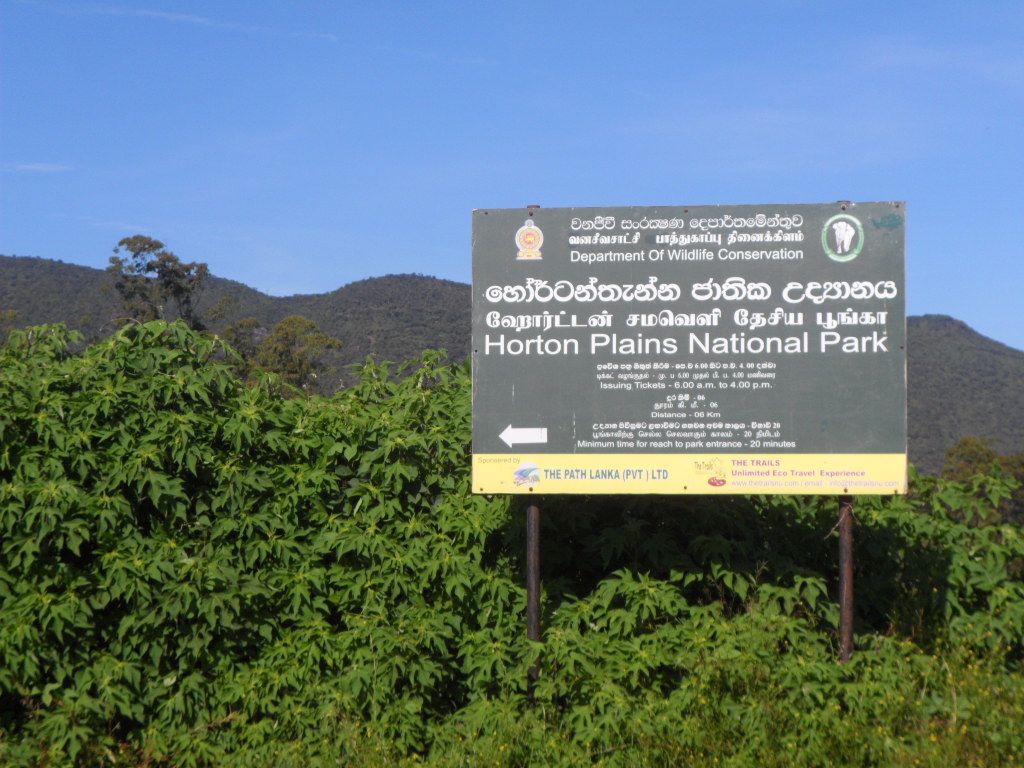 Signage to Horton Plains National Park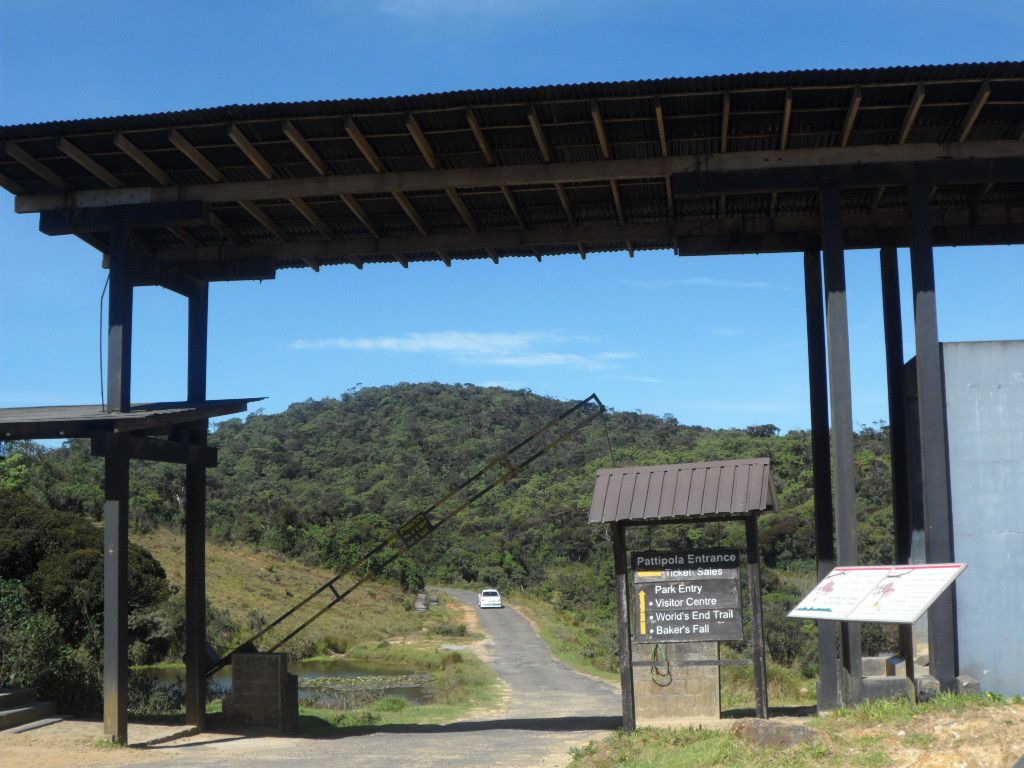 Entrance of Horton Plains National Park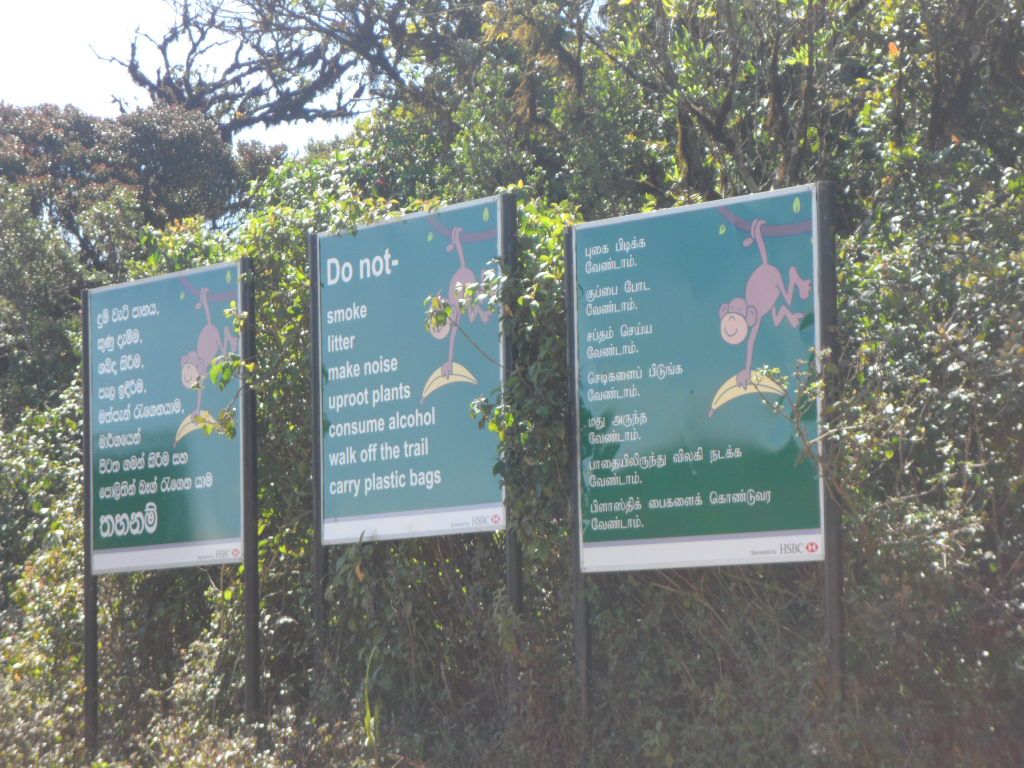 Little Reminders for the visitors to Horton Plains National Park
We went to the park's Visitor Centre and enquired about the trails. We were informed that there were 2 trails and the shorter one is about 9km which will take us about 3 hours. We were not expecting to walk for so long! 🙁 But we already paid for the entrance fee, so oh well. ( I did do my homework and asked our driver whether there was going to be a lot of climbing on this trip since we were tired from Dunhinda Falls, and he assured me it was "plains" so it would be easy. But I guess it slipped my mind to ask him how long the trail will be! By the way, there was some climbing involved especially at Baker's Falls.)
Because we planned to set off early, the weather was quite kind to us during most part of our walk. Certain areas were shady and cool, and some were sunny but breezy. At some parts, the path seemed endless with no destination in sight, and we often asked "Are we there yet?" like annoying little children.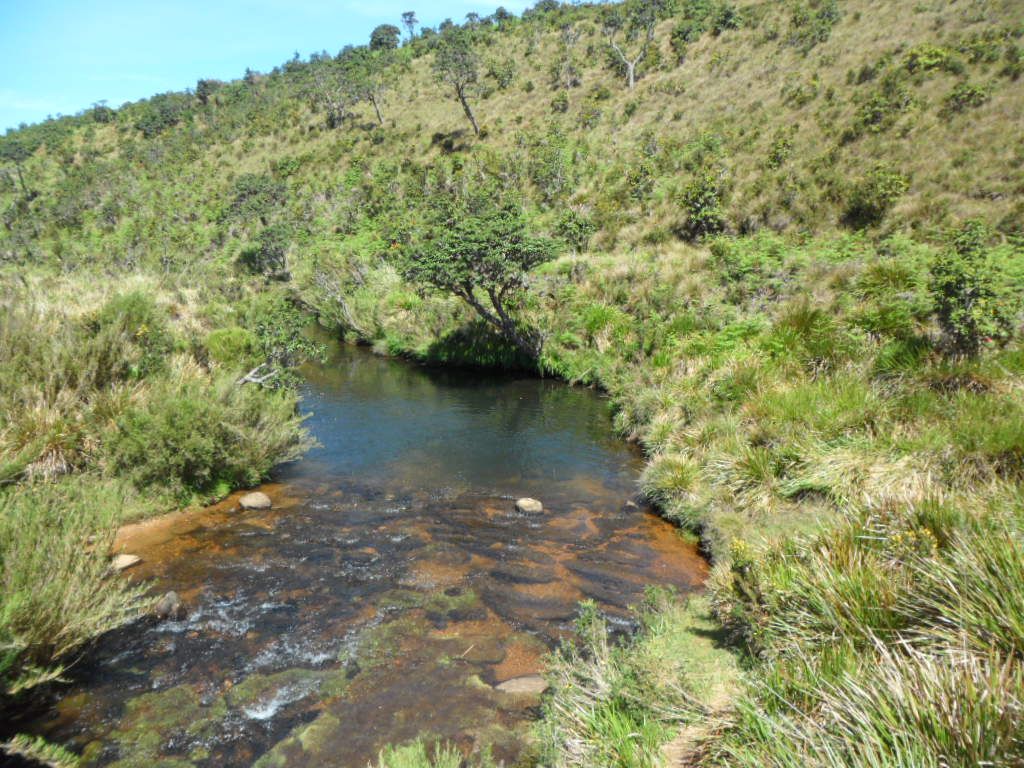 Small Stream along the plains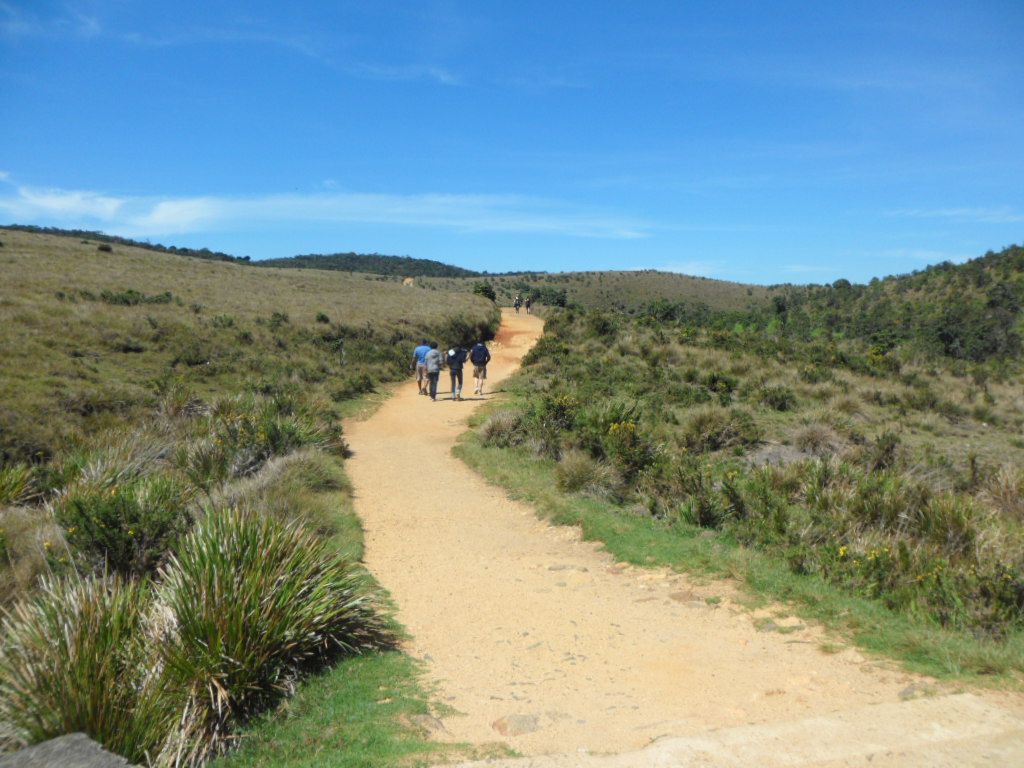 One of the easier-to-walk-flat-ground at Horton Plains National Park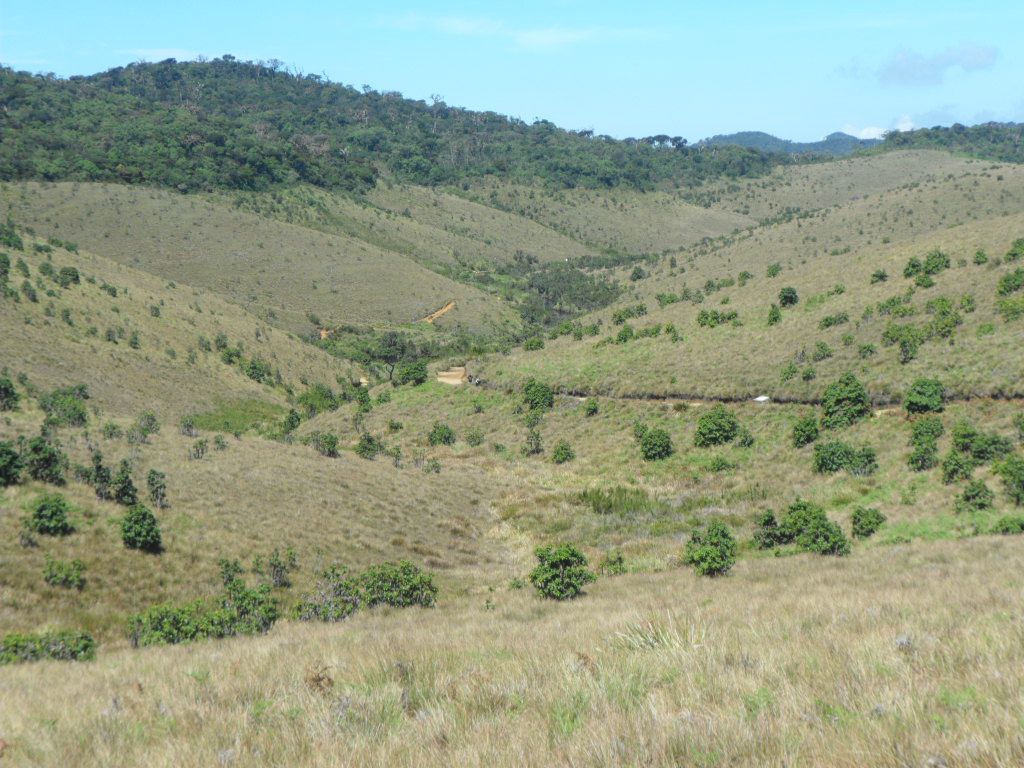 Are we there yet?
Finally we reached Little World's End! It seemed really scary standing near the edge as there was no safety barricade. According to our driver, there were Sri Lankan couples with "many many problems" who jumped off the cliff. Hmm, not sure if it was true. We took more photos and braced ourselves for the next 1.75km hike to the Greater World's End.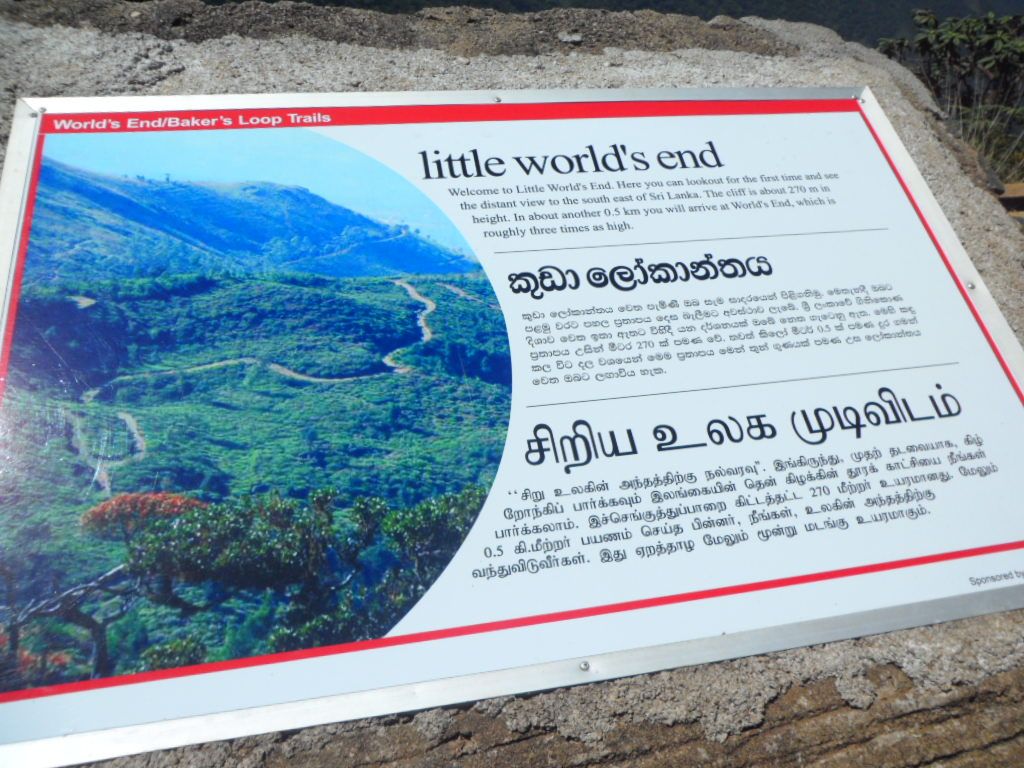 Finally Weve reached Little Worlds End at Horton Plains National Park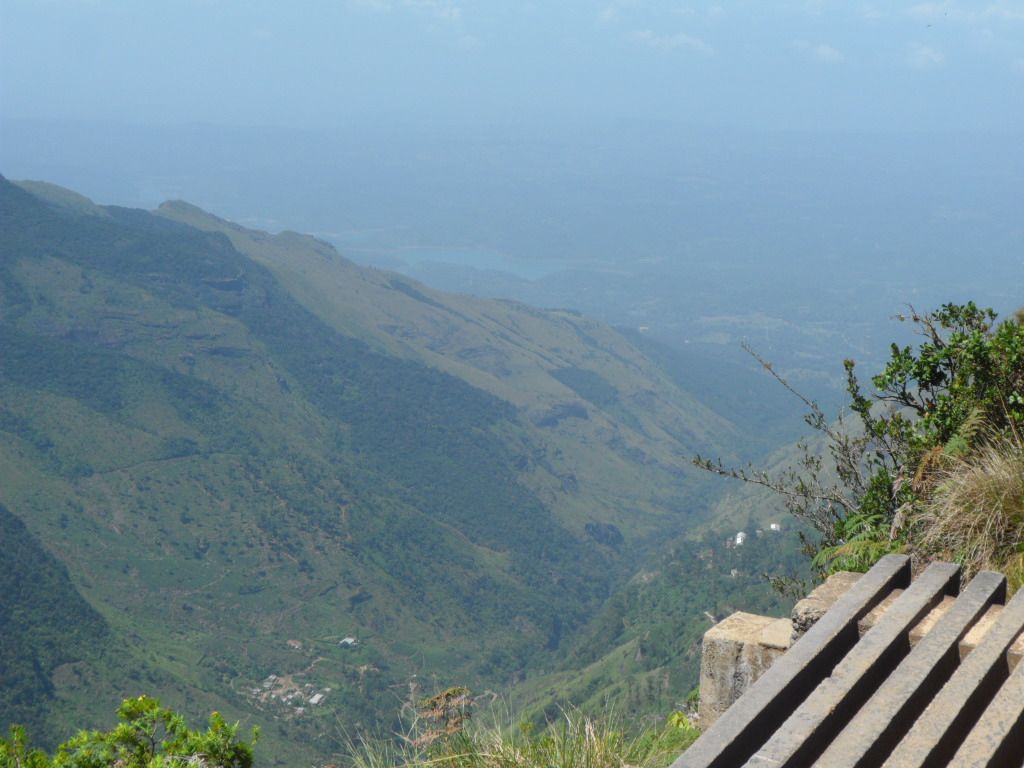 View from the Little Worlds End at Horton Plains National Park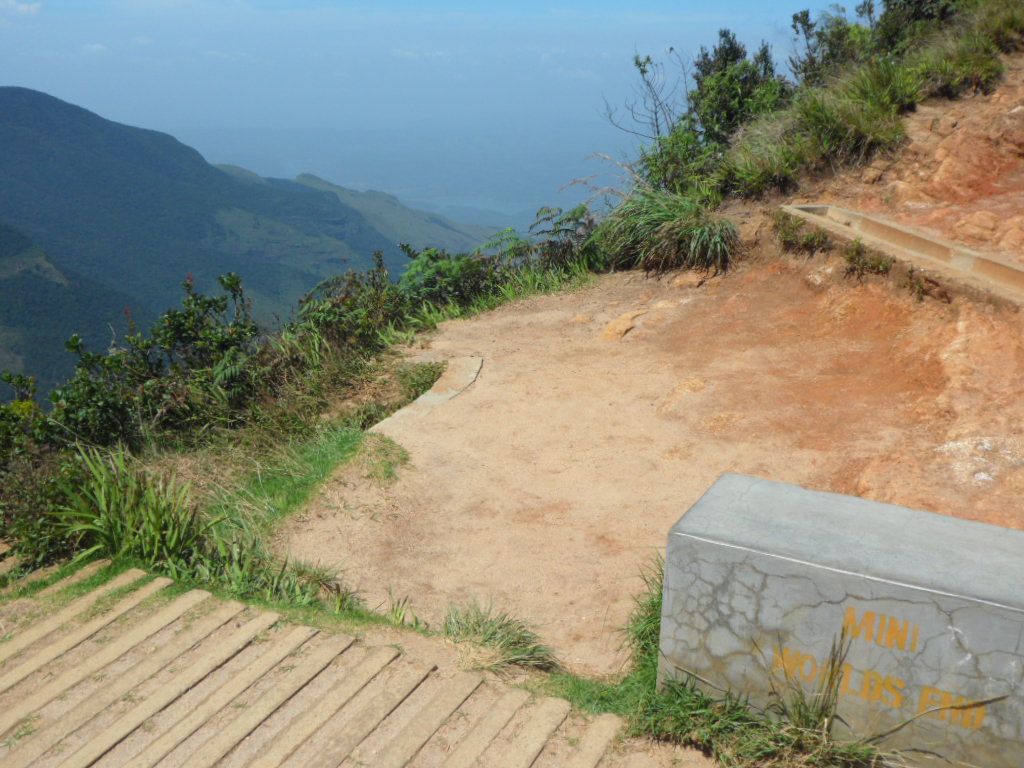 Little Worlds End also known as Mini Worlds End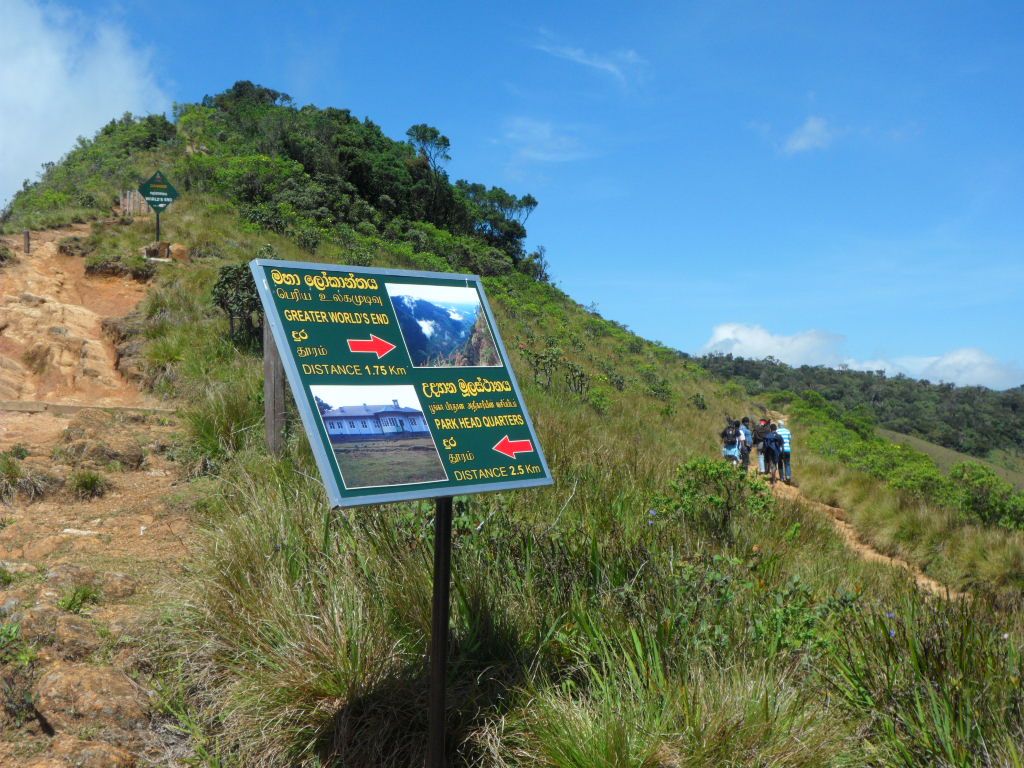 Another 1.75 Km Hike to Greater Worlds End
The view from Greater World's End looked about the same as the one from Little World's End, although it is supposed to be about 3 times higher. We quickly looked for signs to direct us to the last attraction of the loop trail – Baker's Falls.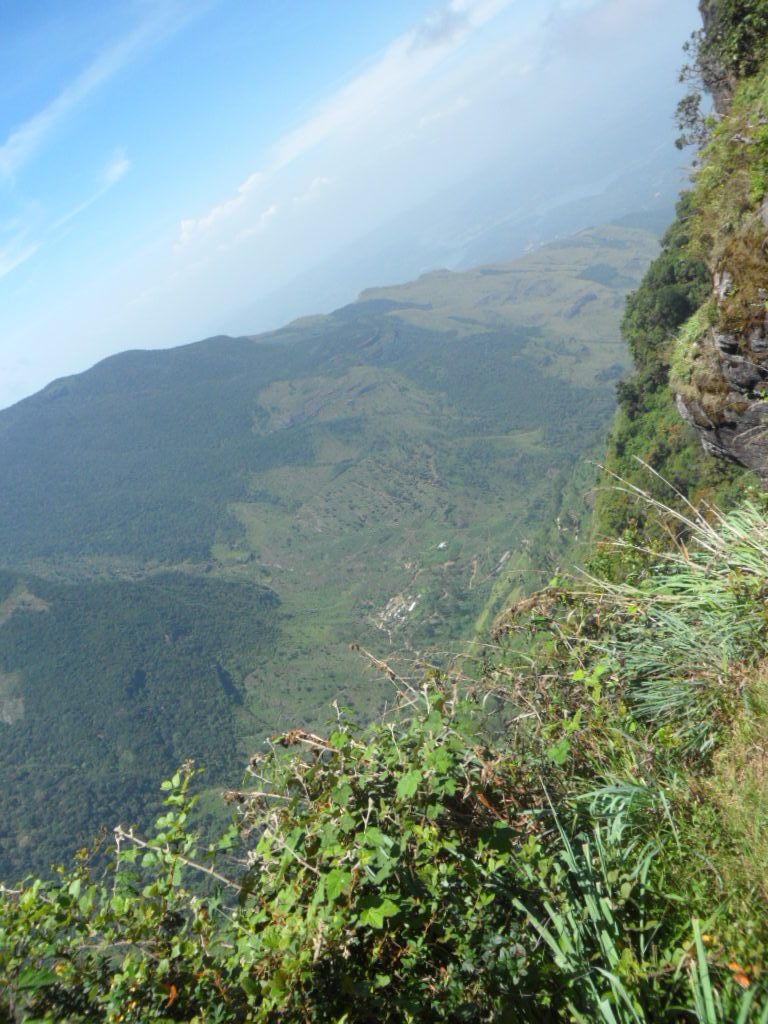 Greater Worlds End

Small Signage to Direct Us to Bakers Falls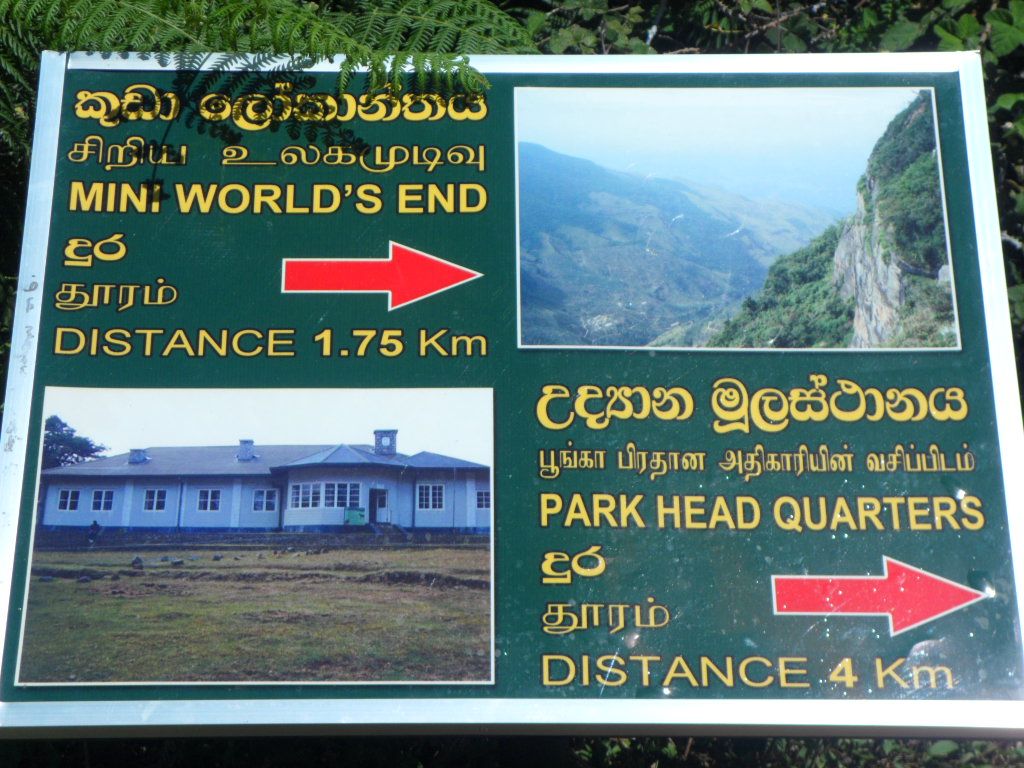 Big Signage to Direct Us back to Park Headquarters
Along the way, there were several paths that were repaved because the older ones had become uneven and slippery. Some of the paths were very narrow and we had to really watch our step. There were also a couple of bridges that we had to cross, and we doubted the sturdiness of the bridge 😛 This "perilous" path reminded me of our Sapa trip in Vietnam…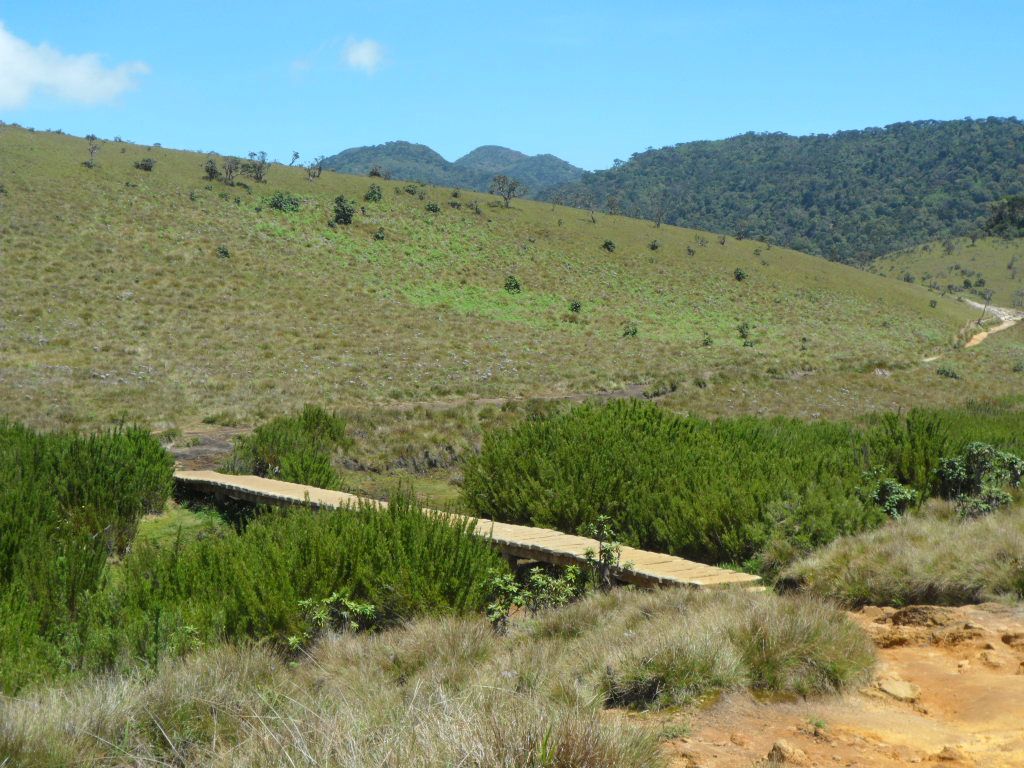 Mini Bridge We Wondered If It Was Safe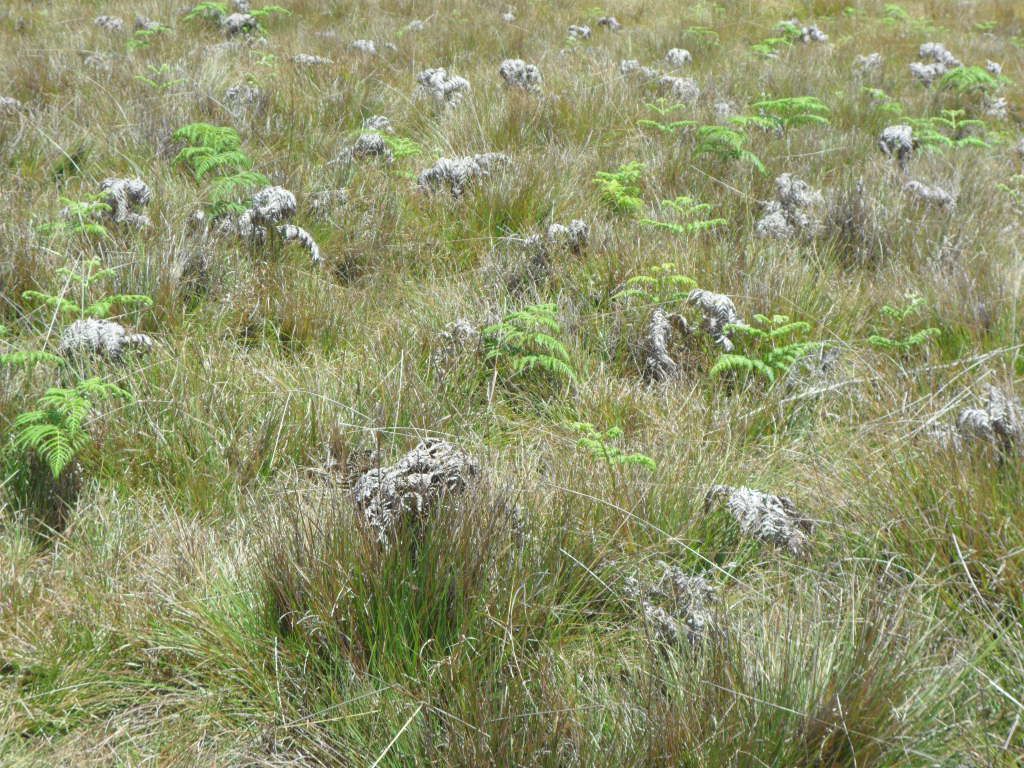 Interesting Plants At Horton Plains National Park We thought it resembled the fried cauliflower we had for dinner last night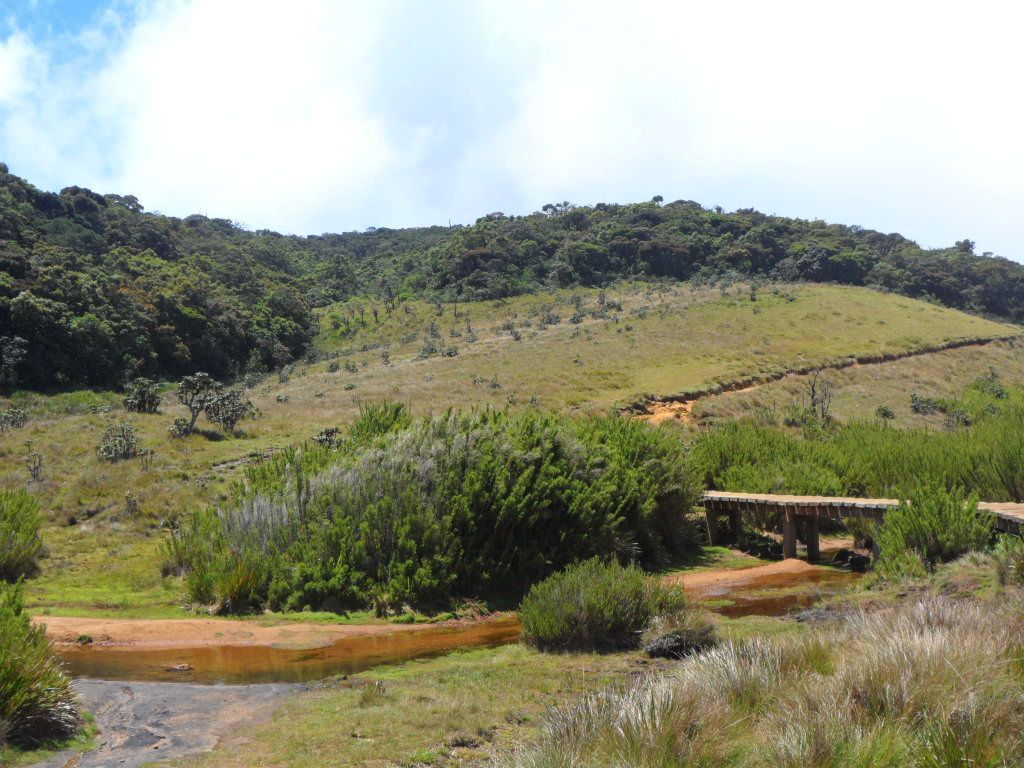 Another Bridge to Cross and The path ahead was a little slippery and sloped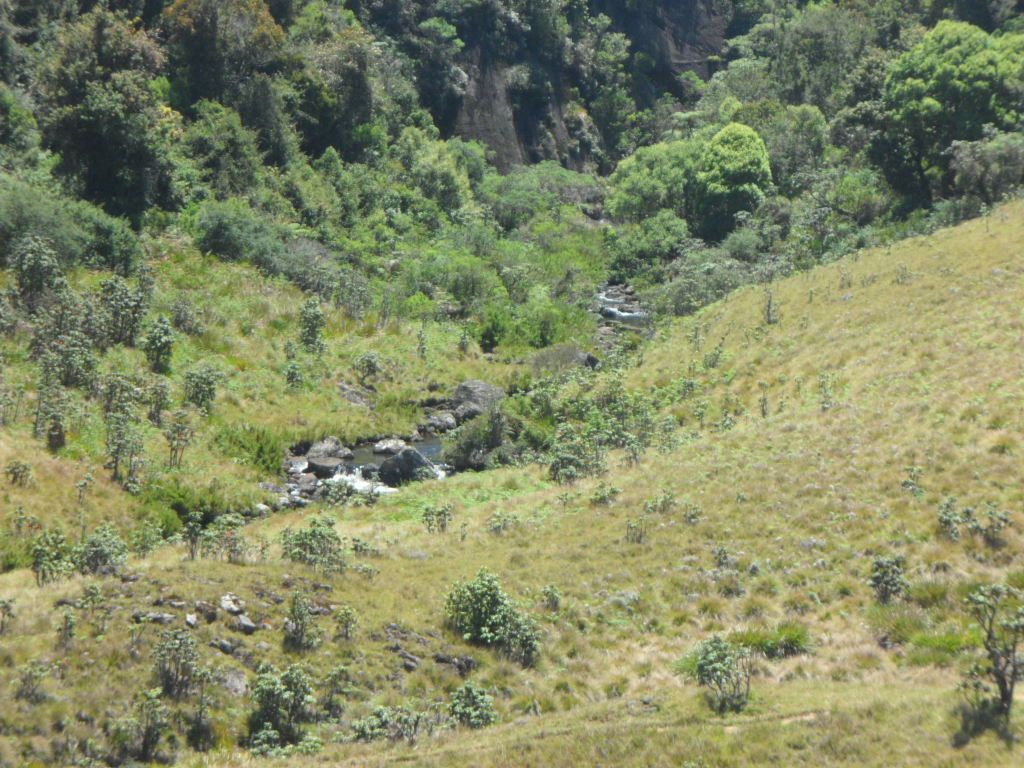 We Can Hear the Waterfall – Are We There Yet?
We got excited when we could hear the sound of flowing water! We could see the downstream of the waterfall but the waterfall was not in sight. It was about another 30mins before we reached Baker's Falls. And before we could see Baker's Falls, we had to make our way down a steep slope, holding on to tree branches/trunks for safety! But of course the locals wearing their simple rubber slippers made it looked like it was an easy feat 🙂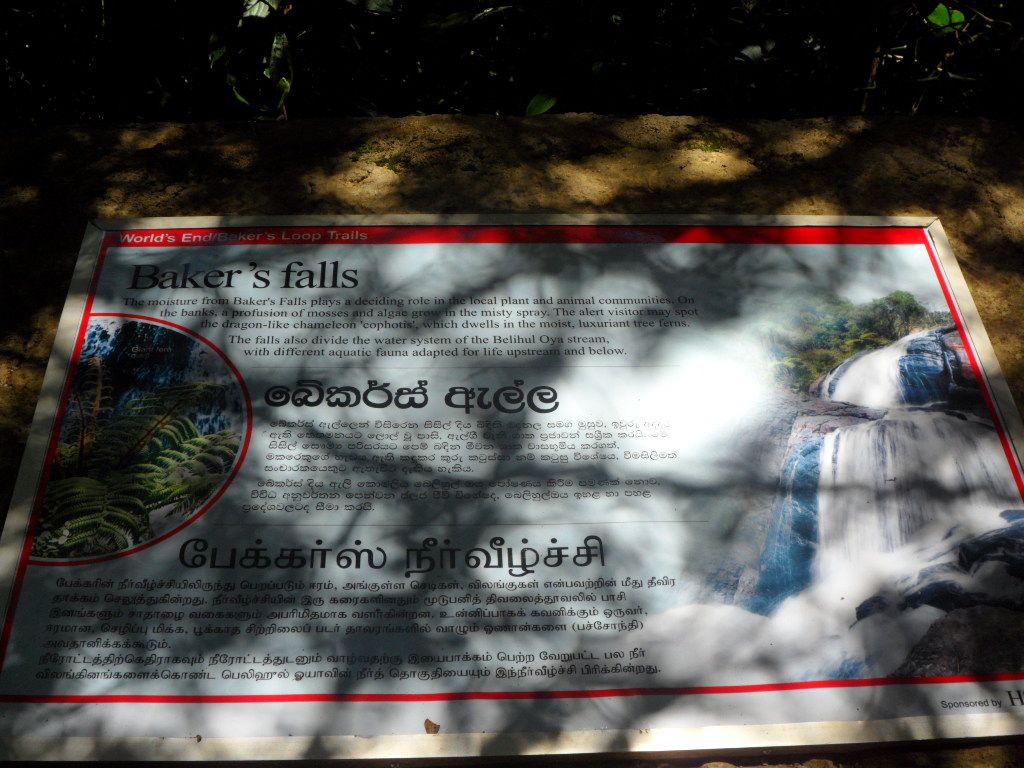 Signage for Bakers Falls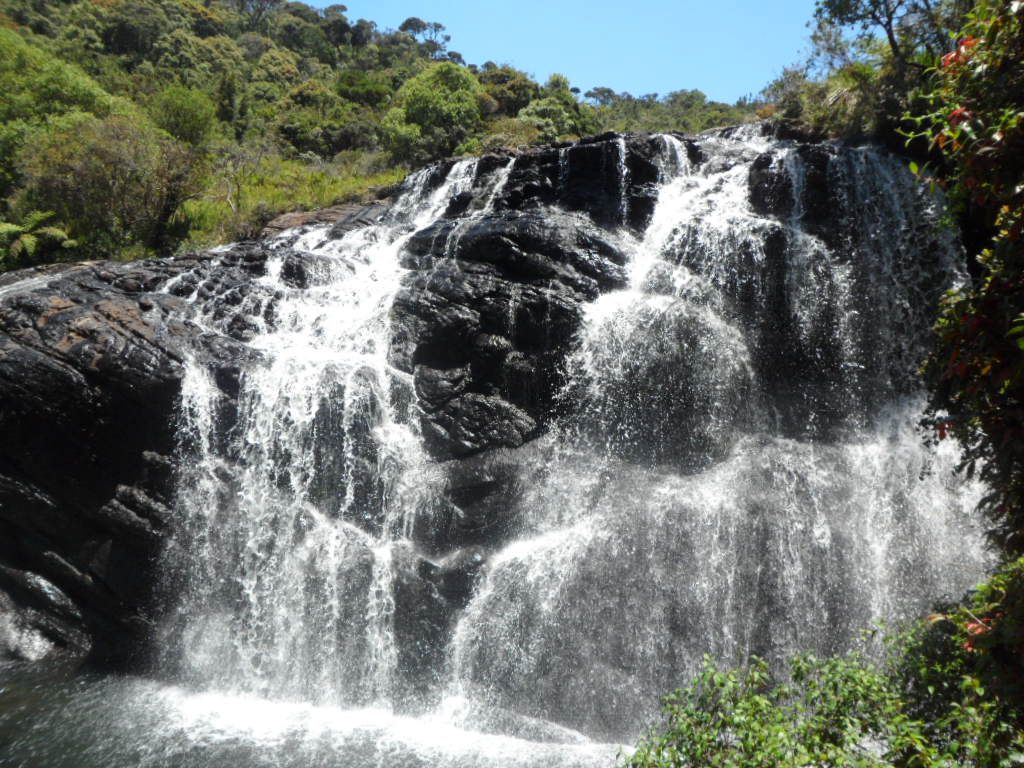 Bakers Falls

Video of Bakers Falls
As it was a loop trail, we knew we had to make our way back to the car park. We saw the sign that says "3.5km to park headquarters", and went "Ahhhhhh!~~" So we took a deep breath and psyched ourselves for the last part of the trail.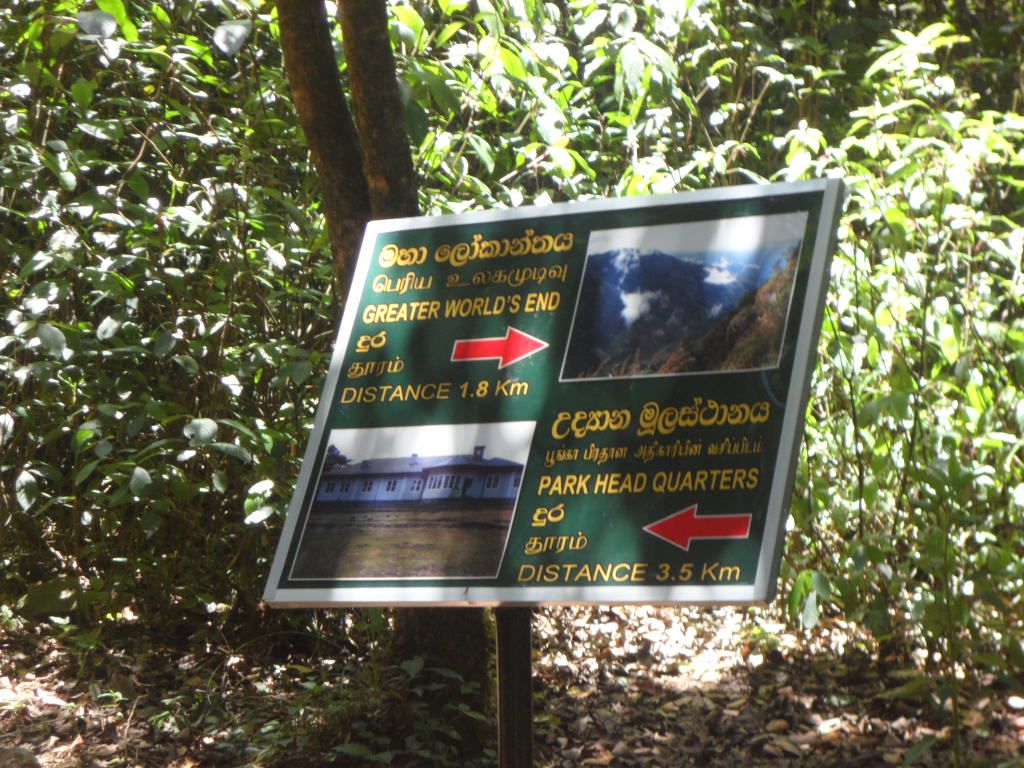 Ahhhh we have only trekked two-thirds of the trail!
We took slightly more than 3 hours to complete the trail because we stopped for a little picnic along the way. Remember to wear comfortable walking shoes, bring sufficient water for the hike and think about what clothes you want to wear if you want to avoid funny tan lines (especially the ladies!) 🙂
Extra: We were pleasantly surprised to see a deer near the exit of Horton Plains National Park. It was right beside the road and it looked directly at us when we drove by. I guess it got used to cars and humans already.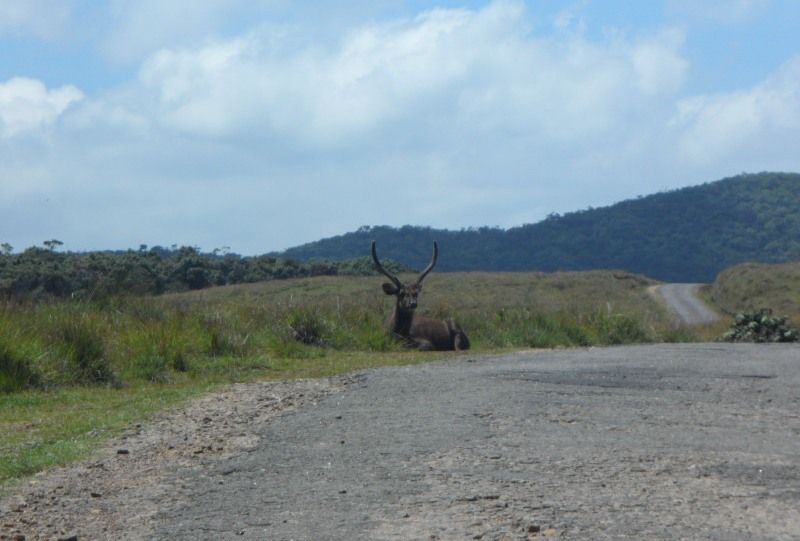 Unexpected Sighting of Deer as we left Horton Plains National Park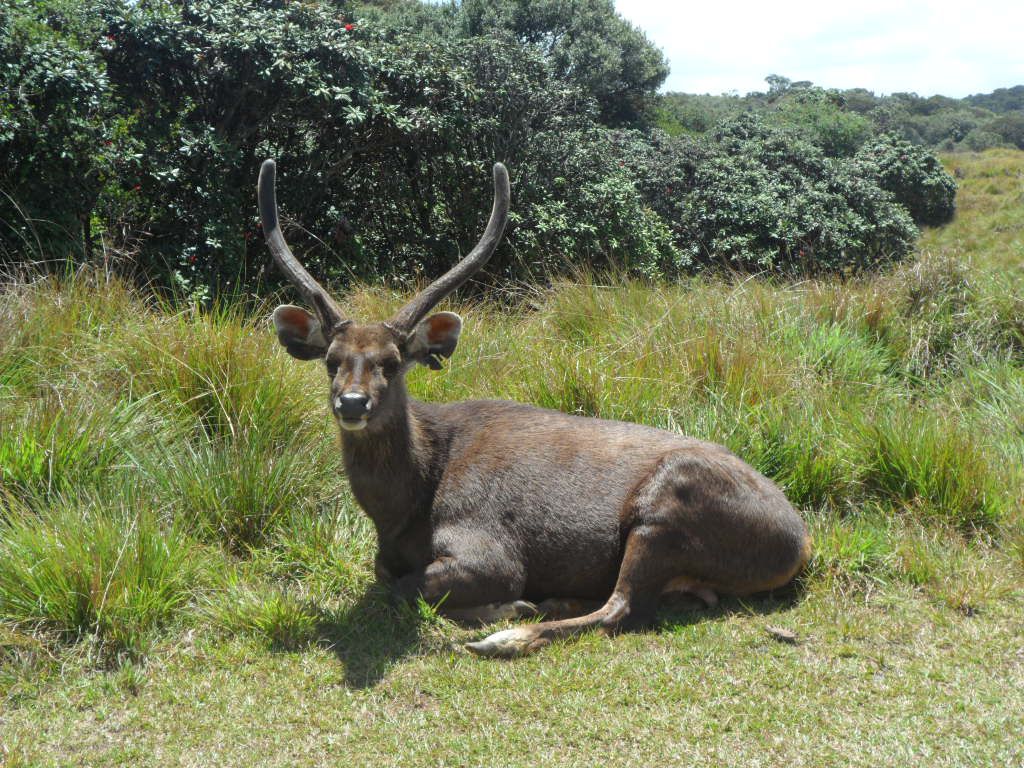 Close up of Deer
For your convenience, we have arranged for the best hotel deals in Sri Lanka right here!
If you enjoyed our content, "Like" us on Facebook Today!

Related posts: