Travel Channel's Man vs Food has led us to 2 eat outs in Las Vegas!
Though there were many foods introduced in this episode of Man vs Food Las Vegas, we managed to visit 2 of them and we didnt regret it at all!
They are Hash House a Go Go and the Nascar Cafe…
Hash House a Go Go
Hash House a Go Go is located at 6800 West Sahara Ave, Las Vegas NV 89146
and its hours of operation are as follows…
Breakfast & Lunch 7:30am-2:30pm
Dinner Monday-Thursday 5:30pm-9:00pm
Dinner Friday & Saturday 5:30pm-10:00pm
*Closed Sunday Nights
As with all famous eat outs, there was a queue at Hash House a Go Go. We waited for about 10 minutes and got our own seats, being shown to our seats by the friendly waiter at Hash House a Go Go.
The first thing we noticed about this restaurant was that there was no pretense and was totally casual. Everyone was having fun, enjoying their food and the company they had.
We browsed through the menu and laid our eyes on the
Big O'crispy hand hammered pork tenderloin sandwich ($13.95) as well as the Sage Fried Chicken stacked with bacon waffle, hot maple caramel reduction and crowned with fried leeks ($16.95).
We waited in anticipation as we saw huge portions of food being served to the other tables and we were not disappointed when ours arrived…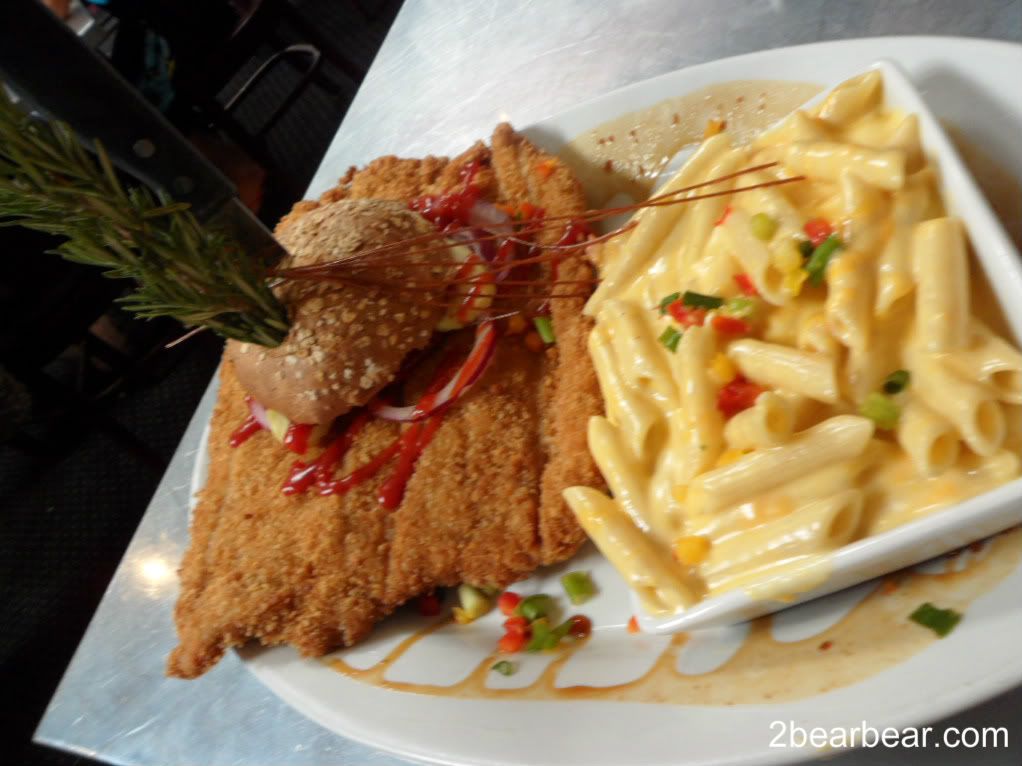 Big O'crispy hand hammered pork tenderlion sandwich with Macaroni and Cheese on the side
Have you seen this piece of pork tenderloin? It is HUGE! Have you ever seen a piece of patty that exceeds its bread buns by this much? Check out the portion of the macaroni and cheese as well!
Taste: Just as the name suggests, the pork tenderloin was cripsy and juicy. There was something about the flatness that made the whole sandwich that extra palatable. The mac and cheese also went well as a side. Yum!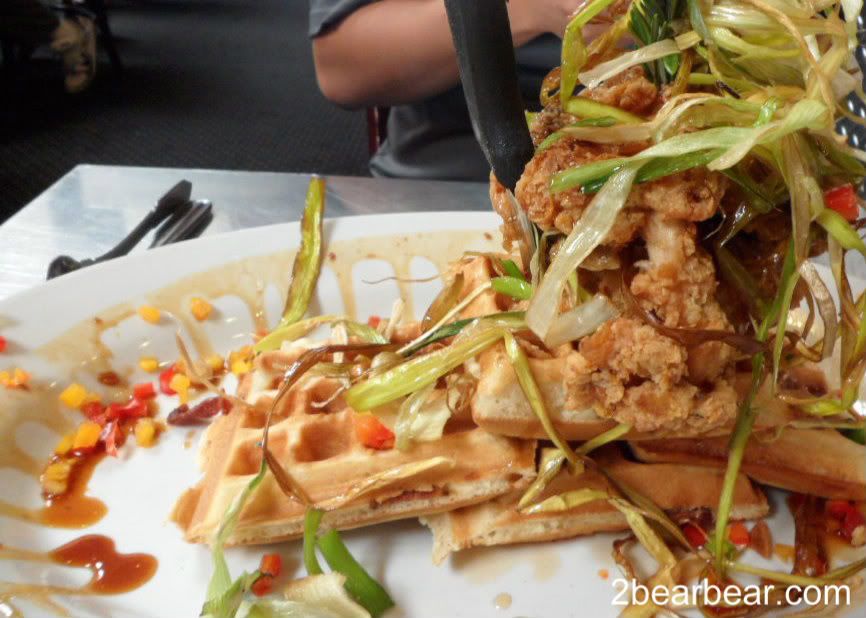 Sage Fried Chicken stacked with bacon waffle, hot maple caramel reduction and crowned with fried leeks
Our first thought (could be yours now) is that "How can fried chicken go with waffles and sweet maple syrup?!" The answer: YES!
Taste: Again, the fried chicken was juicy and cripsy (telling us why its famous) and the waffle had bacon in it! Take a look at this!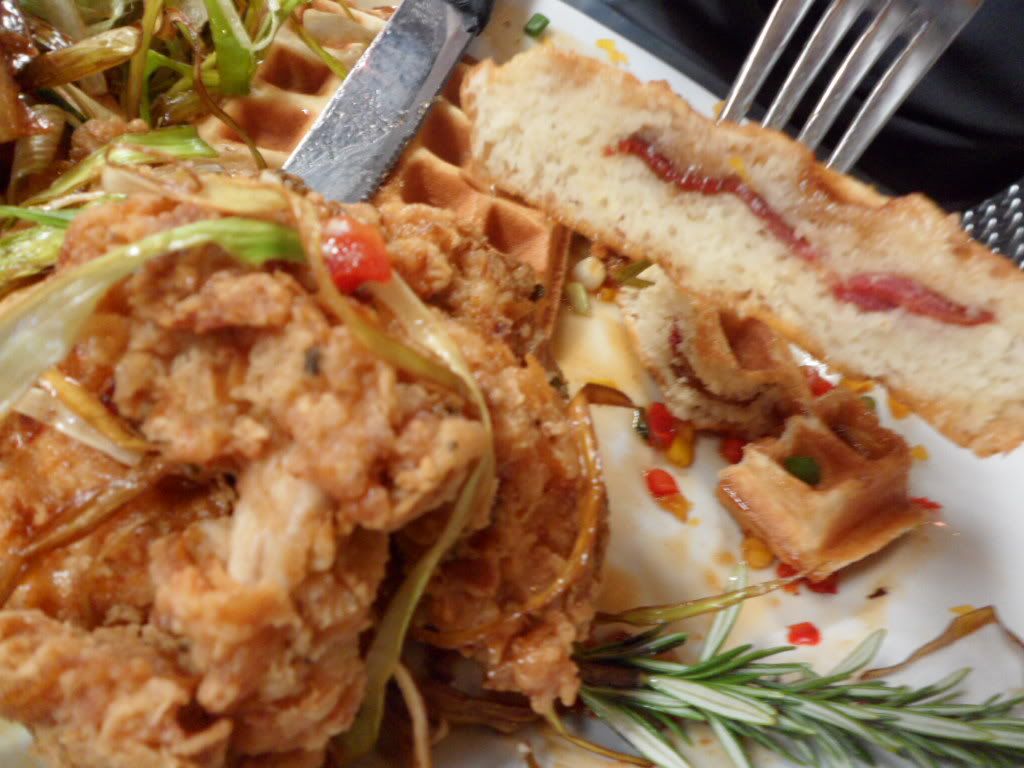 Close up of the Bacon inside waffles
The maple syrup blended well (not too sweet) with the fried chicken. The fried leeks was for us, the secret ingredient that brought these sweet and savoury food pieces together! Each mouth brought out the aroma of the fried leek (unlike anything we've tried) while the tastes of the bacon waffle and fried chicken sort of explodes in your mouth as you chew! Wow!
We've got to say that Hash House a Go Go is one of the best restaurants we've visited in the states. We were pleasantly surprised by the ingenuity and innovation that the restaurant has placed into its food. Needless to say, the taste also had the 'wow' factor and we thoroughly enjoyed our dining experience there.
Nascar Cafe – Closed
The Nascar Cafe used to be located at the Sahara Hotel. However, the hotel has since closed and hopefully the cafe has relocated as well. (if our readers do know of the relocation, leave your comments below)
The main reason why we popped by at the Nascar Cafe was because of the challenge introduced in Man vs Food Las Vegas!
In each episode of Man vs Food, there would be a food challenge for host, Adam Richman. In this episode of Man vs Food, the challenge was to finish eating "THE BOMB"!
What is "THE BOMB"? It is actually a 2 feet, 6 pounds burrito…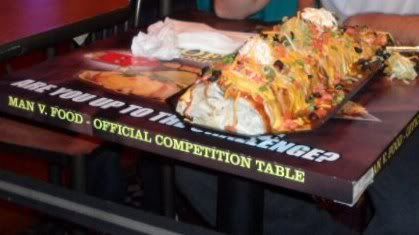 The Bomb at the Nascar Cafe – MVF Challenge
Coincidentally, we met with a challenger of the MVF challenge and there was even a table allocated just for the challenger. This challenger had finished about a quarter of the bomb and we could see that he was totally "bombed"…and here's the reason why…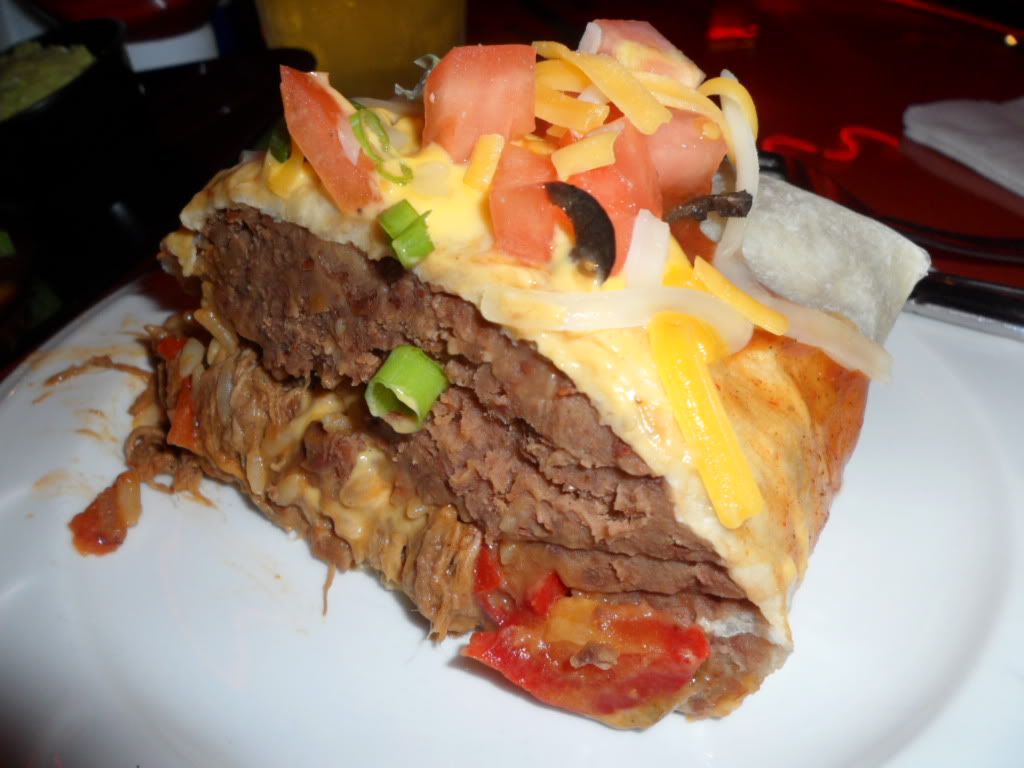 Fillings of "The Bomb" at Nascar Cafe
"The Bomb" is filled with loads of ingredients including fillers such as rice (rice?!), beans, meat and the wrap. On the top, it is covered with cheese, dressing and olives!
Although the price of "The Bomb" is just $19.95 (good for many), we decided to go with the baby burrito (the smaller version of the bomb)…

Baby Burrito @ Nascar Cafe
We were really really glad that we didnt take up the challenge. Not only because if we did not complete the challenge we would have to take a picture wearing a pink T-shirt that says "Weenie". BUT because we even had trouble finishing this quarter of the bomb! Kate and I both at that!
If you enjoyed our content, "Like" us on Facebook Today!

Remember to leave your comments for 2bearbear Singapore Travel Blog in our comments section below!
Of course, if you can finish the challenge, the prize at that time was to have unlimited rides on the now defunct roller coaster of Sahara Hotel.
Overall, thanks to MVF, we were able to experience 2 unique and memorable restaurants in Las Vegas!
Cheers!
Related posts: