Over the weekend, Kate and I took a day trip to Johor Bahru City Square and enjoyed "Singaporean Activities" (i.e. eating, shopping and watching movies) at a cheaper price…
What to do at Johor City Square
1. 100 Doraemon Secret Gadgets Expo

100 Doraemon Secret Gadgets Expo at Johor City Square
The 100 Doraemon Secret Gadgets Expo is currently on at Johor Bahru City Square from 30 August 2014 to 4 January 2015. Entry tickets costs RM25 for adults and RM15 for children.
Although Kate and I did not visit the exhibition, we managed to "sneak" a few shots just for you! 😉

Doraemon Expo at Johor Bahru City Square

"Sneak" at the Doraemon Exhibition at Johor City Square

Kate's favourite Doraemon pose

Inside the Doraemon Expo at Johor Bahru City Square
2. Shopping at Johor Bahru City Square

Shopping at Johor Bahru City Square
With more than 200 retailers at JB City Square, Singaporeans can take advantage of the 2.5RM to 1SGD exchange and enjoy the host of shopping options available!
This time, Tom bought a pair of spectacles. To be precise, it was a pair of Braun Buffel frames with transitions signature lenses. The total cost came up to 750RM or about 300SGD. Is the price ok? Let us know in the comments section below!

Spectacles from Eyesmate Johor Bahru City Square
3. Dining options at Johor Bahru City Square
As most of the restaurants maintain numerical values for their prices, Singaporeans will be spoilt for choice when it comes to dining options at City Square JB. We were contemplating between Japanese, Western or Korean cuisine. Eventually, we decided on Bornga Korean Restaurant due to the additional discounts that it was giving!

Entrance to Bornga Korean Restaurant at JB City Square

Recommended dishes at 15% discount!
We decided on the Chadol Duenjang Jigae (traditional Korean soybean paste stew with beef) @ 20.40RM as well as the Kimchi Jigae (spicy stew with kimchi, pork and various vegetables) @ 17RM…

Every order comes with 5 side dishes and dessert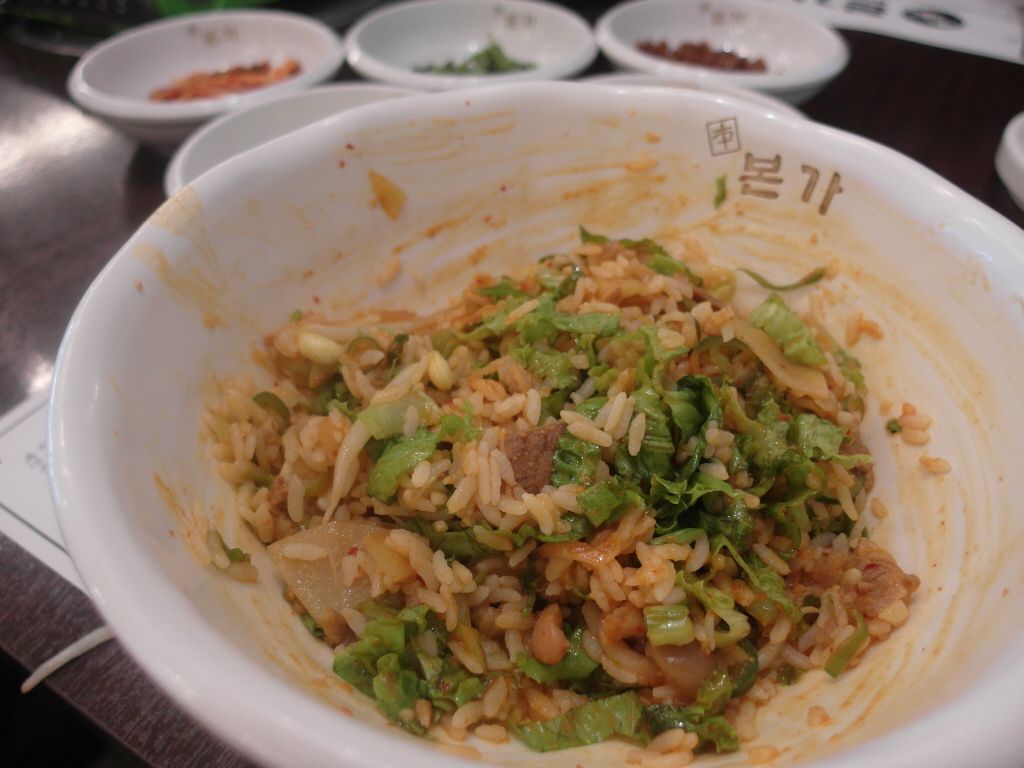 Chadol Duenjang Jigae with rice – YUMMY!

Kimchi Jigae from Bornga Korean Restaurant City Square Johor Bahru
4. Movies at discounted prices
Kate and I also caught November Man (starring Pierce Brosnan – which was surprisingly AWESOME!) at 15RM, approximately 6SGD. But if you watch movies from Monday to Thursday (before 1pm), it costs only 7RM! Just remember that Friday is considered "weekend"!
How we got from Singapore to Johor City Square
We first took the MRT to Kranji station and took bus 170. Bus 170 actually takes you all the way to the checkpoint, crossing the causeway and alighting you at the checkpoint in Johor. All in all, you would have to tap your ezlink 4 times per way for bus 170 (boarding 170, alighting at Singapore's checkpoint, reboarding at Singapore's checkpoint and alighting at the Malaysia checkpoint).
The total trip 1 way costs $2.30 (inclusive of our MRT ride).
After alighting at the Malaysia Johor checkpoint, you can walk about 5 minutes to Johor Bahru City Square. The best part is that this entire walk is sheltered! 😉
If you enjoyed our content, "Like" us on Facebook Today!

We hope you have enjoyed our review of Johor Bahru City Square! City Square JB is definitely a great place for Singaporeans to shop, dine and catch a movie! Tell us more about your day trip from Singapore to Johor in our comments section below!
Related Posts
Amari Johor Bahru Hotel: The Most Comprehensive Review Yet!
Johor Bahru Staycation: Our 3D2N Stay at Amari Johor Bahru Junior Suite!
Johor Bahru Cafes and JB Restaurants to Visit!
Day trip from Singapore to Johor City Square in the shortest possible time!
Johor Bahru City Square Day Trip!
Related posts: