Legoland Malaysia is the latest attraction in Johor! We had an opportunity to visit so let's find out what's on offer at Legoland Malaysia right here!
How to get to Legoland Malaysia
Legoland Johor Malaysia is located near Medini and is just a 10 minutes drive from the Tuas Second Link, 20 minutes from Senai Airport and 30 minutes from Johor Bahru.
To get to Legoland from Singapore, after passing the Tuas Second Link, continue along the second link expressway and look for EXIT 312. Note that for this exit, there are 2 sub exits, go to the one that states Nusajaya / LEGOLAND. "LEGOLAND" will be prominently displayed in brown, you cant miss it!
Follow the signs to "LEGOLAND" and you will pass by Mall of Medini. PARK HERE!!

Mall of Medini – Park Here for Legoland!
The reason why we suggest to park here is because it is a shorter drive (you'll still need to drive 200m to Legoland's car park) and since both parking locations requires you to have a short walk from the carpark to Legoland, why not pass through a mall?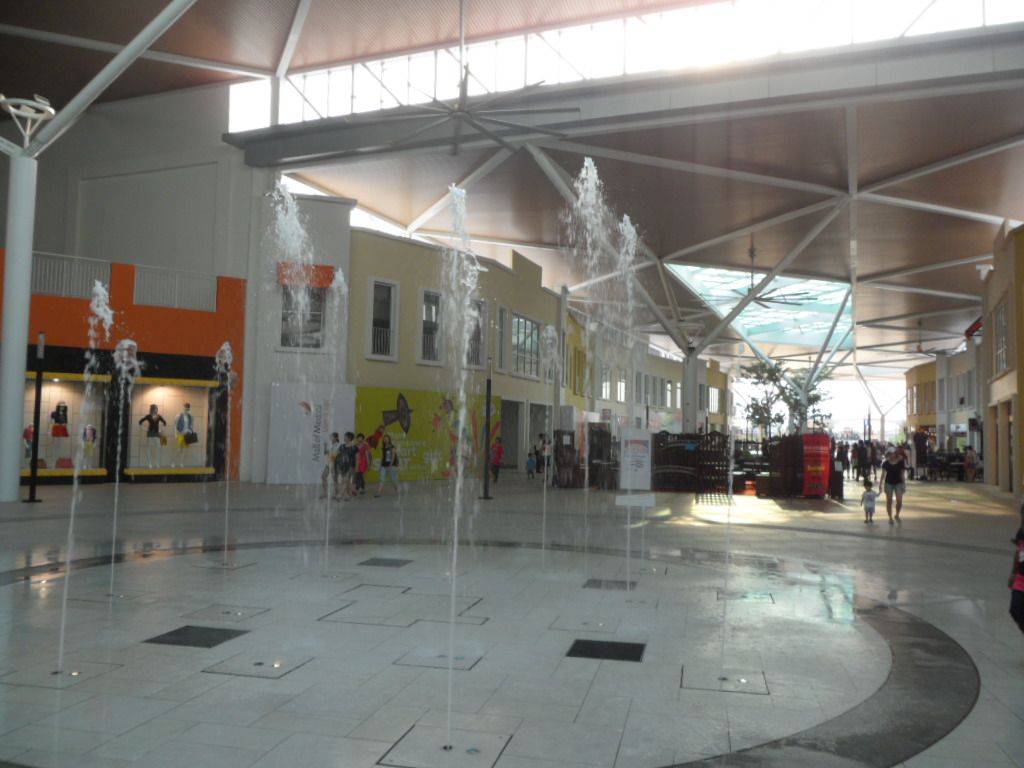 Passing through Mall of Medini…

To Legoland Malaysia!
Things to do and Attractions in Legoland Malaysia
There are so many things to do and attractions in Legoland! There are 7 themed areas with over 40 interactive rides, shows and play areas for the kids! Legoland is a kids friendly place. We would say that more than 50% of the attractions are meant and constructed with kids in mind. The themed areas include
1. The Beginning
2. Lego Technic
3. Lego Kingdoms
4. Imagination
5. Land of Adventures
6. Lego City
7. Miniland
Before we proceed, let's first take a look at the map…
Map of Legoland Malaysia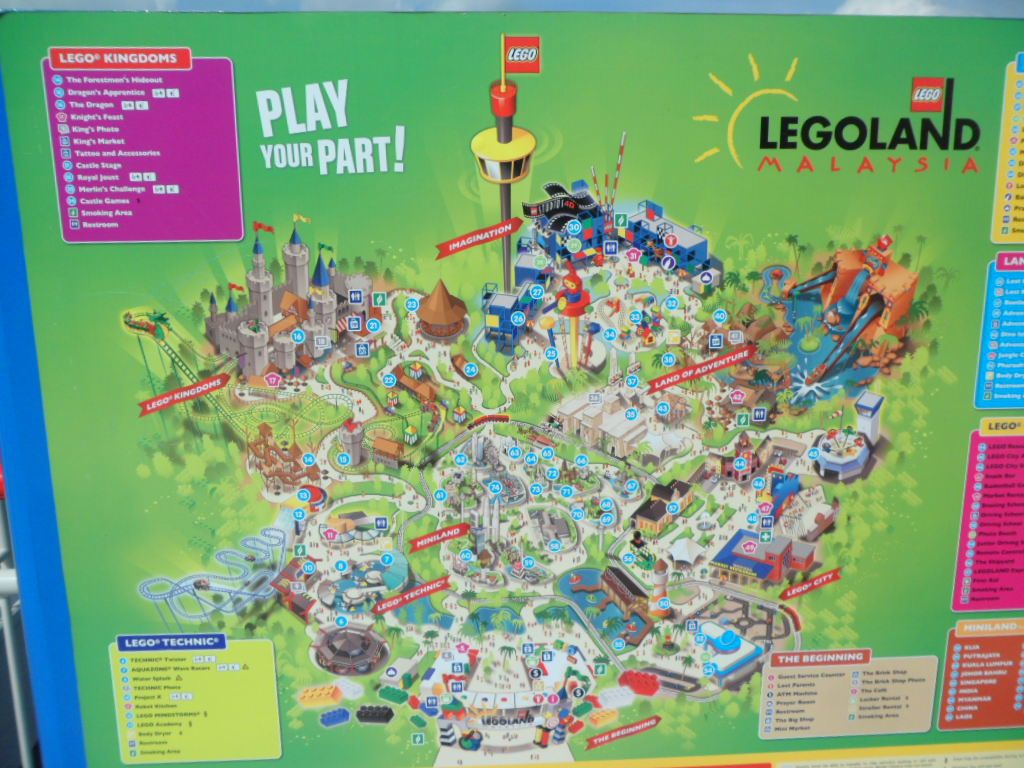 Map of Legoland Malaysia

Aerial View of Legoland Johor
The Beginning
The Beginning is the first area that you will go to once you enter into Legoland. After contending with the long queues to enter Legoland (we came on a week day and yet there's such a long queue!)…

Long Queues outside Legoland
Here, you will find guest services counter, mini market, the Brick Shop, the Cafe as well as the Big Shop! Cute characters made entirely out of Lego bricks can be found here and throughout Legoland as well!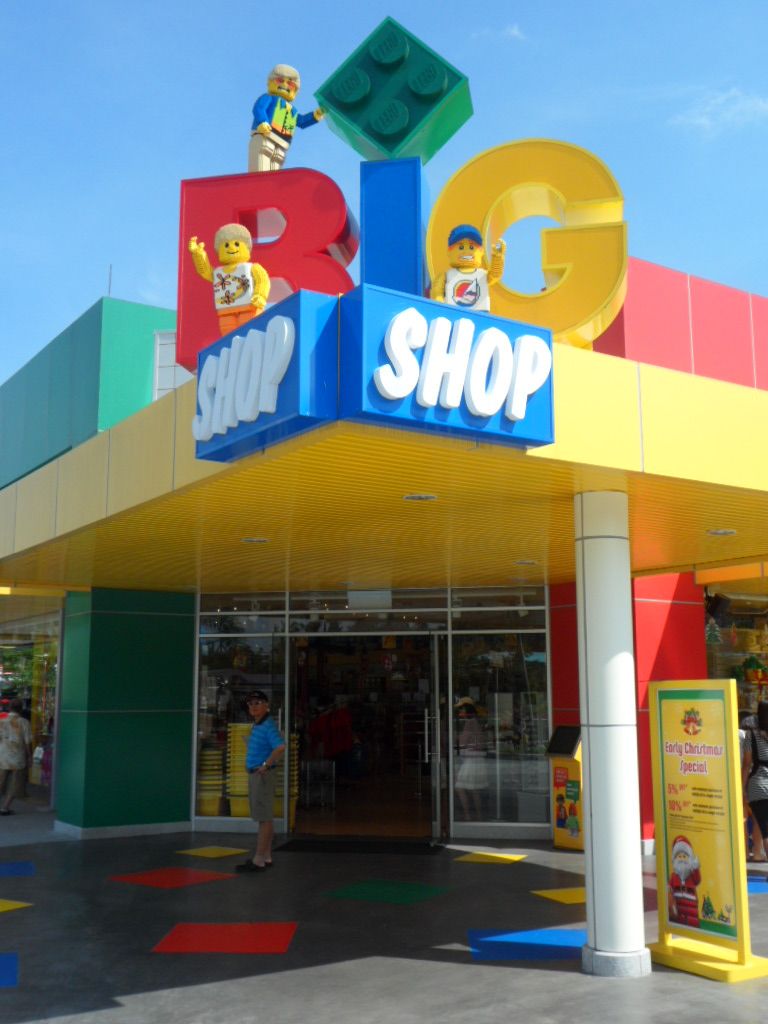 The Big Shop @ Legoland
If you stay near to Legoland or even in the western part of Singapore PLUS you have kids, we will recommend that you head right on to the guest services for the upgrade of your day ticket to the annual pass. This is because the price of the annual pass is about 3x the price of admission. This means that if you intend to visit more than 3 times a year, the annual pass is definitely worth it!
Miniland
If you head straight after passing The Beginning, you will enter into Miniland!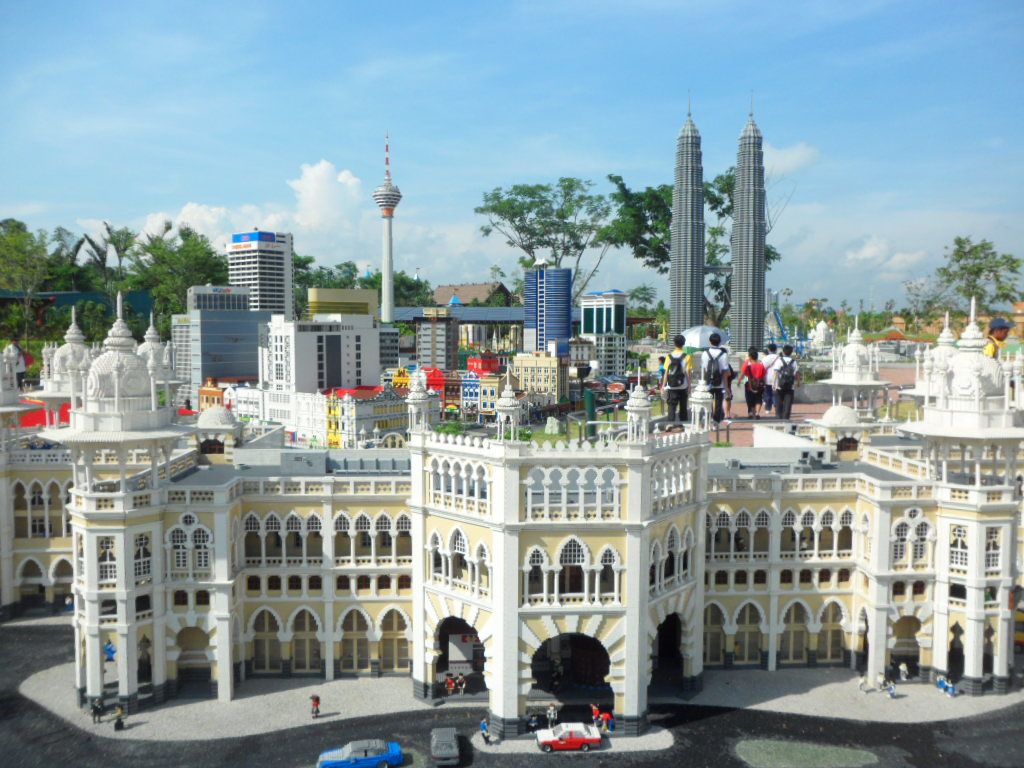 Miniland @ Legoland Malaysia
Miniland is an entire exhibition of world landmarks made entirely out of Lego Bricks! Here, you will be able to see land marks such as the Great Wall of China, the Petronas Towers as well as the Singapore Flyer! See the intricacy and details placed into constructing these structures and enjoy many photo moments here!
Miniland will include the landmarks from the following locations and themes…
KLIA, Putrajaya, Kuala Lumpur, Johor Bahru, Singapore, India, Myanmar, China, Laos, Brunei, Philippines, Indonesia, Vietnam, Cambodia, Thailand, Port Tanjung Pelepas and Pirates!
Lego Technic
Lego Technic boasts of several exciting rides and attractions such as Technic Twister, AQUAZONE Wave Racers, Water Splash, LEGO MINDSTORMS, LEGO Academy as well as Project X!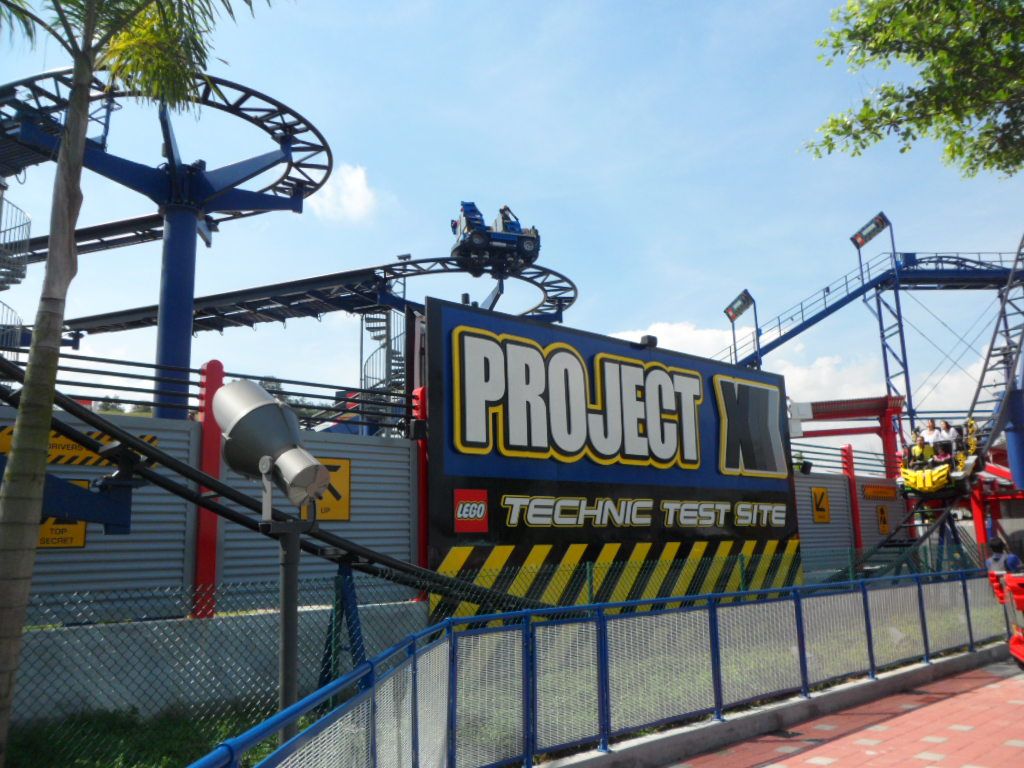 Project X Legoland Malaysia
Project X is one of the main attractions at Lego Technic and Legoland. It is a 4 seater roller coaster that has a huge drop at one point, making it one of the most exciting rides in Legoland!
A recommendation to Legoland : We noticed that some of the carriages did not leave with all 4 seats filled. Perhaps the staff can plan for subsequent rides and check if there are single or 2 riders that can fill the seats. This will ensure that more riders can enjoy the rides in a shorter amount of time.
Lego City
Lego City is a theme of having the different modes of transportation that we have today. This zone offers the Lego City Airport, Lego City Stage, Boating School, Remote Control Boat, The Shipyard, Junior Driving School, Driving School, Legoland Express as well as the Lego Rescue Academy.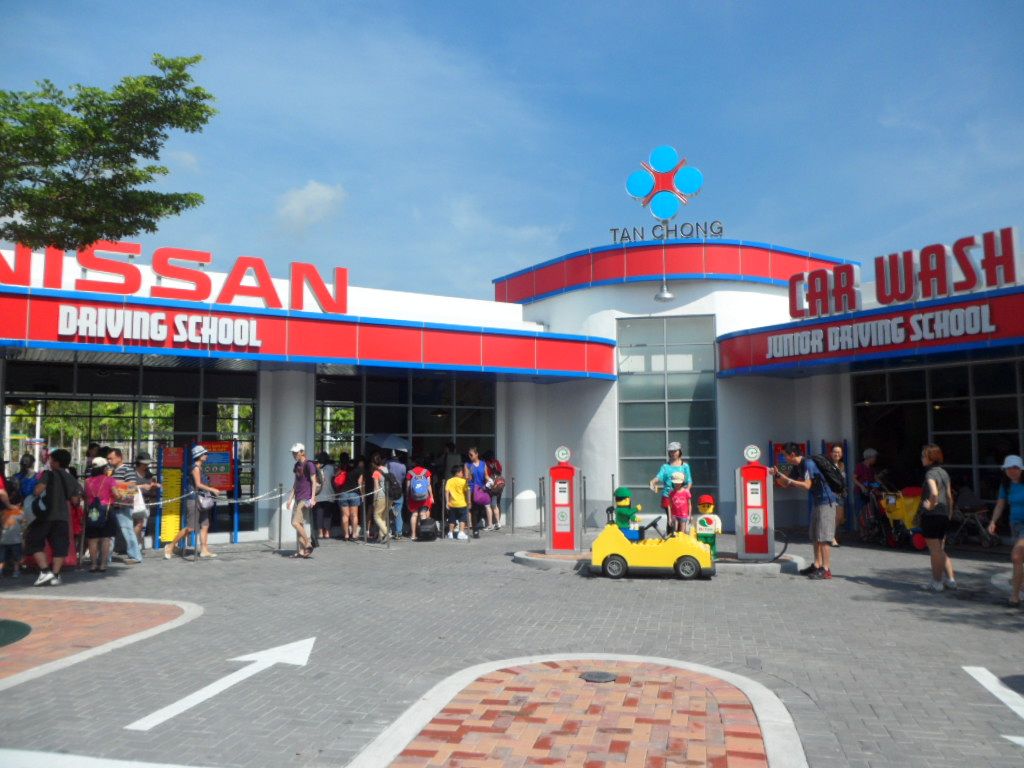 Driving School @ Legoland Malaysia
Another main attraction at Malaysia's Legoland is the driving school. Do note that the driving school is divided into Junior (Ages 3 to 6) as well as Drivers (Ages 7 to 13). (Adults, we're sorry, no rides for you here!) But kids can complete the lessons and ciruits here and have their very own Legoland Driver's License!
Land of Adventure
Land of Adventure has some fun attractions as well. The attractions here include Lost Kingdom Adventure, Beatle Bounce, Dino Island as well as Pharoah's Revenge! The main attraction here has got to be Dino Island where you will be brought up into the "ruins" and try to escape out of it through the giant water splash! Be warned that you will be wet for this ride!

Dino Island @ Legoland Malaysia
Imagination
At Imagination, you will enjoy the Kid Power Towers, Build & Test, Observation Tower, Musical Fountain, DUPLO Playtown, DUPLO Express as well as the Lego Studios!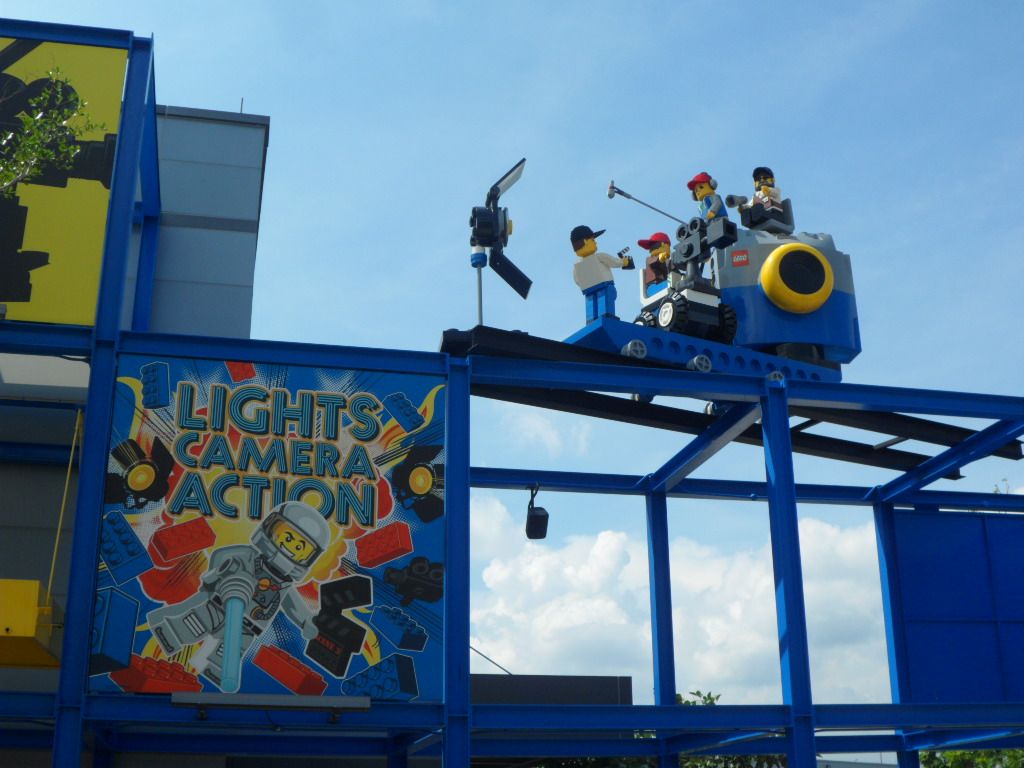 Can you spot Steven Spielberg?
At Lego Studios, you will be able to enjoy 4D movies and they are shown in succession. They are Racers, Spellbreaker as well as Clutch Powers. We managed to watch Spellbreaker (Characters dont speak in this movie) as well as Clutch Powers. Each movie lasts about 15 minutes. A quick way to finish all the movies is to re-queue once you're done with a movie and you can complete all 3 movies within the hour. Well, that is provided you do not mind the seatings. But be assured that all the seats will be able to enjoy all the effects even if you're sitting at the front row.
For those who do not know what is a 4D movie, it is actually 3D graphics with additional effects such as water drizzles, wind, foam, crippy crawly feelers beneath you that will actually feel according the movie that you're watching.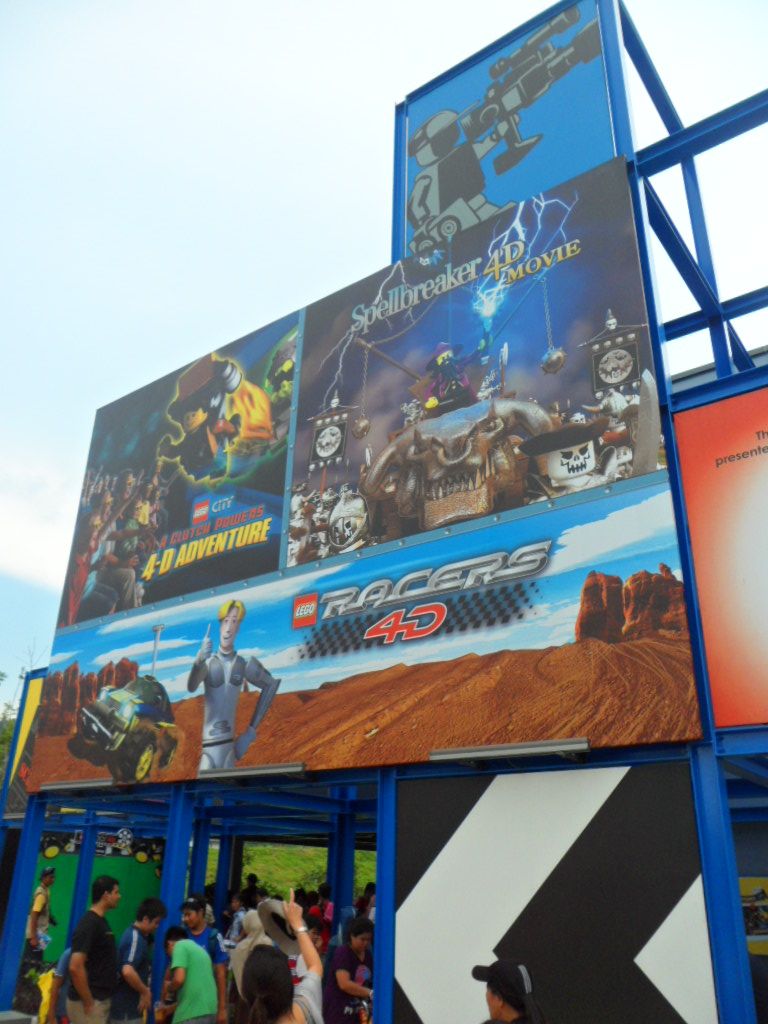 4D movies @ Legoland Malaysia
A recommendation to Legoland : We recommend that the screens at the waiting area show a countdown timer so that those waiting would roughly know how long more they will have to wait before the next show. Also, it would be good to show what movie is up next on the screens. We did not actually know what movie it was unless we asked OR waited till just before we enter the theatre.

Waiting area for 4D Movie
Lego Kingdoms
Lego Kingdoms boasts of the following attractions that include the Forestman's hideout, Dragon's Apprentice, The Dragon, King's Market, Castle Stage, Royal Joust, Merlin's Challenge as well as Castle Games. The main attraction here is of course the Dragon rollercoaster ride. It is the highest rollercoaster ride in Legoland Malaysia and you will be able to enjoy great views of Legoland at the top of the ride!

Lego Kingdoms at Legoland Malaysia
Legoland Malaysia Ticket Prices & Opening Hours
Opening Hours
Legoland Malaysia is open from 10am to 6pm daily. The hours are extended on weekends, public holidays as well as school holidays. The extended hours are from 10am to 8pm during these periods.
Ticket Prices
We advise our readers to purchase tickets online as there are some discounts when you do so. Also as mentioned earlier, if you are planning to revisit Legoland, do approach guest services to upgrade your day tickets to the annual pass. Ticket prices for Legoland Malaysia are
Adult (12-59) RM140 (Walk-in) , RM105 (online booking)
Children & Senior (60+) RM110 (Walk-in) , RM82.50 (online booking)
Annual Pass for Adults is RM275 and Children/Seniors at RM210
Hotels near to Legoland Malaysia
There are several excellent hotels such as Pulai Springs, KSL Resort, Thistle Johor Bahru as well as Tune Hotels. Legoland Hotel will be completed in 2014!
For your convenience, we have arranged for the best hotel deals in Johor Bahru right here!
You have just finished a post from our series from Legoland Malaysia. Find out more about Legoland Malaysia in the following posts!
Legoland Malaysia : Johor's Latest Attraction (Main Post)
Legoland Malaysia Lego City : Learn to Drive, Sail and Rescue
Legoland Malaysia Miniland : See Miniatures of World Famous Attractions
Legoland Malaysia: Cute Characters made out of Lego Bricks
Legoland Malaysia LEGO Kingdoms : Brave the Dragon Rollercoaster
Legoland Malaysia's Imagination : 4D Movies, Observation Tower & Duplo Fun
Legoland Malaysia Land of Adventure : Are you Game for Adventure?
If you enjoyed our content, "Like" us on Facebook Today!

Conclusion
There's a full suite of entertainment for the whole family at Legoland. Exciting rides, entertaining shows, fun rides for the kids as well as many play areas. Kids will definitely be spoilt for choice at this Lego themepark. For a well deserved break and a full day of entertaining fun for the kids, look no further than Legoland Malaysia!
Click here for the best rates at Legoland Malaysia Hotel NOW!
Related posts: