Legoland Malaysia has one of the coolest rides at Land of Adventure – Dino Island! In addition, kids can take part in laser shooting at Lost Kingdom Adventure or have a mini drop at Beatle Bounce.
Lost Kingdom Adventure

Lost Kingdom Adventure Legoland Malaysia
At Lost Kingdom Adventure, players sit in a carriage (max capacity of 4) and enters into a maze of treasures & adventure! Players will each have a laser gun and you are expected to aim and shoot at green or red jewels. Try to out shoot and out score each other in this adventure! We had a high score of 37500!
Dino Island
One of the more exciting rides in Legoland, Dino Island brings you on a boat ride seeing dinosaurs made out of Legos. You will then ascend up an "abandoned volcano" only to escape from it down a steep drop! You will get wet for this ride, so be prepared!

Dino Island Legoland
Beatle Bounce
If you had been to the Giant Drop in Australia, this is the kids version of it. A mini drop. Kids will be taken up to a small height and dropped in small degrees. The process is repeated. The ride is mainly for kids, accompanying adult can only sit in the middle seat. For balancing purposes?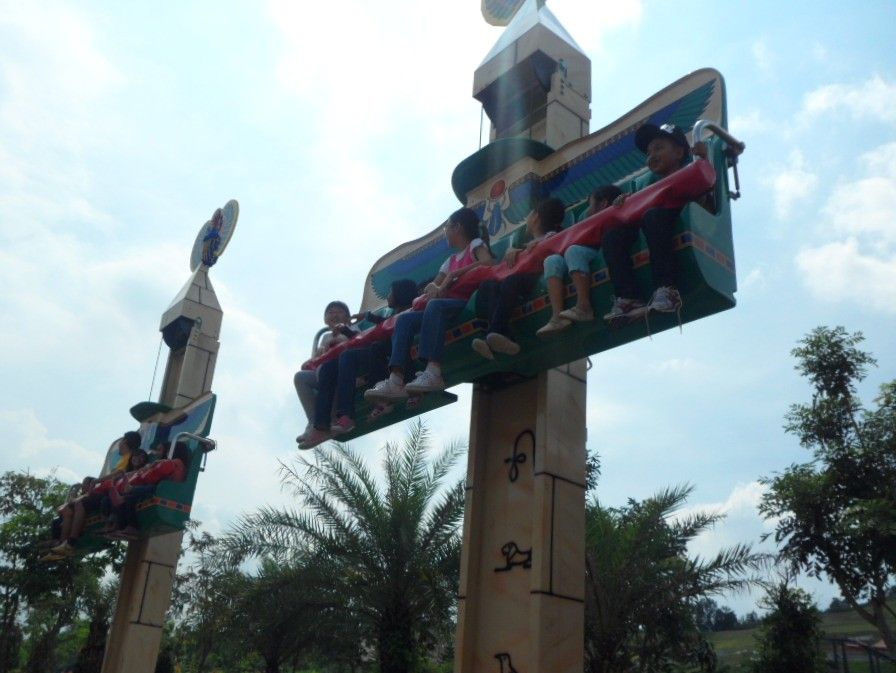 Beatle Bounce Legoland Malaysia
You have just finished a post from our series from Legoland Malaysia. Find out more about Legoland Malaysia in the following posts!
Legoland Malaysia : Johor's Latest Attraction (Main Post)
Legoland Malaysia Lego City : Learn to Drive, Sail and Rescue
Legoland Malaysia Miniland : See Miniatures of World Famous Attractions
Legoland Malaysia: Cute Characters made out of Lego Bricks
Legoland Malaysia LEGO Kingdoms : Brave the Dragon Rollercoaster
Legoland Malaysia's Imagination : 4D Movies, Observation Tower & Duplo Fun
Legoland Malaysia Land of Adventure : Are you Game for Adventure?
If you enjoyed our content, "Like" us on Facebook Today!

Click here for the best rates at Legoland Malaysia Hotel NOW!
Related posts: