Lime Parkroyal on Pickering recently launched its Sunday Brunch champagne buffet! At Lime, time just passes by when you're enjoying the champagne with good quality food on a lazy Sunday afternoon…ah…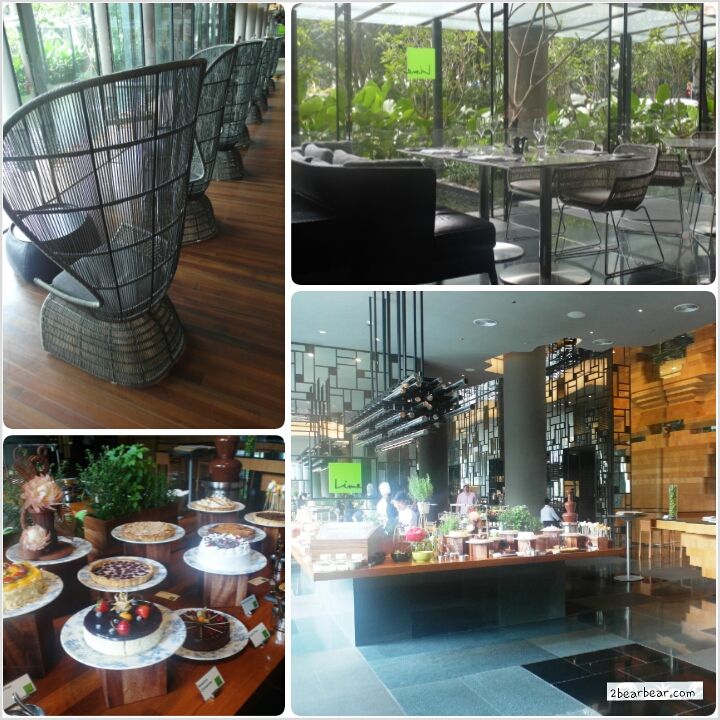 Relaxed setting at Lime Parkroyal on Pickering
The first thing we noticed about the restaurant was its relaxed setting. The restaurant, though on the first level is set against a row of greenery on the outside of the restaurant, making it feel as though you're enjoying your brunch amidst a lush tropical setting.
Lime restaurant was spacious and details were also placed on its chairs and tables to enhance this relaxed setting. With a large space, the Sunday Brunch also offered a large variety of food…
Highlight of the food at Lime's Sunday Brunch Champagne Buffet @ Parkroyal on Pickering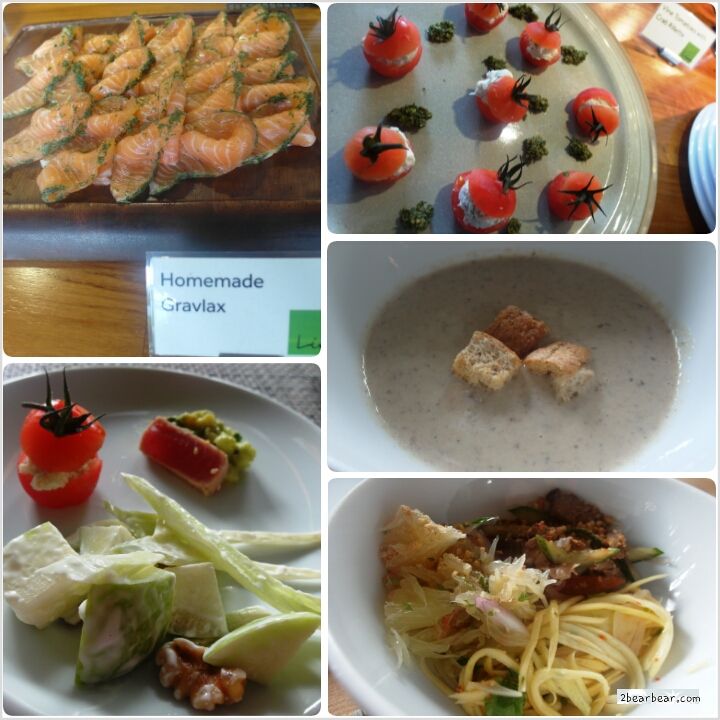 Appetizers at Lime Restaurant @ Parkroyal on Pickering
The appetizers at Lime were simple and really whets your appetite for more! The vine tomatoes with crab rillette was an instant hit! The sweet juicy tomatoes accompanied by fresh crab was just a perfect match. Who would have thought of it? Crab and tomatoes…hmm…
The salads were also a great starter. The Thai mango, pomelo and Thai beef salad were fresh and crunchy on every bite. The mildly hot taste also made this starter irresistible – Tom actually slurped up the entire bowl! The homemade salmon and mushroom soup are not to be missed as well!
Without much hesitation, we promptly moved into the stars of this Sunday Brunch Champagne Buffet!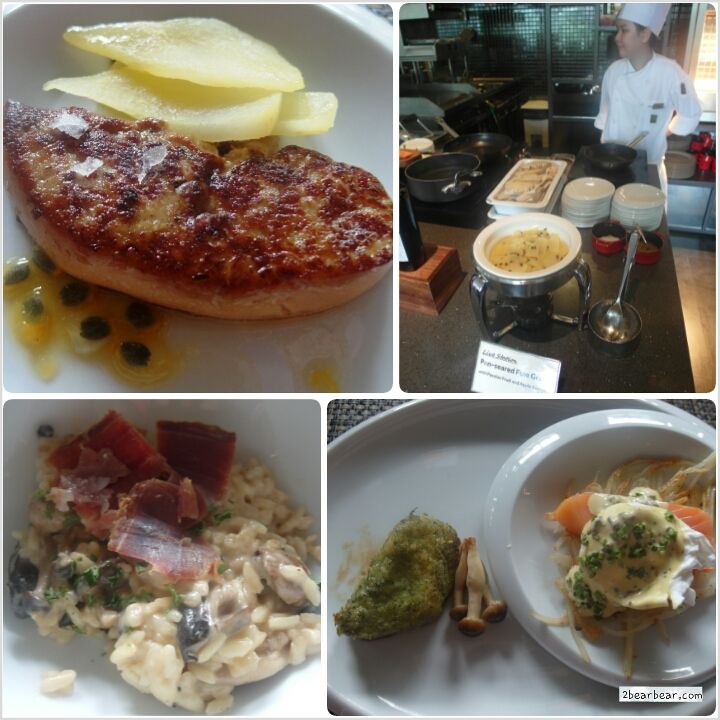 Highlights of the Sunday Brunch at Lime restaurant
Foie gras is usually a prominent feature for Sunday Brunches. But have you seen the foie gras at Lime? IT's HUGE!! The generous serving allowed us to enjoy chock full of flavours on every bite! Served together with the passion fruit & apple compote, the pan-seared foie gras was just "oh so delicious!"
The mushroom risotto as well as the herb crusted cod didnt disappoint as well. Touted as stars of this buffet, be sure to try them out as you will be enticed by the rich flavours of the risotto as well as the fresh and tender cod! But dont get too carried away as there are still other highlights at this Sunday brunch!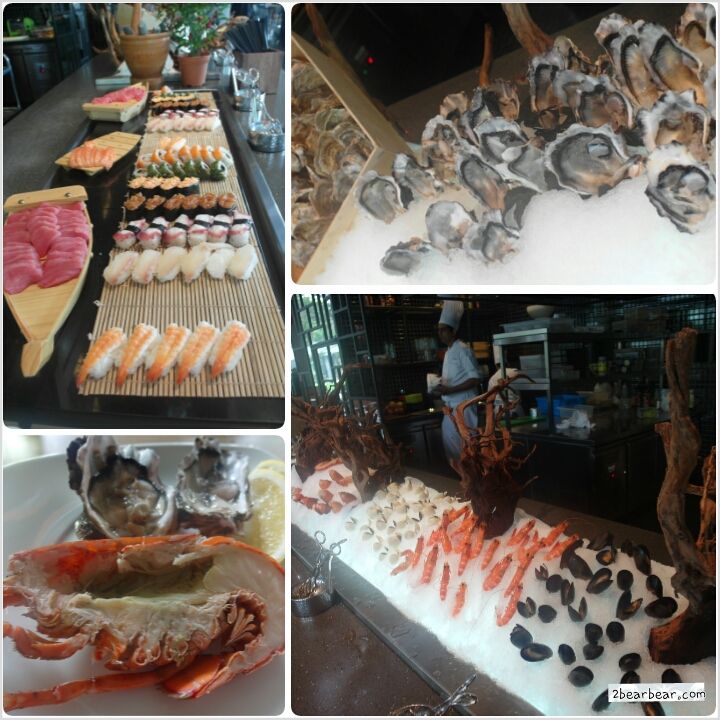 Seafood section – Sashimi, Sushi, Pacific Oysters, Maine Lobsters and more!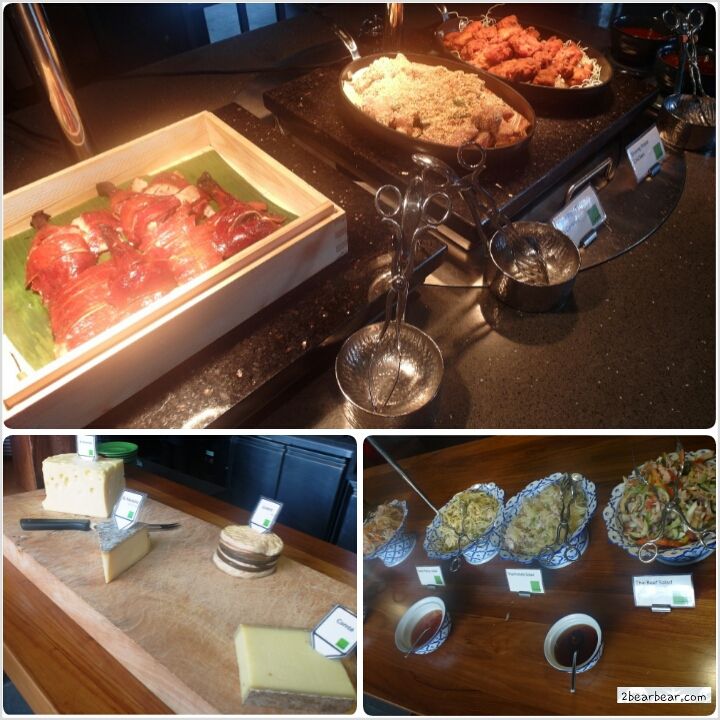 Asian picks, salads and 12 different cheeses!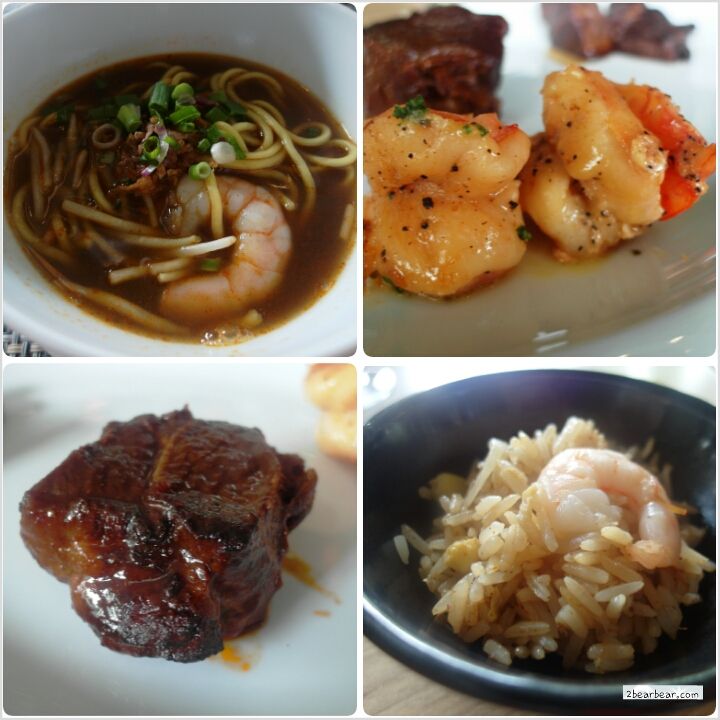 Prawn noodles, Braised lamb shank, fried rice and tiger prawns!
Beware of the prawn noodles…It is spicy! Kate coughed on her first sip of the soup!
Excellent service at Lime Restaurant at Parkroyal on Pickering
Service at Lime was simply impeccable! In the short 3 hours (yes, 3 hours just passes by at Lime's Sunday Brunch!) we experienced the following…
1. Chairs were pulled as we were about to be seated and we were tucked in nicely at our seats. First time only lah.
2. Napkins were unfolded and placed individually on our laps.
3. Drinks were introduced to us including the type of wines and juices (eventually we still stuck to the champagne…)
4. Champagne was promptly topped up and we were asked politely each time.
5. Likewise with finished dishes. Permission was asked to clear dishes -even with empty plates.
6. Pizza slices and fried rice were served fresh from the kitchen to our tables.
7. Smiles were aplenty throughout our meal and we were served our coffee preferences individually at the end of our meal!
This kind of personalised service reminded us of our fine-dining experiences…
Other highlights at Lime's Sunday Brunch Buffet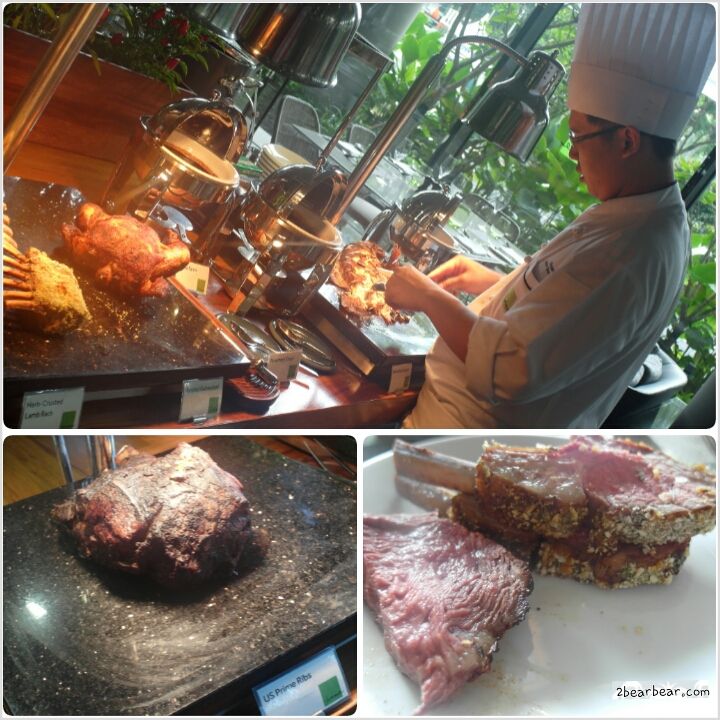 Herb crusted lamb rack and US prime rib
Like most brunches, there's also a section serving roasted meats. The herb crusted lamb rack and US prime ribs were highlights at this section. Especially the lamb. It may have felt a little gamey at first, but the tenderness and flavourful fatty bits (observe the fatty bits in the photo above!) as well as the herbs soon took over. Yum!

Chef Alex's specialties
Besides the usual Sunday Brunch fare, Chef Alex had other tricks up his sleeves. He told us that while he was in Dubai, he created the "A" sauce – the "Alex" sauce! This secretly guarded recipe makes the stir fried chicken with curry leaves so so flavourful! The tender chicken bites wrapped in "A" sauce was just irresistible. Other asian delights such as the beef cheek (2 days of preparations!), cereal pork and roasted duck also made this Sunday Brunch unique in its own ways.

Chef Alex striking a pose at the entrance of Lime Restaurant, Parkroyal on Pickering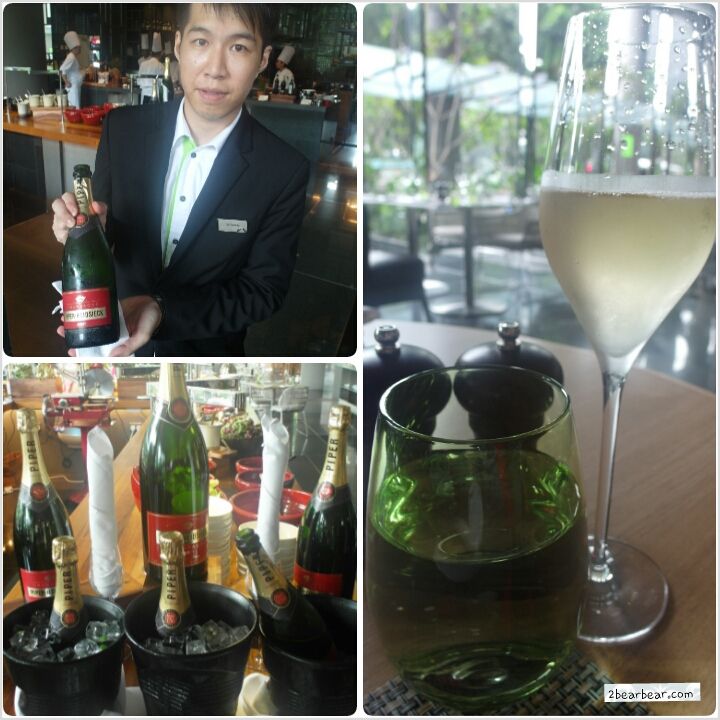 Piper Heidsieck Champagne at Lime's Sunday Champagne Brunch
How can a Sunday Brunch be complete without the bubbly? Lime's Sunday Brunch Champagne Buffet offers the perfect match with the Piper Heidsieck. The french produced Piper Heidsieck Champagne is light, crisp and bubbly, making it a perfect companion with the quality food served. A touch of class to the Sunday Brunch 🙂
As we headed for the desserts, we found out that the DESSERTS WERE A WHOLE OTHER BUFFET!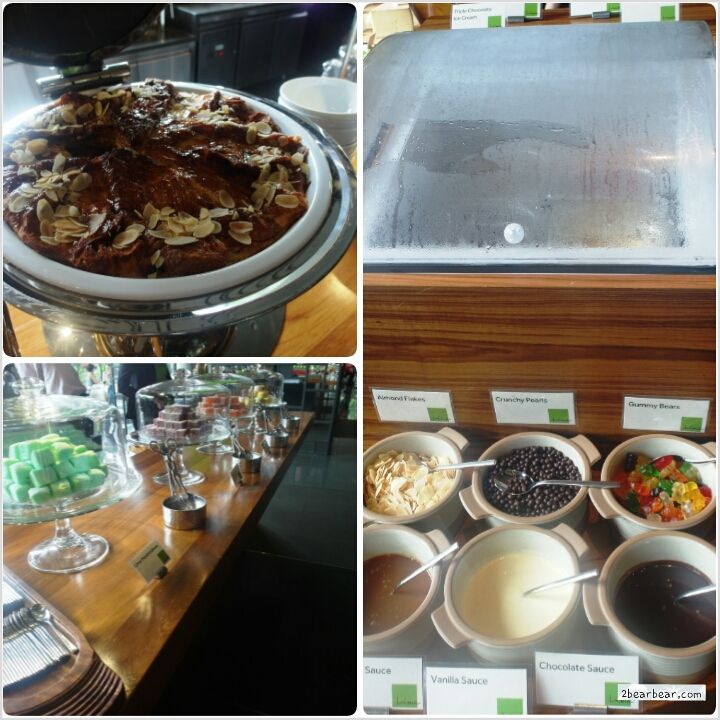 Chocolate Banana Pudding, in-house ice cream/sorbet, in-house sweets (lime marshmallows!)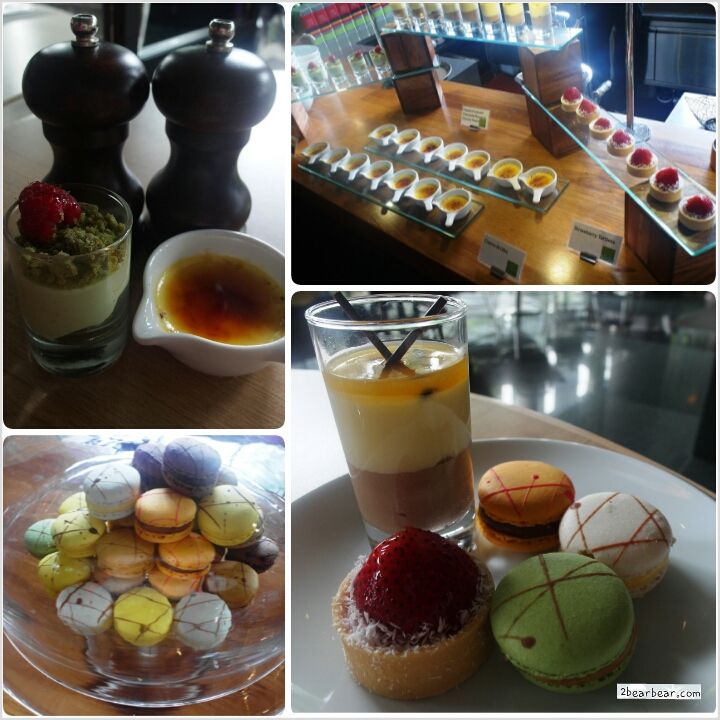 Macarons, green tea tiramisu and creme brulee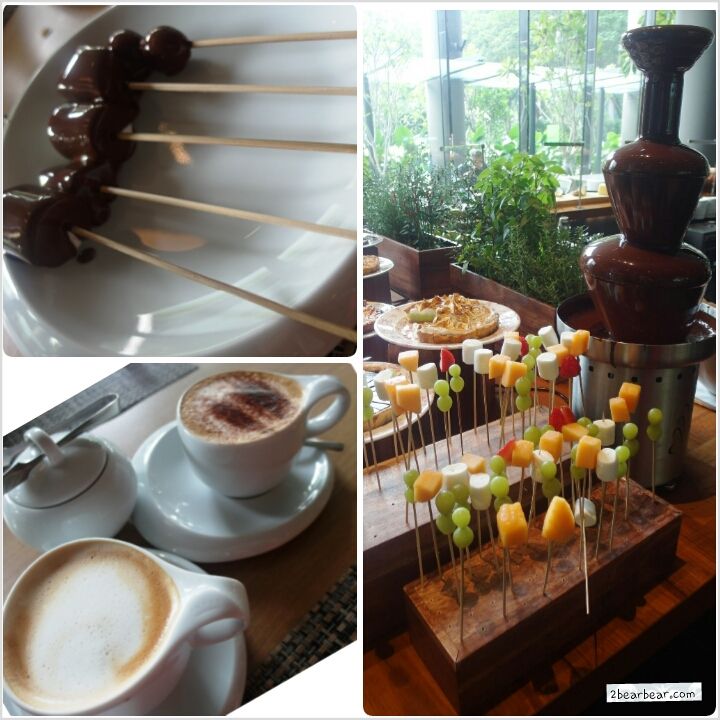 Lime restaurant's chocolate fondue!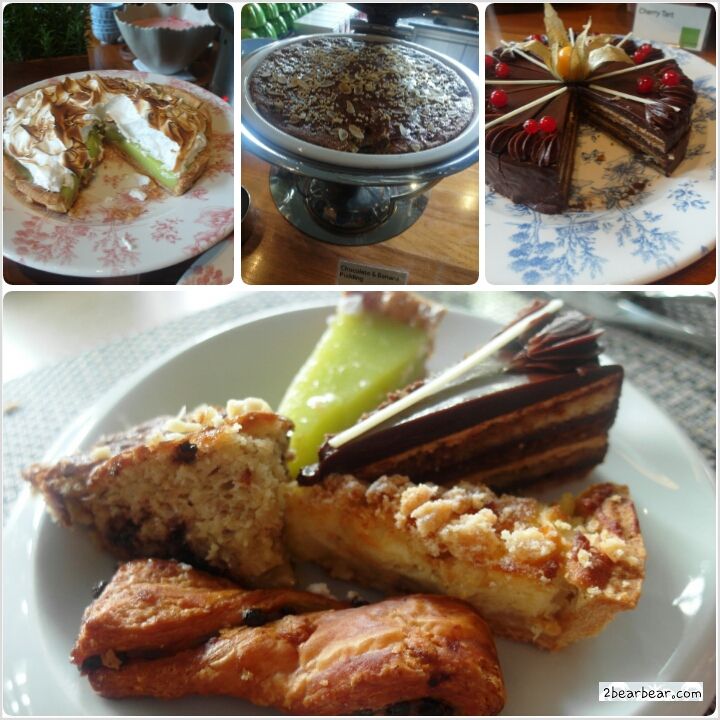 Assortment of cakes including highlights of Key Lime Pie and Opera cake!
We took slightly over an hour to work through the desserts and it was simply worth it! We just have to highlight that you must try the Lime Pie, Lime Marshmallow, Lime sorbet (in fact all things Lime was excellent), Opera Cake, Green Tea Tiramisu, Macarons as well as the ice creams (triple chocolate ice cream!)! (Going trigger crazy with the exclamation marks!)
For us, the desserts were a great highlight. The chocolates from the ice cream and Opera Cake was so sinfully rich! Lime items had a refreshing taste to it while the green tea tiramisu offered matcha tastes in layered textures!
To end off the meal, we had the cappuccino and latte (inclusive in the buffet). And yes, they were gourmet coffees…Ah…
Prices and Opening Hours of Sunday Brunch at Lime Restaurant @ Parkroyal on Pickering
The prices at Lime Restaurant and Bar for Sunday Brunch are
S$128 per adult
Includes free flow of Piper Heidsieck Champagne, House Wines, Chilled Juices, Soft Drinks, Specialty Coffee and Tea.
S$88 per adult
Includes free flow of Chilled Juices, Soft Drinks, Specialty Coffee and Tea.
Sunday Brunch starts from 12pm to 3pm on Sundays. The prices are actually very competitive because if you take a look at the ala carte menu, the herb crusted cod fillet costs $38++ and mushroom risotto costs $24++ while the cakes go for $12++ per piece. If you take into consideration the variety of food that you'll be having (including the foie gras, lamb and US prime rib), the price is a steal for quality food! Oh, don't forget the bubbly! The Piper Heidsieck Champagne is one of the main ingredients for this Sunday Brunch!
How to get to Lime Restaurant @ Parkroyal on Pickering
Lime restaurant is located at level 1 of the Parkroyal on Pickering Hotel (3 Upper Pickering Street). Parkroyal on Pickering is just a 5 minutes walk away from Clarke Quay or Chinatown MRT. It is just beside the newly revamped Chinatown Point. With its location near to Chinatown as well as the Singapore River, Parkroyal on Pickering also makes a perfect staycation getaway!
For your convenience, we have arranged for the best hotel deal at Parkroyal on Pickering right here!

Best Hotel Deals at Parkroyal on Pickering!
If you enjoyed our content, "Like" us on Facebook Today!

To the chefs and staff of Lime at Parkroyal on Pickering, kudos for an excellent Sunday Brunch champagne buffet, personalised service and great quality food! Welcome to the league of the Sunday Brunches!
For a champagne Sunday Brunch Buffet, Lime @ Parkroyal on Pickering definitely offers quality, value and great service! Enjoy!
**Special thanks to the great people @ Parkroyal on Pickering for making this preview possible!
Related posts: