Matchbox 20 (now known as Matchbox Twenty) was live in Singapore 10 years ago (2003) and performed only 1 song at the MTV awards.
"This (sell out concert) is much better" quipped lead singer Robert Kelly Thomas, otherwise known as Rob Thomas. Matchbox Twenty was live in Singapore on 10 November 2013 and it was by purpose that the concert started at 8:20pm with 20 of their favourite hit songs performed.
From their humble beginnings as Tabitha's Secret, Matchbox Twenty burst on to the scenes with their first album "Yourself or Someone Like You" with well-known hits such as "Push" and "3am" to today's multi-platinum band. But from yesterday's performance, you could sense that the band still remained humble and just enjoyed good music. You could also see that they have practiced their gigs with the sounds and lighting in synchro throughout the entire concert. Im starting to think that they have a lighting designer that follows them on tours because the timing was impeccable. With that kind of accuracy, the lighting designer is either very familiar with all of Matchbox 20's songs, or, is simply a huge fan. Perhaps both?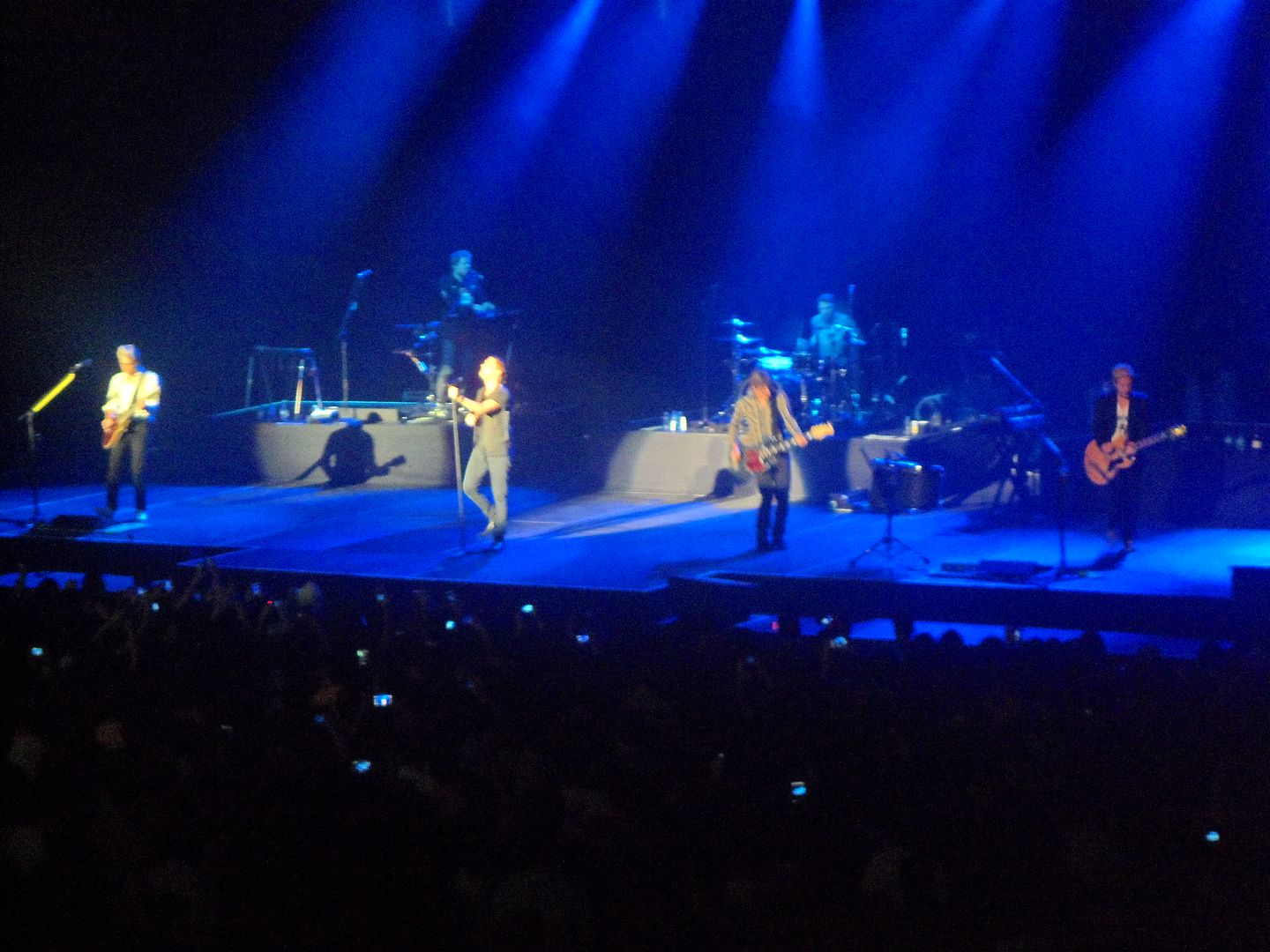 Matchbox Twenty Live in Singapore!
Songs performed by Matchbox Twenty Live in Singapore
And here are the twenty songs and lyrics performed by Matchbox Twenty during their performance at the Singapore Indoor Stadium on 10 November 2013.
1. Parade
2. Bent
One of our favourite hits from the band. It was from this song that we picked up "twisting of words" such as Bent (biee ent), Scared (scaaare ed), Together (To gae ther) etc. Of course, the starting notes of the songs are as iconic as the song itself.
3. Disease
4. She's so mean
5. How Far We've Come – Indeed the band has come a long way to attaining their status today
6. 3am
7. Real World
8. If You're Gone
9. Long Day
10. Girl Like That – According to Rob, many girls have told him that the song is really nice but the truth is that the song was written about a "horrible bi@#$"
11. I Will
12. Unwell
13. Radio
14. So Sad So Lonely
15. English Town
Our favourite song from the latest album "North". Apparently not echoed by others in the stadium (notice the movement in the videos…) Do look out for the last part where Paul hits on the drums emphatically and throws the drumsticks backwards in the air at the last beat!
16. Bright Lights
17. A song that we dont know! Ah!! Can someone help us complete this list?
18. Downfall
19. Back 2 Good – Rob commented that there are 2 things that even intelligent people get confused with and they're matters of the heart and sex. This song is about going back to where it was before those decisions were made.
20. Push – Back to 1996! The whole stadium stood up and had a huge sing-a-long session!
Matchbox Twenty Live in Singapore – In Conclusion
In conclusion, we thoroughly enjoyed Matchbox Twenty's performance. For one, they really rehearsed for each and every song. The precision could be seen from the timings and coordination of the band, the sounds and the light.
Secondly, but more importantly, the band continues to be itself even after gaining popularity. I mean have you seen how Rob Thomas dances?! But the sounds still remain true to Matchbox 20 and because of that we noticed that their following is not only limited to the demographics of those in the 30s. There were many youths as well as older folks (in the 50s) as well.
Well done and kudos to Matchbox 20 for delivering on their promise of a "night to remember"!
Tips while watching concerts at the Singapore Indoor Stadium
We thought we'll just end off with some tips of watching concerts at the Singapore Indoor Stadium
1. Toilet. If there's an opportunity to go to the toilet, go. The concert wont start until you hear the screaming fans scream. In this case, the concert started at 8:20pm.
2. Get some water. You may want to purchase a bottle of water. Eventhough its $3, it's nothing compared to the price of the tickets that you've paid right? Have a sip throughout the show so that your throat gets relieved after all that singing. Oh, speaking of bottles, did you know that the vendors remove the bottle caps of all drinks (including mineral water)? According to them, its because they're wary of concert-goers throwing things at the artistes. And from our point of view, it translates to easier cleaning as well.
3. Where to park. You may wish to park at the Kallang Leisure Park instead of the open air carpark at the indoor stadium. It's 1/3 the price. $2.10 per entry vs $6 per entry. Plus, you can grab a cuppa at Starbucks (like we did) to boost your energy for the concert!
4. About cameras. Professional cameras are not allowed. Point and shoot along with camera phones may pass through. Which is why you see many people holding up their handphones in front of the stage…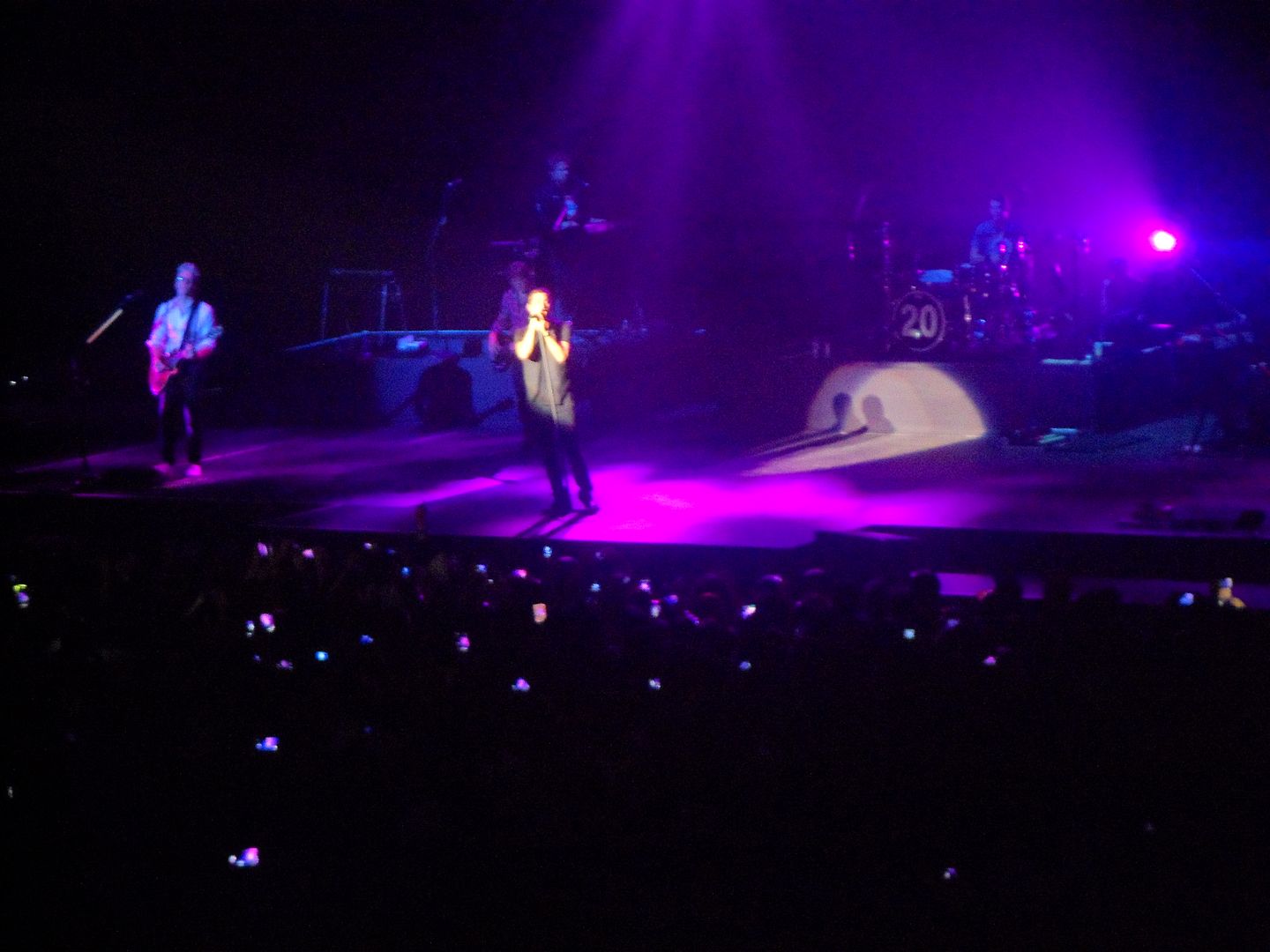 Camera Handphones at Matchbox Twenty Live in Singapore
Enjoy your next concert and for Matchbox 20? We'll definitely be there for their next concert in Singapore!
Related posts: