Steaks are the name of the game at Metropolitan Grill in Seattle and Kate heard about it and surprised me with a visit while we were in Seattle…

About Metropolitan Grill Seattle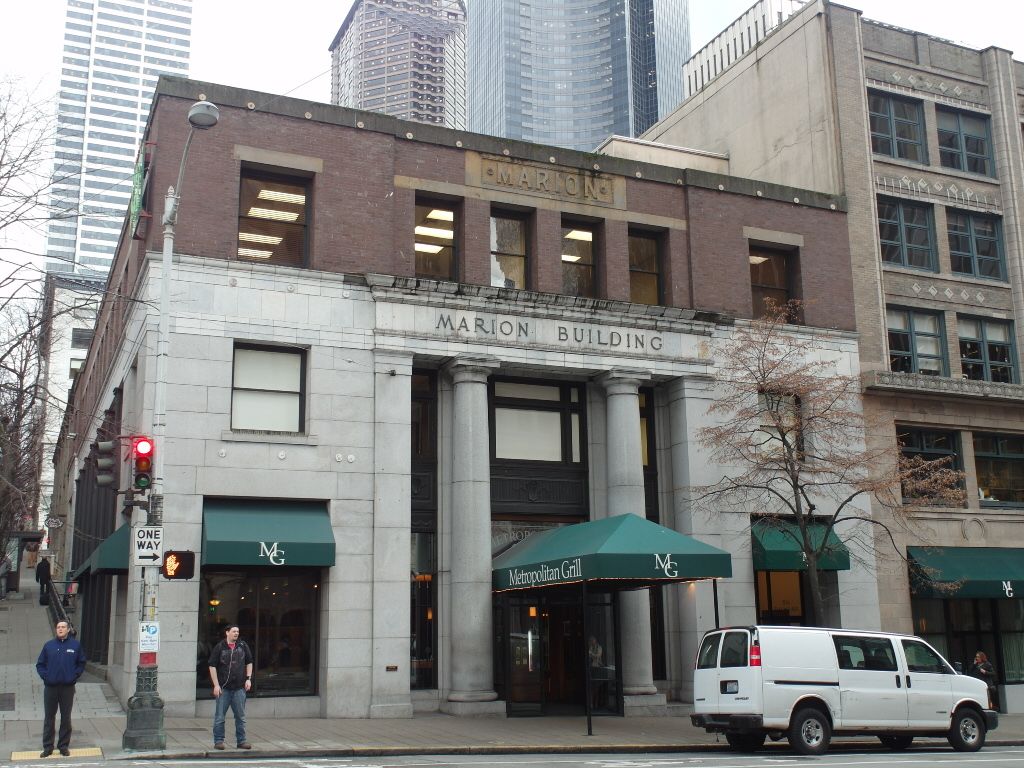 Facade of Metropolitan Grill Seattle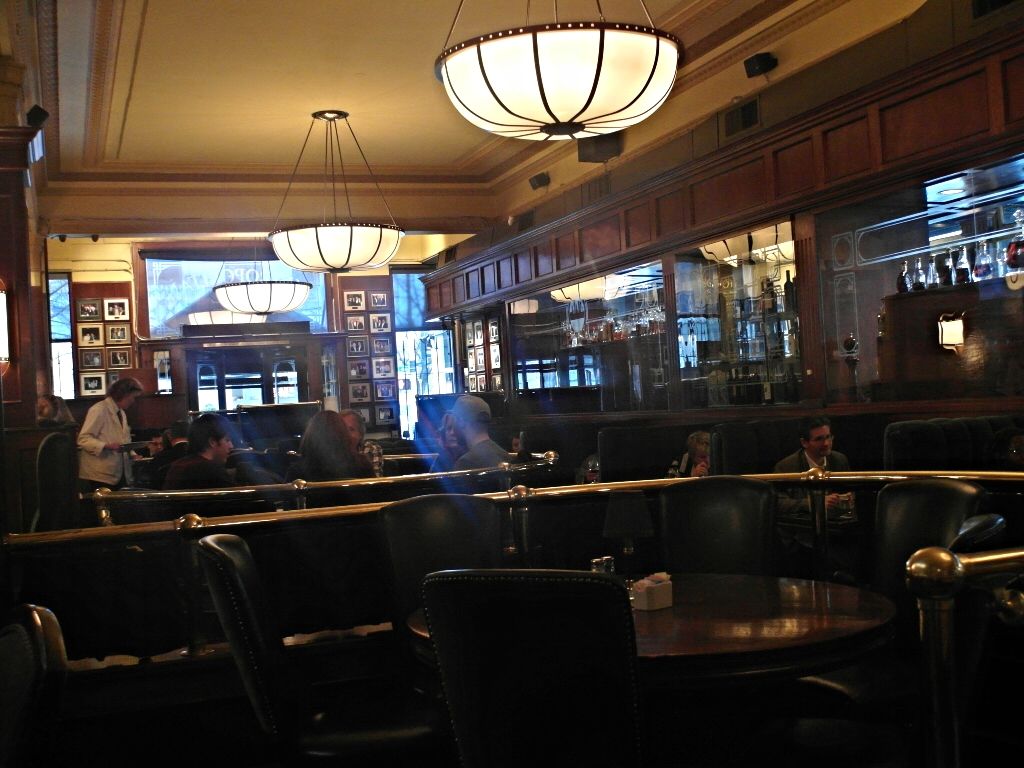 Inside Metropolitan Grill Seattle
Touted as having "the best steaks in town", Metropolitan Grill has a rich history and heritage (aka atas as you can see from the picture above), being located at the historic Marion Building. Of course, many people come here for just 1 thing.
The steaks.
Steaks at Metropolitan Grill are prepared with much emphasis starting from its custom dry-aging process to its proprietary seasoning and specially selected mesquite charcoal to sear and seal in the flavours of the steaks.
But the real question is… are the steaks at Metropolitan Grill really worth it?
(The price especially!)

Lunch Menu at Metropolitan Grill Seattle
What we ate at Metropolitan Grill Seattle

We spent a total of $100USD (yes, we reiterate that its an atas place) for lunch and we ordered root beer, strawberry lemonade for drinks and the Works Burger, Filet Mignon 8oz for mains…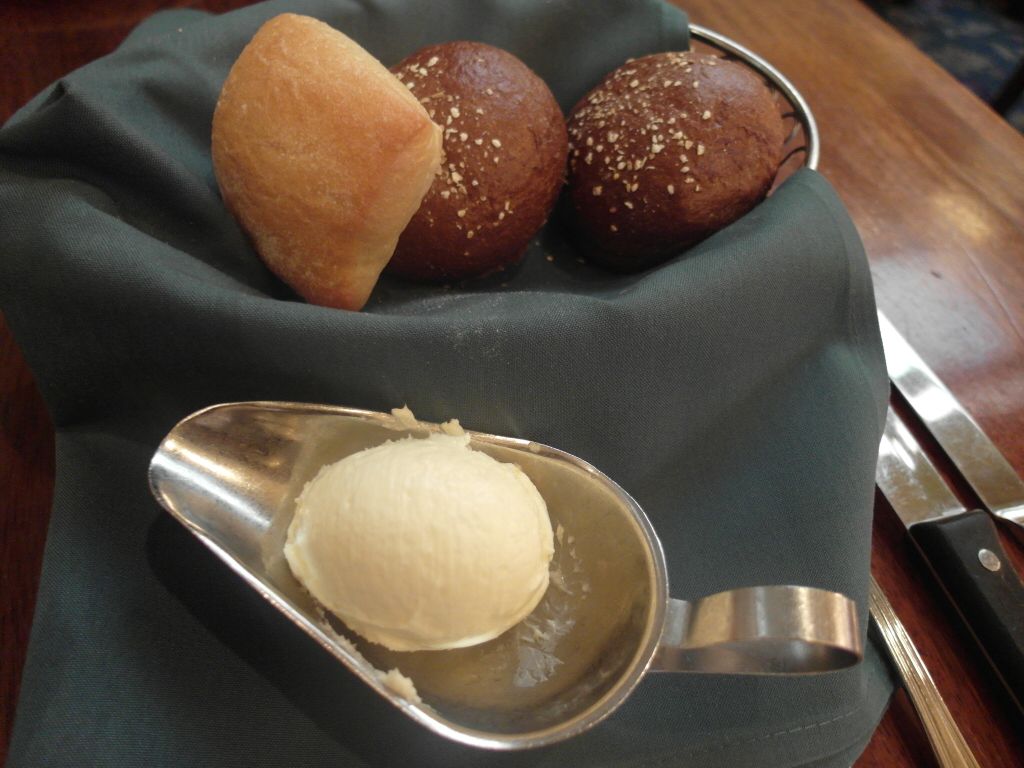 Warm breads with freshly made butter – this was really shiok!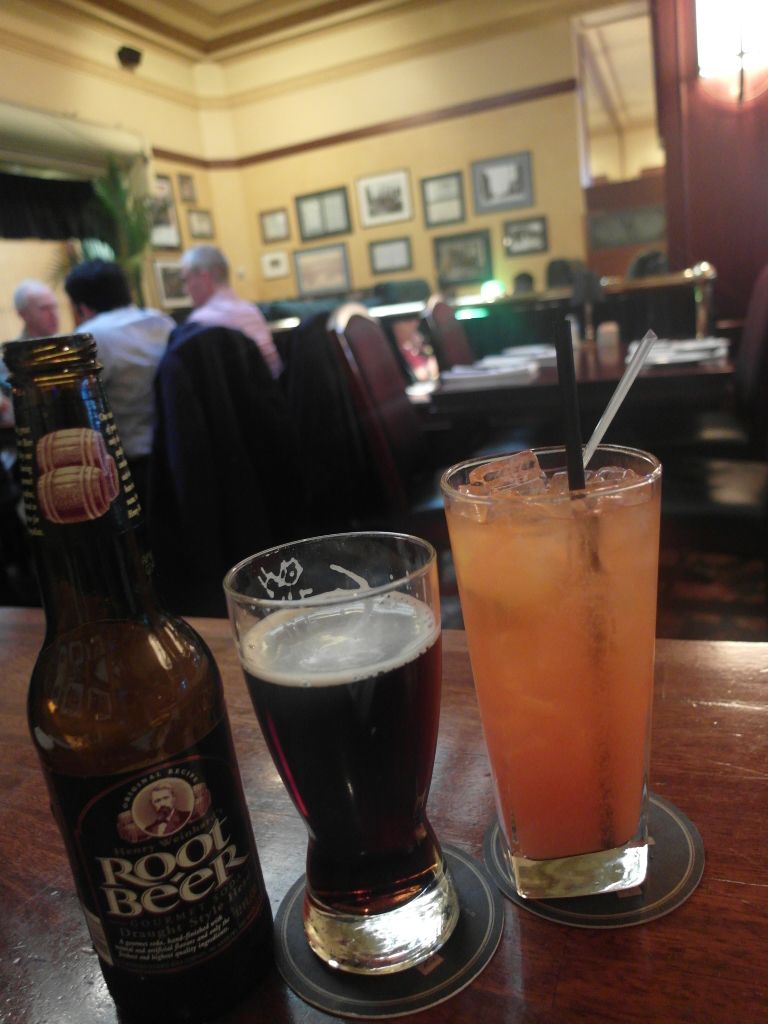 Strawberry Lemonade and Root Beer at Metropolitan Grill

The Works Burger – 15 USD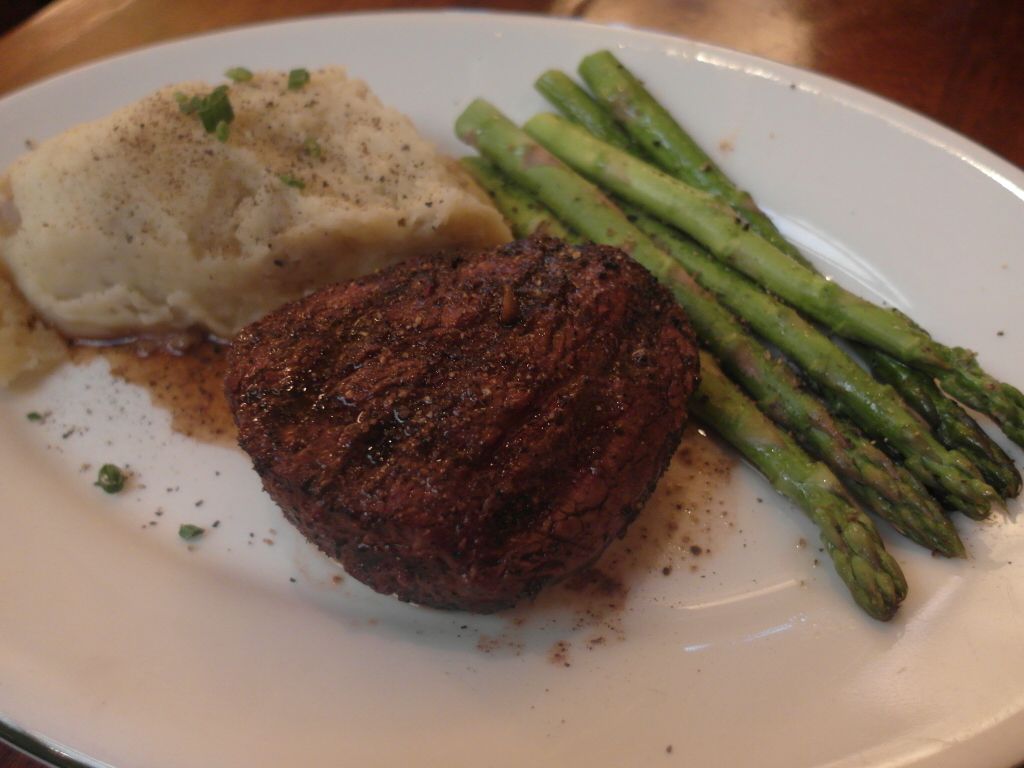 8 oz Filet Mignon – 56USD at Metropolitan Grill Seattle
Let's talk about the breads first. It was AWESOME! (Yes, it is strange for us to say that about breads at a steak restaurant) BUT YES! IT WAS AWESOME! Shiok because the breads were warm, lightly crisp on the outside and warm and fluffy on the inside. PLUS, the butter was just heavenly! It was fresh, natural and seemed like it was made in house. The last time we tasted butter like this was when we were in Poland where our friends made fresh butter right from the cow's milk!
The Works Burger was great. Nothing fancy but it stays true to how an american burger ought to be. Juicy patty, cheese, buns and a HUGE portion at that. Typical american and we loved it!
Well, for the steak, we had high expectations for it and it met our expectations. Probably one of the best steaks that we've had as well. It was well seasoned on the outside and juicy, tender, flavourful on the inside. All that a "best steak in town" steak should be. But, it lacked the punch. It was good. Don't get us wrong. But it lacked the "WOW, THIS IS OUT OF THIS WORLD!" reaction when we went in for our first bite.
For 56USD and 8oz, we sort of expected that.
Having finished our meal, our server came up to ask us whether we wanted some desserts. So we told him,
"If we were to only have 1 dessert, 1 that we MUST TRY, what would that be?"
He contemplated for a while and came up with 2 recommendations. The chocolate lava and five layer carrot cake. But we insisted on just 1 choice (because we were quite full and mostly because we were REALLY close to our budget) and he told us
"Then it has got to be the chocolate lava"
And chocolate lava it was. Turns out that it was probably one of the BEST DESSERTS WE'VE EVER HAD! (along with Turons from the Philippines)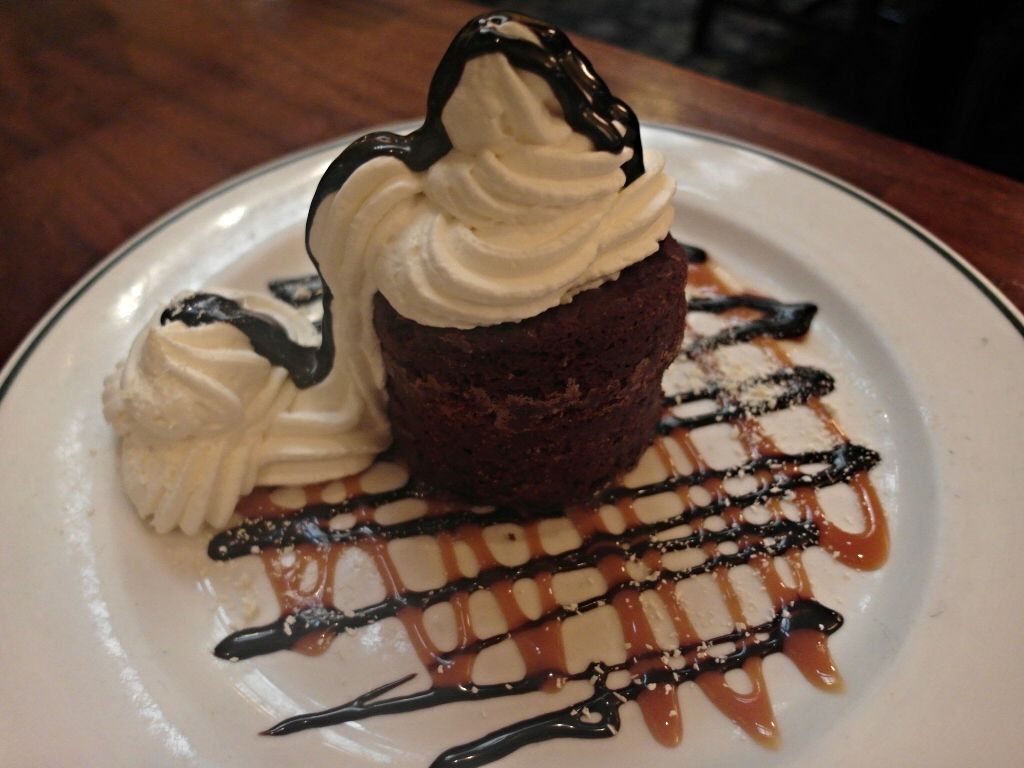 Chocolate Lava Cake at Metropolitan Grill for 12USD
The chocolate lava was unlike any chocolate cakes that we've ever tasted. It had so many different textures! On the outside it was cookie-ish and crumbly-ish. But when you go for the bite, the chewyness comes in with rich chocolatey taste! When you break open the chocolate lava, "molten chocolate" oozes out and when all these tastes and textures get swirled between your taste buds? Simply divine!
After our meal, we also spent some time to recall what we learnt during the Seattle Underground Tour in the morning. Which resulted in this…writings on receipts…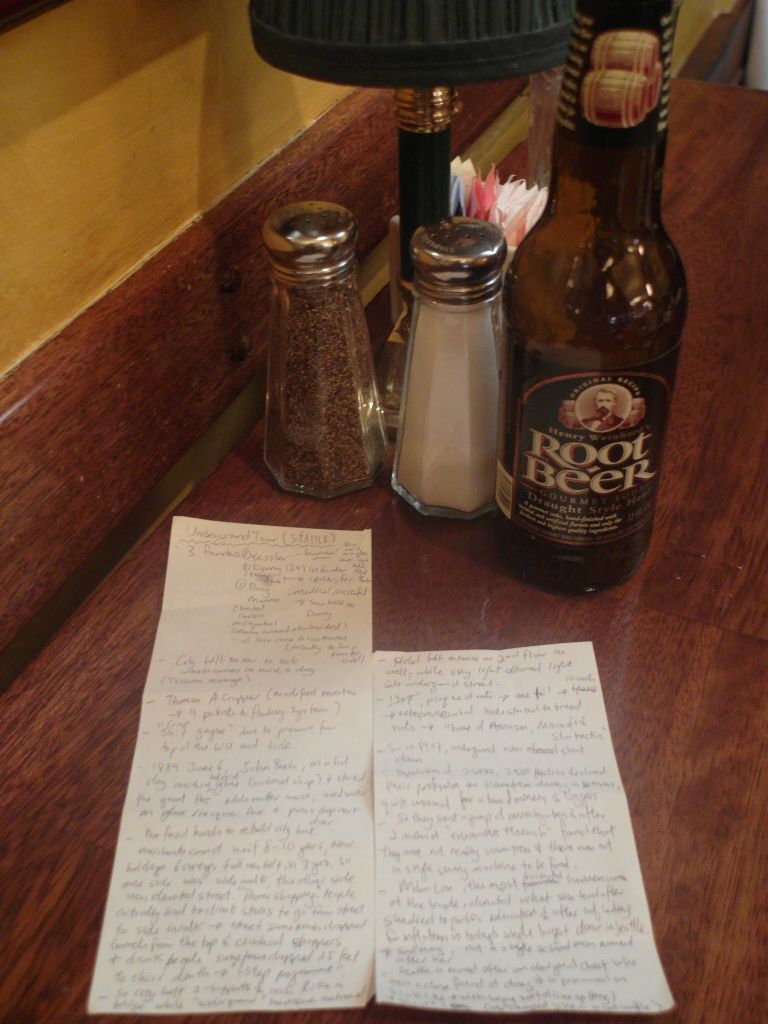 Entire story of the Underground Tour written on receipts after lunch at Metropolitan Grill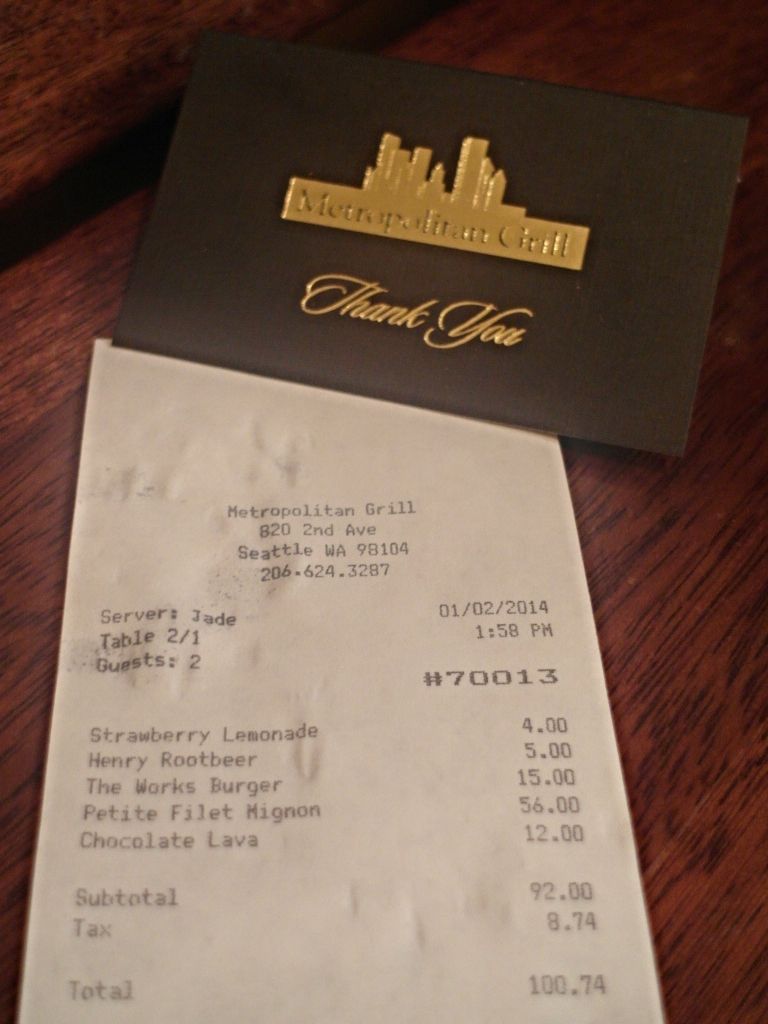 Final bill of $115 (including tips) returned in this holder with a nice little message from the general manager of Met Grill
Location of Metropolitan Grill Seattle
The address of Metropolitan Grill is 820 2nd Ave, Seattle, WA 98104, United States
Conclusion
All in all, we were thoroughly satisfied with our visit to Metropolitan Grill. Perhaps you may wish to also lower your expectations of the steak. It was great nonetheless.
To answer the question of whether the steaks at Metropolitan are worth it?
The answer would be yes, but barely.
For us, the highlight has got to be the chocolate lava cake! Imagine us saying that its awesome even after our meals. Maybe it would have been "out of this world" if it was just taken as part of an afternoon tea!
If you enjoyed our content, "Like" us on Facebook Today!

Related Posts
This is part of our coverage of San Francisco, Seattle and Vancouver USA. Check out these posts if you're visiting the West Coast of USA!
Top 5 Things to do and Attractions in Vancouver Washington USA!
Top 11 Things to do and Attractions in San Francisco USA
Top 8 Things to do and Attractions in Seattle USA!
Things to do and Attractions in Eureka California!
Metropolitan Grill Seattle : Are the steaks worth it?
Seattle Underground Tour by Bill Speidel : A tour not to be missed!
Seattle Space Needle , Chihuly Garden and Glass and the Monorail to Westlake Center
World's first Starbucks in Seattle – Do not be confused!
The Crab Pot Sea Feast : A Seattle MUST TRY!
Pike Place Market : (Possibly) Seattle's Top Tourist Attraction!
What's YOU MUST DO at San Francisco's Fisherman's Wharf!
Pizza and beers at Umbria San Francisco!
Great Eastern Restaurant Chinatown San Francisco : Even Obama visits it!
The steep slopes of San Francisco : A Pictorial Post
San Francisco's "Crookedest Street" at Lombard Street!
Scenic Oregon Drive from Vancouver to San Francisco!
Travel Through Time with Historic Monuments at Vancouver Washington!
Vancouver Washington's Natural Wonders!
Catching Portland Winterhawks in action after Burgerville Meal!
Why You should eat at Beaches Restaurant than McMenamins in Vancouver Washington
Red Lobster….FINALLY!
Inn at the Market Seattle : All about Location Location Location!
San Remo San Francisco : Hotel with a PRIME location!
Palace Hotel San Francisco : A great mix of History, Class and Luxury!
Heathman Lodge Vancouver Washington : One of our best hotel stays EVER!
Hilton Vancouver Washington : Classy Stay & Room with a View!
For your convenience, we have arranged for the best hotel deals in Seattle right here!
The next time you're having steaks at Metropolitan Grill, remember to have the chocolate lava cake to round off a fantastic meal!
Related posts: