Oasia Hotel Staycation? Who would have thought that the Novena enclave offers an excellent Singapore Staycation option in Oasia Hotel? Over the weekend, we were hosted to a staycation here and were pleasantly delighted by this "hidden-gem-of-a-staycation"…check out this review to find out more!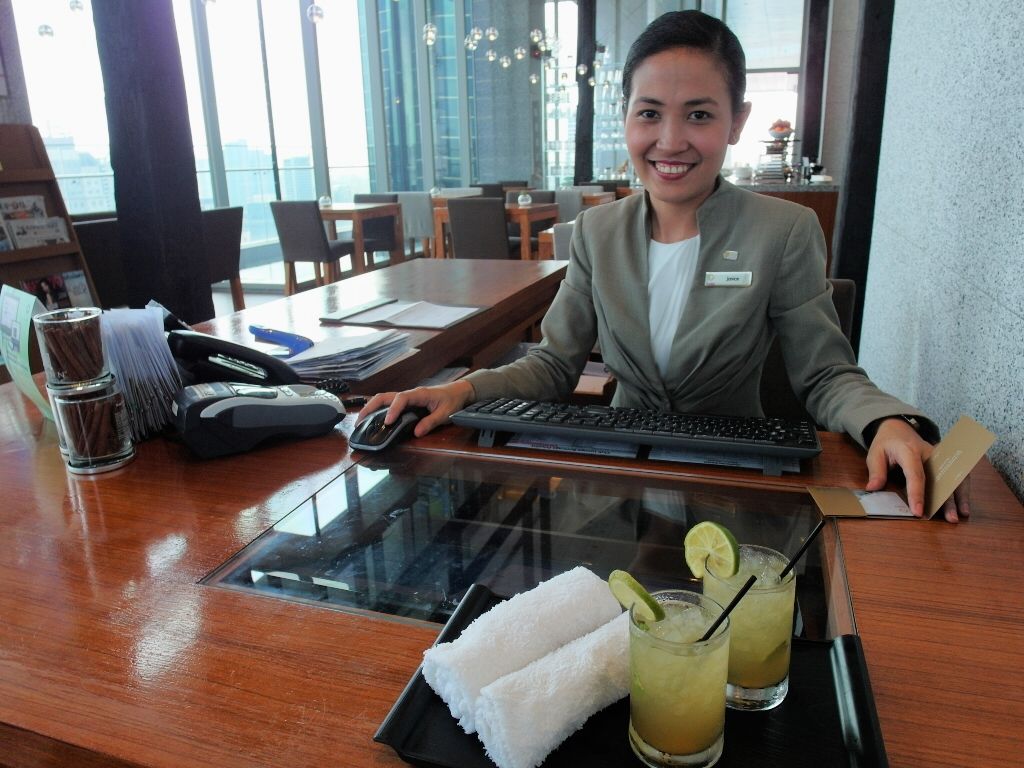 Janice checking us in at Oasia Hotel's Club Lounge – The Living Room!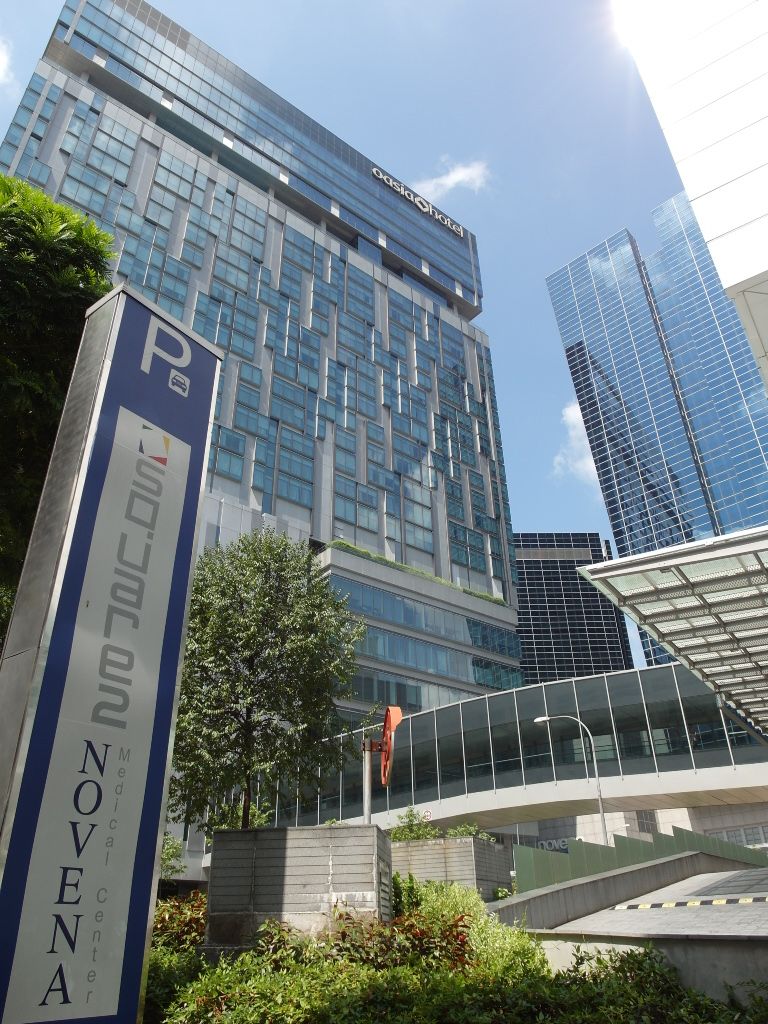 Oasia Hotel Facade
Oasia Hotel Singapore Staycation
If you're staying at the Club Room of Oasia Hotel, you'll be whisked off to the club lounge, also known as the Living Room for a personalised check-in. We also had the refreshing peppermint welcome drink while Janice promptly checked us in – that is eventhough we were much earlier than the stipulated check in time 🙂
Guess who we brought for our Oasia Hotel staycation this time round? Our 2bearbears!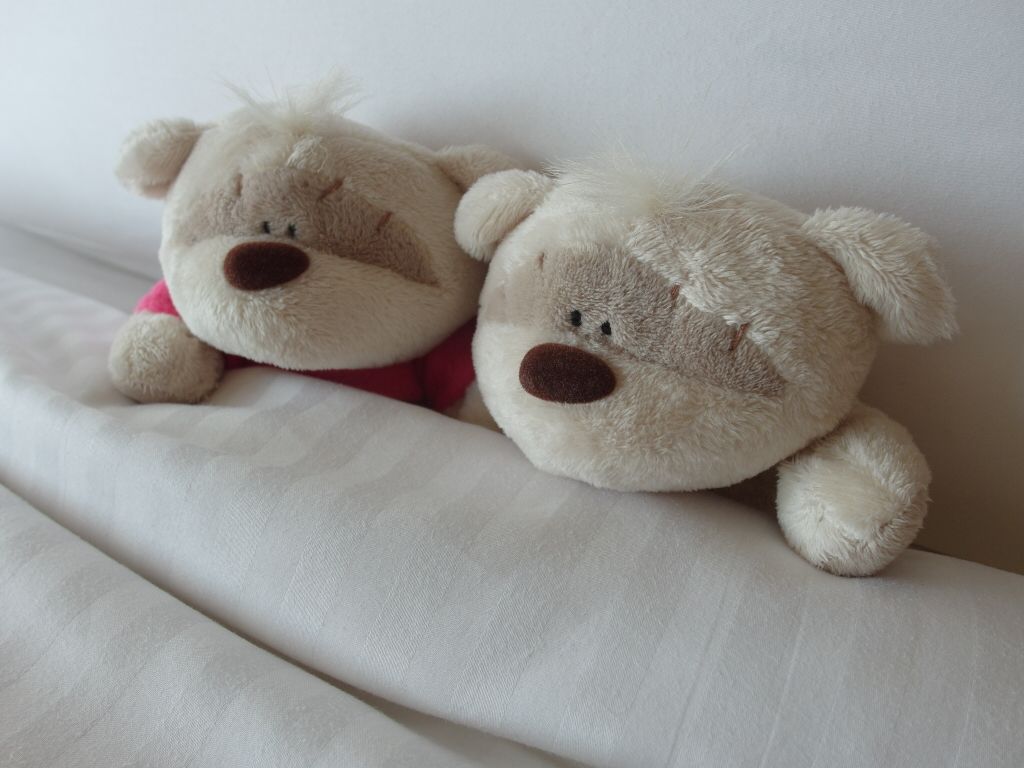 2bearbears snuggling on the king-sized bed of Oasia's Club Room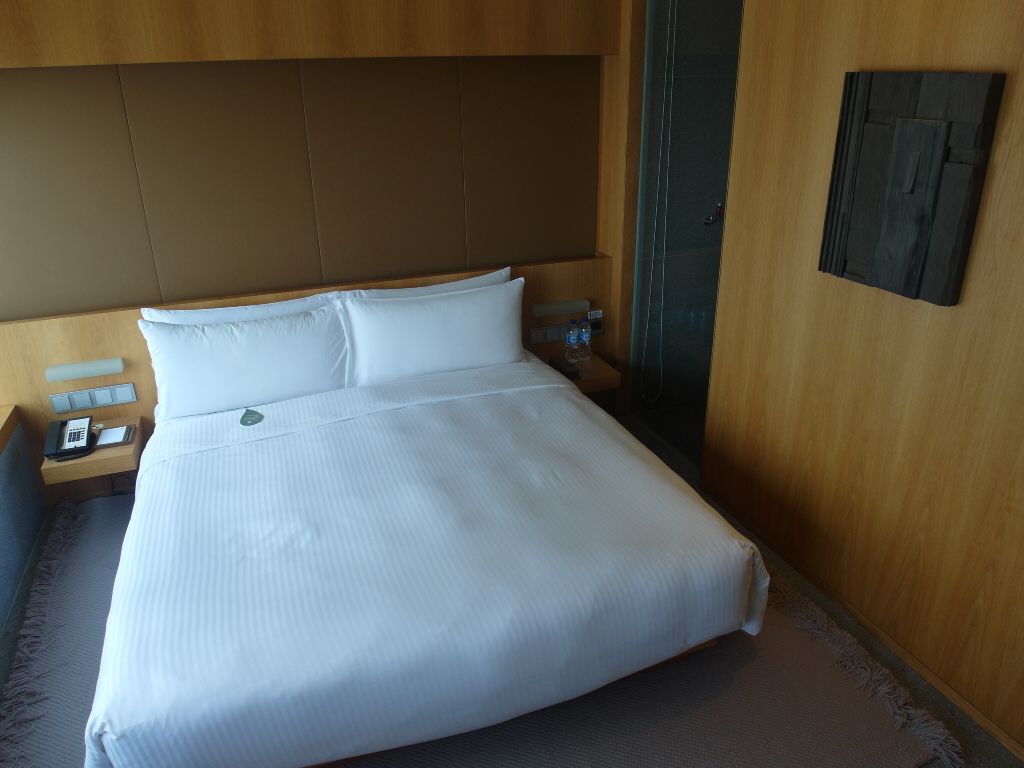 Oasia Hotel Club Room King-sized bed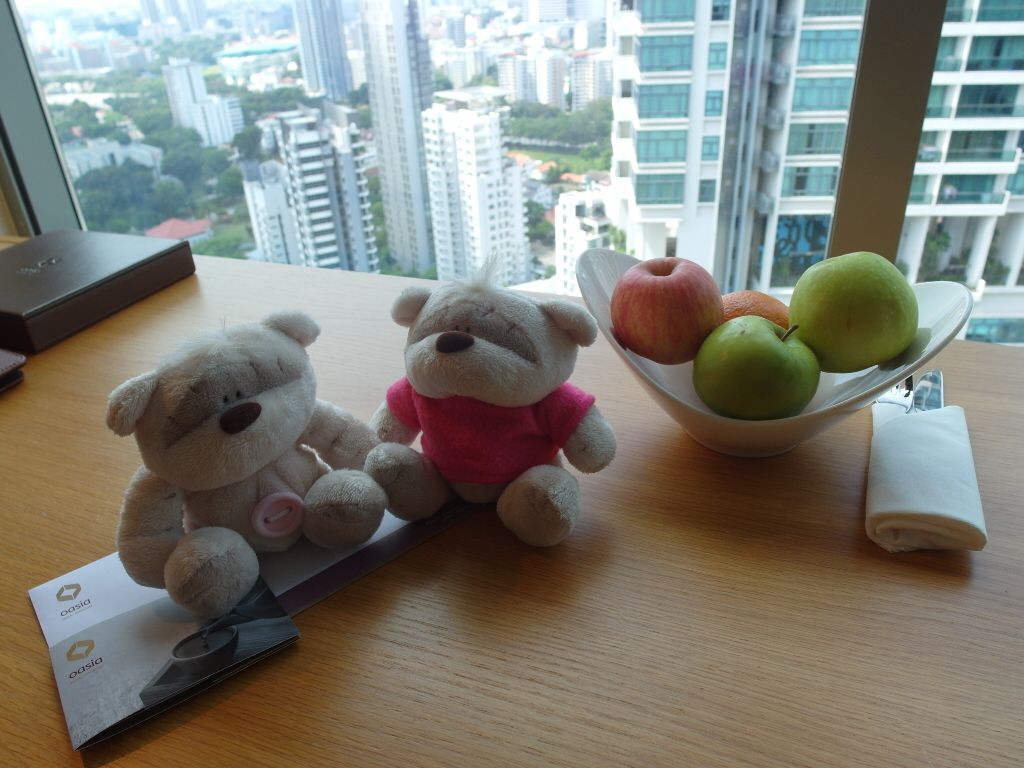 Great views from Oasia Hotel's Club Room!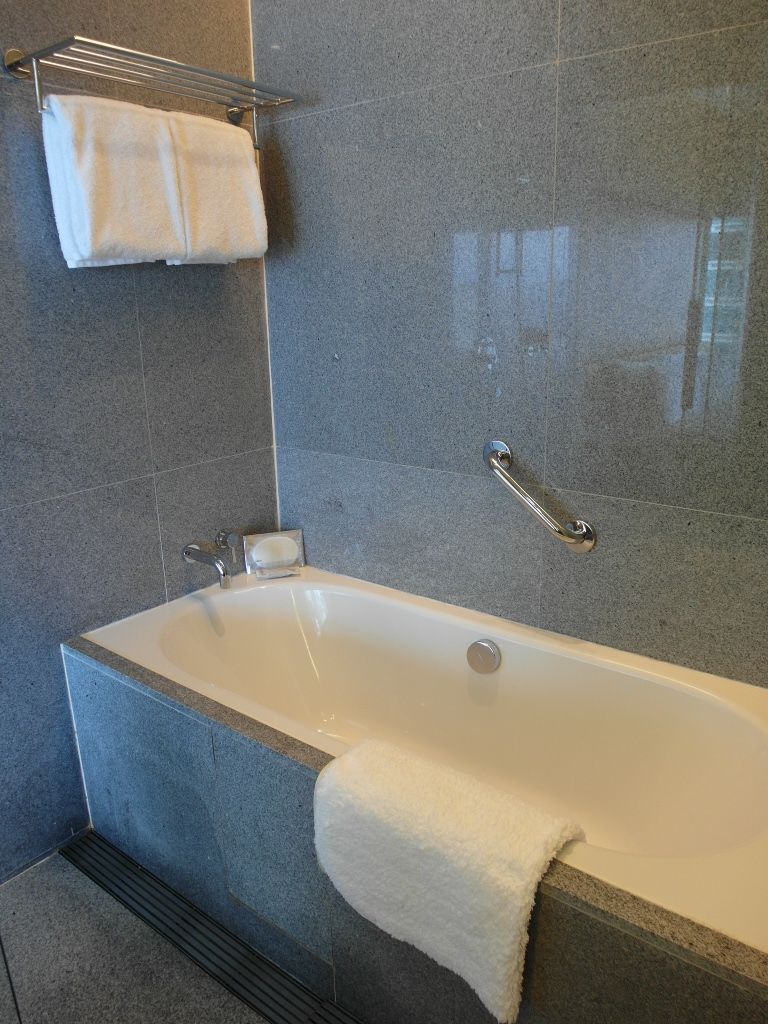 Bath tub with rice grain soap bar : in-room spa!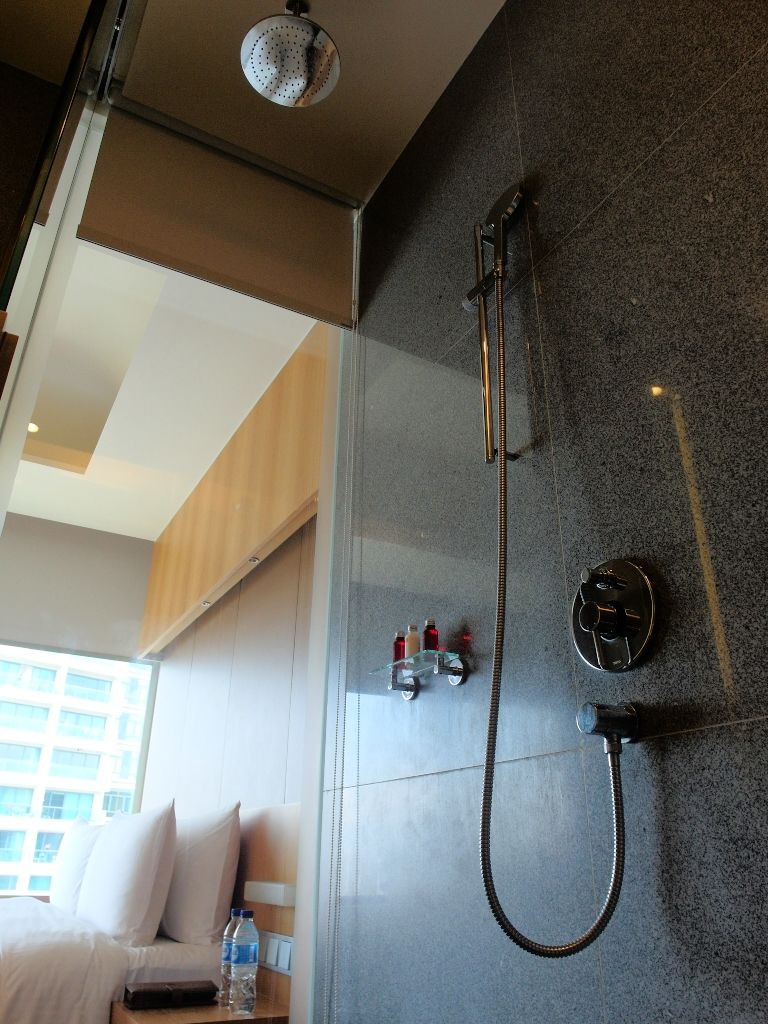 Rain shower facility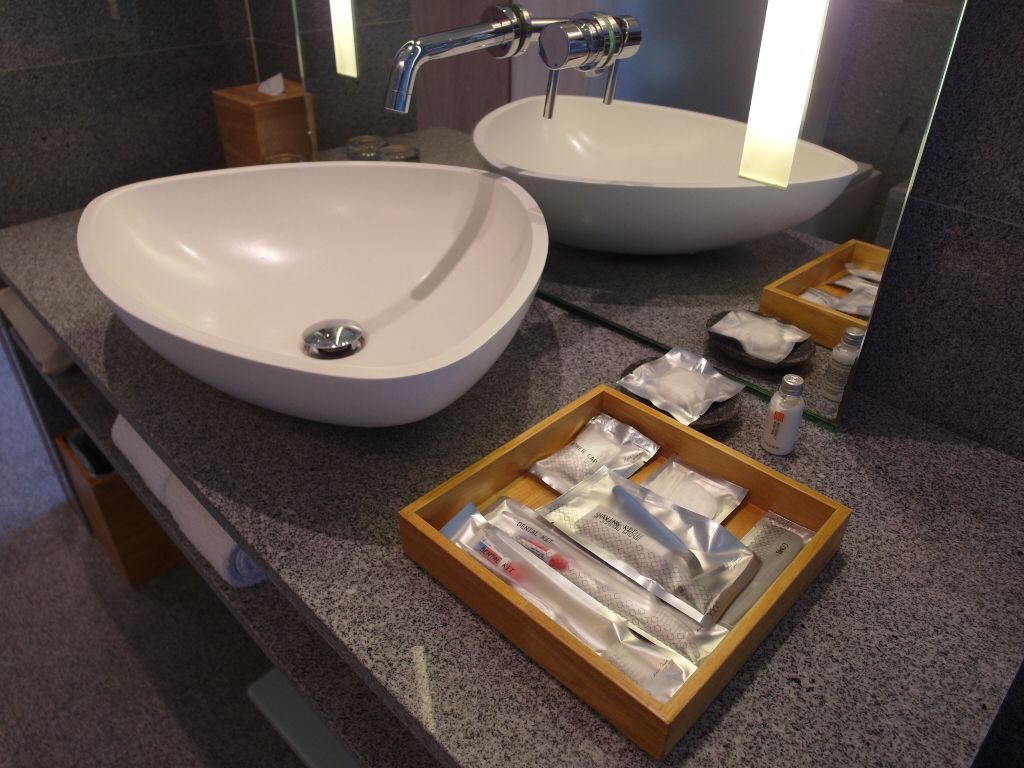 Modern tear-drop-shaped sink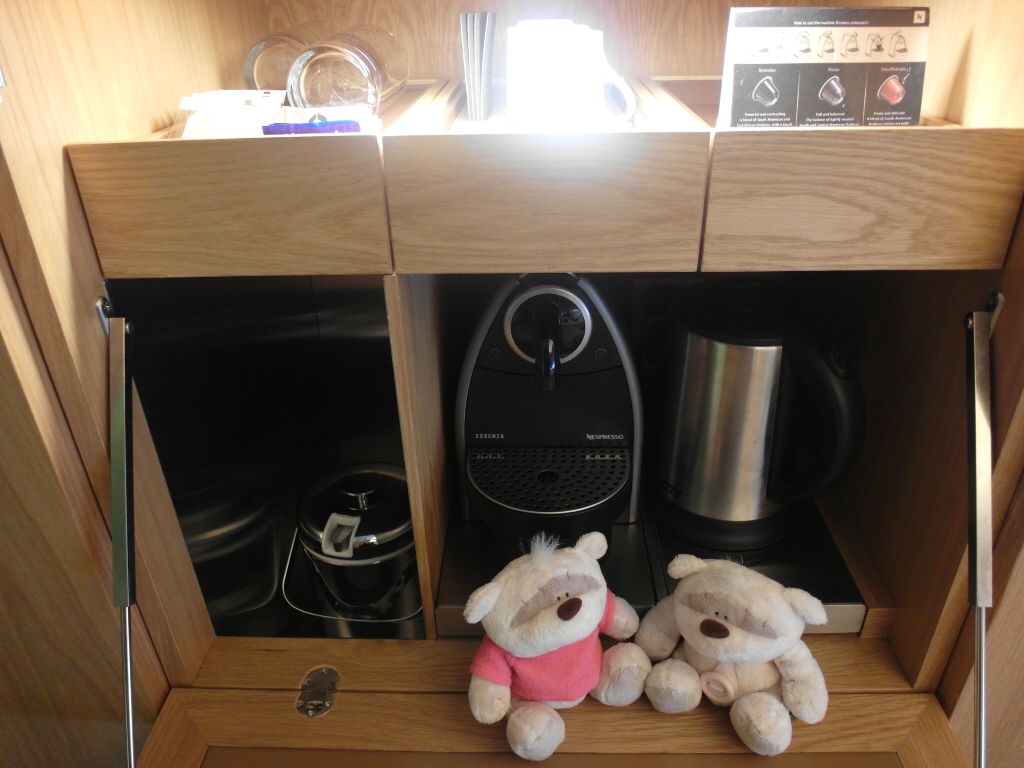 In-room coffee and tea making facilities

Video Tour of the Club Room at Oasia Hotel
There were several things we enjoyed about the Club Room of Oasia Hotel
1. Splendid views. Club rooms are located above level 22 (we stayed at level 24) and offers marvelous views in and around the Novena enclave. There are also 2 kinds of mechanically-operted blinds over 3 panels that blocks the "prying eyes" of the condominium opposite while still allowing you to enjoy the views!
2. Huge TV. The 46 inch TV does perk you up as you enjoy the staycation at Oasia. We caught "How to train your dragon" on Channel 5, a good recap after just watching D2 (D2 is our short form for "How to train your Dragon 2).
3. In-room spa?Remember we mentioned the rice grain soap bar? It actually has orange and tangerine essential oils infused into the soap bar! The smell was relaxing yet the rice grain softly exfoliates your skin…a great addition to the in-room amenities.
Oasia Hotel Facilities
Swimming Pool, Gym, Steam Room and Sauna at Level 8
There are 2 swimming pools at Oasia Hotel. 2 swimming pools!! The common swimming pool is located at level 8 along with the hotel's gym, sauna and steam room. In addition, there's also a chillax area on the same level that allows you to overlook views of the surrounding…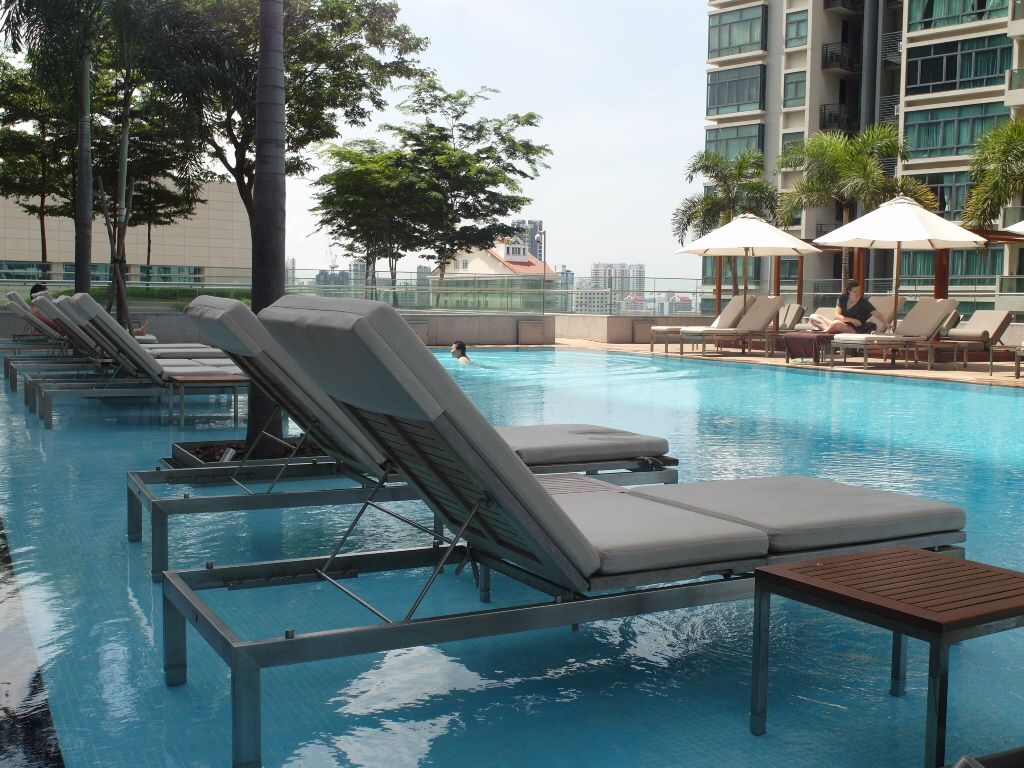 Swimming pool Oasia Hotel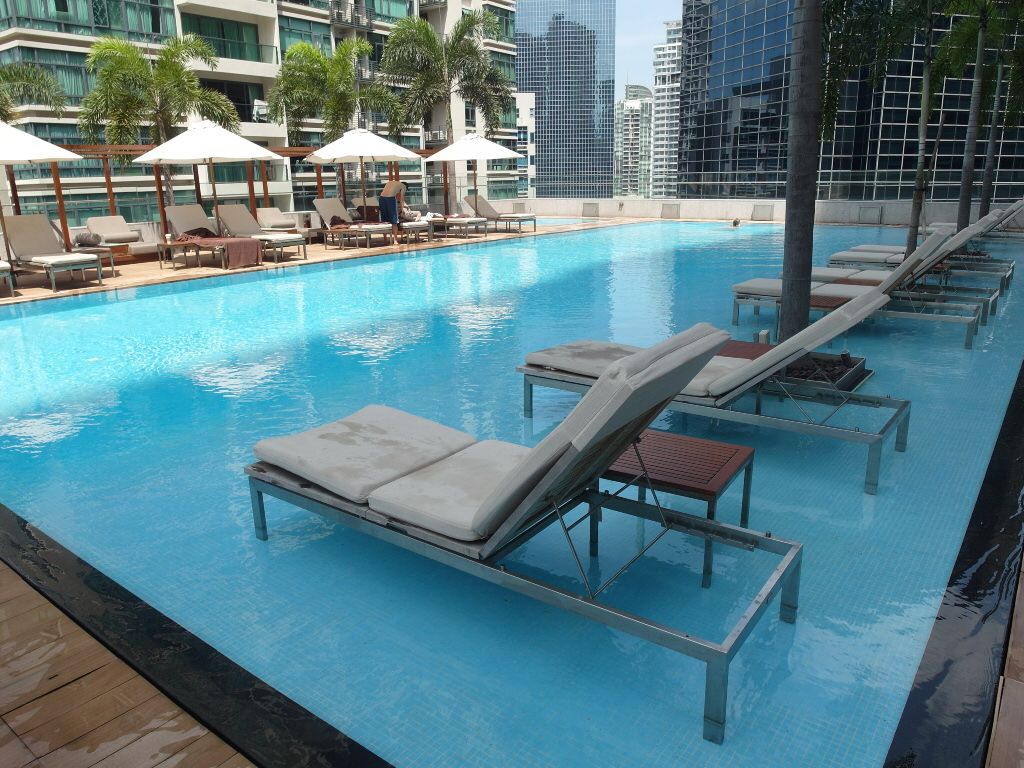 Another view of the swimming pool at Oasia Hotel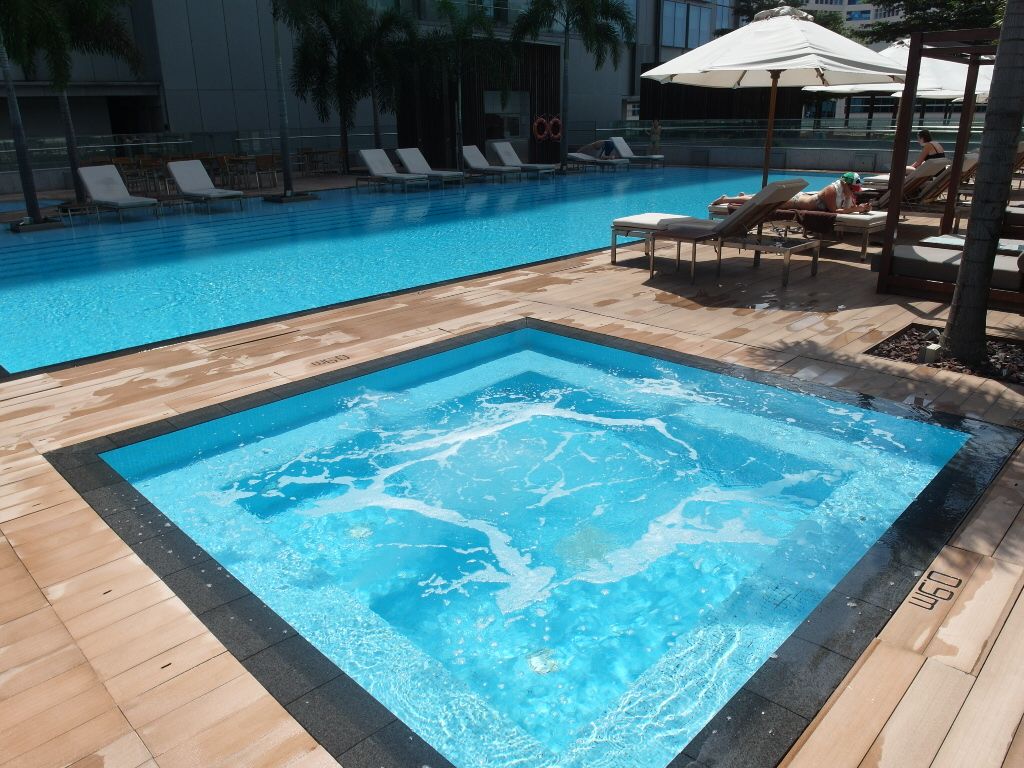 Jacuzzi at the corner of the pool at Oasia Hotel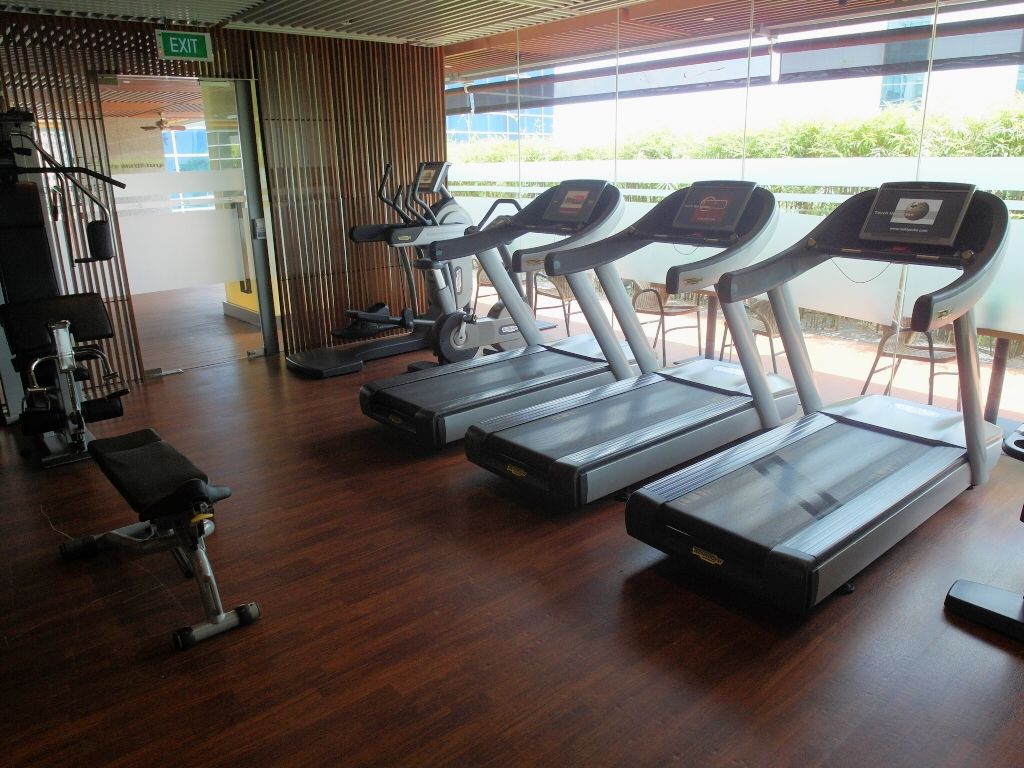 Gym at level 8 of Oasia Hotel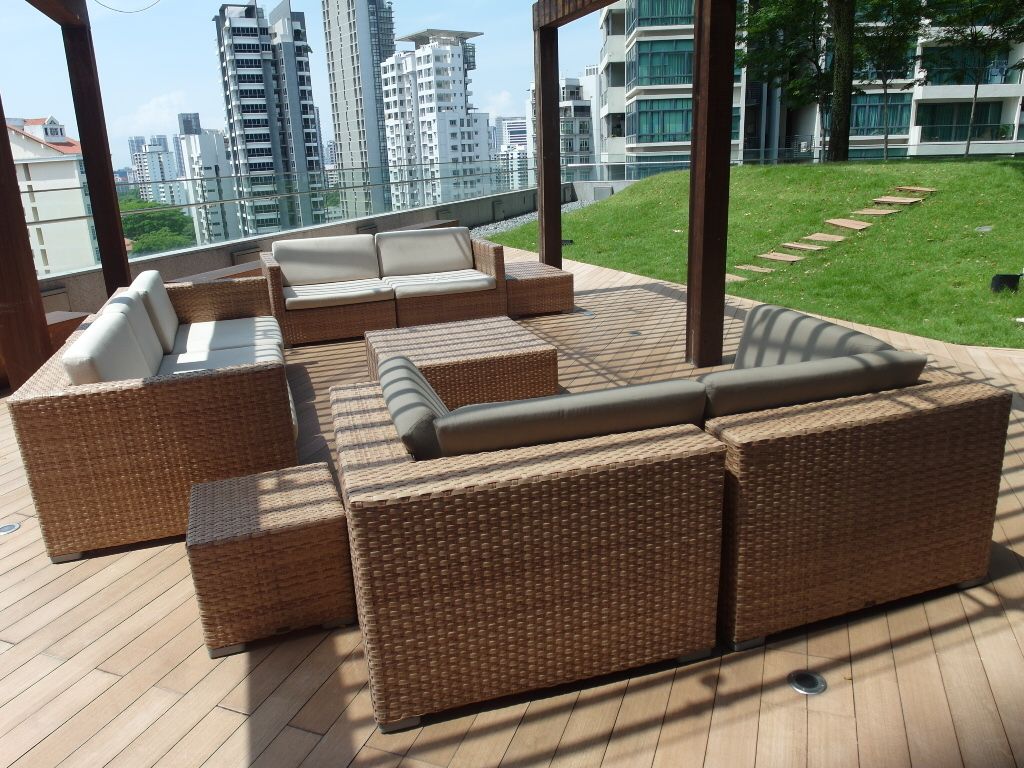 Small little pavilion on the same level
Club Lounge Swimming Pool at level 22
It was made known to us that Oasia Hotel's Club Lounge (also known as the Living Room) has a little secret. It is the only hotel in Singapore which has its lounge next to its "Club Member's Only" swimming pool!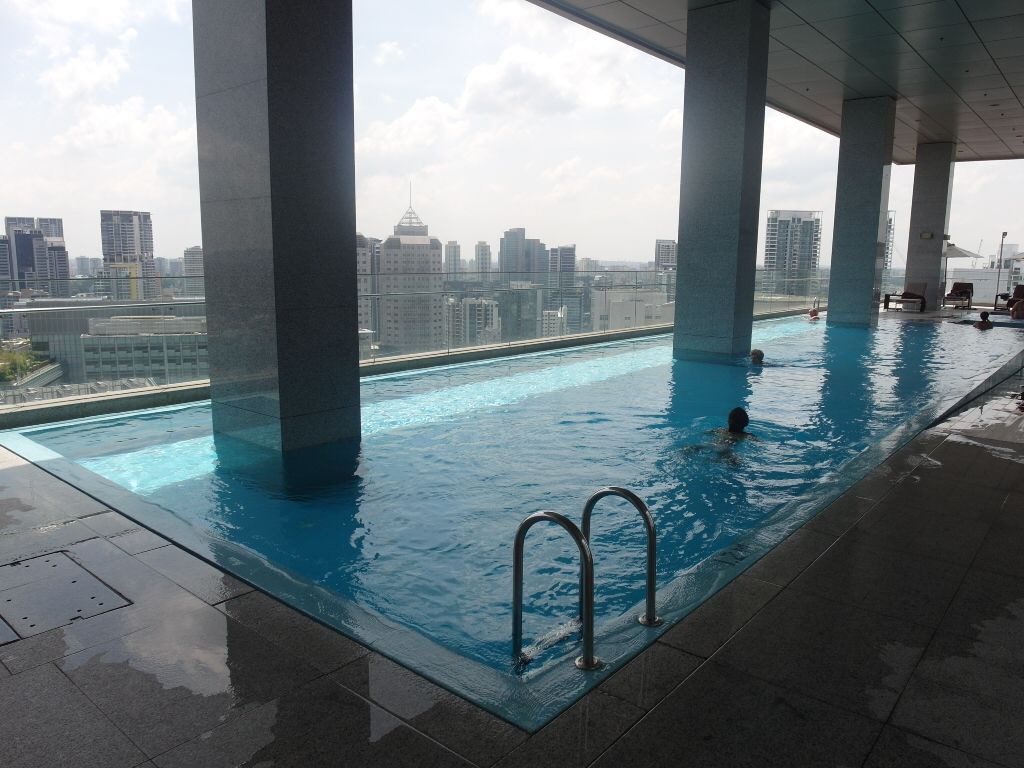 Swimming pool at level 22 of Oasia Hotel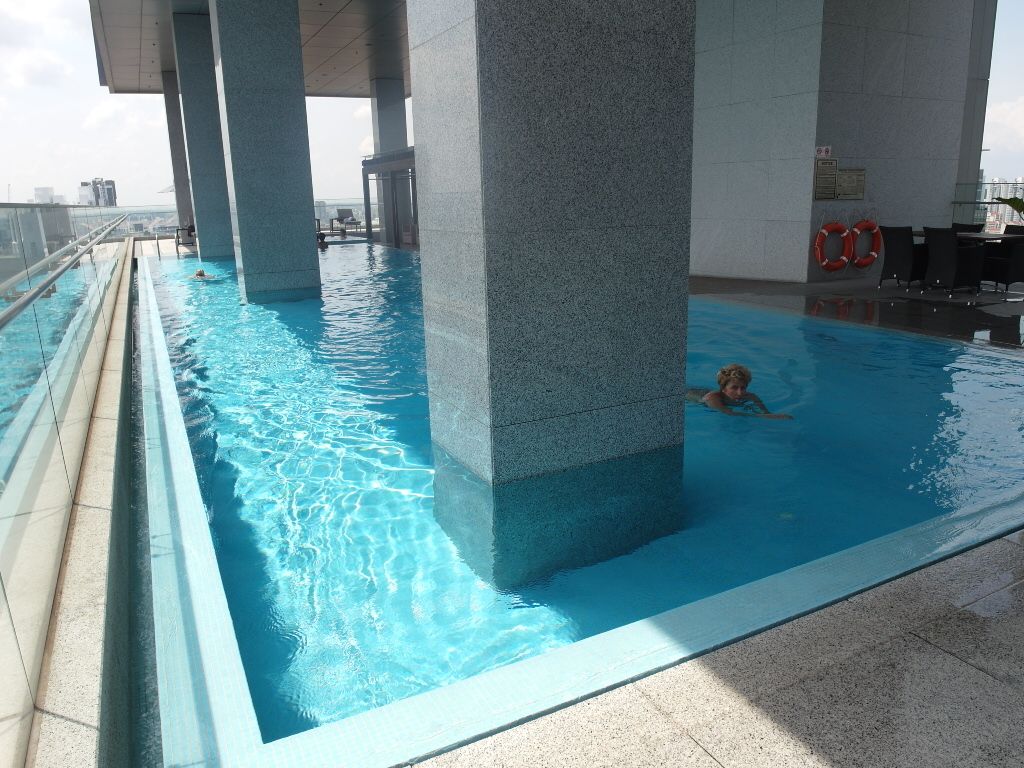 Oasia Hotel club lounge swimming pool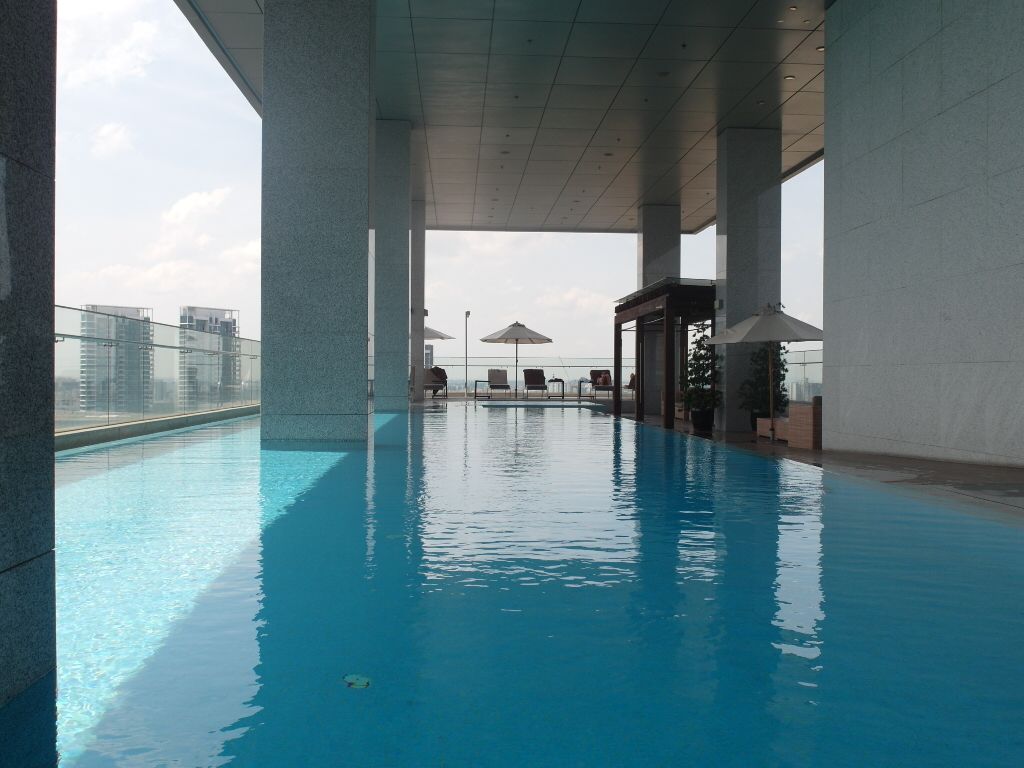 Another view of the Living Room swimming pool Oasia Hotel

Splendid views as seen from the pool deck of the Living Room at level 22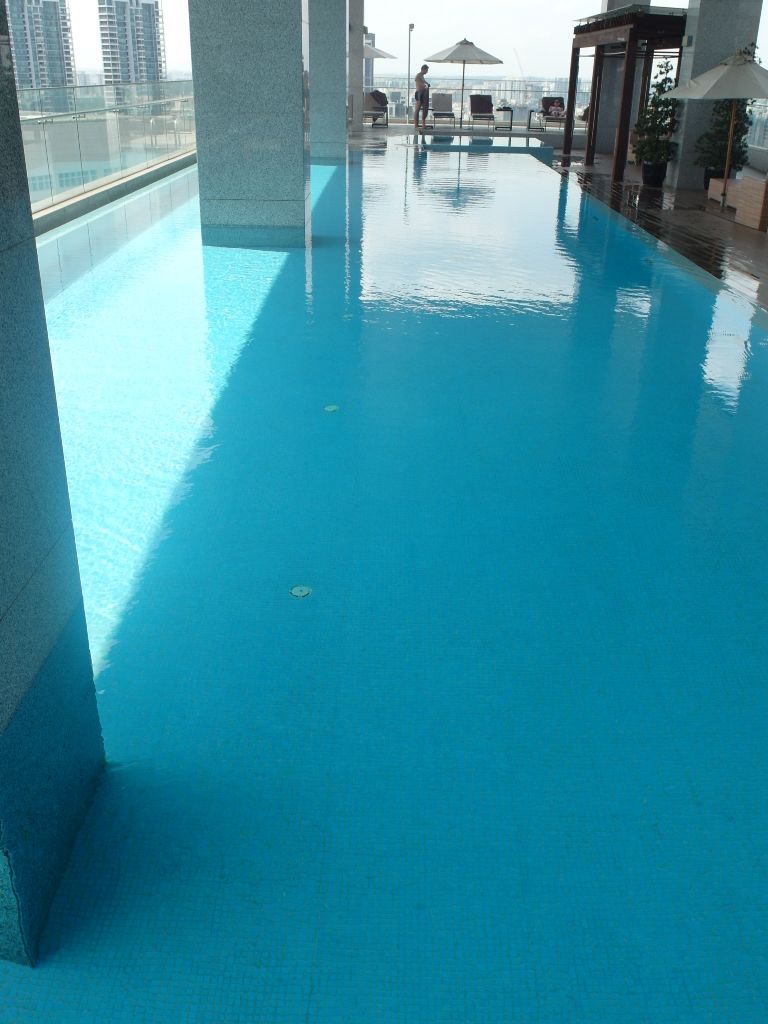 Crystal clean swimming pool of Oasia Hotel
Did we mention that both swimming pools at level 22 and level 8 were surprisingly clean? At the level 8 swimming pool, due to a shallower portion next to the deck chairs, you can actually lie there (like a beached whale) and feel absolutely no grime whatsoever. Impressed.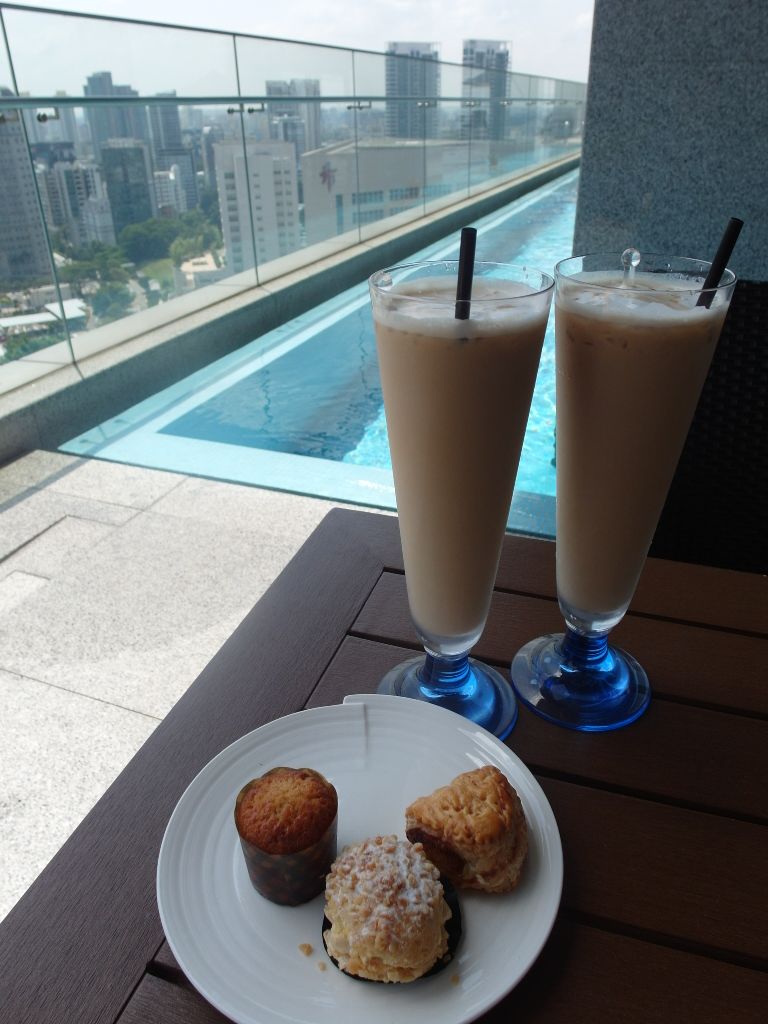 Drinks by the pool?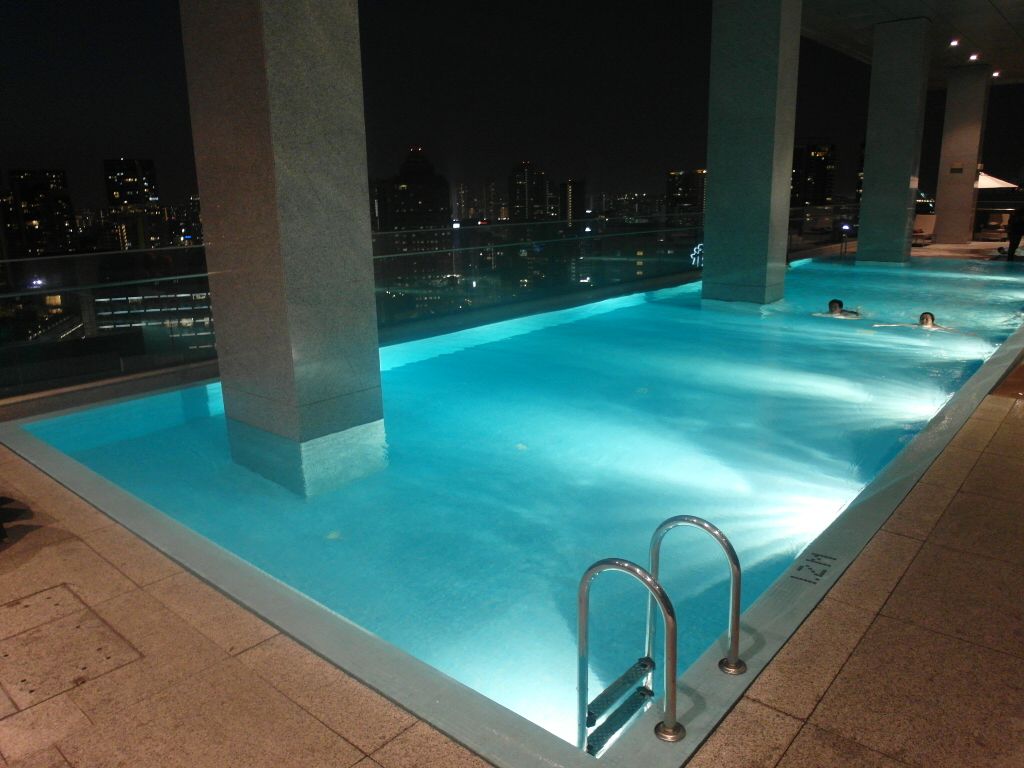 Club Lounge swimming pool at night
As the swimming pool is just next to the Living Room, you can choose to have gourmet coffee (we had latte above) or refreshing Italian Sodas (try the peach flavour!) right by the pool! In the evenings, the cocktails happen from 6pm to 8pm daily, here's what the lounge offers…
Club Lounge aka the Living Room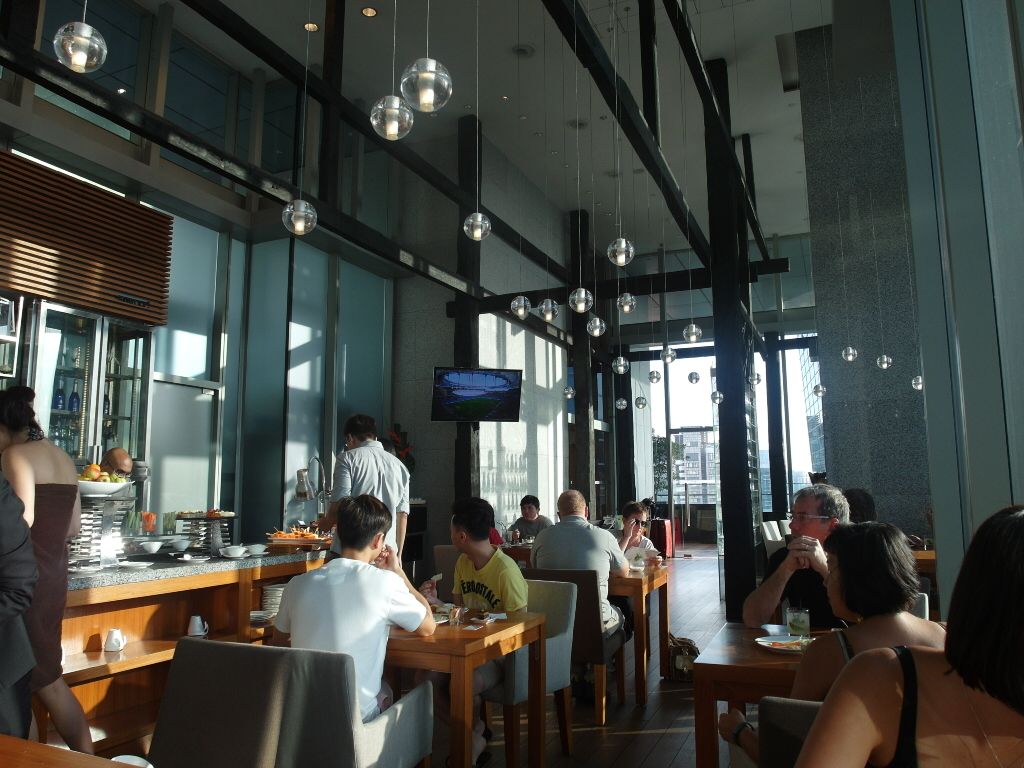 Crowded club lounge during cocktail hours at Oasia Hotel!

Selection of drinks during opening hours of the Lounge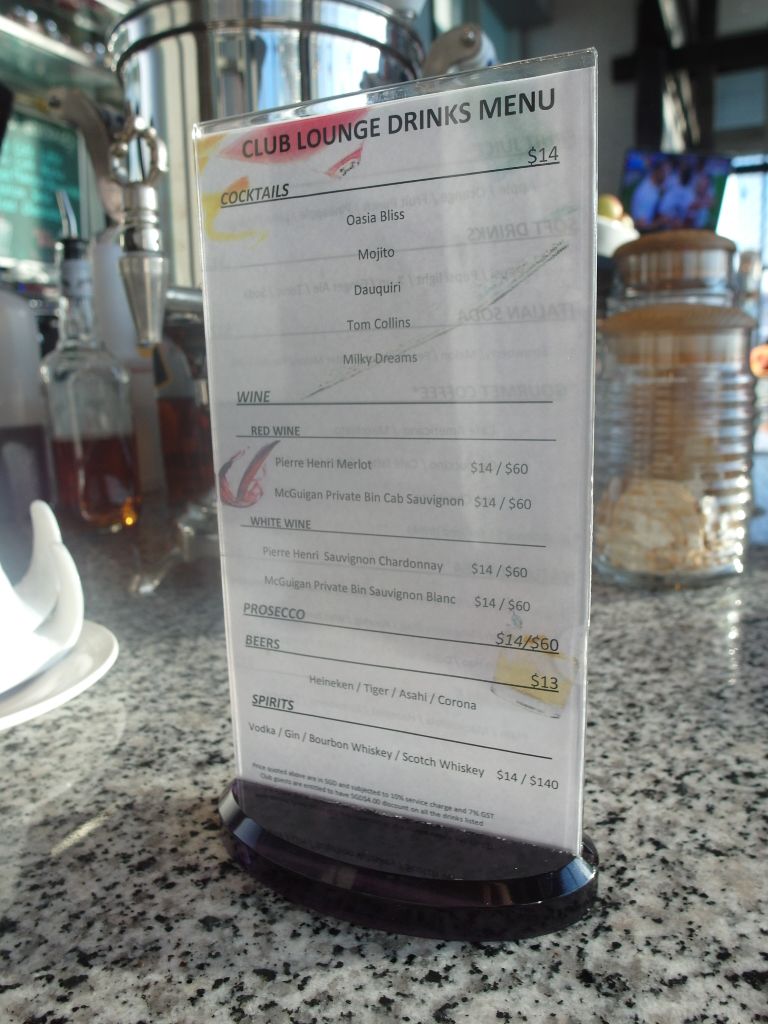 Selection of alcoholic drinks during cocktail hours at Oasia Hotel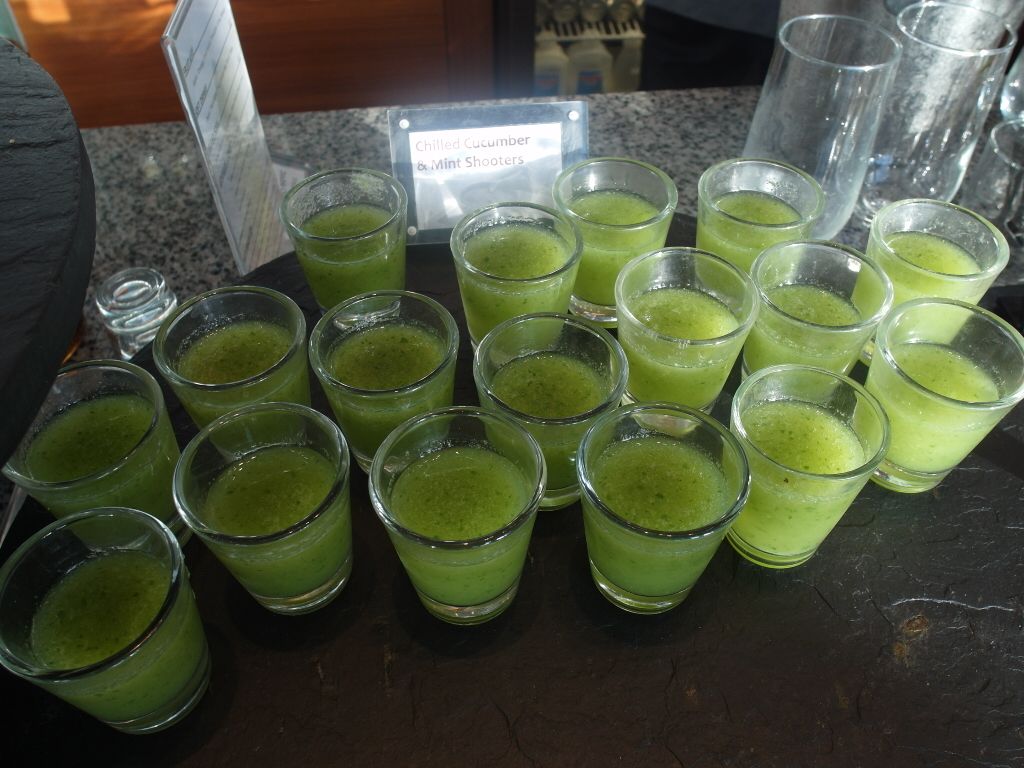 Refreshing chilled cucumber and mint shooters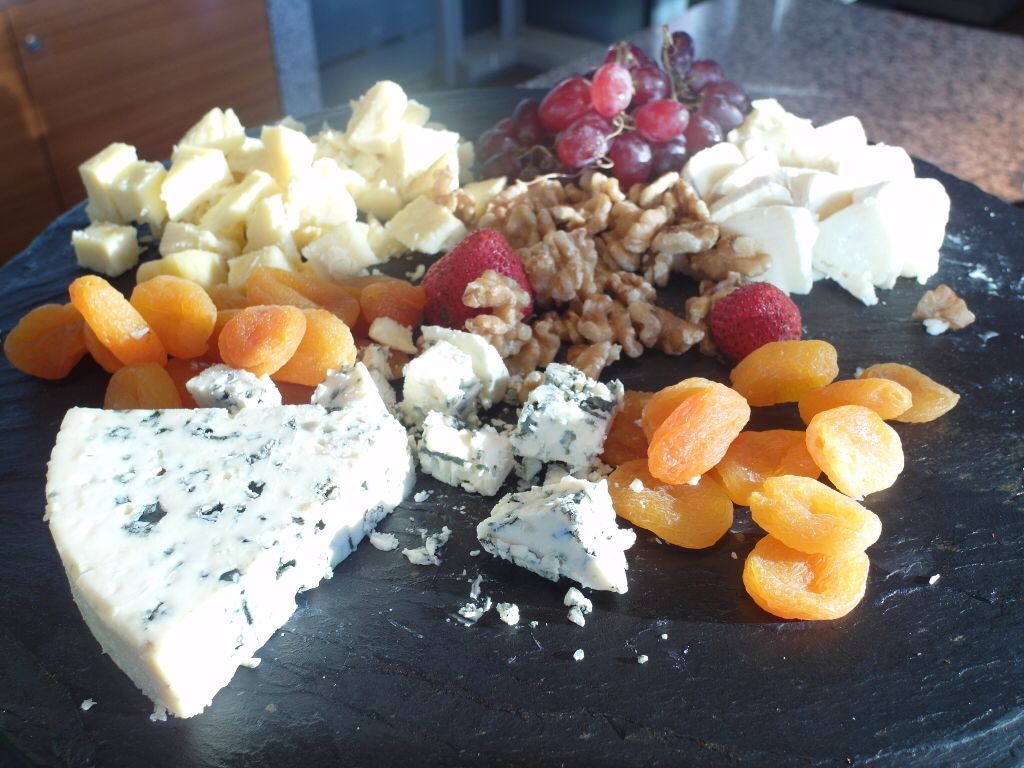 Selection of cheeses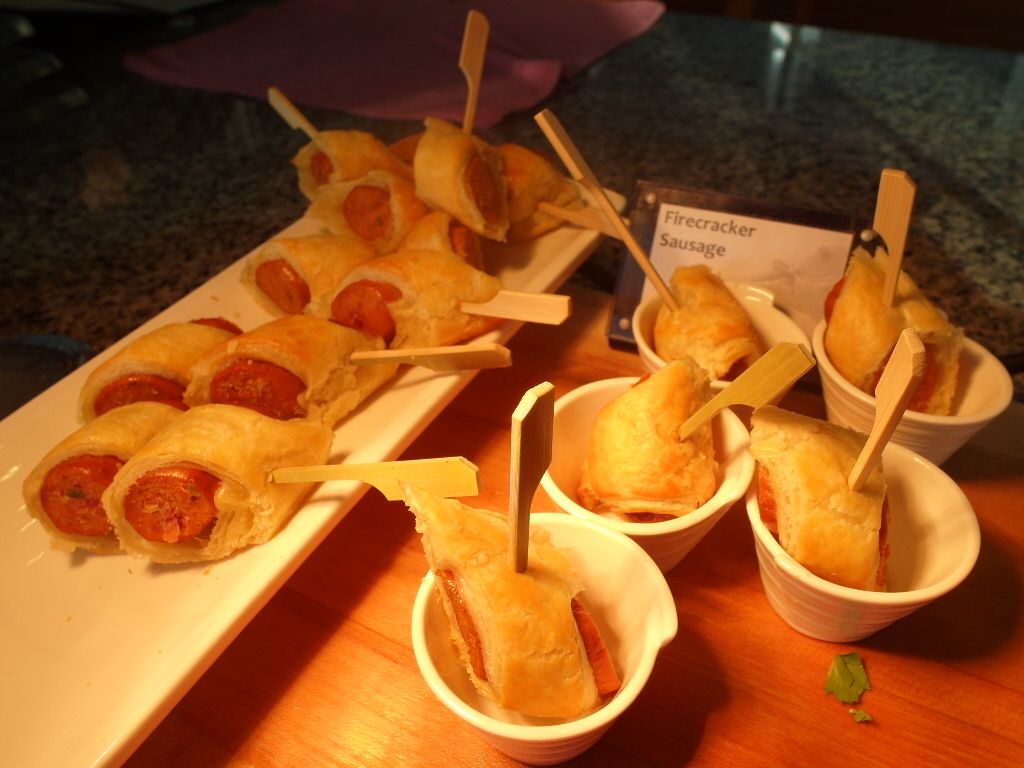 Firecracker sausage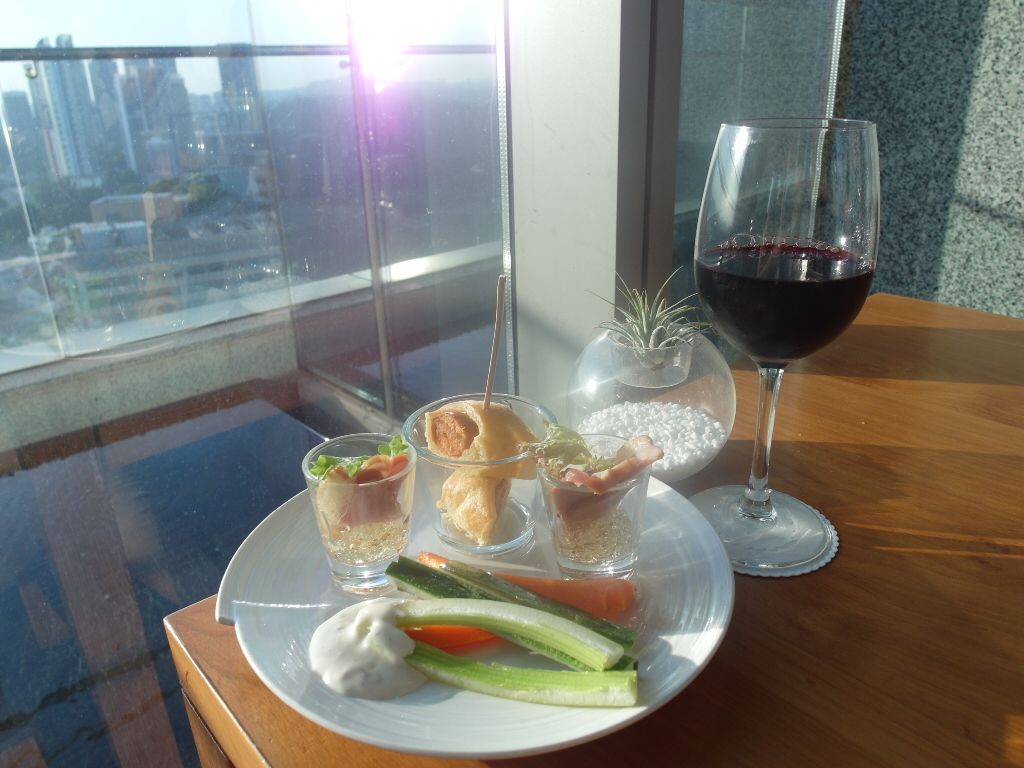 Smoked duck, vege sticks with cheese dip and red wine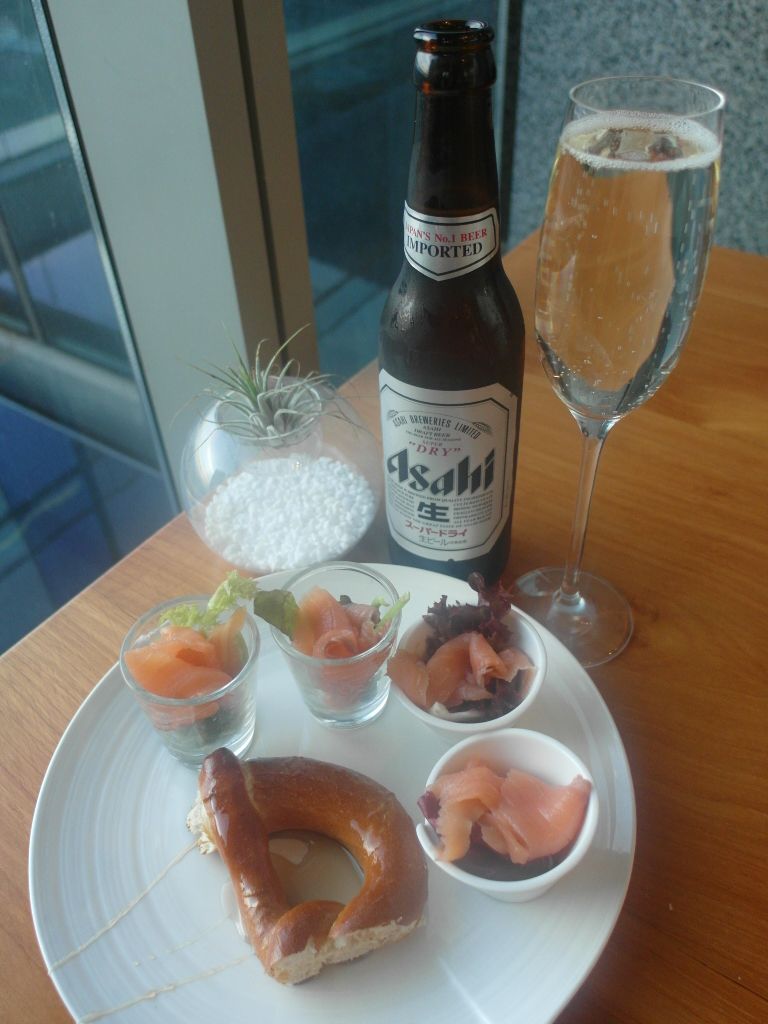 Asahi beer with pretzels (plus honey) and smoked salmon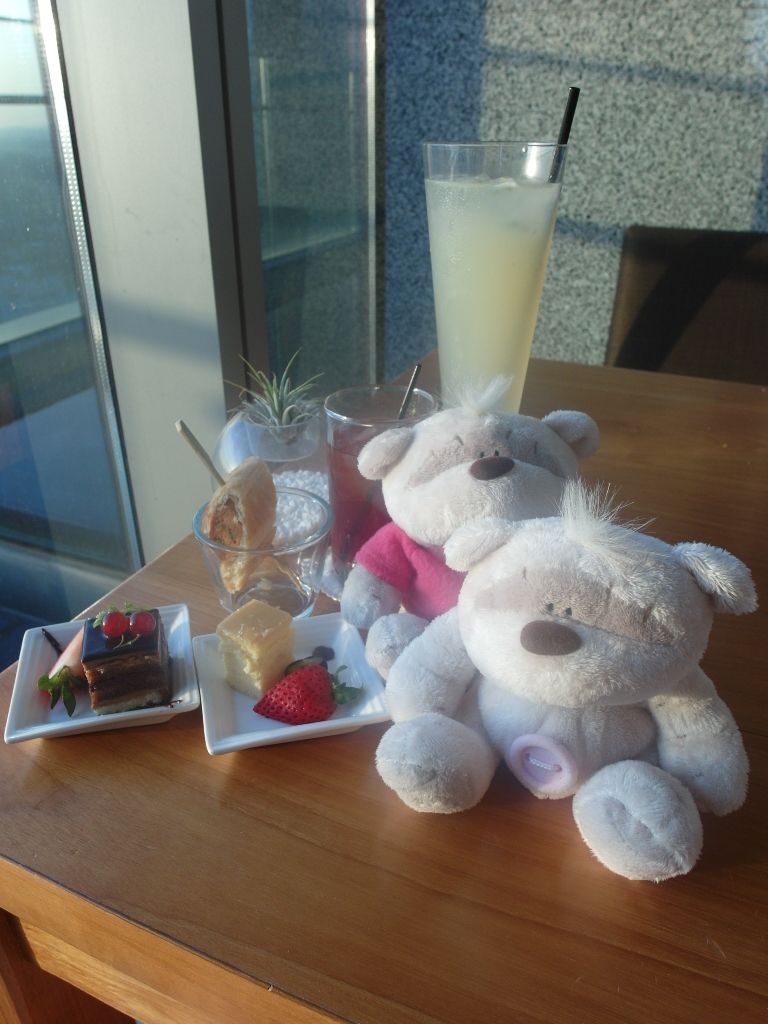 We're here for cocktails too! Seen here, mojito, Oasia bliss and desserts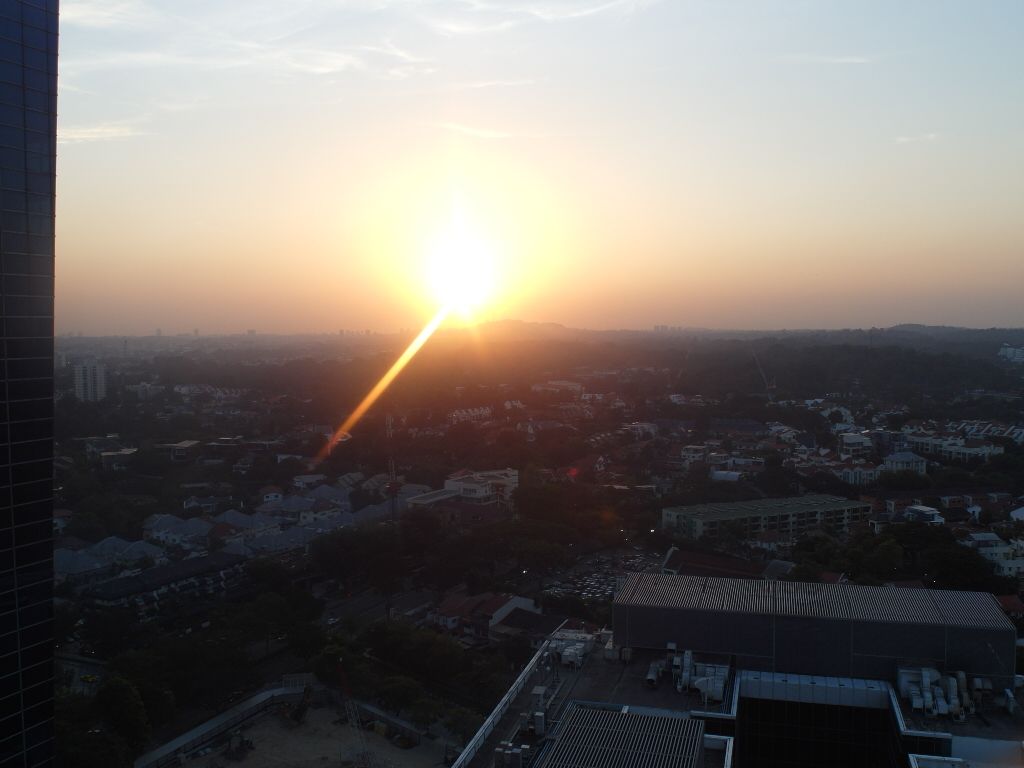 Splendid sunsets as seen from the Living Room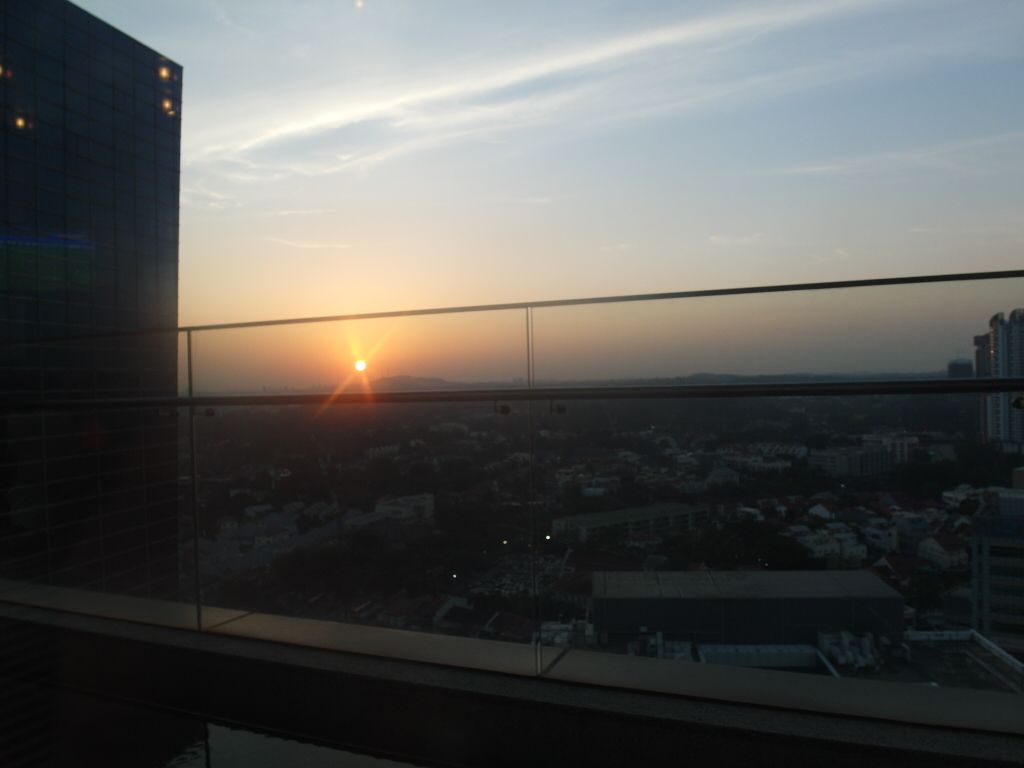 Chilling out during cocktail hour as the sun sets
What we really enjoyed about the cocktail was the service, great selection of drinks, proximity to the pool and of course the surprisingly wonderful sunset! Give Oasia Bliss a try, a berry based cocktail, definitely a hit with the ladies. Alternatively, you can have a dip in the pool while having some drinks and finger foods by the pool side. Surely a relaxing way to end the evening…ah…
World Cup at Oasia Hotel Club Lounge
During this world cup season, the club lounge has kindly extended its opening hours to show all, ALL the world cup matches to allow the guests to enjoy as well! Juices and coffee (important!) were made available too!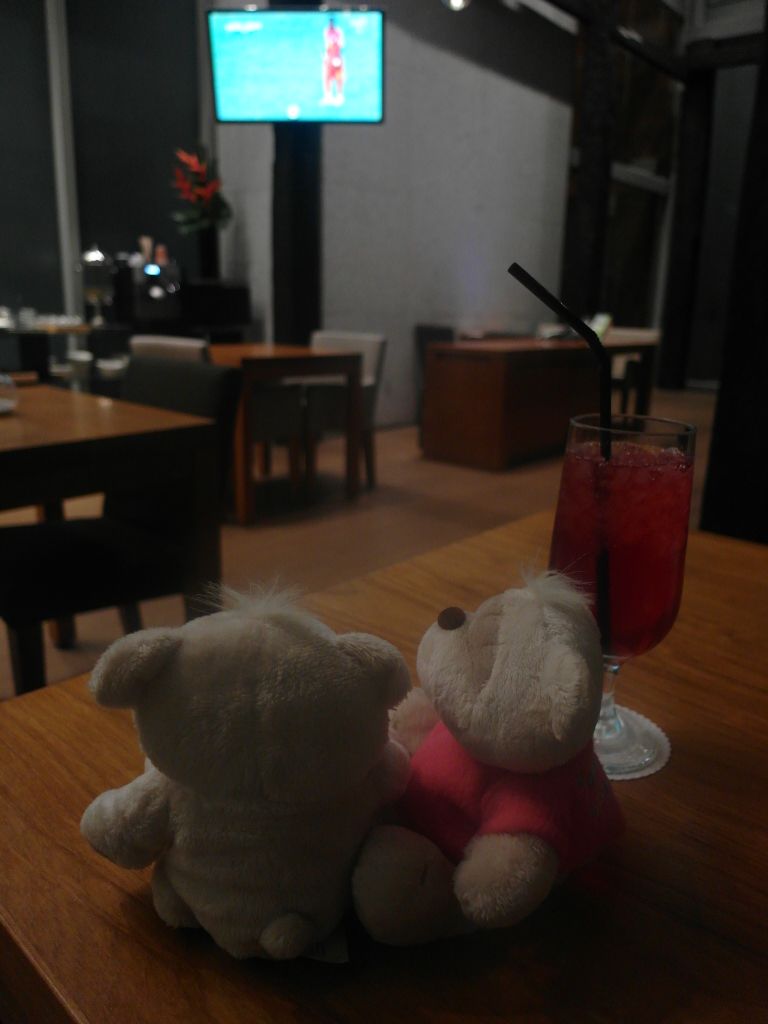 Hey…why you watching world cup without me? *sob sob*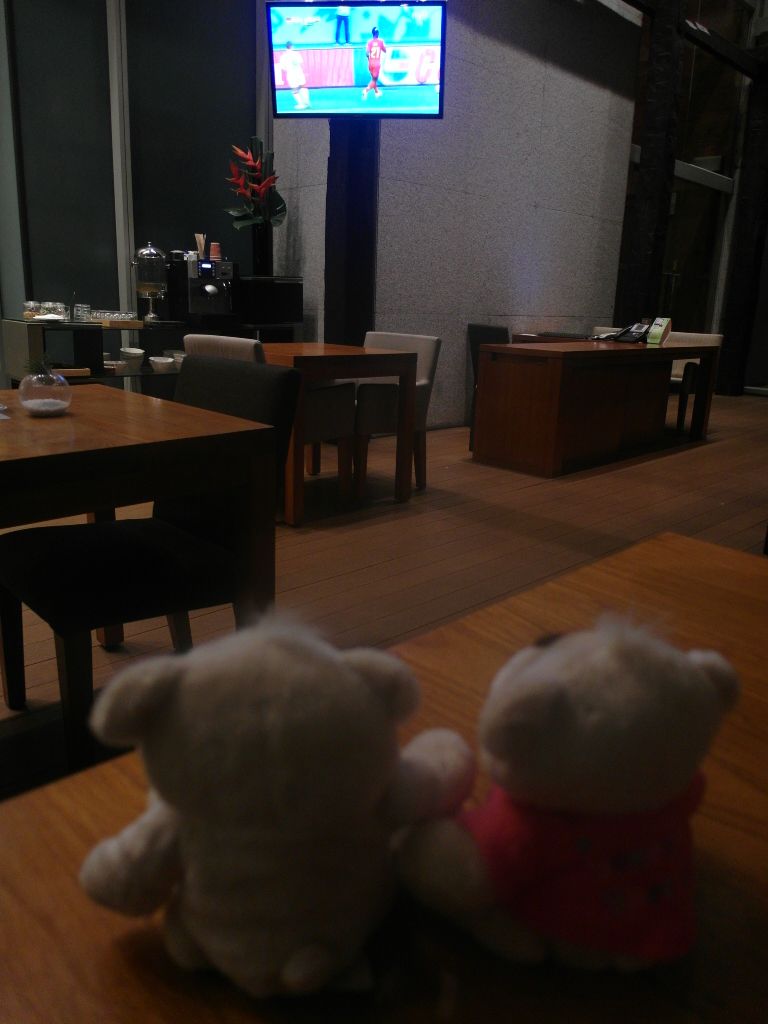 Watch together? Ok! *bear hugs*
Service was just as prompt during the wee hours of the morning with David asking us our choice of drinks as soon as we were seated. We were there from 1am to 5am catching the Argentina vs Iran and Germany vs Ghana matches. We interacted with an Argentinian and German guest from the hotel as well during the matches! Definitely a nice touch by Oasia Hotel to extend this service to the Club Room guests!
Massage Treatment at Enchanted Spa
Conveniently located next to Oasia Hotel, Enchanted Spa offers guests a relaxing option a stone's throw away. Thanks to the awesome folks at Enchanted Spa, Kate was treated to a relaxing 60 minutes session of the customised massage treatment…according to Kate…SHIOK!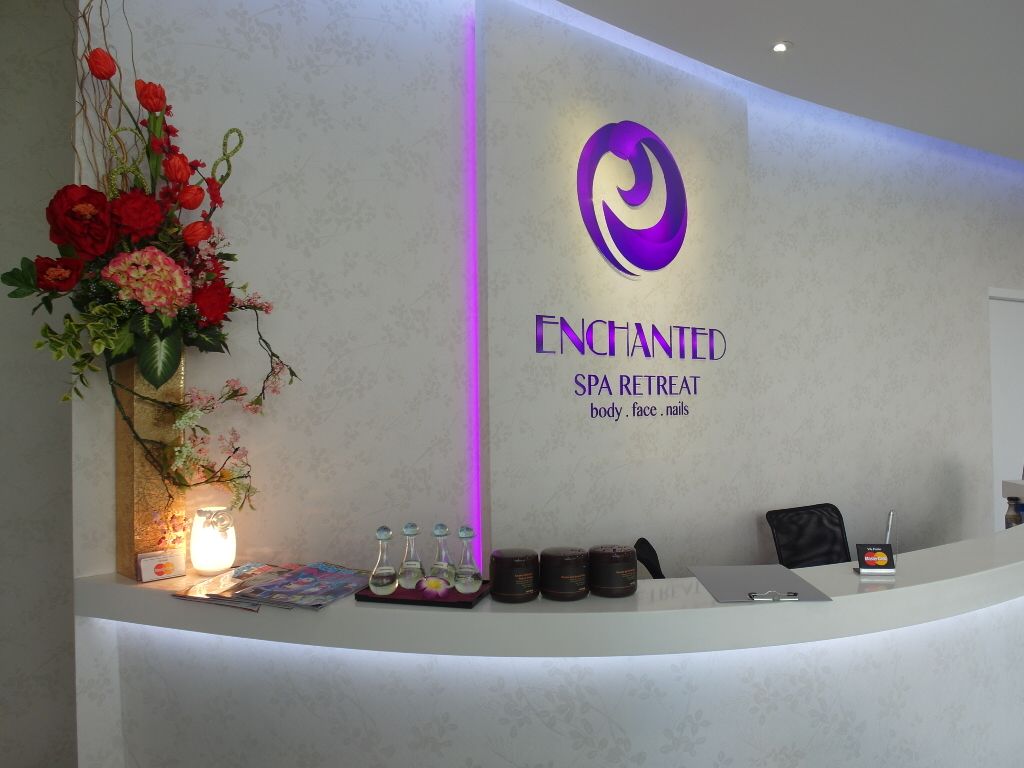 Enchanted Spa next to Oasia Hotel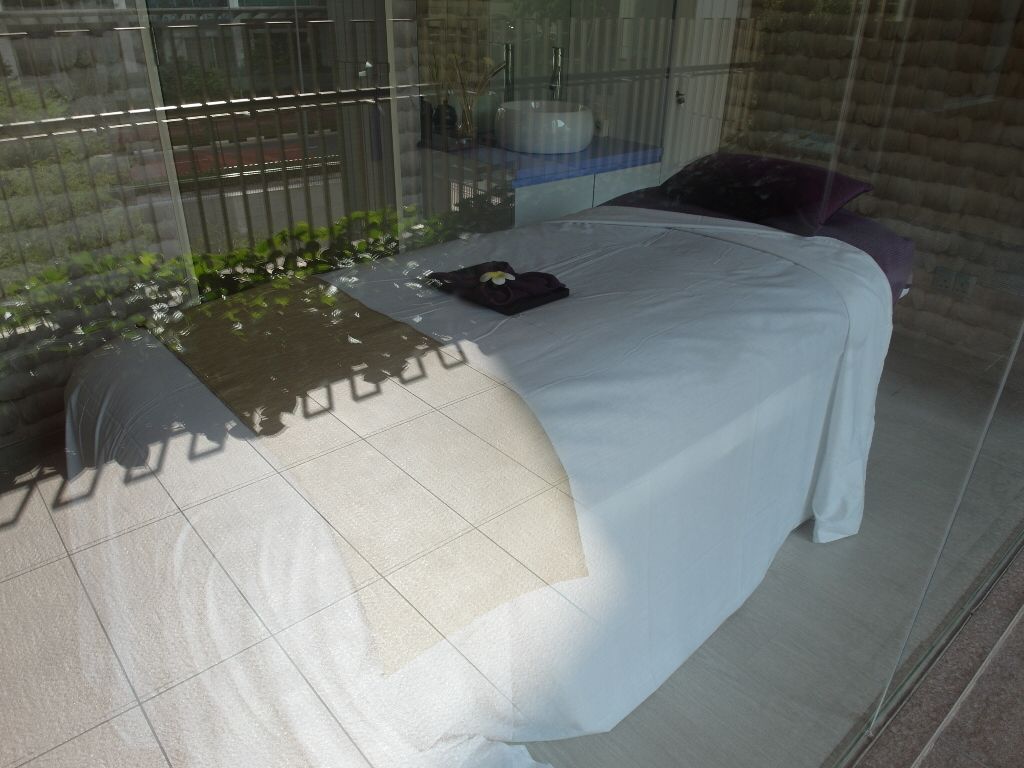 Massage table with relaxing ambience

Manicure and pedicure options available as well!
Breakfast at Zaffron Oasia Hotel
Breakfast at Zaffron was simple but has its bases covered. Whether you prefer cereals, breads or a small selection of asian fare, they are available. Taste wise, not fantastic but it does provide you the jolt for the day, especially after those world cup early mornings!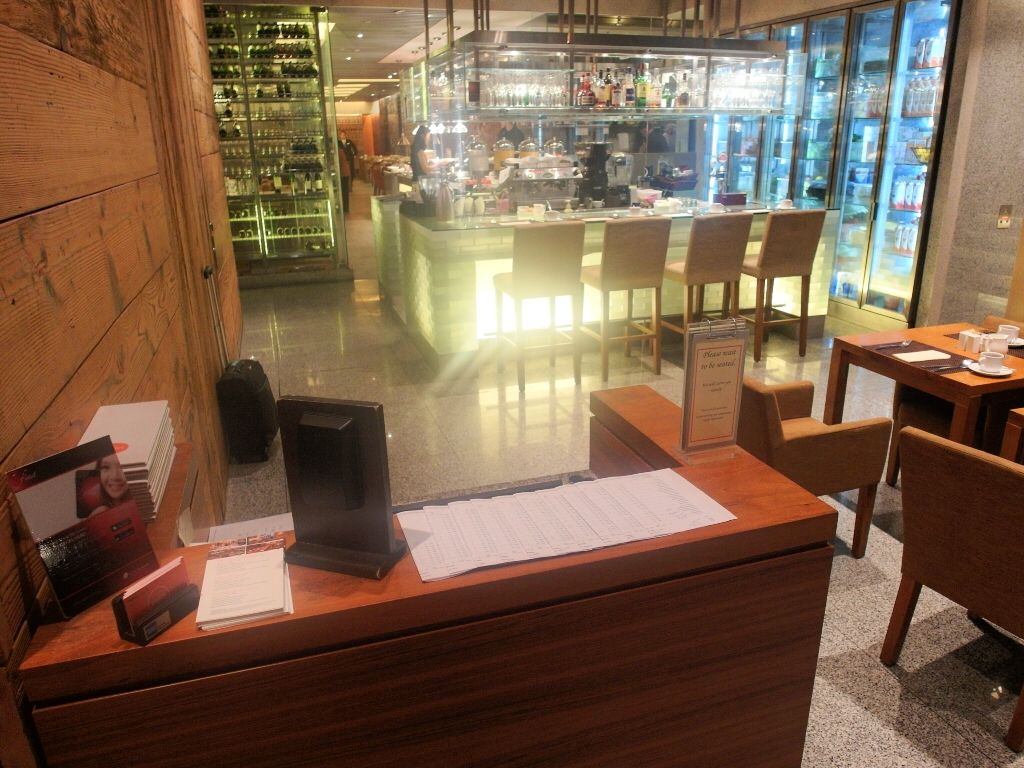 Entrance to Zaffron Oasia Hotel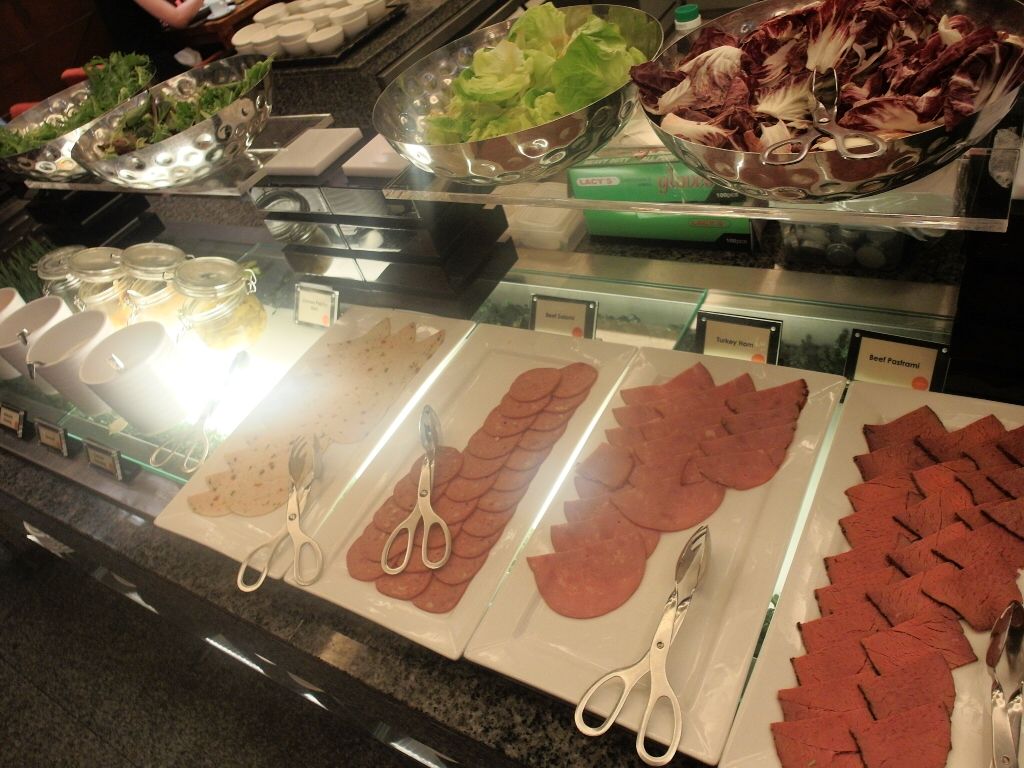 Selection of cold cuts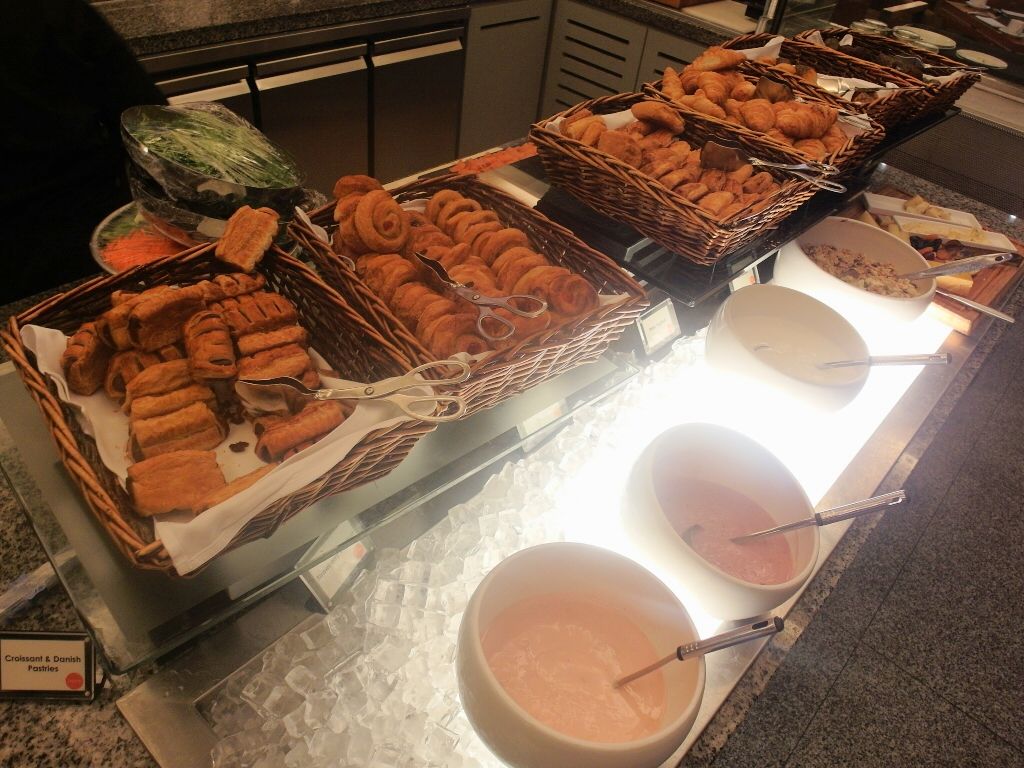 Selection of breads and pastries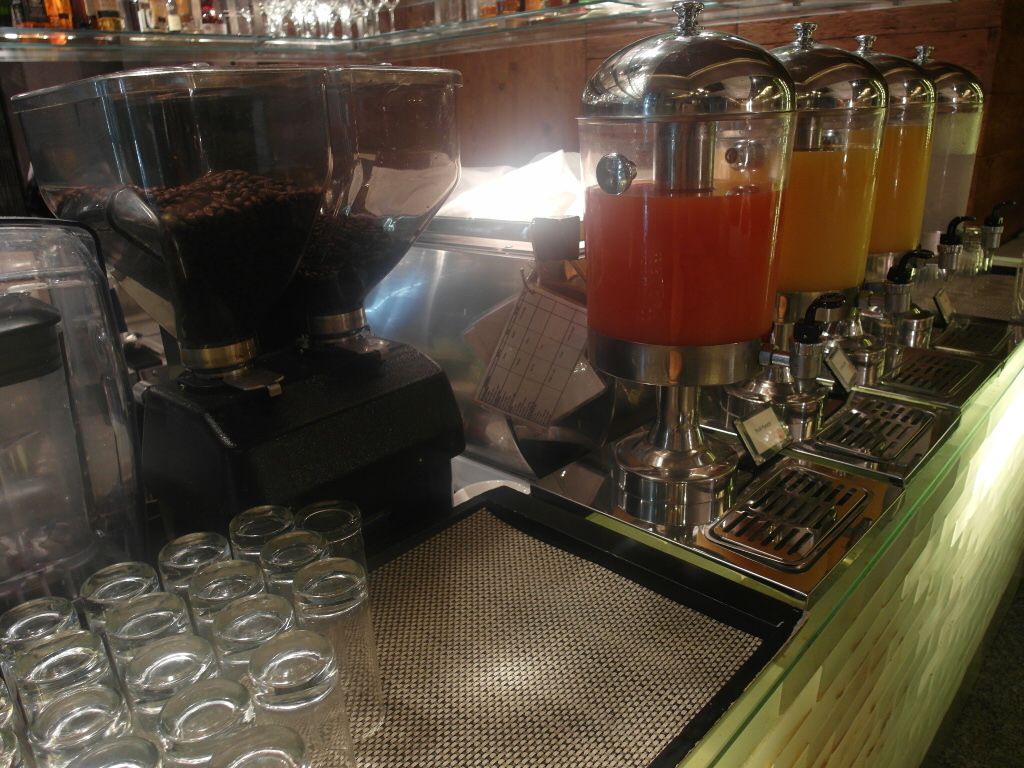 Breakfast juices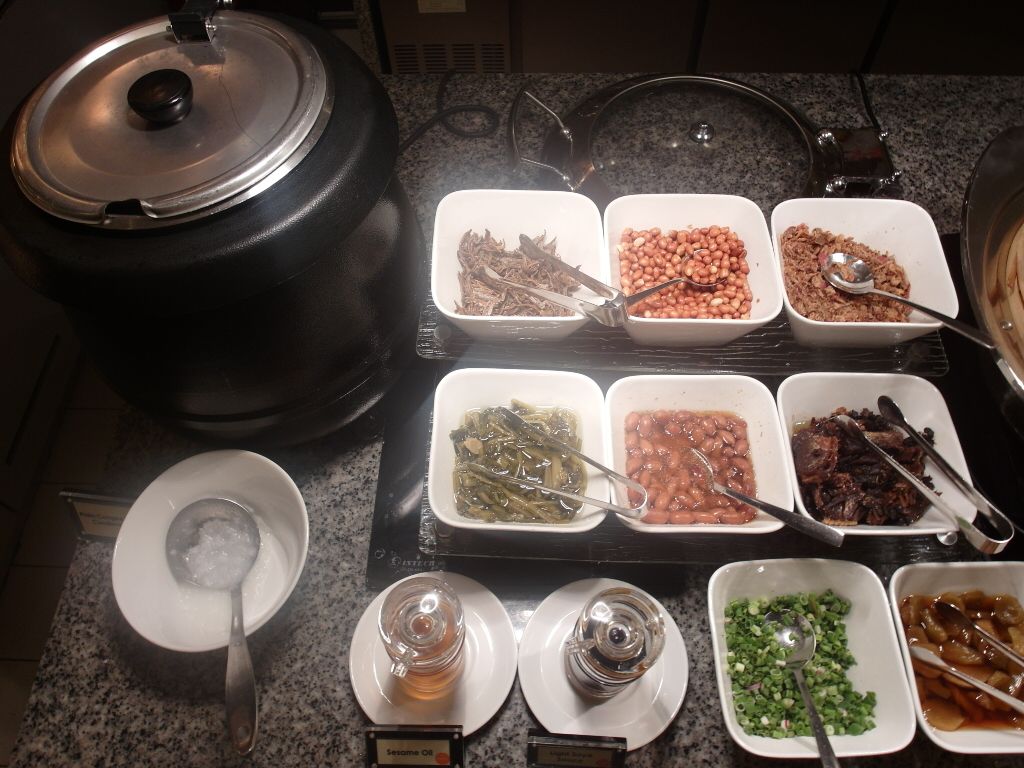 Porridge anyone?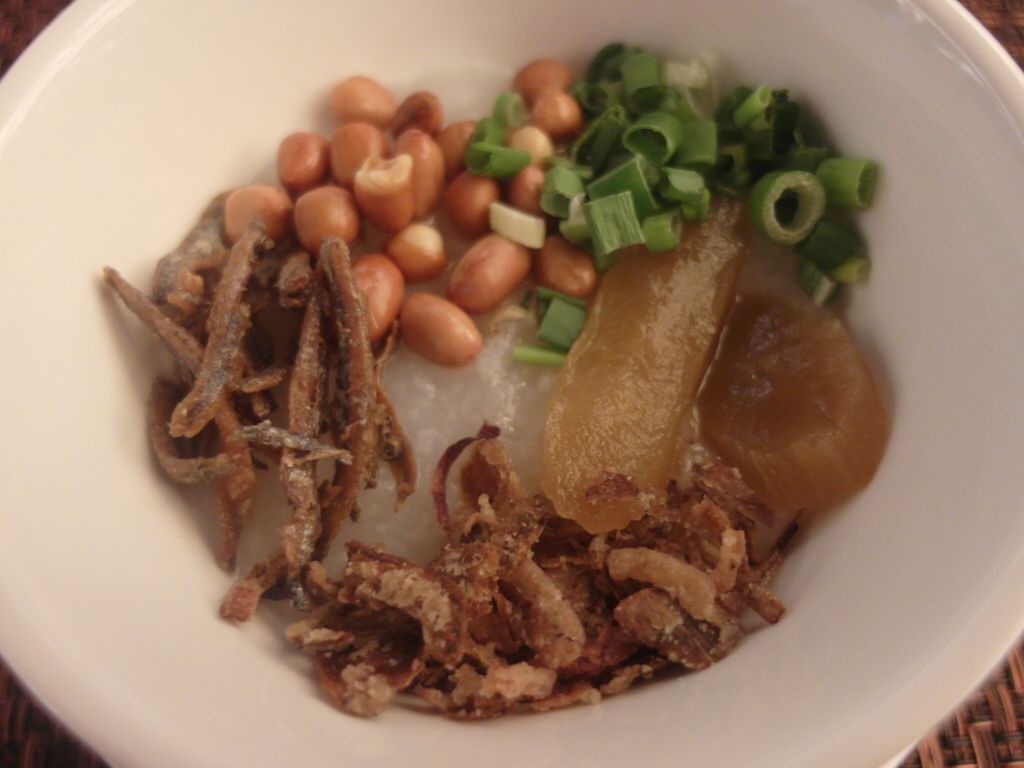 Porridge for Kate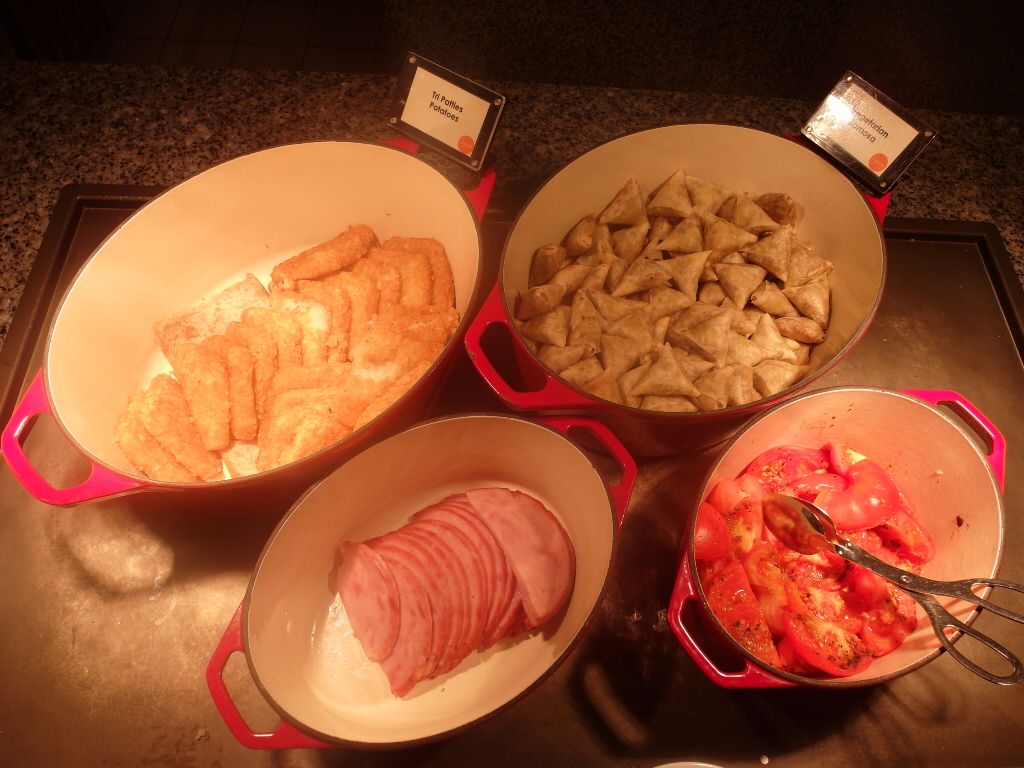 Some warm foods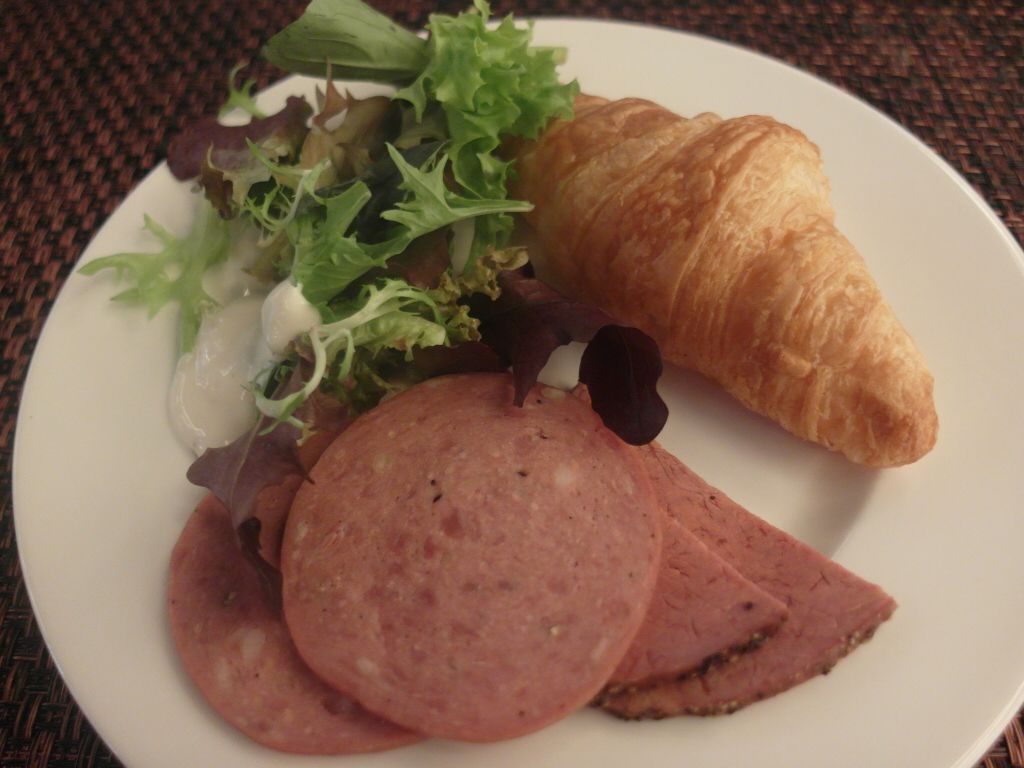 Croissant sandwich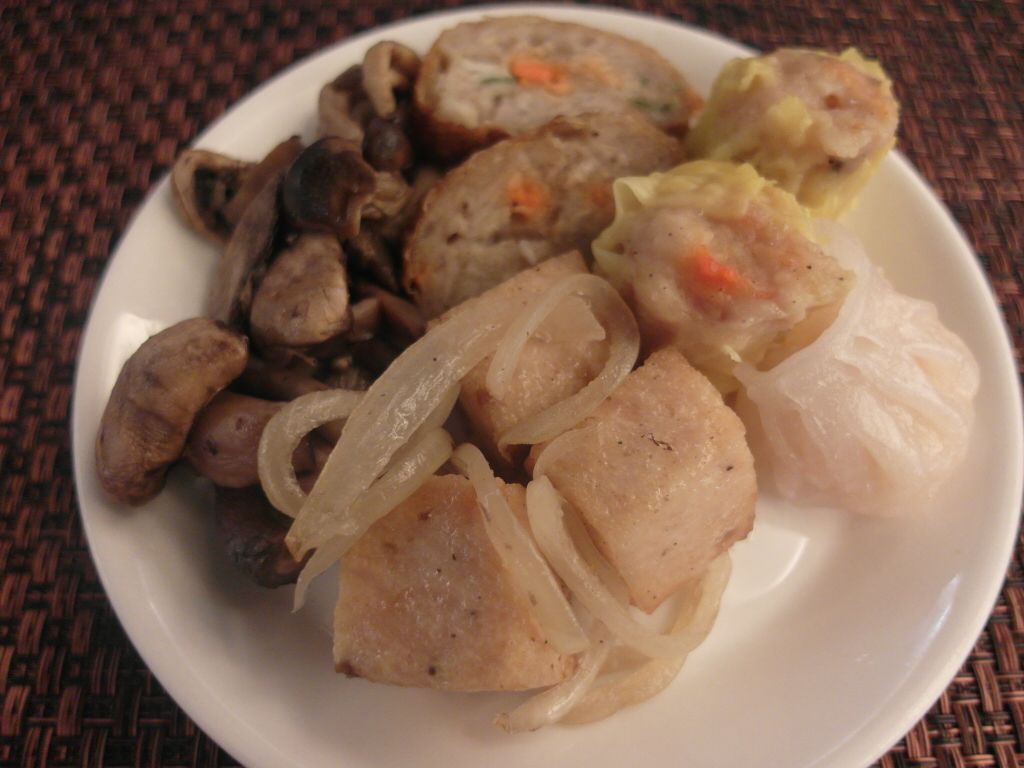 Dim sum and stir fried items such as mushrooms and diced chicken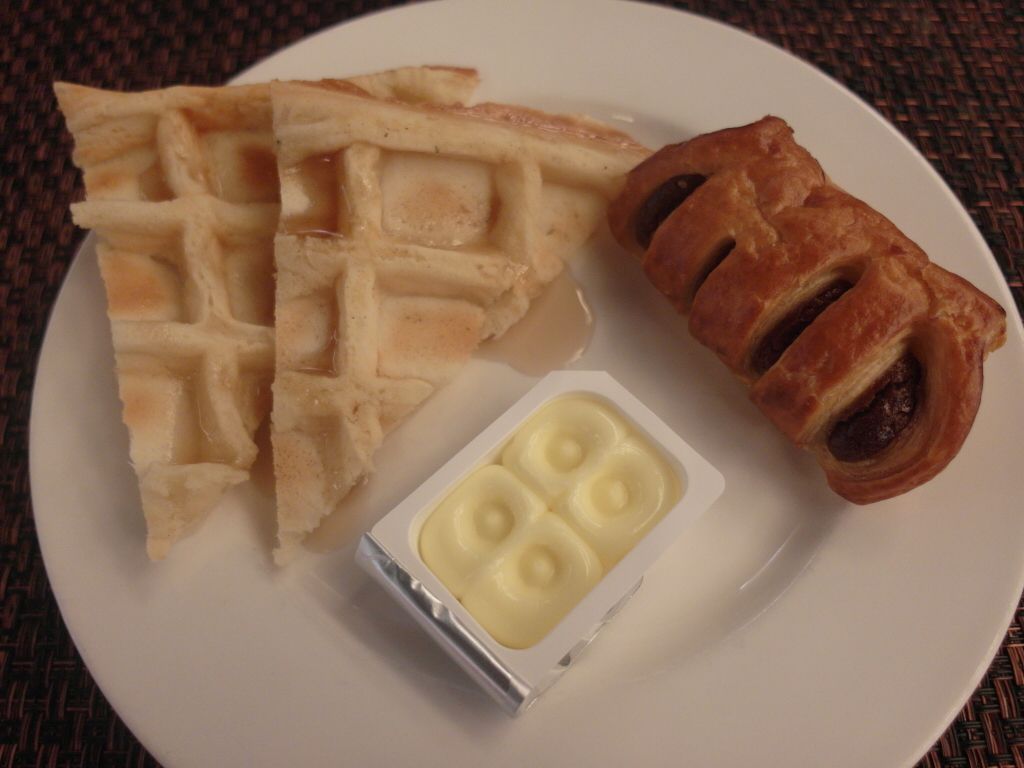 Waffles and chocolate pastry
High Tea at Zaffron Oasia Hotel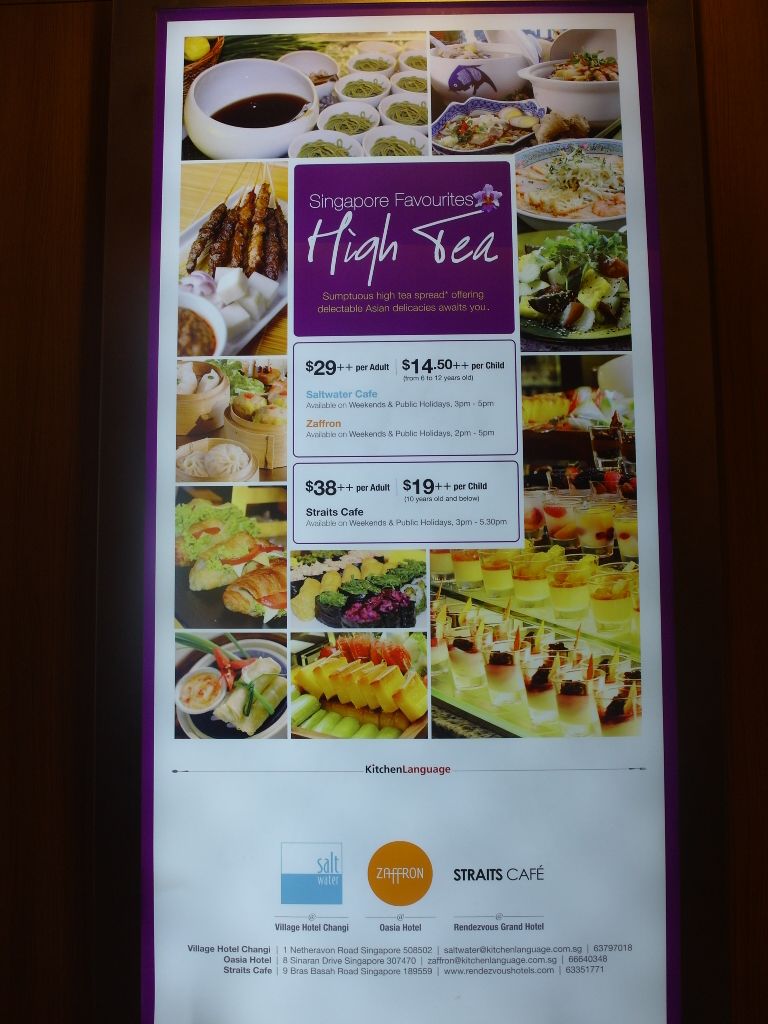 Poster of High Tea at Zaffron Oasia Hotel
If you're staying at Oasia Hotel as part of its weekend getaway, you'll also be receiving a complimentary high tea at Zaffron. Though the mains had nothing to shout about, the dessert and DIY-foods were pretty decent…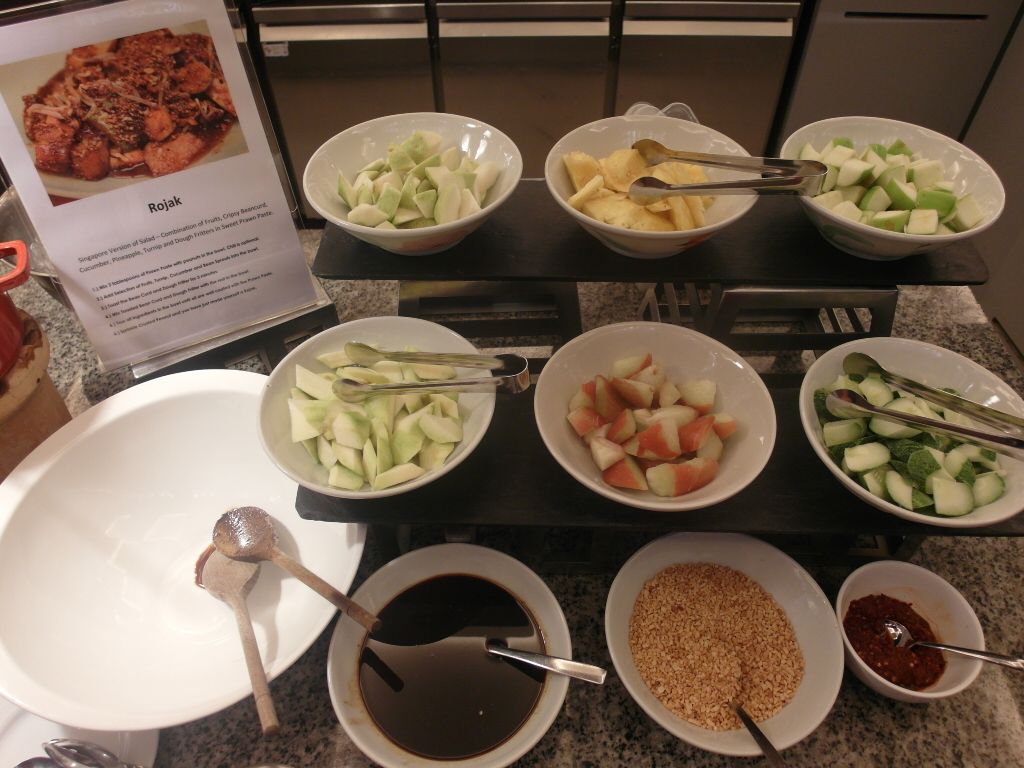 Rojak which was not bad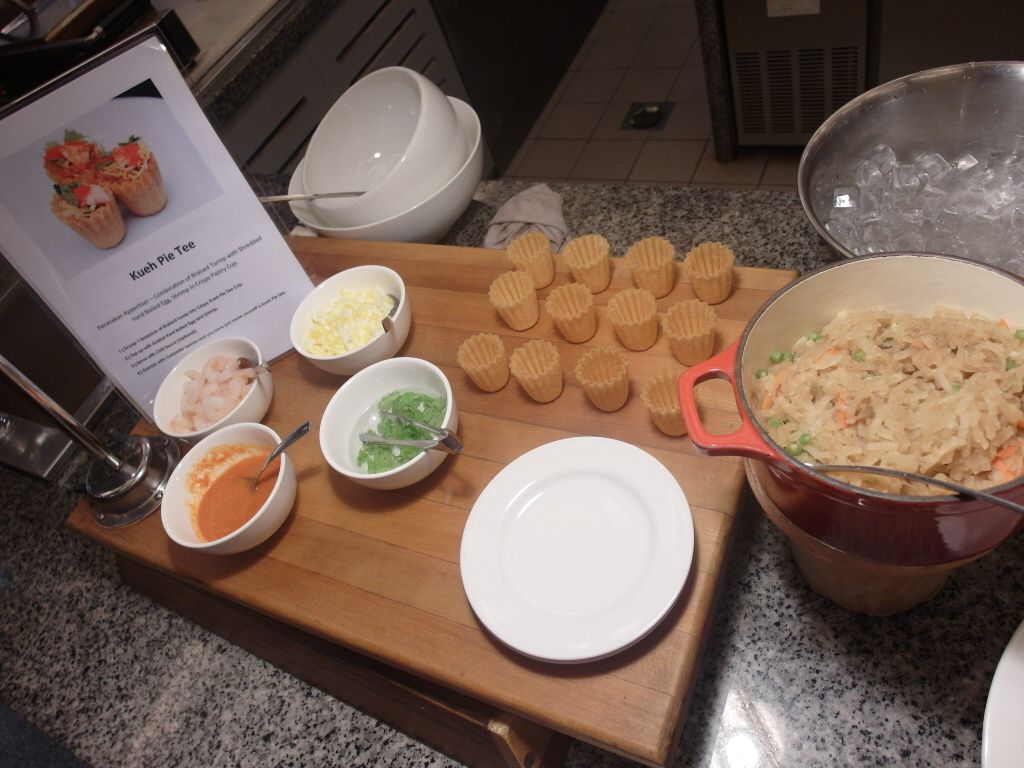 DIY Kueh Pie Tee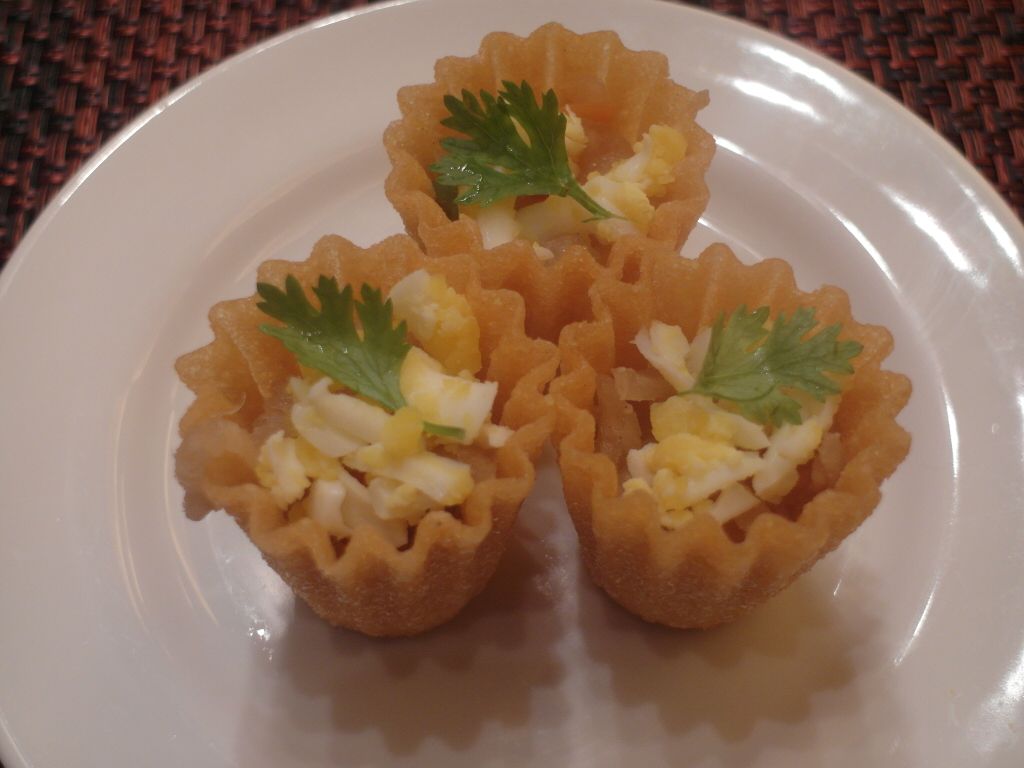 Kueh Pie Tee lovingly made by Kate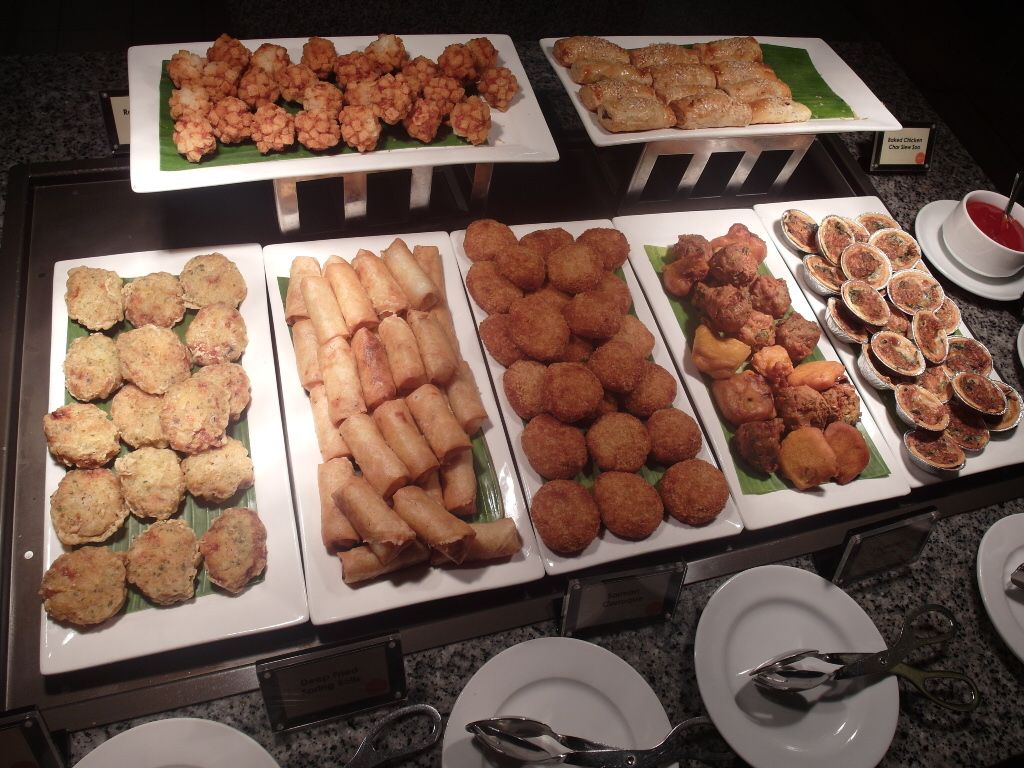 Selection of fried items

Sushi and sandwiches – no salmon or tuna sushi though 🙁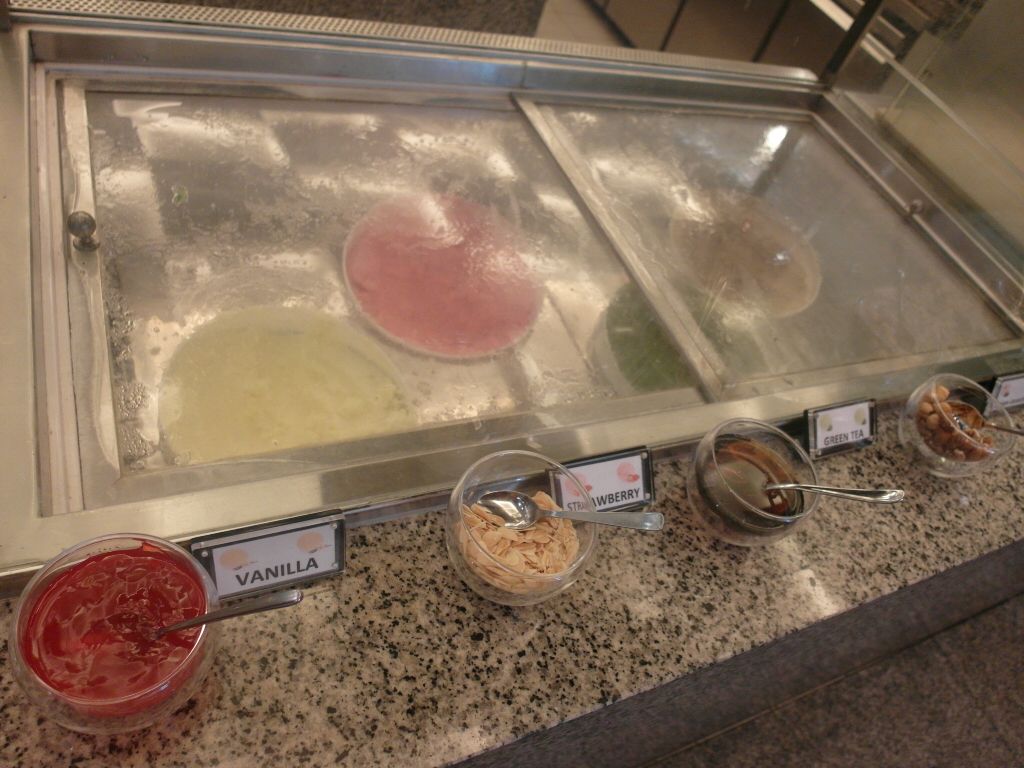 Ice cream – try the rum & raisin or green tea!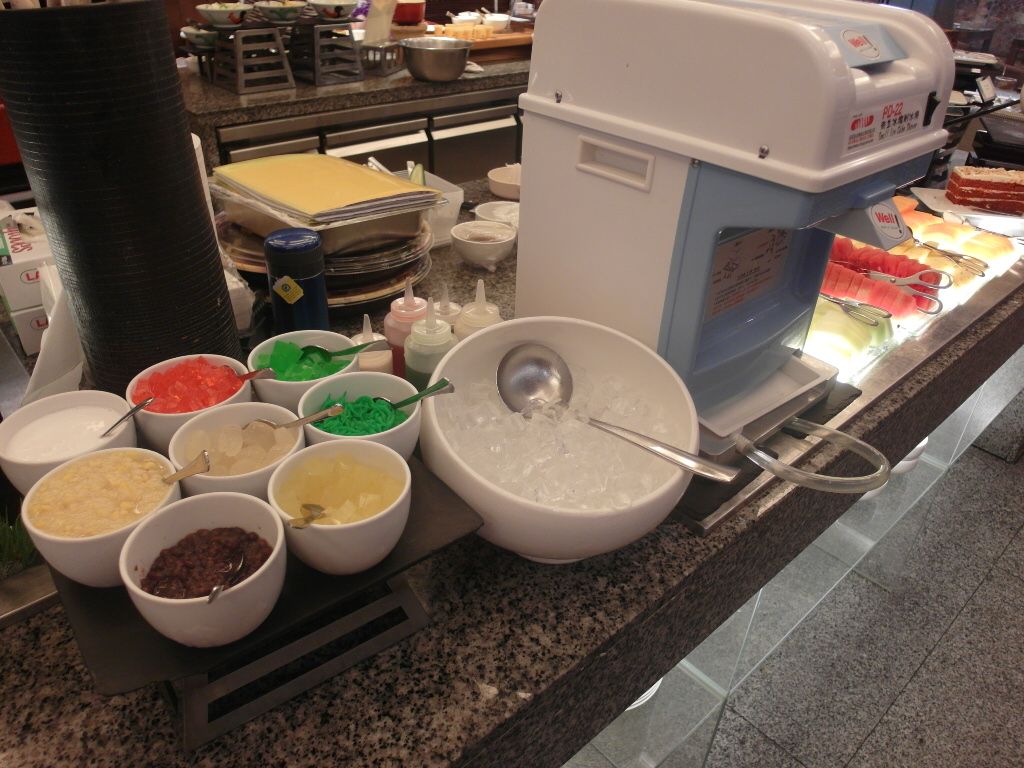 DIY ice kachang anyone?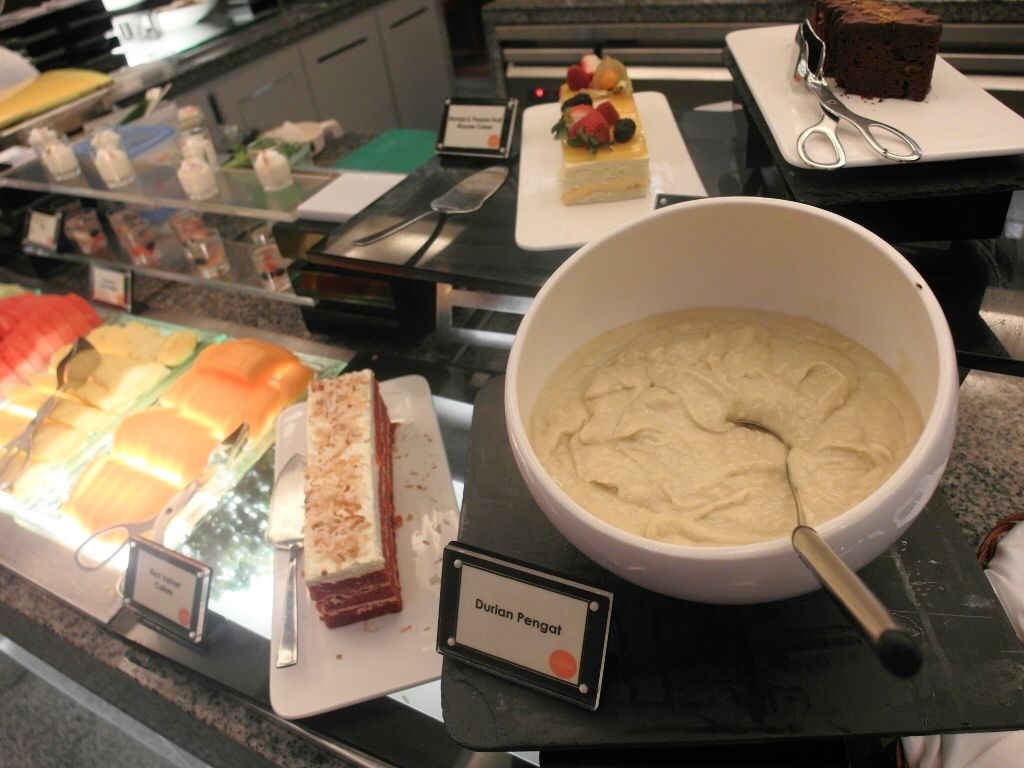 Decent selection of desserts including durian pengat, red velvet and mango cakes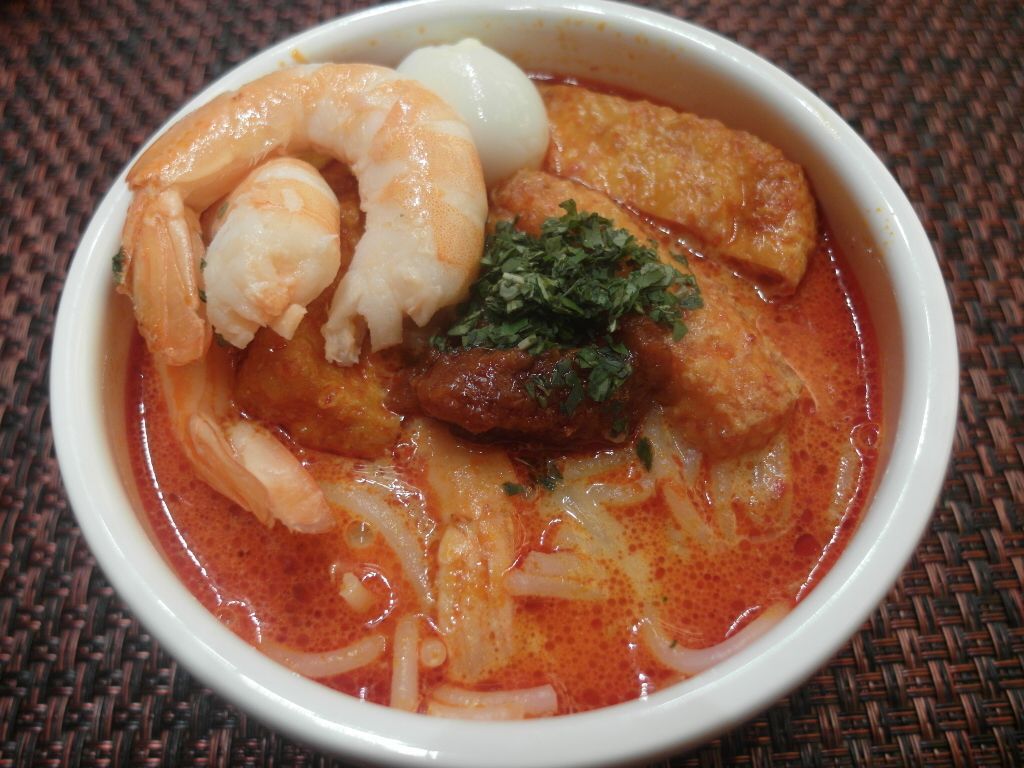 DIY Laksa which was not bad with huge fresh (peeled!) prawns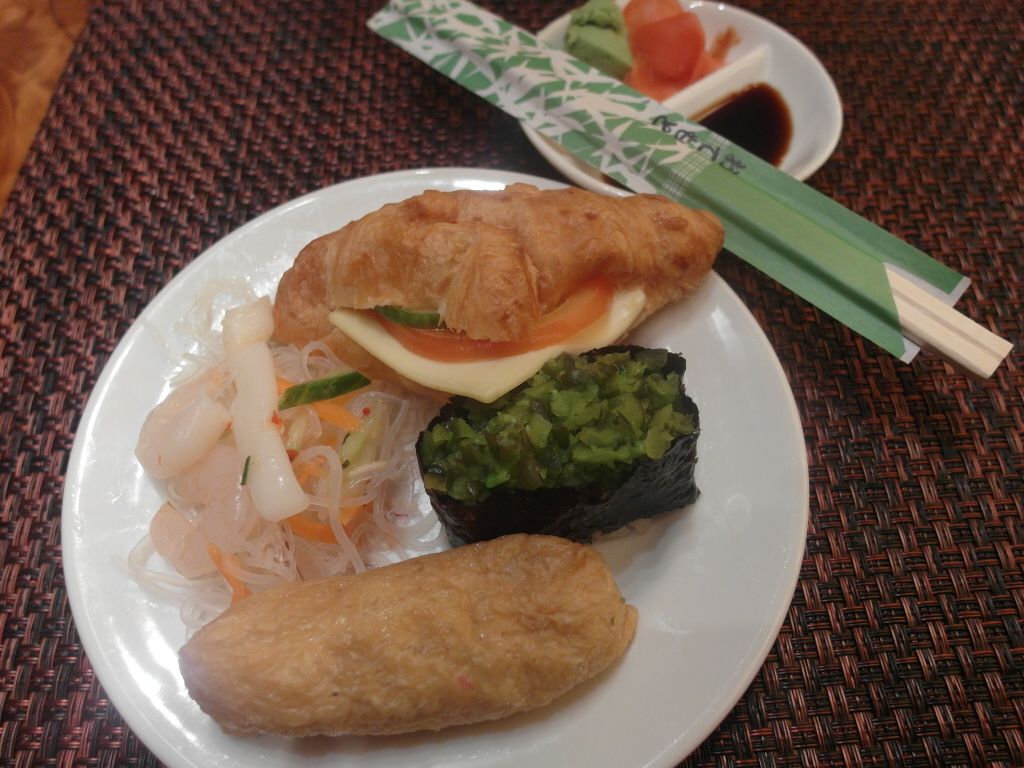 Thai salad, sandwich and sushi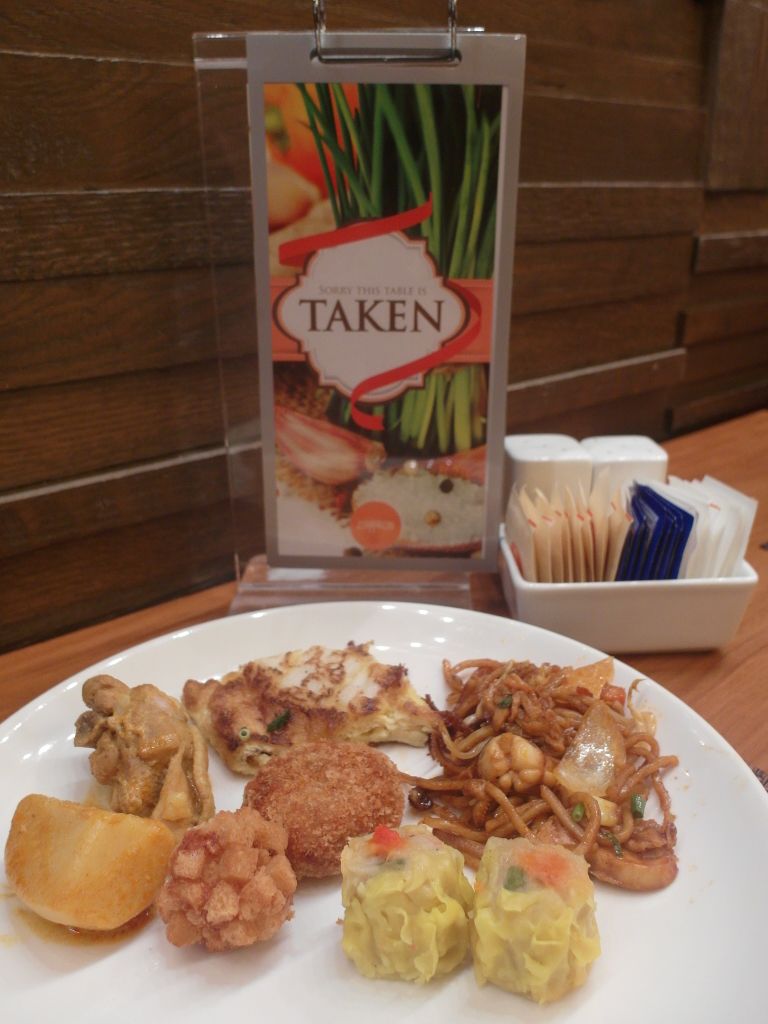 Selection of mains including seafood mee goreng and carrot cake
In and Around Oasia Hotel
Besides being located next to world class medical facilities, Oasia Hotel is located next to several shopping malls including Novena Square, Square 2, Velocity and United Square. In addition, there are great foods in the area such as Hong Kong food street and the Balestier food centre…

Velocity Shopping Mall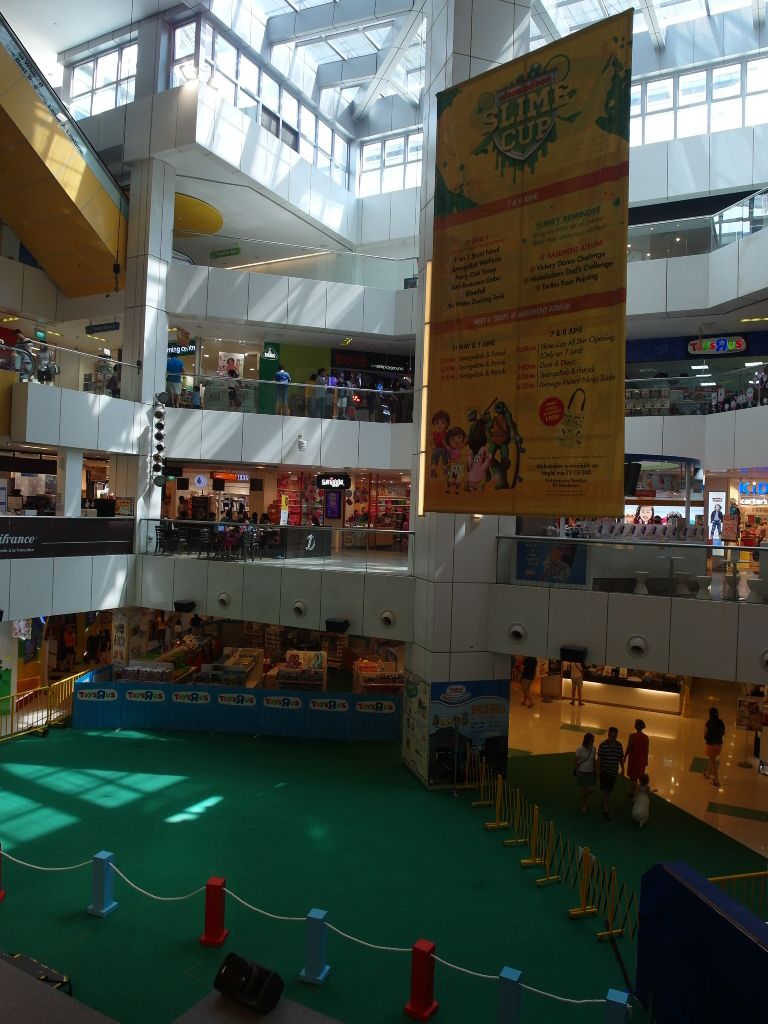 United Square

Square 2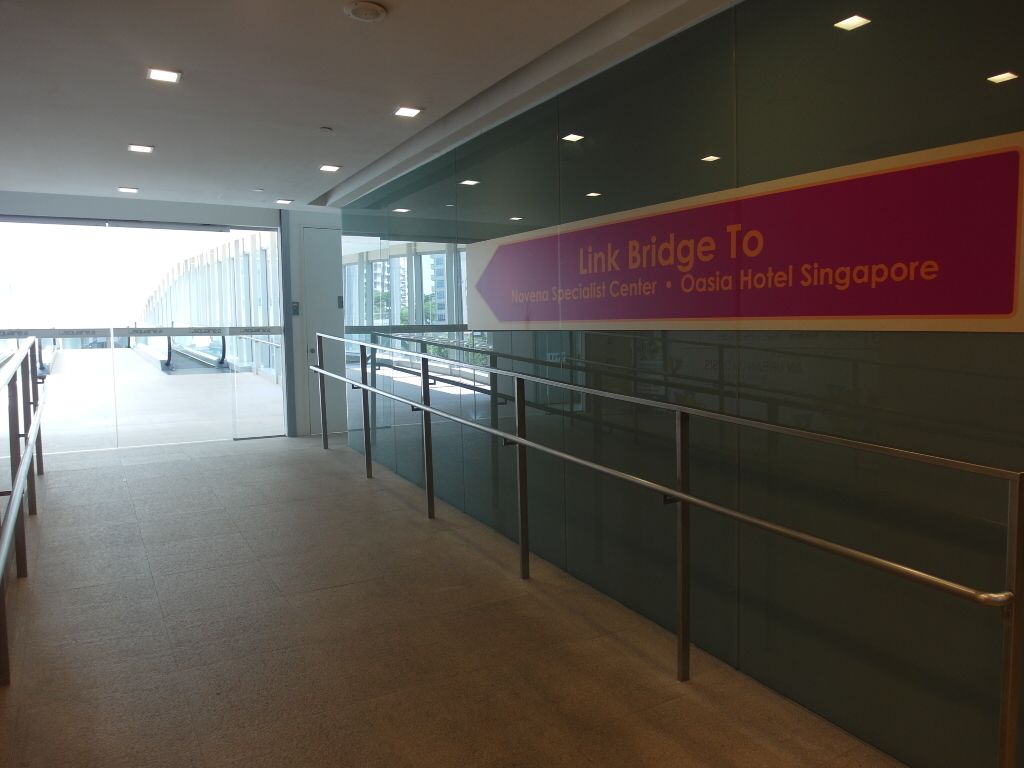 Shopping malls easily accessible via link bridge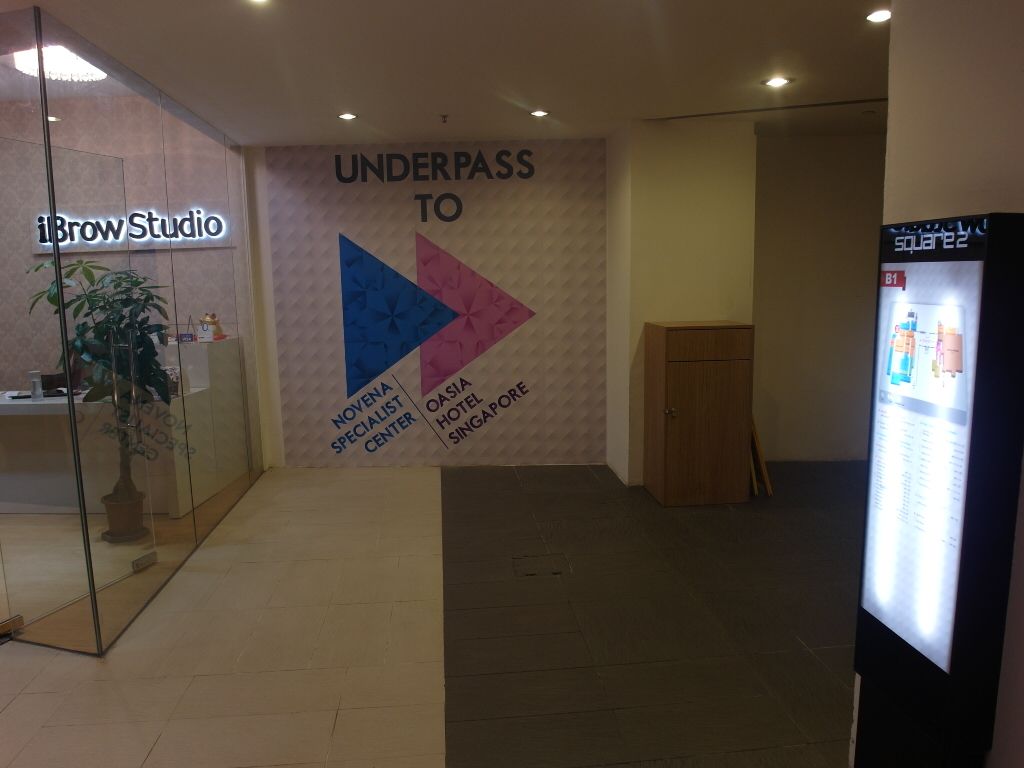 Or via the underpass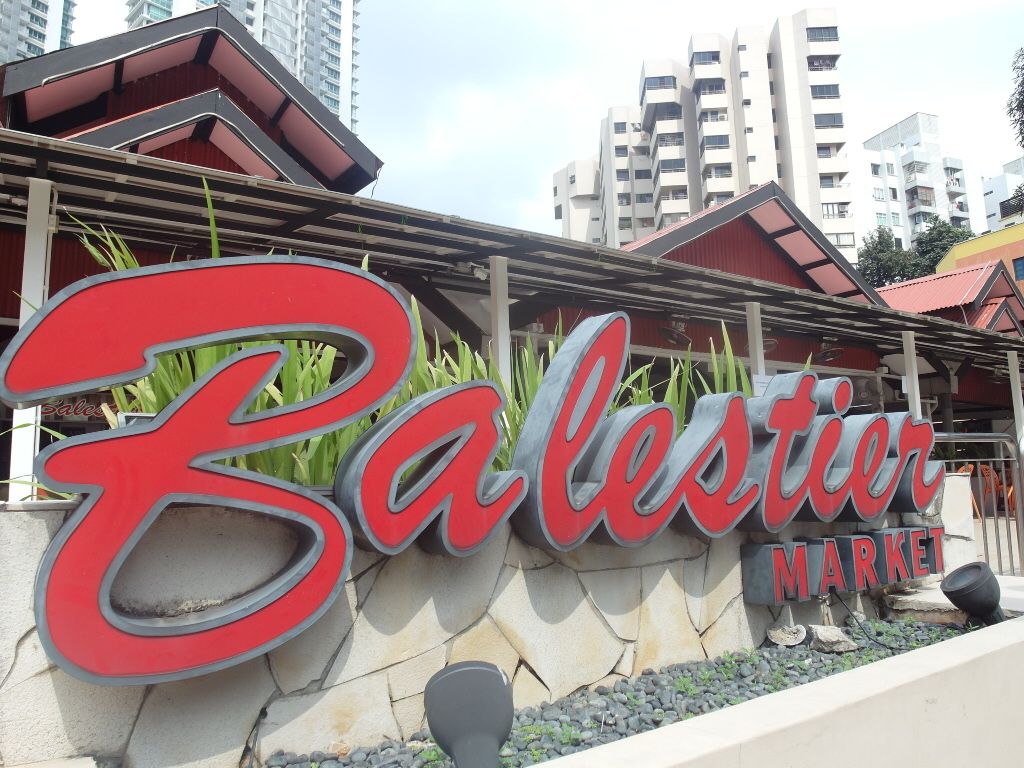 Balestier Food Centre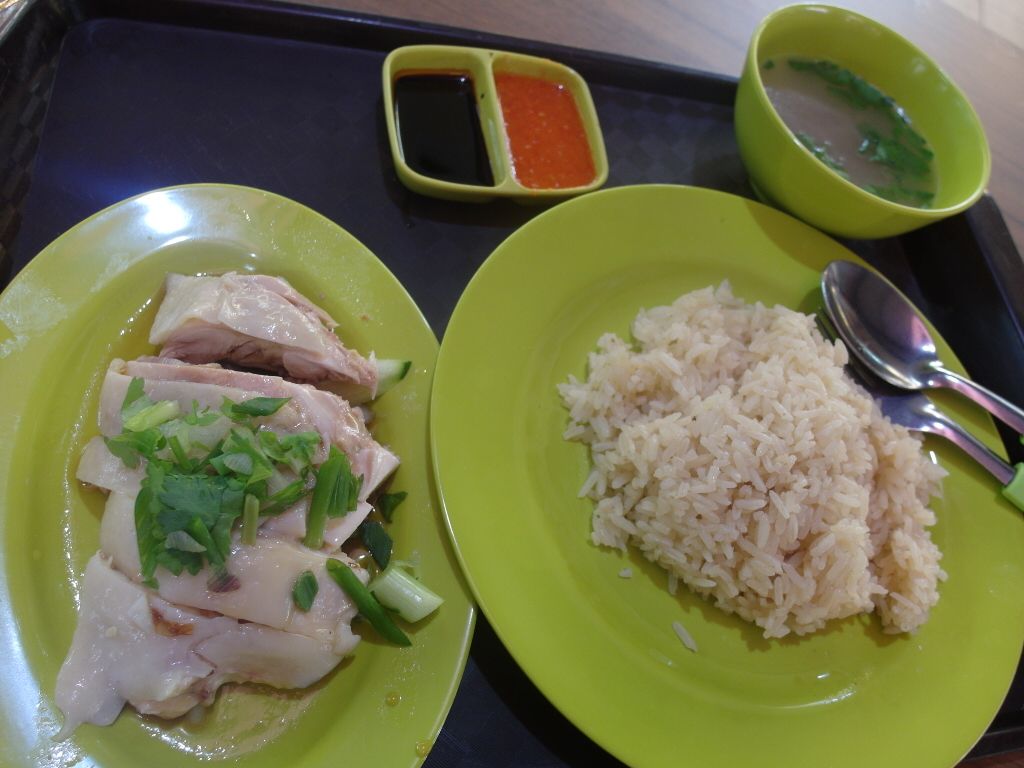 Flavourful steamed chicken rice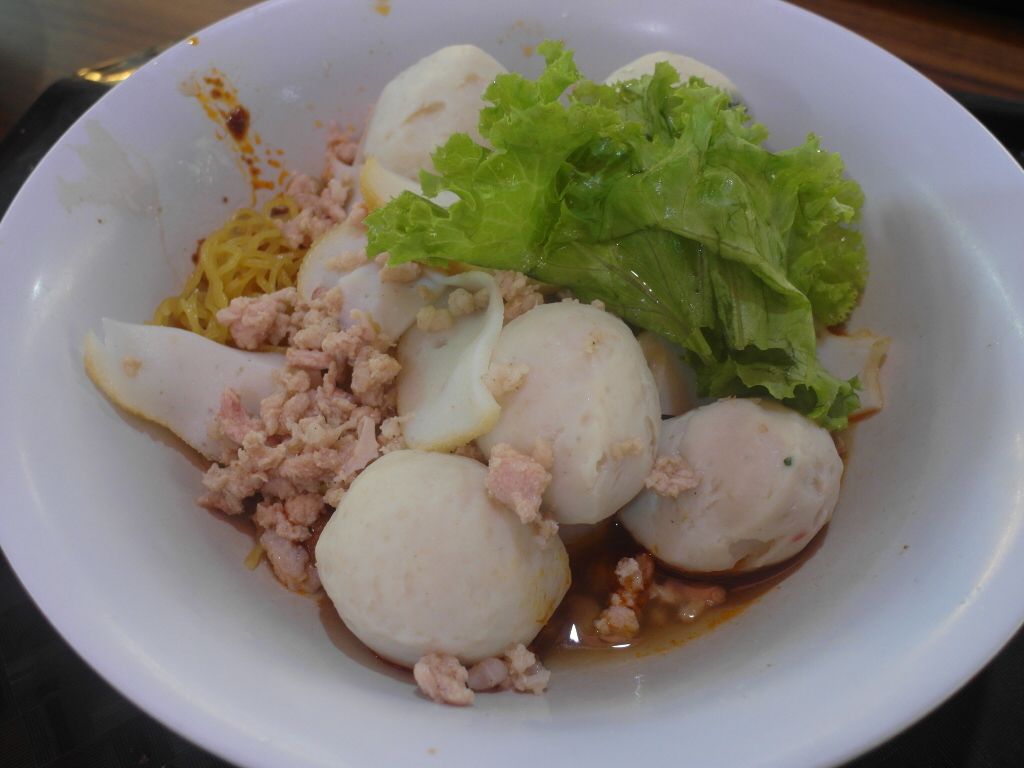 Expensive mee kia dry ($4.50) but has HUGE and taong fishballs!
How to get to Oasia Hotel Singapore

Map of Oasia Hotel Singapore
If you are taking the MRT, alight at Novena MRT station on the North Line and follow the signs that leads you to Square 2. From there, there's a underground link directly to Oasia Hotel!
To sum up, we take a look at our BASIC FACTOR and the score for Oasia Hotel Staycation Weekend Getaway is a 4.25!
B – 1. There was a bath tub with the Rice Grain Soap Bar with Orange and Tangerine Essential Oils.
A – 0.75. It's a split between Kate and I for ambience.
S – 1. Excellent service throughout the hotel at the reception,lounge and restaurant.
I – 1. 2 swimming pools! Plus, it's the only hotel in Singapore with a pool at the lounge level!
C – 0.5. Bed was a tad too soft for our liking. Comfortable nonetheless.
All in all, we enjoyed the Oasia Hotel staycation, because of its location, its great service, cool swimming pools (with access to the club lounge), great views and of course a overall experience. The Oasia Weekend Getaway Package is definitely worth a stay! But remember…not for the food…
If you enjoyed our content, "Like" us on Facebook Today!

Remember to leave your comments for 2bearbear Singapore Travel Blog in our comments section below!
Staying at Oasia Hotel? Click here to enjoy competitive rates and compare the prices of hotels in the vicinity!
**Special thanks to Mike, Germaine and Far East Hospitality for making our staycation at Oasia Hotel possible!
Click here for the best rates at Oasia Hotel!
Click on the following posts to see all our Singapore Staycation Reviews!
Top 10 Singapore Staycation Ideas!
Grand Mercure Roxy Singapore Staycation : The Studio Suite!
Uniquely Singapore Staycation at Village Hotel Katong!
Ritz Carlton Singapore Staycation: Simply Shiok!
5 Reasons Why You Should Do a Staycation at Hotel Jen Tanglin Singapore's Newly Refurbished Club Room!
Pan Pacific Singapore Hotel Harbour Studio Staycation!
Rendezvous Hotel Singapore : Staycation in the Heart of the Art District!
Quincy Hotel Qool Weekend Staycation : Singapore's ALL-IN Staycation!
National Day Staycation at the Regent Singapore – A Four Seasons Hotel!
Village Hotel Changi Staycation : Rediscover the gems of Singapore!
Awesome Staycation at the Grand Mercure Roxy Singapore!
Raffles Hotel Staycation Singapore : Relax & Rejuvenate!
Amara Sanctuary Resort Staycation Singapore Sentosa 2 Bedroom (BR) Villa with plunge (private) pool
D'Resort @ Downtown East : A Perfect Staycation for the Entire Family!
Swissotel Merchant Court Executive Room Staycation : Right in the heart of Clarke Quay!

A Letter to Jen (Hotel Jen Orchardgateway Staycation)…
Oasia Hotel Staycation Review!
AMOY Hotel Singapore : Why you should stay here during your next visit
The Ultimate Family Staycation at Shangri-La's Rasa Sentosa Resort & Spa!
3 Singapore Staycation Ideas for 2017!
Related posts: