Ocean Park (Hong Kong), otherwise known as 香港海洋公園 is an oceanarium, amusement park and zoo all rolled into one. However, it was built in 1977. CLOSE TO 40 YEARS AGO! And this begs the question of whether Ocean Park is still worth a visit 40 years on…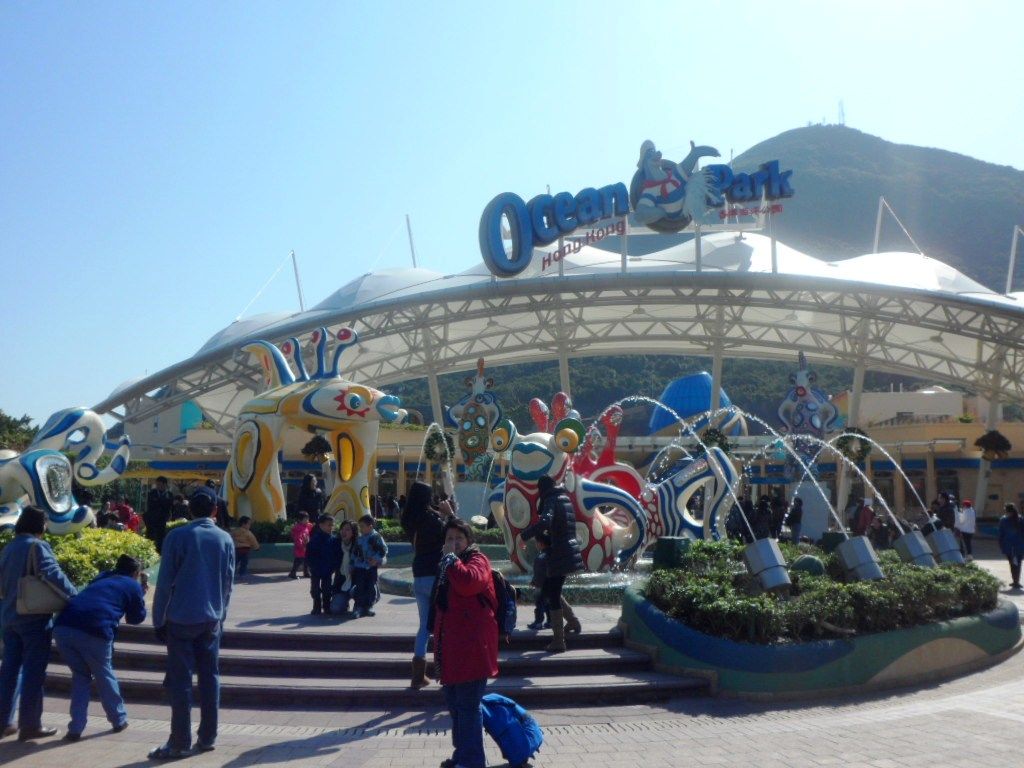 Entrance to Ocean Park Hong Kong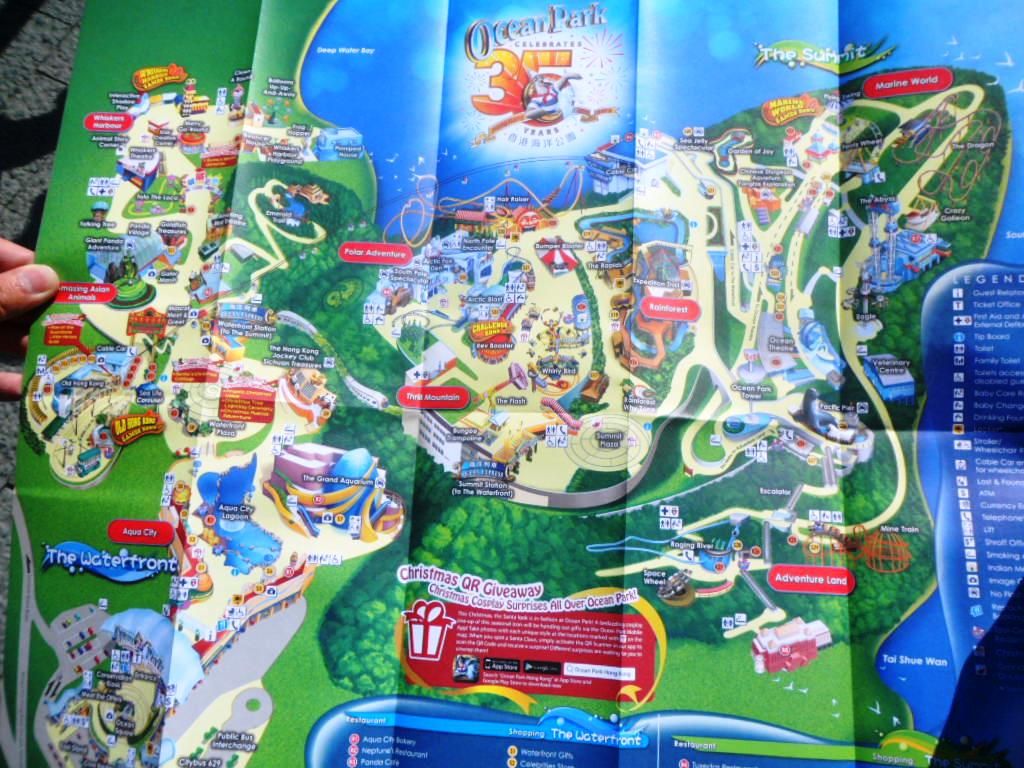 Map of Ocean Park Hong Kong
Things to do at Ocean Park Hong Kong
First and foremost, OCEAN PARK IS HUGE! As you can see from the map, there are so many zones and interesting attractions to visit and we were really spoilt for choice on which attraction to visit first. As it was new year's eve, weather was quite cold. This meant that some of the water attractions were close – which was a good thing because this means that we can focus on the major attractions!
There are actually many things to do at Ocean Park and the park is actually divided into several zones. There are many attractions at the park that caters for the entire family including a kids zone for the young ones and roller coaster rides for the thrill seekers. Attractions at the park include
Things to do at Ocean Park Hong Kong
The Summit
Ocean Park is basically divided into 2 portions by a mountainous area, the Summit and the Waterfront. As the name suggests, the Summit is located at the top of the mountain with views over the ocean as well as the park. To get there, you must go either by cable car or the funicular ride. For those who are scared of heights (i.e. Kate), funicular would be the better option.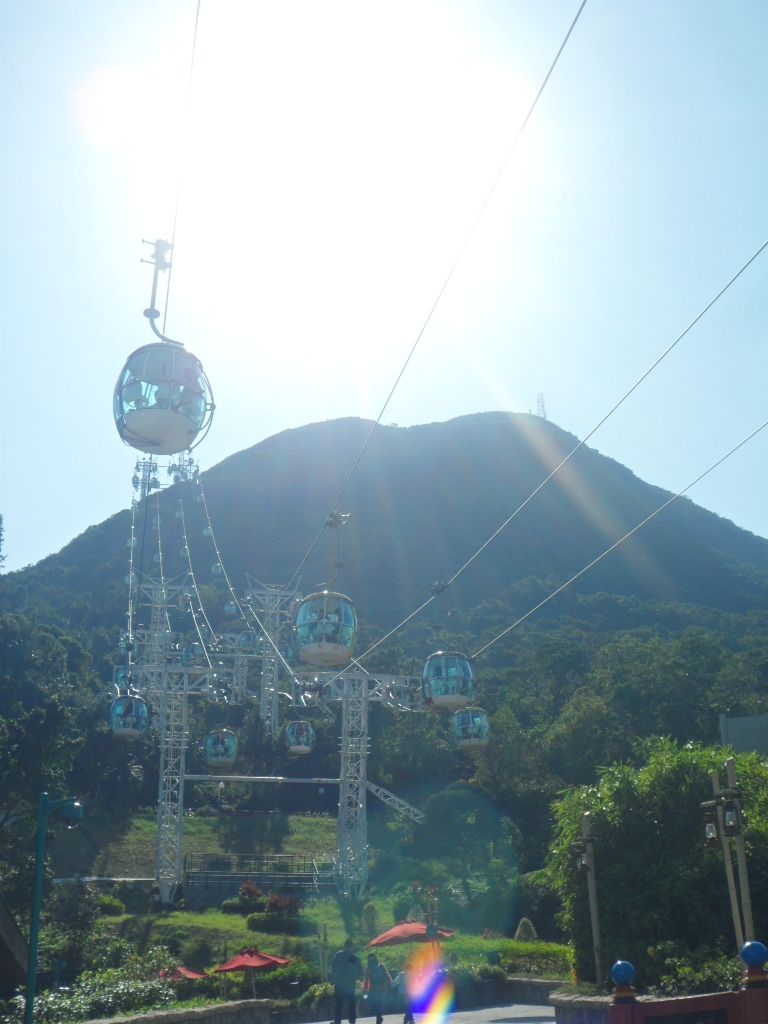 Cable Car ride up to the Summit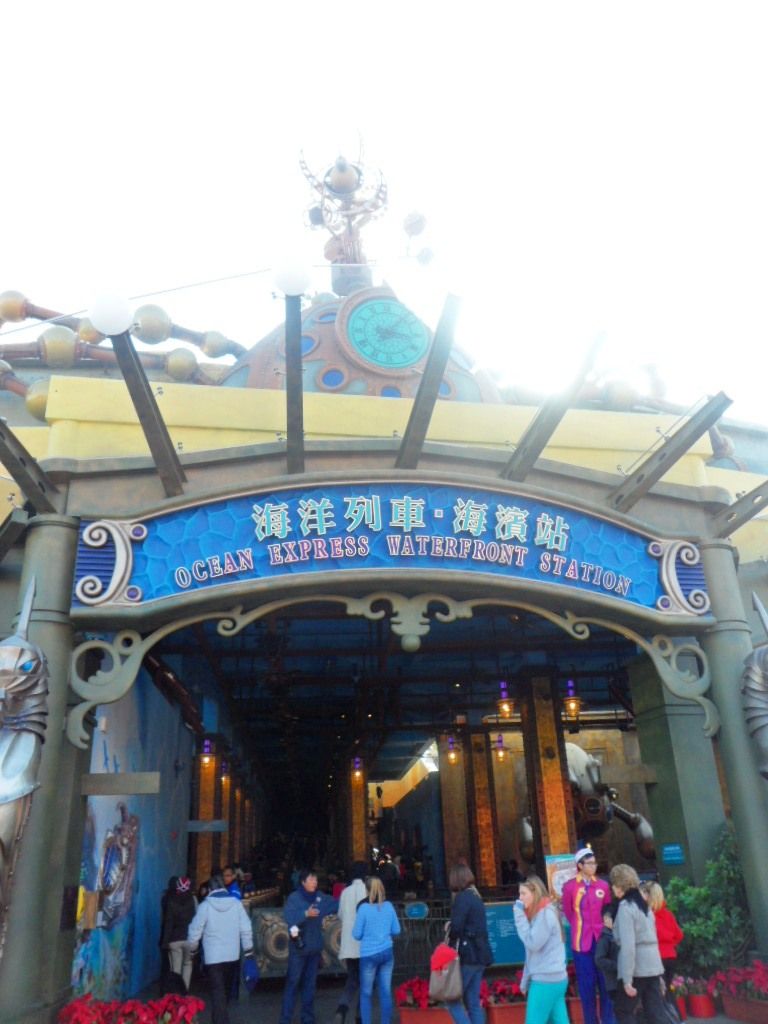 Entrance to the Ocean Express – The Funicular Ride

Funicular up to the Summit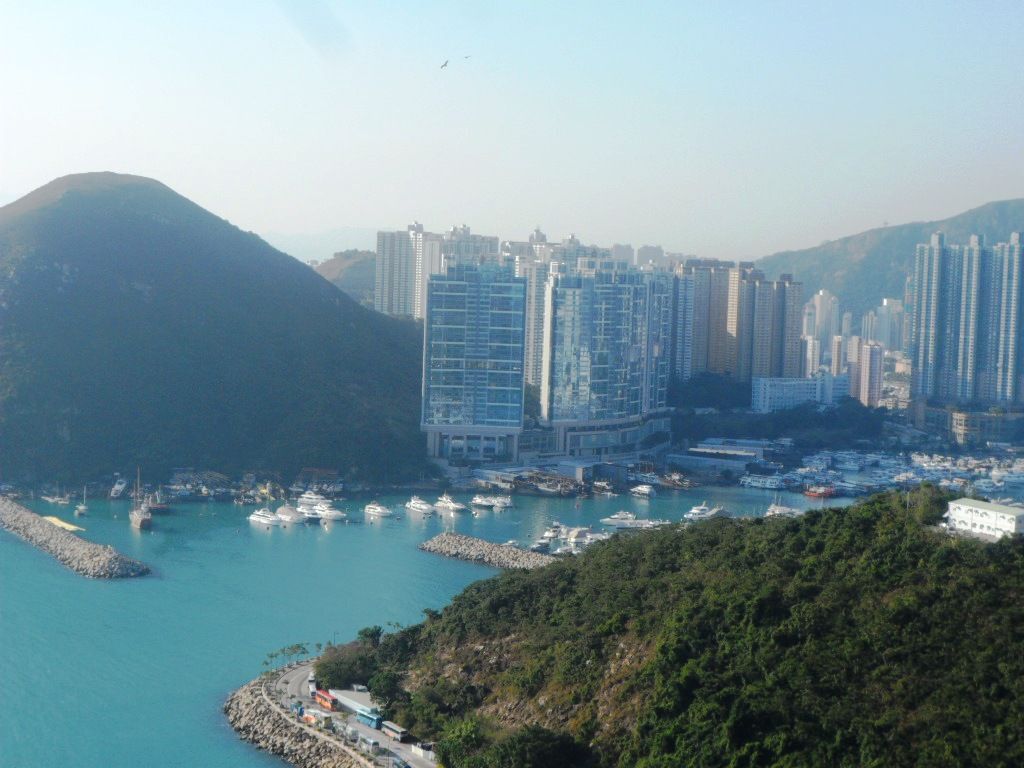 View of the harbour from the Summit
Here is a quick overview of attractions at the Summit
Attractions at Ocean Park Hong Kong
1. Marine World. Chinese Sturgeon Aquarium, Ocean Park Tower (Observatory) and Hong Kong's largest roller coaster (The Dragon)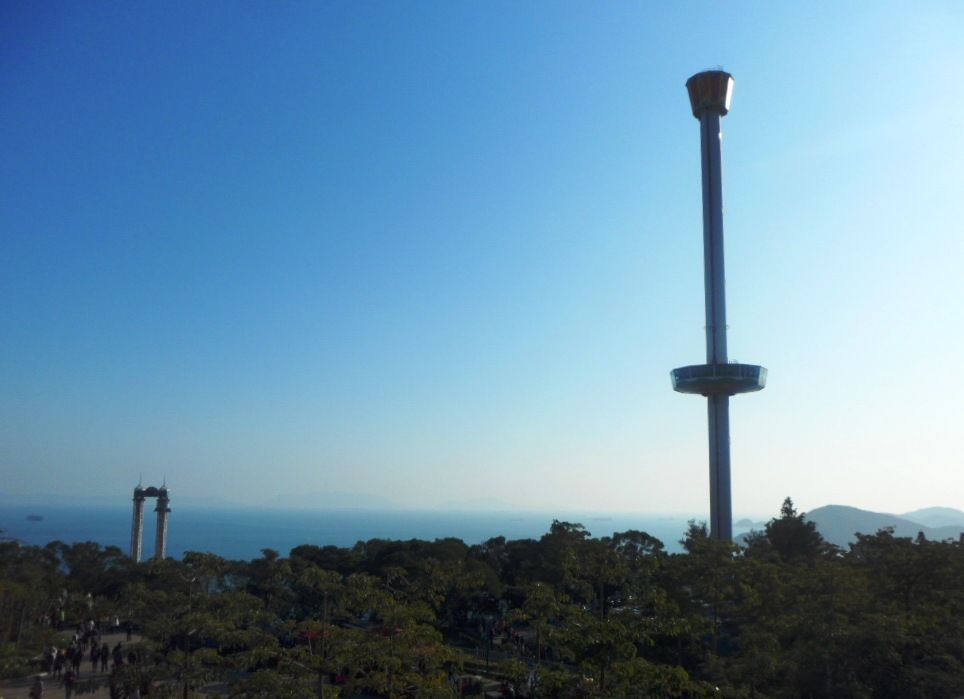 Ocean Park Observation Tower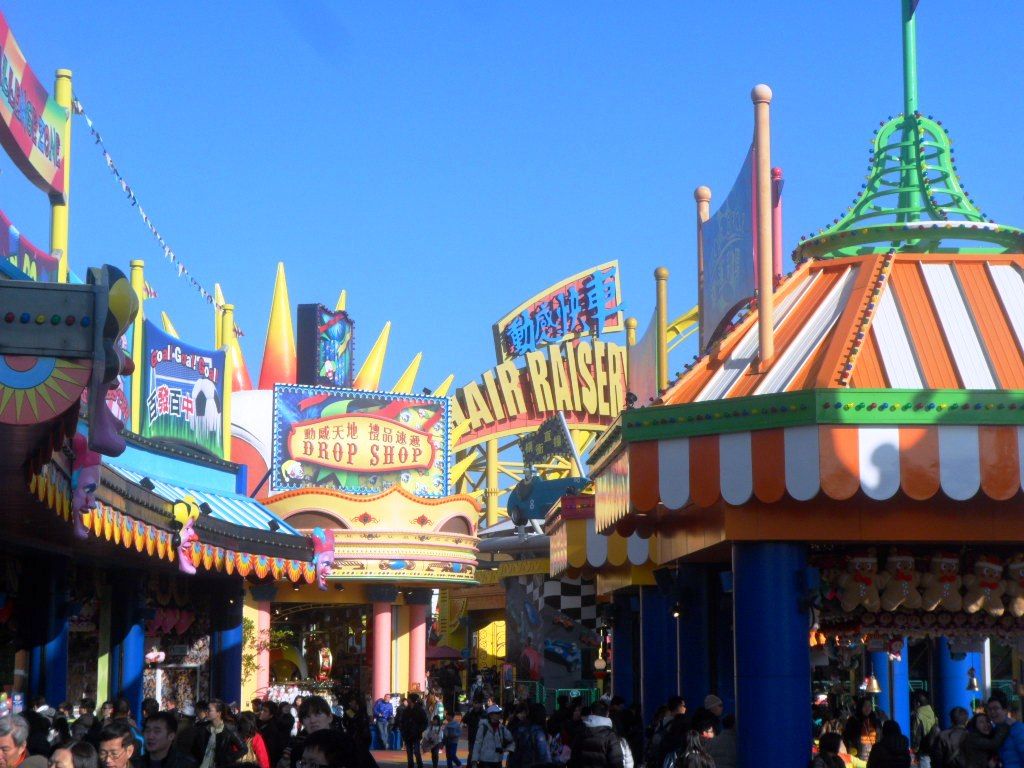 Fun & Games at the Summit
2. Thrill Mountain . Thrill rides galore including the floorless roller coaster – Hair Raiser

Hair Raiser Roller Coaster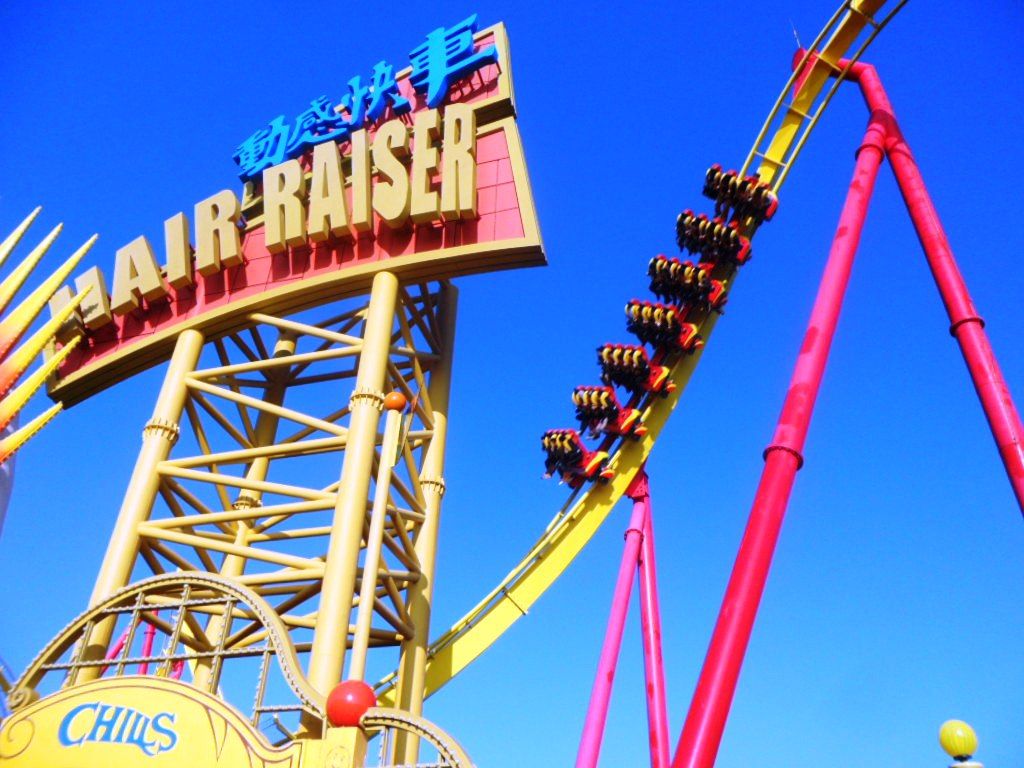 Look at how steep the drop of "Hair Raiser" is! Definitely not for the faint of heart!
3. Adventure Land. We did not visit Adventure Land due to the cold weather but attractions include Steel Mine roller coaster and the Raging River (An exciting water ride)
4. Polar Adventure . North pole and South pole encounters that includes sea lions and various penguins.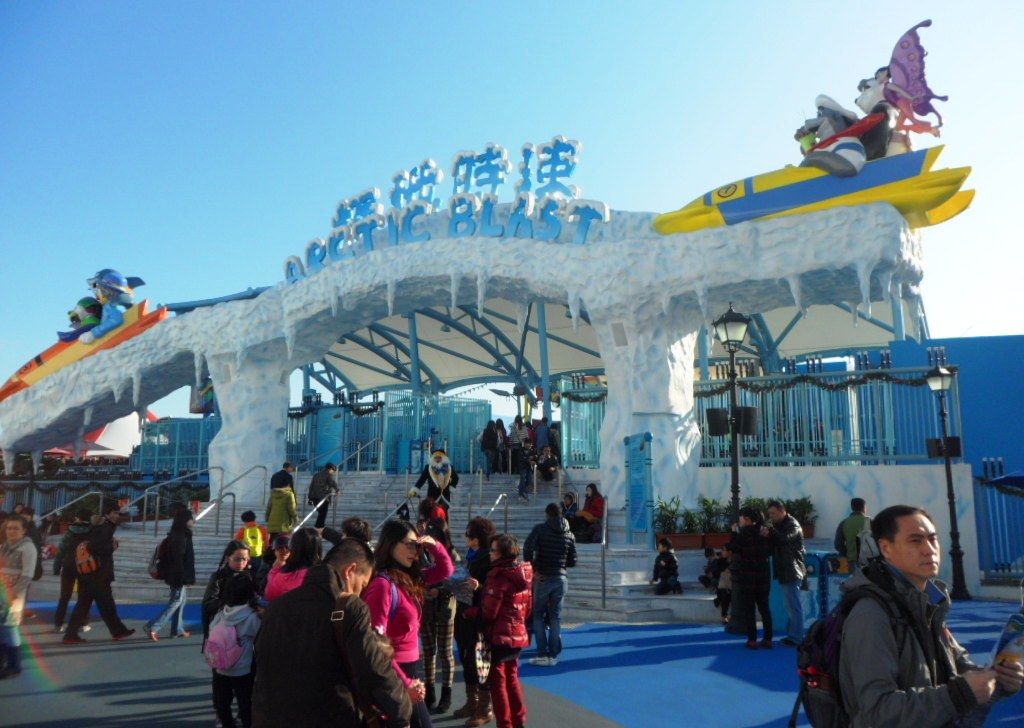 Arctic Blast ride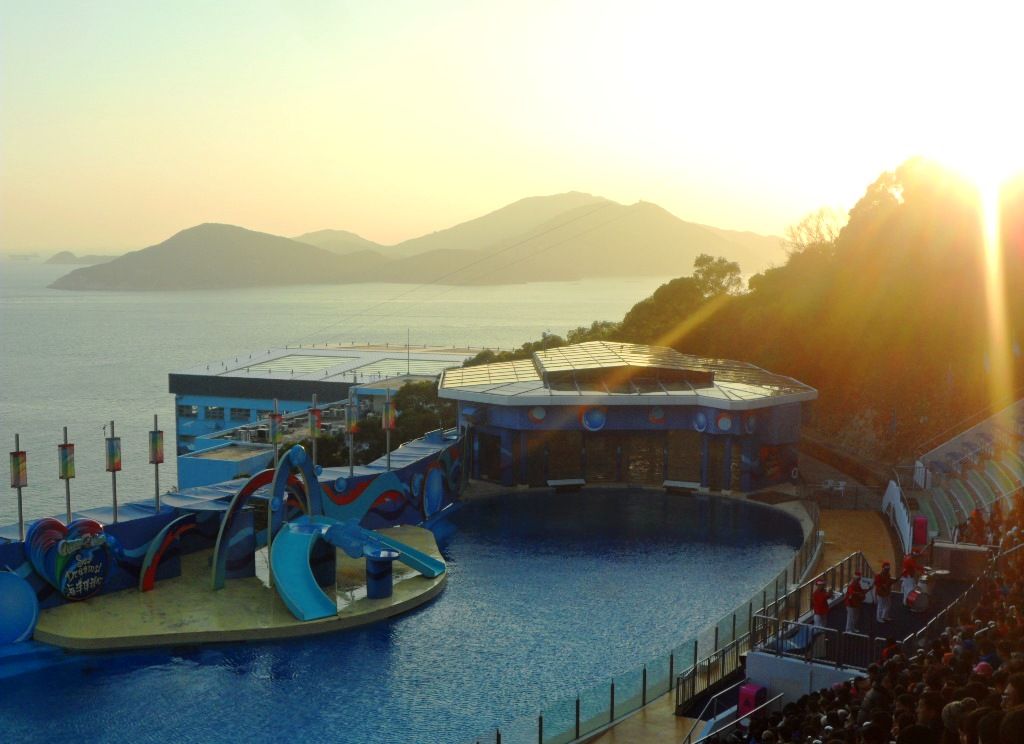 Ocean Theatre with Sunset as the backdrop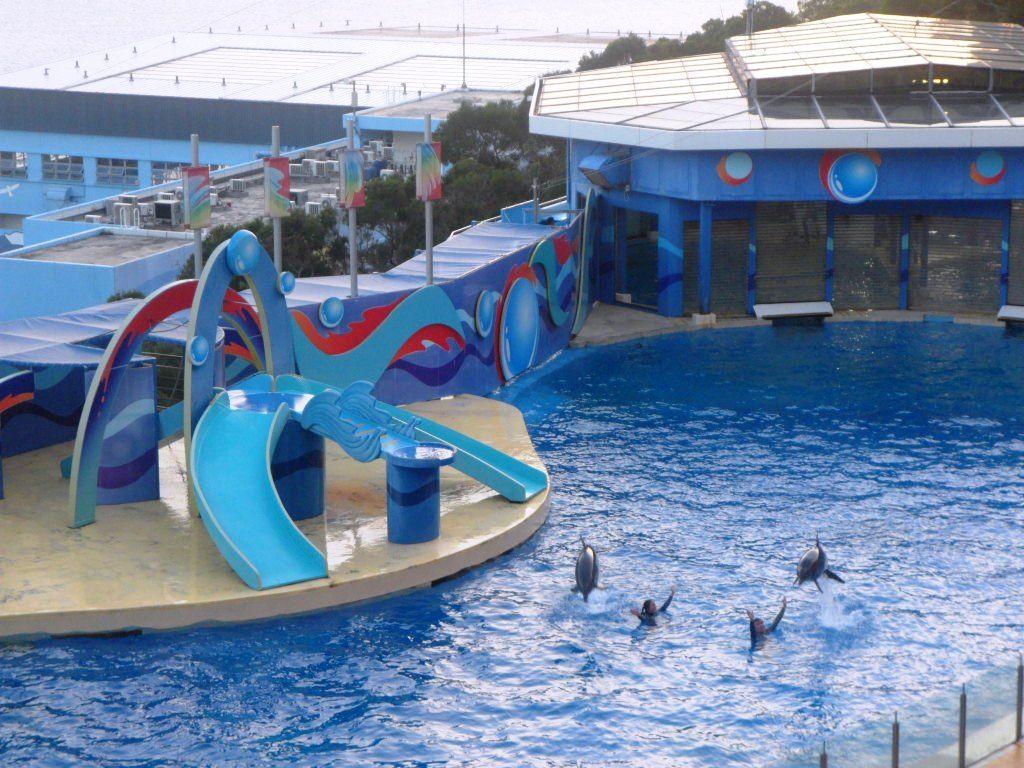 Dolphins leaping beside its trainers
5. The Rainforest . We also skipped the Rainforest due to the weather but attractions here include The Rapids (A fun family ride) and an Expedition Trail that features several rainforest species.
The Waterfront
1. Whiskers Harbour. A children's amusement park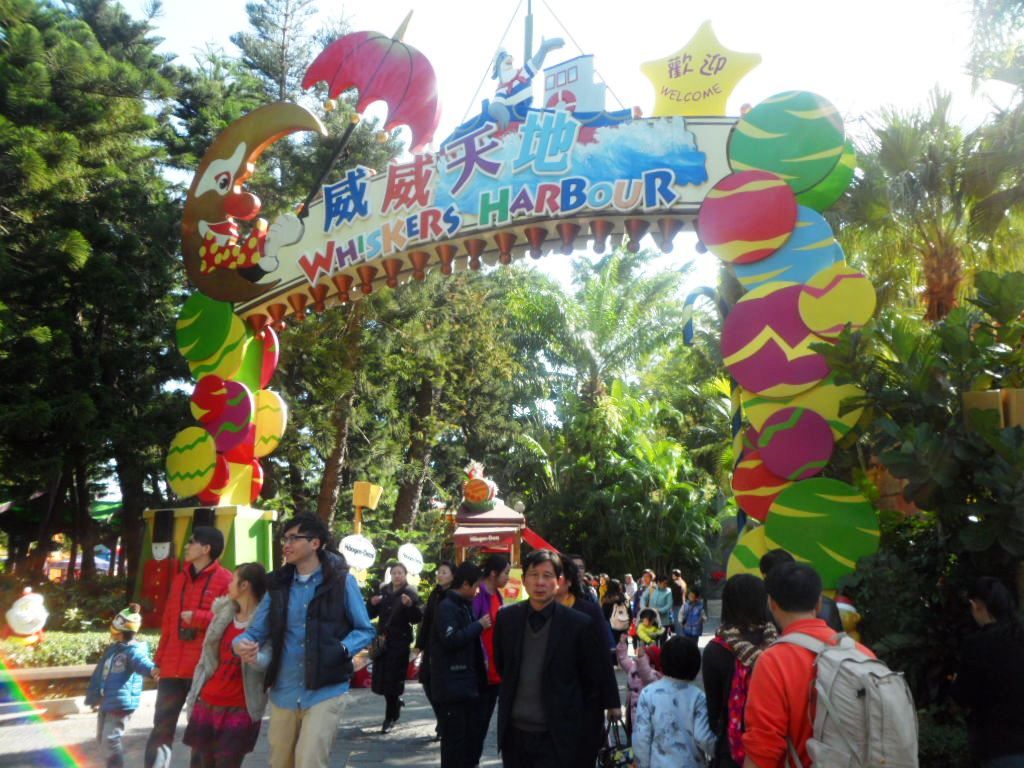 Whiskers Harbour – Kids Amusement Park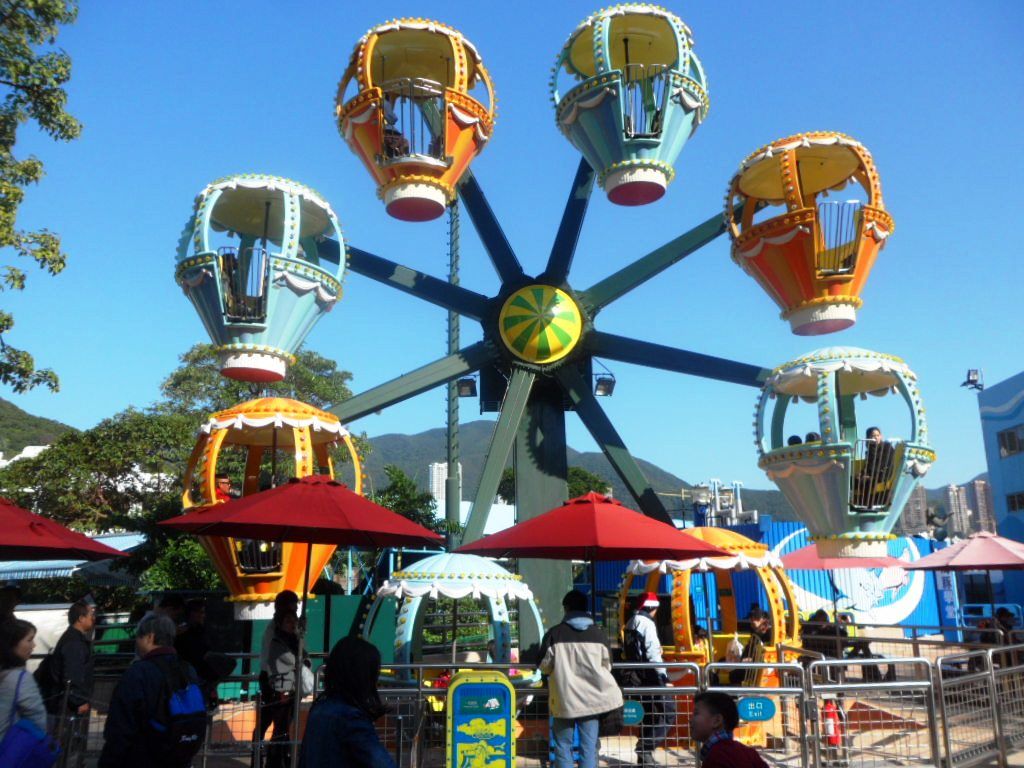 Rides for the Kids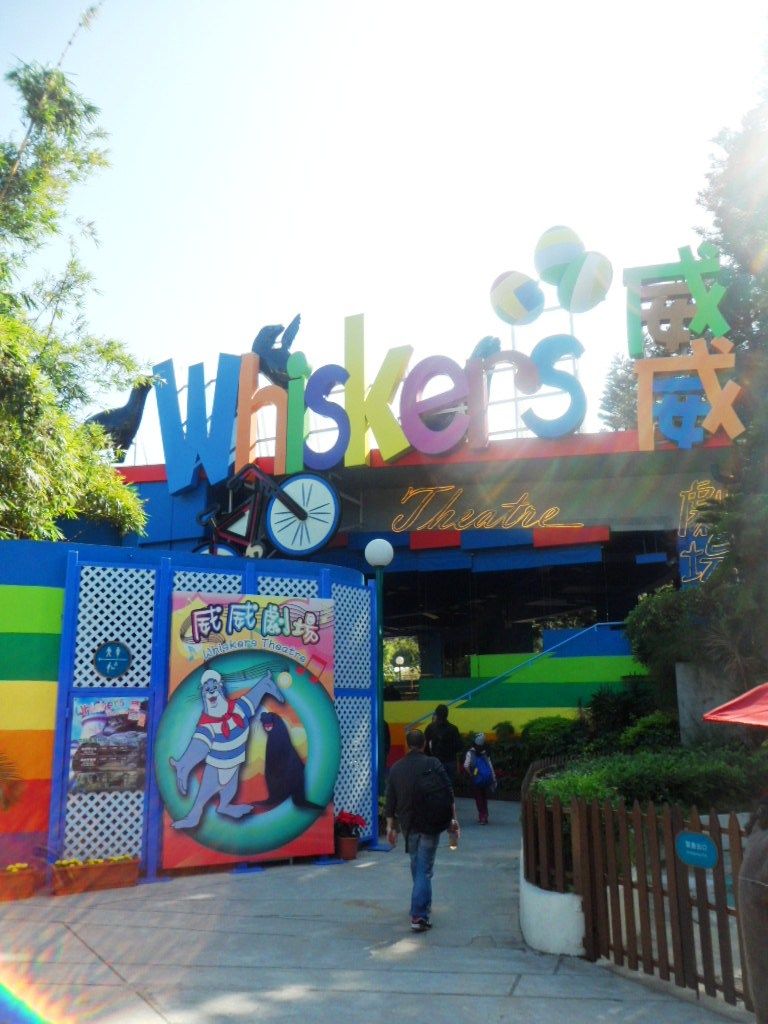 Whiskers Theatre for the Sea Lion Show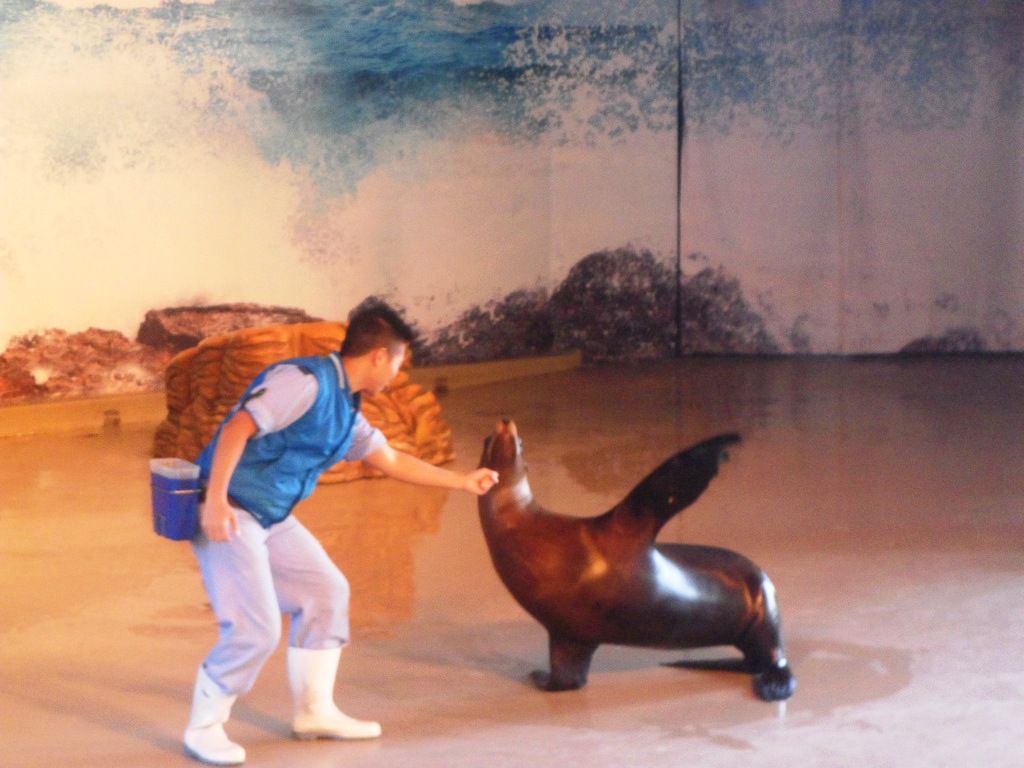 Sea Lion Show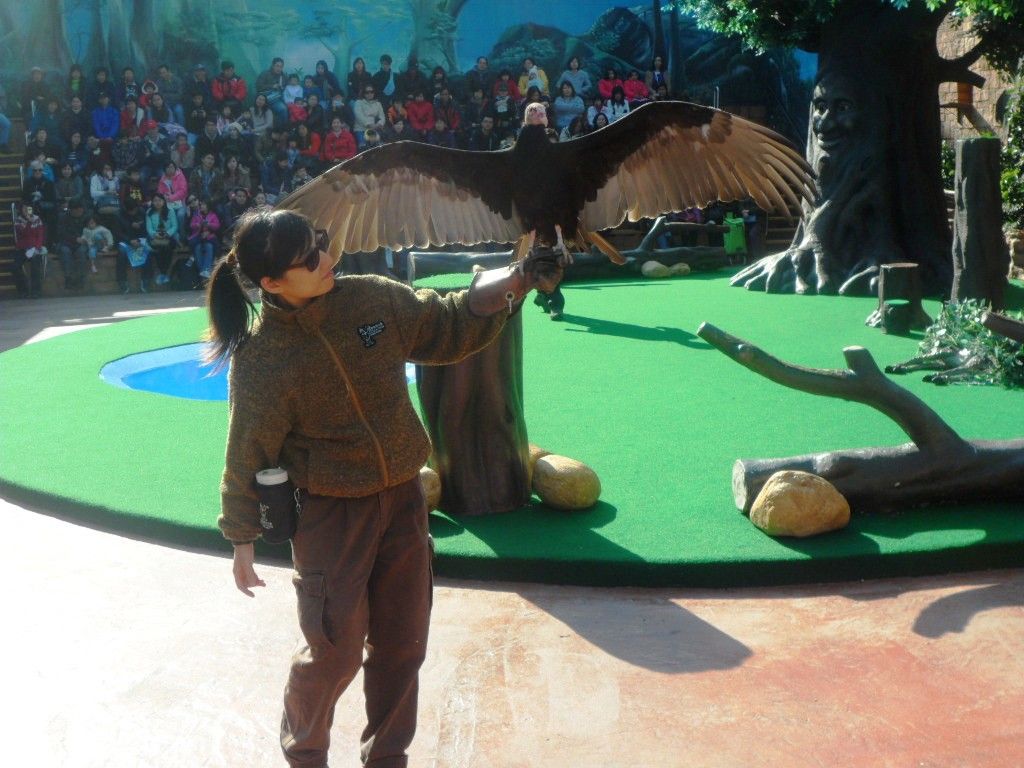 Bald Eagle showing the span of its wings
2. Aqua City . Waterfront plaza (daily shows including acrobatics/juggling acts), and the Grand Aquarium (which we almost missed, visiting it just before the park closed). It features one of the largest viewing dome in the world with over 5000 fish and 400 species of marine life.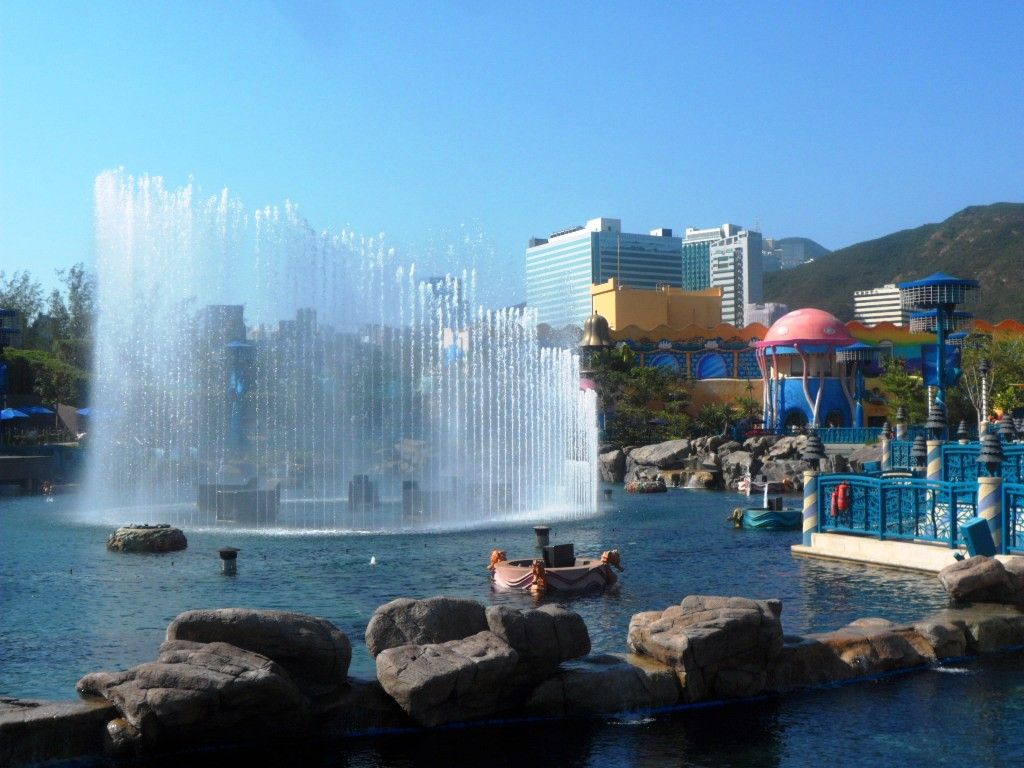 Fountain at Aqua City – Entrance of Ocean Park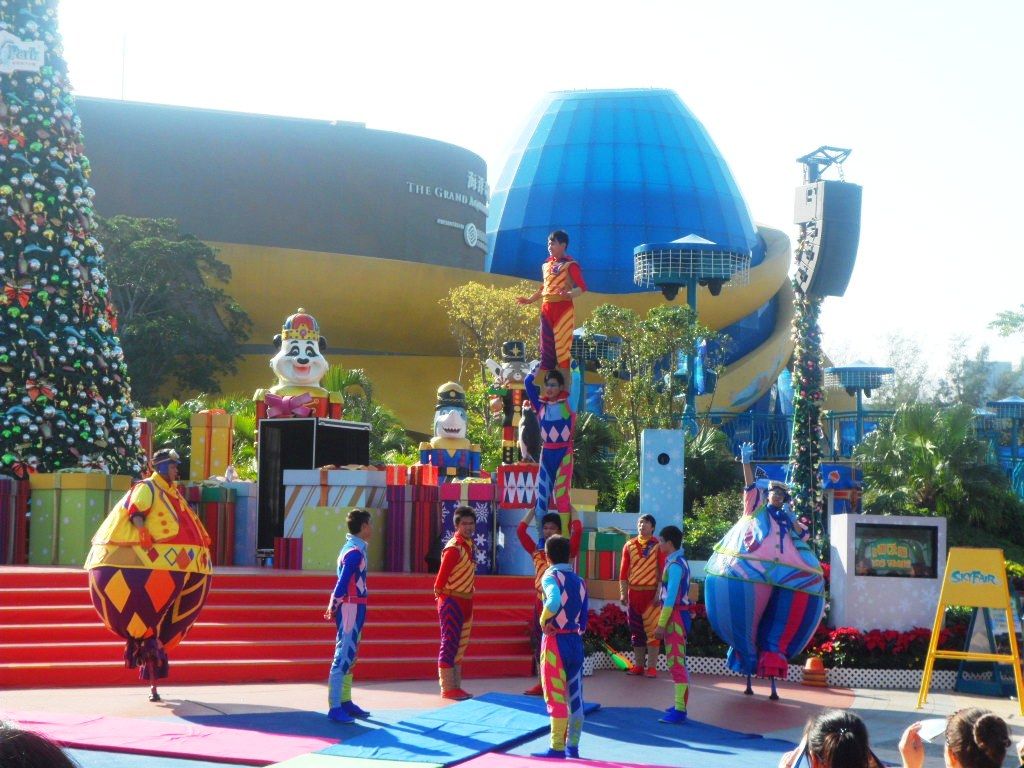 Acrobatics and Juggling acts at the Waterfront Plaza
3. Amazing Asian Animals . Main attraction here? The GIANT PANDAS!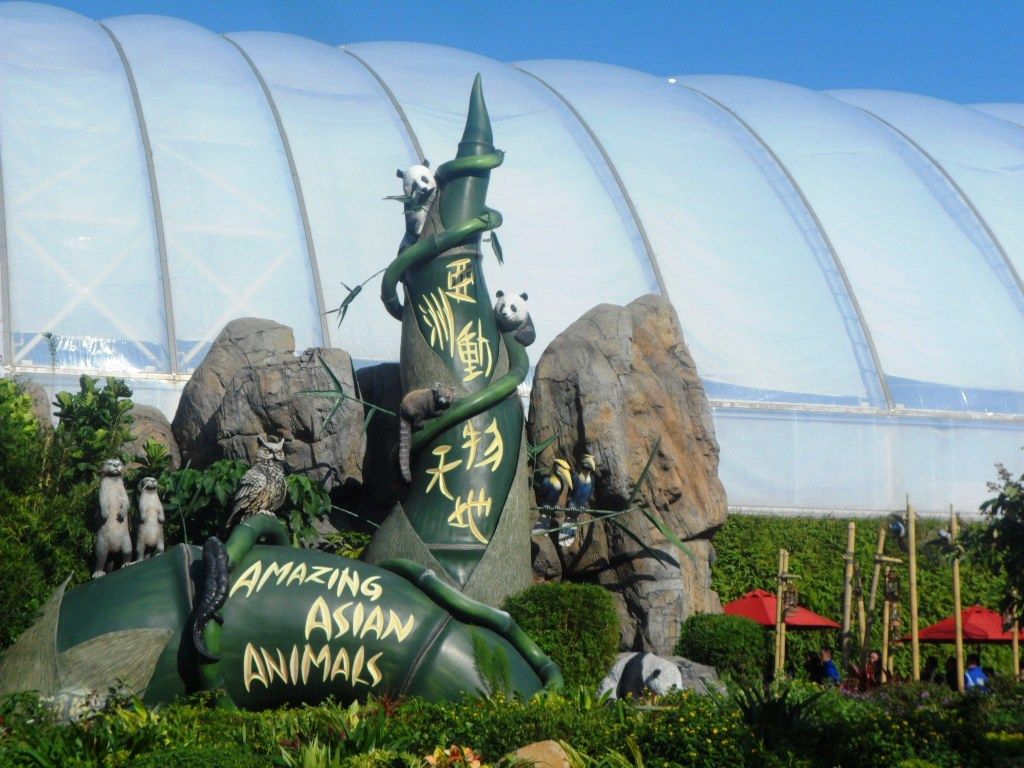 Entrance to the Amazing Asian Animals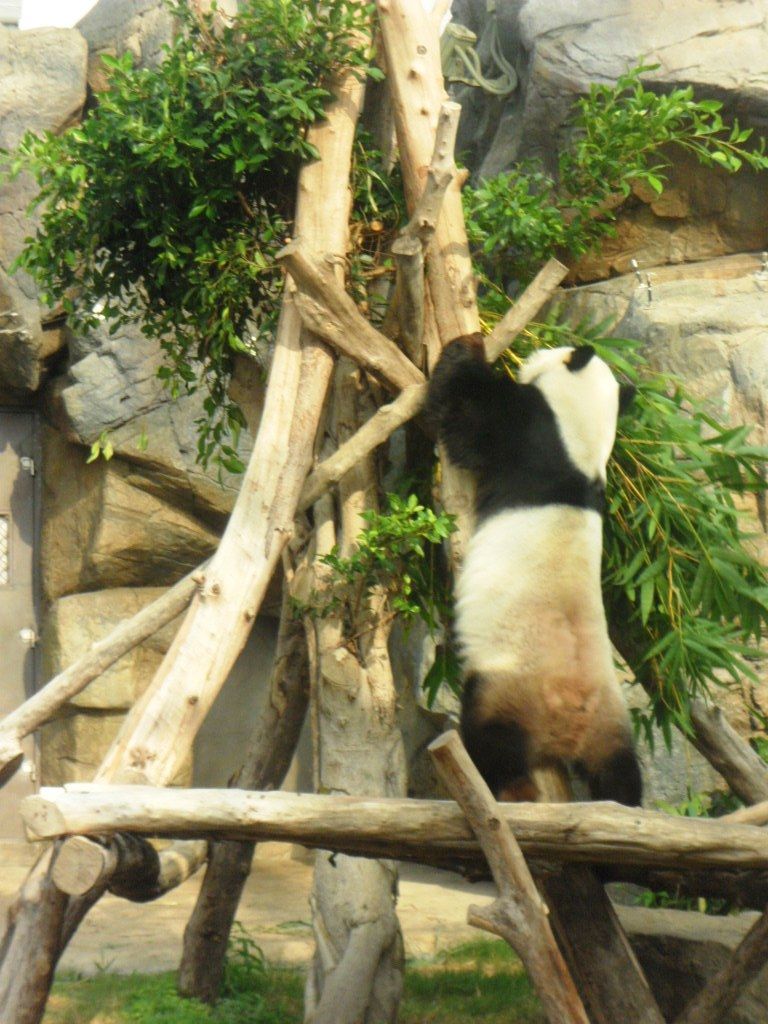 Panda standing up and reaching for the shoots
How to get to Ocean Park Hong Kong
As usual, Kate found out the way to Ocean Park. But before that, you will need to arm yourself with the Octopus card similar to that of EZLink used in Singapore.

Step 1 : Take a bus to Admiralty Station and follow this sign to the bus that takes you to Ocean Park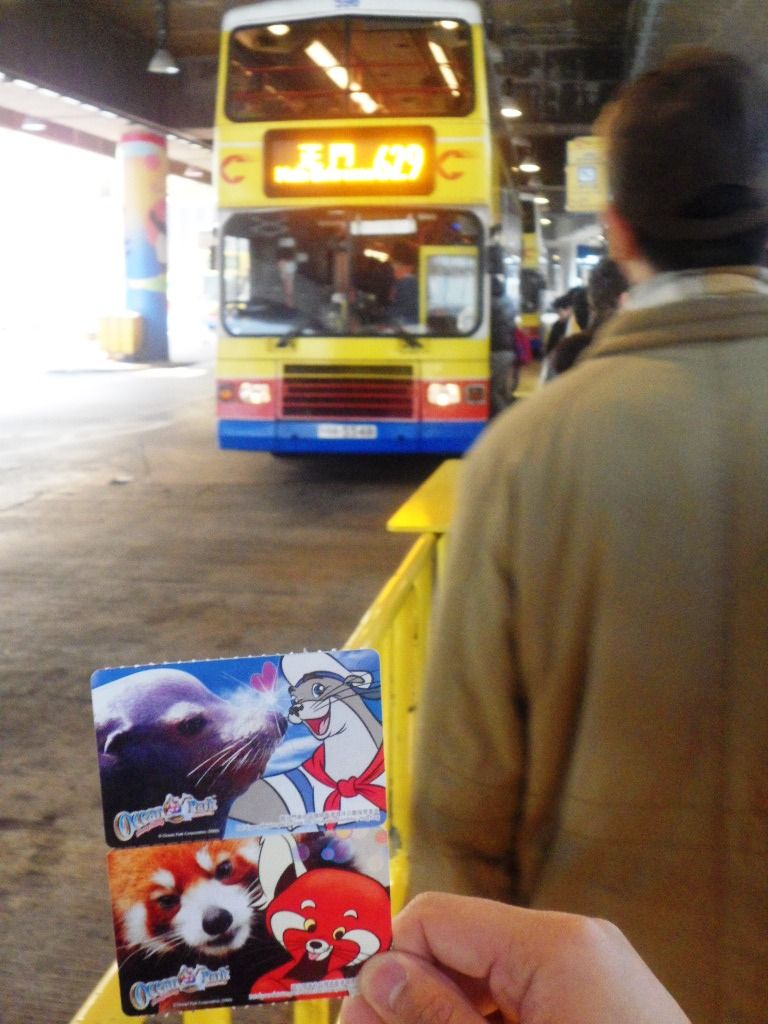 Step 2 : Take Bus 629 from Admiralty MTR Station
More information about Ocean Park Hong Kong
The tickets to Ocean Park costs 280HKD per person.
Opening Hours of Ocean Park is from 0930 to 2000 (Do note that the opening hours of Ocean Park may vary, depending on the time of the year)
If you enjoyed our content, "Like" us on Facebook Today!

For your convenience, we have arranged for the best hotel deals in Hong Kong right here!
Is it worth to visit Ocean Park Hong Kong
So the big question still begs an answer. Is it worth it to visit Ocean Park in Hong Kong? Our answer is a big YES!
If it is your first time, you would be amazed by the sheer size of the park as well as the many attractions that it offers. Not to mention that it has educational snippets of information for the kids as well as a wide variety of attractions for the entire family. Most definitely worth a visit when you're in Hong Kong.
Related Posts
You have just finished a post on our 9 day trip to Hong Kong, Macau and Shen Zhen. Read on to find out more about our adventures during this trip!
Hong Kong Trip : Day 1
Hong Kong Trip Day 2 : The Attractions of Tsuen Wan
Hong Kong Trip Day 3 : Ocean Park and New Year's Eve Countdown
Hong Kong Trip Day 4 – Side Trip to Macau
Hong Kong Trip Day 5 – Continuing Our Travels in Macao
Hong Kong Trip Day 6 – Rounding up Macao and Returning to HK
Day 7 Hong Kong Trip : Side Trip to Shen Zhen & Debunking Recommendations
Day 8 Hong Kong Trip : What we did in Central 中環 Hong Kong
Day 9 Hong Kong Trip : A Surprise Find at Lian Xiang Ju Dim Sum Restaurant
Hotels and Hostels We Stayed in Hong Kong
New Year's Eve Countdown at Victoria Harbour Hong Kong
Ibis Hotel Hong Kong Central & Sheung Wan : For the Best Views of Victoria Harbour
L Hotel Nina Convention Centre Hong Kong : Great views over Tsuen Wan
Jordan Comfort Inn Review @ New Lucky House Hong Kong
New China Yan Yan Guest House at Chung King Mansion
Food and Dining in Hong Kong
3 Reasons Why You MUST Try Dim Sum in Hong Kong and Macao
The Minimalist Guide to Eating at Tim Ho Wan Hong Kong
A Classy Treat at Lei Garden International Finance Center Hong Kong
Mak Mun Kee 麦文记 Noodles Shop : Best Wanton and Beef Noodles in Hong Kong
Great Desserts at Australian Dairy Company Hong Kong! ( 澳洲牛奶公司)
Lan Fong Yuen Hong Kong : For a taste of traditional milk tea since 1952
Secret to Enjoying Hong Kong Cafes…
What a typical Hong Kong Cafe is like
Debunking Recommendations of DiscoverHongKong.com : What NOT to eat in Hong Kong
Attractions in Hong Kong
Hong Kong Central Mid Level Escalator : Longest Escalator Walkway System in the World
Avenue of Stars 星光大道 : Hong Kong's Hollywood Walk of Fame
Ocean Park Hong Kong : Still worth a visit?
Temple Street 庙街 Hong Kong : First glimpse at Hong Kong's Night Market
Where to shop in Hong Kong? Citygate Outlets Tung Chung!
Elements Shopping Mall at Kowloon Hong Kong
Only make a side trip from Hong Kong to Shen Zhen if…
21 Amazing Travel Experiences in Hong Kong
Hotels We Stayed in Macau
Hotel Royal Macau : Luxury at a Central Location
Regency Hotel Macau : A 5 Stars Hotel?
Attractions in Macau
Guia Fortress and Lighthouse Macao : An Elusive Fortress Found
Macao Maritime Museum : Great Price Good Exhibits
Historic Centre of Macao : Ruins of Saint Paul's, Mount Fortress & More
Cotai Strip Macau : Games, Shows, Food and Entertainment
Taipa Village Macau : Houses Museum, Pork Buns, Portuguese Egg Tarts
Top 5 MUST DO Things in Macao : You have not been to Macao unless you have…
Related posts: