Oktoberfest in Munich, Germany is the largest beer festival in the world! But did you know that besides beer guzzling and more beer guzzling, there are actually alot of festivities and fringe activities all around the festival arena? In this post, we will show you the things to do and attractions at Oktoberfest Germany in Munich!
Interesting facts about Oktoberfest Germany
Did you know…
1. Oktoberfest DOES NOT start in October! Oktoberfest usually starts in the last week of September and ends in the first week of October. If you visit Munich somewhere in mid to end October thinking that you can catch the Oktoberfest, you'll be in for a huge disappointment!
2. In 2013, Oktoberfest will be celebrating its 180th Beer festival! Although Oktoberfest was first started in 1810, there have been several festivals that were cancelled due to epidemics and war.
3. Oktoberfest is not only the largest beer festival in the world. It is THE LARGEST FESTIVAL in the world (beer left out in this sentence). Besides the 14 large beer tents (including famous brews such as Hofbrau, Lowenbrau and Augustiner), there are also 21 smaller tents selling their specialities such as roasted chicken (and beer of course). But there's more to the 42 hectares (can you believe the size?!) Theresienwiese Oktoberfest area. There are MANY fringe activities such as games, rides and food that caters to the entire family!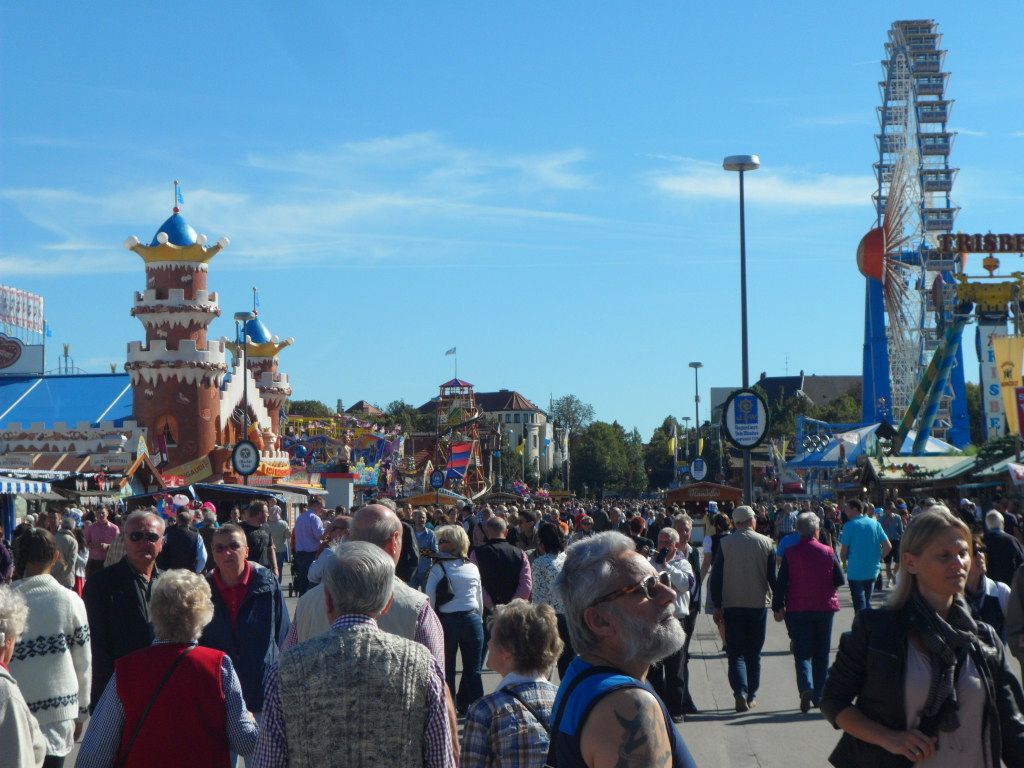 Oktoberfest in Munich Germany
Beer guzzling and more beer guzzling
Oktoberfest gives people an impression that it is a beer festival. It sure is the biggest beer festival in the world. With millions of visitors all over the world drinking and guzzling millions more litres of beer each year, it is no wonder that people only think about beer at Oktoberfest.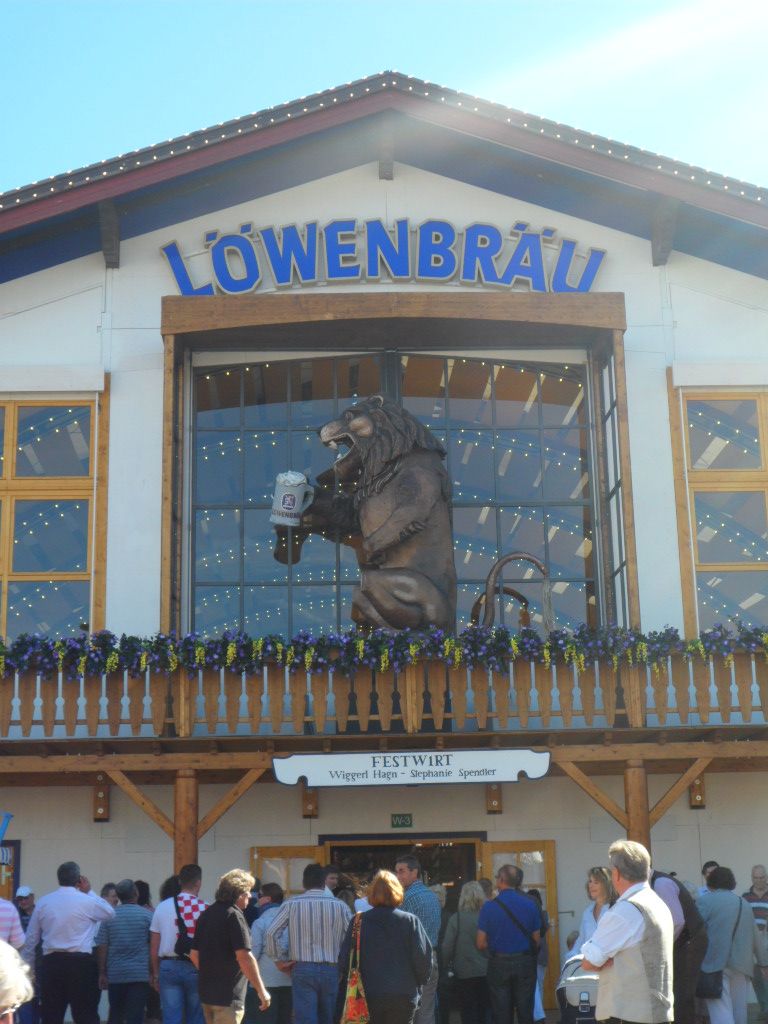 Lowenbrau and its moving (and growling) lion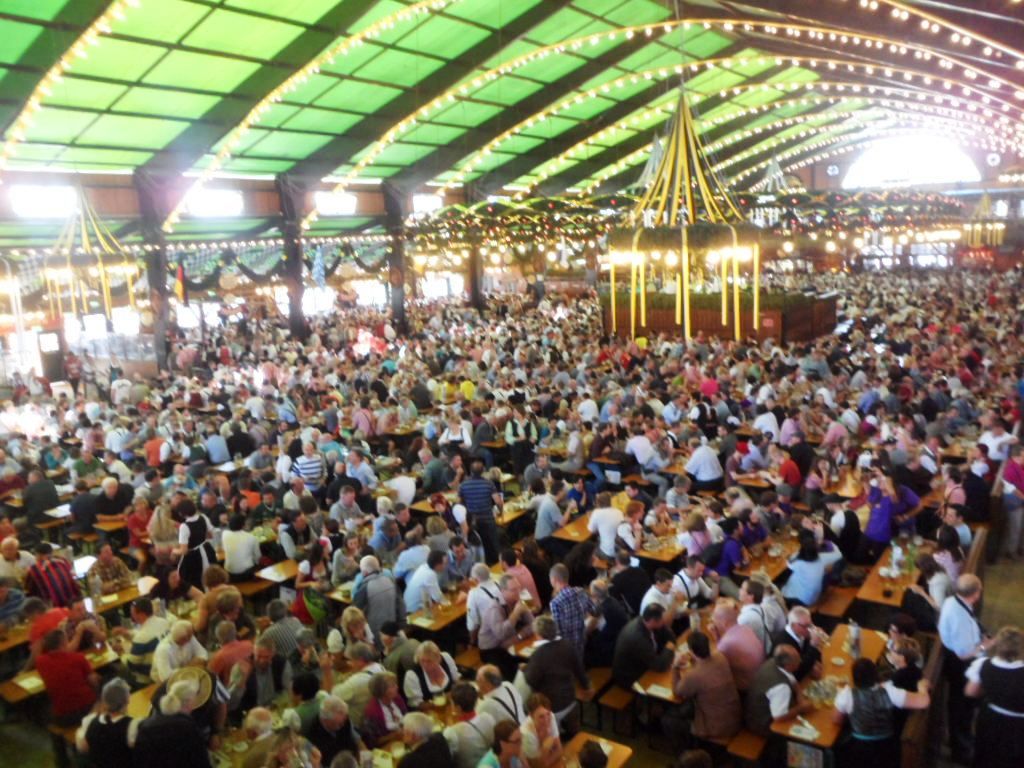 Throngs of people in the beer tents – in the middle of the day!
Lining the Tummy – Oktoberfest Food!
Many a beer drinker would advise that you line your tummy with fatty foods before you hit the beer tents. There are indeed many variety of food available at Oktoberfest. Here are some of the foods we've tried!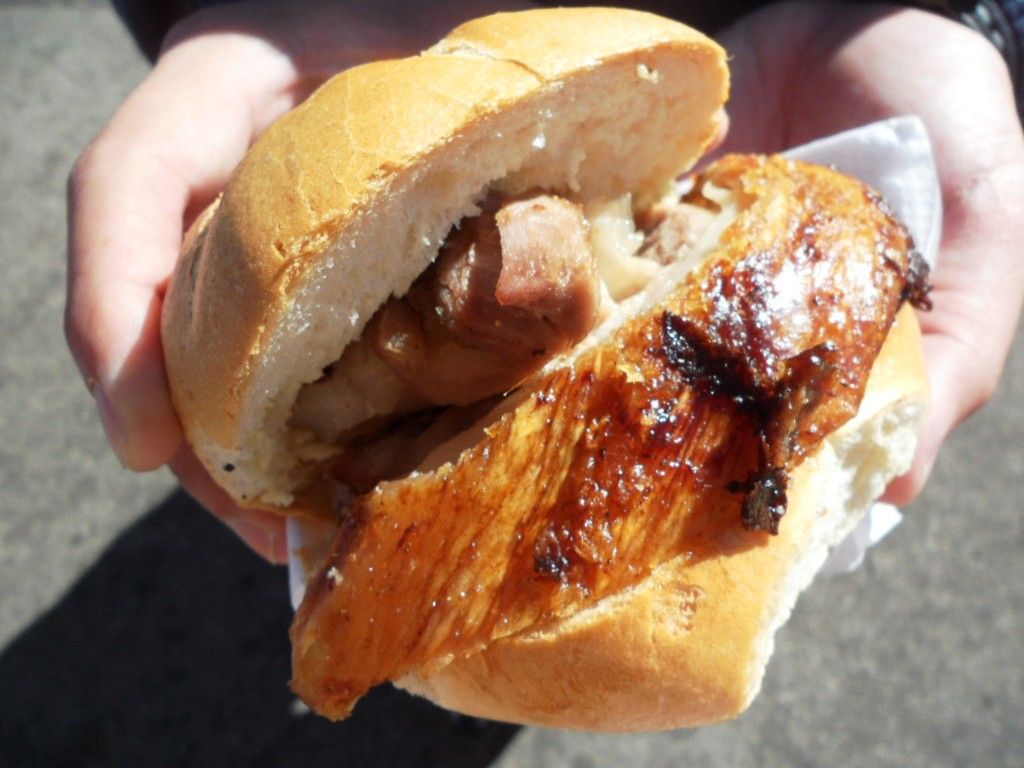 Pork Kunckle Sandwich Oktoberfest
One of the fattiest street snack you can find at Oktoberfest has got to be the pork knuckle sandwich! The skin is crispy and flavourful while the fatty bits beneath gives you the lining that you need to survive the beer festival! While you're trying out the street foods, why not give the crispy schnitzel burger a try as well?
At Oktoberfest, there are many tents selling roasted chicken. Tender, moist and well marinated, the roasted smell of the chicken can really attract its customers!
Do try the desserts at Oktoberfest, the waffle and apple pie were, "oh so good!". Ask Kate and she'll tell ya!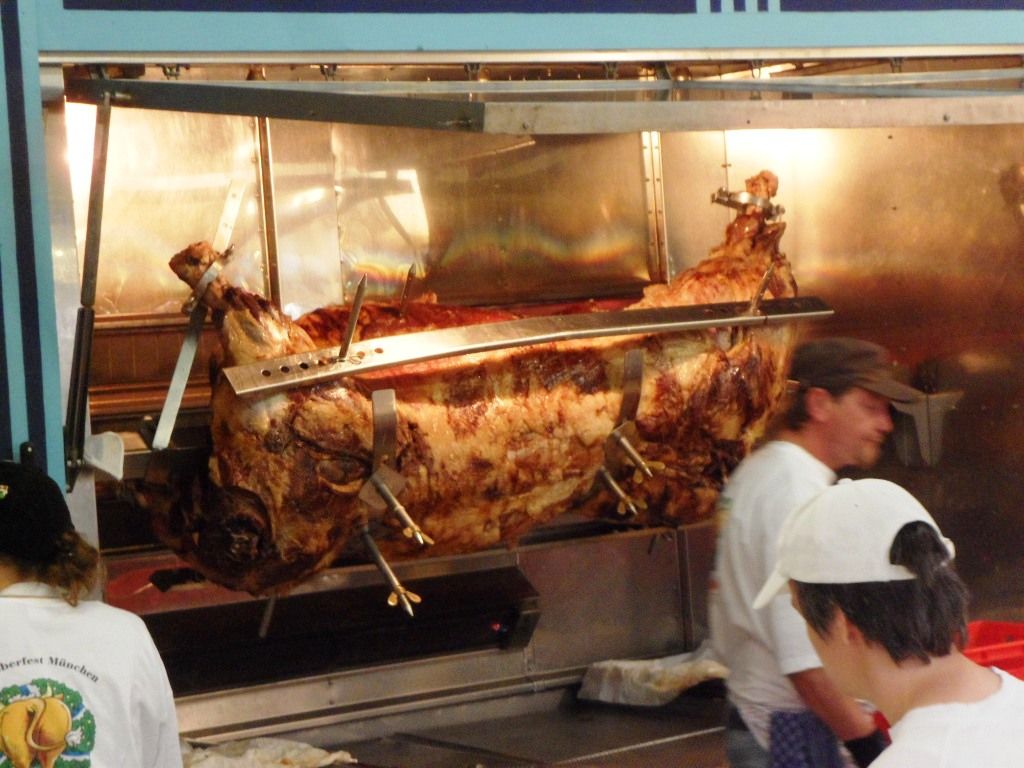 Have you seen anything like that? – A full grown pig being roasted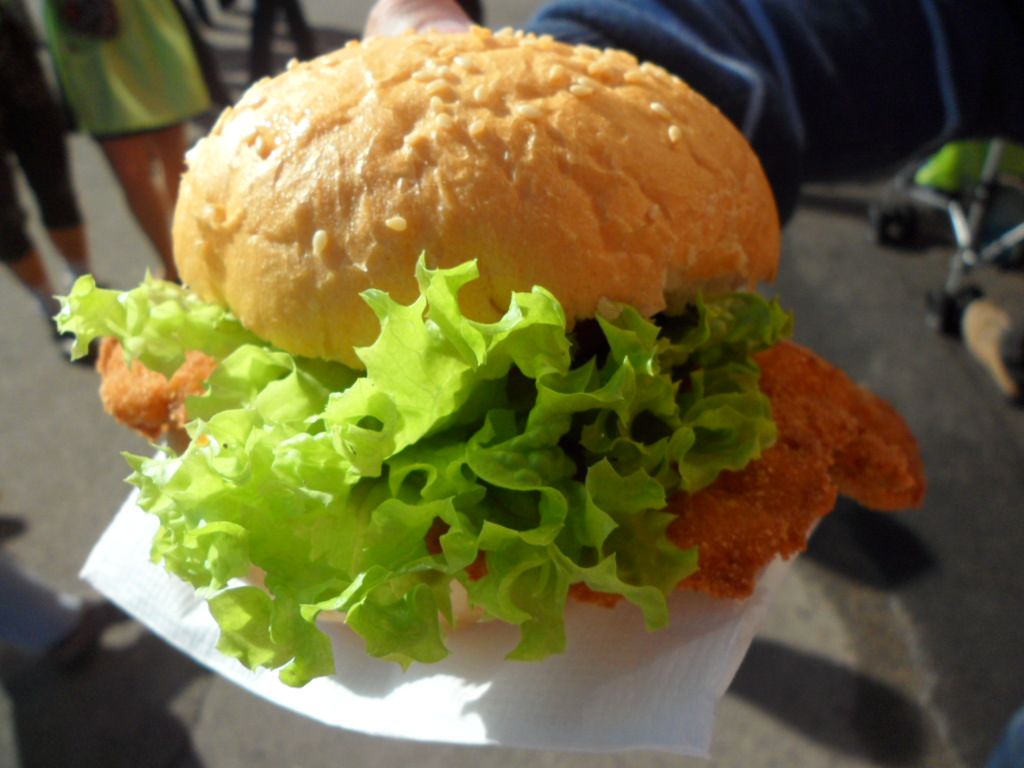 Crispy Pork Schnitzel Burger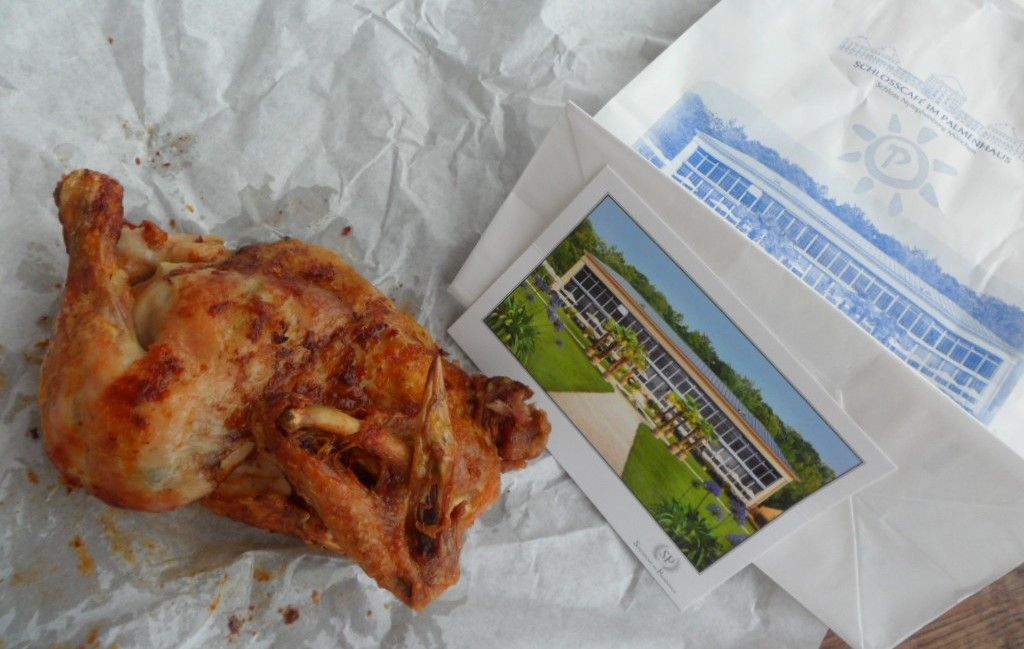 Moist & tender Roasted Chicken with vege stuffing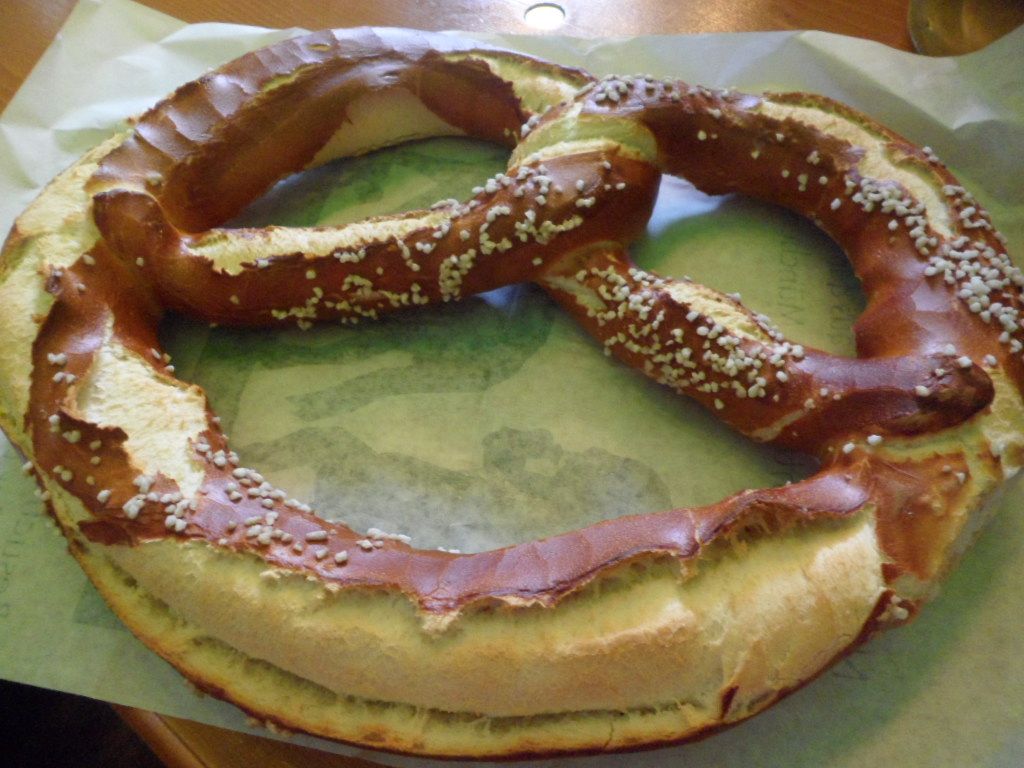 Huge Pretzels anyone?

Freshly baked crispy fluffy waffle with sugar icing – Yum!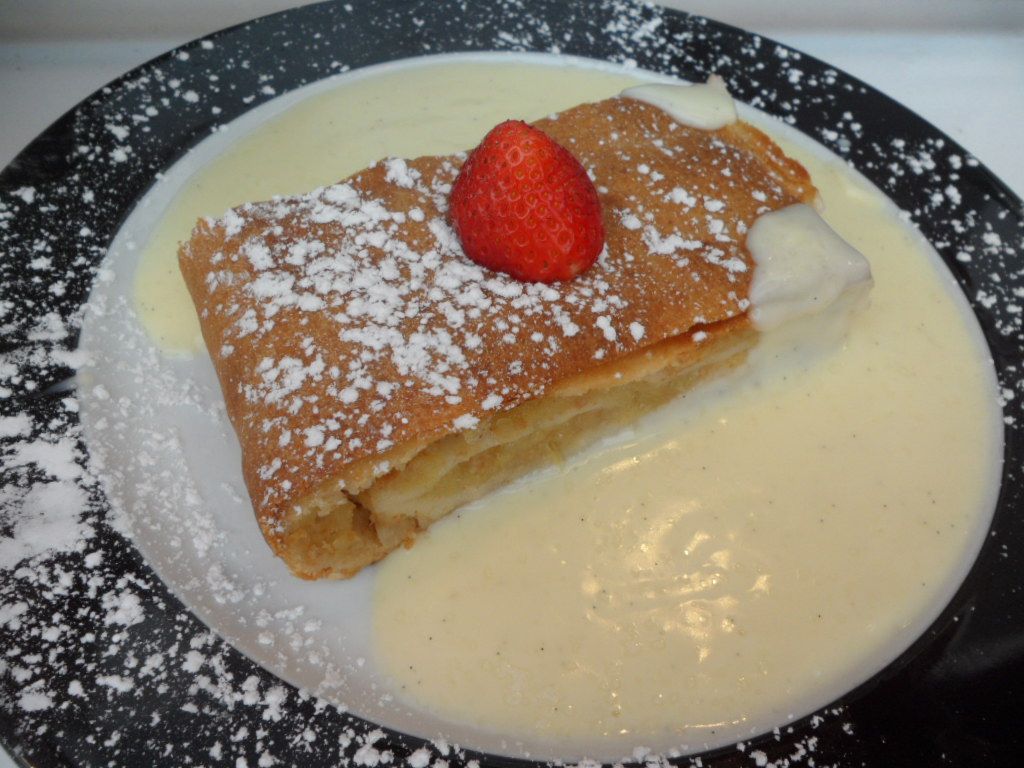 Apple Strudel
Fun rides for the entire family!
As we have mentioned, there are many other games and rides at Oktoberfest. Games would include throwing balls or rings to win prizes. Or simply using a huge hammer to see if the indicator hits the bell at the top. Besides the game stalls, there are many other exciting rides at Oktoberfest!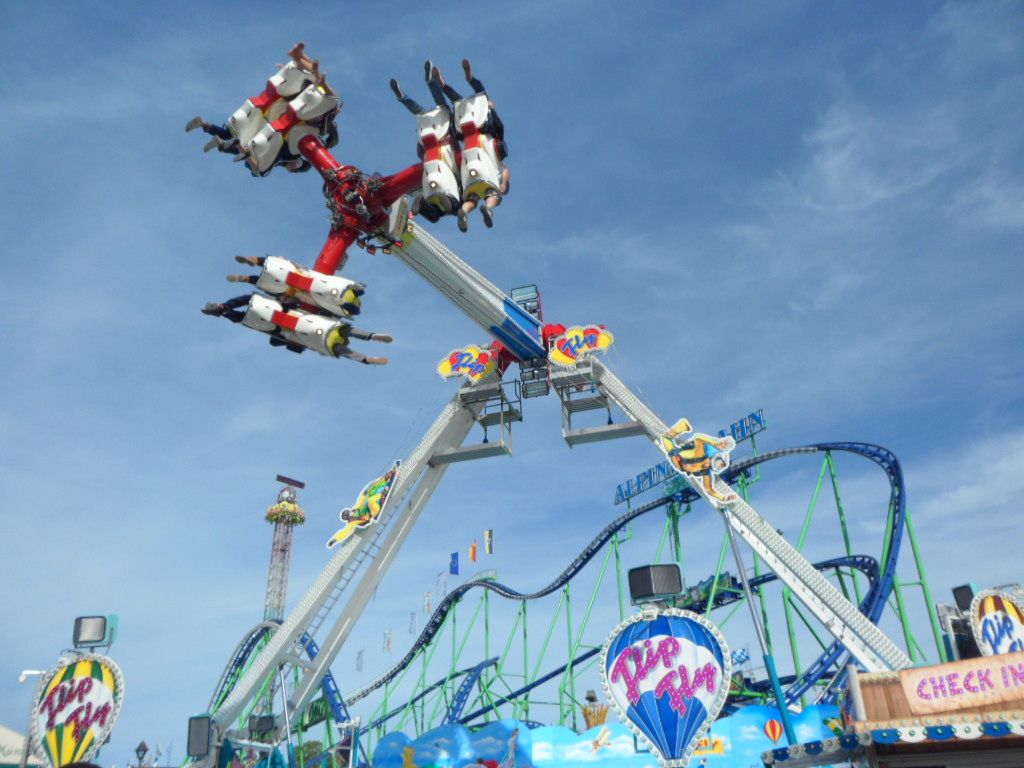 Crazy ride – with 3 axis of spin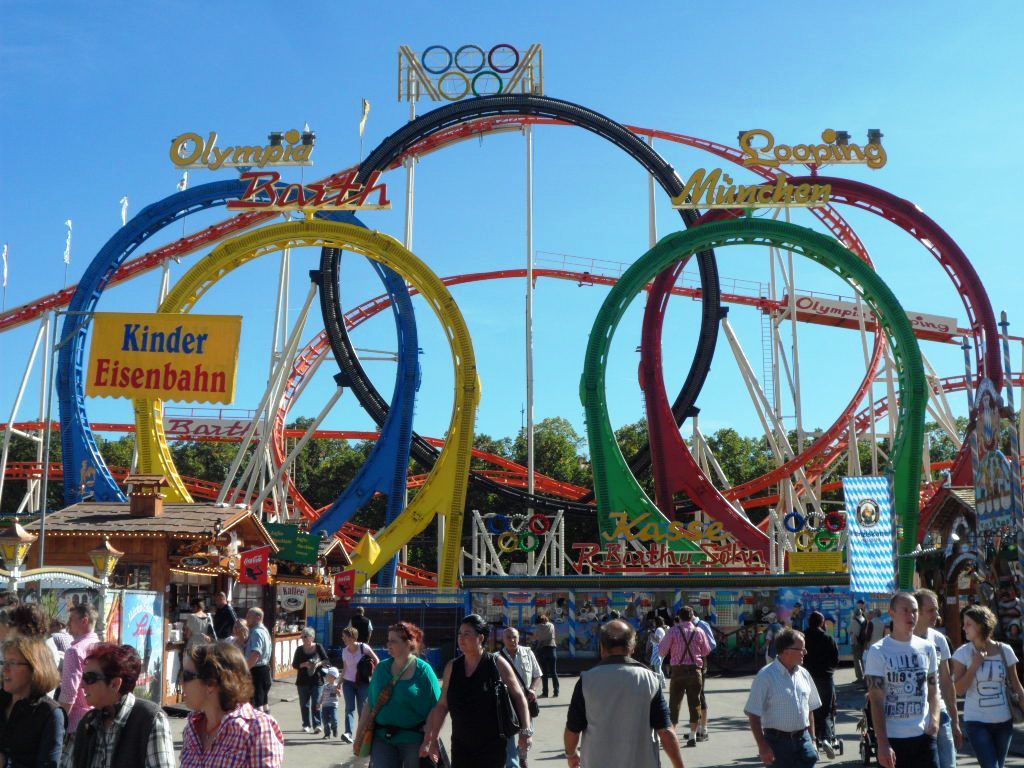 Olympia Loop – A roller coaster ride!
Besides the crazy rides for the thrill seekers, there's also a section of the fair dedicated to kids to have some fun of their own. Train rides for kids and slides are also available at Oktoberfest!

Gnome Train Ride for kids
Other things you can do at Oktoberfest
Check out rows of fish being roasted for the patrons – fishy smell at that!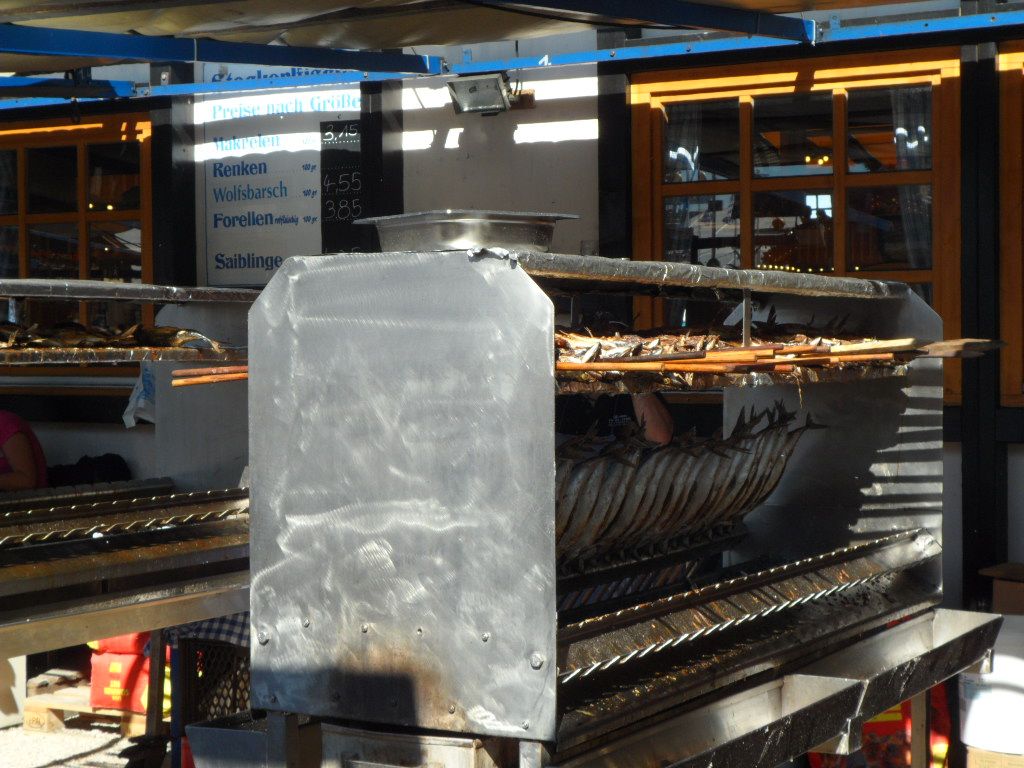 Roasted fish in the open air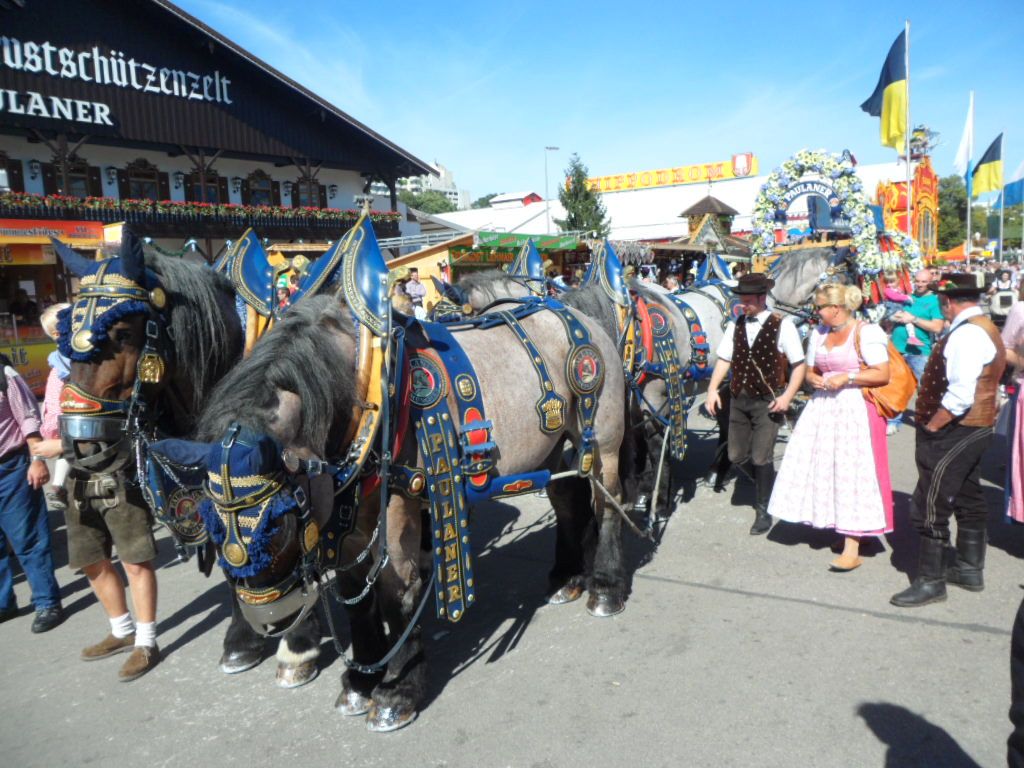 Take pictures with horses and beer barrels!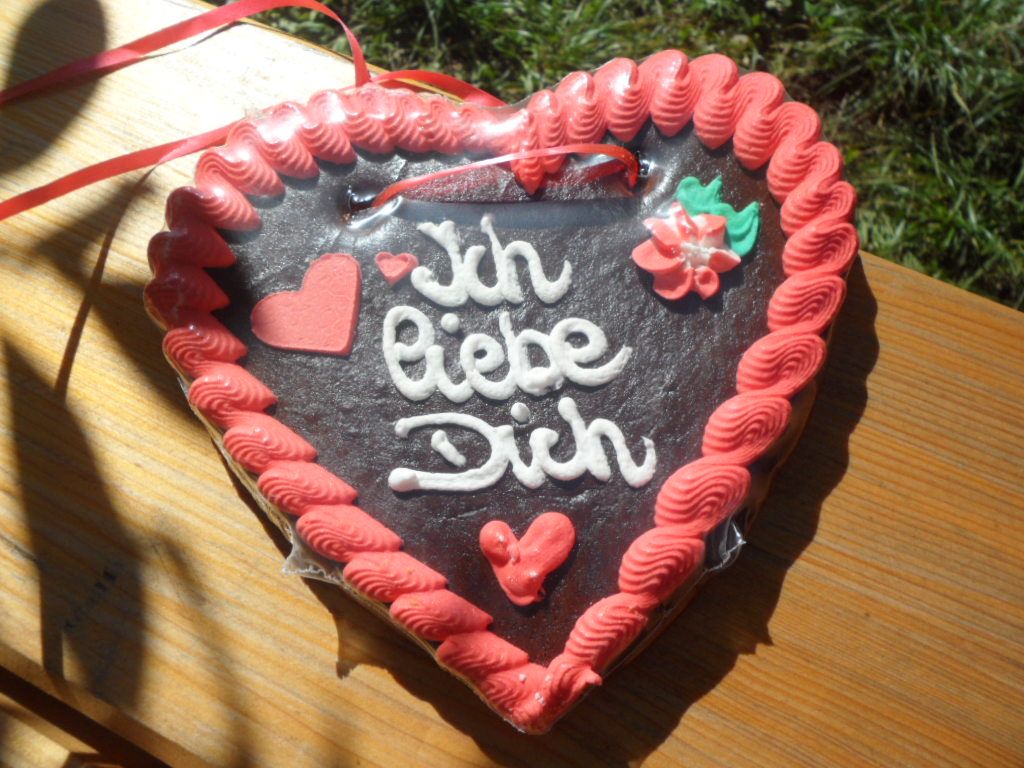 How about a Leb Kuchen for your loved ones – remember to pay with a kiss!
Related Posts
You have just finished a post in this series of our travels in Munich. Find out more about Munich in these related posts!
Top 7 Things to do and Attractions in Munich Germany
Englischer Garten Munich : A surfer's paradise?
Viktualienmarkt Munich : A Market in Munich City Centre
Marienplatz Munich : Old Town Square of Munich
Glockenspiel Munich : Top 10 Clock Towers in the World
Hofbrauhaus Brewery Munich : Fresh Beers and the Best Pork Knuckle Ever!
Oktoberfest Germany Munich : The Biggest Beer Festival in the World!
Oktoberfest Munich, Germany: Things to do and Attractions (Besides Beer that is…)
If you enjoyed our content, "Like" us on Facebook Today!

For your convenience, we have arranged for the best hotel deals in Munich right here!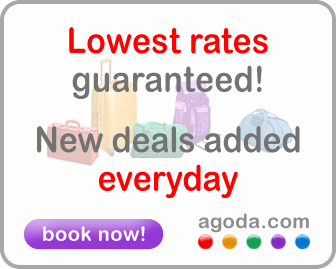 Whatever your age or interest, you'll definitely find your piece of fun at Oktoberfest Munich Germany!
Related posts: