Palace Hotel San Francisco together with San Francisco Tourism Board (SanFrancisco.travel) invited us for a stay at this gorgeous hotel while we were travelling in the West Coast of USA (yes, it was the Golden Gate Bridge that brought us back to USA).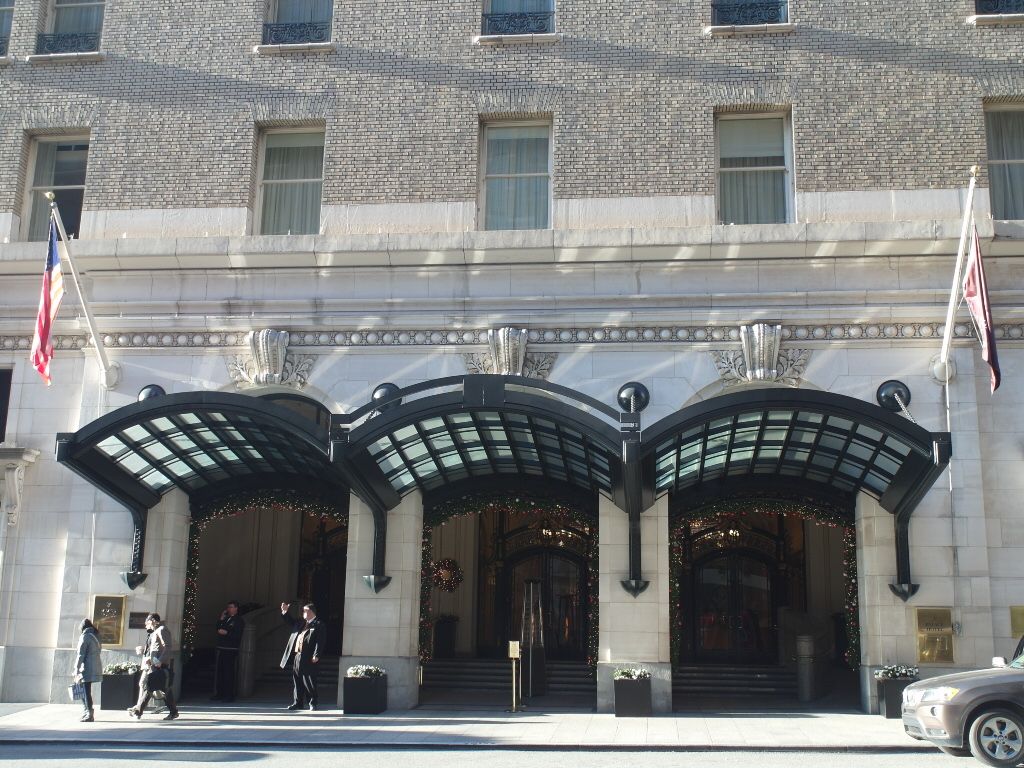 Entrance of Palace Hotel San Francisco
We have to be honest here. Our first impression of Palace Hotel was that it could be just a normal hotel with the usual gym and swimming pool facilities. Little did we know that we were actually invited to a grand old dame of San Francisco!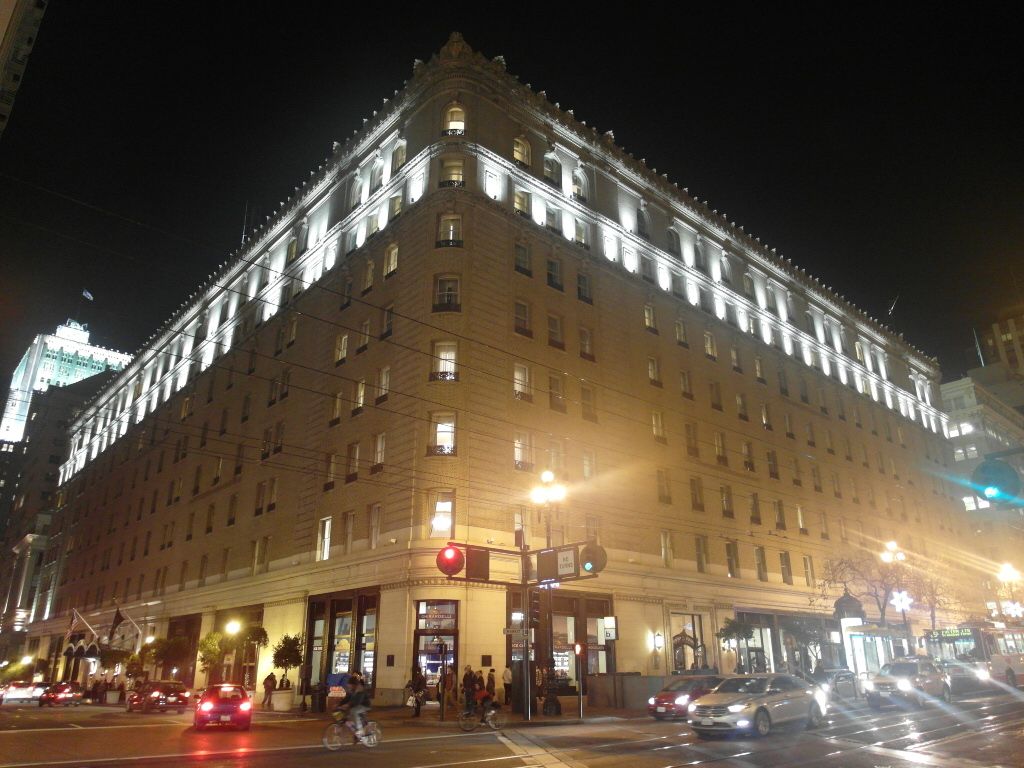 Night view of Palace Hotel San Francisco
Established in 1875, Palace Hotel has undergone several restorations especially after the great earthquake of San Francisco in 1909 (although only 9% of the hotel was damaged) and after the 1989 earthquake of a 7 scale earthquake. When Palace Hotel reopened in 1991, its 1909 glory was restored at a cost of more than $150 million!
The cool thing about luxury hotels with a history is that
1. They are usually in the city centre. This is because cities build outwards from its centre and as it grows, the older buildings which are originally close to the city centre would then become prime locations! For Palace Hotel, it just a stone's throw away from Union Square and the world famed, San Francisco Chinatown
2. Many famous people stayed here before. Famous personalities who stayed here before included Mark Twain, Thomas Edison (would you believe it?!), Oscar Wilde, Winston Churchill (seriously?!), Presidents of USA (including Franklin Delano Roosevelt) and more recently actress and comedian Whoopi Goldberg.
We also realised that these are in STRIKING RESEMBLANCE to Singapore's very own Grand Old Dame – The Raffles Hotel!
At the Lobby of Palace Hotel San Francisco
Due to the festive period, the lobby of the hotel was brightened up with some decorations of its own…

Christmas Decorations in the lobby of Palace Hotel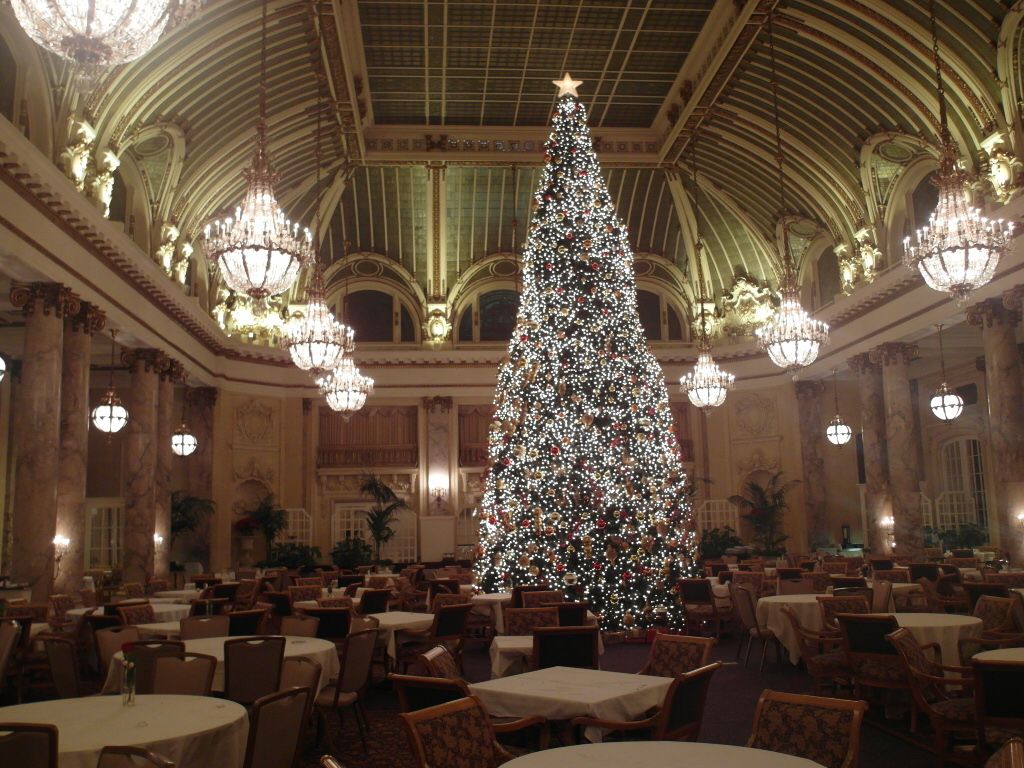 Huge Christmas Tree in the Garden Court of Palace Hotel San Francisco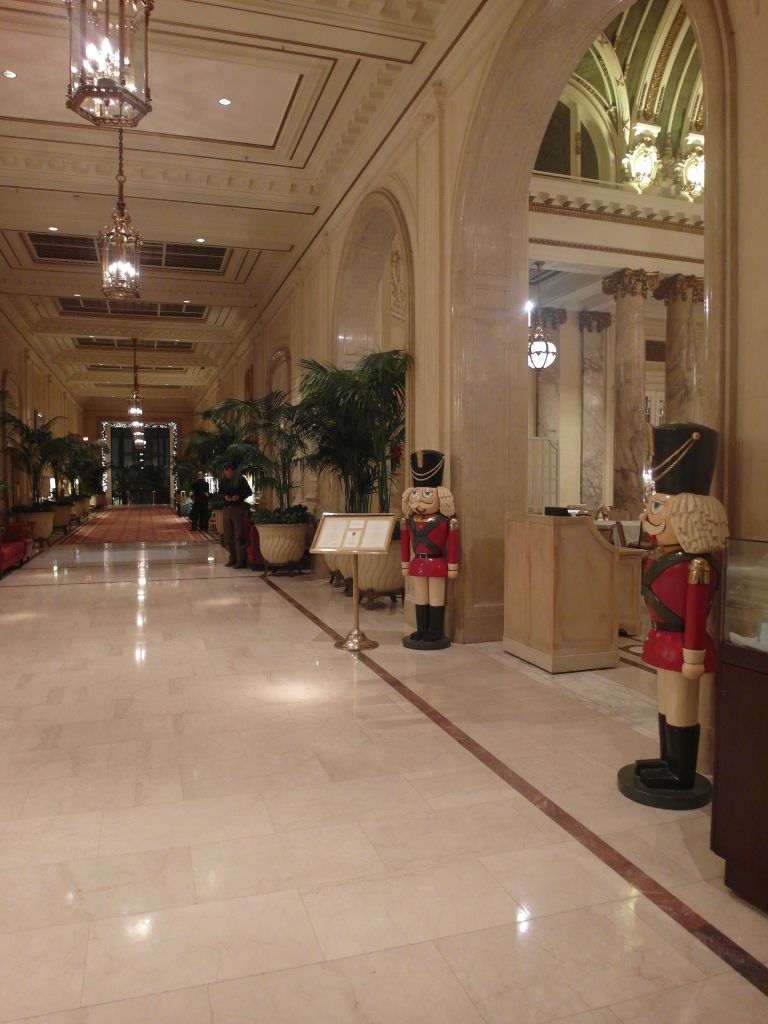 Entrance to the Garden Court with 2 Nutcrackers Displays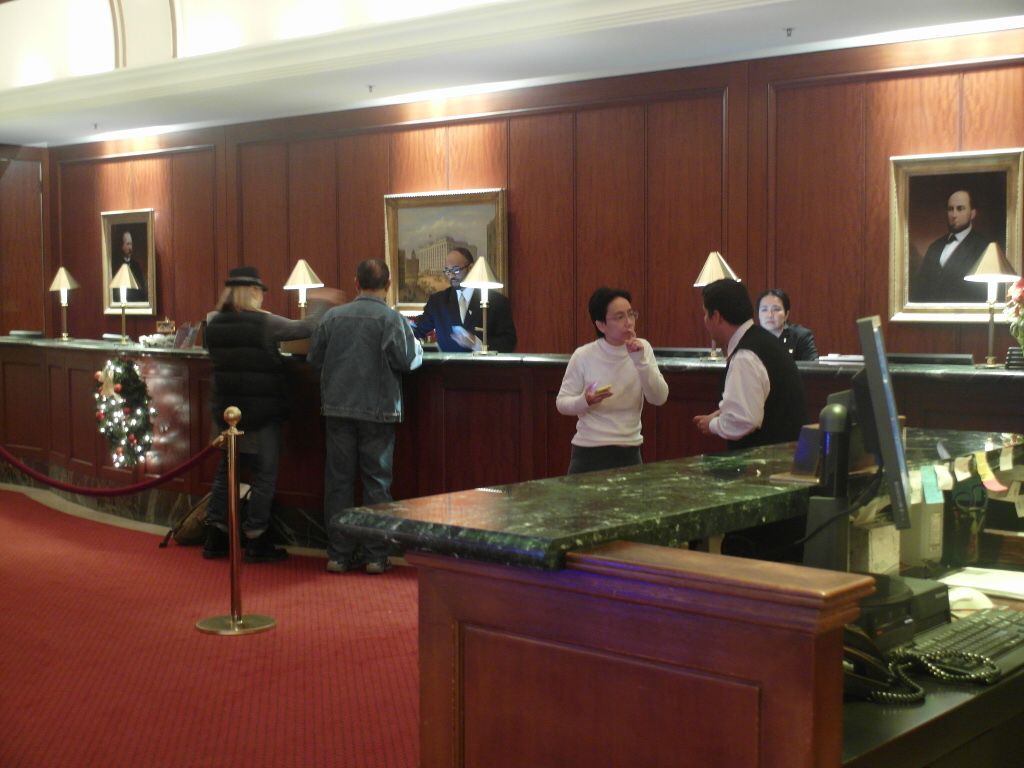 Reception area of Palace Hotel San Francisco – Morey on the left who assisted us during check in
As with our stay at Hilton Vancouver Washington, we were actually anticipating a package from San Francisco travel. Although it was not there upon our arrival, our receptionist Morey, helped us by checking through the records again (twice) and going back to the storeroom (twice) just to confirm that our package was indeed late. In addition, he also gave us advice to get the package tracking number (if available) and to contact SF travel again. All this while, maintaining his professional attitude and service. With such great attitude and service, it is no wonder that Palace Hotel ranks highly in their reviews as well.
Before long, Morey passed us the room keys saying
"There you are. Enjoy your stay at the Deluxe King Suite!"
So we wondered to ourselves, a suite? Perhaps, we just heard wrong. Better not put our hopes too high just to let them fall smack down right? So we got our stuff and headed to our room, walking past this BEAUTIFUL hallway…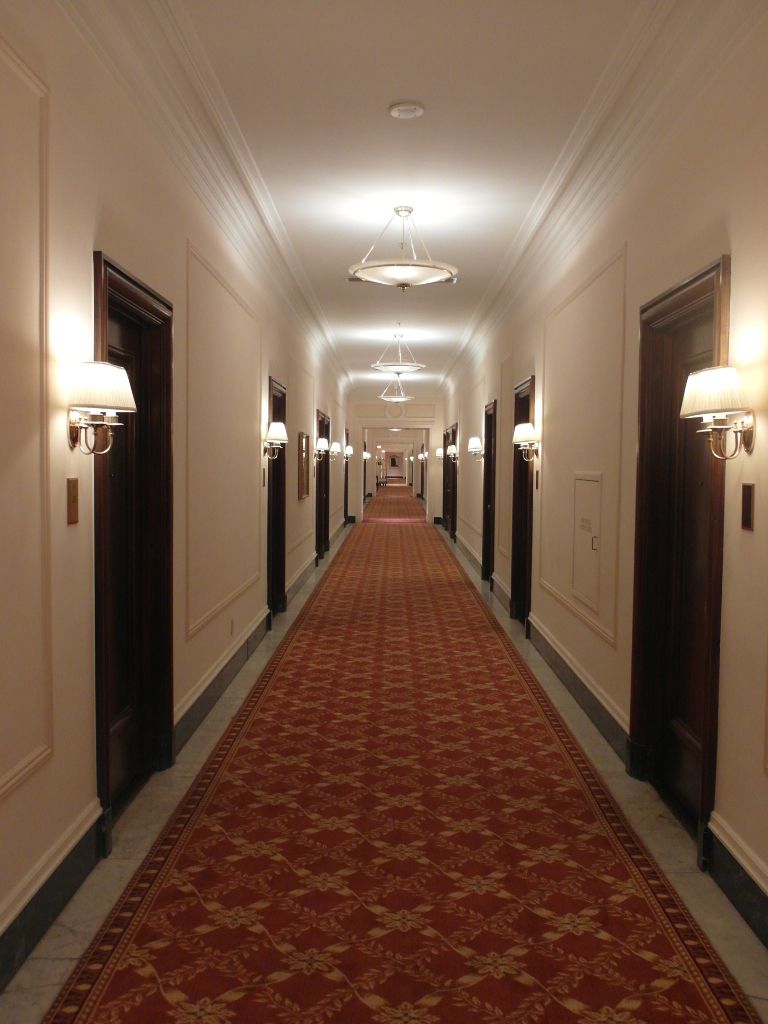 Beautiful Hallway of Palace Hotel San Francisco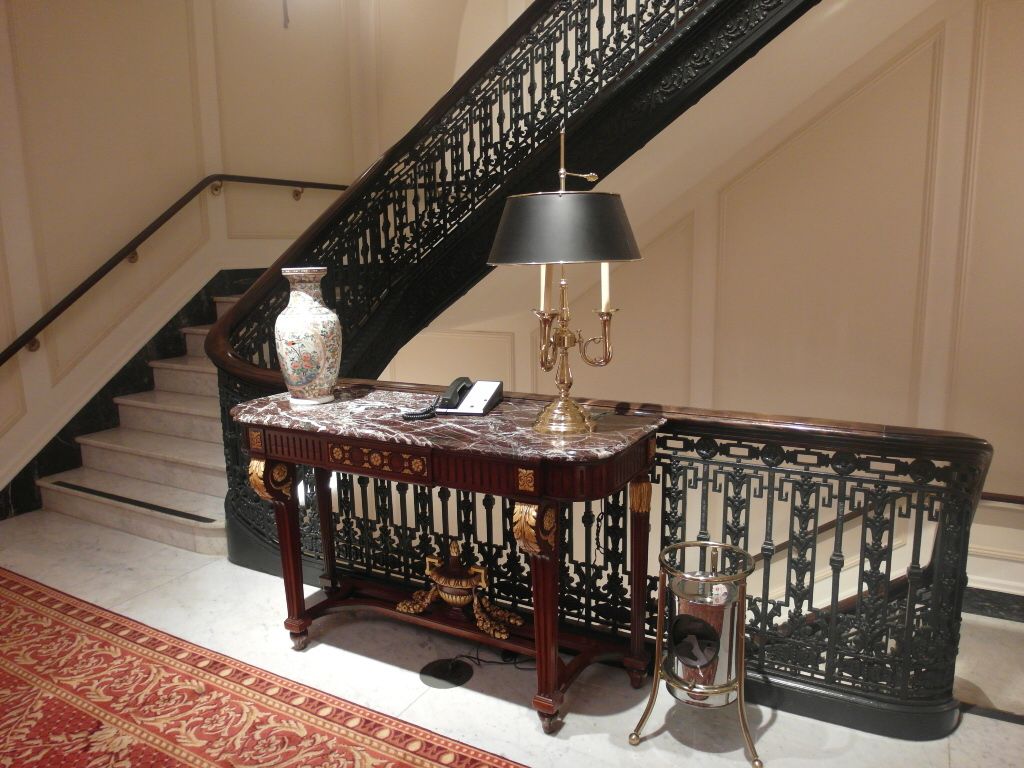 You can also have the options of stairs if you like
Deluxe King Suite Palace Hotel San Francisco
As we entered into our room, we were pleasantly surprised by the sheer size. The room had an entrance area, living area, study area, bedroom, couch in the bedroom as well as a bathroom complete with bathtub. In one word – HUGE!
Here's a video tour of the Deluxe King Suite at Palace Hotel San Francisco…
And so, our ears were not wrong when we heard Morey tell us about the Deluxe King Suite. A pleasant surprise for us indeed!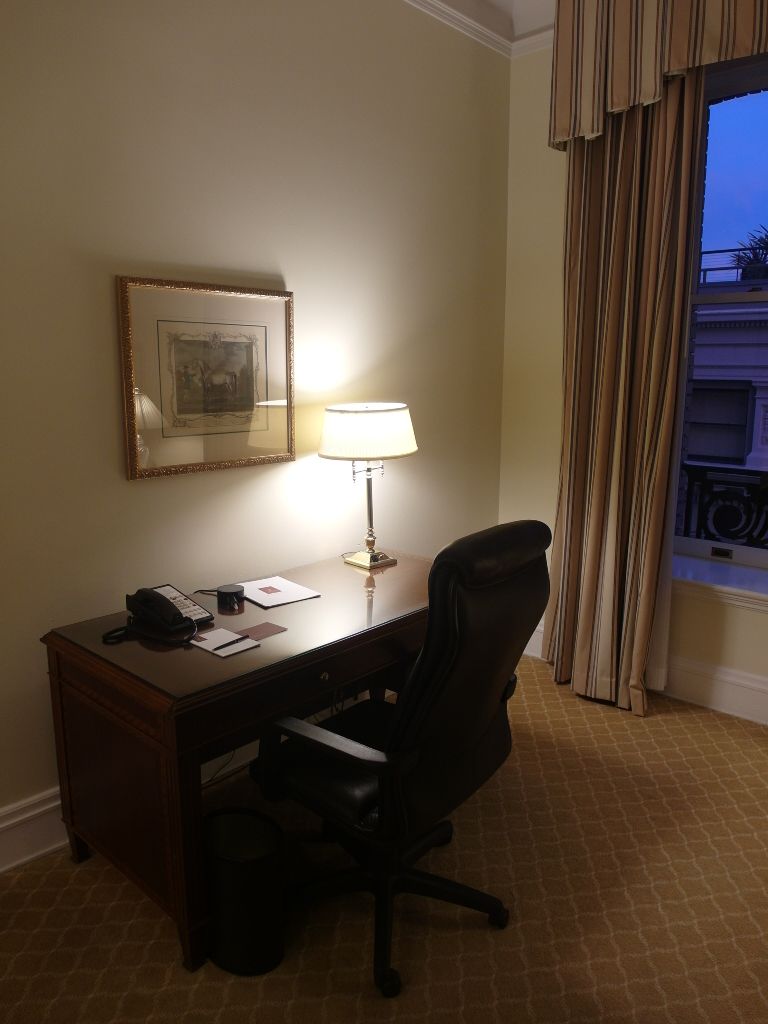 Study area in Deluxe Suite Palace Hotel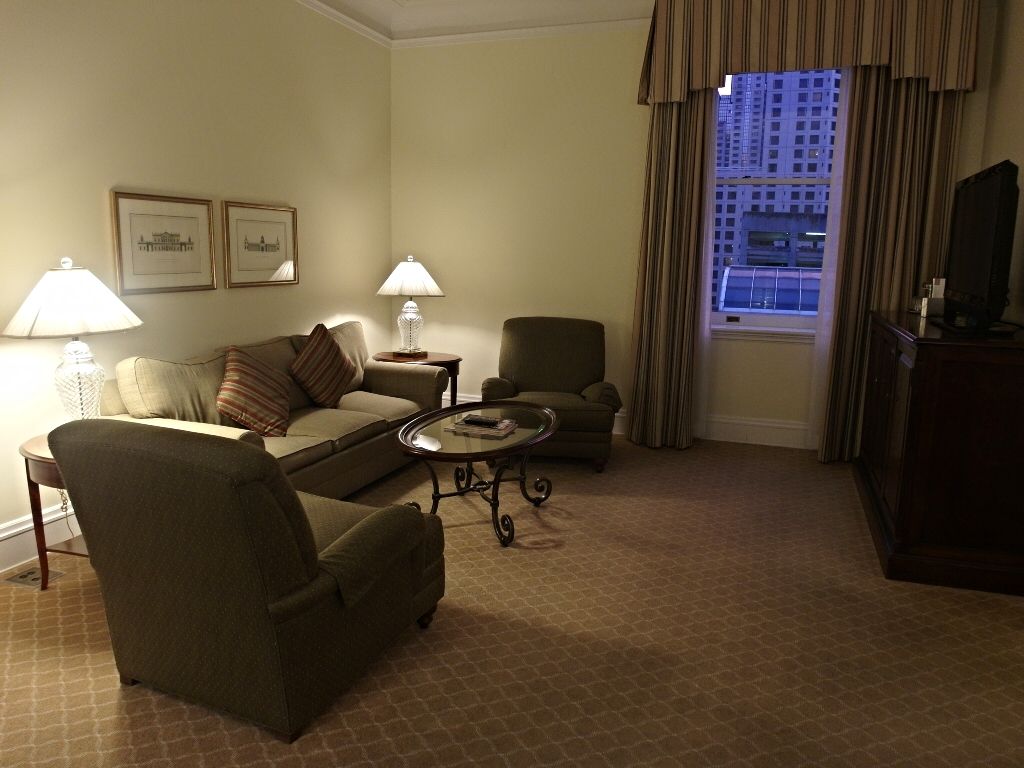 Living area Palace Hotel San Francisco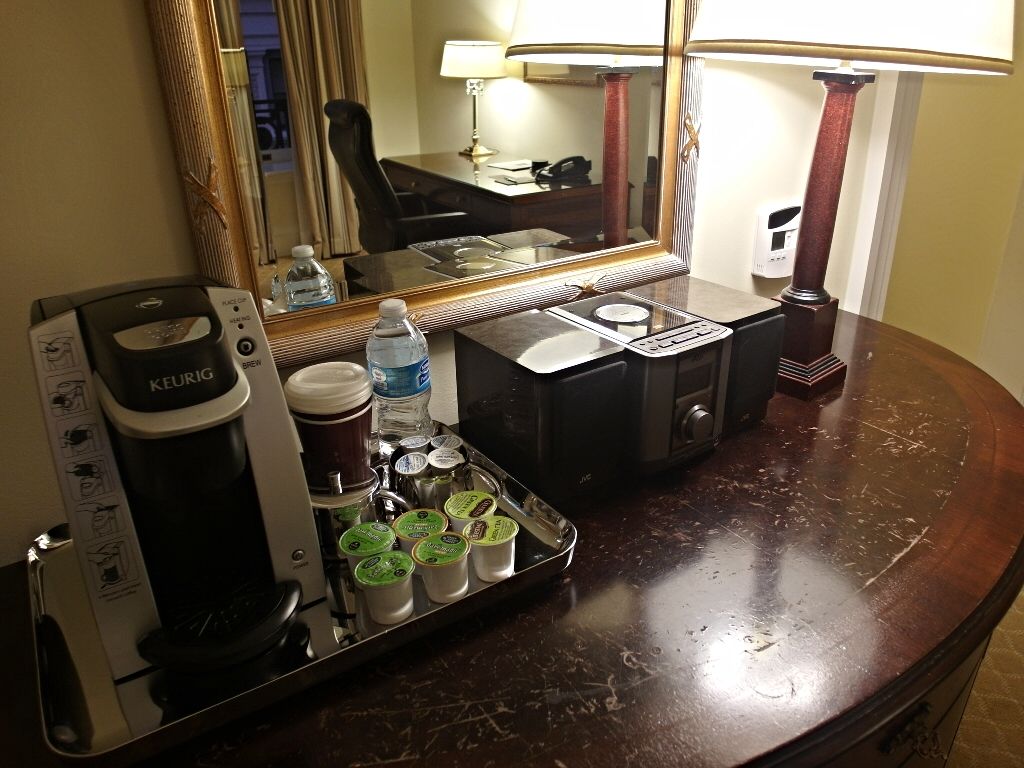 Keurig Coffee Machine – Though coffee is available in the lobby in the mornings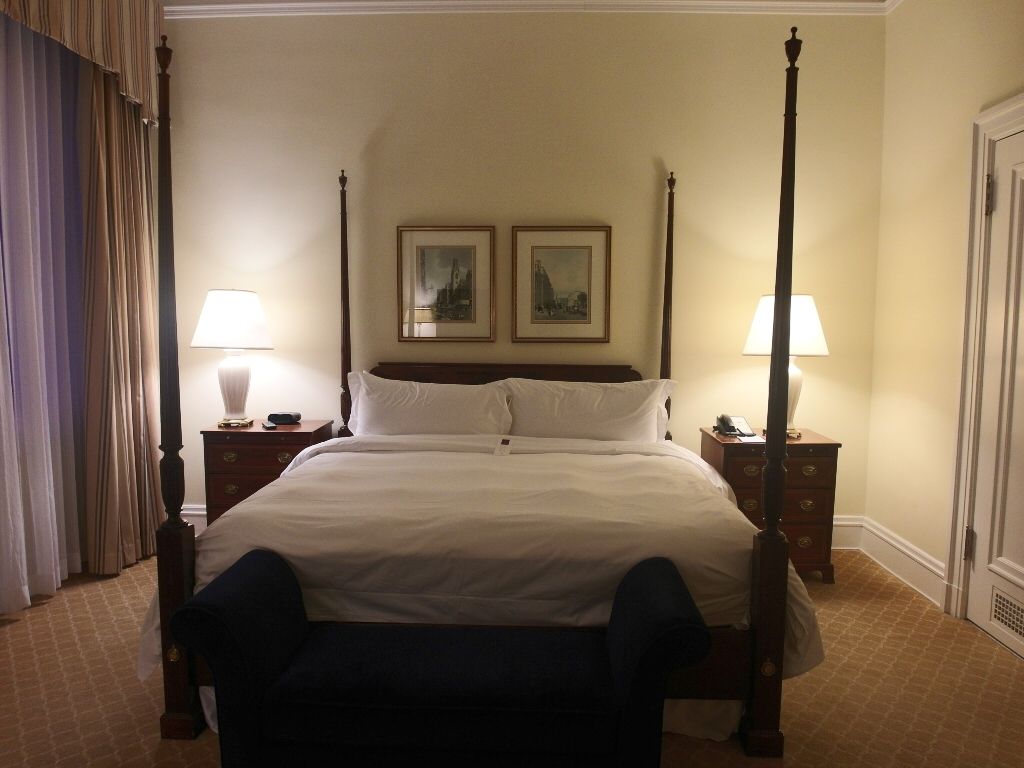 Huge King Size Bed in Suite of Palace Hotel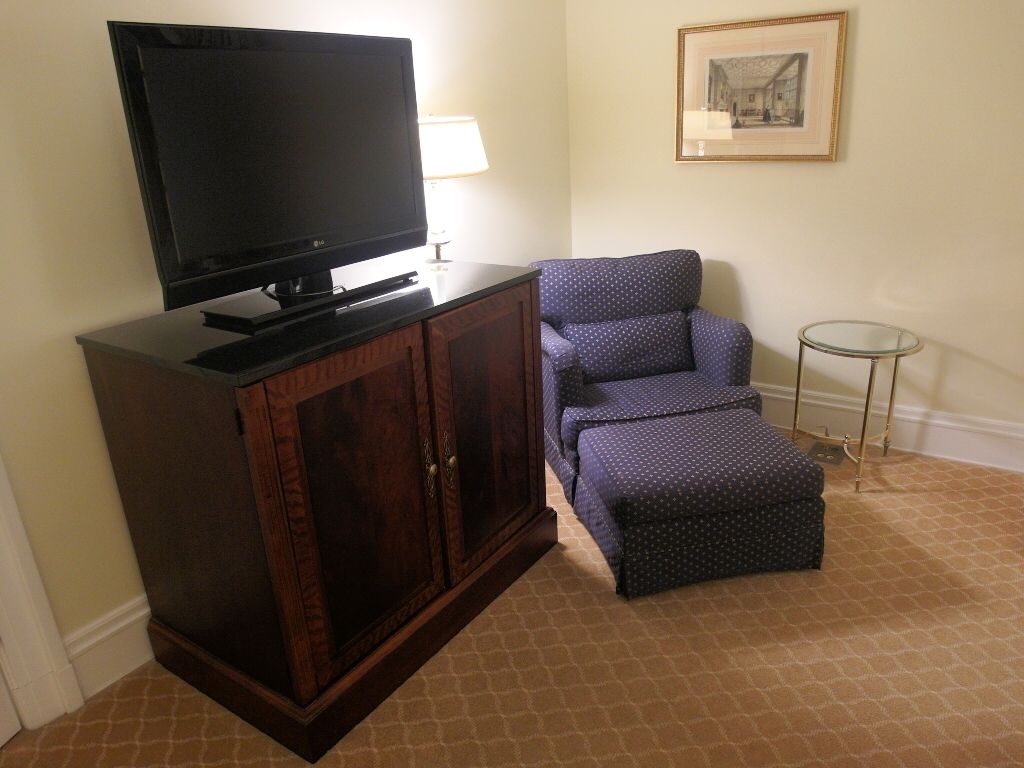 Comfy Couch in the Bedroom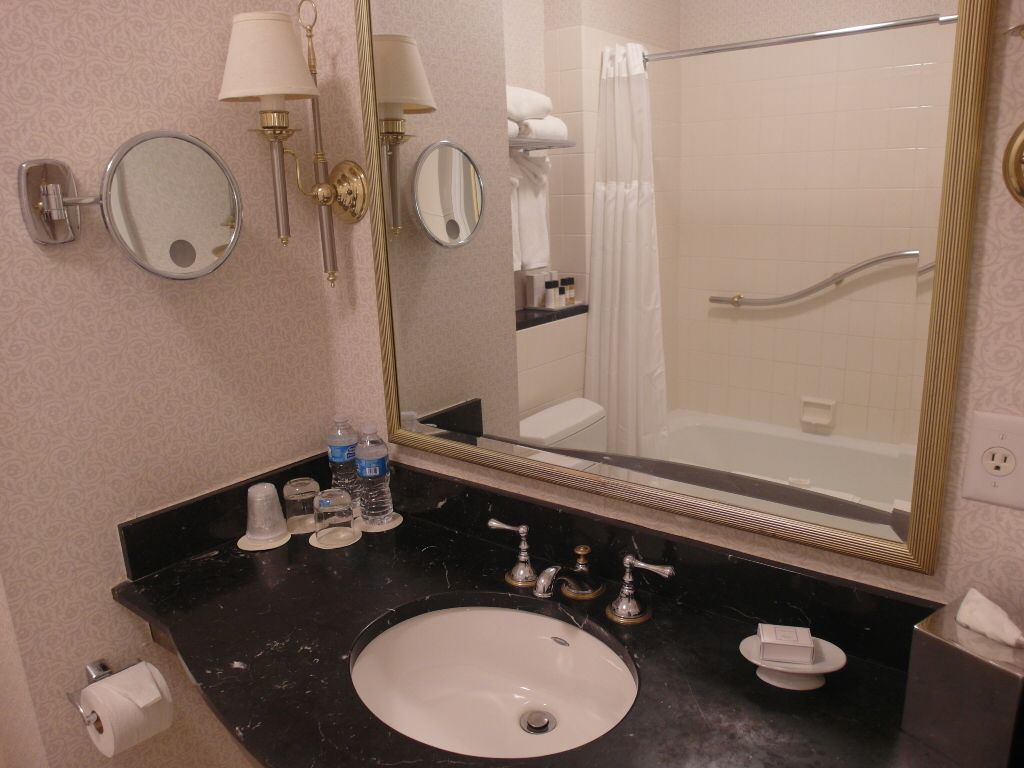 Bathroom of Deluxe King Suite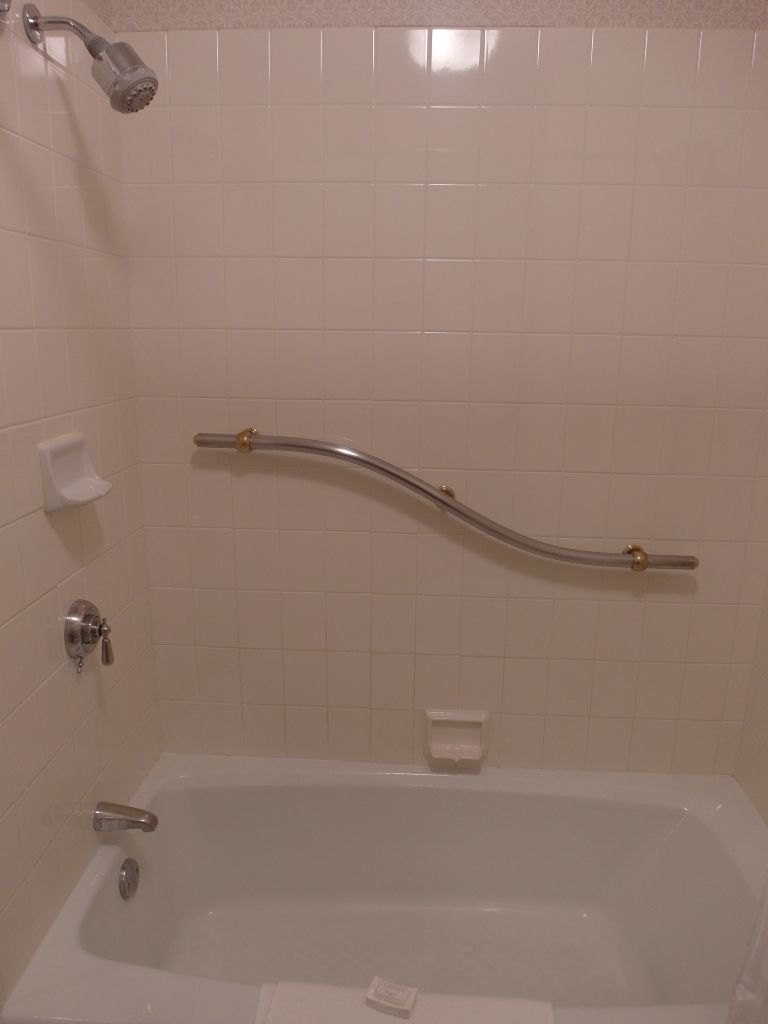 Bathtub in the Deluxe Suite Palace Hotel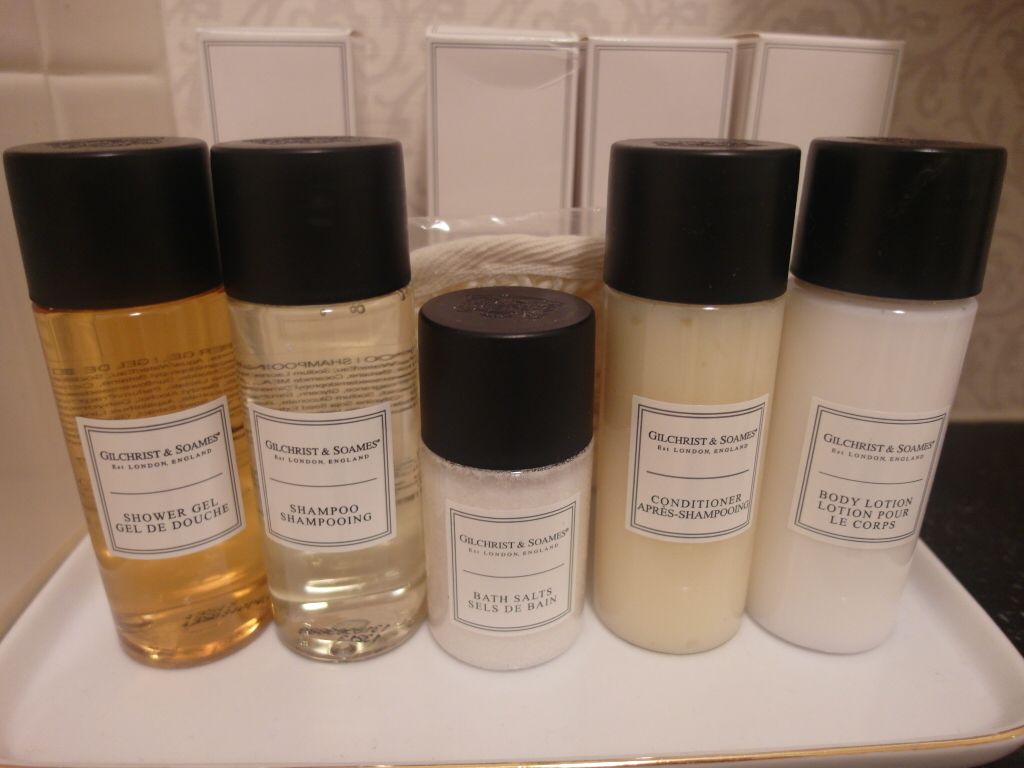 Shower Gel and Bath Salts
What we love about the room is its privacy. Because of its entrance (small little area where you leave your shoes), you have a distance away from the other rooms, giving you tranquility in your room. The other thing we love about the room is of course its size. We had ample space on the desk for our nightly summary, snack and watch some TV in the living room and lie down on our bed, again with the TV on! Yeah, sometimes we wonder if we're travelling or just going to US to watch TV :p
Facilities at Palace Hotel San Francisco
Gym and swimming pools are a common fare at classy hotels such as the Palace Hotel in San Francisco. But the cool thing about the fitness centre at Palace Hotel is its sunroof…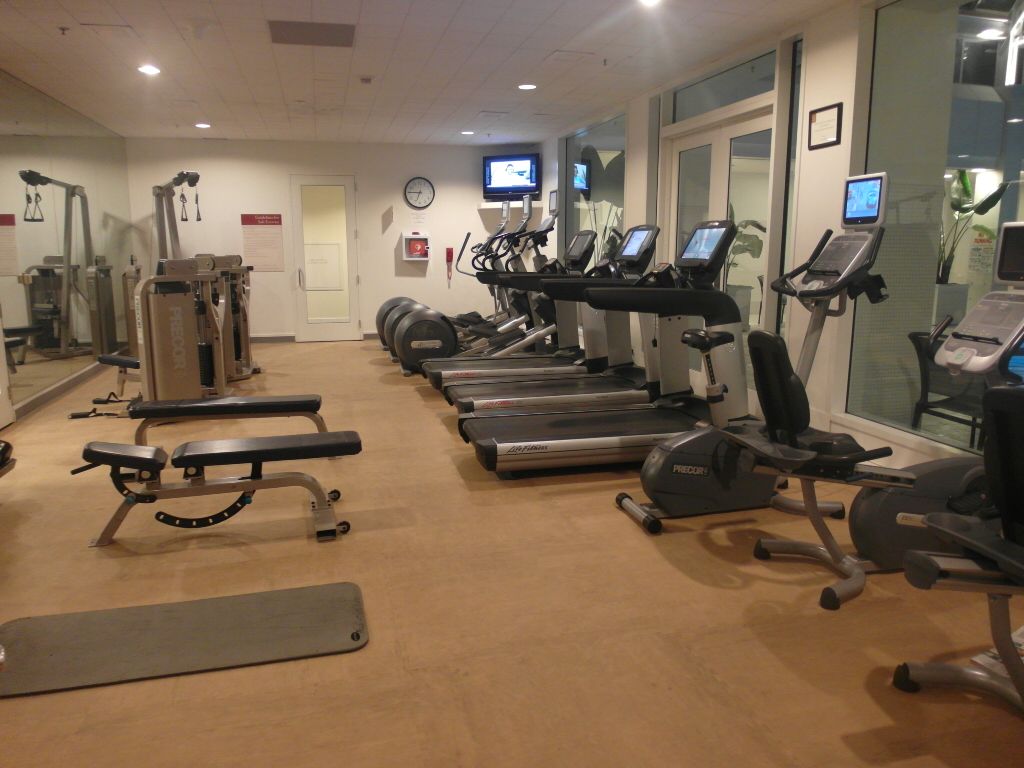 Gym overlooking swimming at Palace Hotel

Swimming pool on 4th floor of Palace Hotel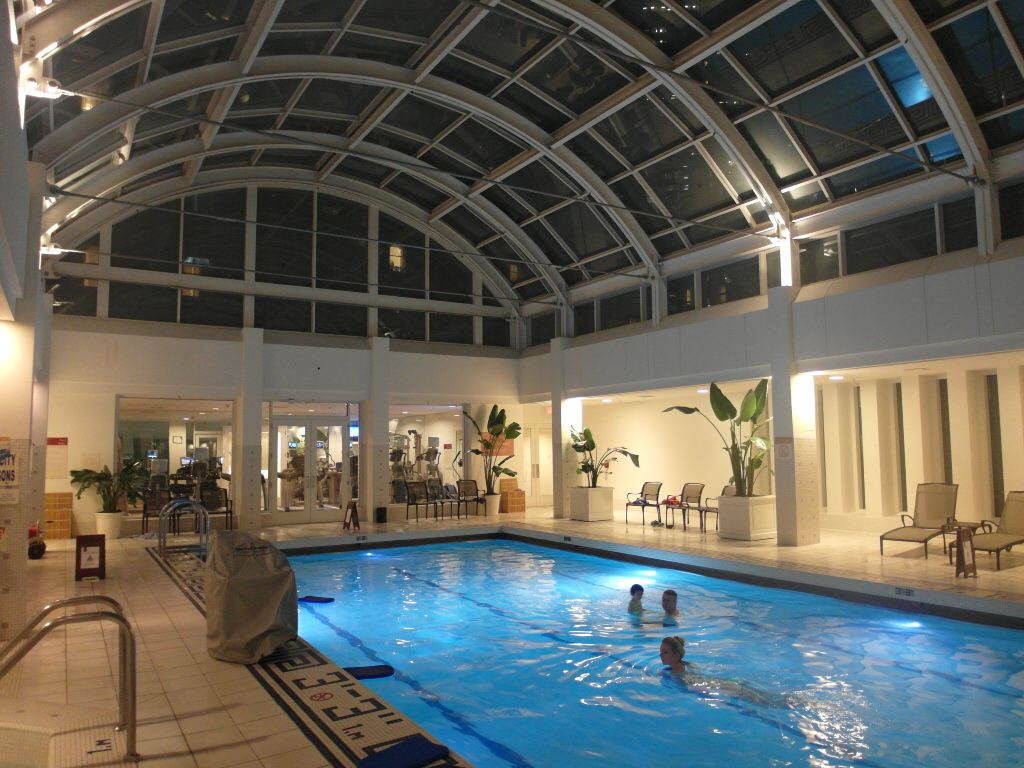 Another view of the swimming pool with gym in the background
The cool thing about the sunroof is of course its view during the day and here it is…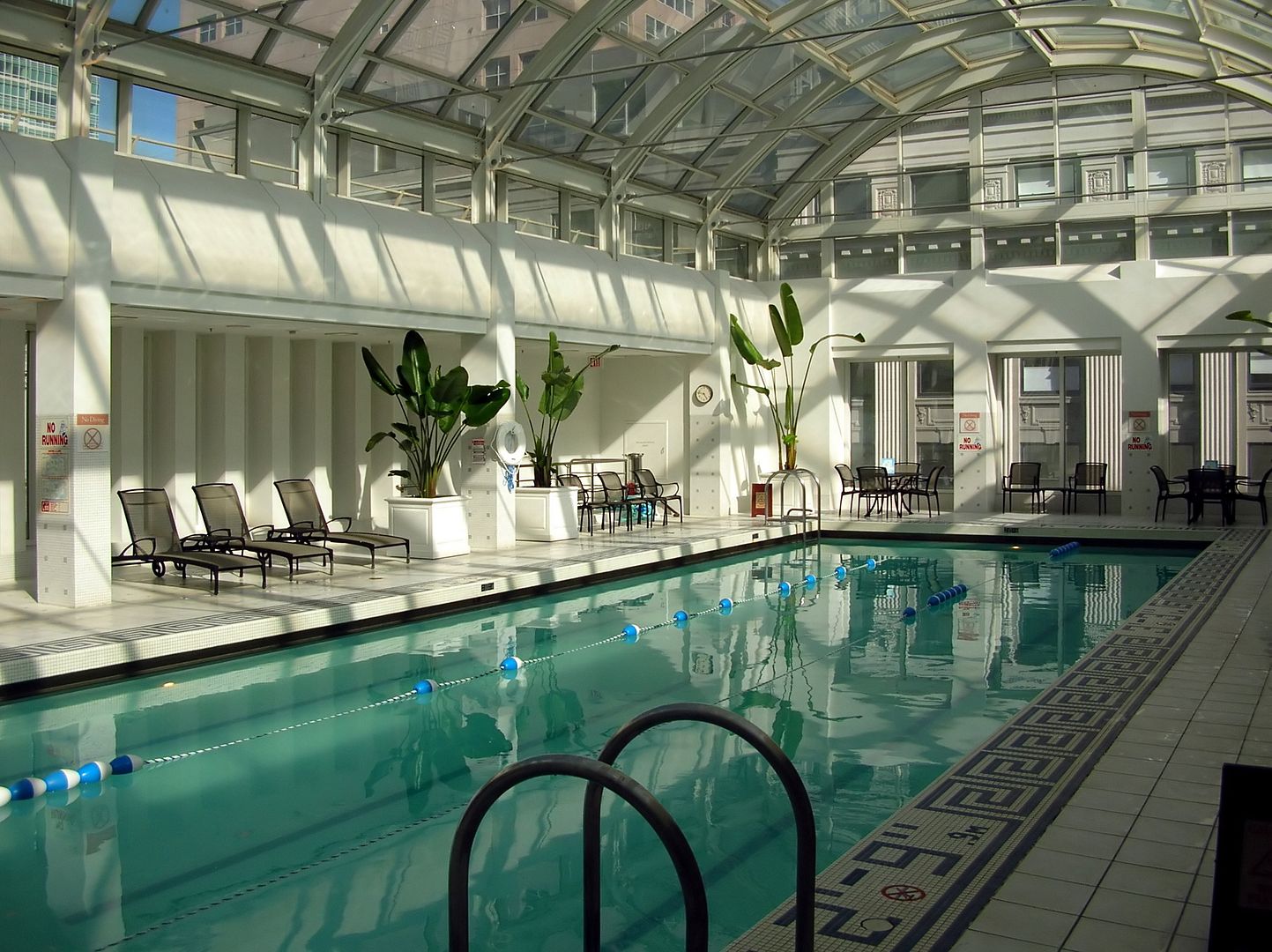 Palace Hotel San Francisco Swimming Pool Daytime
In addition to the facilities, Palace Hotel has 2 other cool hang out places at the ground floor of its premise. Known as the Pied Piper Bar & Grill, it is named among the 7 finest bars IN THE WORLD! This is along the ranks of Ritz in London, the 21 Club in New York and the La Floridita in Havana. In that respect, the Pied Piper Bar sets the standard in opulence and elegance, definitely a place you want to check out when you're in San Francisco.
Of course, the other venue is the Ghirardelli Chocolate Company right round the corner of the building. We had the Sea Cliff "Treasure" Sundae (with cookie at the bottom) and it was definitely one of the best sundaes we've had. With the rich chocolate from Ghirardelli, it totally puts a different spin to the common term "Chocolate Sundae".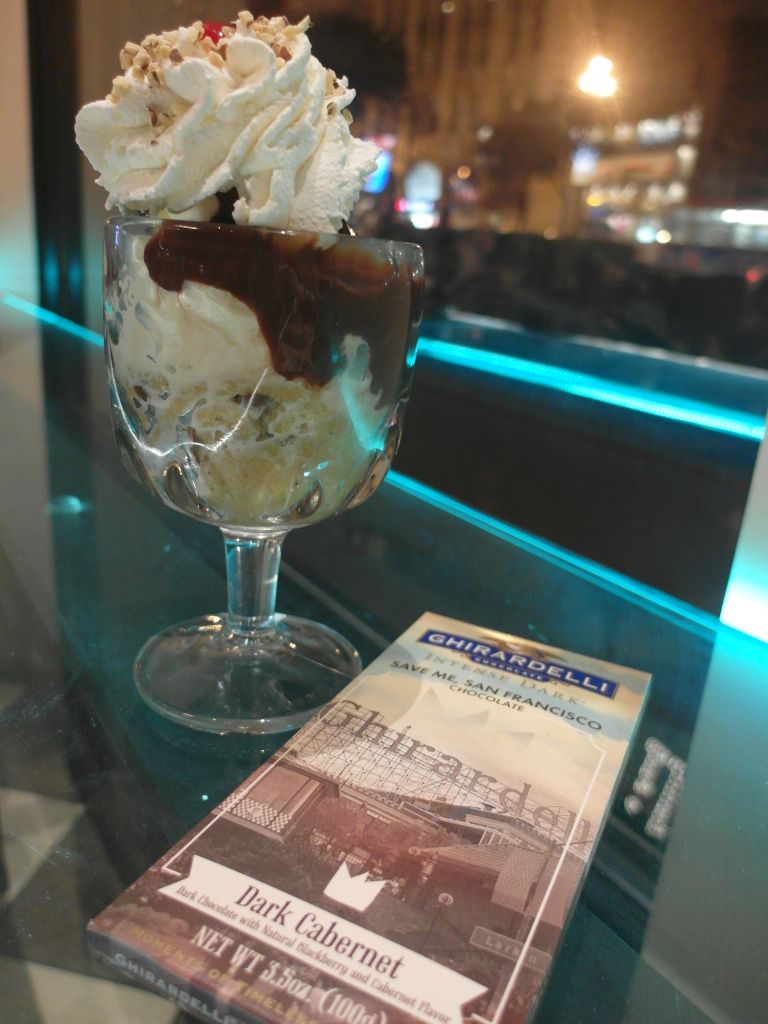 Sea Cliff Sundae with warm Ghirardelli cookie at the bottom of the sundae
Created in 1852, Ghirardelli is today a familiar name for gourmet chocolate in San Francisco. Here's a quick snapshot of the history of Ghirardelli…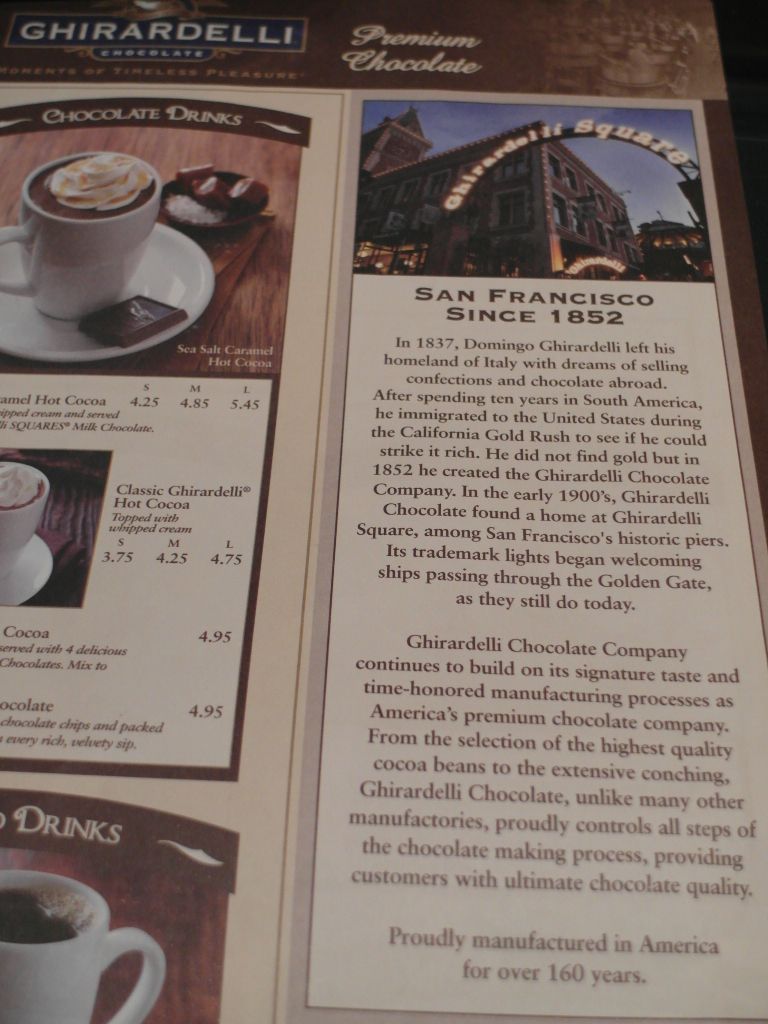 History of Ghirardelli Chocolate Company
Conclusion
After staying at the Palace Hotel San Francisco, you'll realise that there's really few places that can compare with this hotel that mixes history, class and luxury all in one. What's more, the location of the hotel is simply unbeatable – walking distance to Union Square, Chinatown and along the Market Street where the historic F-line plies.
A hotel recommended for all visitors to San Francisco!
If you enjoyed our content, "Like" us on Facebook Today!

Related Posts
This is part of our coverage of San Francisco, Seattle and Vancouver USA. Check out these posts if you're visiting the West Coast of USA!
Top 5 Things to do and Attractions in Vancouver Washington USA!
Top 11 Things to do and Attractions in San Francisco USA
Top 8 Things to do and Attractions in Seattle USA!
Things to do and Attractions in Eureka California!
Metropolitan Grill Seattle : Are the steaks worth it?
Seattle Underground Tour by Bill Speidel : A tour not to be missed!
Seattle Space Needle , Chihuly Garden and Glass and the Monorail to Westlake Center
World's first Starbucks in Seattle – Do not be confused!
The Crab Pot Sea Feast : A Seattle MUST TRY!
Pike Place Market : (Possibly) Seattle's Top Tourist Attraction!
What's YOU MUST DO at San Francisco's Fisherman's Wharf!
Pizza and beers at Umbria San Francisco!
Great Eastern Restaurant Chinatown San Francisco : Even Obama visits it!
The steep slopes of San Francisco : A Pictorial Post
San Francisco's "Crookedest Street" at Lombard Street!
Scenic Oregon Drive from Vancouver to San Francisco!
Travel Through Time with Historic Monuments at Vancouver Washington!
Vancouver Washington's Natural Wonders!
Catching Portland Winterhawks in action after Burgerville Meal!
Why You should eat at Beaches Restaurant than McMenamins in Vancouver Washington
Red Lobster….FINALLY!
Inn at the Market Seattle : All about Location Location Location!
San Remo San Francisco : Hotel with a PRIME location!
Palace Hotel San Francisco : A great mix of History, Class and Luxury!
Heathman Lodge Vancouver Washington : One of our best hotel stays EVER!
Hilton Vancouver Washington : Classy Stay & Room with a View!
For your convenience, we have arranged for the best hotel deals at Palace Hotel San Francisco right here!
* Special thanks to San Francisco Travel and Palace Hotel for hosting us to an amazing stay here and making our US trip possible!
Related posts: