Seattle's Pike Place Market is the main tourist attraction in Seattle. After walking through the market, we're not sure what's there to introduce really. But it's just the vibe and the feel that you've got to be there to enjoy the sights and smell! And because we can't depict the sounds through mere pictures, here's a video that show's the bustling Pike Place Market in Seattle!
Facade of Seattle's Pike Place Market

Pike Place Market as seen from Roof Top Garden of Inn at the Market

Night view of Pike Place Market

Feel the vibe at Pike Place Market Seattle!

Cute Map of Seattle City
Fresh produce at main level of Pike Place Market Seattle
Seattle's Pike Place Market has a mission for customers to "meet the producers". Hence, the first level are filled with shops that sells fresh produce, flowers and also the freshest catch of the day (Pike Place Fish Market) which can be delivered to any part of USA within 24 hours!

Fresh sea food at Pike Place Fish Market – Look at the size of the lobster and salmon
(in fact , look at the size of those seafood!)

Flowers sold at Pike Place Market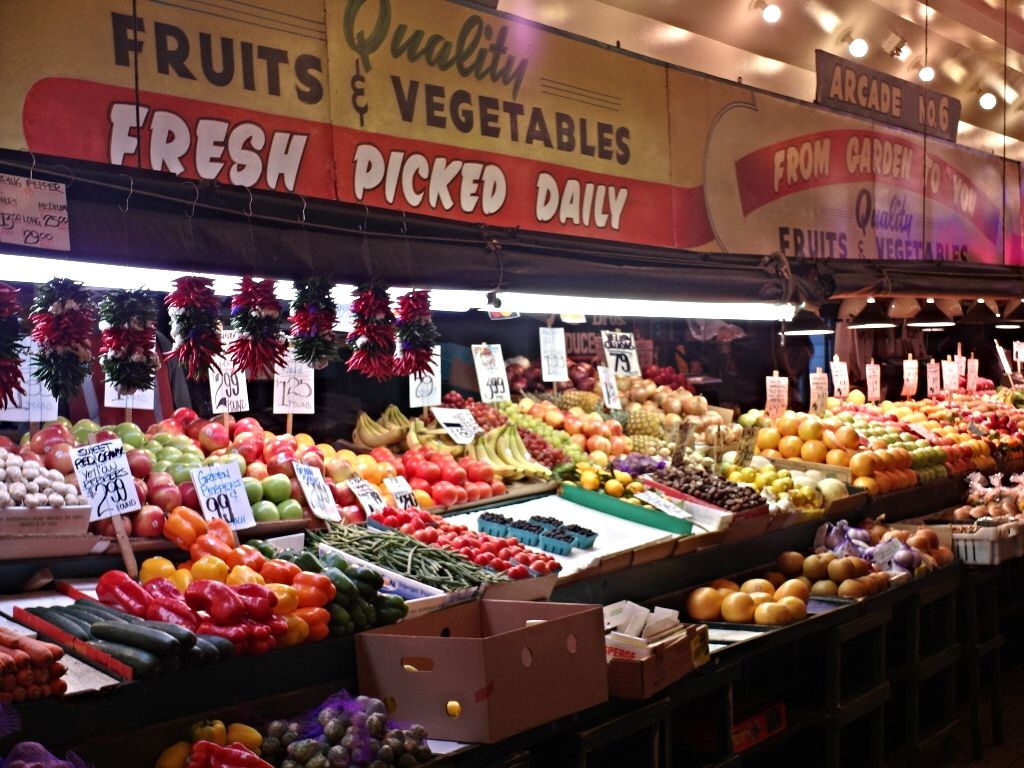 Fresh produce of brightly coloured fruits and vegetables at Pike Place Market Seattle
There are also shops where you can grab a bite and enjoy some local flavours. Restaurants include The Pink Door,Place Pigalle, Steelhead Diner, Matt's in the Market, Le Pichet, Café Campagne, Marche, Maximilien and Il Bistro and if you're here during the day, there are even more places from which to choose. Sometimes it's fun to eat while you stroll through the Market. Locals call this "Market grazing." You stop from place to place. You can get a piroshky, then a hom bow, then a gyro, then a crumpet….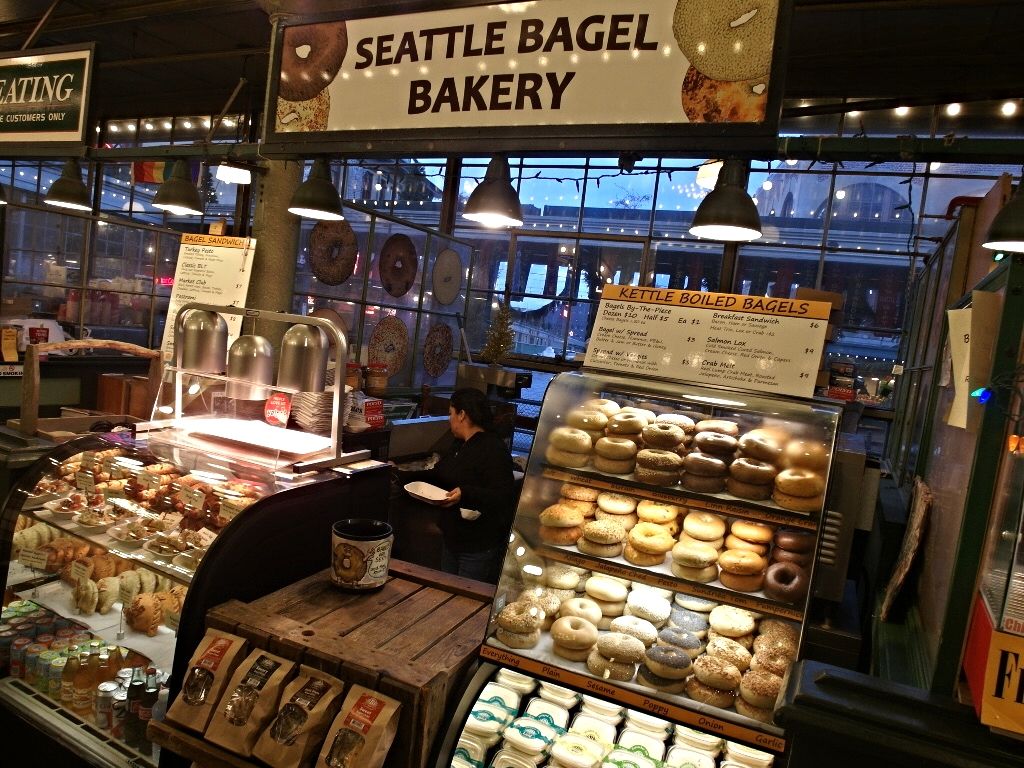 Seattle Bagel Bakery

We had the Calzone (6USD! SO EX!) with view of the ferris wheel in Seattle
Shops at the Lower Levels of Pike Place Market
On the lower levels (you'll understand the concept of 'lower levels' once you read our post on Seattle's Underground Tour), there are quaint little shops that sells a variety of stuff such as comics, magazines, art, music and little craft shops…

Old Seattle Paper Works which has covers of Life Magazine – the one in the Secret Life of Walter Mitty

Another view of shops at the lower levels of Pike Place Market
Around Pike Place Market – The Original Starbucks Cafe aka The World's first Starbucks Cafe
Diagonally across the road, you will be able to find the Original Starbucks Cafe which started right here in Seattle! But here's a funny story to tell…
While we were searching for the location of the original Starbucks, we chanced upon this one…

Starbucks adjacent to Pike Place Market
There were lots of people around taking photographs of it and the entrance with that signage looks as though this might be it. PLUS, we approached a couple taking photos of it whether this Starbucks is the original Starbucks.
They said "Yes!"
So with much excitement, we entered and the crowd inside confirmed for us that "This must be it! Let's grab a coffee from the original starbucks!" And so we ordered the Pike Place Brew…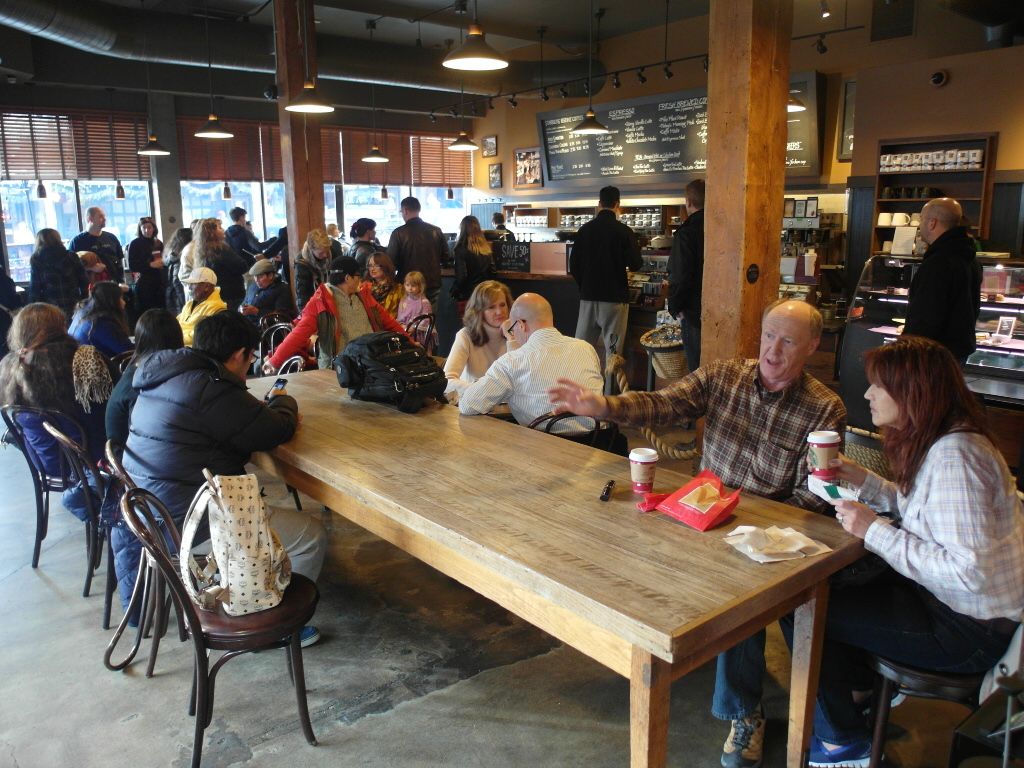 Crowded Starbucks adjacent to Seattle's Pike Place Market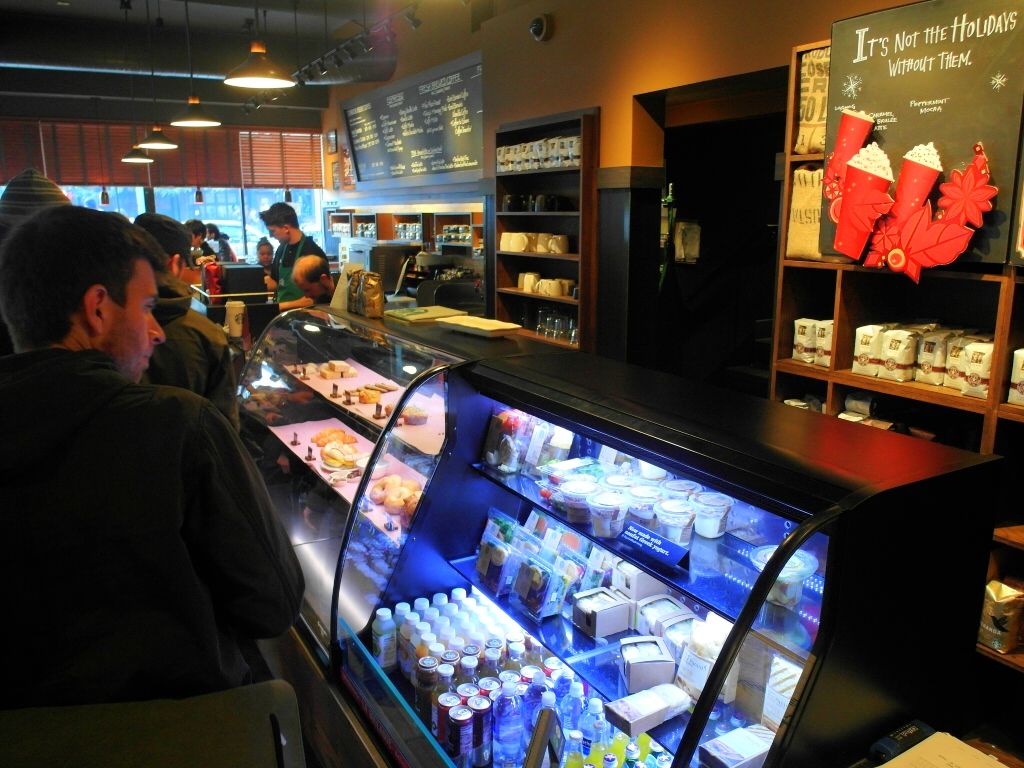 Chalk board writings as menu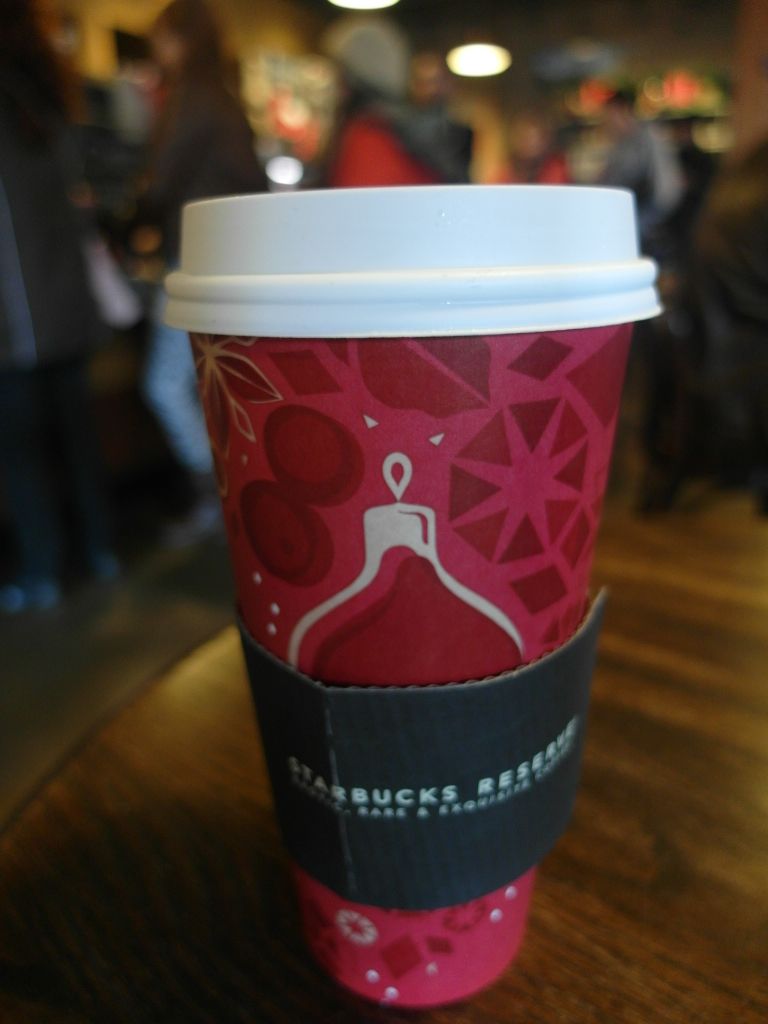 Venti Pike Place Reserve – Starbucks coffee that is only served at Pike Place Market's Starbucks
As it turns out, THIS WAS NOT THE ORIGINAL STARBUCKS! The couple we approached were equally lost!
This, is then the original starbucks cafe that started in Seattle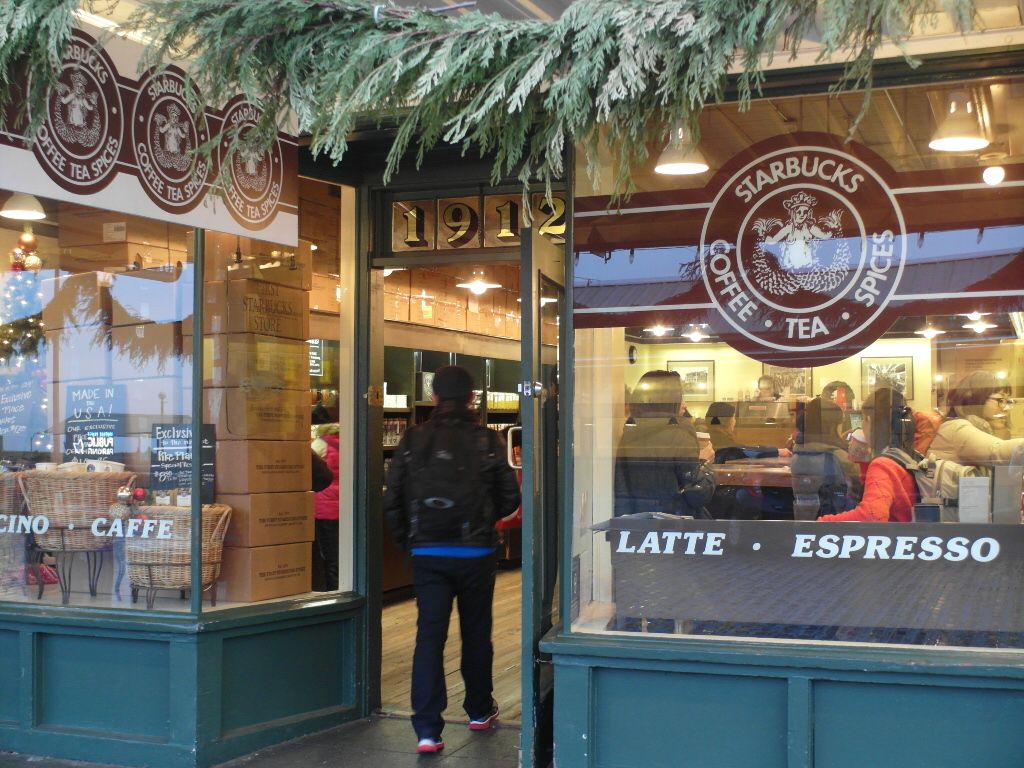 Entrance of the Original Starbucks in Seattle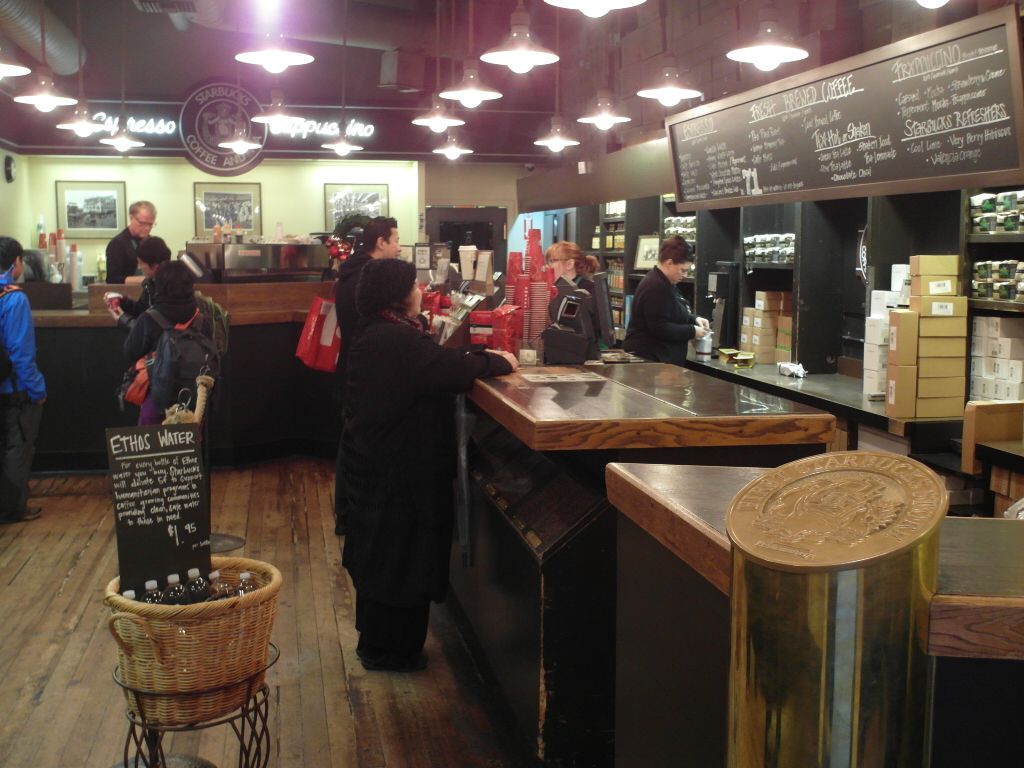 Inside the first starbucks coffee of seattle
Well, the truth is, even this is not the original starbucks. The original starbucks was located at 2000 Western Avenue from 1971–1976 and was since relocated to this current location at 1912 Pike Place Market.
BUT they only started to brew coffee here. So technically, 1912 starbucks (not the year it started) is the original starbucks that brewed coffee!
If you enjoyed our content, "Like" us on Facebook Today!

Related Posts
This is part of our coverage of San Francisco, Seattle and Vancouver USA. Check out these posts if you're visiting the West Coast of USA!
Top 5 Things to do and Attractions in Vancouver Washington USA!
Top 11 Things to do and Attractions in San Francisco USA
Top 8 Things to do and Attractions in Seattle USA!
Things to do and Attractions in Eureka California!
Metropolitan Grill Seattle : Are the steaks worth it?
Seattle Underground Tour by Bill Speidel : A tour not to be missed!
Seattle Space Needle , Chihuly Garden and Glass and the Monorail to Westlake Center
World's first Starbucks in Seattle – Do not be confused!
The Crab Pot Sea Feast : A Seattle MUST TRY!
Pike Place Market : (Possibly) Seattle's Top Tourist Attraction!
What's YOU MUST DO at San Francisco's Fisherman's Wharf!
Pizza and beers at Umbria San Francisco!
Great Eastern Restaurant Chinatown San Francisco : Even Obama visits it!
The steep slopes of San Francisco : A Pictorial Post
San Francisco's "Crookedest Street" at Lombard Street!
Scenic Oregon Drive from Vancouver to San Francisco!
Travel Through Time with Historic Monuments at Vancouver Washington!
Vancouver Washington's Natural Wonders!
Catching Portland Winterhawks in action after Burgerville Meal!
Why You should eat at Beaches Restaurant than McMenamins in Vancouver Washington
Red Lobster….FINALLY!
Inn at the Market Seattle : All about Location Location Location!
San Remo San Francisco : Hotel with a PRIME location!
Palace Hotel San Francisco : A great mix of History, Class and Luxury!
Heathman Lodge Vancouver Washington : One of our best hotel stays EVER!
Hilton Vancouver Washington : Classy Stay & Room with a View!
For your convenience, we have arranged for the best hotel deals at Inn at the Market (30 seconds walk from the Market literally!) right here!
We hope you've enjoyed our simple coverage of the things to do at Seattle's Pike Place Market. Go to the right Starbucks yah? 😉
Related posts: