Pulau Ubin is one of the few remaining rural places in Singapore and is home to some Singaporeans who still live in Kampungs (village in Malay). Pulau Ubin (Granite Island) is located to the northwest of mainland Singapore and is one of the places that Kate has not visited before. Since it was Tom's birthday, Kate decided to arrange a trip that includes a visit to Chek Jawa as well! Unfortunately, we visited Pulau Ubin on the worst day ever in Singapore's history – the day that the haze hit 400PSI! (Ta ta ta! – eerie background music)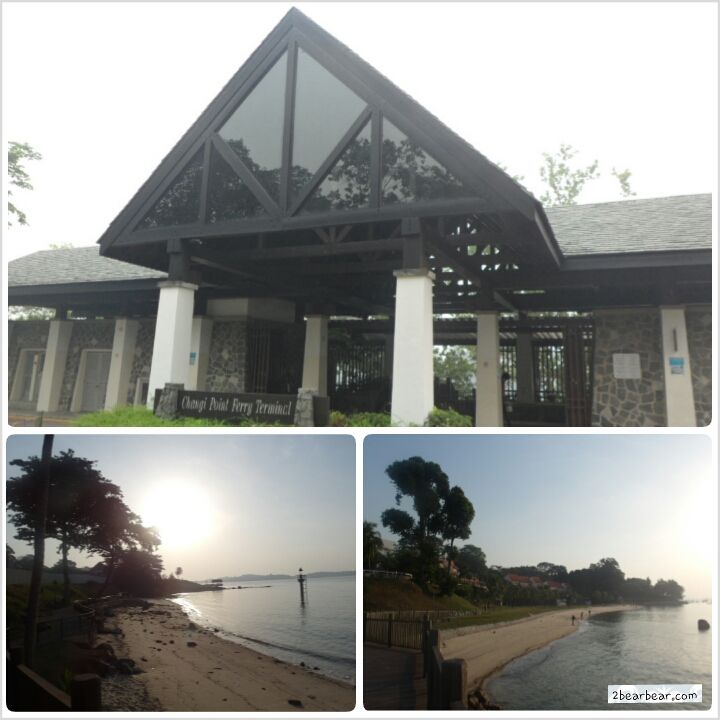 Changi Point Ferry Terminal
To get to Pulau Ubin, you will have to take a ferry from Changi Point Ferry Terminal. The ferry ride from main land Singapore to Pulau Ubin takes about 10 minutes and costs $2.50 per person per trip. So it is $5 for a return trip per person.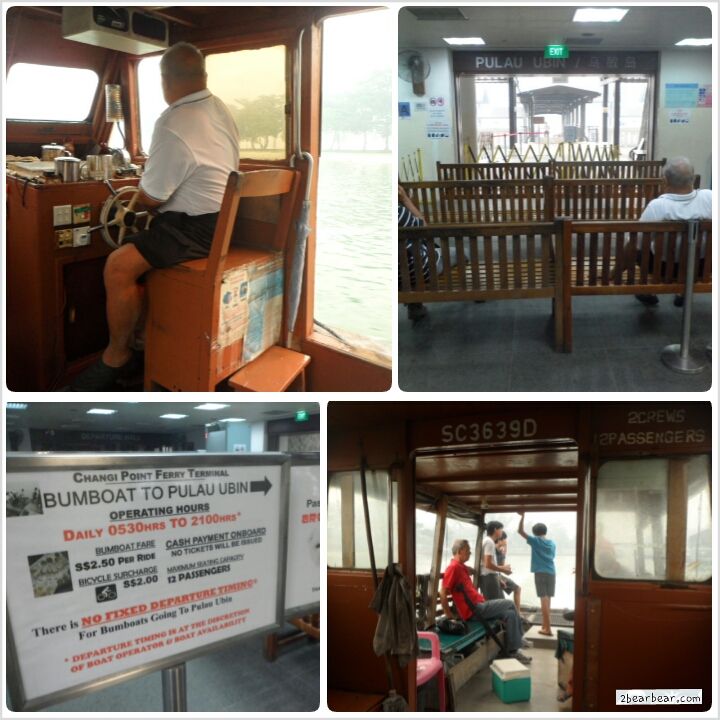 Ferry to Pulau Ubin from Changi Point Ferry Terminal
The catch is, THERE IS NO SCHEDULED DEPARTURE! You will have to wait patiently on one of these benches (see Uncle sitting on the bench?) and wait for 12 people to take the ferry together. I think we were relatively unlucky because we waited for an hour from 8 to 9am. Apparently, we just missed the ferry when we reached at 8am – but the prata / murtabak breakfast was really worth it (this we will discuss in the next post). Heh. Alternatively, you may wish to "book the entire ferry" by paying $30 for a single trip to Pulau Ubin.
Since we visited Pulau Ubin on the day the PSI hit 400, the ferry ride to Pulau Ubin was "exceptionally exciting"! Did you notice the visibility from the ferry in video? Almost ZERO! AND…the uncle was steering "hands-free" sometimes and drinking water with both hands, making the ferry ride more "thrilling" than it ought to be…
Well, actually Uncle's steering was quite good and we had a smooth experience coming alongside Ubin. Soon we reached the entrance to Pulau Ubin!
Things to do at Pulau Ubin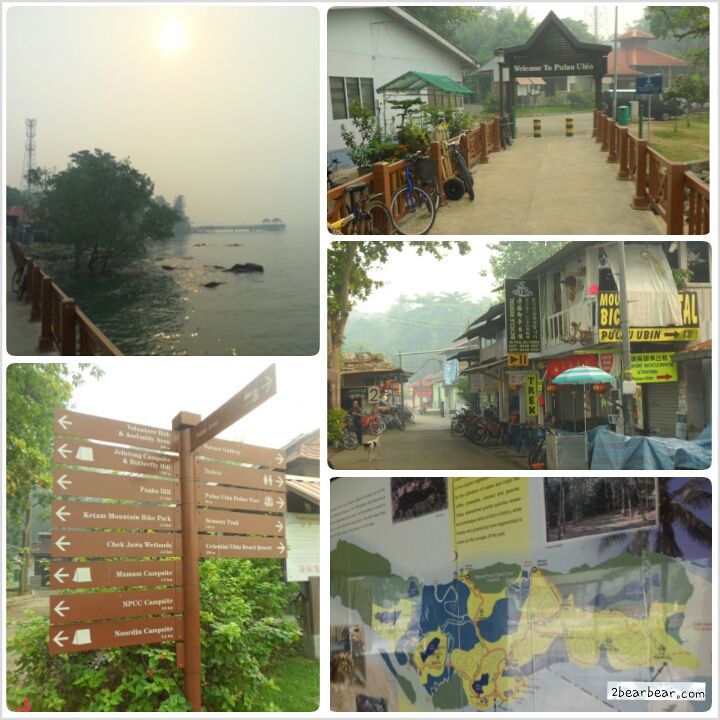 Entrance to Pulau Ubin
After passing through the entrance and making a left turn, you will come upon the kampung itself. From the shops along the street, you can see that time has actually stopped in the 1970s – one of the beauties of this island. Most of these shops are bicycles shops or eateries.
It is also very easy to navigate Pulau Ubin. In fact, there are brown signs like these showing the directions/distances to the various attractions on the island.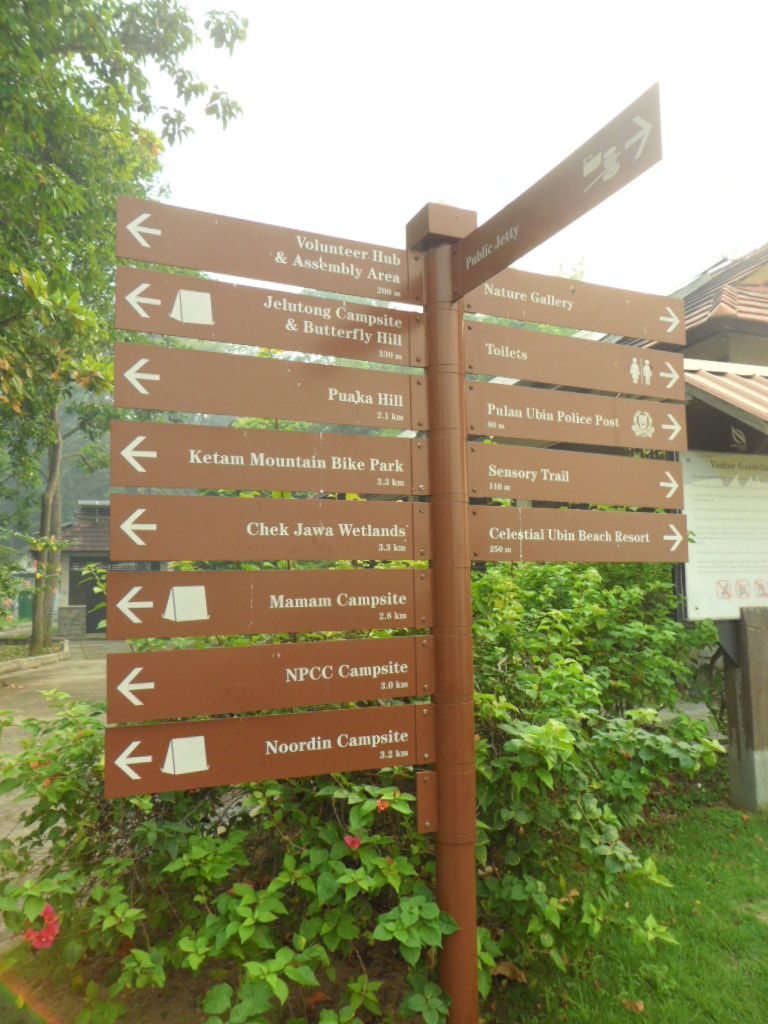 Signs on Pulau Ubin
There are 3 main modes of transport on the island of Pulau Ubin.
The van is the fastest and costs $2 per person per ride. Bicycles costs $3 (and up) and is the most well-loved manner of exploring the island. The last mode…WALK! And walk we did to Chek Jawa, all 3.3 kilometres of it! Yes, the distance to walk from Pulau Ubin jetty to Chek Jawa mangrove/coastal board walk is 3.3km!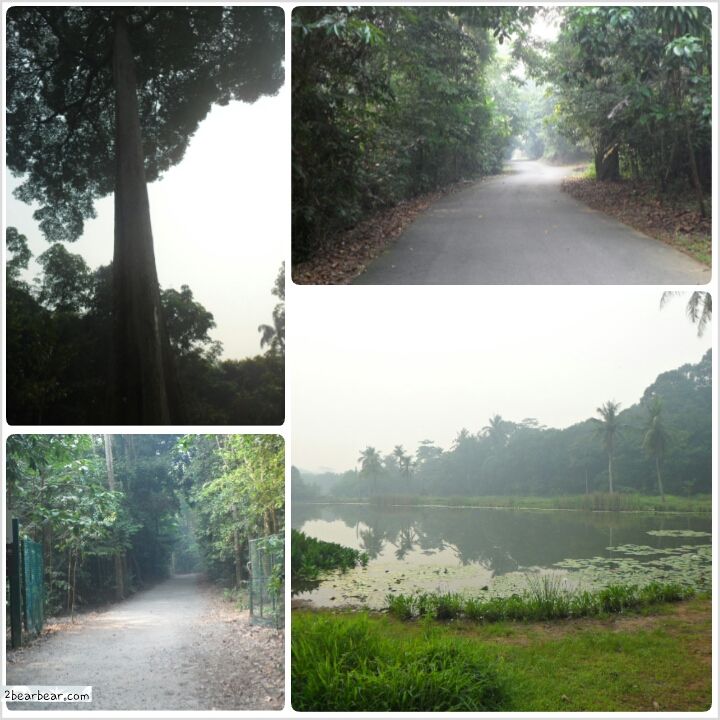 Views along the way to Chek Jawa
Pulau Ubin was an island where quarrying and mining of granite used to be the main stay. Along the way, mining ceased but the quarry sites became lakes (quarry lakes) which you see today (bottom right hand corner of picture above).
What to see at Pulau Ubin Chek Jawa
After walking for about 40 minutes, we finally came to the entrance to Chek Jawa's board walks. However, there were WILD BOARS at the entrance to the mangrove board walk! According to the safety caution sign for wild boars, you will just have to walk slowly, not have any sudden movements as you cross them. However, since Kate was afraid of the wild boars, we avoided the board walks at first and visited the Chek Jawa visitor centre…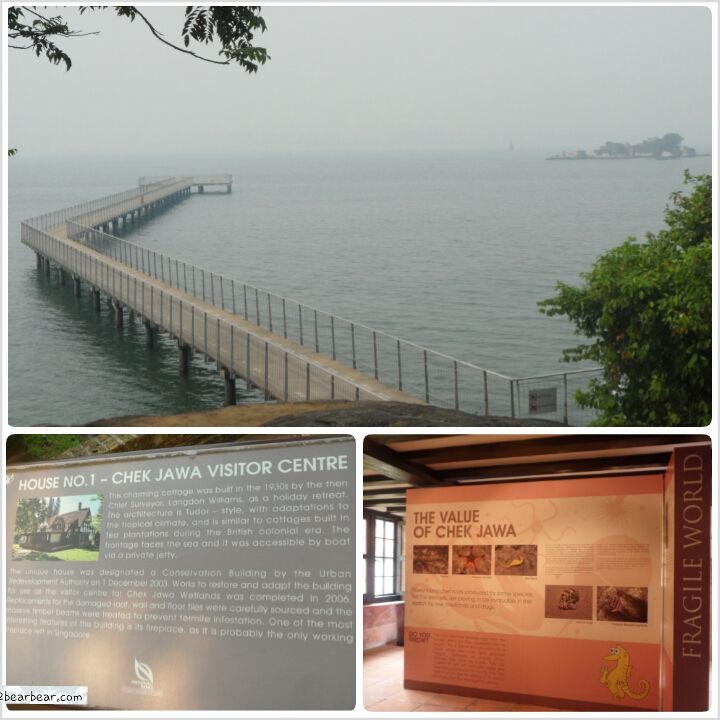 Chek Jawa Visitor Centre
The Chek Jawa Visitor Centre is located inside "House No. 1" – a beach front holiday house of a former government official during the colonial era. Inside, you'll be introduced to the history of Chek Jawa as well as the rich bio-diversity that it offers. The visitor centre is also connected to the viewing jetty. On a clear day, you can enjoy great views of Chek Jawa as well!
As we stepped out of "House No. 1", a baby wild boar spotted us and scampered away really quickly into the bushes! We were just as startled as it was! Then we noticed its family blocking our path back to the mangrove boardwalk! Hence, Kate closed her eyes and hugged close to me while I led her slowly and calmly past the wild boars!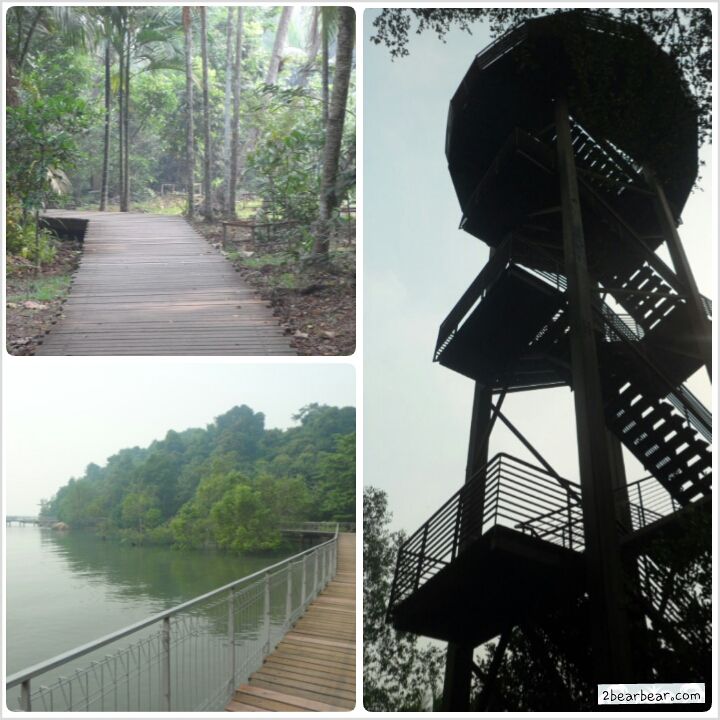 Pulau Ubin Chek Jawa Mangrove Boardwalk
As you enter the board walk, you will notice a really tall tower. You can ascend it and enjoy cool sea views. But the climb itself is quite tiring and the tower sways a little. And if you are afraid of heights, we advise you not to do the climb because you can see through the steps to the ground level…scary sia…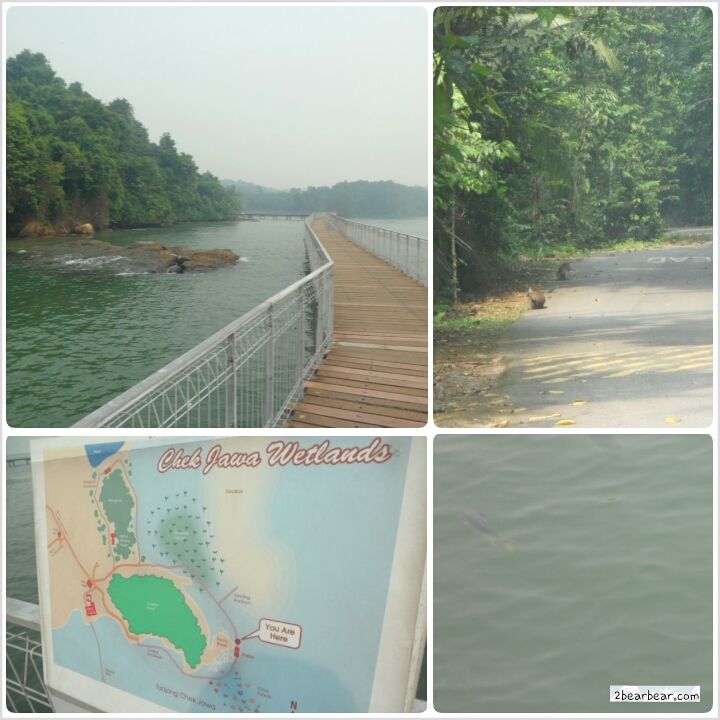 Chek Jawa Board Walk
As you walk along the boardwalk of Chek Jawa, you will be able to see the marine bio-diversity that it offers. Of course, the best time would be to visit during the low-tide where you can see hermit crabs, star fish and many other marine life forms! Unfortunately, we visited when it was high tide. However, we did catch several schools of fish of different species. LOTS OF THEM!
After visiting Chek Jawa, we began to walk back to the Ubin jetty. Guess what?! We saw monkeys and monitor lizards along the way! Hence, on this first visit for Kate, she saw all 3 natives of the island of Pulau Ubin – wild boars, monkeys and monitor lizards!
How to get to Pulau Ubin
To get to Pulau Ubin, you will have to first take the MRT to Tampines MRT station and take bus 29. After a long bus ride, you will reach Changi Point Ferry Terminal where you can take a ferry ride to Pulau Ubin for $2.5 per person per trip. However, to avoid all the travelling, why not consider a staycation at Village Hotel Changi? It is just a 3 minutes walk to the ferry terminal and you can enjoy all the facilities that the hotel offers! 2 swimming pools at that!
For your convenience, we have arranged for the best hotel deal at Village Hotel Changi right here!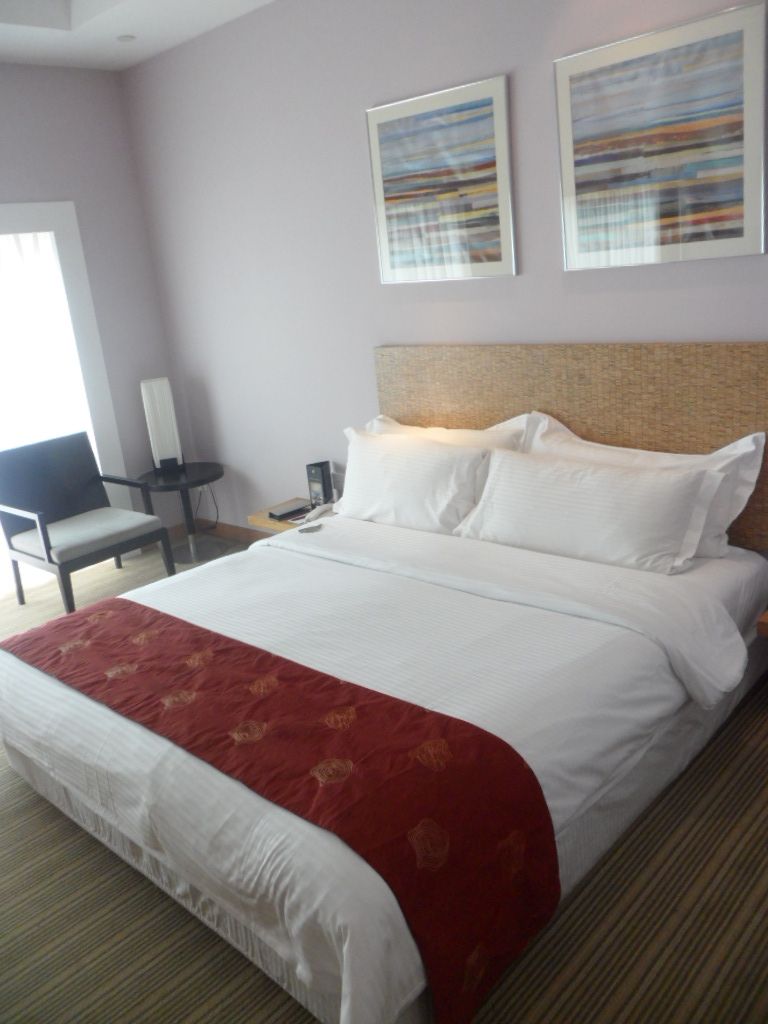 Best Hotel Deals at Village Hotel Changi!
If you enjoyed our content, "Like" us on Facebook Today!

So if you're thinking of what to do in Singapore, give Pulau Ubin and Chek Jawa a visit!
Related posts: