Today (28th October 2012) marks another milestone in Singapore's tourism calendar as the 1st ever Red Bull Flugtag Singapore took flight at Siloso Beach Sentosa!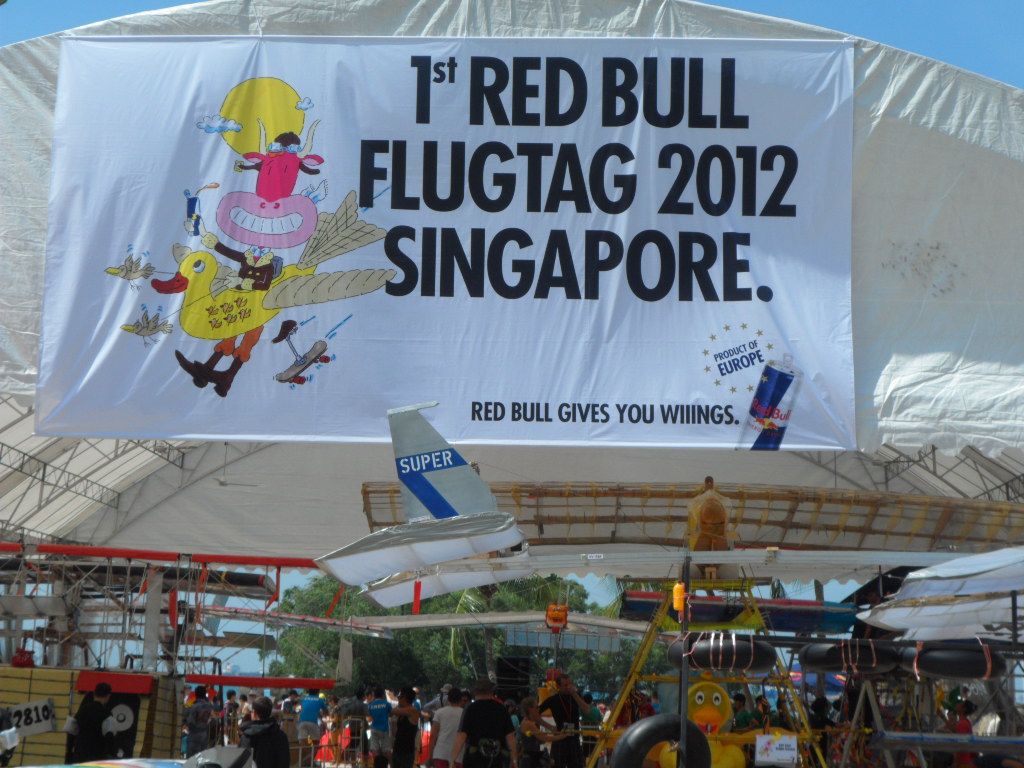 1st ever Red Bull Flugtag Singapore!
What is Red Bull Flugtag Singapore?
Well, Red Bull Flugtag (pronounced as Floog Tug – which means "Flying Day") is actually an event whereby home-made flying machines take off from a platform at a height of 6 metres. Teams of 4 are then judged not only by flight distance, but also showmanship (explaining the dance performance of teams before their flights) as well as creativity of the aircraft (resulting in this year's flying durian and prawns).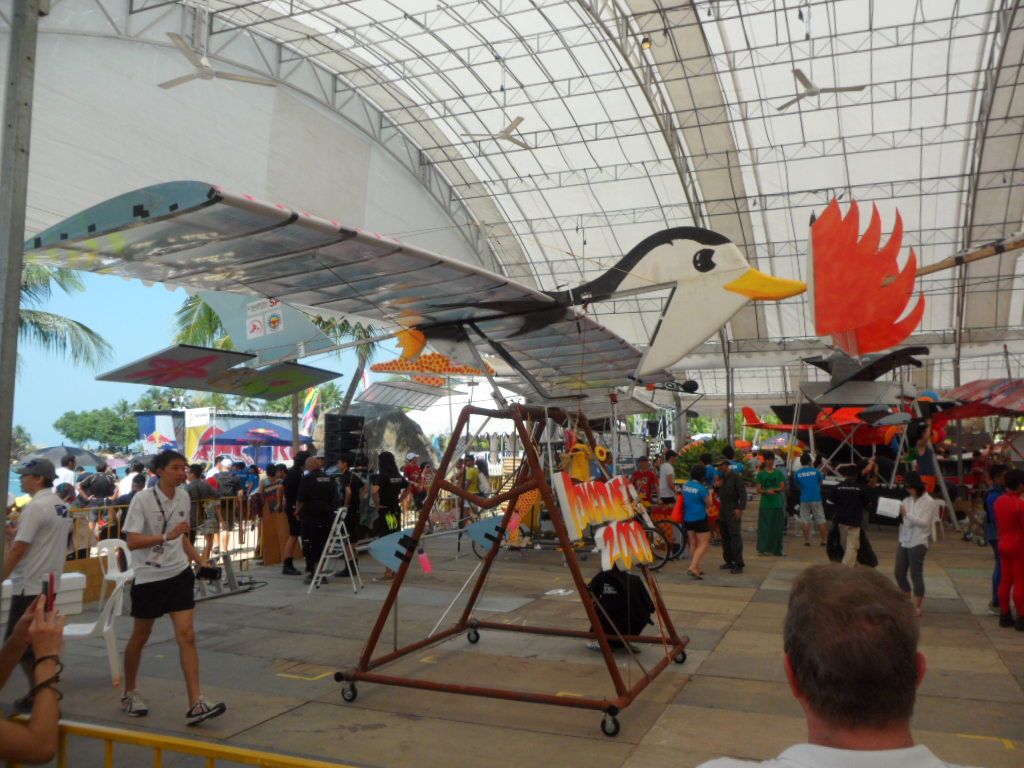 Flying bird @ Red Bull Flugtag Singapore!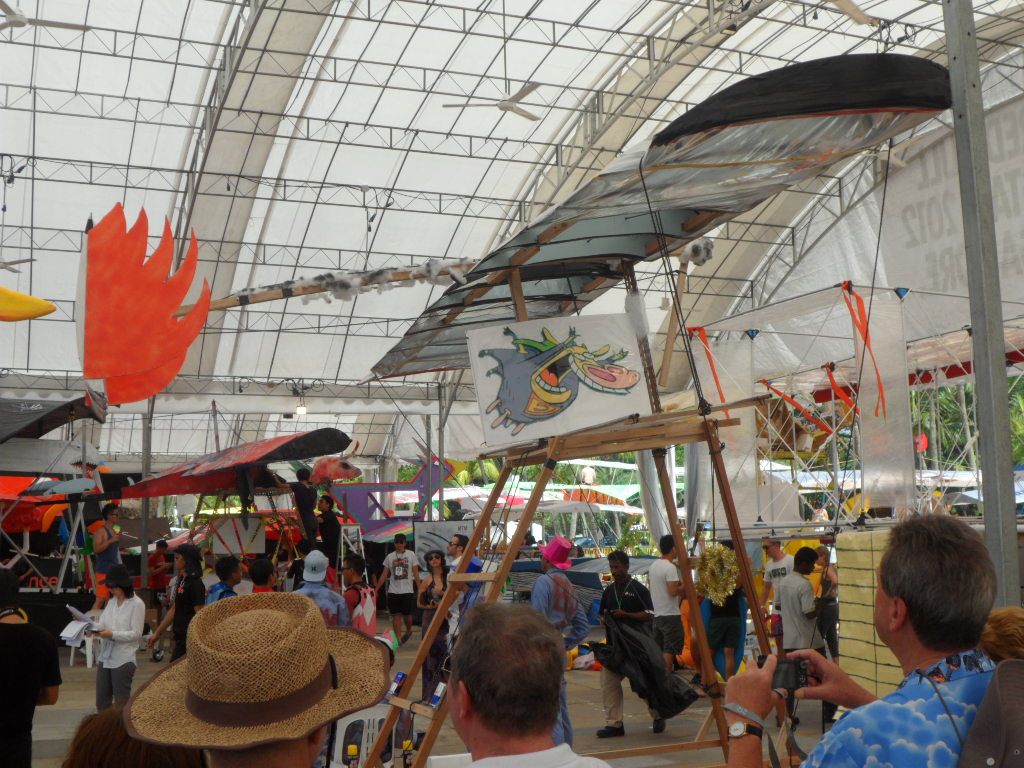 Talk about technicalities
What we actually love about the event is that it commensurates both bravery (taking off from a height of 6 metres?!) as well as brains (you really need to be creative at the same time technical to build a craft worthy to appear at the event!). At the same time, it provides loads of entertainment to the crowds who soaked in every minute of it!
About Red Bull Flugtag Singapore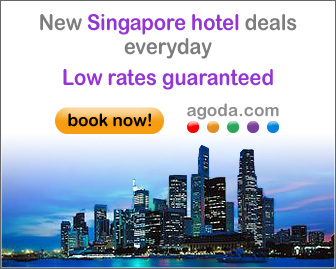 The inaugural Red Bull Flugtag Singapore took flight with 38 teams participating and the "Chick Mobile" took centre stage as it took the first ever Red Bull Flugtag in Singapore to a roaring start!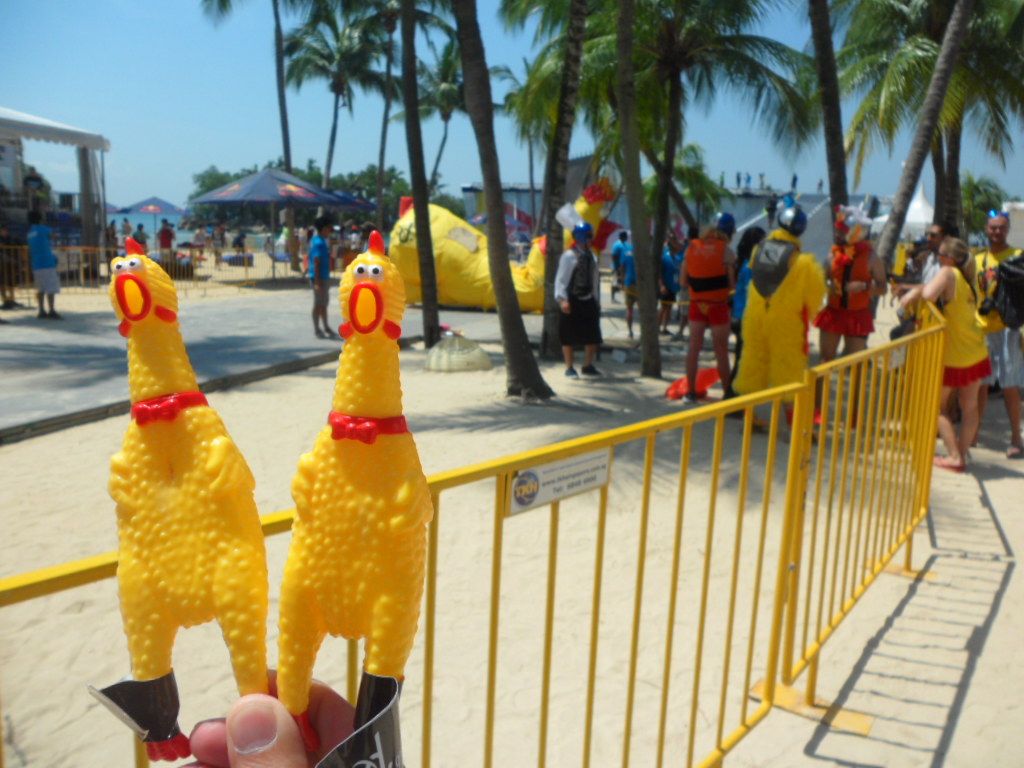 Chickmobile with its chicks sounders @ Red Bull Flugtag 2012!
Before the start of the flug tag, members of Chickmobile were seen giving out little chicks that made sounds as heard in the video! Audience were also requested to sound these chicks as chickmobile made their historic flight at Silosa Beach Sentosa!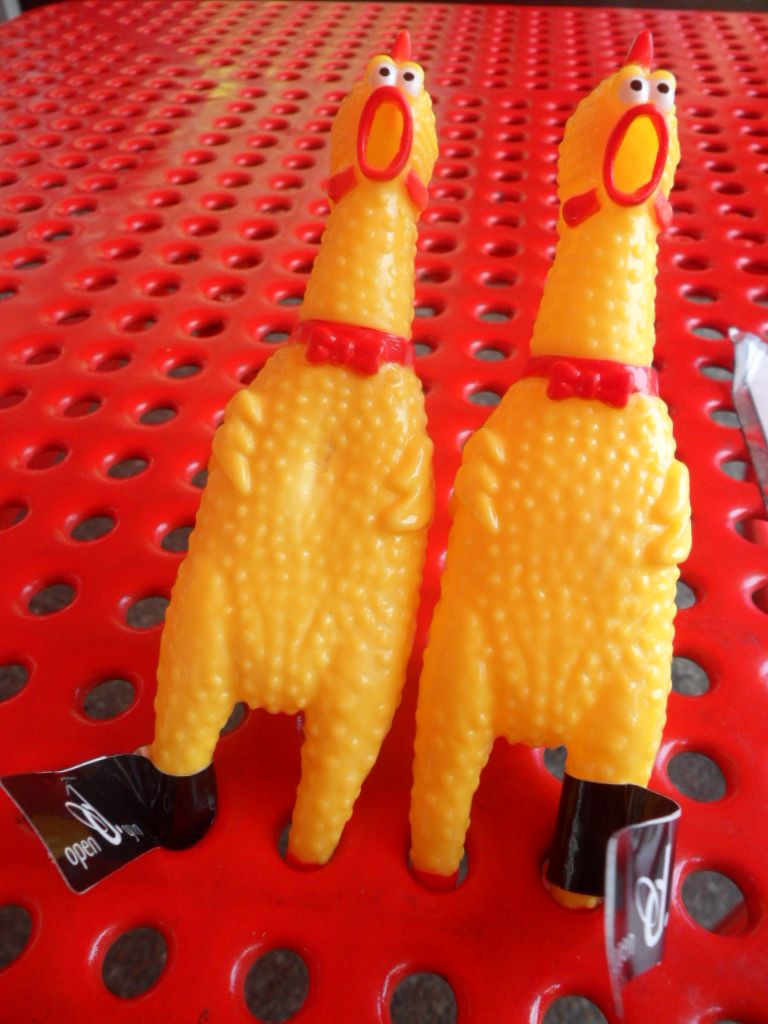 Chicks given out by crew of Chickmobile @ Red Bull Flugtag Singapore
This video shows the team getting ready and moving up the ramp towards the platform while the next team gets ready. Notice the sounds in the background! (really sounds like chickens huh?)

Chickmobile getting ready for Redull Flug Tag's inaugural flight!
Red Bull Flugtag Singapore: The first flight at the first ever!
Well, here it is, the first flight at the 1st ever Red Bull Flugtag Singapore by Team Chickmobile! As expected, it went down crashing but full points for entertainment value and courage!

First flight at Red Bull Flugtag Singapore!
Red Bull Flugtag Singapore took place from 12pm to 5pm today and the winners for this year's Red Bull Flugtag Singapore are… (*Drumrolls*)
1st Place: Team Super Sevens
2nd Place: Team Riff Raff Rubber Ruckus
3rd Place: Team Flurry Express
Prize for the Wackiest Team Performance: The Serial Flyers
The MINI Prize for the longest flight distance:
Team Amphibious Dragonfly Drone (Distance: 18.2m)
Current World Record stands at 69.79m!
Photo Gallery of Red Bull Flugtag Singapore
We will now leave you with a gallery of some of the photos taken at this year's Red Bull Flugtag Singapore!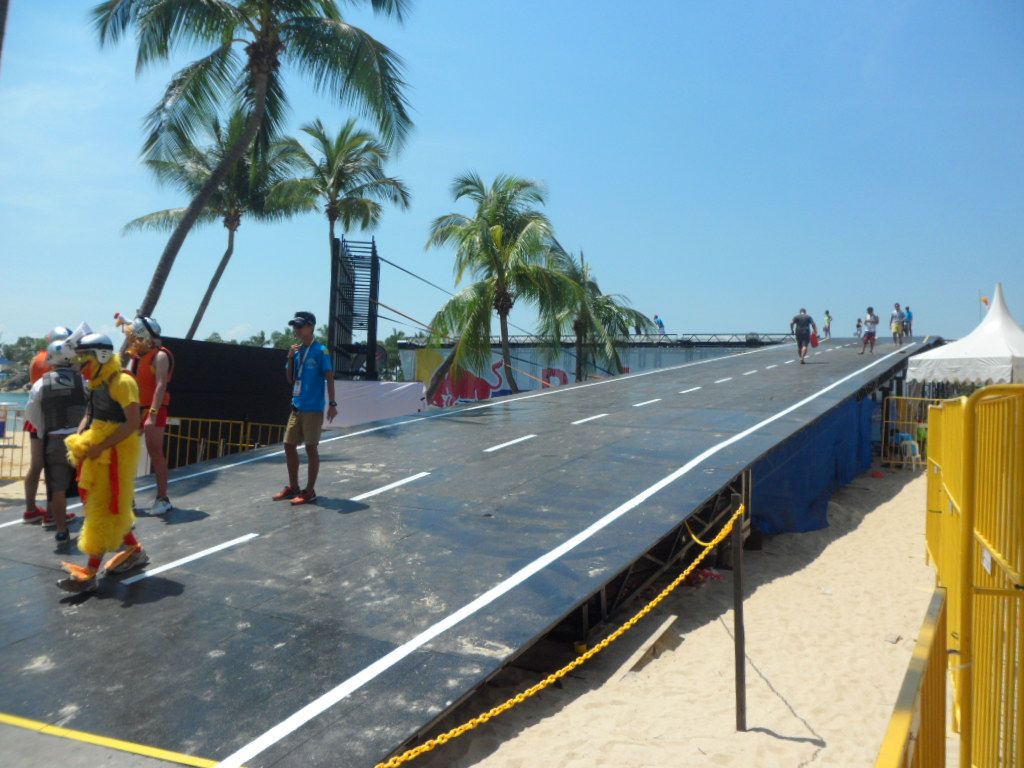 Ramp @ Redbull Flugtag Singapore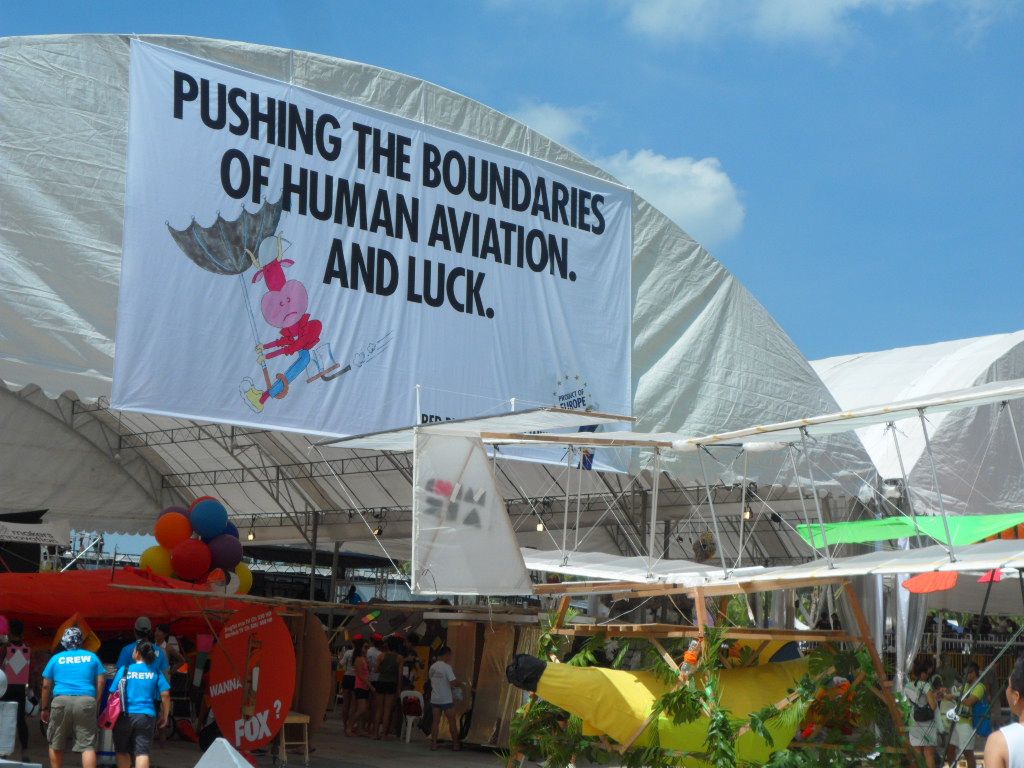 Tents where the aircrafts were held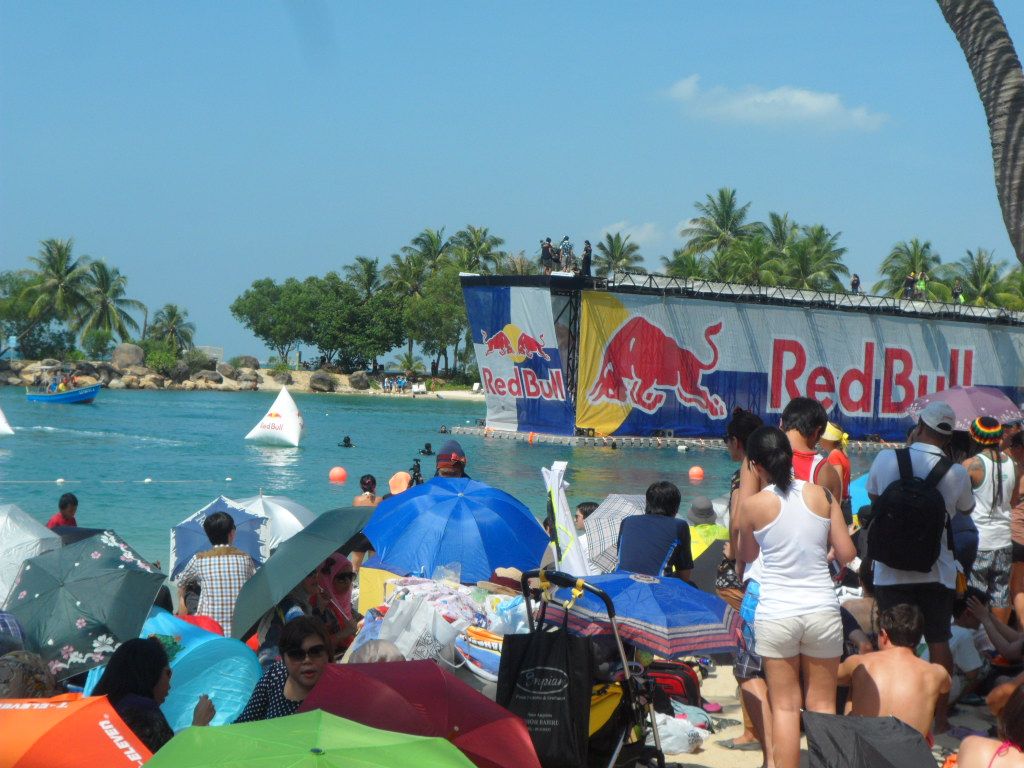 View of the 6 metres platform at Red Bull Flugtag Singapore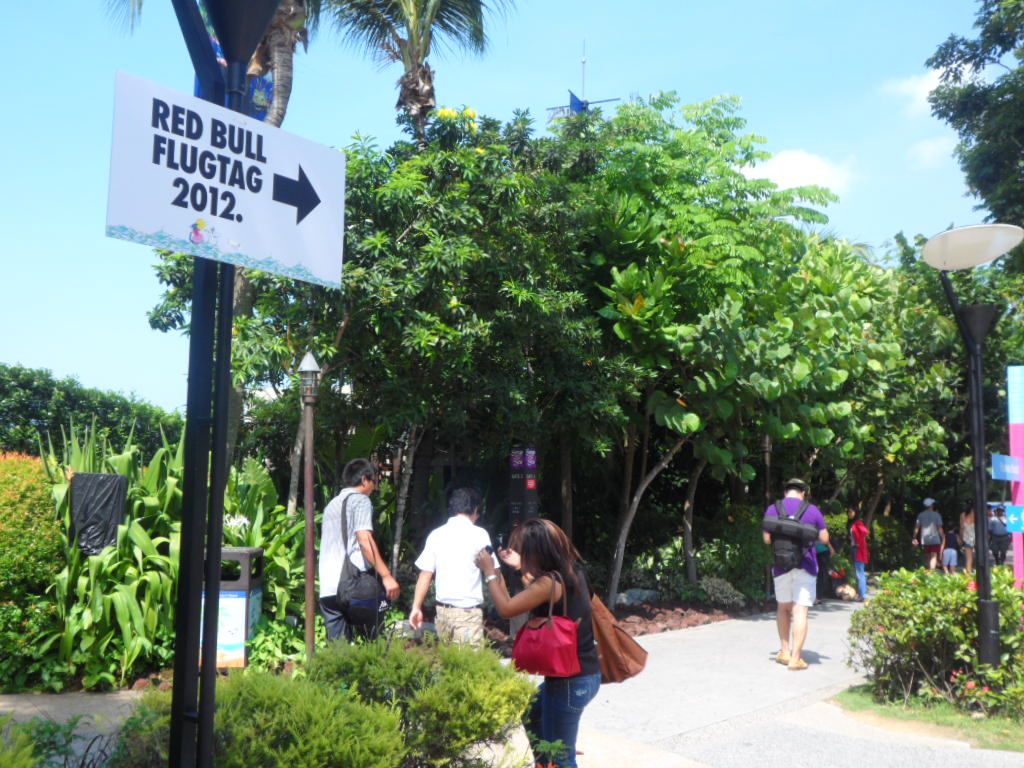 Directions to Red Bull Flugtag Singapore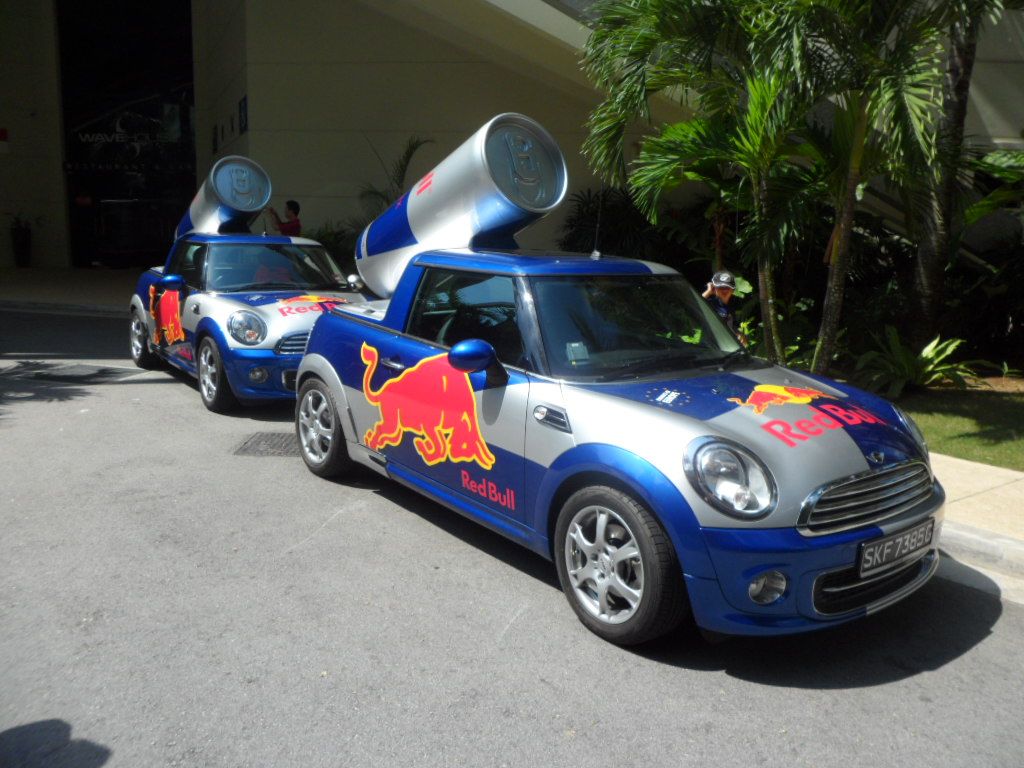 Red Bull's Mini Coopers
How to get to Sentosa
By MRT : First you will have to take the North East Line (NEL -purple colour line) to Harbour Front Station. Here you will arrive at Vivocity – one of the biggest shopping malls in Singapore
By Tram : After arriving at Vivocity, you can choose to take the tram into Sentosa which costs $3.50 The tram is available at level 3 of Vivocity
By Foot : Vivocity is connected to Sentosa via a boardwalk and if you enter Sentosa via the boardwalk, it costs only $1! Once you enter Sentosa, you can then take the Tram and buses around Sentosa! Cool eh?
By Cable Car : From Harbour Front MRT , head towards Harbour Front Tower 2. There, you can take the cable car into Sentosa for $29 and at the same time, take in inspiring views of Singapore!
By Car : You can also drive into Sentosa, entry costs between $2 to $7 and parking costs between $1 to $5. Car pool to save!
For your convenience, we have arranged for the best hotel deals in and around Sentosa right here!
If you enjoyed our content, "Like" us on Facebook Today!

If you were there at this year's Redbull Flugtag Singapore, tell us more about your experience in the comments section below!
Related posts: