If you are looking for authentic Peranakan restaurant in Malacca, look no further than Restoran Ole Sayang.
According to locals (2 ladies that sat opposite us), Restoran Ole Sayang is one of the most reputable Peranakan restaurant in Malacca and many locals will point you to this restaurant at the mention of Peranakan food…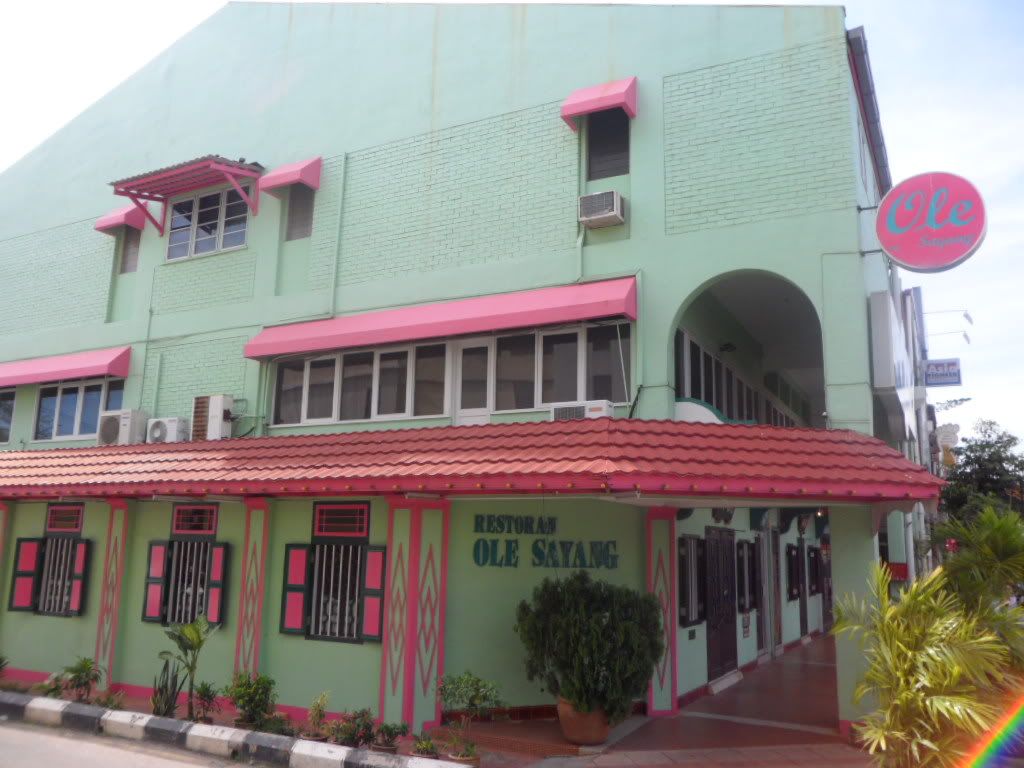 Restoran Ole Sayang Malacca Peranakan Restaurant
We were quickly shown to our seats at a big round table and shared the table with 2 other ladies.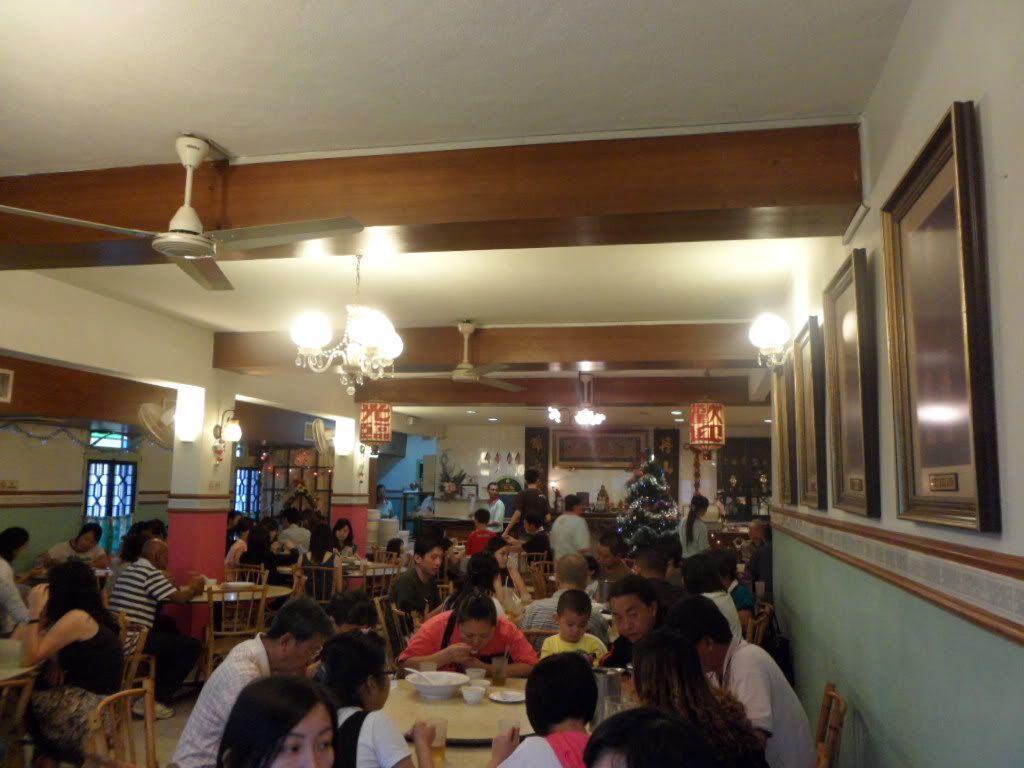 Internal view of Restoran Ole Sayang
The waitress then came over and told us what was the menu of the day (The restaurant usually cooks according to the ingredients that they acquired for the day). So how good is the Peranakan food here?

Chap Chye – A must try Peranakan dish (9.80RM)
Chap Chye as the name suggests is a "mixed vegetable" dish. Usually the dish comes flavoured by cabbages, black fungus and vermicelli as the main stay. The chap chye at Ole Sayang was quite unique in that it does not resemble the usual peranakan chap chye and has an acquired taste, slightly to the sourly side. That's not to say it's not nice, a unique taste that's worth the try.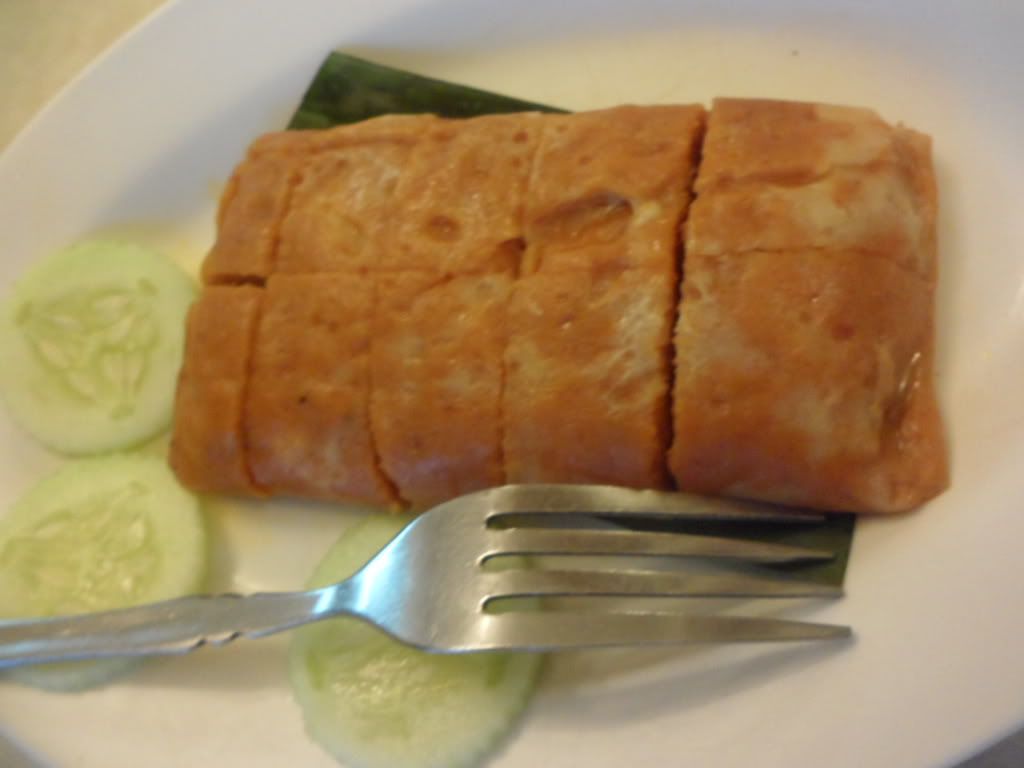 Otah @ Ole Sayang (10.50RM)
The Otah was not one of our favourites, mainly because we have a pre-determined idea of how a great Otah would be like; Moist on the outside, firm and full of ingredients on the inside.
The Otah at Ole Sayang was a little bit dry on the outside and the inside was not as "full" in terms of ingredients as we had imagined. The only plus point was the chilli mix was quite nice and partnered the fragrant rice well.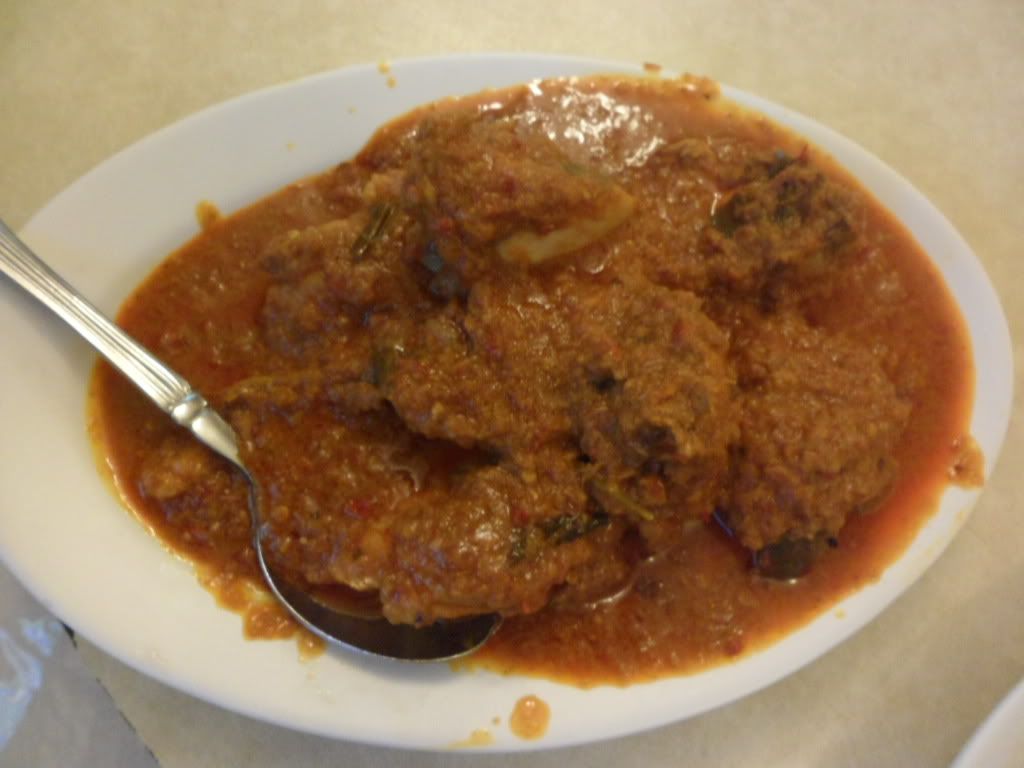 Ayam Rendang @ Ole Sayang (10.80RM)
One of the other Peranakan dish that you would usually try to determine the "skill" of the Peranakan restaurant would be the Ayam Rendang.
At Ole Sayang, the spiciness was just right and the rendang mixture together with the tender chicken was ma ma mia!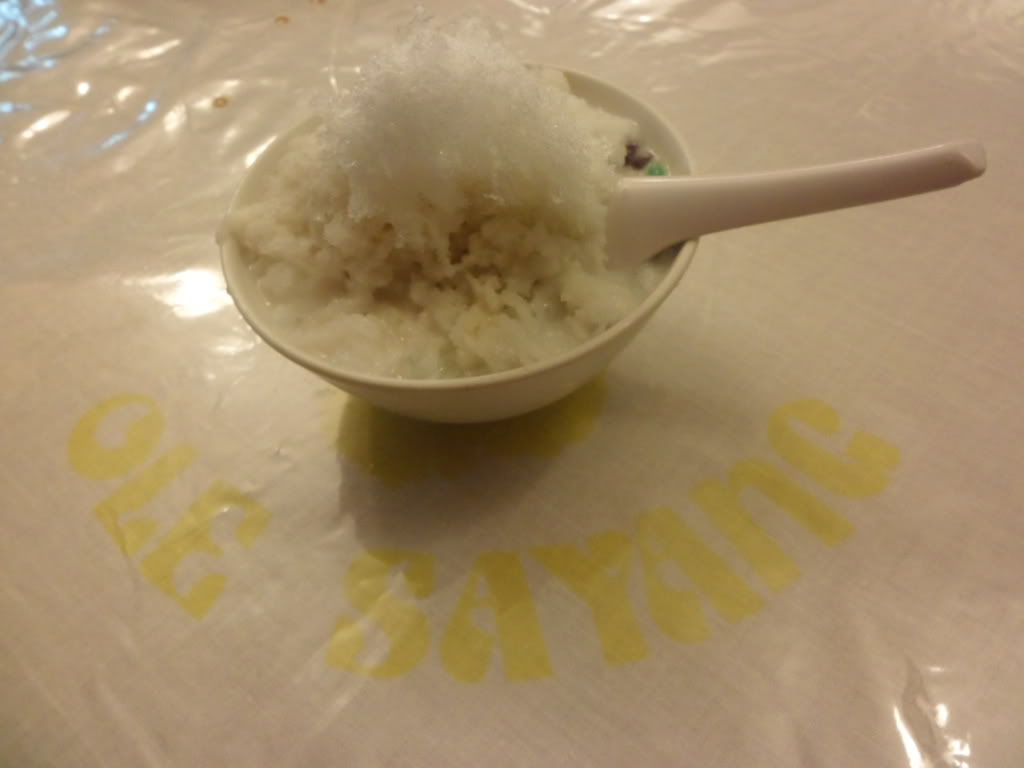 Chendol @ Ole Sayang (2.50RM)
The chendol makes a nice round up to a traditional peranakan meal.
Overall, the restaurant serves up authentic peranakan food at a fraction of a restaurant price. Worthy of its reputation.
Before we left, we noticed many other patrons leaving with bags of keropok. Intrigued with thoughts of "how good can a keropok be?!", we bought 2 bags at 10RM each.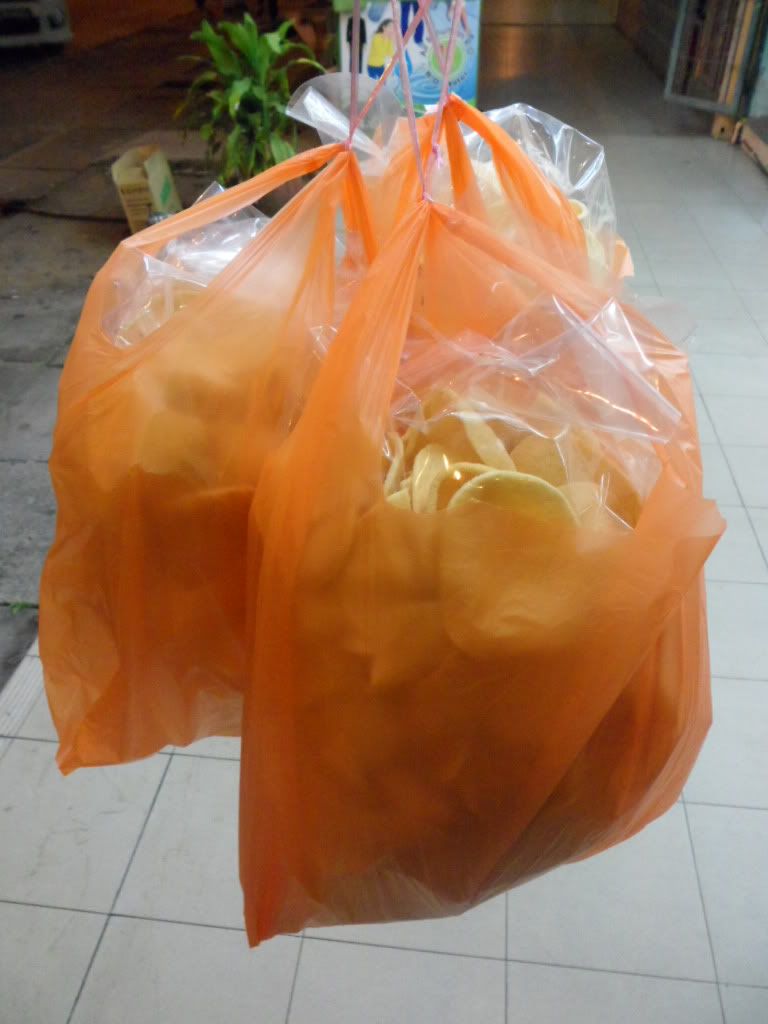 Keropok from Ole Sayang
No regrets there! The keropok turned out to be one of the best we've tasted. PLUS it stays crispy even after staying in the fridge for a few days, no signs of lao hong (non-crispiness after exposure to air) at all!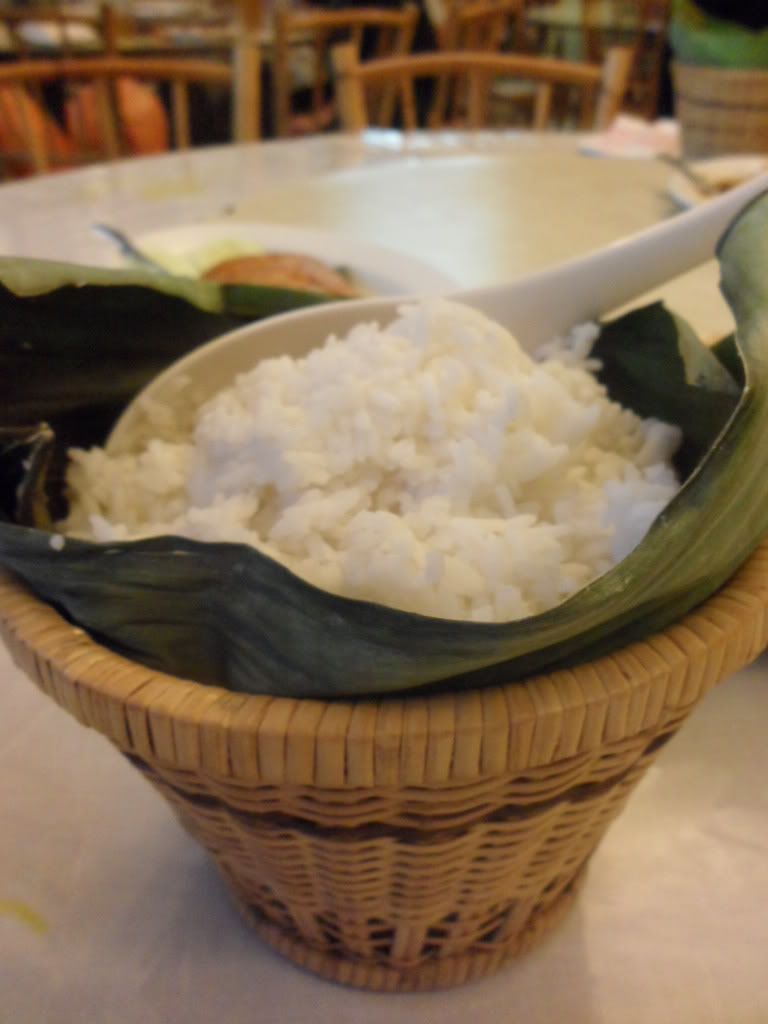 Free Flow of Fragrant Rice
How to get there
If you notice the huge korean restaurant opposite the Dataran Pahlawan Megamall, walk along the road adjacent to the restaurant. You should be able to identify the restaurant with its pinkish colour (see picture) after about a 5 minutes walk.
For your convenience, you can now check out the best hotel deals in Malacca right here!
Related posts
This post is part of our 3D2N travels in Malacca. Below, you can find other relevant posts covered during this trip!
Top 3 Things to do at Jonker Street aka Jonker Walk
Jonker 88 @ Jonker Street
Stadhuys Melaka aka Red Square or Dutch square
Best 5 stars hotel in Melaka : Hotel Equatorial Melaka
Battle of the Malacca (Melaka) Jonker Street Chicken Rice Balls : Which is better? Chung Wah Chicken Rice or Hoe Kee Chicken Rice?
Weekend Getaway and Staycation @ Philea Resort Melaka (Malacca)
Top Attractions and Things to do in Melaka : World Heritage City
A Leisure Stroll along the Melaka River
Trishaw Rides in Melaka : A Must-Do Activity!
Traffic Jams in Melaka : How bad is it really?
Restoran Ole Sayang – One of the most reputable Peranakan Restaurant in Malacca
Melaka Sultanate Palace Museum – Built without nails!
Melaka Maritime Museum – Museum within a Ship
A Famosa aka Porta De Santiago
St. Paul's Church
If you enjoyed our content, "Like" us on Facebook Today!

Related posts: