Royal Caribbean Cruise to Laem Chabang Thailand and Phu My Vietnam
In this section, we'll talk about some of the essential information that you'll need when visiting the ports of Laem Chabang (Thailand) and Phu My (Vietnam) via the Royal Caribbean Cruise
Laem Chabang – Gateway to Bangkok and Pattaya Thailand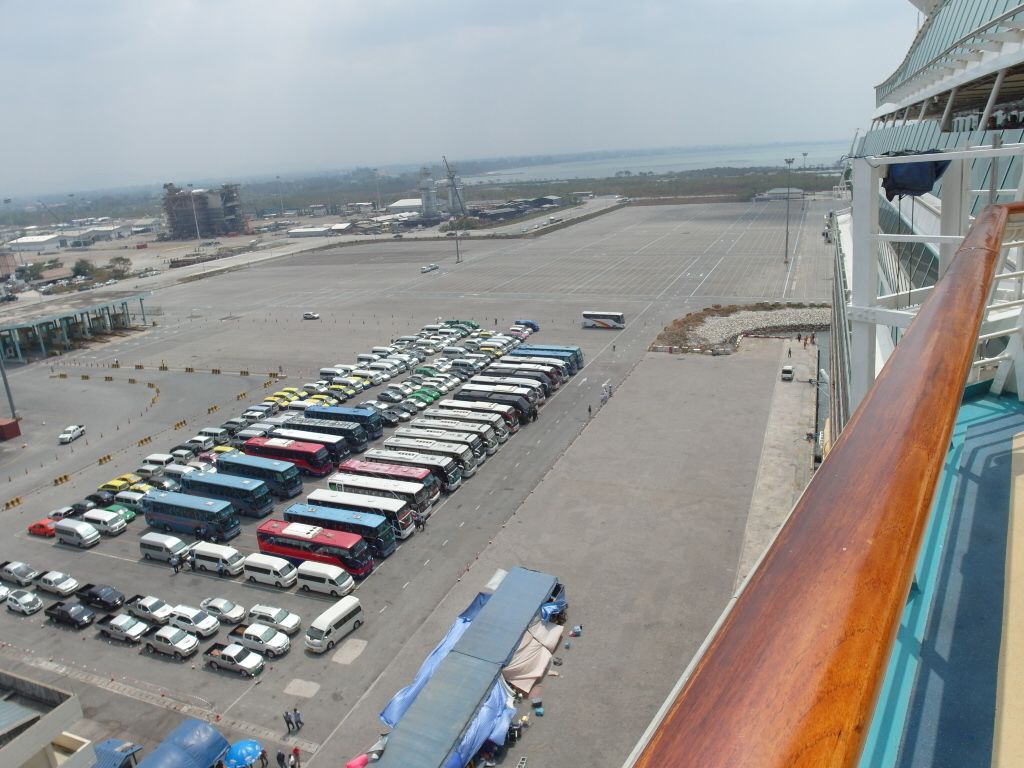 Port of Laem Chabang (C0) where Royal Caribbean Mariner of the Seas Berthed
This excellent shot taken by Kate shows the port of Laem Chabang as we entered C0 (thats Charlie Zero) at the terminal. As you can see, the excursion buses are already waiting to take the guests out and there are also private transportation ready to take you out as well. Small tents with stalls are also setup to sell souvenirs to you upon arrival. Now to the most important part – the transportation.
**Note : We headed to Pattaya because of the unrests in Bangkok during our cruise with Royal Caribbean
During our overnight stay at Laem Chabang, we stayed a night at the Royal Cliff Beach Hotel Pattaya. If you go through the hotel to make transport arrangement, it costs about 2000 baht (80sgd) for one way (WHAAAAAT?!). If you go through the internet, there are one way transportation from Laem Chabang port to Pattaya for 1000 baht (smaller WHAAAT?!). But if you go for the private transportation at the wharf, it costs only 600 one-way and 1200 for return. We took the complimentary transport arranged by Royal Cliff Hotels (thanks Maria!) and returned via taxi for 700 baht. Transport time takes between 30 to 45 minutes depending on traffic conditions.
So what's there to do at Pattaya?
Things to do in Pattaya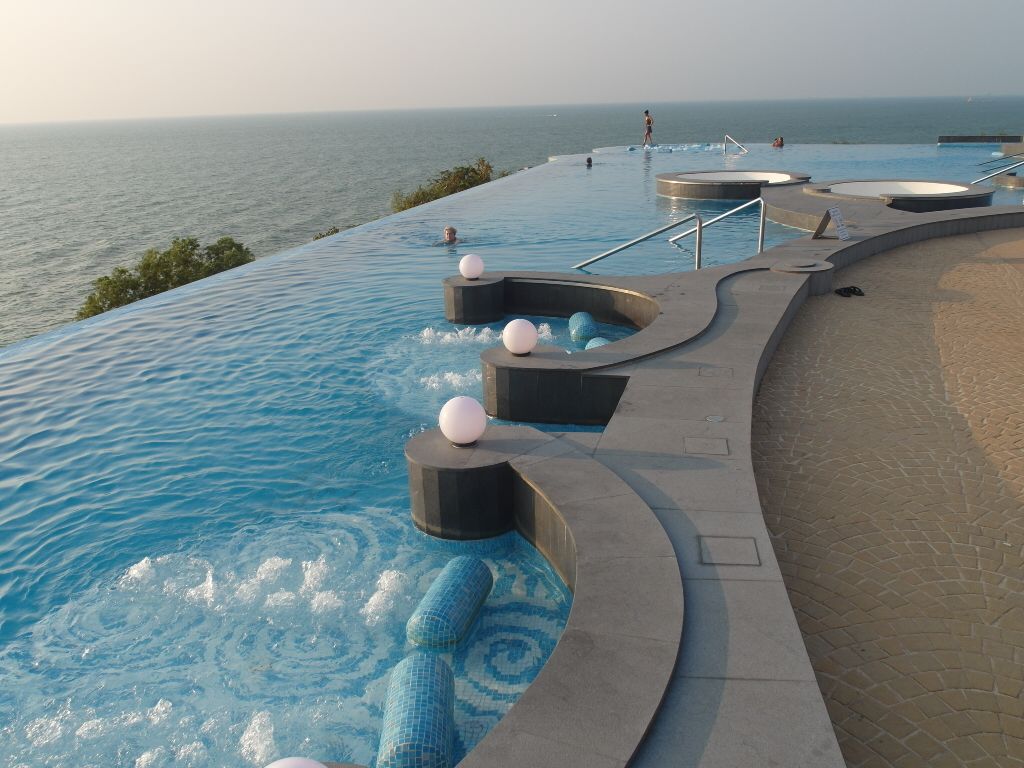 Infini Pool (aka Infinity Pool) at the Royal Cliff Beach Hotel Pattaya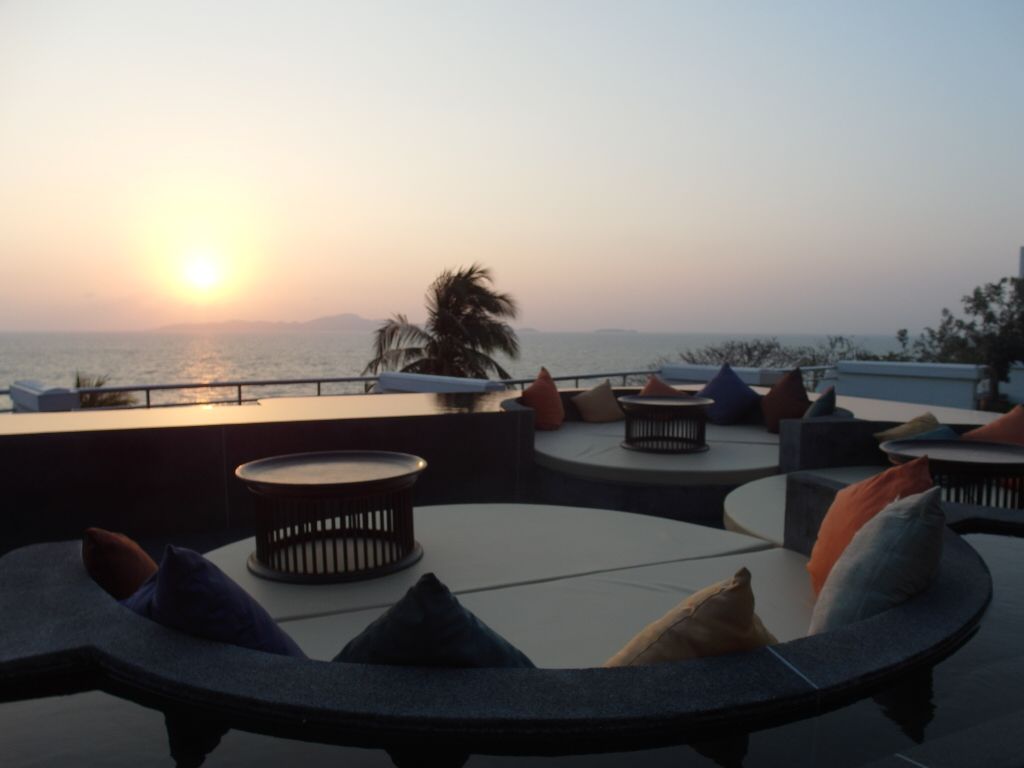 Beautiful sunset over the Gulf of Thailand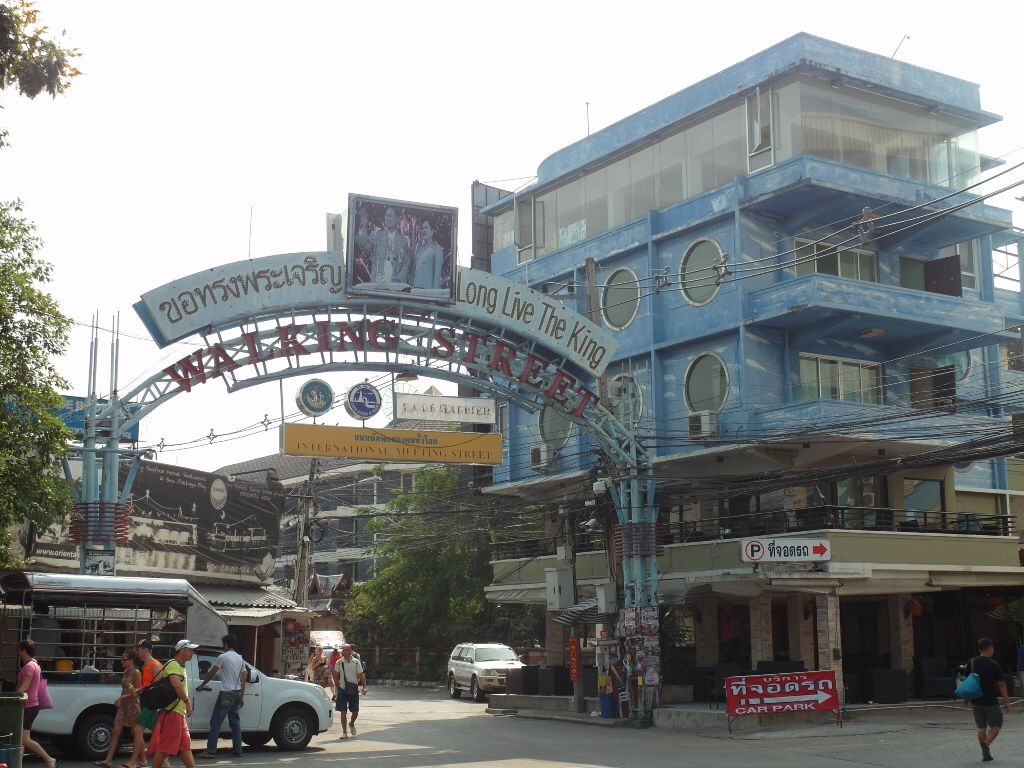 Walking Street Pattaya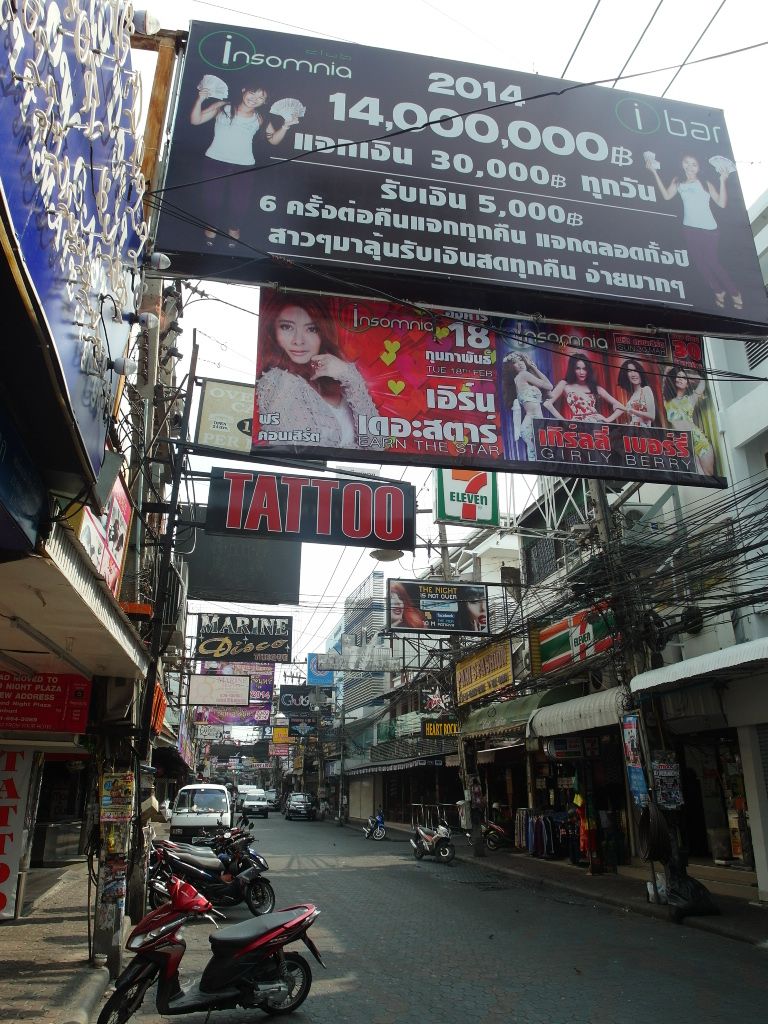 Walking Street Pattaya Pubs, Restaurants, Massage parlours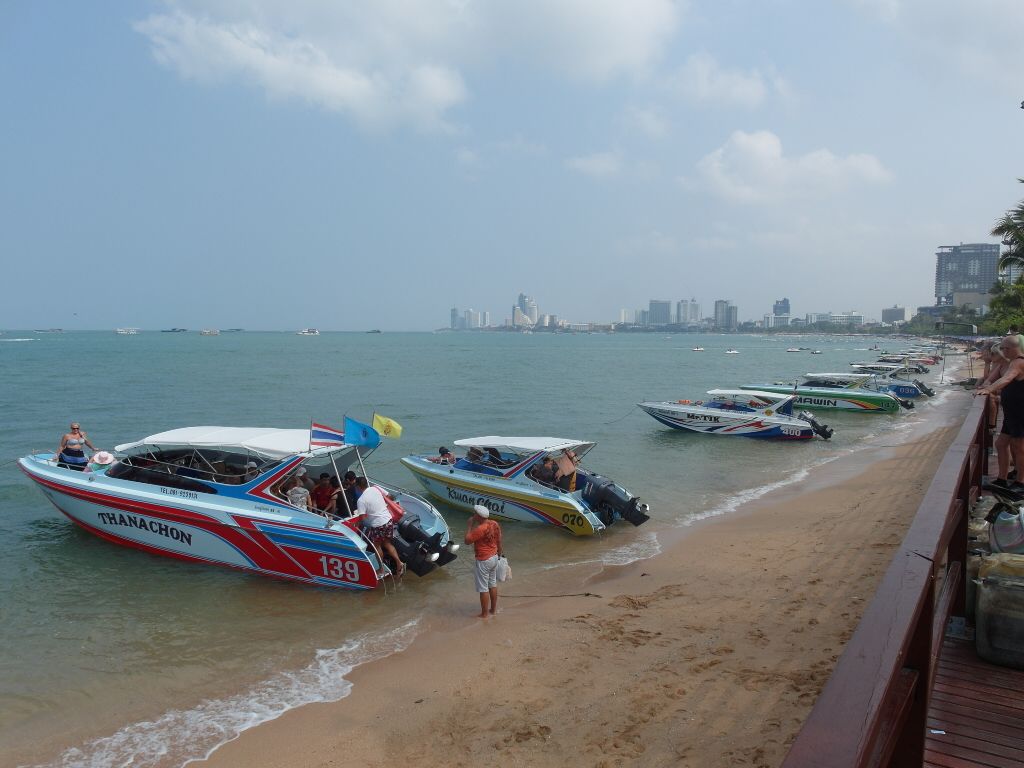 Beach Activities – Island Hopping at Pattaya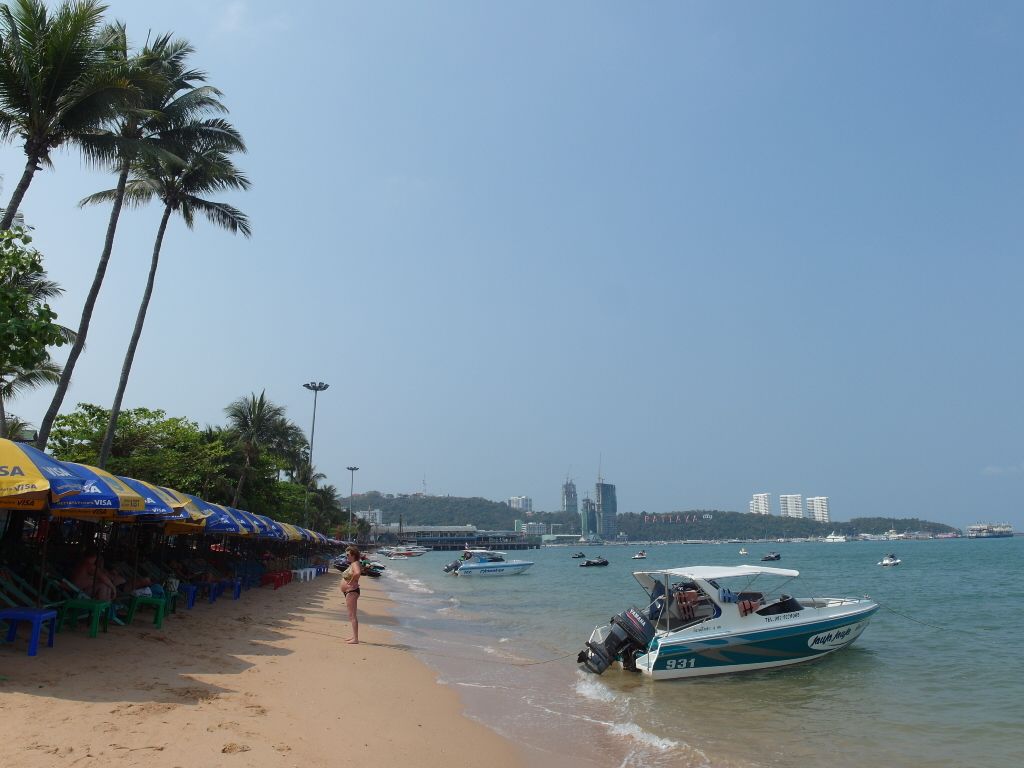 Soaking up the sun in Pattaya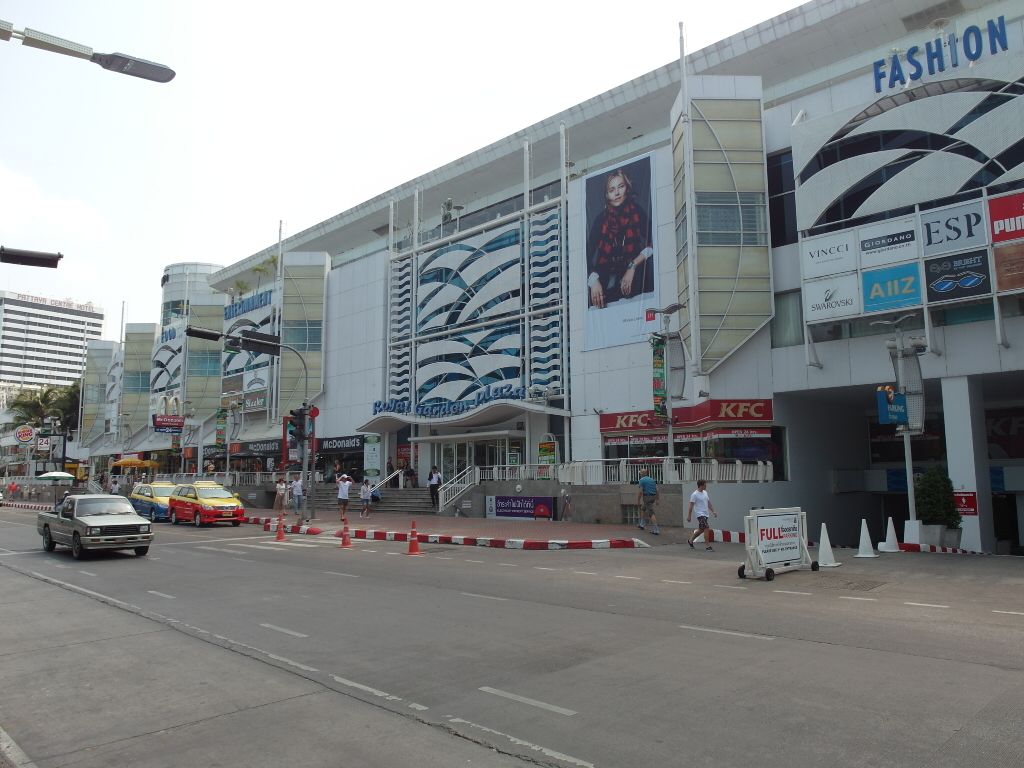 Shopping at Royal Garden Plaza Pattaya – Right in Front of the Beach!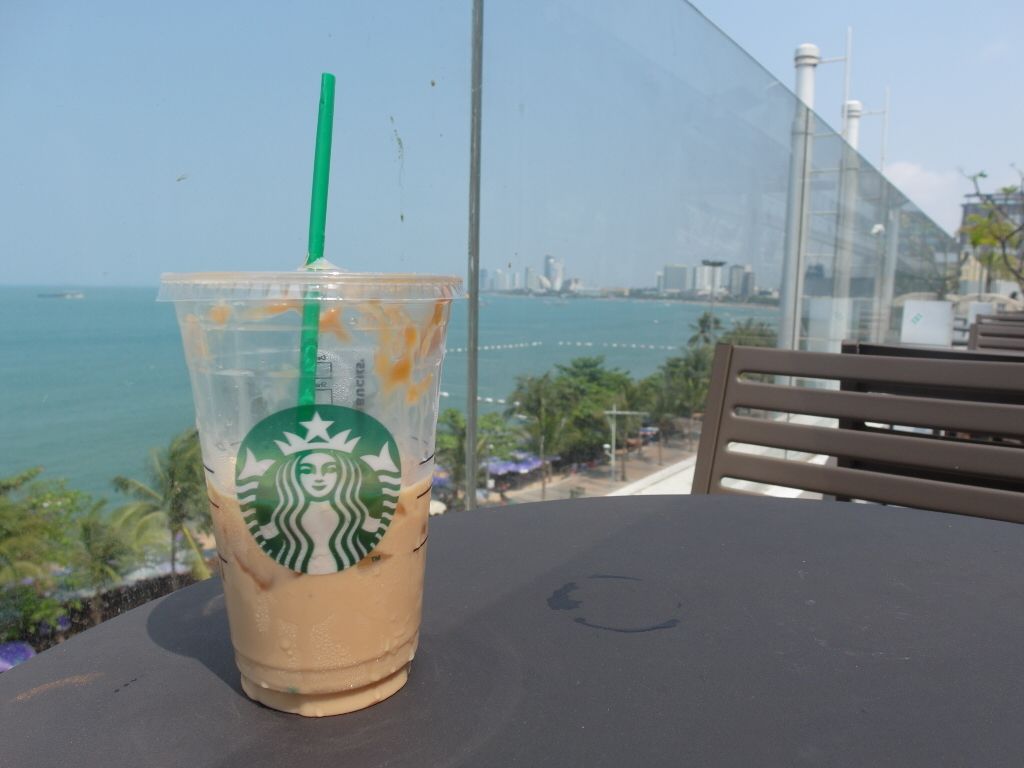 Enjoying a Starbucks Caramel Macchiato at the top of Royal Garden Plaza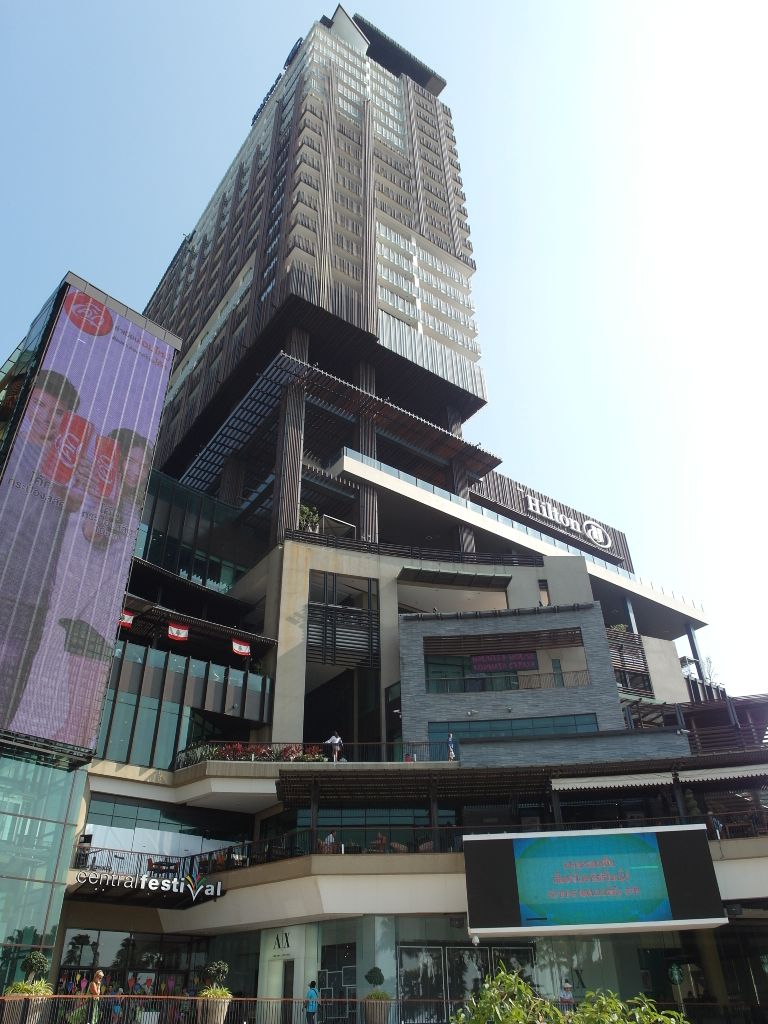 Central Festival right next to Hilton Pattaya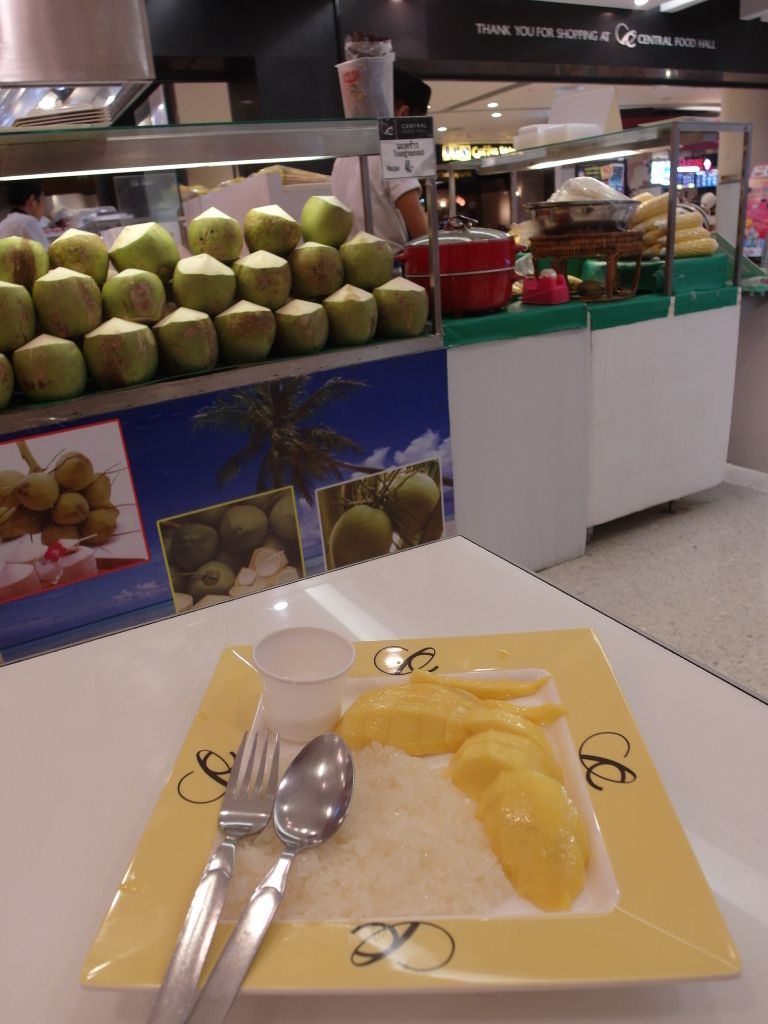 Best mango sticky rice at only 80 baht! Look inside the supermarket of Central Festival downstairs
In addition, we also did a massage for a mere price of 200 baht (8SGD) for 1 hour! Although it was cheap, the skill of the masseuse was pretty good and we thoroughly enjoyed the massage. The other thing you ought to try are the Thai food. We tried the fried rice and coconut chicken Tom Yum soup at the hotel while we had beef noodles and fried shrimp flat noodles at the food court of Central Festival Pattaya. Not to be missed is the mango sticky rice! Best we've ever had! The mango was sweet and juicy while the sticky rice was firm, chewy and fragrant. Yum!
Phu My – Gateway to Ho Chi Minh City Vietnam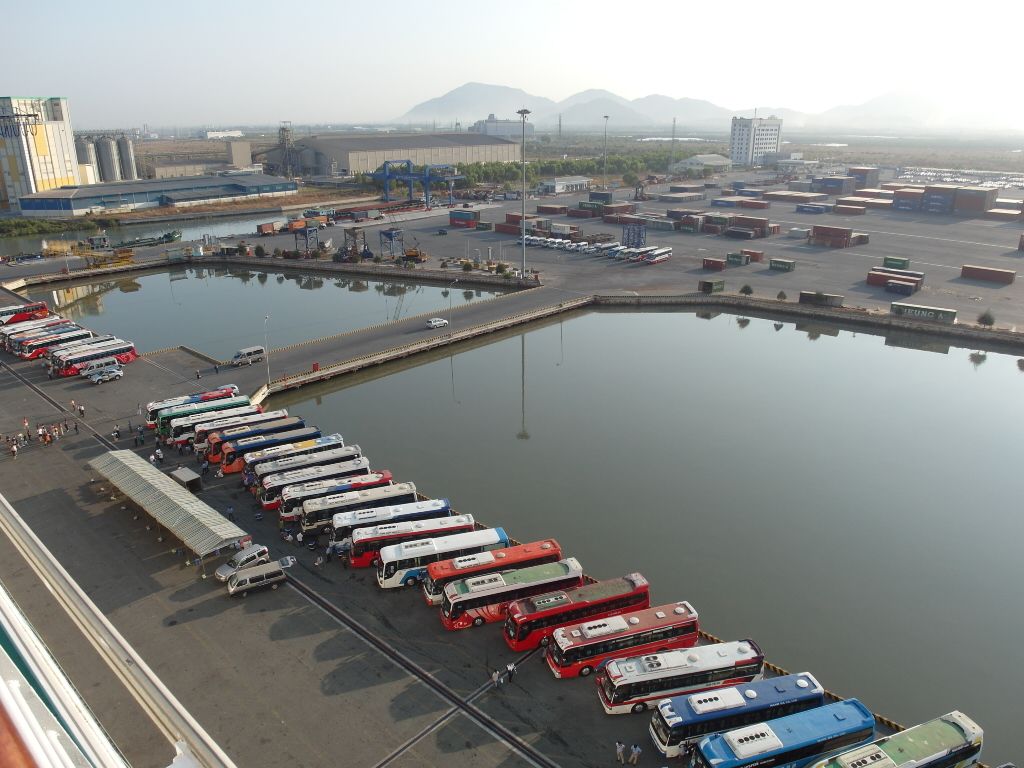 Port of Phu My where Royal Caribbean Cruise Mariner of the Seas Berthed
Another excellent shot taken by Kate at the port of Phu My when we arrived in Vietnam. When we tried to google to find out whether we could catch private rides out of Phu My to Ho Chi Minh City, we could not really find much information, except that the port was out of bounds to private taxis. Hence, we decided to go for the Ho Chi Minh City On Your Own – essentially a bus transportation arranged by Royal Caribbean Cruise. The ride was 40USD per person for two ways and the ride takes 1.5 hours. Originally, the ride takes 2.5 hours but because there's a new expressway that just opened in February 2014 from Long Thanh to HCMC, the ride is faster. According to Mr Ng, he says the rides could be as fast as 45 minutes if the drivers were willing to push a little.
As for taxi rides from the port, if you notice the building at the top right hand corner of the picture, you would have to walk out of the port for transportation to Ho Chi Minh City from Phu My port. We asked around and the starting price is about 50USD one way per car. We think that you can bargain a little further. This option is suitable for parties of 4. Great for those who have also made friends onboard and are willing to travel together. Otherwise, the bus arranged by Royal Caribbean from Phu My to Ho Chi Minh is a good option in Vietnam.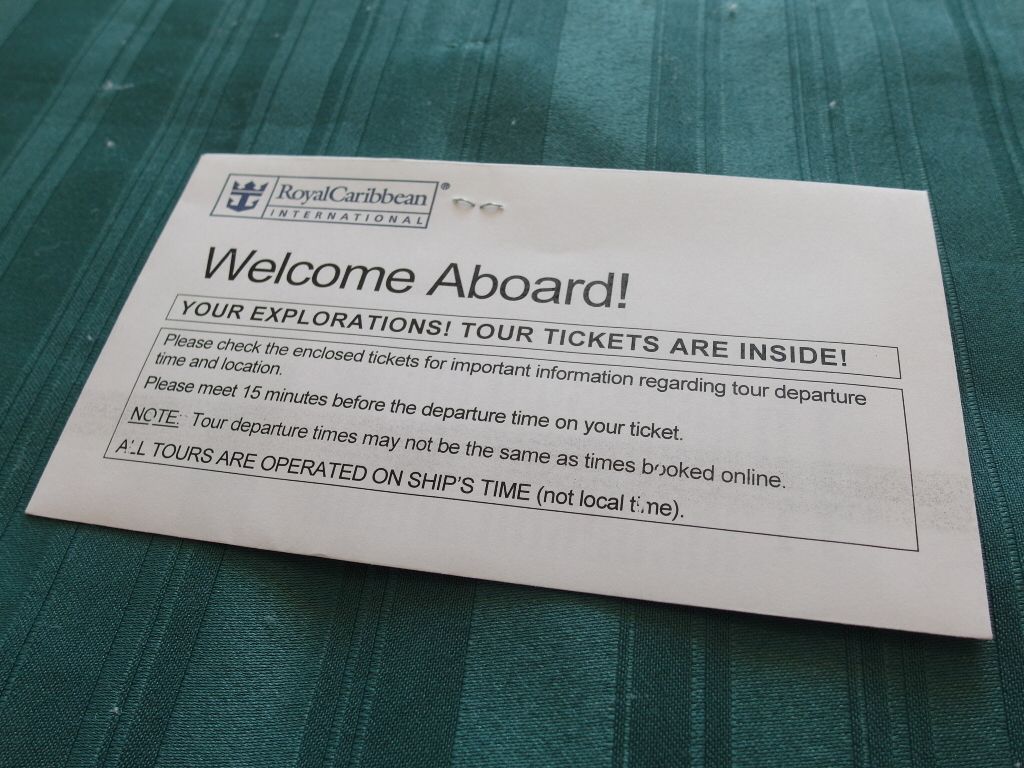 Our transport tickets at Phu My in our stateroom when we entered on the first day
When we reached Ho Chi Minh City, it was about 9:30am and we had to be back at the drop off point (Rex Hotel) by 4:20pm. It was sufficient time for us but if you're travelling on your own, don't forget to check the "All aboard" timing. This time it was 7:30pm. We arrived back at the ship at 6pm sharp.
So what's there to do in Ho Chi Minh City?
Things to do in Ho Chi Minh City Vietnam
To thoroughly enjoy Ho Chi Minh City, just follow this small little map that we used. Attractions are circled and they are all within walking distance although taxi in Ho Chi Minh is quite cheap. Remember to use metered taxis of Vinasun or Mai Linh while travelling in Ho Chi Minh City Vietnam.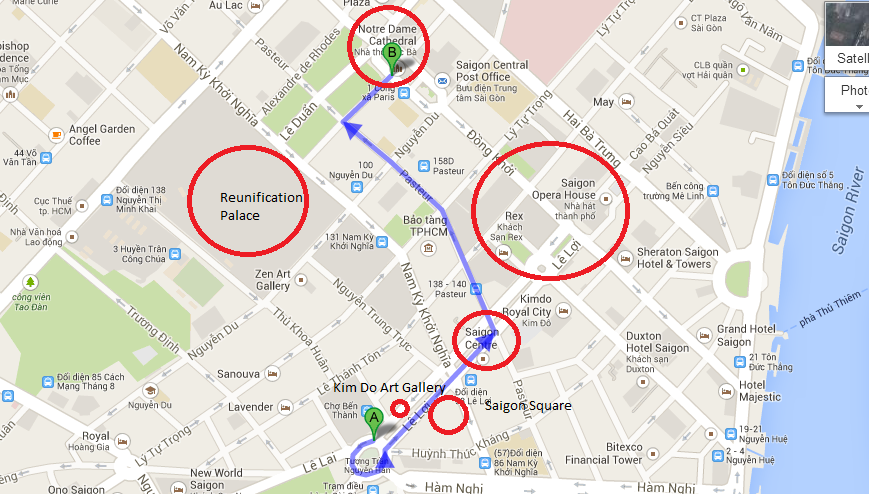 Ho Chi Minh City Attractions and Things to do Map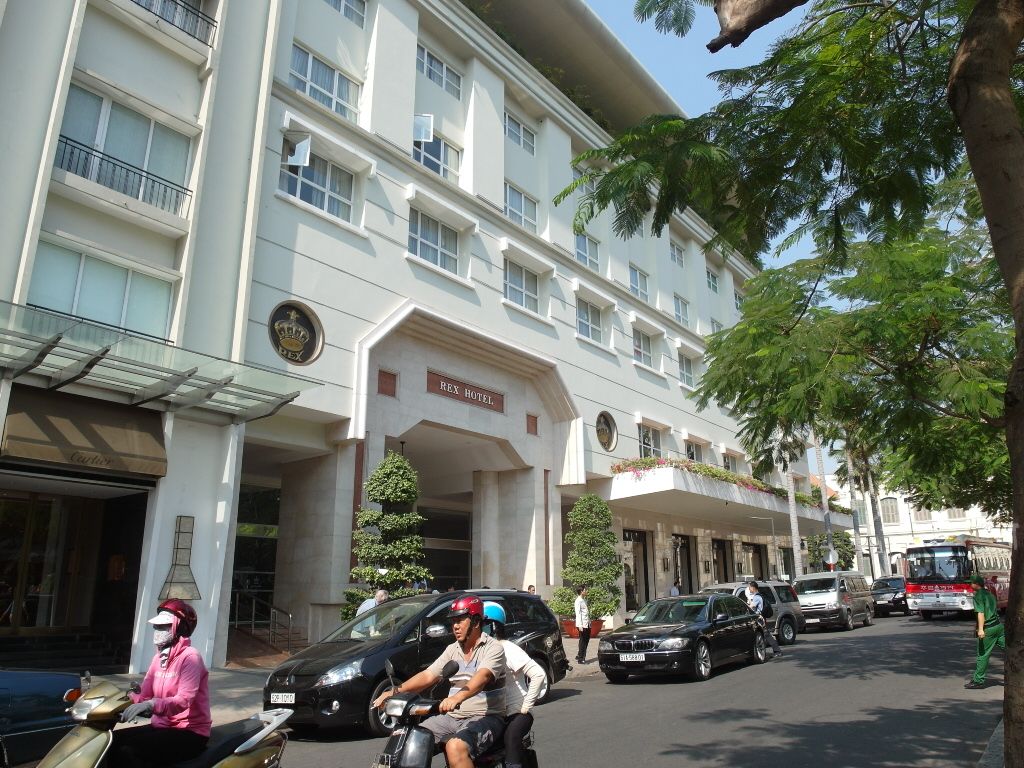 Rex Hotel – Drop off point of transport by Royal Caribbean Cruise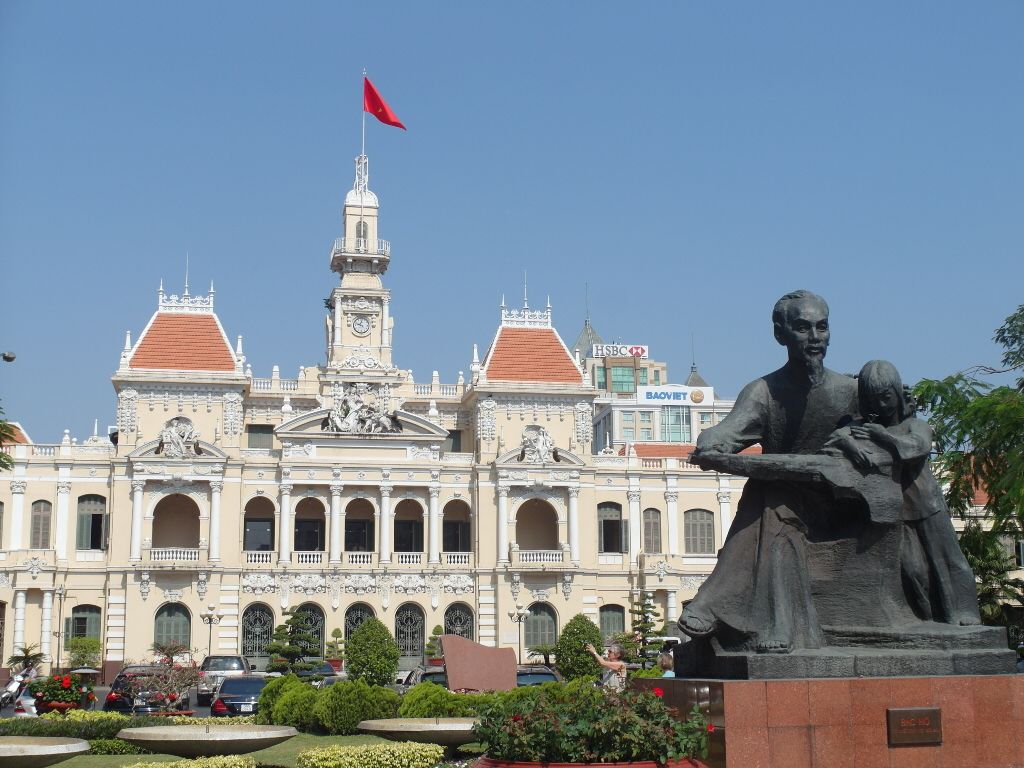 City Hall Ho Chi Minh City Vietnam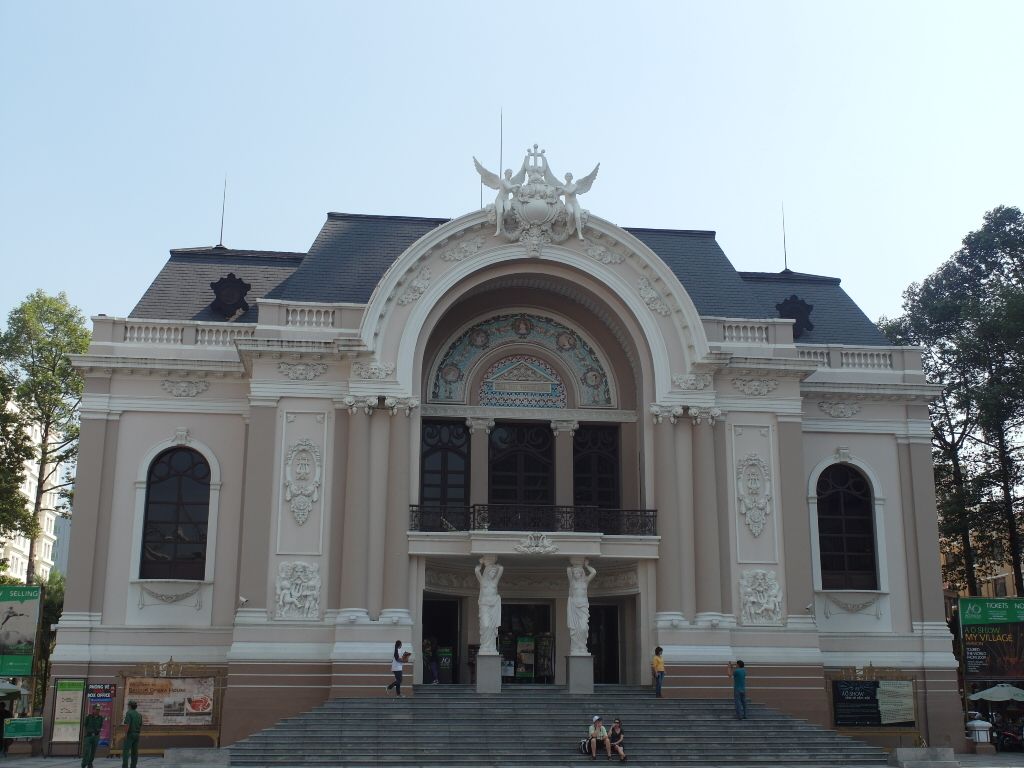 Opera House Ho Chi Minh City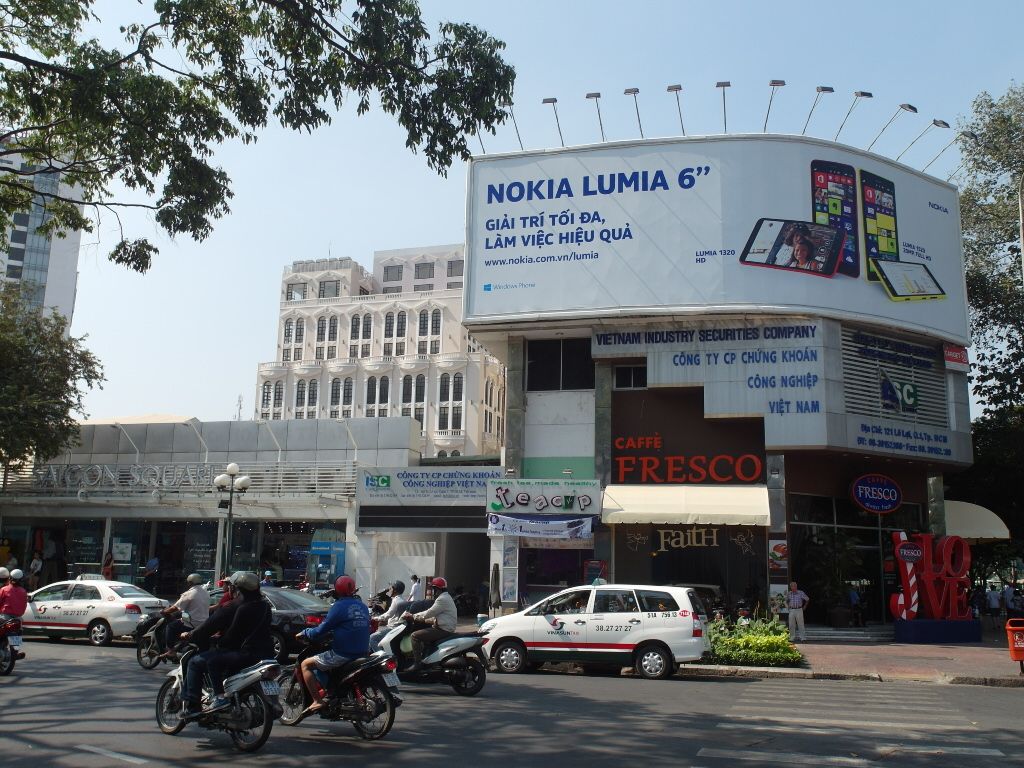 Saigon Square Ho Chi Minh City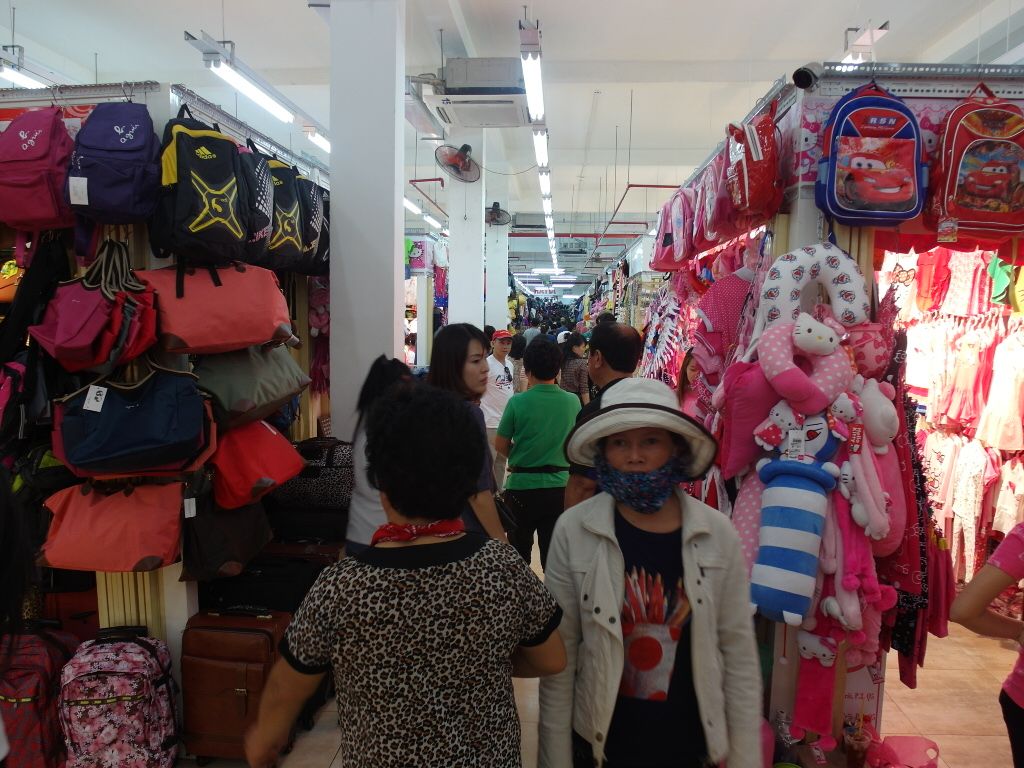 Inside Saigon Square Ho Chi Minh City Vietnam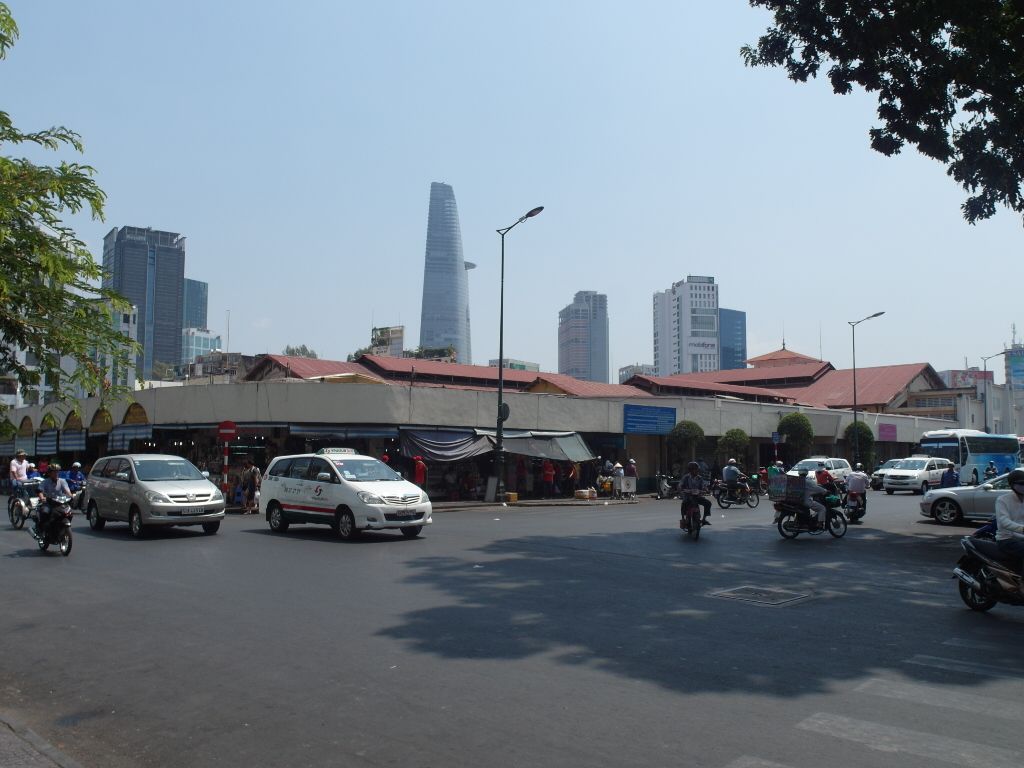 Ben Thanh Market Ho Chi Minh City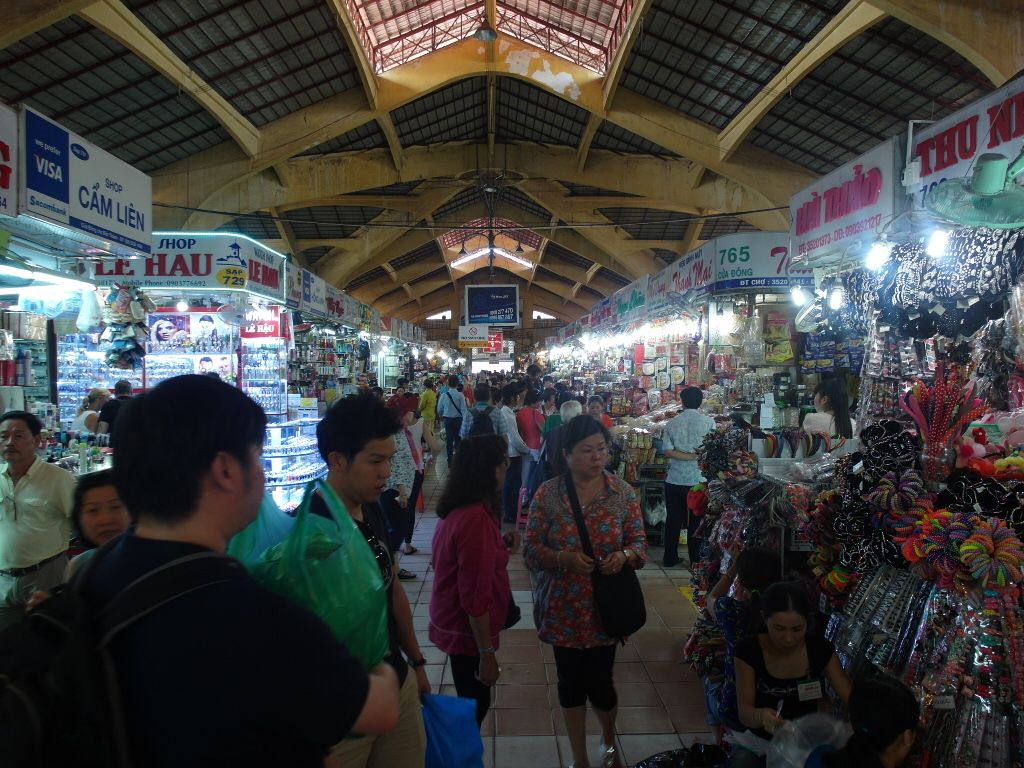 Inside Ben Thanh Market Vietnam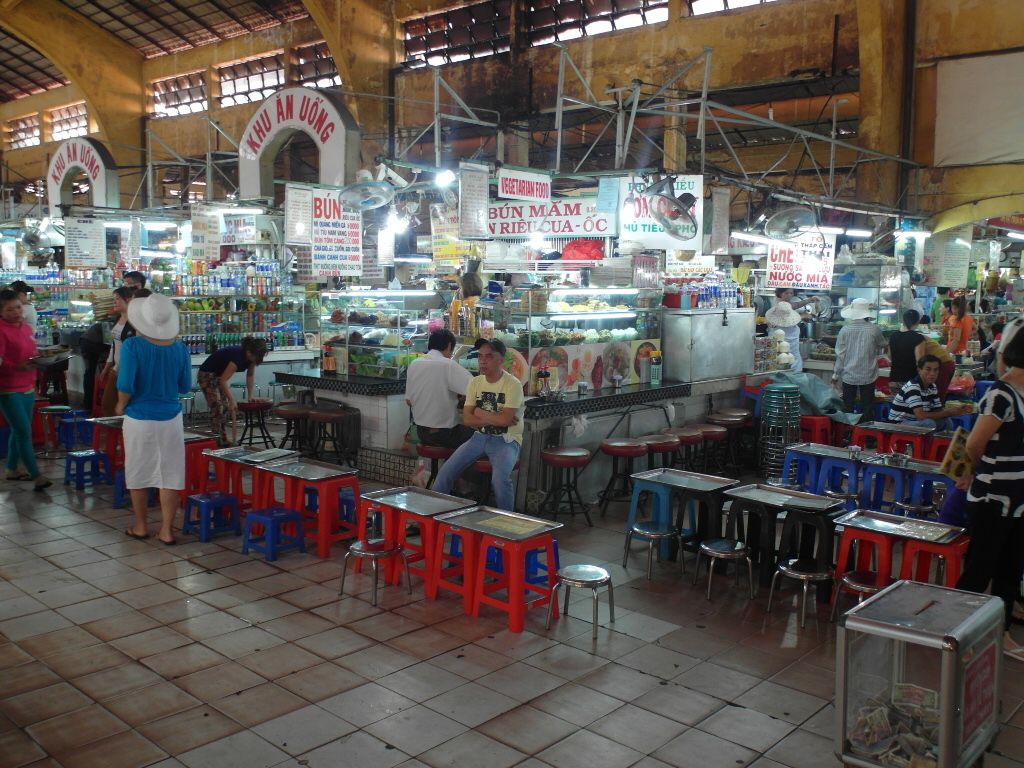 Lunch at this stall inside Ben Thanh Market Ho Chi Minh City

Vietnam Coffee and Grilled Pork / Spring Roll Vermicelli for a total of 100,000 dong about 5USD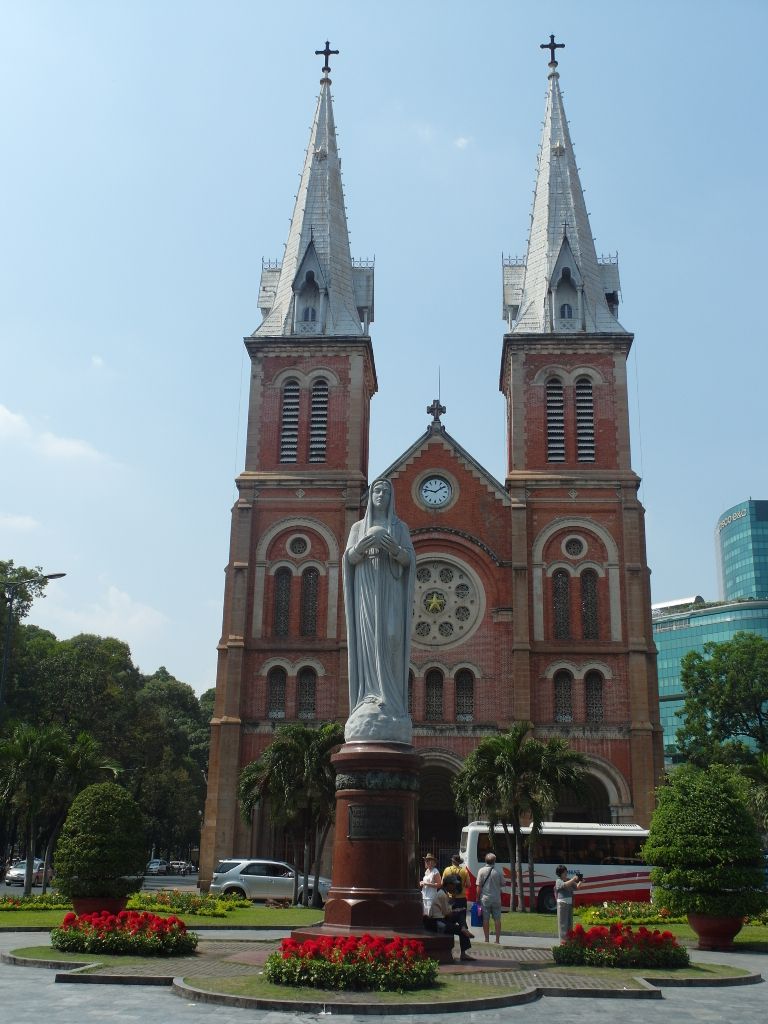 Notre Dame Ho Chi Minh City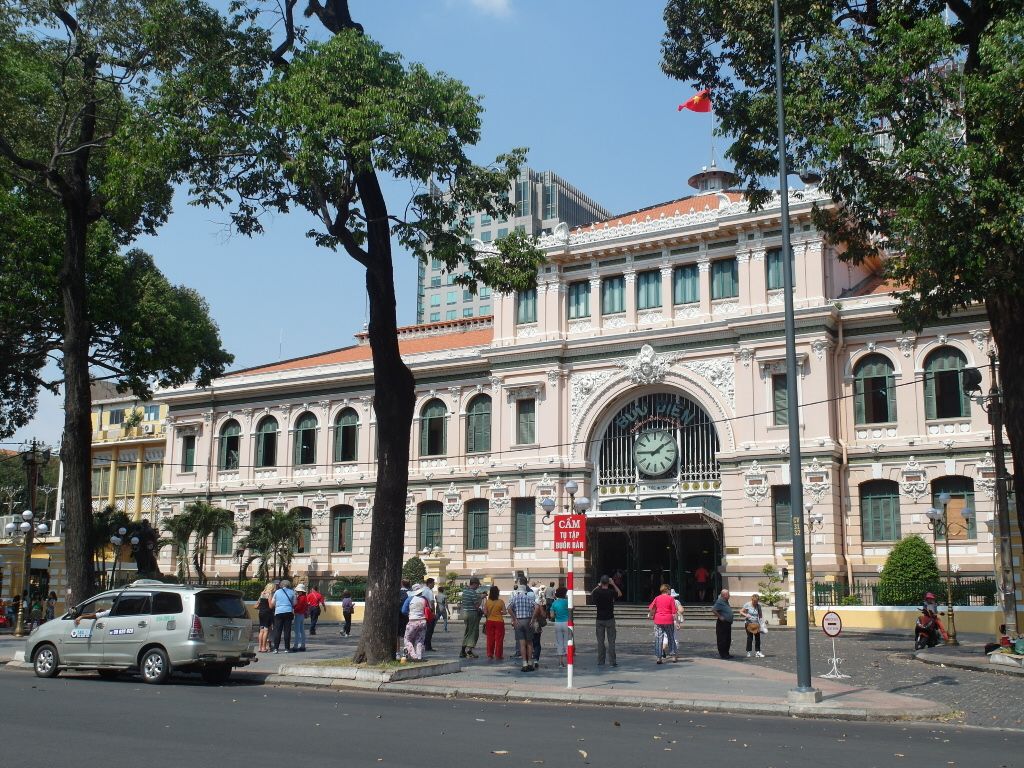 The Post Office Ho Chi Minh City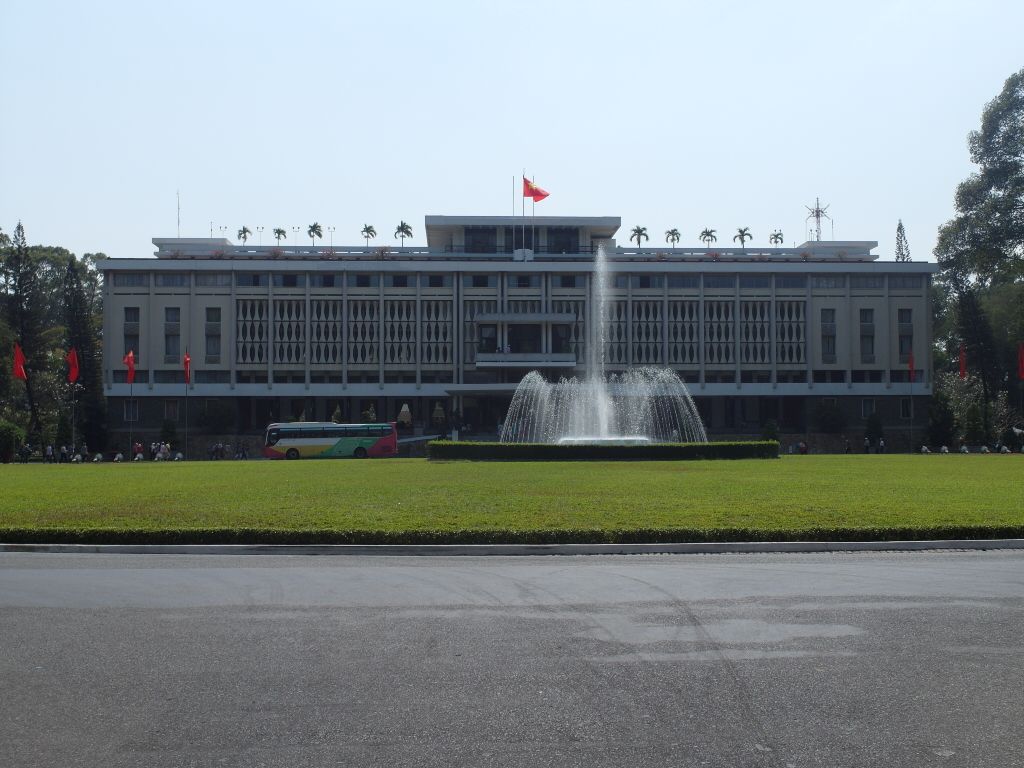 Reunification Palace also known as Independence Palace Ho Chi Minh City Vietnam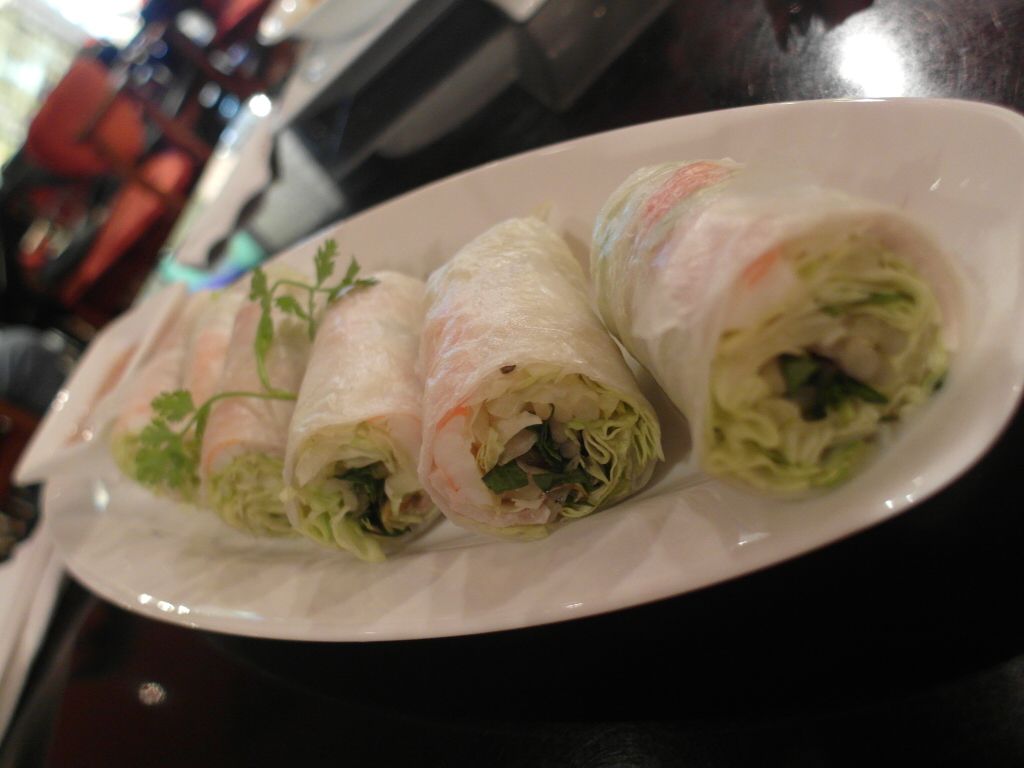 Prawn and chicken spring roll Saigon Centre Cafe Terrace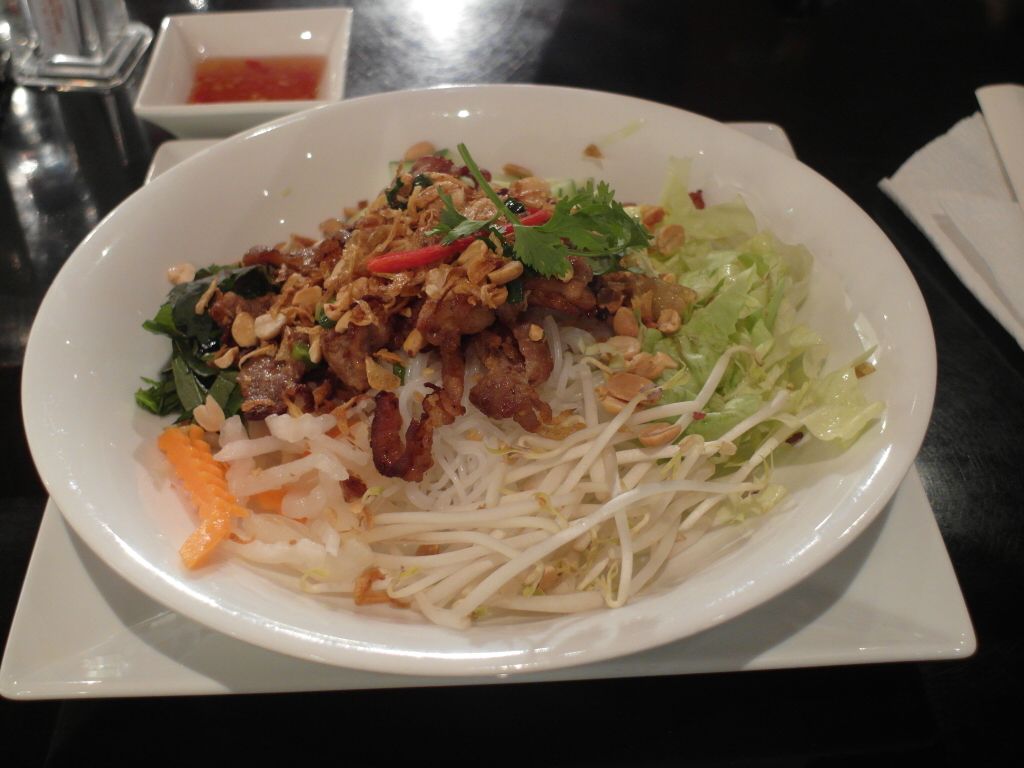 Pork Vermicelli Saigon Centre Cafe Terrace
In Ho Chi Minh, we recommend shopping at the Saigon Square. Here you can get good quality bags and jackets at a fraction of the prices back home. But do remember to bargain. If you're unsure of the prices, you can check out the items at a few other stalls before deciding. This is because, we have ever encountered one of the stalls quoting double the prices of other stalls and if you buy from a stall like this without bargaining or checking, you'll be buying at a much higher price.
Getting to and fro Marina Bay Cruise Centre to board Royal Caribbean's Mariner of the Seas
Embarking the Mariner of the Seas Royal Caribbean Cruise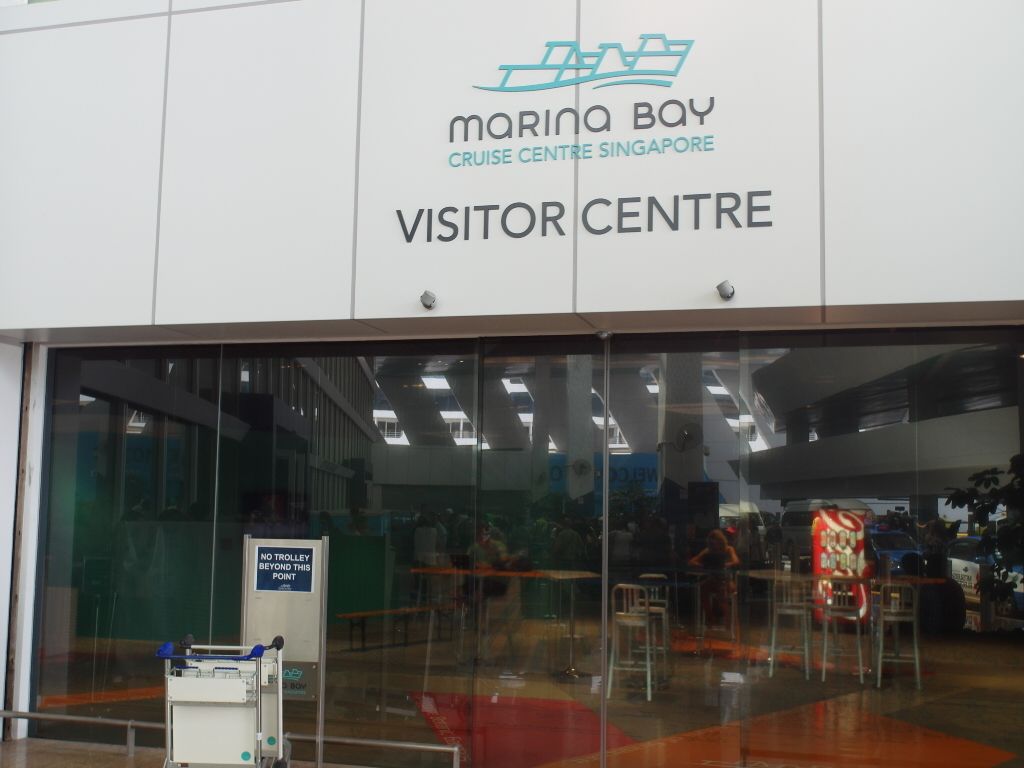 Marina Bay Cruise Centre Visitor Centre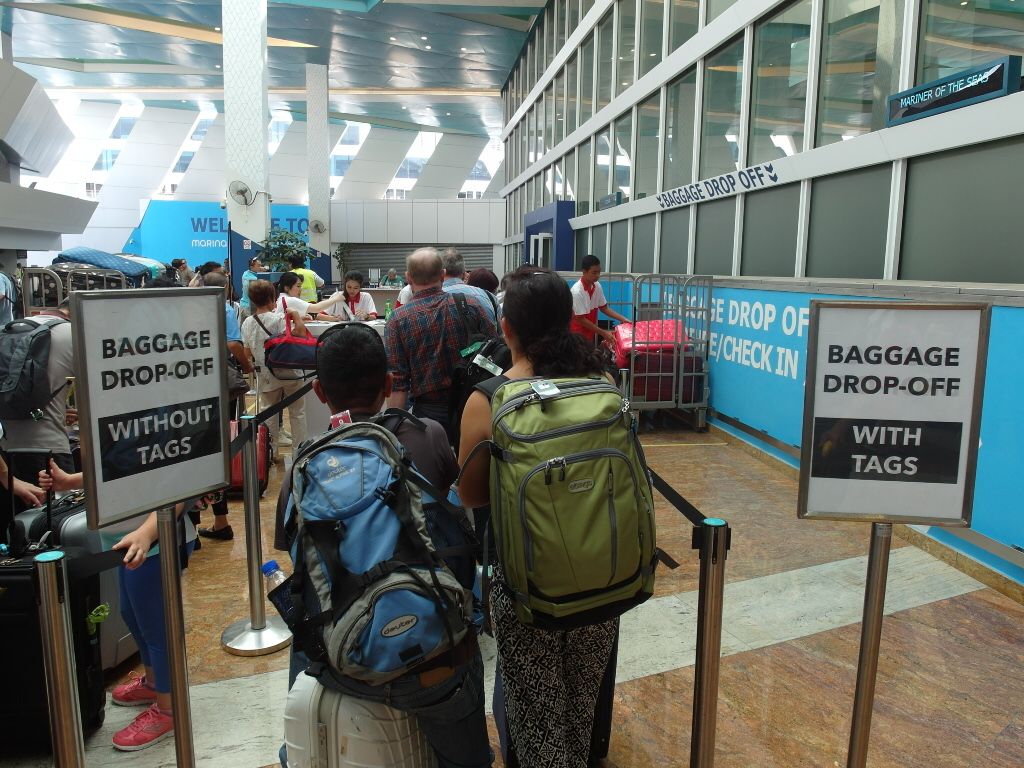 Bag drop off at the entrance of Marina Bay Cruise Centre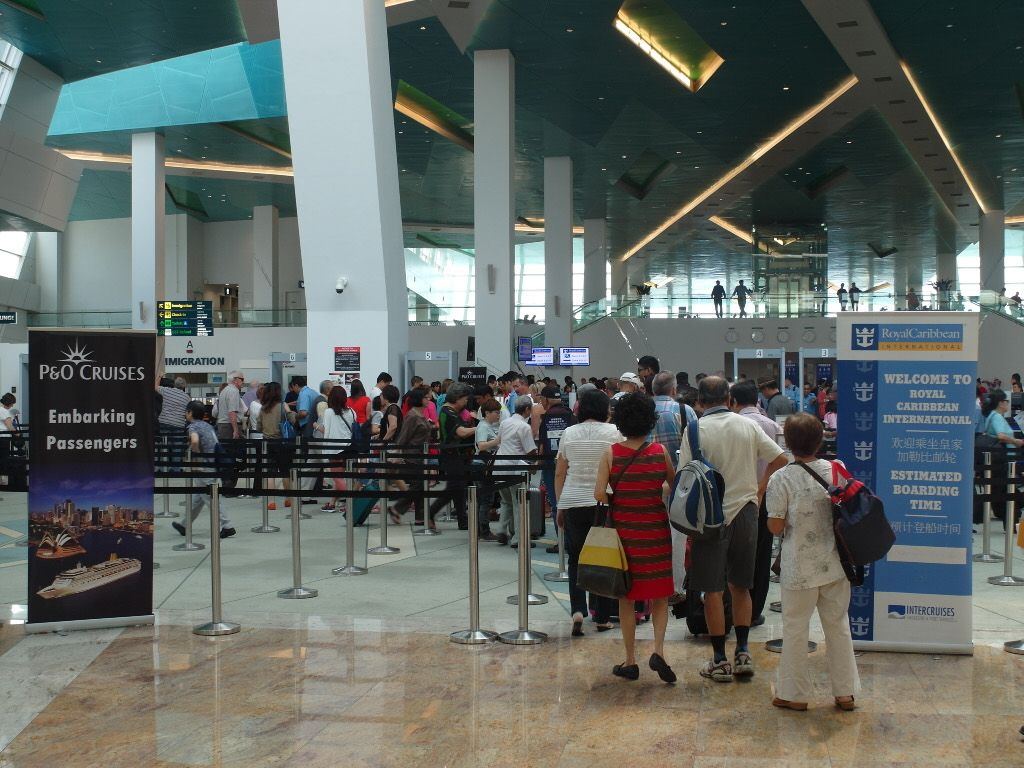 Queue to clear immigration inside Marina Bay Cruise Centre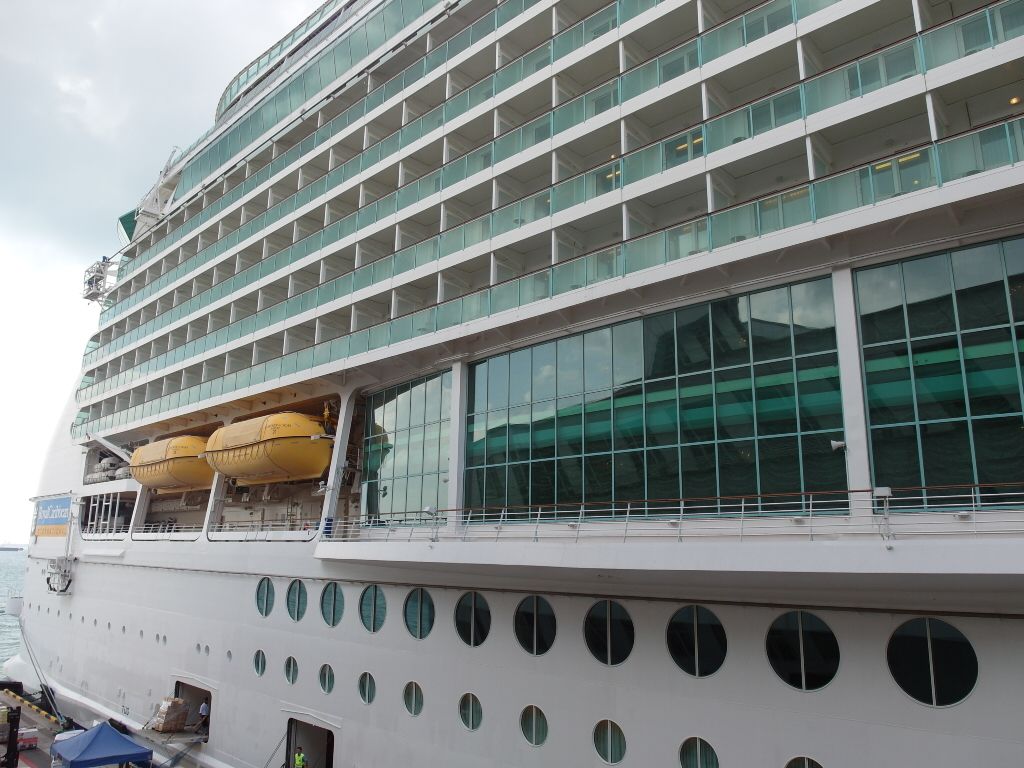 First look at the Mariner of the Seas Royal Caribbean Cruise – HUGE!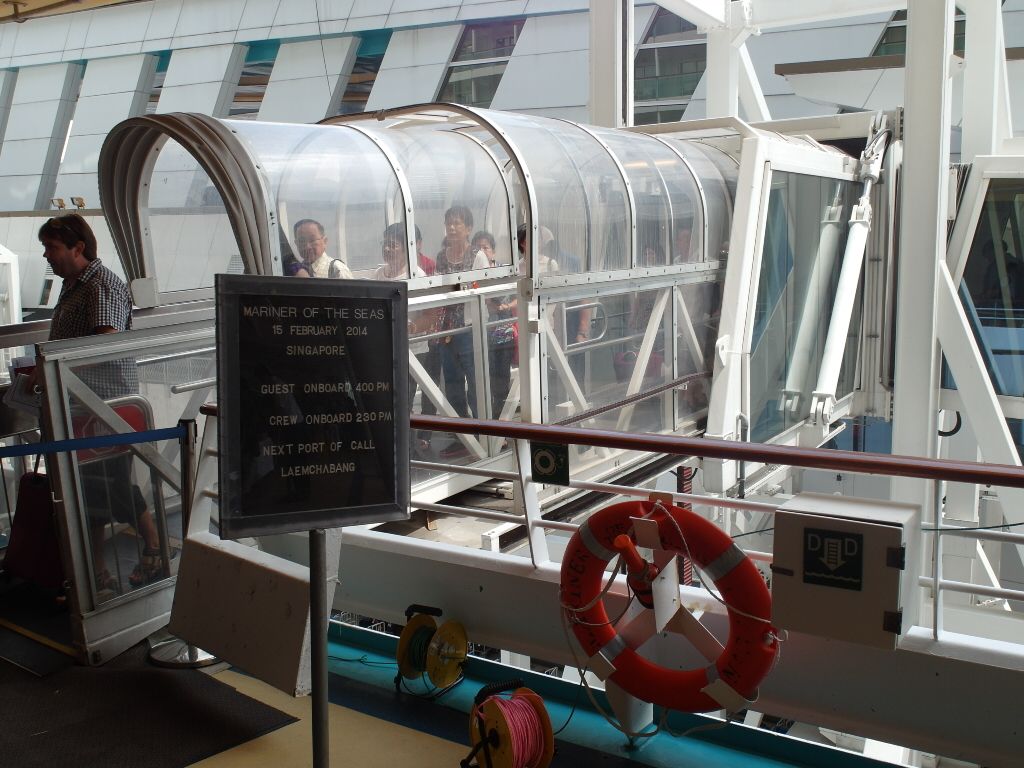 Crossing the gangway to enter into the ship
We took a cab and if you're coming from AYE (West) via MCE, take exit 2 at Central Boulevard. If you're coming from ECP (East) via MCE, take exit 3 at Marina Coastal Drive. Do note that you are going to the Marina Bay Cruise Centre. As it was our first time there, we almost alighted at the ferry terminal instead. Look out for the HUGE Mariner of the Seas, you wont miss it!
As we were Crown and Anchor members, we skipped some of the queue and got our sea pass card rather quickly. The entire immigration took about 30 minutes.
Random thought : The Sea Pass Card is the most important card you'll need on the cruise. It pays for everything onboard and is also your form of identification to disembark and embark the ship.
Disembarking the Mariner of the Seas Royal Caribbean Cruise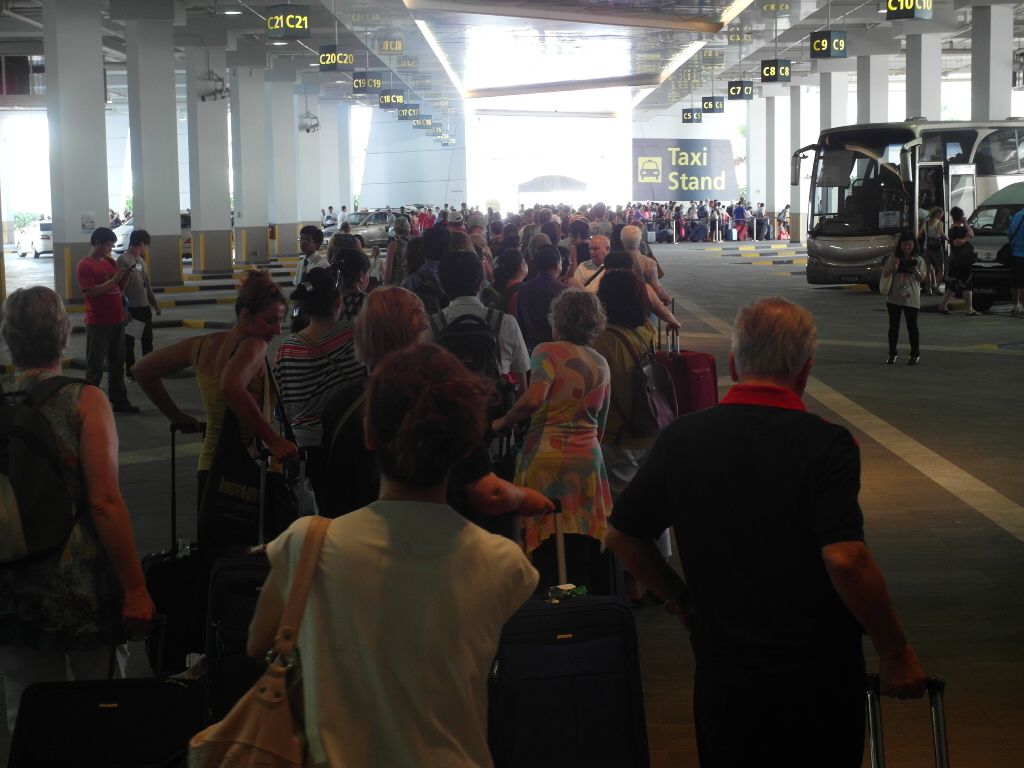 Taxi stand upon disembarking from Royal Caribbean Cruise
Disembarking took a rather long time. We took approximately 1.5 hours in total to leave the ship, clear customs and get to our taxi. One tip would be to leave slightly later (10am would be perfect) and once everyone clears from the ship, you'll be able to clear customs and get your cab rather quickly as well 😉
If you enjoyed our content, "Like" us on Facebook Today!

Remember to leave your comments for 2bearbear Singapore Travel Blog in our comments section below!
Phew…we actually took more than 10 hours to complete this post! (see how much we love you all? 😉 ) We hope that you have enjoyed reading this post as much as we have writing it and hopefully, it will be the comprehensive guide to your next Royal Caribbean Cruise aboard the Mariner of the Seas!
Related Posts
Remember to check out the best cruise packages at LastMinuteTravel.com – Last Minute Prices in Advance
!
Norwegian Cruise Line's Ultimate Beverage (Drinks) Package: Is it worth it?
Related posts: