Saltwater Cafe is the main restaurant of the Village Hotel Changi. This evening, we came by to try out the dinner buffet which includes grilled items! Located beside the swimming pool at the level 1 of Village Hotel Changi, Saltwater Cafe offers a nice backdrop with a spacious interior…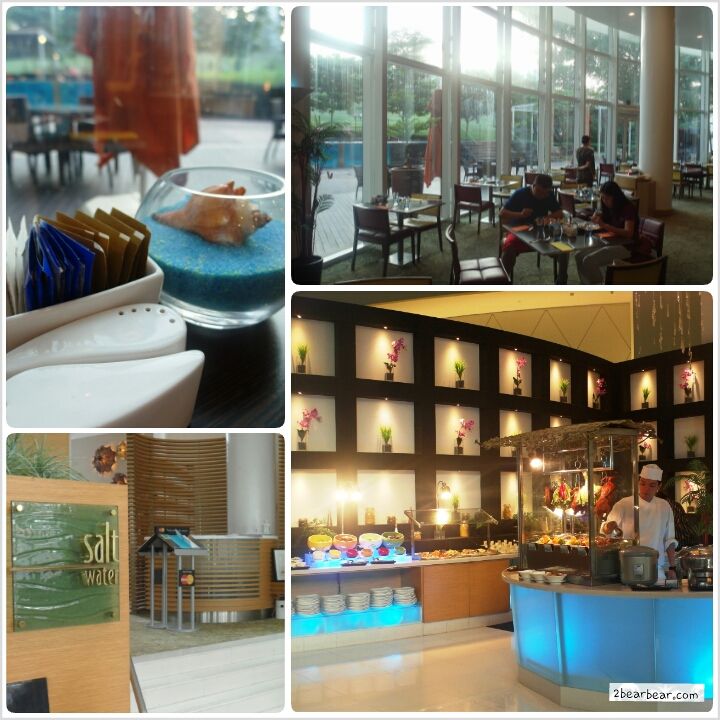 Saltwater Cafe surroundings and interior
So we got right down to business! We started with the appetizers and some sashimi. The appetizers were fresh while the sashimi was quite good as well. However, the baby scallop was not as fresh…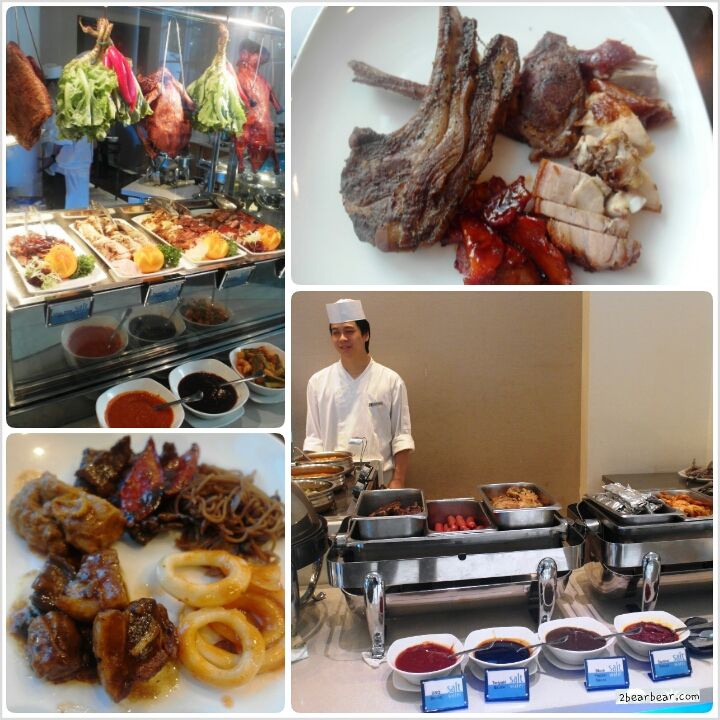 Grill at Saltwater Cafe
What to eat at Saltwater Cafe Dinner Buffet
We thought the BBQ and roasted meat section could brighten up the session. However, we were again disappointed. The BBQ selection was limited to sotong, dory that was not too fresh, chicken chop as well as lamb. We thought lamb could salvage the situation. It was not to be. The meat was tough and dry. At the BBQ selection, the roasted duck and roasted chicken were acceptable. Char siew on the other hand was found wanting, with the sauce overpowering the taste of the char siew.
Well, all is not lost though. The braised pork was a hit with us. Tender, fatty pork belly with a flavourful but not too sweet/salty sauce. The rendang chicken had an authentic nonya taste to it. You know the kind where you can taste the grinded bits mixed into the rendang sauce? Coupled with tender chicken…Oh so delicious!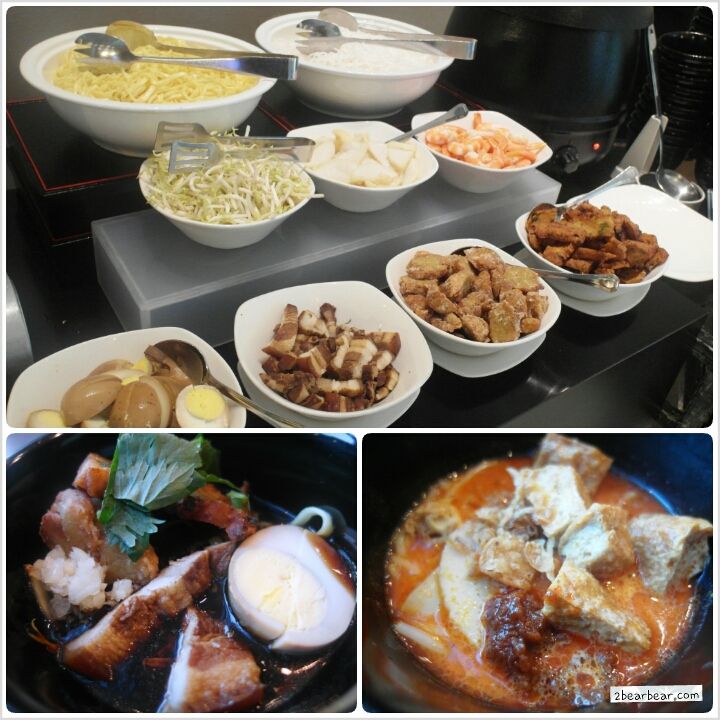 Laksa and Lor Mee at Saltwater Cafe Village Hotel Changi
The laksa and lor mee were also stars at this buffet! Their lor mee can give Tiong Bahru hawker centre's lor mee a run for their money! A variety of ingredients such as pork belly, ngoh hiang and crispy bits added layers of texture to this local delight.
The gravy for laksa is not the thick kind but exudes flavours, making you want to slurp another spoon with each mouthful. Succulent fresh prawns added to the selling points of this dish.
Desserts at Saltwater Cafe Buffet Dinner
Next, we came to Kate's favourite section – Desserts!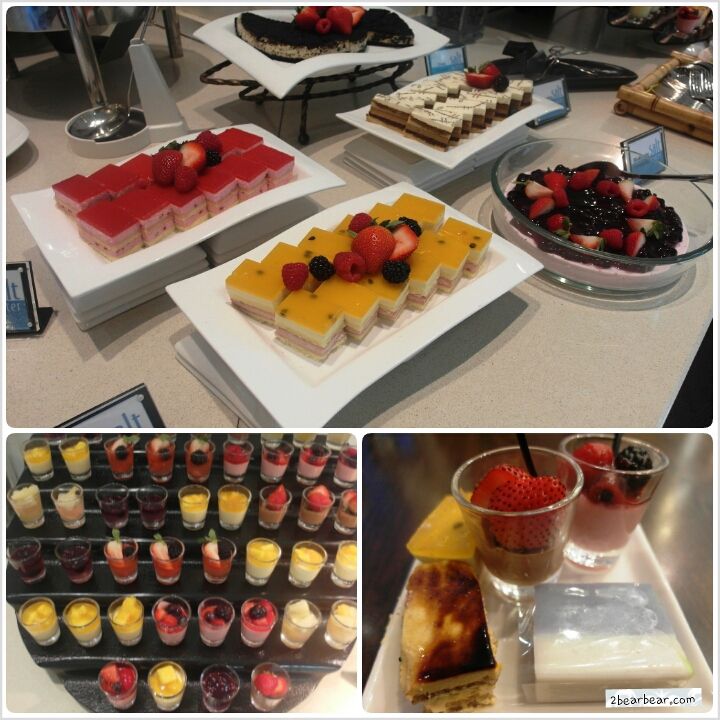 Cakes and Dessert Shots
The dessert section was quite decent. Cakes and dessert shots were quite attractive and delectable. In addition, they also offered durian pengat!

Durian pengat at Saltwater Cafe
Although the durian pengat at Ellenborough Market Cafe was the best we've tried, we were pleasantly surprised to be able to try Saltwater Cafe's rendition. We do recommend (to Saltwater Cafe) removing the sago and adding the texture of the durian flesh in so that it really makes the pengat as though you're eating mouths full of durian!
Price of Dinner Buffet at Saltwater Cafe
Price of buffet dinner at Saltwater Cafe is $42++ for adults and $21++ for children.
How to get to Saltwater Cafe Village Hotel Changi
To get to Saltwater Cafe, you will have to first take the MRT to Tampines MRT station and take bus 29. After a long bus ride, you will reach Village Hotel Changi. Saltwater Cafe is located at the first level of the hotel. However, to avoid all the travelling, why not consider a staycation at Village Hotel Changi?
For your convenience, we have arranged for the best hotel deal at Village Hotel Changi right here!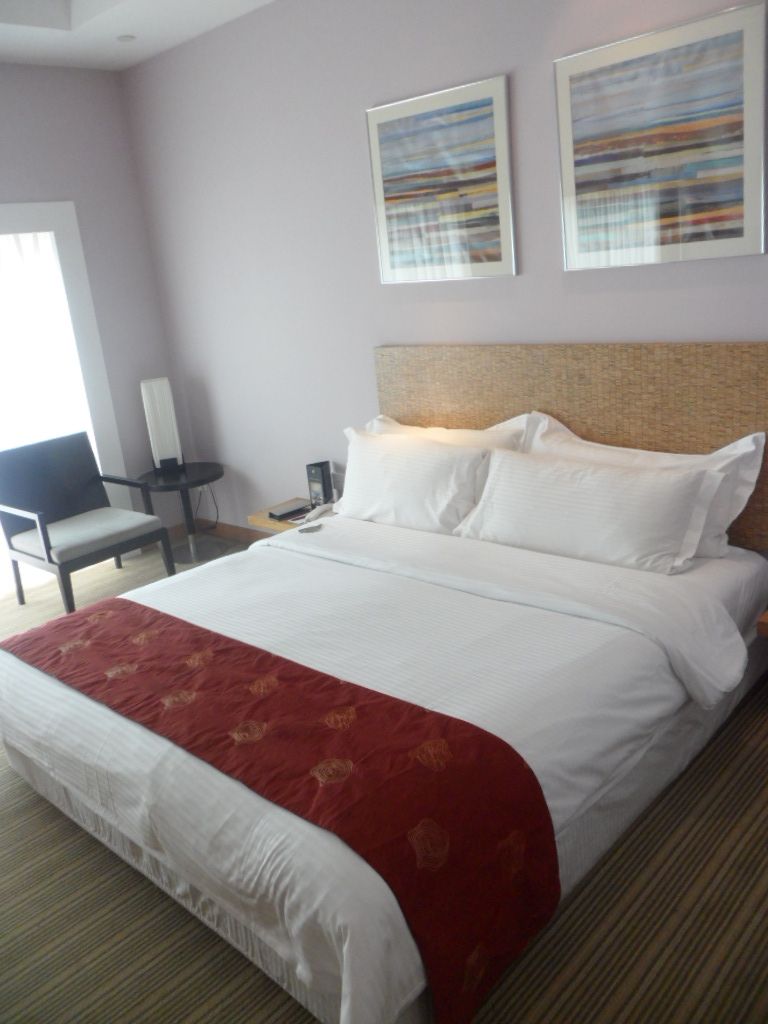 Best Hotel Deals at Village Hotel Changi!
If you enjoyed our content, "Like" us on Facebook Today!

Remember to leave your comments for 2bearbear Singapore Travel Blog in our comments section below!
Well, at the current price, it is unlikely we'll return. However, if the dinner buffet price at Saltwater Cafe is reduced, we may be back!
Related posts: