If there is one thing that you MUST do when you visit Seattle, it is the Seattle Underground Tour. The tour was started by Bill Speidel, a journalist who wanted to preserve pioneer square, which was then a run down district on the verge of being torn down for rebuilding. In doing so, he researched and found a series of underground passages which sparked his first underground tour in 1964.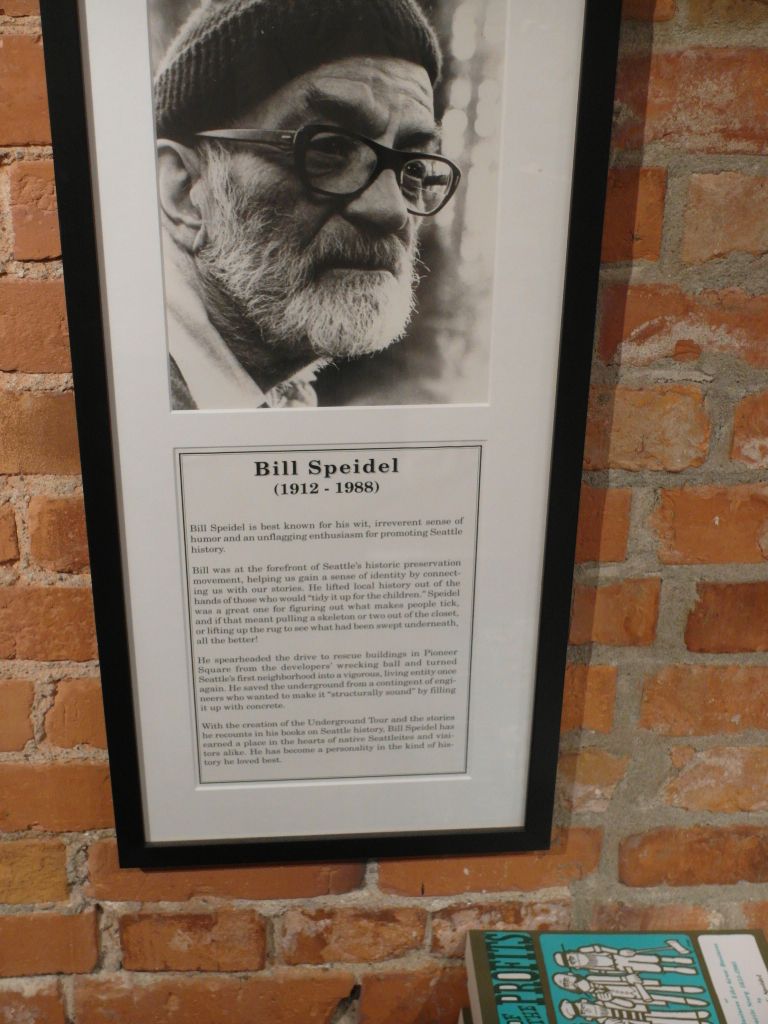 Bill Speidel – The man who started the Seattle Underground Tours
Since then, petitions and arrangements have been made to use these underground passages to show the "illustrious" history of Seattle to locals and visitors alike. We signed up for the tour and we enjoyed every bit of it. Today, the tour is pretty much based on Bill Speidel's book – Sons of the Profits (book above), which is also an interesting read.
In this post, we will try to remember everything (as much as possible) that we have learnt during this tour, which was humorous, packed with alot of information and largely entertaining!
About the Seattle Underground Tour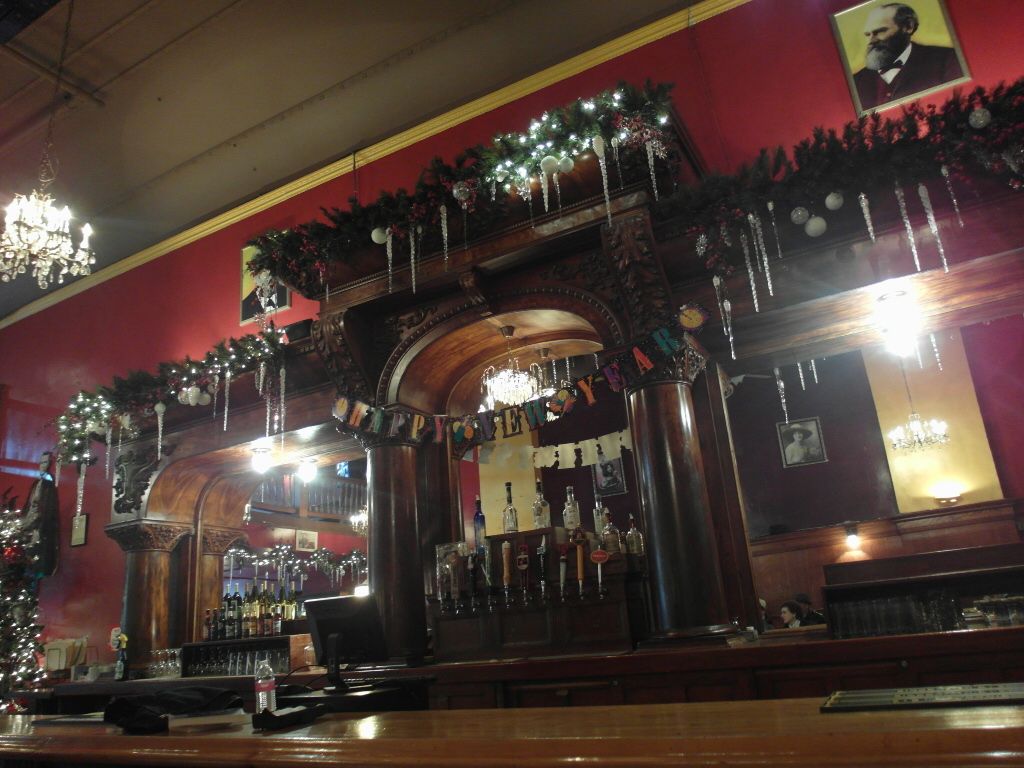 Commencement of Seattle Underground Tour in this pub / tavern
The tour costs $17 for adults for a 75 minutes tour and it all starts in this pub / tavern, next to the counter where you buy your tickets.
If you take a closer look at this picture, you will find 3 portraits – the founders of Seattle. 2 on the top and one (full body) on the extreme left. The top left is Henry Yesler, the top right is Arthur Armstrong Denny and the extreme left with a full body portrait is David Swinson "Doc" Maynard.
So how do they all come together to become the founders of Seattle? For this we have to learn about how they arrived in Seattle in the first place.
Arthur Armstrong Denny. According to our guide Dave, Arthur (the leader of the Denny party) came to Seattle for the cheap lands. During the gold rush era, the government were giving away many acres of land for a measly price and Arthur came here precisely to capitalise on it. When he first arrived, he was pleased with what he saw as there were acres of cedar and fir which he could sell for a profit. But he also wondered to himself why others did not come to claim the land? Well, soon enough, he found out the answer. During high tides, his acres of land quickly reduced to only 8 acres. But to him, 8 acres was still a good deal. So he settled and that place became what we know today as Pioneer Square, the original centre of Seattle.
Henry Yesler. Yesler was a businessman who saw opportunity in the vast fir and cedar that Seattle had. He then built the first saw mill and positioned it such that trees from the hills could slide down the hills right into his mill. This later came to be known as "Skid Road" or "Skid Row". Because of the tides, Yesler also built his mill such that at high tides, his ships could come directly beside the mill, load up and leave, saving precious time in transportation. With his saw mill, he provided much of San Francisco's timber needs and became one of Seattle's wealthiest man.
David Swinson "Doc" Maynard. Doc as he would be referred to during the tour, came from a rich background. He pretty much had success in whatever he did. He bought and sold businesses, was a medical doctor and also provided land to the Denny party. Because of his successes, he decided to try out something new. After hearing about the gold rush of San Francisco, he headed west. Enroute, he treated Catherine Troutman Broshears of cholera but failed to save her husband (what a convenient excuse), came to fall in love with her. Because of their love, Doc diverted from his trail to San Francisco, heading northwest instead to Seattle.
Seattle's early problems – sewage system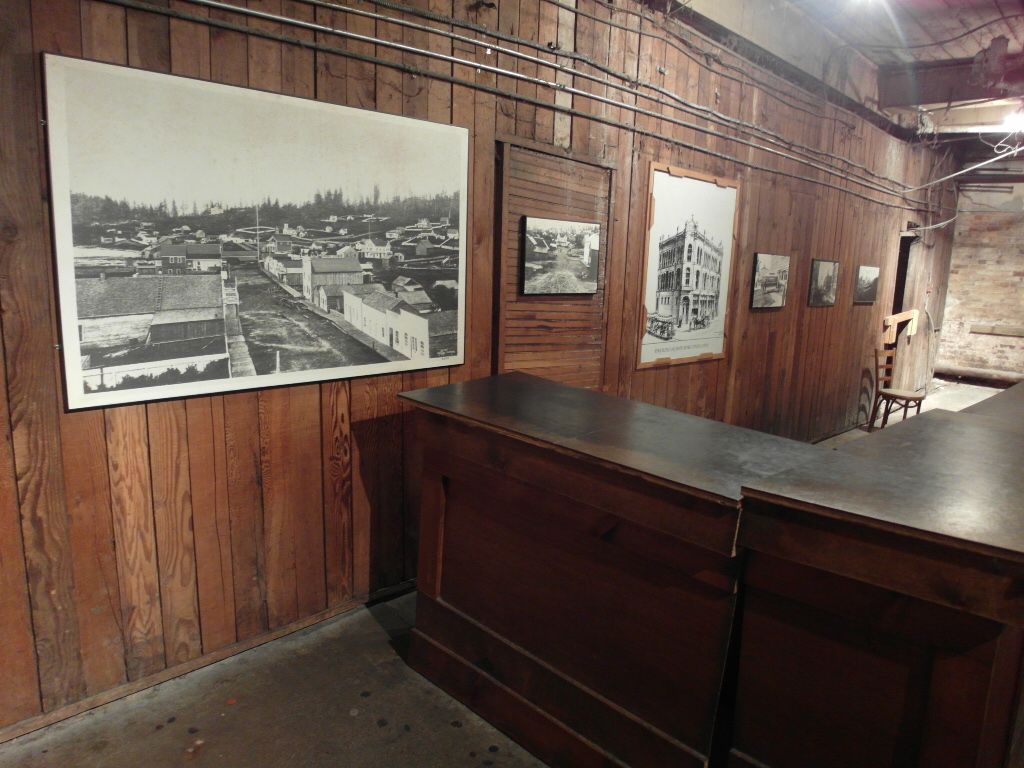 Introduction to the city's sewage problem – lowlands of mid town seattle (extreme left picture)
If you take a look at the picture on the left, you'll realise that right in the middle of the town, it was the lowest point in terms of elevation. Remember the tides we talked about earlier? These tides actually came in twice a day. What this meant was that, due to the poor sewage system (more like non-existent sewage system), the tides would bring out the sh#$ twice a day – Yay right? NO! The tides would also bring back the sh#$ twice a day, known as Tacoma's Revenge!
The rich people like Yesler didn't really cared about the condition because his mills (and ships) continued to move off on time, everytime the tides came! In addition, the rich people (who could do something about it) usually lived on top of the hills. When they did their "business", it would be brought downhill through a gravity-pulled wooden sewage system. Guess where that sh$% went? Again to the mid town!
So one day, hope came in the form of this…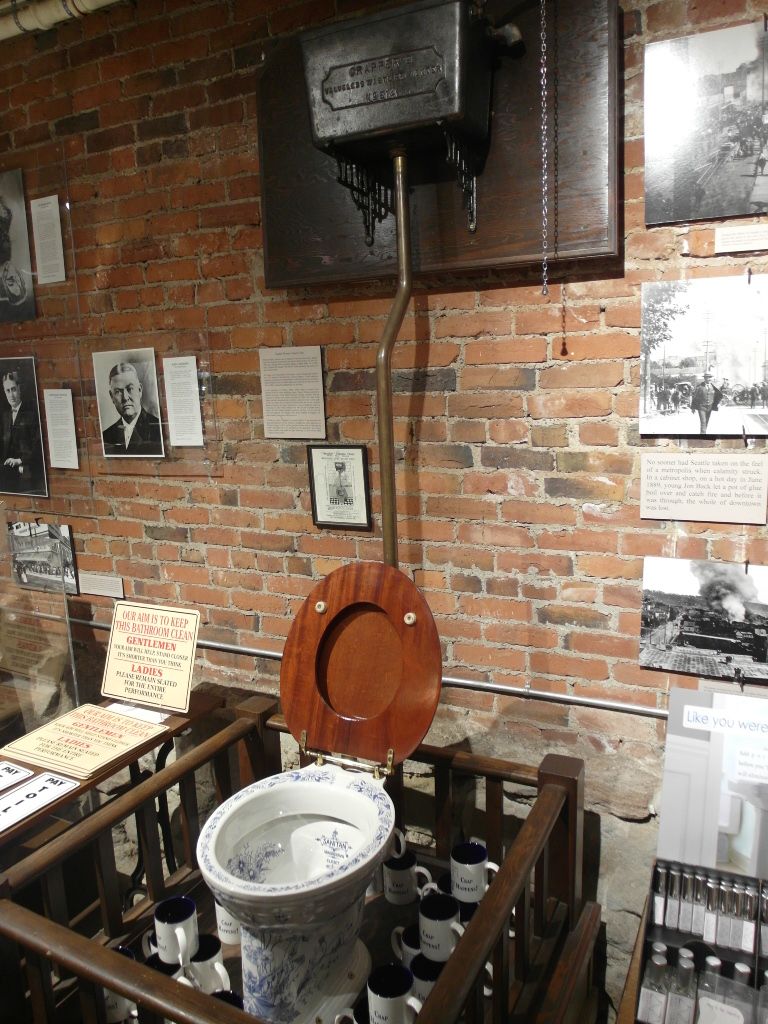 Thomas A Crapper's Flushing System
Much to contrary believe, Thomas A Crapper (Yes, his real name – that's where the word "crap" came from we think) did not invent the flushing system. But he did improve it and made many modifications to it, having 9 patents to his name which made him very rich. When the flushing system finally arrived in the West Coast (ideas and products then usually takes about 10 years to move from the east coast of USA to reach the west coast), people thought that their sewage problems would magically disappear, they couldn't be more wrong. After opening the boxes, they realised that the system doesn't work by itself, it will still need to be connected to a sewage system. Guess what? It was connected to the wooden sewage system (mentioned above), throughout town. Sh#@ geysers started to appear throughout town! Turns out that pressure from the top of the hill and pressure from the tides caused pressure to be built up so much so that if you're unlucky, when you flush one of the Crapper systems, the crap would literally explode before you!
Yet all these did not cause the people to want to redesign the city until the Great Seattle Fire of 1889 forced their hand…

The Great Seattle Fire of June 6, 1889
On a hot summer's day in June 6th, 1889, John Bach, who was working in a carpentry shop, overturned a hot pot of glue and started the Great Seattle fire of 1889. To make matter's worse, there was a paint shop next door and they tried to use water to put out the fire. If you do not know, this was a class B fire (flammable fluid) which if you used water, would spread the fire even more! So on that day, the entire Seattle was burnt down and this in one sense, forced the people of Seattle to rebuild the city on higher ground.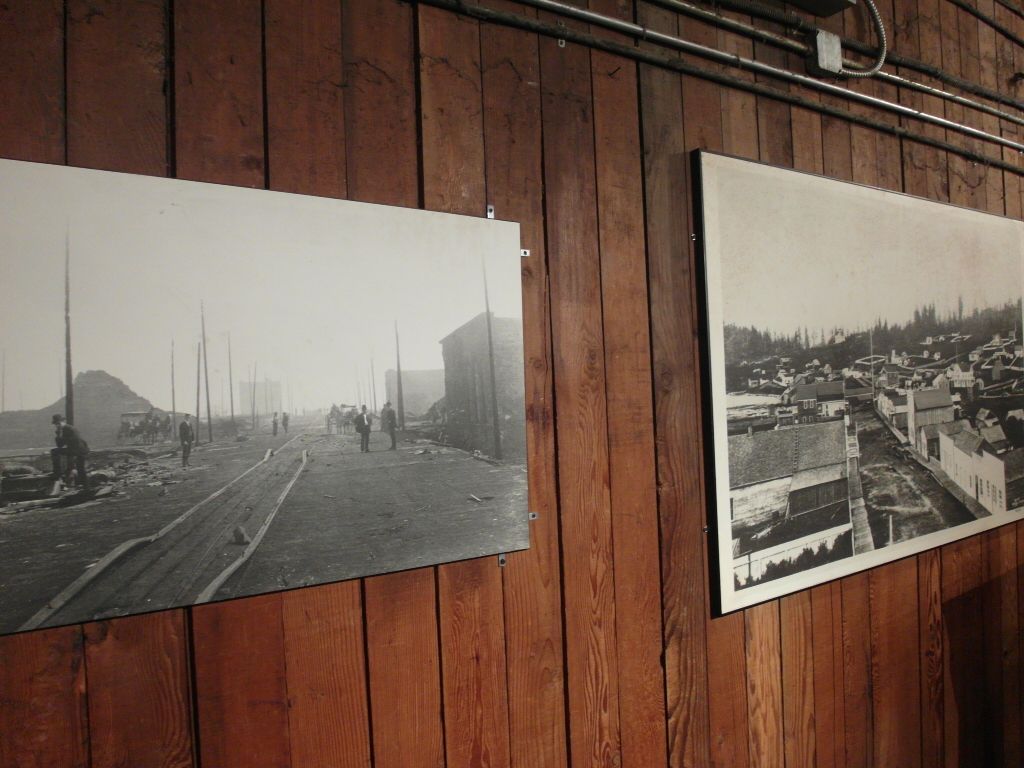 Left – Great Seattle Fire of 1889 wiped out the city of Seattle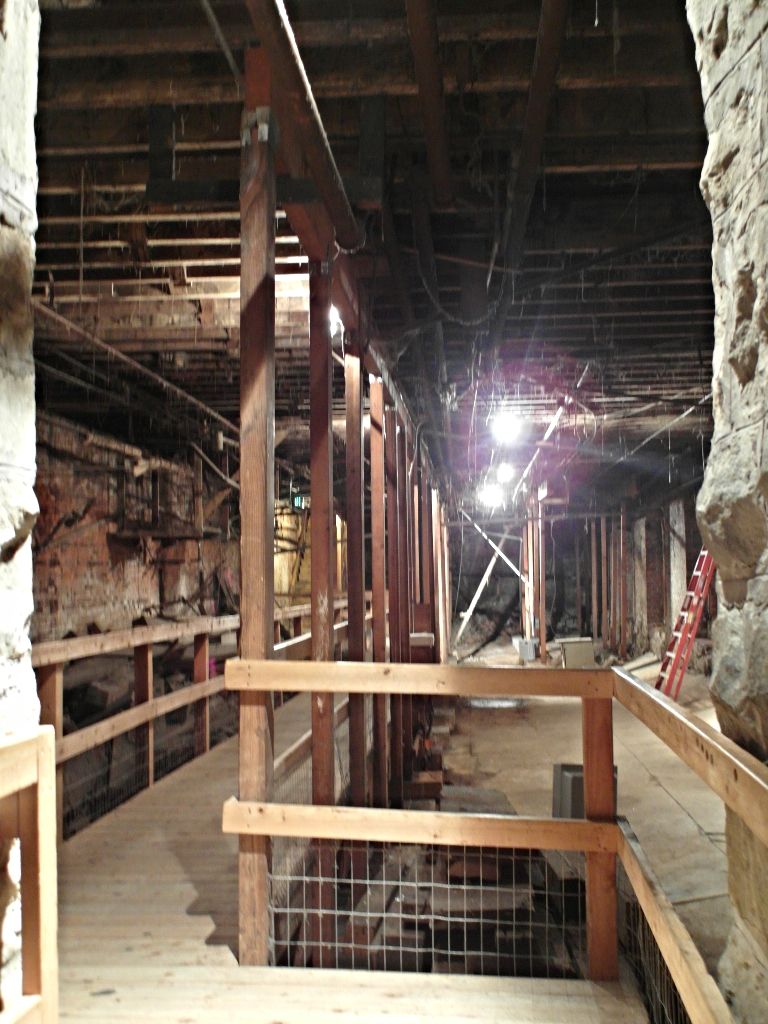 Inside the Underground Tour – mainly left as it was when Bill Speidel found it
Rebuilding of Seattle on higher ground – The creation of "Underground Seattle"

After the fire, the city administration decided to rebuild the city upwards – on higher ground. The plan was to take 8 to 10 years to complete. However, the merchants wouldn't have any of that. In fact, they rebuilt their shops at the original location within a short span of 3 years. So then, you would imagine that there are some parts of the city on the original lower parts and newer parts of the city on the hills…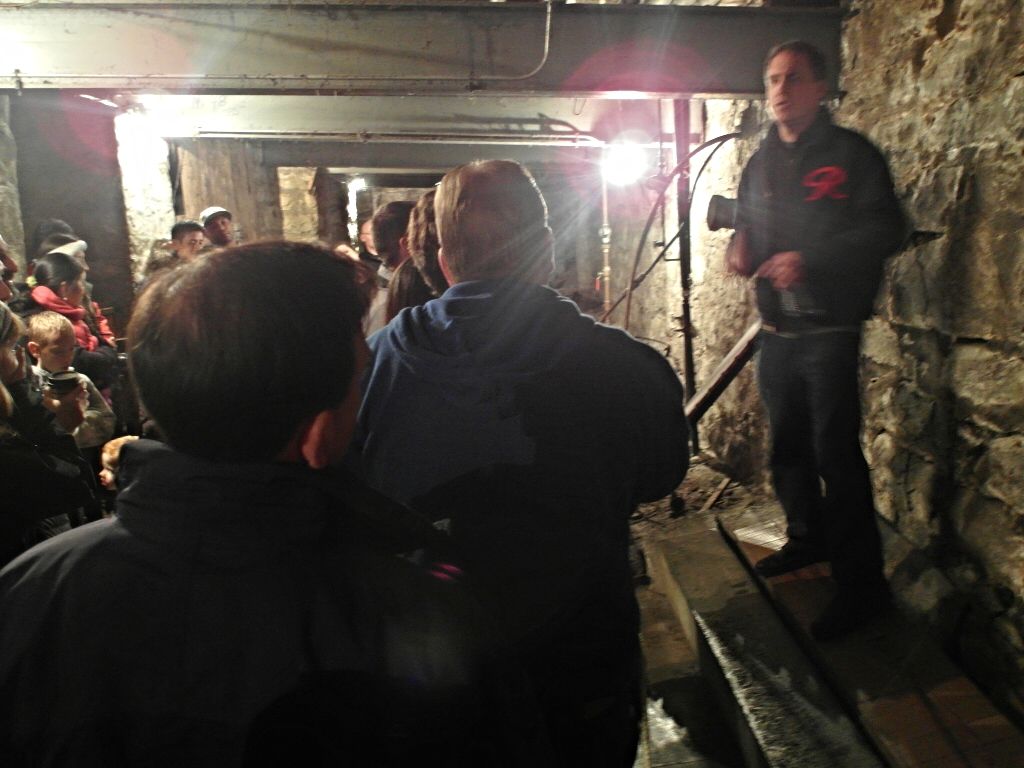 Notice the wall behind Dave – Seattle Underground Tour
So in this picture, you will see Dave on the right with a wall behind him. You will have to imagine this…
1. The original street was where everyone's standing. This is also the original store front where the merchants rebuilt their shops.
2. Above the wall behind Dave, the other parts of the city have begun rebuilding so you will see that there's a disconnect between the old city and the new city.
The people of Seattle thought. "Hey, no problem, we'll just place ladders on these walls to connect the old part of the city and the new!"
What a "brilliant" idea!
As a result…
1. Power Shopping. You could be shopping on the main streets of the old town and once you're done, you'll climb up these ladders to the top of the walls to go home to the new part of the city! Talk about "Power Shopping!"
2. Dead while Shopping. From the top of the walls, some barrels would be delivered on the streets above. And sometimes, these barrels fell from the top of the wall, right smack into the main shopping street. People sometimes just "go" when the barrels fall. So you literally have to watch out for barrels when you shop!
3. One-step Programme. Sometimes at 2am in the morning, after leaving the pubs drunk, some of these drunkards would walk to the edge of the wall and fall 35 feet and plunge to their deaths! Talk about a "one-step programme" to quit drinking…
So to stop all these, shop owners decided that they will have to be connected to the higher part of the city. So I-supports and arches, like the one you see in the picture above, joined the wall to the buildings. Some owners also started to have 2 separate store fronts. One at the lower level, the original entrance and a second one at the second level in anticipation for the connection to the higher levels.
If you realise, in doing so, the "Underground" was created!
And now you see that the Underground Tour is not a tunnel that was dug out. It was a rebuilding of the city upon itself that created these underground walkways!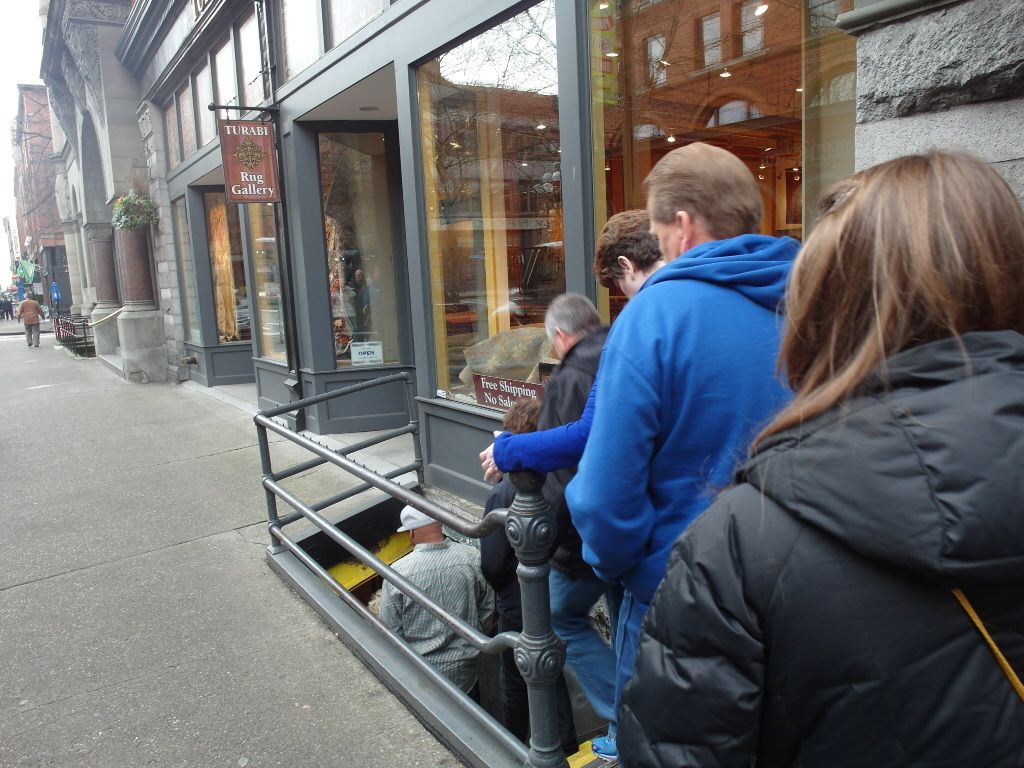 Heading to another part of the Underground Tour

Sky light above
To allow natural sunlight to enter the "Underground passages", sky lights such as these were sprinkled throughout the city. But because it was constructed with manganese, some of these started to turn purple and rendered it useless. The other interesting that you might want to know is that because of the building and rebuilding over the city, if you take a plan view of the city, it really resembles that of a giant waffle – compartmentalised. This explains why we had to move out of this part of the underground, go above ground and enter another part of the underground, simply because they weren't directly connected anymore.
Seattle's Rat Plague of 1907
In the early 1900s, a rat plague started to emerge in the underground passages of Seattle. It started to get out of control and the administration decided to pay 10cents to each rat tail that was given to them. Guess what?
Children started to rear rats in order to claim the bounty of 10cents! Such entrepreneurship! Seattle is afterall the home of Amazon, Microsoft and Starbucks!
So in 1907, the underground passages were shut down in a bid to control the rat plague.

What really went on in Seattle's Underground
A side story came up during our tour…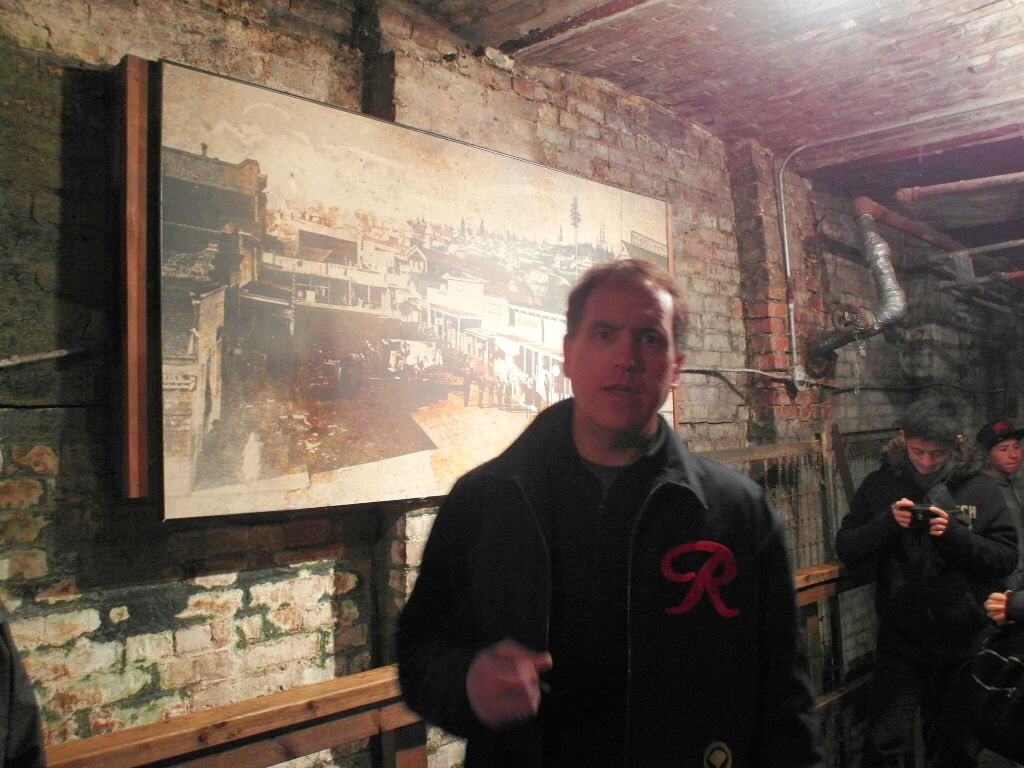 Our guide Dave (of Seattle Underground Tours) was humorous and knowledgeable – Thanks Dave!
A population census was conducted on the population of 25,000 then. Of these, 2500 ladies declared their profession as "seamstress". This was quite unusual for a town of miners and loggers. Alot of "mending" must have taken place.
So they sent a group of investigators to find out the truth and after 2 months of "exhaustive research", they found out that this group of ladies were not really seamstress and there was not a single sewing machine to be found!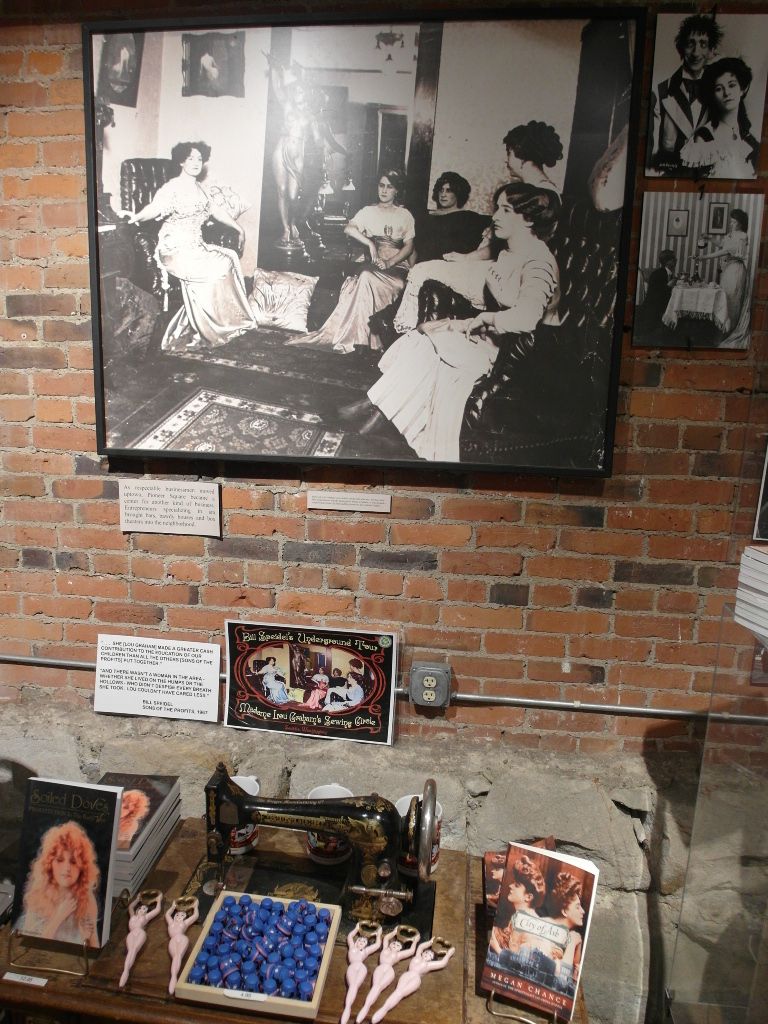 Mdm Lou as seen in this picture – no one's sure if its her though
In comes Lou Graham, better known as Mdm Lou. She owned the best parlours in the city of Seattle. She was a successful businesswoman who had a keen eye for investments. This made her really really rich. In fact, after she died, she donated all that she had to public education. Even in today's terms, after adjusting for inflation, her donation is still the single largest donation ever in Seattle! But the sad thing is that not a single school in Seattle is named after her.
At this juncture, Dave introduced about the "Underworld Tour" which is only meant for adults. We did not go for that. But we were told that "advanced stitching techniques" would be discussed in this tour. Do tell us about it if you have attended!
Naming of the City of Seattle after Chief Seattle

Dave told us that if we could only remember one thing from the tour, it was how to pronounce Seattle. Remember Doc – one of the founding fathers above? Turns out that he had a personal relationship with Chief Seattle who was the chief of the Suquamish tribe. Doc then lobbied for the city to be named after Chief Seattle.
The actual way of spelling Chief Seattle's name is Si'ahl and the actual way to pronounce it is Siak! You will have to pronounce the "ke" with your tongue rolled up as though you're about to spit. Ghosts were also briefly discussed on this tour and suddenly, the air started to fill cold…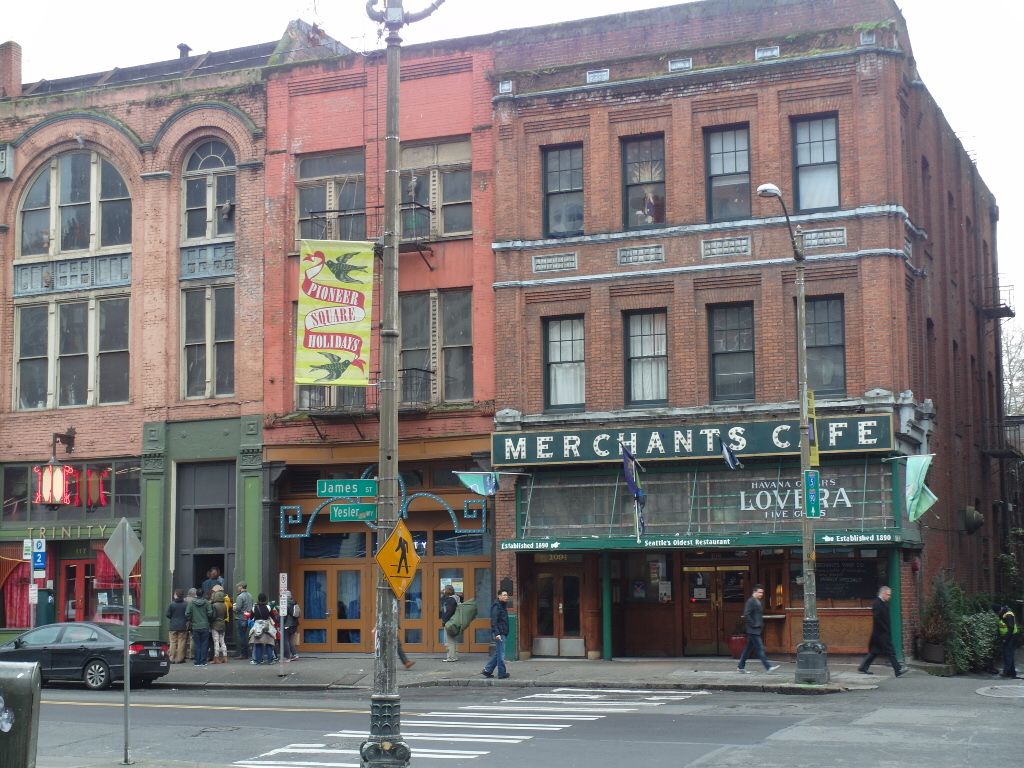 Entrance to our first underground area at door 115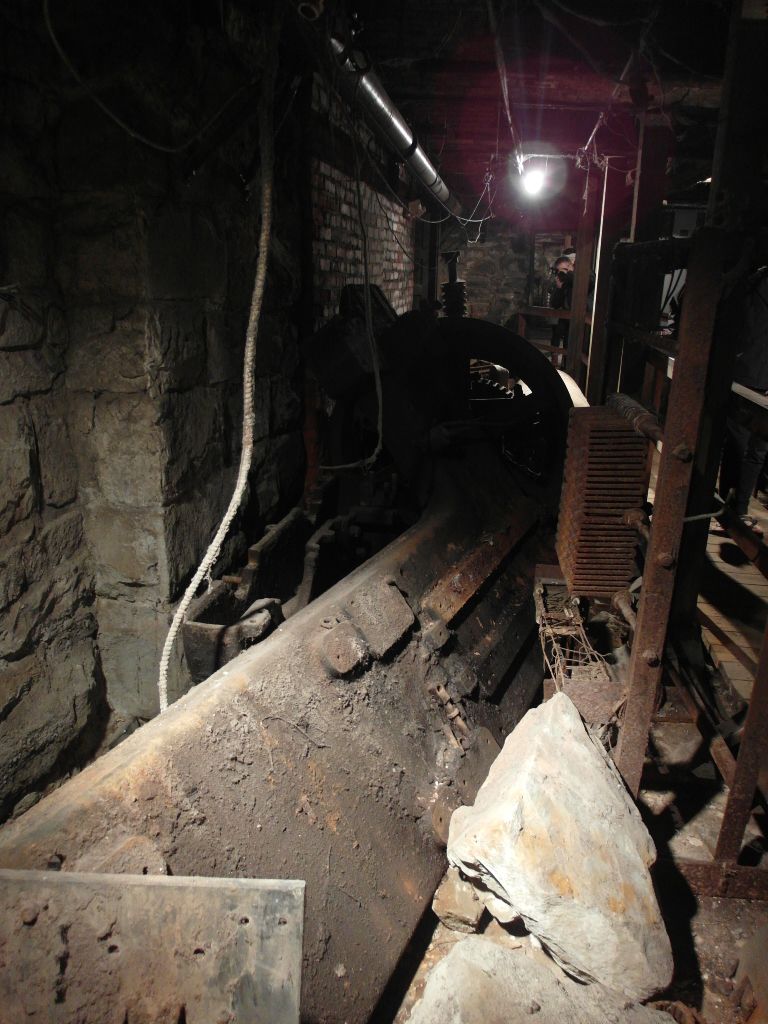 More underground areas
If you enjoyed our content, "Like" us on Facebook Today!

Related Posts
This is part of our coverage of San Francisco, Seattle and Vancouver USA. Check out these posts if you're visiting the West Coast of USA!
Top 5 Things to do and Attractions in Vancouver Washington USA!
Top 11 Things to do and Attractions in San Francisco USA
Top 8 Things to do and Attractions in Seattle USA!
Things to do and Attractions in Eureka California!
Metropolitan Grill Seattle : Are the steaks worth it?
Seattle Underground Tour by Bill Speidel : A tour not to be missed!
Seattle Space Needle , Chihuly Garden and Glass and the Monorail to Westlake Center
World's first Starbucks in Seattle – Do not be confused!
The Crab Pot Sea Feast : A Seattle MUST TRY!
Pike Place Market : (Possibly) Seattle's Top Tourist Attraction!
What's YOU MUST DO at San Francisco's Fisherman's Wharf!
Pizza and beers at Umbria San Francisco!
Great Eastern Restaurant Chinatown San Francisco : Even Obama visits it!
The steep slopes of San Francisco : A Pictorial Post
San Francisco's "Crookedest Street" at Lombard Street!
Scenic Oregon Drive from Vancouver to San Francisco!
Travel Through Time with Historic Monuments at Vancouver Washington!
Vancouver Washington's Natural Wonders!
Catching Portland Winterhawks in action after Burgerville Meal!
Why You should eat at Beaches Restaurant than McMenamins in Vancouver Washington
Red Lobster….FINALLY!
Inn at the Market Seattle : All about Location Location Location!
San Remo San Francisco : Hotel with a PRIME location!
Palace Hotel San Francisco : A great mix of History, Class and Luxury!
Heathman Lodge Vancouver Washington : One of our best hotel stays EVER!
Hilton Vancouver Washington : Classy Stay & Room with a View!
For your convenience, we have arranged for the best hotel deals in Seattle right here!
The Seattle Underground Tour is definitely something that you must do during your visit to Seattle. It is entertaining and packs alot of information which allows you to understand the city that much better. If there's one thing that YOU MUST DO in Seattle, it must be the Seattle Underground Tour!
Related posts: