There is one really simple secret in enjoying Hong Kong Cafes otherwise known as Char Chan Tengs in Hong Kong. If you take a look at this menu…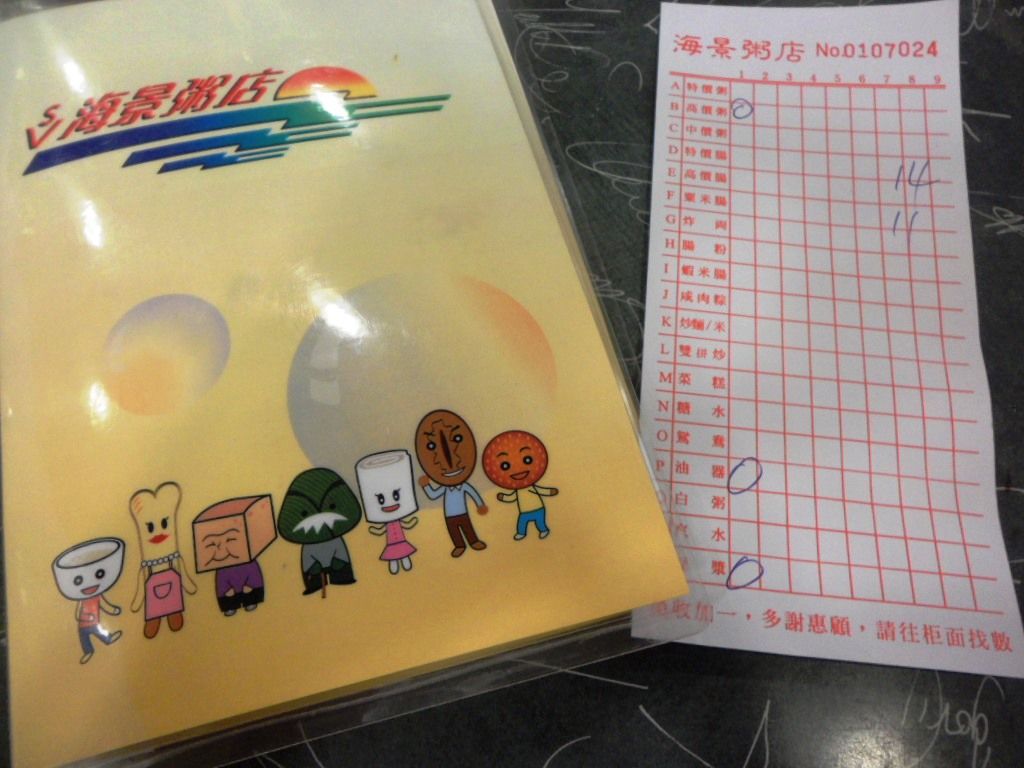 Menu of Hai Xing Congee Shop
You will notice that this particular shop is called Hai Xing Porridge Shop. It means that although it serves staples like toast and milk tea for breakfast, its signature is porridge! We ordered the boatsman congee and it was one of the best congee we've ever eaten!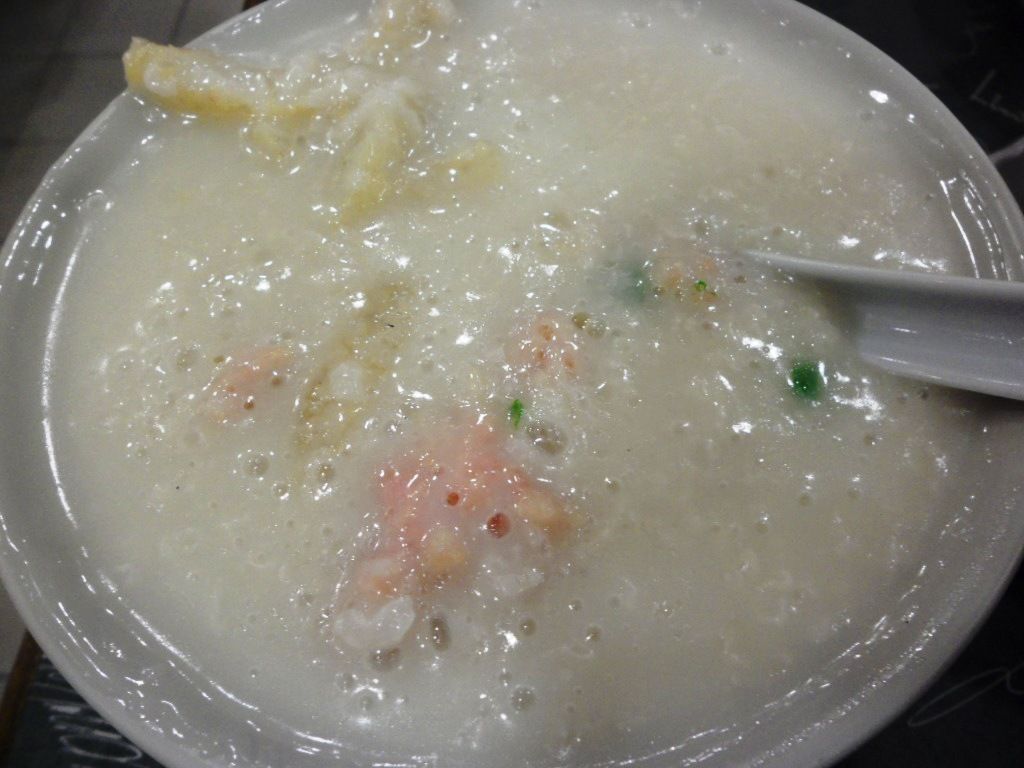 Boatsman Congee Hong Kong Cafe
Legend has it that in the past, to make a quick meal, fishermen or boatsman would throw rice and everything else they could find into a pot and let it simmer. The result is an enjoyable bowl of boatsman congee. This version has century eggs, pork, pork stomach, chicken, tendon, squid along with a really enjoyable milky taste!
We also had fried dough (you tiao), soyabean milk as well as a peanut butter toast…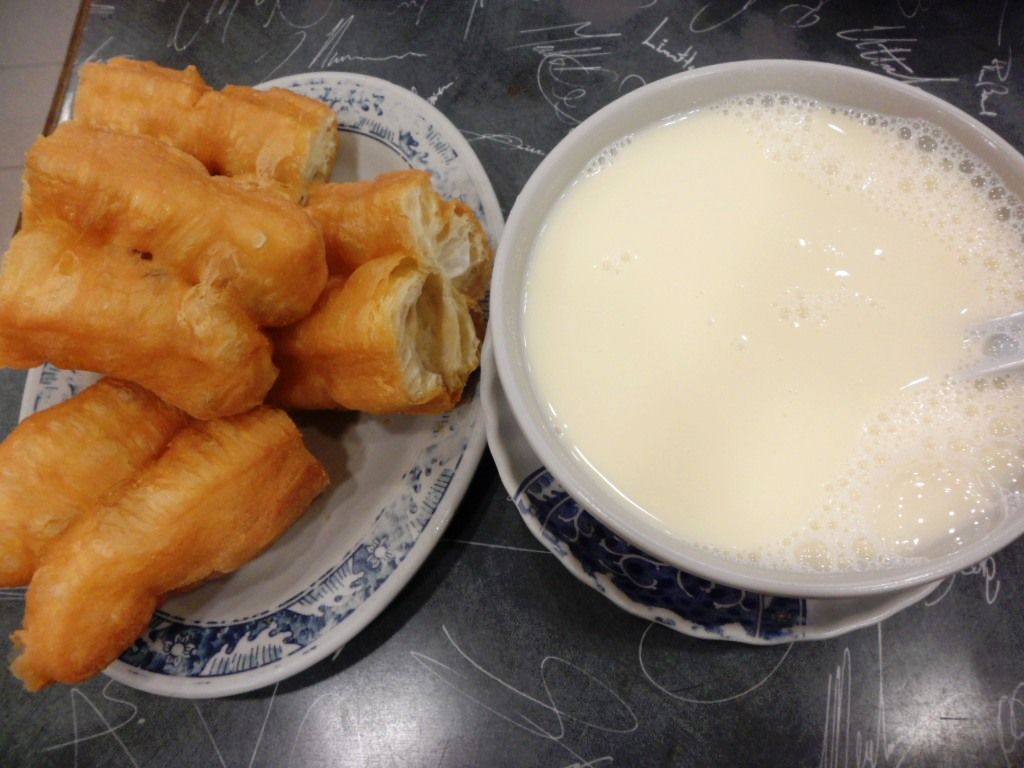 Fried dough that remained crispy after dipping into soyabean milk – 11 HKD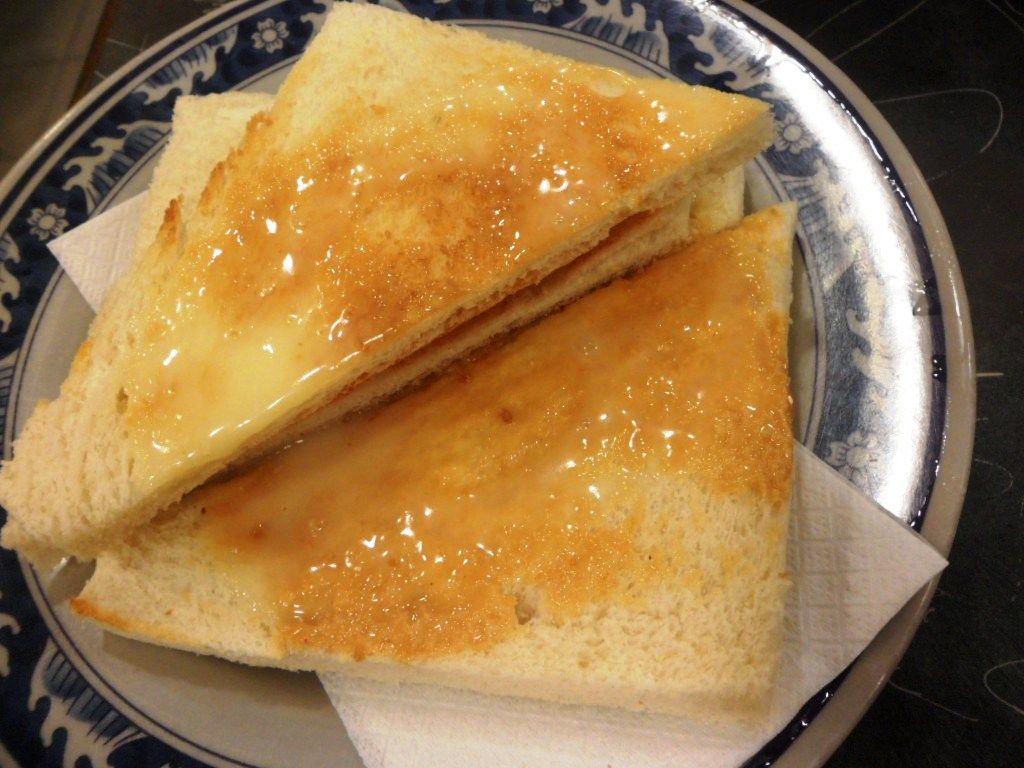 Peanut butter and condensed milk toast – 11 HKD
If you enjoyed our content, "Like" us on Facebook Today!

For your convenience, we have arranged for the best hotel deals in Hong Kong right here!
There are actually many Hong Kong Cafes with different specialties such as wanton noodles, beef noodles, milk tea and also congee.
So the secret is out, to enjoy the best of Hong Kong Cafes, note what is their specialty and order it. That way, each meal at a Hong Kong Cafe will be thoroughly enjoyed! Read also our post on "What a typical Hong Kong Cafe is like" for a better understanding of the HK Cafe culture!
Related Posts
You have just finished a post on our 9 day trip to Hong Kong, Macau and Shen Zhen. Read on to find out more about our adventures during this trip!
Hong Kong Trip : Day 1
Hong Kong Trip Day 2 : The Attractions of Tsuen Wan
Hong Kong Trip Day 3 : Ocean Park and New Year's Eve Countdown
Hong Kong Trip Day 4 – Side Trip to Macau
Hong Kong Trip Day 5 – Continuing Our Travels in Macao
Hong Kong Trip Day 6 – Rounding up Macao and Returning to HK
Day 7 Hong Kong Trip : Side Trip to Shen Zhen & Debunking Recommendations
Day 8 Hong Kong Trip : What we did in Central 中環 Hong Kong
Day 9 Hong Kong Trip : A Surprise Find at Lian Xiang Ju Dim Sum Restaurant
Hotels and Hostels We Stayed in Hong Kong
New Year's Eve Countdown at Victoria Harbour Hong Kong
Ibis Hotel Hong Kong Central & Sheung Wan : For the Best Views of Victoria Harbour
L Hotel Nina Convention Centre Hong Kong : Great views over Tsuen Wan
Jordan Comfort Inn Review @ New Lucky House Hong Kong
New China Yan Yan Guest House at Chung King Mansion
Food and Dining in Hong Kong
3 Reasons Why You MUST Try Dim Sum in Hong Kong and Macao
The Minimalist Guide to Eating at Tim Ho Wan Hong Kong
A Classy Treat at Lei Garden International Finance Center Hong Kong
Mak Mun Kee 麦文记 Noodles Shop : Best Wanton and Beef Noodles in Hong Kong
Great Desserts at Australian Dairy Company Hong Kong! ( 澳洲牛奶公司)
Lan Fong Yuen Hong Kong : For a taste of traditional milk tea since 1952
Secret to Enjoying Hong Kong Cafes…
What a typical Hong Kong Cafe is like
Debunking Recommendations of DiscoverHongKong.com : What NOT to eat in Hong Kong
Attractions in Hong Kong
Hong Kong Central Mid Level Escalator : Longest Escalator Walkway System in the World
Avenue of Stars 星光大道 : Hong Kong's Hollywood Walk of Fame
Ocean Park Hong Kong : Still worth a visit?
Temple Street 庙街 Hong Kong : First glimpse at Hong Kong's Night Market
Where to shop in Hong Kong? Citygate Outlets Tung Chung!
Elements Shopping Mall at Kowloon Hong Kong
Only make a side trip from Hong Kong to Shen Zhen if…
21 Amazing Travel Experiences in Hong Kong
Hotels We Stayed in Macau
Hotel Royal Macau : Luxury at a Central Location
Regency Hotel Macau : A 5 Stars Hotel?
Attractions in Macau
Guia Fortress and Lighthouse Macao : An Elusive Fortress Found
Macao Maritime Museum : Great Price Good Exhibits
Historic Centre of Macao : Ruins of Saint Paul's, Mount Fortress & More
Cotai Strip Macau : Games, Shows, Food and Entertainment
Taipa Village Macau : Houses Museum, Pork Buns, Portuguese Egg Tarts
Top 5 MUST DO Things in Macao : You have not been to Macao unless you have…
Related posts: