Have you ever wanted a staycation where you and your family (including the kids) can really rejuvenate, relax and just have a great time? Look no further than a staycation at Shangri-La's Rasa Sentosa Singapore!

Singapore Staycation at the Rasa Sentosa Resort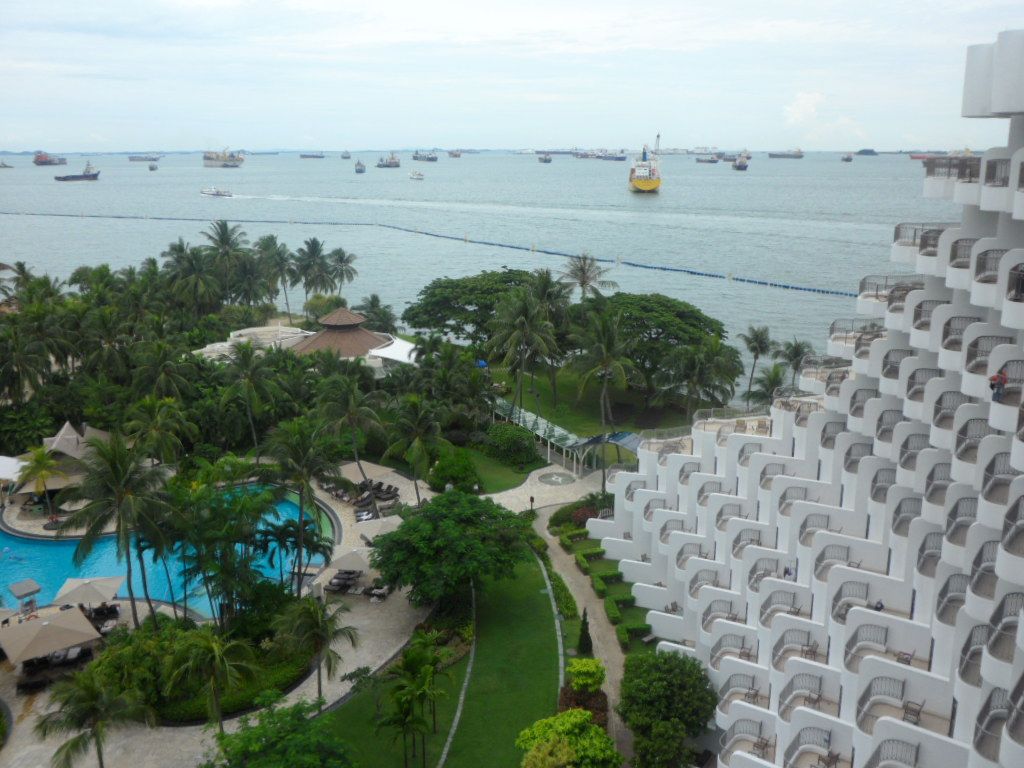 Staycation at the Deluxe Pool View room of Shangri La's Rasa Sentosa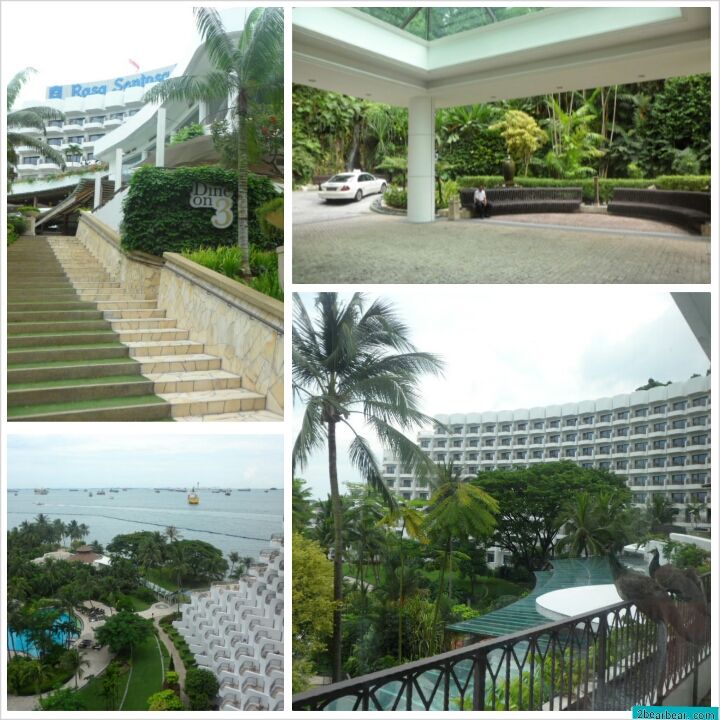 In and Around Rasa Sentosa Resort Singapore
We have heard all about the family-oriented features and programmes at the Rasa Sentosa but this time, we finally got the opportunity to check it out for ourselves! After a smooth check-in, we were brought to our rooms by one of the receptionist and the room was just nothing short of amazing…check this out!
Family Staycation at Shangri-La's Rasa Sentosa Resort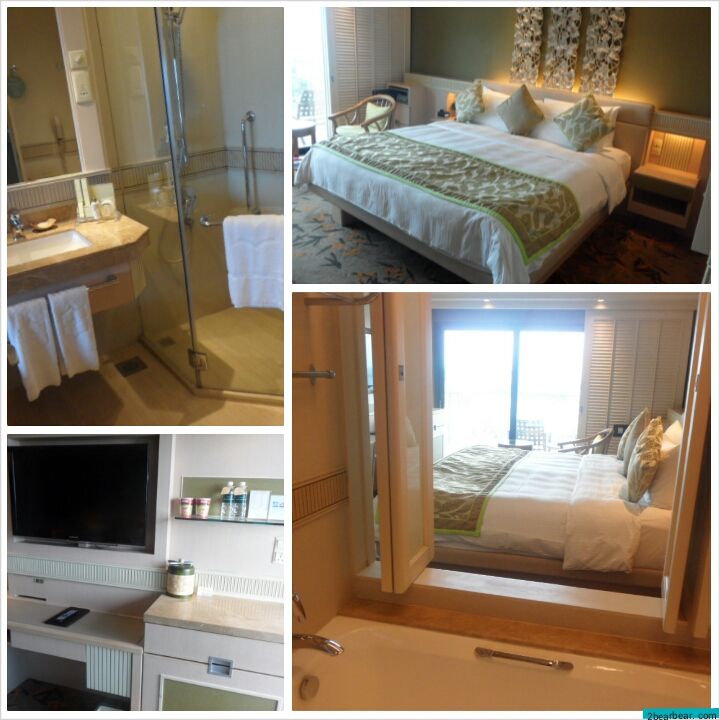 Deluxe Pool View Room at the Rasa Sentosa Resort
The room was a sanctuary and gave us an excellent vibe to the start of a staycation. The room was spacious with a pastel coloured theme. You know we sometimes complain about bathrooms that DONT allow you to bathe while you watch TV? With the swivel TV and "windows" at the bathroom, you can relax and enjoy your bath while watching your favourite shows! The kids can also enjoy their bath while staying tuned to Cartoon Network! 🙂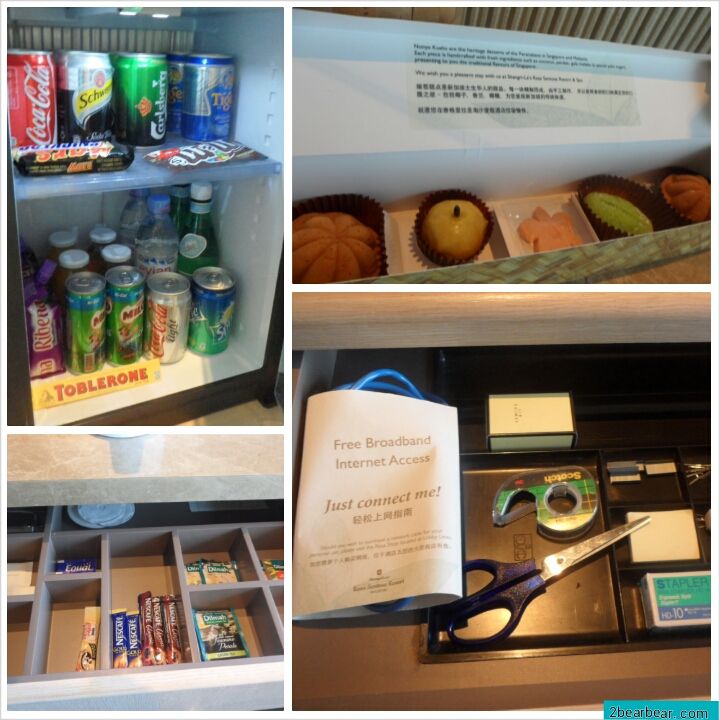 Amenities in the Deluxe room of Shangri La's Rasa Sentosa Resort
The room is well-stocked and you have a small selection of teas and coffees. The hotel's turndown service was also a thoughtful gesture whereby they re-arranged our rooms and brought in their nonya kueh kuehs while we were at the pool!
The kids can access stationery for their art and crafts if they need to!
Take a tour around our Deluxe Pool View Room at Rasa Sentosa Resort here…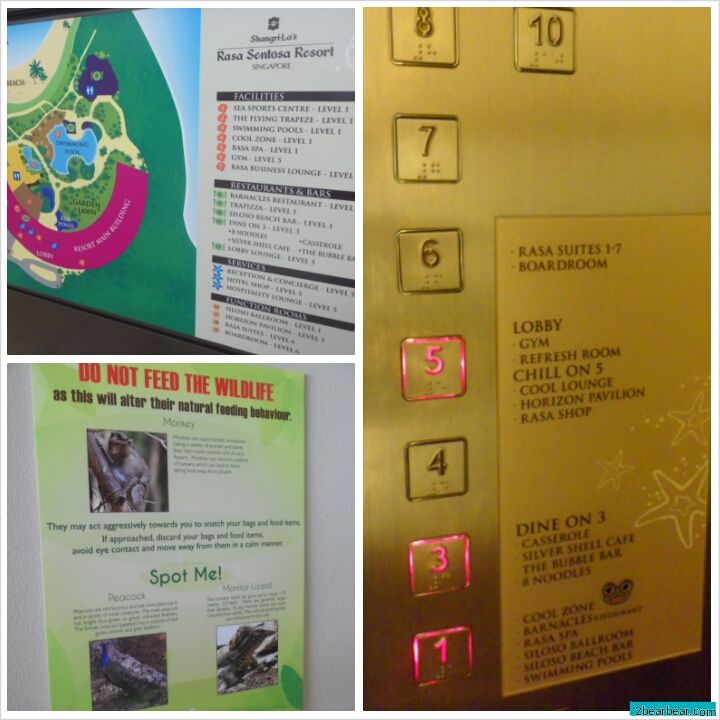 Hotel Information of the Rasa Sentosa Resort
Nope, we did not spot the monkeys. Beautiful peahens did make their appearance though.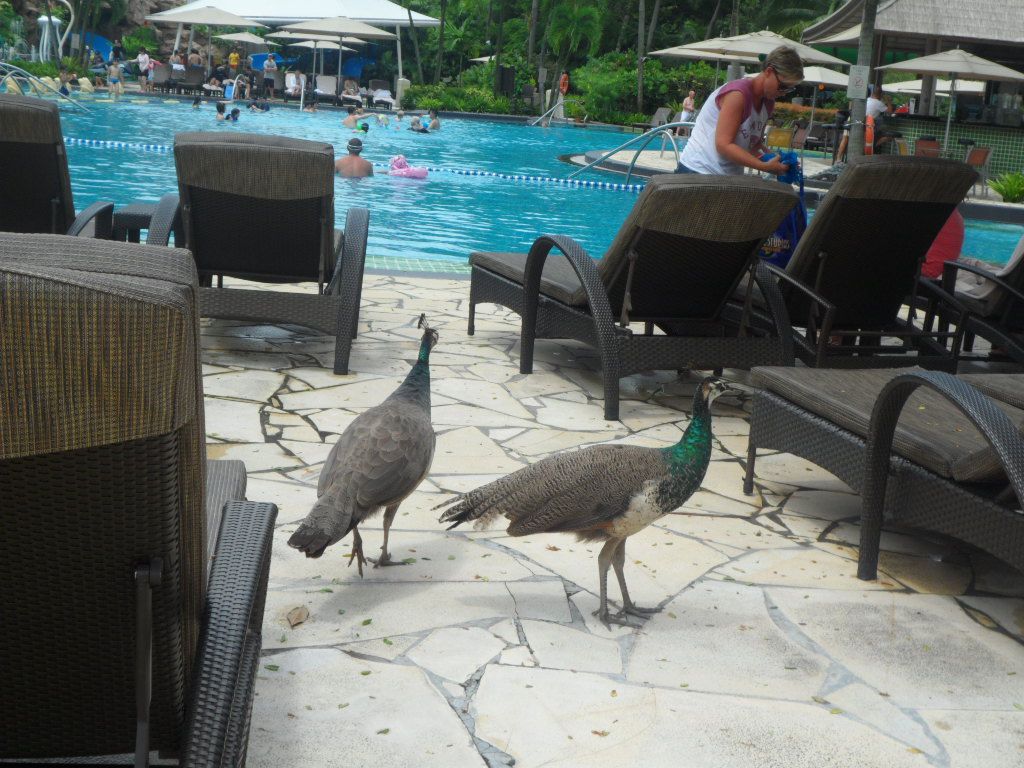 Peahens chilling out at the pool
From the lift buttons you can see that the gym is located at level 5 while the swimming pool and cool zone (for the kids) are at level 1. The restaurants and chill out bars are scattered throughout the premise.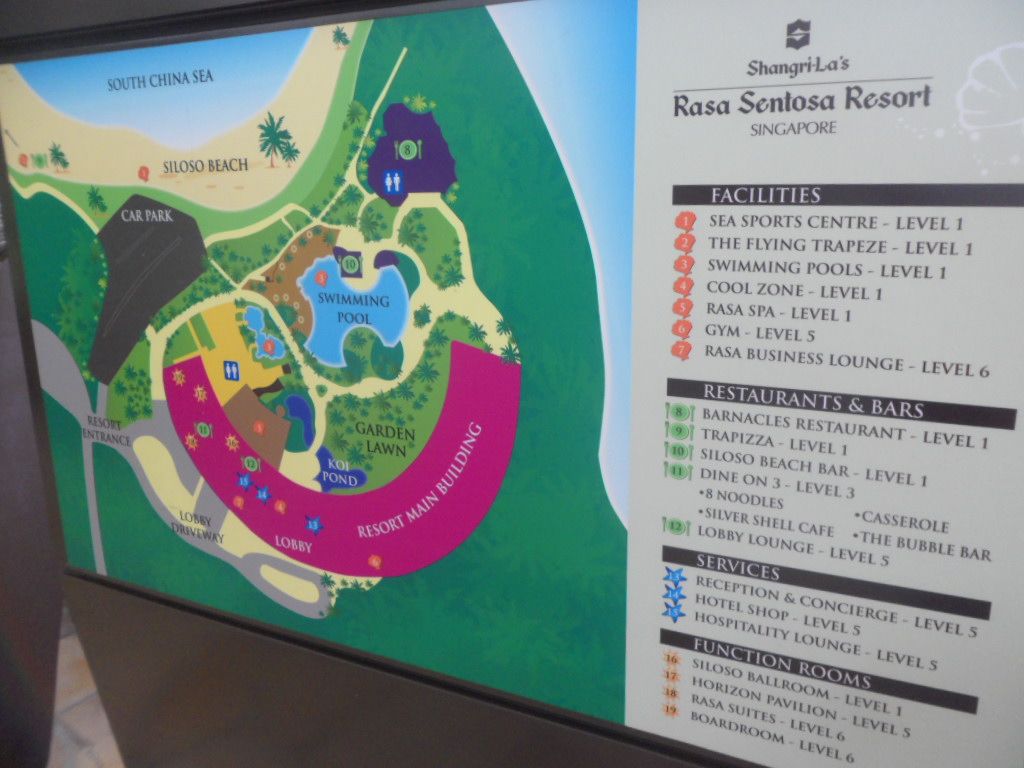 Map of the premise at Shangri-La's Rasa Sentosa Resort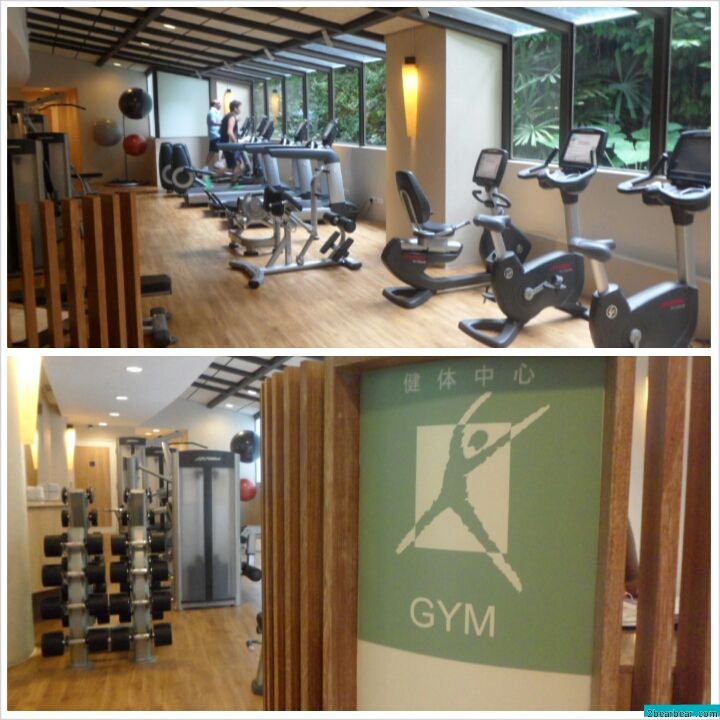 Gym of Rasa Sentosa Singapore
Tom took a 5km run on the treadmill at the gym and lifted some weights using the various machines available. After the gym, it was time to hit the pools! (After a quick shower of course – dont EVER jump into the pool after a sweaty work out people!)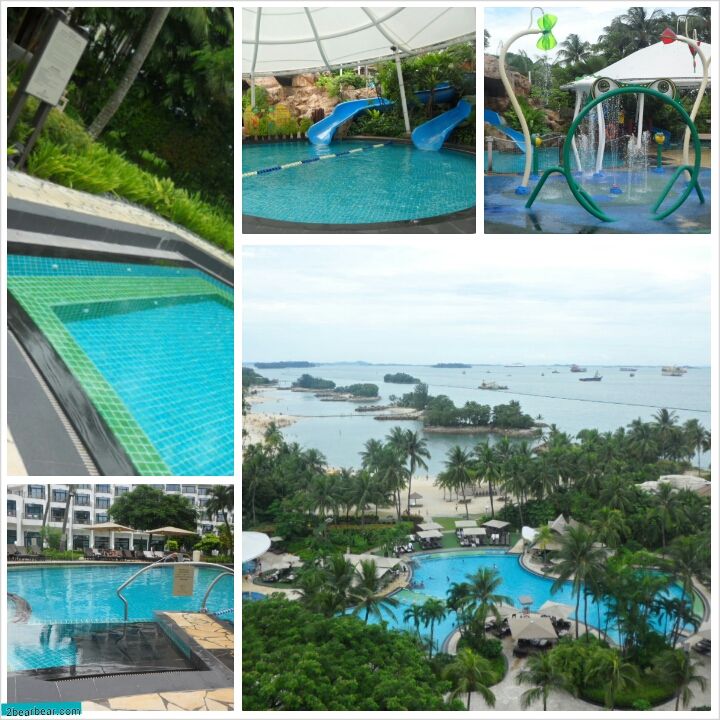 Swimming pool of the Rasa Sentosa Resort Singapore
As we have mentioned many times, the swimming pool makes or breaks a staycation! The pool at Rasa Sentosa certainly made our staycation GRRRRRRREAT! (To the sound of Kellogg's) We have been to Siloso Beach at Sentosa many times but we never realised that the pool of Rasa Sentosa Resort was actually HUGE!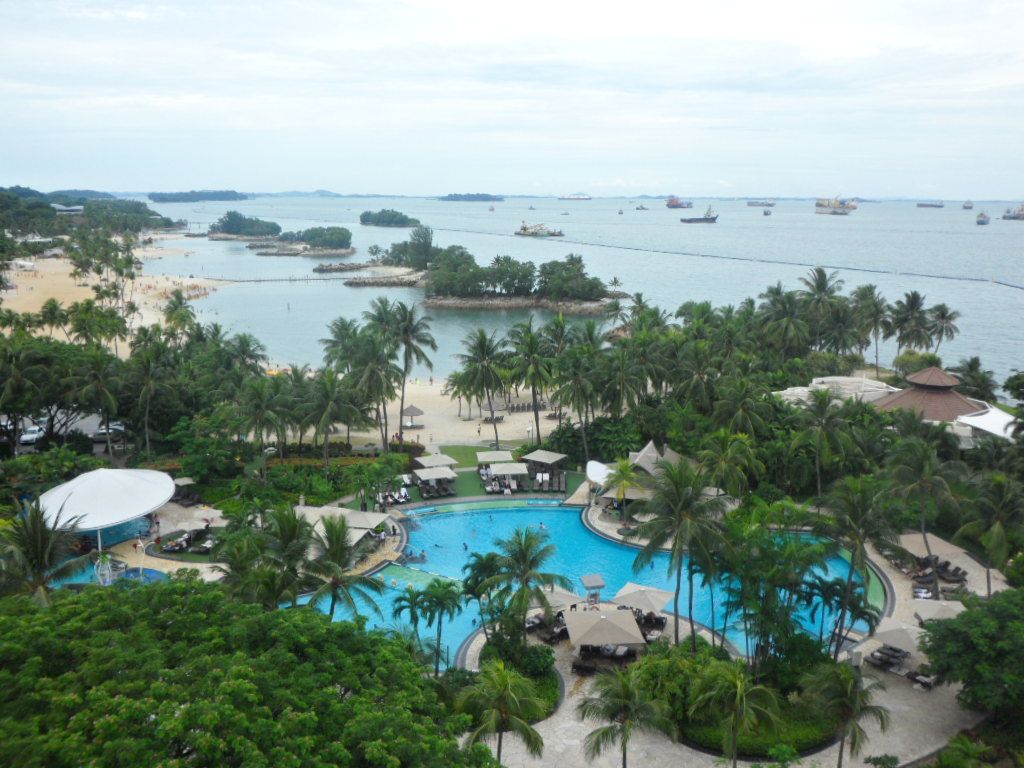 Huge pool for staycation at the Rasa Sentosa Resort
Staycation for the Kids at Rasa Sentosa Resort Singapore
Plus, there are dedicated play areas for the kids! There are slides, splash areas just for the kids. What's more, Toot's Club (Kids club at Rasa Sentosa) actually plans programmes for the kids for the ENTIRE day! A typical day goes like this
9.30am : Welcome
10.00am : Cirque Du Rasa (A variety of Circus skills for the children to enjoy daily)
11.00am : Garden Games / Island Tour
1.00pm : Art and Craft
2.00pm : Fun at Siloso Beach (Beach Games)
3.00pm : Pool Games
4.00pm : Special Event of the Day
5.00pm : Shower Break
7.00pm : Evening at Cool Zone
9.00pm : See you Tomorrow!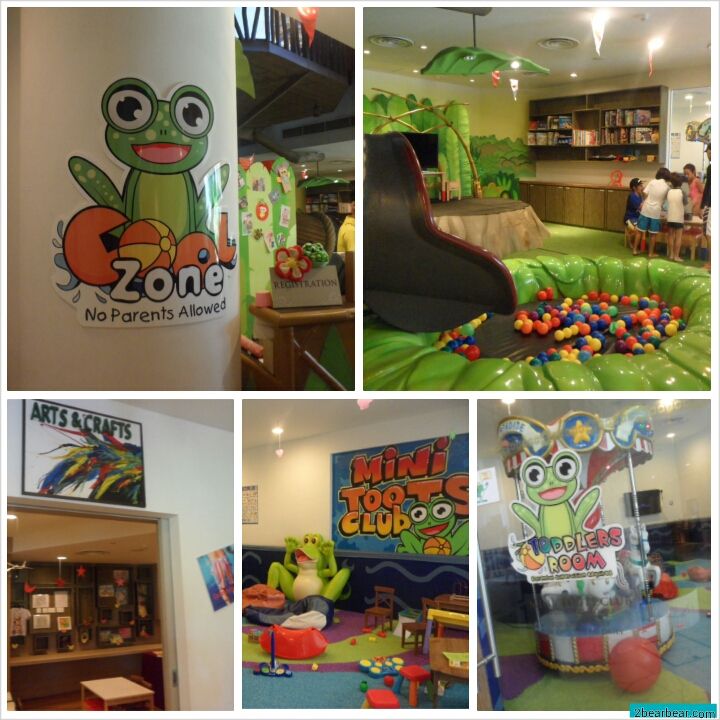 Activities available at Toots Club – Staycation for the Kids!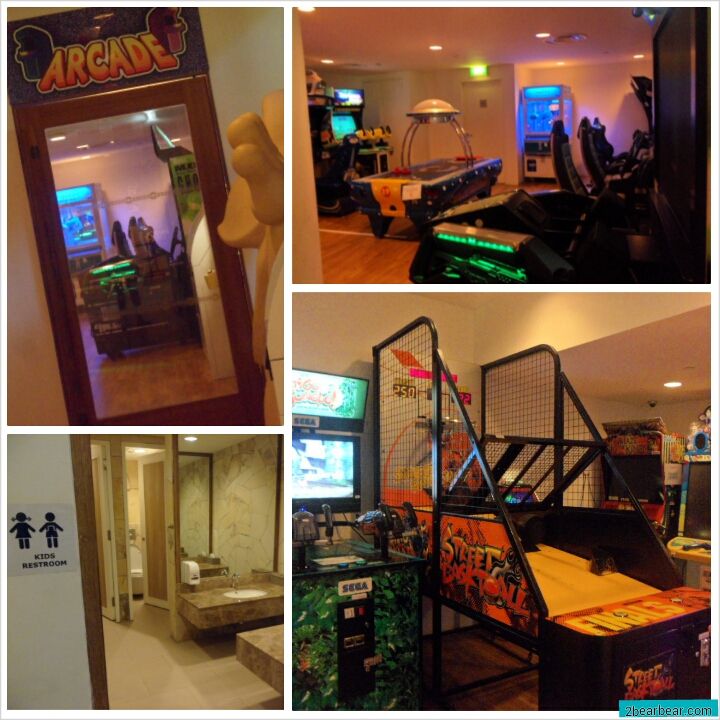 Games Zone of Toot's Club
While we were at the pool, we saw staff getting the kids to play games and they really listened attentively to the instructions! From the way they played, we could see that the kids were really enjoying themselves!
There's even an advice that goes
"Adults are discouraged to stay with the children so as to allow direct interaction between the children and their new friends."
HOW COOL IS THAT?! After leaving your kids in the good hands of the staff at Rasa Sentosa, it is now time for the "worn-out" parents to enjoy a great time at the jacuzzi of the pool, sweat it out at the gym or just relax at "Chi" – the Spa at Shangri-La…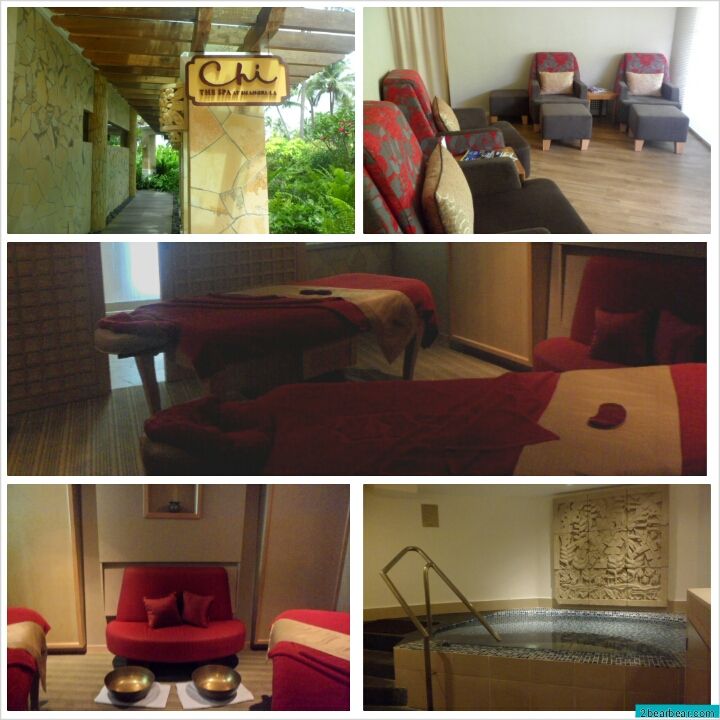 Spa at Chi will make your staycation at Rasa Sentosa that much more enjoyable!
Food Staycation at Shangri-La's Rasa Sentosa
If Spas are not your thing, food definitely is right? And there is a variety of options for your staycation at Shangri-La Sentosa!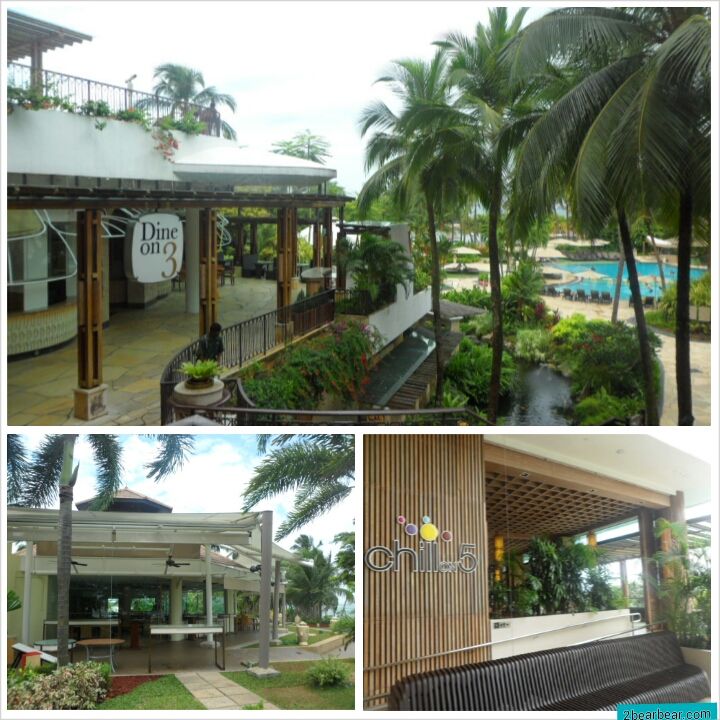 Dine on 3 and Chill on 5 at Rasa Sentosa Singapore
Dine on 3 offers dining options at Barnacles Restaurant (which features delectable seafood and grill, Western and Asian cuisines for dinner), 8 Noodles (with its quality and affordable selection of Asian noodles specialities and roast meats), Casserole (for its international spread) and Bubble Bar (great for pre or post dinner drinks).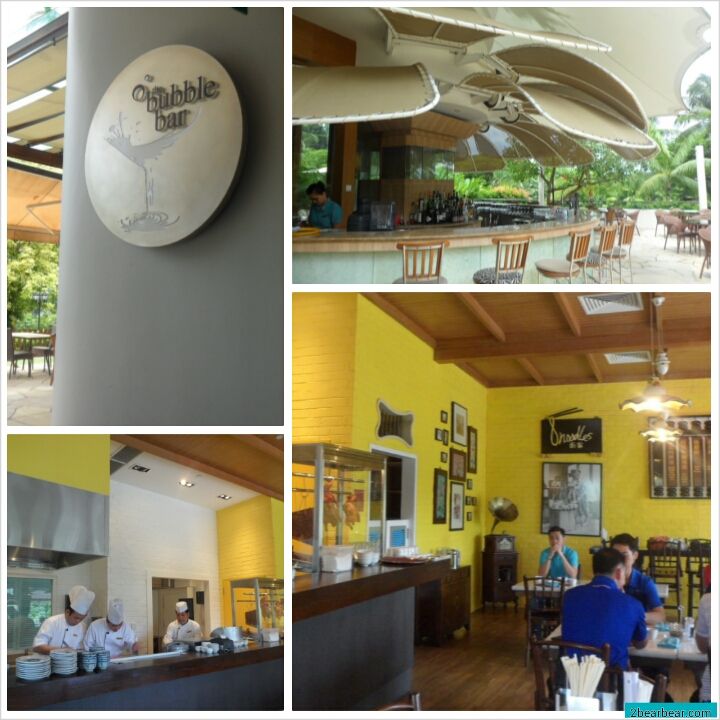 Rasa Sentosa's Bubble Bar and 8 Noodles restaurant

Buffet Spreads at Rasa Sentosa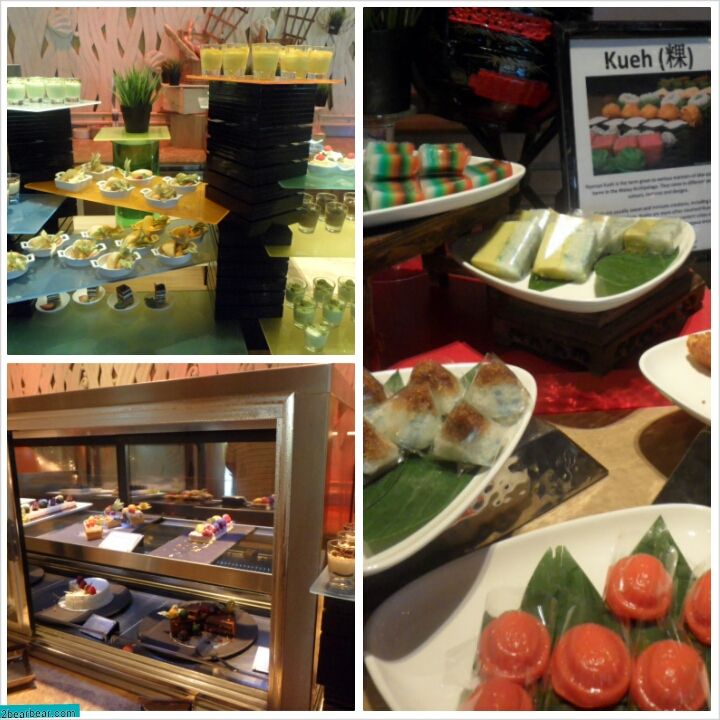 No lack of food options at Shangri-La's Rasa Sentosa Resort!
For exclusivity, we had the option of having our breakfast at the business lounge…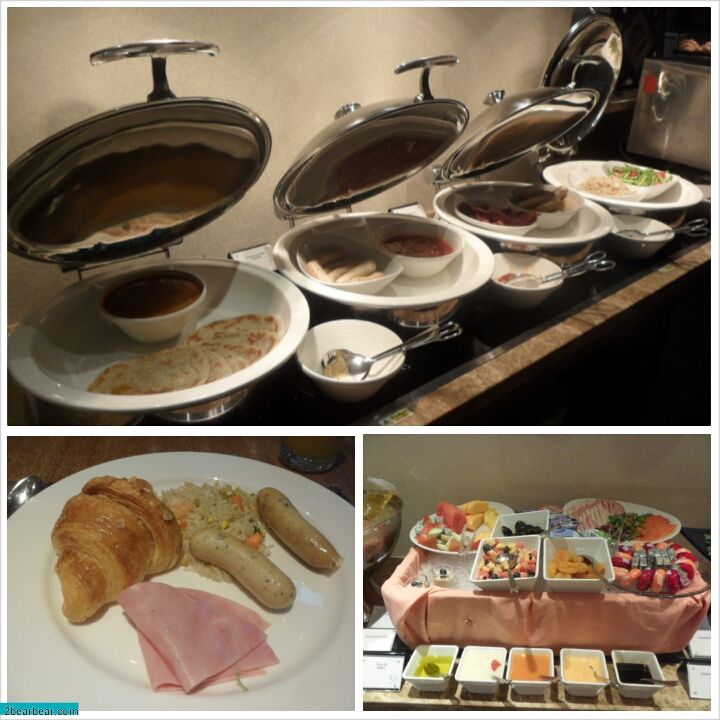 Breakfast at the Rasa Business Lounge of Rasa Sentosa Singapore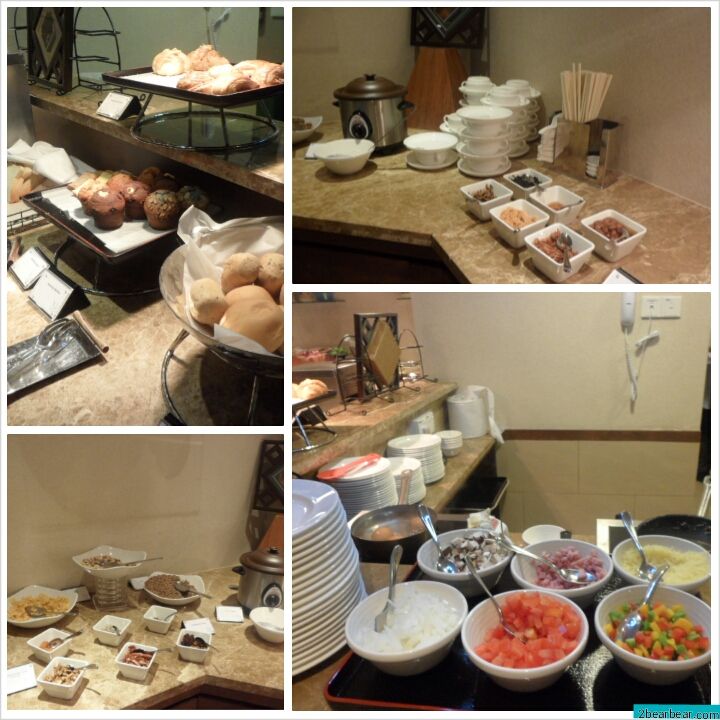 More options at the Rasa Business Lounge of Shangri La's Rasa Sentosa Resort
For lunch we had an out-door dining experience along Siloso Beach at Trapizza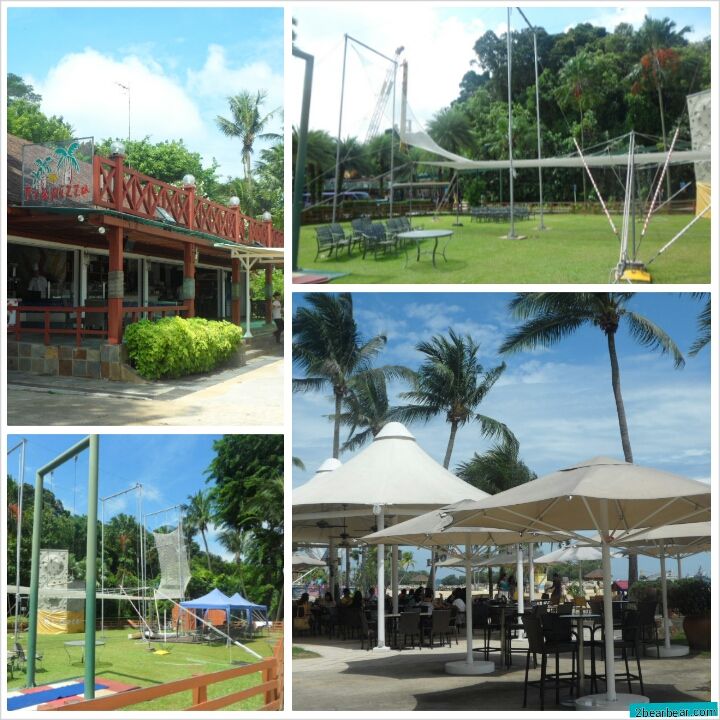 Trapizza Out-Door Dining along Siloso Beach
Trapizza is famous for its wood-fired thin crust pizzas and pastas. We were served traditional Italian fare and we were pleasantly surprised by the simplicity and freshness of its ingredients. Prawns were especially succulent and fresh!
Great food , great views (overlooking the sea) and great service… makes us want to just say…mama mia!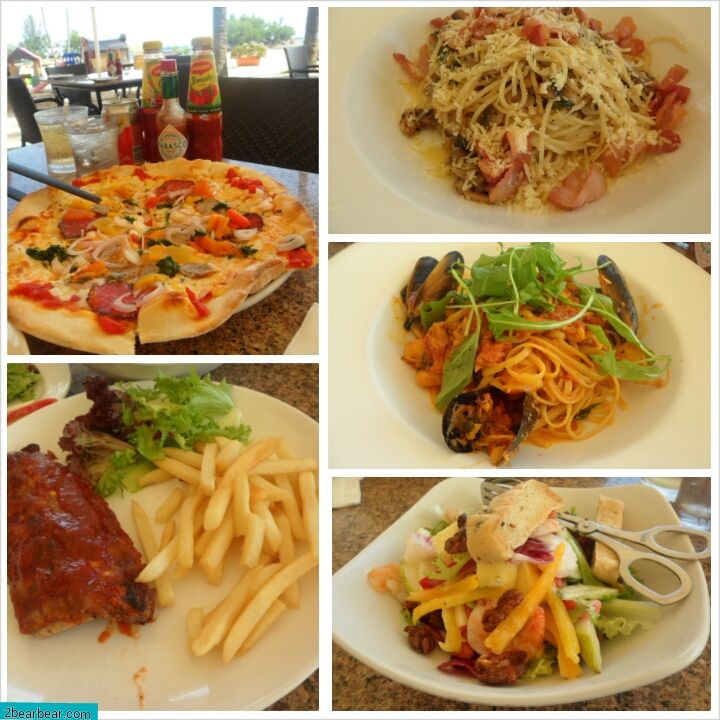 Pasta and Pizza at Trapizza Rasa Sentosa Resort
In all of these, the kids are never left out! There's a kids menu at Trapizza and even a scaled-to-height buffet area just for the kids at Silver Shell Cafe! How thoughtful!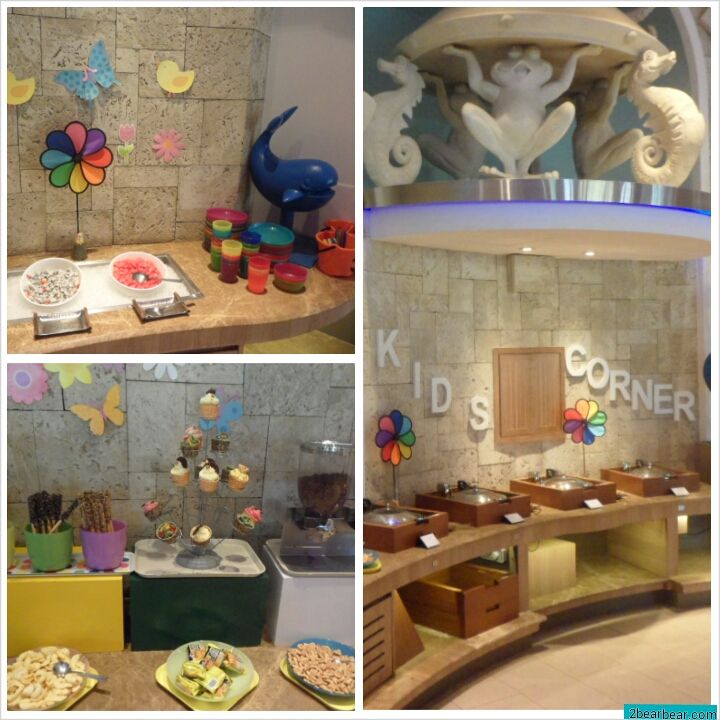 Kids Dining at the Silver Shell Cafe
After our staycation at Shangri La's Rasa Sentosa, we were thoroughly rejuvenated! And while we were there, we decided to KPO (kay poh) a bit and had a sneak peak into the Deluxe Sea View Suite…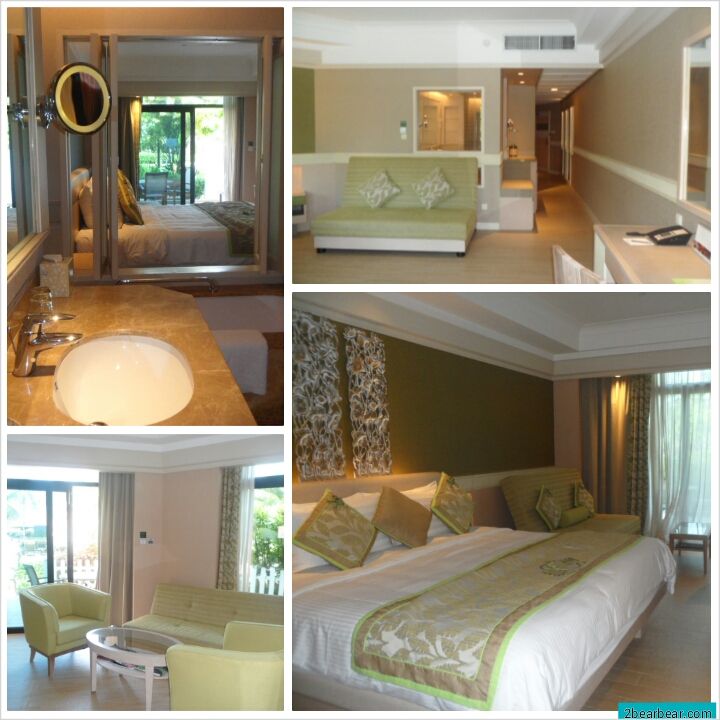 Shangri La's Rasa Sentosa Resort Deluxe Sea View Suite
The suite just oozes class and luxury altogether. The next time you decide to pamper yourself with a Singapore Staycation, the Suites at Rasa Sentosa can be an option as well.
Why you should do a Rasa Sentosa Resort Family Staycation
There are certainly many reasons why you should do a family staycation at Rasa Sentosa. At Sentosa, you can enjoy all the attractions that the island has to offer. Universal Studios is always a hit with the kids.
However, the biggest draw for a family staycation here is definitely the programme, facilities and even food that revolves around the kids. In all our years of travelling and staying in hotels, we have never come across a hotel that has paid so much attention and detail to make sure that the kids are well taken care of.
And when the kids are well taken care of, the parents can finally enjoy their 2gether time! (time for 2 people if you didnt get the drift…)
If you enjoyed our content, "Like" us on Facebook Today!

Remember to leave your comments for 2bearbear Singapore Travel Blog in our comments section below!
For your convenience, we have arranged for the best staycation deal at Rasa Sentosa right here!
Happy Singapore Staycations everyone!
**Special thanks to the great people @ Shangri-La Rasa Sentosa for making this staycation possible!
Click on the following posts to see all our Singapore Staycation Reviews!
Top 10 Singapore Staycation Ideas!
Grand Mercure Roxy Singapore Staycation : The Studio Suite!
Uniquely Singapore Staycation at Village Hotel Katong!
Ritz Carlton Singapore Staycation: Simply Shiok!
5 Reasons Why You Should Do a Staycation at Hotel Jen Tanglin Singapore's Newly Refurbished Club Room!
Pan Pacific Singapore Hotel Harbour Studio Staycation!
Rendezvous Hotel Singapore : Staycation in the Heart of the Art District!
Quincy Hotel Qool Weekend Staycation : Singapore's ALL-IN Staycation!
National Day Staycation at the Regent Singapore – A Four Seasons Hotel!
Village Hotel Changi Staycation : Rediscover the gems of Singapore!
Awesome Staycation at the Grand Mercure Roxy Singapore!
Raffles Hotel Staycation Singapore : Relax & Rejuvenate!
Amara Sanctuary Resort Staycation Singapore Sentosa 2 Bedroom (BR) Villa with plunge (private) pool
D'Resort @ Downtown East : A Perfect Staycation for the Entire Family!
Swissotel Merchant Court Executive Room Staycation : Right in the heart of Clarke Quay!

A Letter to Jen (Hotel Jen Orchardgateway Staycation)…
Oasia Hotel Staycation Review!
AMOY Hotel Singapore : Why you should stay here during your next visit
The Ultimate Family Staycation at Shangri-La's Rasa Sentosa Resort & Spa!
3 Singapore Staycation Ideas for 2017!
Related posts: