One of the most prominent attractions in Melaka has got the be the Stadhuys (sometimes spelt as Stadthuys). In Dutch, it basically means the city hall or town hall and used to be the administrative centre during the dutch colonial times.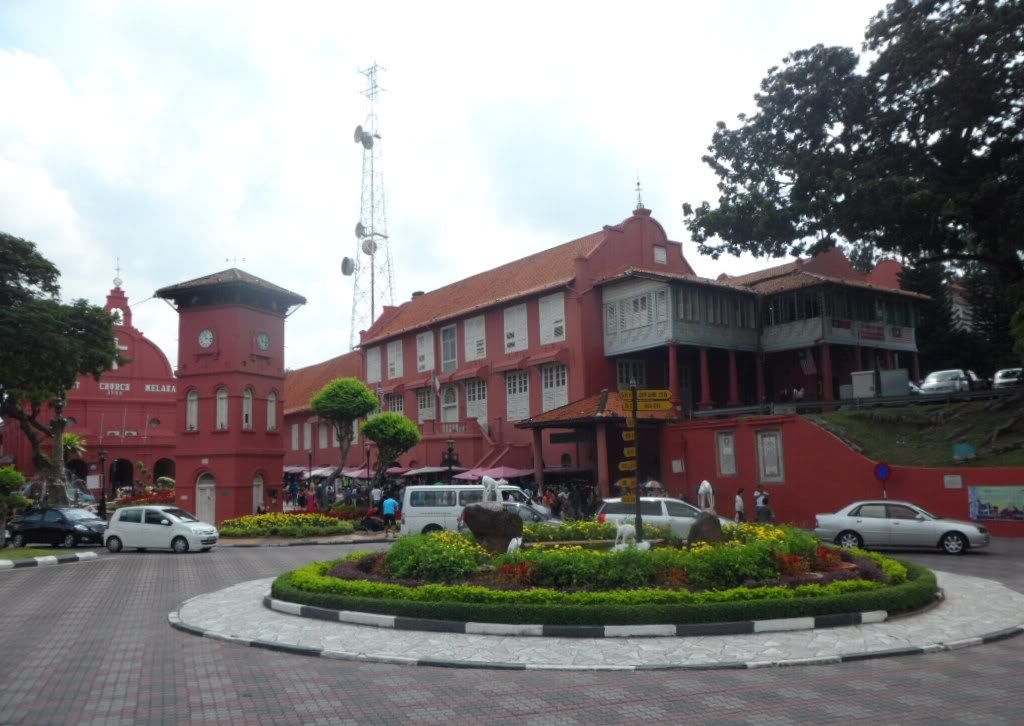 Stadhuys Red Square aka Dutch Square Melaka
The Stadhuys (also known as Dutch Square) is home to the oldest Protestant Church in Malaysia – Christ Church Melaka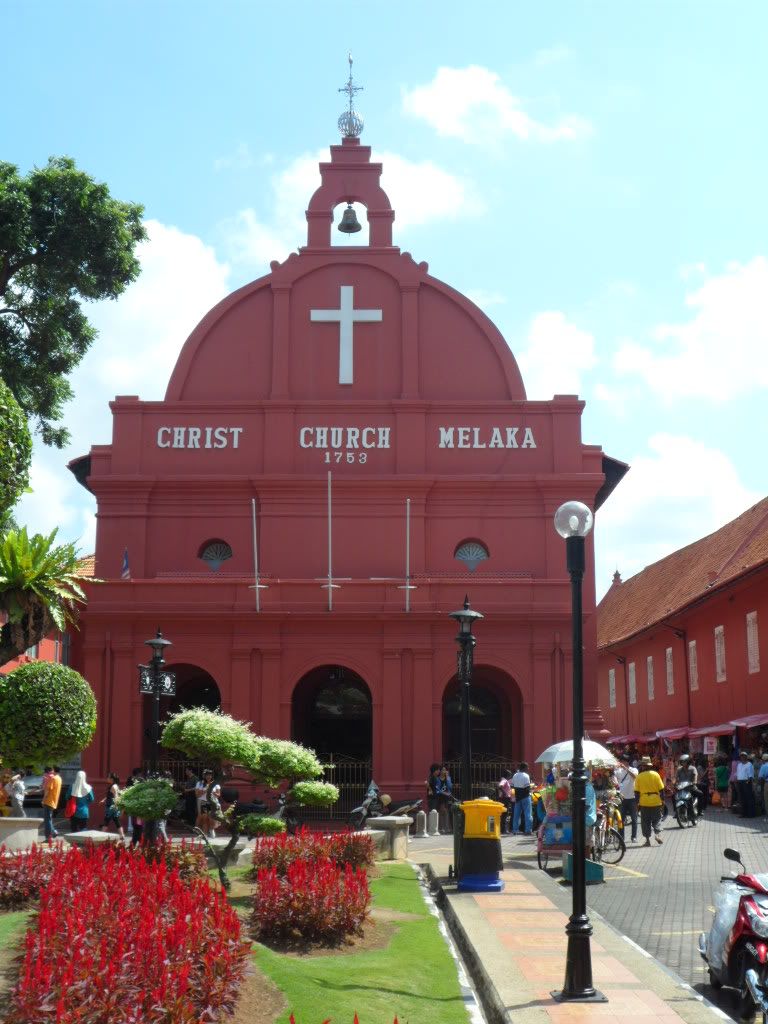 Christ Church Melaka
Not only so, it is home to the Museum of History and Ethnography right at the edge of the square where the trishaws gather. Speaking of trishaws, Kate and I took a ride on one of the trishaws right here at Stadhuys! Here's a video of the beautifully decorated trishaws…

Trishaws at Stadhuys
The Stadhuys is arguably one of the oldest architecture from the dutch colonial times. That is why there are so many tourists here! But beware (you tourists-to-be)! As far as possible, try not to buy your souvenirs from the rows of shops there. We bought a sleeping mask (one of those you wear on the plane to sleep) for 5MYR (Ringgit) but we realised that the same mask could be bought for 3MYR at Jonker street!
Not much in terms of SGD you may say…but it is still a 40% difference! :O
The Stadhuys is really quite a small square but there are nice photo spots. These include photos with the fountain, Christ Church Melaka as well as the beautifully decorated trishaws!

Fountain at Stadhuys
Of course a far more high tech and better fountain show at be found at the Bellagio Fountains.But we digress…
To end of this post, enjoy this 360 degrees view of the Stadhuys (Red Square) done by Kate, our in-house photographer and videographer!
Yup…we all know who to look for if we feel "blair-witched"!
How to get there
Stadhuys is located Laksamana Road and if you follow our well drawn map of Melaka…

Well drawn map of Melaka
It is right beside Jonker Street and a short walk from the St. Paul's Church
Related posts
This post is part of our 3D2N travels in Malacca. Below, you can find other relevant posts covered during this trip!
Top 3 Things to do at Jonker Street aka Jonker Walk
Jonker 88 @ Jonker Street
Stadhuys Melaka aka Red Square or Dutch square
Best 5 stars hotel in Melaka : Hotel Equatorial Melaka
Battle of the Malacca (Melaka) Jonker Street Chicken Rice Balls : Which is better? Chung Wah Chicken Rice or Hoe Kee Chicken Rice?
Weekend Getaway and Staycation @ Philea Resort Melaka (Malacca)
Top Attractions and Things to do in Melaka : World Heritage City
A Leisure Stroll along the Melaka River
Trishaw Rides in Melaka : A Must-Do Activity!
Traffic Jams in Melaka : How bad is it really?
Restoran Ole Sayang – One of the most reputable Peranakan Restaurant in Malacca
Melaka Sultanate Palace Museum – Built without nails!
Melaka Maritime Museum – Museum within a Ship
A Famosa aka Porta De Santiago
St. Paul's Church
If you enjoyed our content, "Like" us on Facebook Today!

Related posts: