Staycation or short overseas trip? That was the question for the Hari Raya / National Day long weekend last week. As it was also Kate's birthday, we decided that a staycation at Regent Singapore at the Regent Club Deluxe Room was in order!
Staycation at the Regent Hotel Singapore!

Staycation at the Regent Singapore

Regent Singapore Facade and Hotel Lobby
The facade of the hotel didn't seem much, a little oldish looking in fact. However, when we stepped into the hotel lobby, everything changed! A classy ambience and spacious lobby invitingly greeted us as we stepped in. The lounge piano music serenaded guests at this 5 star hotel. The lounge piano music was LIVE!

Live piano tunes in Regent Hotel Lobby!
We were promptly greeted by Margaret as we arrived at the reception. She seemed very knowledgeable, giving us a quick run down of the facilities, breakfast timings and the all-important cocktails plus pre-dinner hors d'oeuvres @ the Regent Club from 5:30pm to 8:00pm daily! You're wondering what is hor d'oeuvres now aren't you? We'll give you a tour of the Regent Club in a bit!
We also asked for our complimentary parking ticket, which Margaret promptly got from the concierge for us. After passing us the keys, she actually walked out of the reception and showed us ALL THE WAY TO THE LIFT LOBBY! That's great service right there! Thanks Margaret!
We were filled with anticipation as we walked from the lift lobby to our room and we were pleasantly surprised…
Regent Singapore Club Deluxe Room Staycation
The Deluxe room boasted of a generous living space, a sofa for two as well as a comfortably inviting King-sized bed!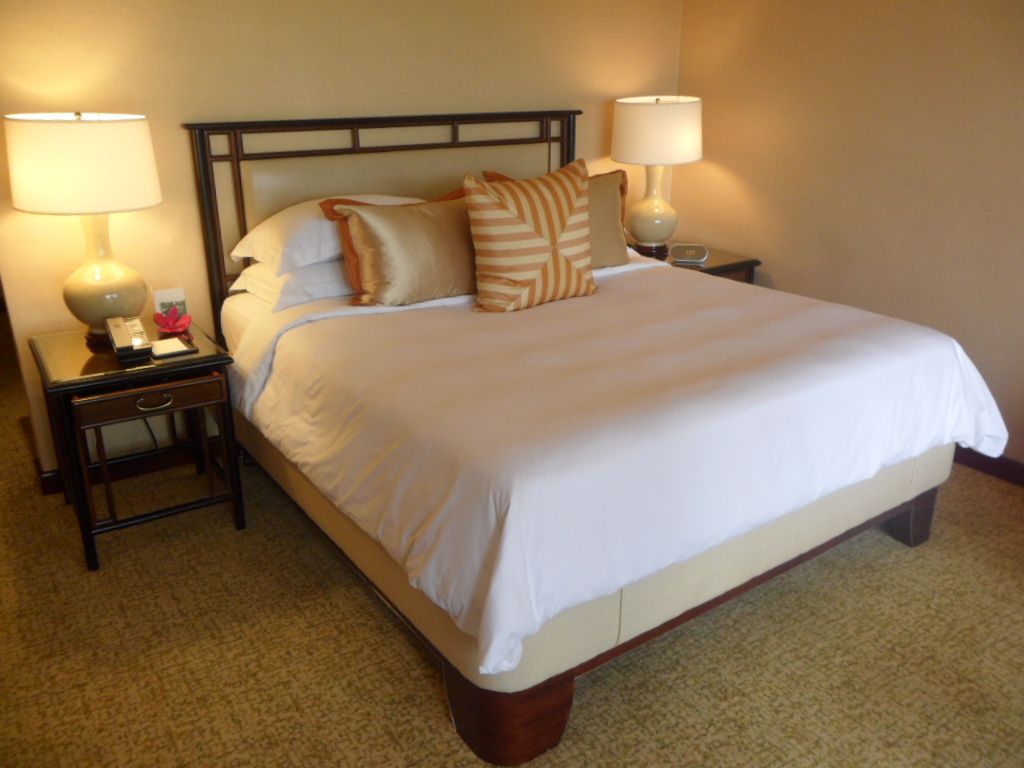 King Size Bed in Deluxe Room of Regent Singapore
The room exuberated class and was equipped with an essential of staycations in Singapore – A bath tub!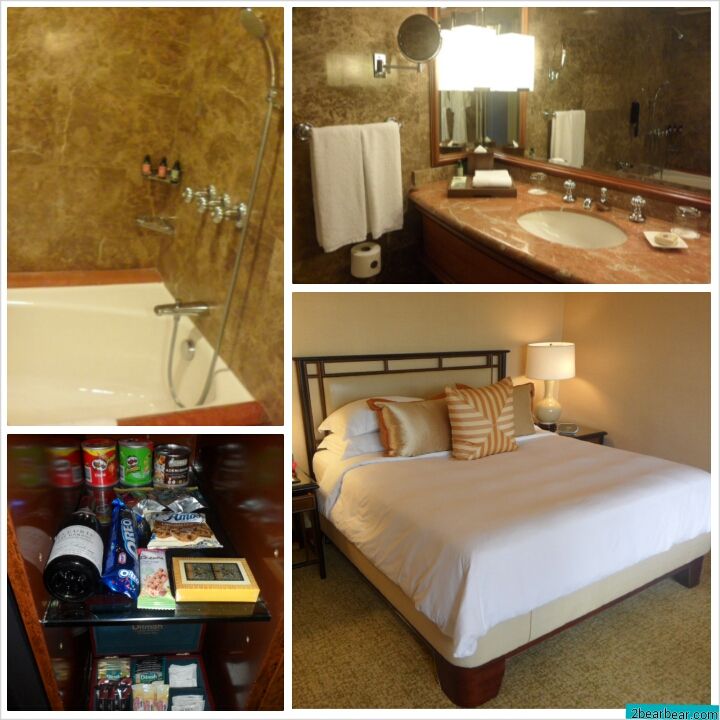 Deluxe room of the Regent

View from Regent Hotel Singapore
After we checked in, we went for a swim at the pool and when we returned, there was a rostrum of treats waiting for us! The hotel knew about Kate's birthday and made arrangements to send up these treats that included macaroon, cakes, creme brulee and fruity mousse shots. Thanks for the thoughtful gesture Regent!
Regent Singapore Staycation – The Facilities!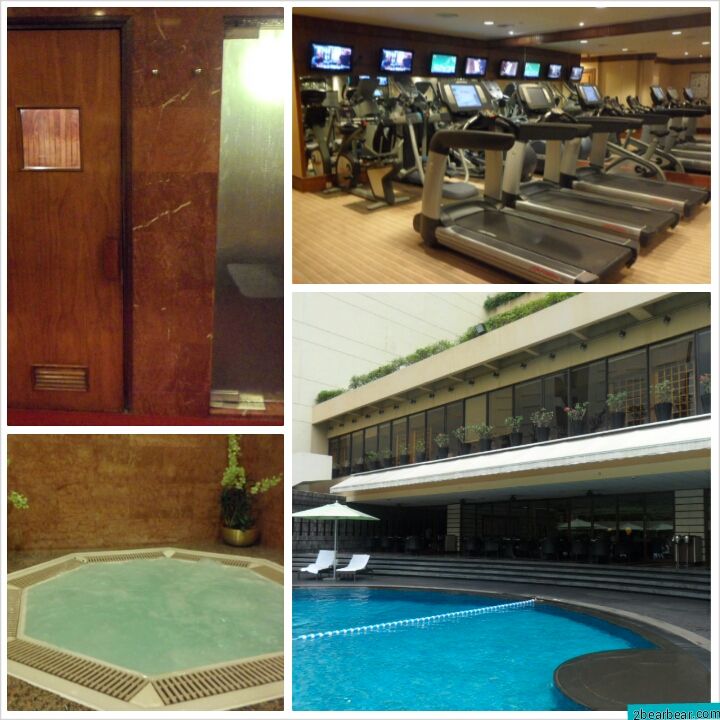 Facilities at Regent Singapore (Swimming pool, Jacuzzi, Steam bath, Sauna & Gym)
As we have mentioned in previous posts, the swimming pool of the hotel makes or breaks a staycation. Well, the swimming pool of Regent Hotel JUUUUUUUUUUUUUUUUST made the mark. It was by 5 star standards, well, small. However, the deck chairs were well laid out and the service by the pool was prompt. Towels were laid for us while complimentary smoothies were dished out by the pool as well!
While we were relaxing by the pool, we also noticed that the staff was also kept really busy, serving drinks, clearing towels, setting deck chairs – all in a day's work!
You can also access the other facilities such as the Jacuzzi, steam bath and sauna via the gym or through the washroom by the pool. We've got to say that the hotel has all the facilities ready for a staycation. The fitness centre also has 2 massage treatment rooms with soothing treatment options to ease you into your staycation!
The Regent Club – A Perfect Complement to the Regent Staycation
Regent Club at level 11 of Regent Singapore
Soon it was time for cocktails and hors d'oeuvres at the Regent Club located on the 11th floor of the Regent Singapore. The cocktail at Regent Club goes on from 5:30pm to 8pm daily!

Cocktails and Hors d'oeuvres at the Regent Club
Hors d'oeuvres actually mean appetizers in French. But do not be fooled, the spread at the Regent Club is REALLY A SPREAD…

Salad, Cold Dishes, Sushi and Beef Salami Sandwich

Selection of Cheeses and Bread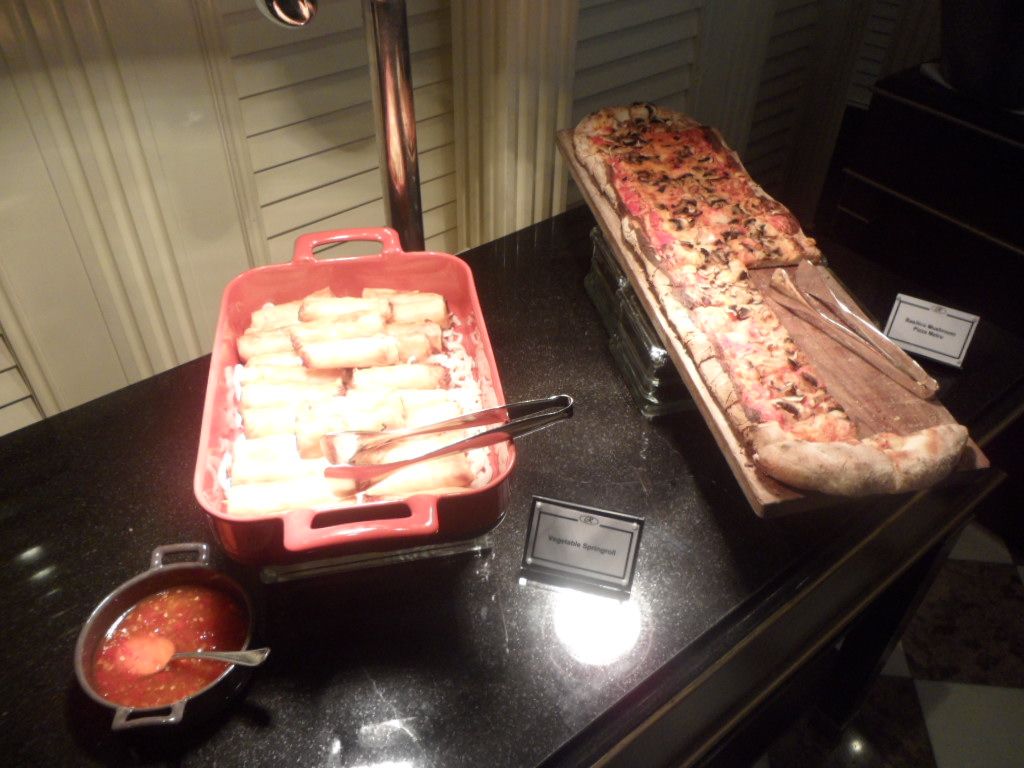 Pizza, Springrolls, Paus and Duck wrapped with Potato

Selection of Alcoholic drinks

Beers to choose from
As Kate would put it, "It really is a meal!". The drinks which included a alcoholic selection, beers and wines (both red and white) made the cocktail a classy yet relaxed one.
As it was also National Day, we tuned in to Channel 5 to watch the National Day Parade. Sean who worked at the Regent Club this evening checked back with us from time to time asking us how the evening was and whether we needed to turn up the volume for the NDP. The remote was also passed to us so that we could hear the proceedings audibly! Thanks Sean, it's small gestures like this that made our stay all that unique!
Breakfast at the Regent Singapore
The breakfast spread at Regent Singapore was the common international buffet…

Breakfast Buffet Spread at Basilico Regent Singapore

Fish porridge , salads, eggs and ham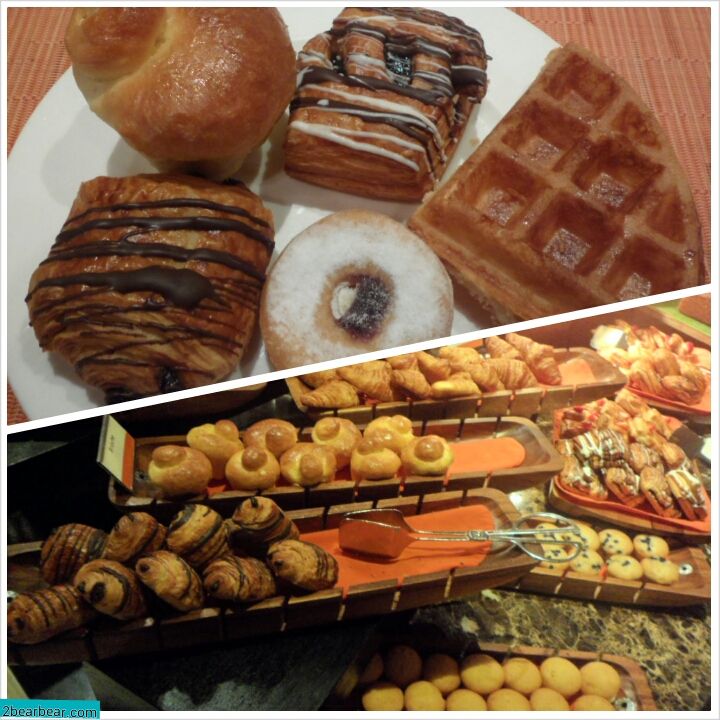 Patries! Kate's favourite section!
The breakfast we've got to say was quite normal. Given that the usual price for the buffet (if you walk-in) is $40++ per person, one would have expected more. Perhaps a partial buffet and set menu with choices such as the egg benedict and turkey sandwich?
But, the service was still impeccable. Why?
1. We were greeted with the widest smile (always a great start to the morning), seated promptly and served with coffee and juice almost as soon as we were seated.
2. Tom dropped his tea spoon (not on purpose!!) and one of the staff saw it and IMMEDIATELY replaced his spoon! 😮
Again, small little gestures. But it shows that the hotel pays attention even to the smallest details. Kudos to that!
Why a Staycation at the Regent Hotel?
There are 3 reasons why we think that Regent makes a good staycation in Singapore.
1. Location. Located near the start of Orchard Road, Regent Hotel offers a great base to shopping and dining at Singapore's premier shopping belt. Just a short walk away, we went for Ramen at Bari Uma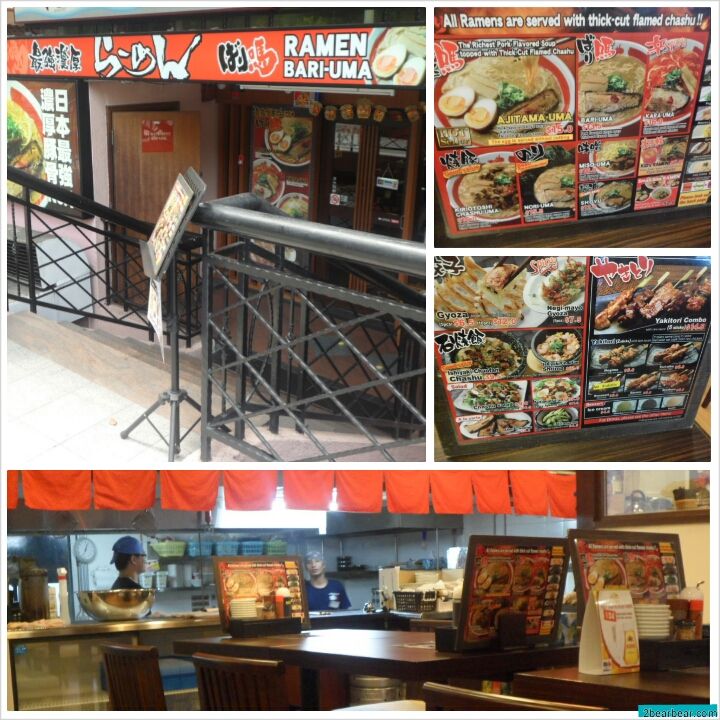 Ramen Bari Uma – A short walk from Regent Singapore
Kate thought the chef was cute – *sob sob*

Signature Ramen and Chaofan
We also headed to Orchard Road to do some shopping. Plus, Hard Rock Cafe is also a short walk away from the hotel's premise.
2. Regent Club. We've been to a couple of cocktails at Club Lounges but the spread at Regent Club was really much better than the rest. A meal really. Drink selection was also excellent. If the beers had more than 2 selection, that would have been AWESOME!
3. Luxurious Rooms. A classy, luxurious, spacious and comfortable room. Need we say more?
A shout out to Irene, Sean and Margaret for making our stay all that unique!
If you enjoyed our content, "Like" us on Facebook Today!

Remember to leave your comments for 2bearbear Singapore Travel Blog in our comments section below!
For your convenience, we have arranged for the best staycation deal at the Regent Singapore right here!
Happy Singapore Staycations everyone!
**Special thanks to the great people @ Regent Singapore & Four Seasons for making this staycation possible!
Click on the following posts to see all our Singapore Staycation Reviews!
Top 10 Singapore Staycation Ideas!
Grand Mercure Roxy Singapore Staycation : The Studio Suite!
Uniquely Singapore Staycation at Village Hotel Katong!
Ritz Carlton Singapore Staycation: Simply Shiok!
5 Reasons Why You Should Do a Staycation at Hotel Jen Tanglin Singapore's Newly Refurbished Club Room!
Pan Pacific Singapore Hotel Harbour Studio Staycation!
Rendezvous Hotel Singapore : Staycation in the Heart of the Art District!
Quincy Hotel Qool Weekend Staycation : Singapore's ALL-IN Staycation!
National Day Staycation at the Regent Singapore – A Four Seasons Hotel!
Village Hotel Changi Staycation : Rediscover the gems of Singapore!
Awesome Staycation at the Grand Mercure Roxy Singapore!
Raffles Hotel Staycation Singapore : Relax & Rejuvenate!
Amara Sanctuary Resort Staycation Singapore Sentosa 2 Bedroom (BR) Villa with plunge (private) pool
D'Resort @ Downtown East : A Perfect Staycation for the Entire Family!
Swissotel Merchant Court Executive Room Staycation : Right in the heart of Clarke Quay!

A Letter to Jen (Hotel Jen Orchardgateway Staycation)…
Oasia Hotel Staycation Review!
AMOY Hotel Singapore : Why you should stay here during your next visit
The Ultimate Family Staycation at Shangri-La's Rasa Sentosa Resort & Spa!
3 Singapore Staycation Ideas for 2017!
Related posts: