Dresden was our chosen stopover as we travelled from Berlin to Munich to join the Oktoberfest. We did not know much about Dresden (not that we do now) but it was one of the more prominent cities on the map and we thought it would be good to make a stopover, breaking the 7 hours train ride into well…a more "bear"able journey! 🙂
We woke up early that morning and had breakfast at Le Crosbag for 7euros…

Breakfast of croissant & coffee at Le Crosbag
We even got to see the sunrise at the Berlin Hauptbahnhof (Main Train Station)!

Sunrise at Berlin HBF
We caught the train to Cottbus @ 7:35am (don't worry, if you are not sure of the timings, the friendly staff of Bahn will print out the itinerary and guide you on where exactly to catch the trains) and transferred to platform 10 for the train to Dresden. It was a bit of a rush since we only had minutes to catch the next train – a little bit like the Amazing Race…de de de…

Train from Berlin HBF to Cottbus at 735am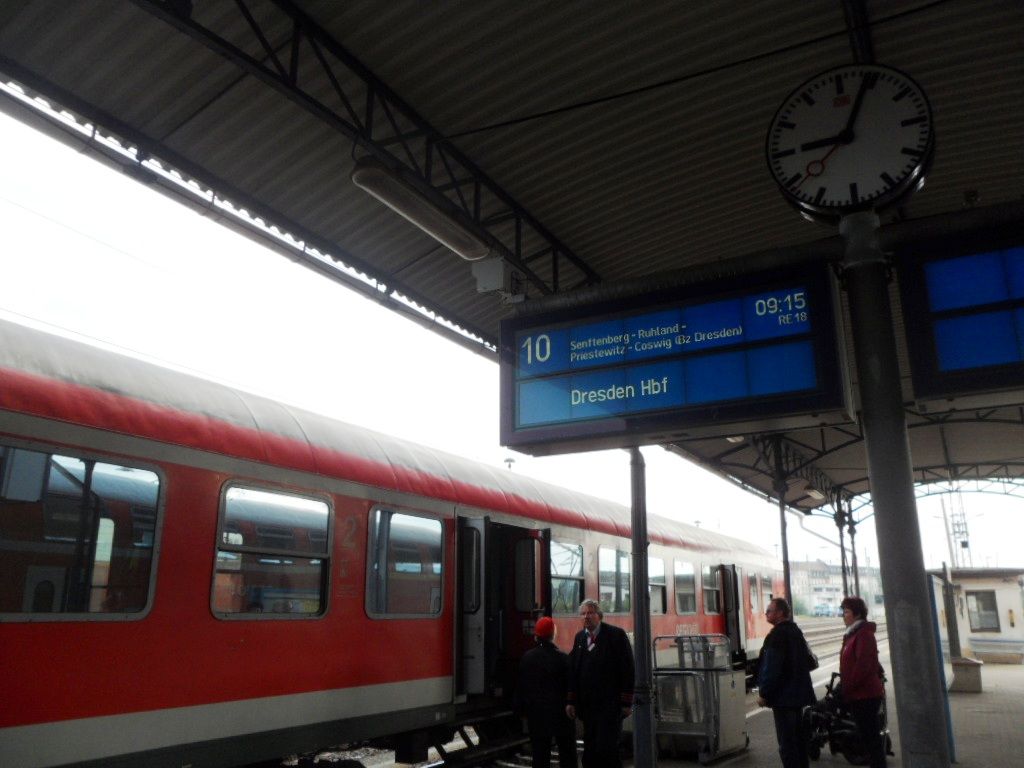 Train to Dresden at 915am
If you're wondering why we're changing trains here and there, the reasons are
1. Happy Weekend (Schones Wochende) Tickets are ALOT cheaper. For 42euros, you can travel in a group of 5 (YES! 5 PEOPLE!!) within a slightly more than 24 hours window ANYWHERE in the country. The catch is that you cannot take the fast trains like ICE. Hence, our journey was lengthened to about 9 hours instead of 6.5 hours with ICE. Well, ICE costs 120euros per person…that's 240euros for both Kate and I. Compared to 240euros, 42euros seemed like a good choice…
2. Stopovers / Day trips. The longer journey allowed us to enjoy the countryside and make a stop over at Dresden. So that we can bring you this post about Dresden right?
Whats there to do at Dresden?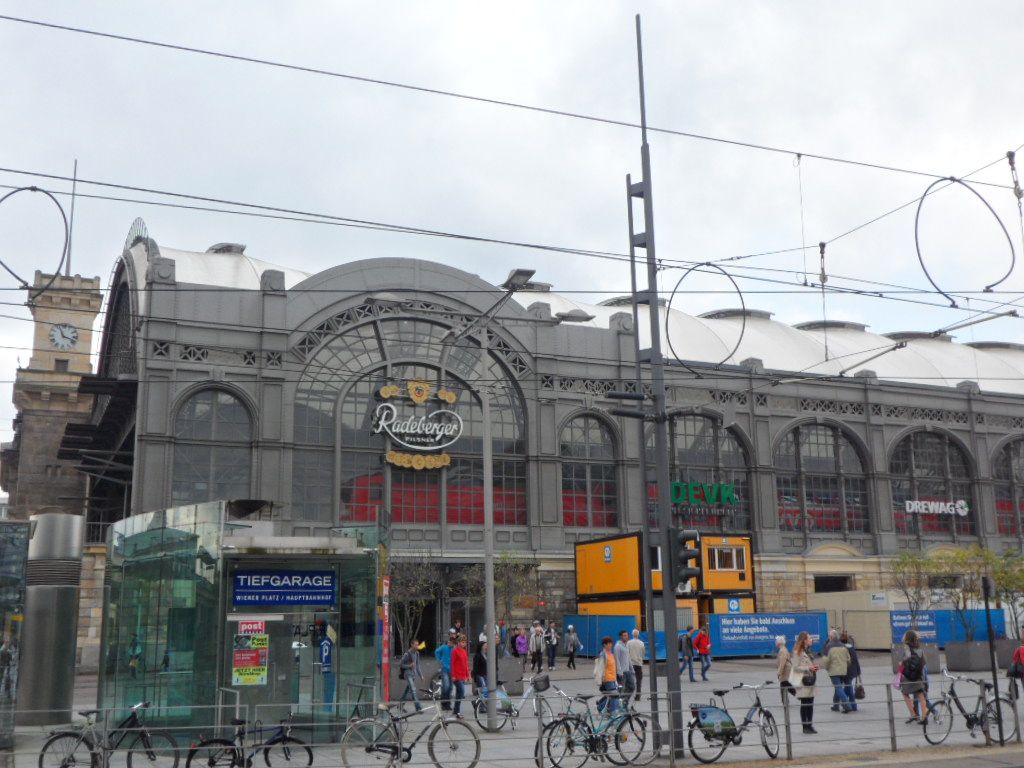 Dresden Hauptbahnhof (Main Train Station)
The old city (or Alte Stadt) of Dresden is just a short 10 minutes walk from the Dresden HBF. Once out of the train station, look for directions to Prager Strasse (or Prager Street). This is a row of shops, mall and arcades along the way to the old city. Modern before the classics. Nice.

Prager Street – Shopping galore!
One of the things that caught our attention was a lady instead of a man on the traffic lights…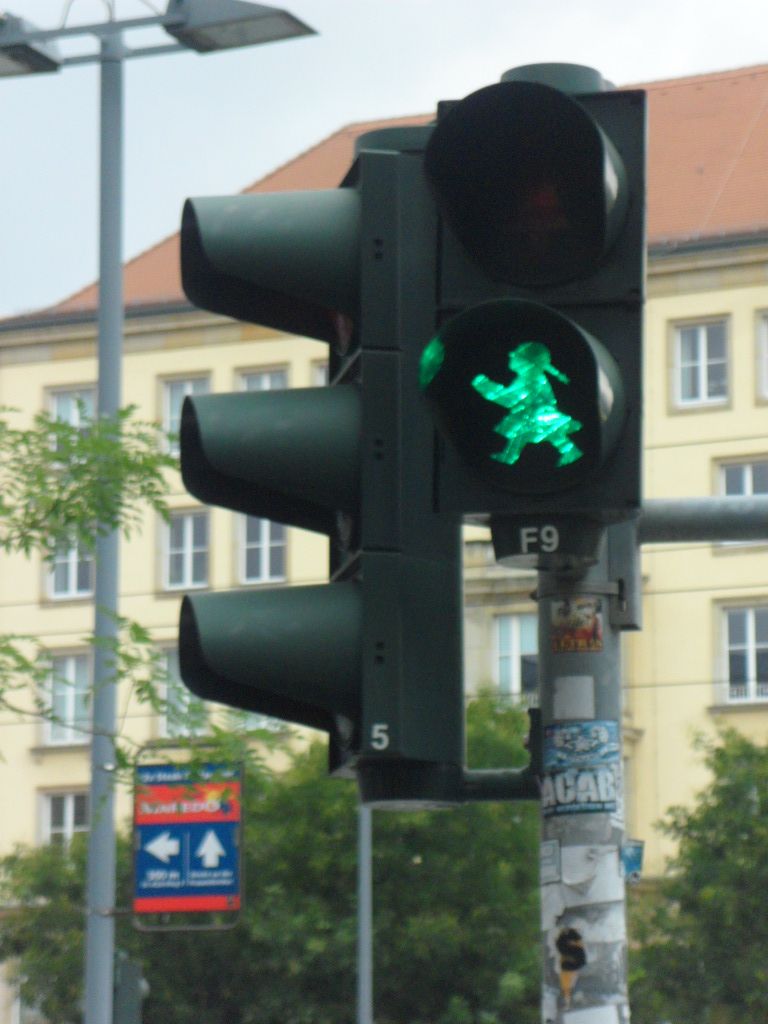 Female Traffic Lights @ Dresden!
Reminds us of the cute Miffy traffic lights in Utrecht, the Netherlands!
There are many other interesting historical architectures that caught our attention…

Semperoper Opera House – Experience Opera at its best!

Watch this video of Theatreplatz in Dresden!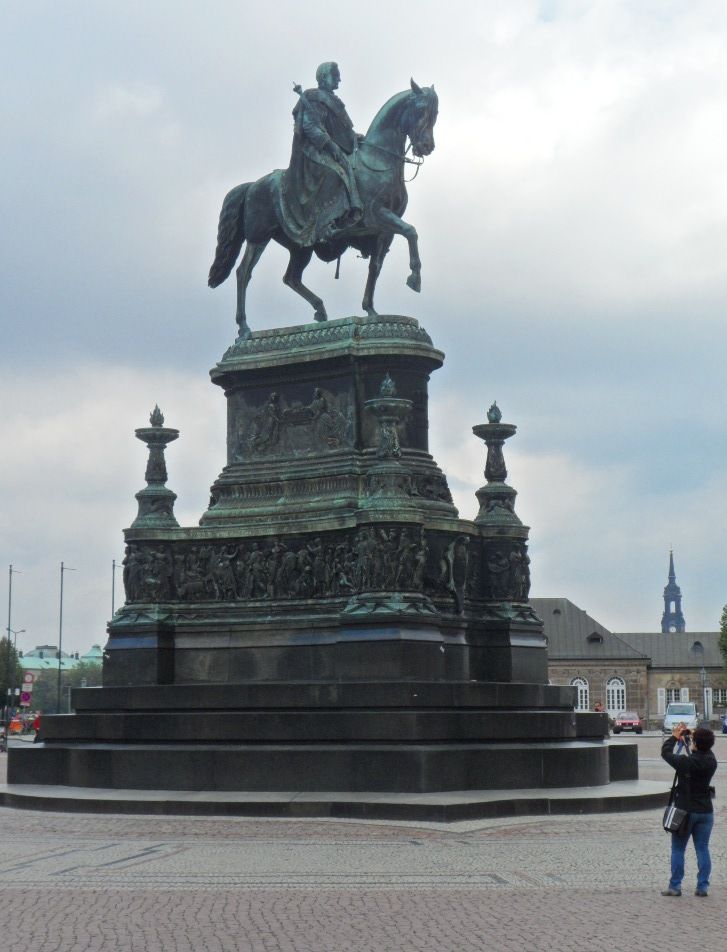 Statue of King Johann in front of the Semperoper

Kathedrale @ Old City of Dresden

Zwinger Palace Dresden

Take a 360 view of Zwinger Palace in Dresden!

View from the Augustus Bridge (River Elbe)

View of the River Elbe Dresden

Fürstenzug aka Procession of Princes – A 102 metres long mural!

Frauenkirche with Statue of Martin Luther – Possibly the most famous building in Dresden

Neumarkt and Frauenkirche
On the way back to the train station, we decided to stop by the Herbstmarkt (or Autumn Market) for lunch…

Entrance of Herbstmarkt Dresden

Feel the vibe at the Dresden Herbstmarkt!

One of the many food stalls at Dresden Herbstmarkt
There were many stalls at the Herbstmarkt. There were stalls that sells food (of course), souvenirs, snacks (like nuts that we snacked on) and open air seating areas. If you've seen the video, you would have heard the loud music in the background as well!
We finally settled on this stall – that many people visited (you wont go wrong with crowds)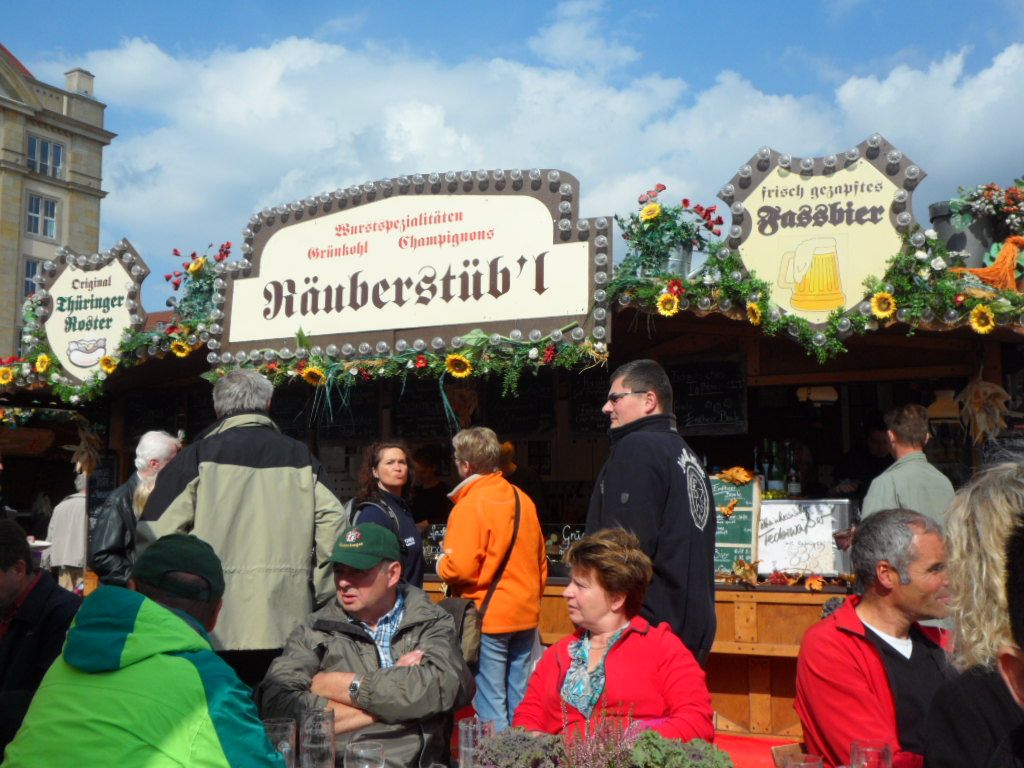 Stall where we bought our lunch
So here's what we had – champignons (mushrooms), pork patty, potatoes and beer. All for 10euros! The mushrooms was really flavourful. The yoghurt topping really blended well with all that flavour. The pork was chunky and meaty and the potatoes were well "marinated" on that big giant flat pan that they use in the tents.

Lunch of mushrooms, pork patty, potatoes and beer for 10euros
Do note that at some pubs, there is a deposit (called Pfand) for beer mugs. Could be like 2euros. Once you finished drinking and return the mugs, you'll get your deposit back.
On the way back, we stopped by the old city and got ourselves a cookies and cream ice cream. A large one for 1.70euros.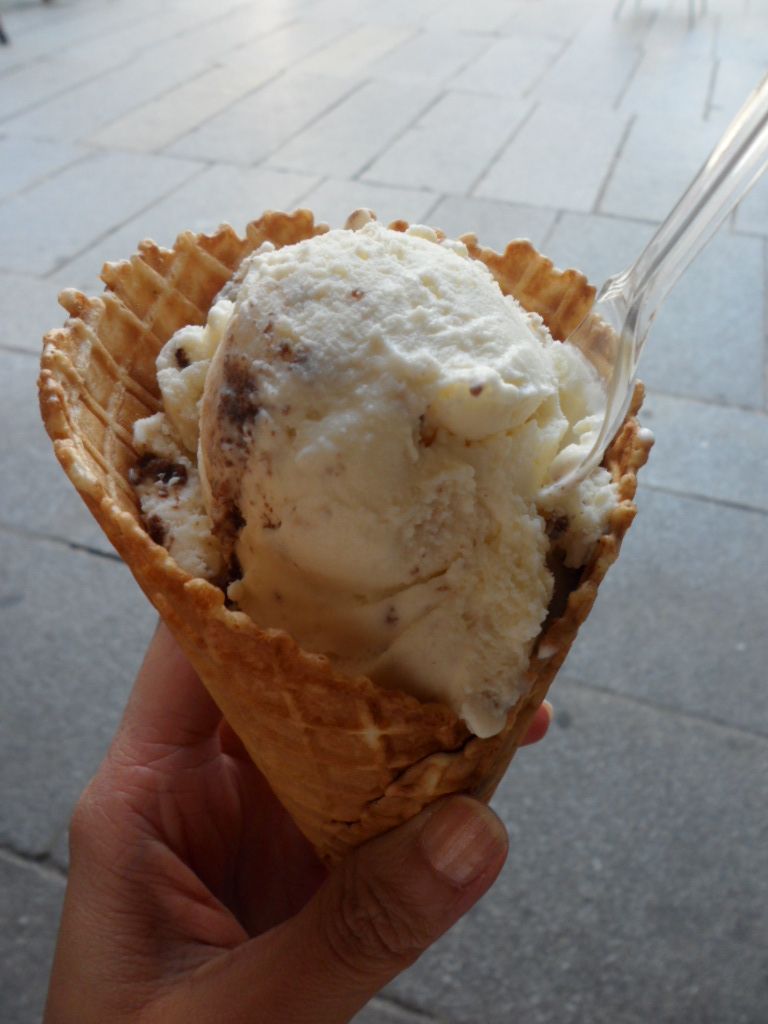 One for the road – Cookies and Cream Ice Cream!
All in all, it was a great day trip that Kate planned (Thanks!) and we thoroughly enjoyed ourselves revelling in the history of Dresden as well as taking part in the festivities at the Herbstmarkt. The meal there was particularly enjoyable. Picture the cool weather with the sun shining brightly, lively music in the background and great food.
All the perfect ingredients to a great meal and a great stopover at Dresden!
If you enjoyed our content, "Like" us on Facebook Today!

For your convenience, we have arranged for the best hotel deals in Dresden right here!
Do try out this stop over at Dresden the next time you travel from Berlin to Munich ya?
Related posts: