So you have read our review of Tim Ho Wan Plaza Singapura and is now dying to visit the orignal Tim Ho Wan in Hong Kong? Here is the minimalist guide to eating at Tim Ho Wan @ Mong Kok. Just follow these 3 simple steps to enjoy dim sum at THW – touted as the cheapest Michelin-Starred Restaurant!

Inside Tim Ho Wan Dim Sum Restaurant, Mong Kok, Hong Kong
Step 1 : How to Queue at Tim Ho Wan Hong Kong
First of all, you must know that THERE WILL BE A QUEUE OUTSIDE Tim Ho Wan. If you think that you can just waltz into THW, eat your dim sum and whizz out in 20 minutes, you could be the owner of Tim Ho Wan OR you just arrived in Asia and not know the ways and customs of Asians with regard to food.
Therefore, you must always go to Tim Ho Wan @ Mong Kok with a plan. The plan is therefore to go straight to the entrance, grab your queue number and head on to Ladies Street to do some shopping…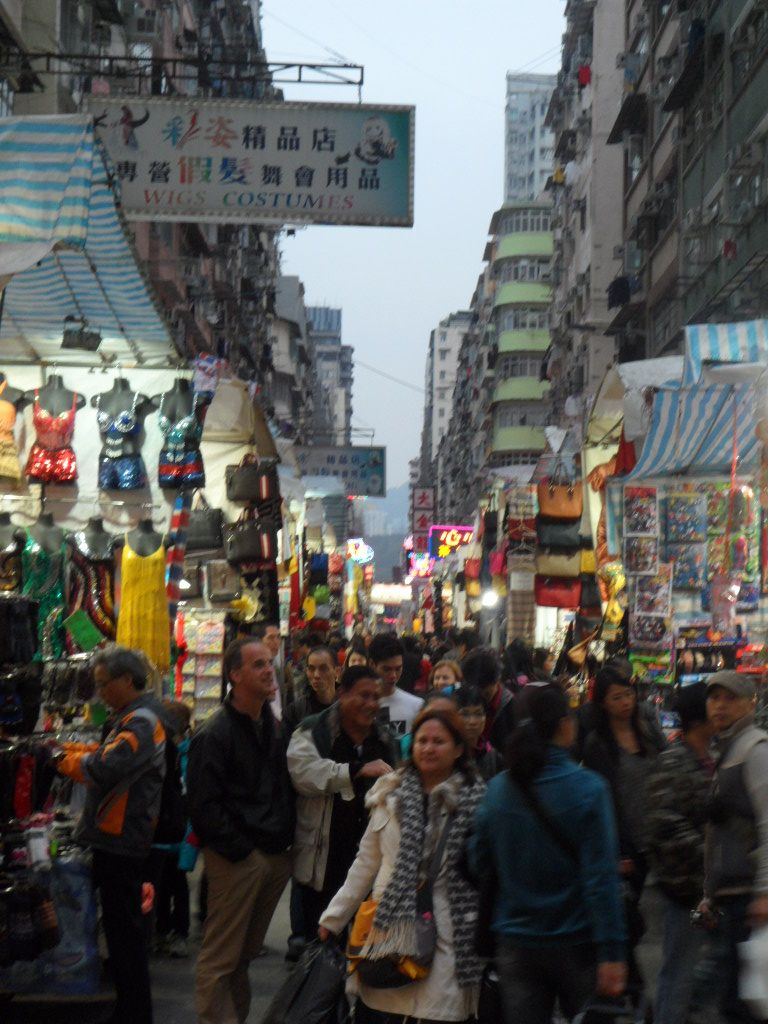 Ladies Street near to Tim Ho Wan Mong Kok
The reason is because the typical waiting time is about 45 minutes to 1 hour during meal times.
So Step 1 : Grab your queue number and head for shopping good times at Ladies Street!
Step 2 : What to order at Tim Ho Wan Hong Kong
For your first order, go for the "4 Heavenly Kings" – Steamed Egg Cake (香滑马来糕), Vermicelli Roll with Pig's Liver(黄沙猪润肠), Baked Bun with BBQ Pork (酥皮叉烧包), Pan Fried Carrot Cake (香煎萝卜糕)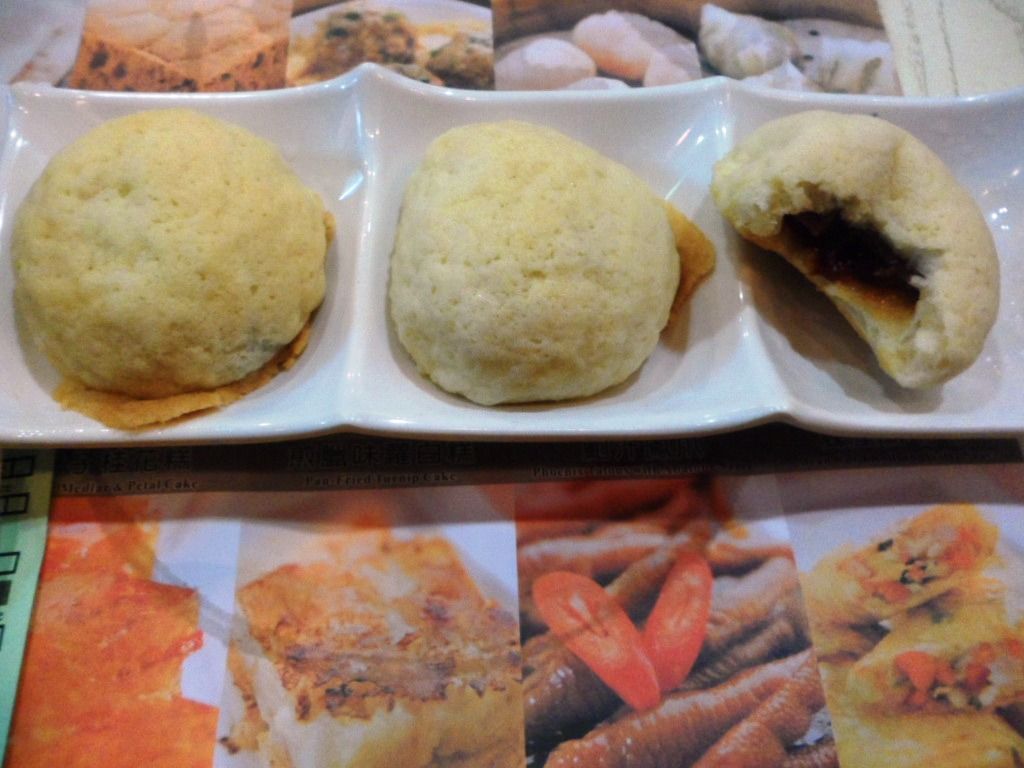 Tim Ho Wan's Famous Baked Bun with BBQ Pork – 3 for only 17HKD!
Essentially, all the versions at THW Hong Kong tastes better than the Singapore version. The star of the show, the baked bun with BBQ was crisp on the outside, fluffy on the bite and flowing with BBQ (chinese style) flavours on the inside. Thrashing the Singapore version hands down.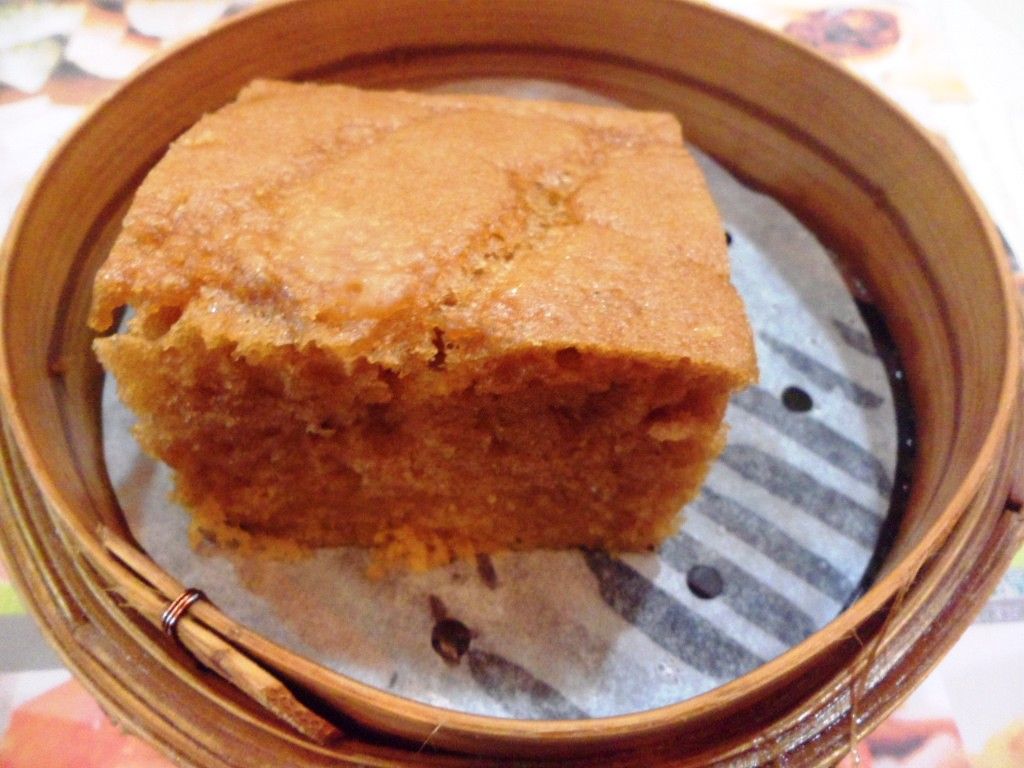 Steamed Egg Cake – 12 HKD @ Tim Ho Wan Hong Kong
Before trying the steamed egg cake at Tim Ho Wan Mong Kok, we never thought that sweet and savoury dim sums could be eaten together. They certainly can. Each bite was an education in the art of gourmet food altogether. The steamed egg cake was surprisingly good by itself. It's like a brown sugar cake, not too sweet but superbly fluffy. The aroma of the brown sugar just permeates through your taste buds. Mmm…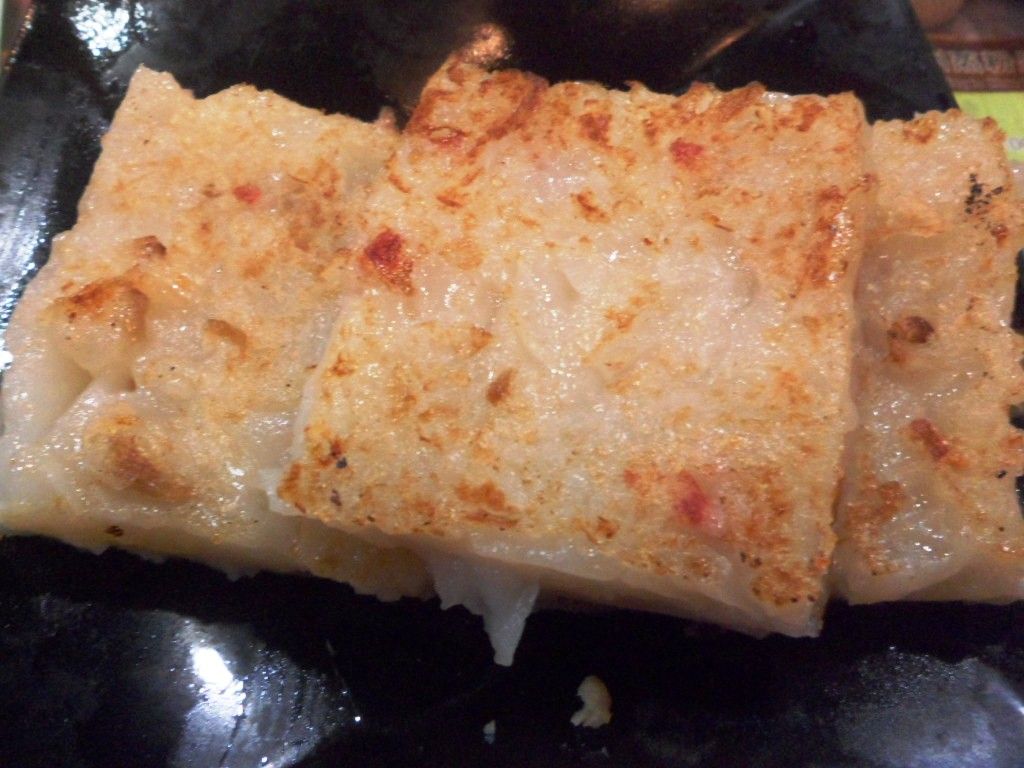 Pan Fried Carrot Cake – 14HKD @ Tim Ho Wan Mong Kok
The pan fried carrot cake or turnip cake was very aromatic. The fried mini shrimps (known affectionately as hei bi in Singapore) brought out the flavour of the turnip. Crisp on the outer layer and flavourful within. The texture of the turnip could also be felt with each bite – very much unlike factory-churned ones.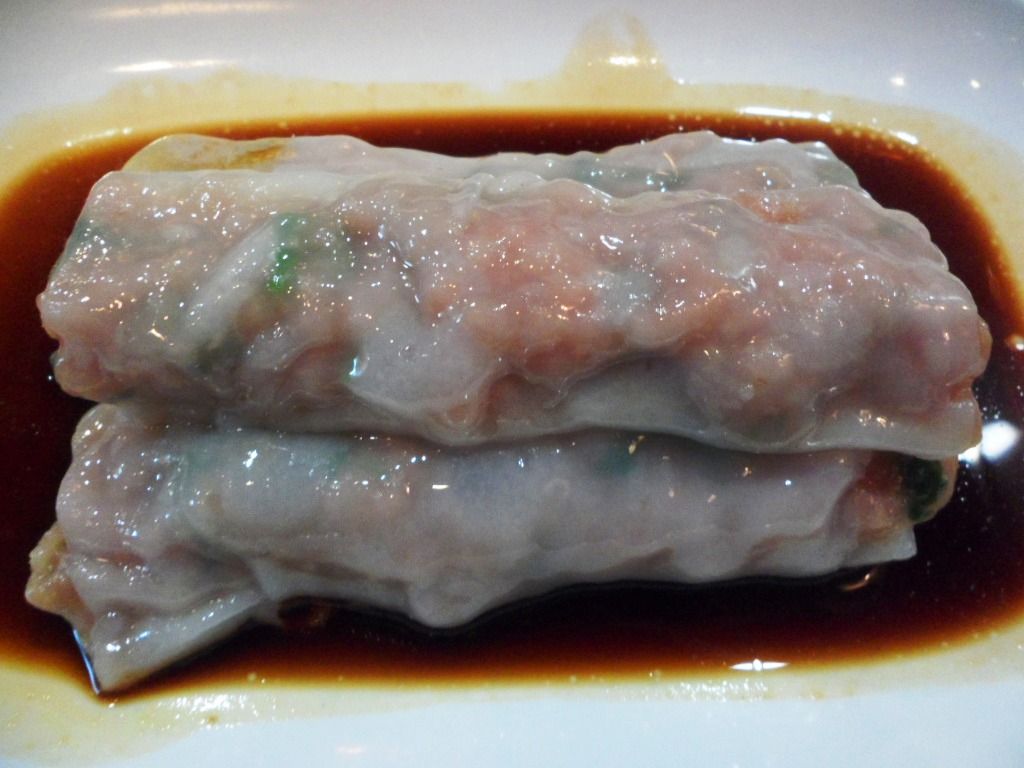 Went for the Beef Chee Cheong Fun instead – 18HKD
Instead of going for the pig's liver vermicelli roll (chee cheong fun), we decided to go for the Beef version and we were thoroughly intrigued! The beef was SUPER tender – as though it has been pounded many times over. The roll was springy and taong (chewy or "Q" as they would call in Taiwan). Together, it was a perfect match!
So Step 2: Go straight for the "4 Heavenly Kings", you wont go wrong with the Signatures
Step 3 : Order anything else you wish to savour at Tim Ho Wan Hong Kong
Maybe except the siew mai. We thought it was quite normal. The beef ball with beancurd skin on the other hand is a MUST TRY!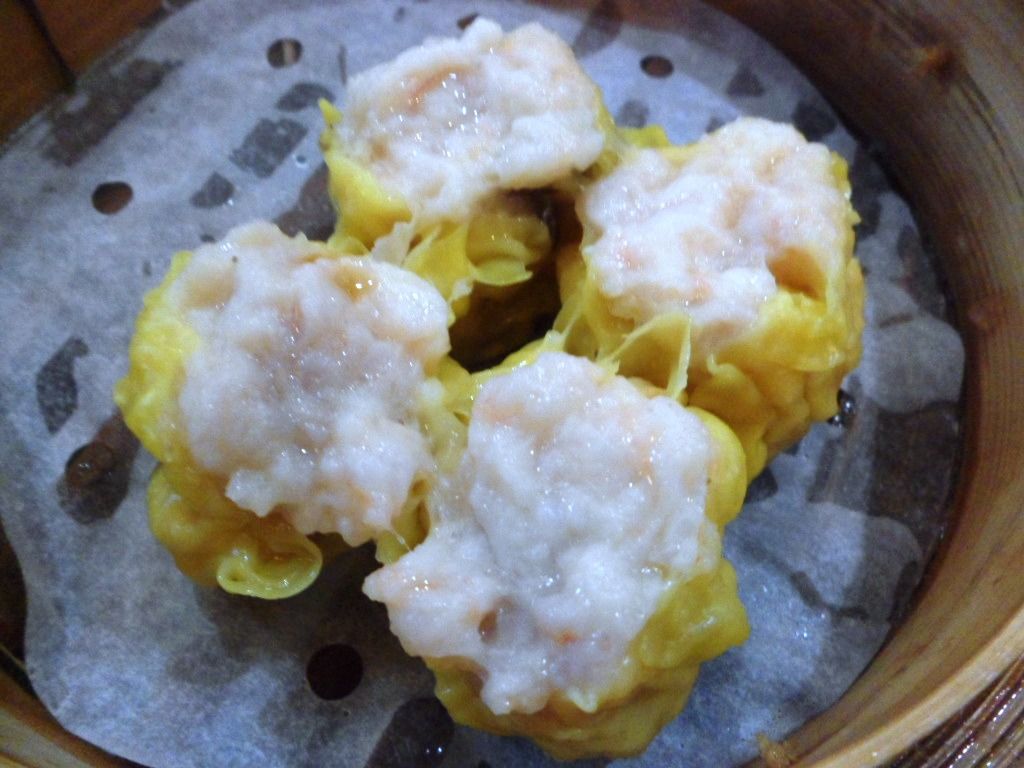 Siew Mai was relatively normal – 24 HKD

Beef Ball with Beancurd Skin – 16HKD @ Tim Ho Wan Hong Kong
Beef balls were oh so tender and Q! You could literally press against it and it would resume its shape! The sauce that is poured over it was not too salty and has a light tang to it. This added to the flavours of the beef balls. Yum!
So Step 3 : Order what catches your sight but just dont order the siew mai (eventhough you may be tempted to!)
If you enjoyed our content, "Like" us on Facebook Today!

For your convenience, we have arranged for the best hotel deals in Hong Kong right here!
The greatest part about eating dim sum at Tim Ho Wan is that eventhough you've enjoyed great Michelin-starred food, the price is still relatively affordable!

Final bill at only 121HKD
Follow the 3 simple steps in our Minimalist guide to eating at Tim Ho Wan Mong Kok Hong Kong for an enjoyable dim sum meal!
Related Posts
You have just finished a post on our 9 day trip to Hong Kong, Macau and Shen Zhen. Read on to find out more about our adventures during this trip!
Hong Kong Trip : Day 1
Hong Kong Trip Day 2 : The Attractions of Tsuen Wan
Hong Kong Trip Day 3 : Ocean Park and New Year's Eve Countdown
Hong Kong Trip Day 4 – Side Trip to Macau
Hong Kong Trip Day 5 – Continuing Our Travels in Macao
Hong Kong Trip Day 6 – Rounding up Macao and Returning to HK
Day 7 Hong Kong Trip : Side Trip to Shen Zhen & Debunking Recommendations
Day 8 Hong Kong Trip : What we did in Central 中環 Hong Kong
Day 9 Hong Kong Trip : A Surprise Find at Lian Xiang Ju Dim Sum Restaurant
Hotels and Hostels We Stayed in Hong Kong
New Year's Eve Countdown at Victoria Harbour Hong Kong
Ibis Hotel Hong Kong Central & Sheung Wan : For the Best Views of Victoria Harbour
L Hotel Nina Convention Centre Hong Kong : Great views over Tsuen Wan
Jordan Comfort Inn Review @ New Lucky House Hong Kong
New China Yan Yan Guest House at Chung King Mansion
Food and Dining in Hong Kong
3 Reasons Why You MUST Try Dim Sum in Hong Kong and Macao
The Minimalist Guide to Eating at Tim Ho Wan Hong Kong
A Classy Treat at Lei Garden International Finance Center Hong Kong
Mak Mun Kee 麦文记 Noodles Shop : Best Wanton and Beef Noodles in Hong Kong
Great Desserts at Australian Dairy Company Hong Kong! ( 澳洲牛奶公司)
Lan Fong Yuen Hong Kong : For a taste of traditional milk tea since 1952
Secret to Enjoying Hong Kong Cafes…
What a typical Hong Kong Cafe is like
Debunking Recommendations of DiscoverHongKong.com : What NOT to eat in Hong Kong
Attractions in Hong Kong
Hong Kong Central Mid Level Escalator : Longest Escalator Walkway System in the World
Avenue of Stars 星光大道 : Hong Kong's Hollywood Walk of Fame
Ocean Park Hong Kong : Still worth a visit?
Temple Street 庙街 Hong Kong : First glimpse at Hong Kong's Night Market
Where to shop in Hong Kong? Citygate Outlets Tung Chung!
Elements Shopping Mall at Kowloon Hong Kong
Only make a side trip from Hong Kong to Shen Zhen if…
21 Amazing Travel Experiences in Hong Kong
Hotels We Stayed in Macau
Hotel Royal Macau : Luxury at a Central Location
Regency Hotel Macau : A 5 Stars Hotel?
Attractions in Macau
Guia Fortress and Lighthouse Macao : An Elusive Fortress Found
Macao Maritime Museum : Great Price Good Exhibits
Historic Centre of Macao : Ruins of Saint Paul's, Mount Fortress & More
Cotai Strip Macau : Games, Shows, Food and Entertainment
Taipa Village Macau : Houses Museum, Pork Buns, Portuguese Egg Tarts
Top 5 MUST DO Things in Macao : You have not been to Macao unless you have…
Related posts: